May, 31, 2013
May 31
2:47
PM ET
To nobody's surprise, the SEC has decided to stick with eight conference games for 2014 and 2015, but the presidents and chancellors will then review future scheduling beginning in 2016.

The translation: By 2016, the SEC will be playing nine conference games.

That was the vibe all week at the SEC spring meetings in talking with coaches and athletic directors, and it's clear that SEC commissioner Mike Slive wants to see schools upgrade their schedules. Slive was careful not to come out and say it, but most in and around the league agree that he's in favor of going to nine conference games.

And, typically, what Slive wants, he gets.

He was on the record this week as saying that he's communicated very clearly to SEC schools that he wants to see them schedule more attractive nonconference games. Down the road, what you're probably going to see is SEC schools playing nine conference games and then one marquee game out of conference.

Or as Alabama athletic director Bill Battle said, "Ten good games."

But in the short term, what's it all mean in terms of who will play whom?

The format will remain 6-1-1. Schools will play everybody in their division, one permanent cross-divisional opponent and one rotating cross-divisional opponent.

A few of the permanent opponents will change. For example, South Carolina and Texas A&M will be paired up, while Arkansas and Missouri will be paired up. In the past, Arkansas and South Carolina were permanent cross-divisional foes.

At least through 2015, LSU and Florida will continue to play every year as permanent cross-divisional foes. LSU has been pushing to do away with permanent cross-divisional opponents and wants to see everybody play two rotating opponents from the other division. LSU coach Les Miles argues that doing it that way makes the schedule more balanced for everybody in the league.

To his point, in their last 10 meetings, both Florida and LSU were ranked in the top 25 of the coaches' poll nine times.

Slive said the 2014 schedule would be released in a matter of weeks.

The league had already approved a rotation based on a 6-1-1 format through 2026. As part of that rotation, Alabama is scheduled to face Georgia in 2014 and Florida in 2015.

Also, the Alabama versus Tennessee and Auburn versus Georgia rivalries will continue to be played on a yearly basis, at least until the league reassesses its scheduling beginning in 2016.
May, 30, 2013
May 30
4:00
PM ET
DESTIN, Fla. -- SEC coaches might have voted 13-1 to keep an eight-game conference schedule, but they could be getting more than they bargained for down the road.

For now, the eight games are safe and so is the 6-1-1 scheduling format, but with the College Football Playoff and the SEC Network looming, it's hard to believe that both of these models will stay after the 2015 season for college football's top conference.

Florida coach Will Muschamp might have said it best on Wednesday. He prefers an eight-game conference schedule -- which certainly benefits the Gators, considering they already have Florida State on the schedule -- but he understands that with all the change coming, nine games appears inevitable, even if it might not be what he thinks is best for the conference.

"There's a lot of question marks out there that are really hard to really answer right now, kind of like the nine-game schedule," Muschamp said. "Is that best for our league? We really don't know right now. At the end of the day, it's going to be great for the fans, it's going to be great for TV, but is that what's best for the Southeastern Conference? I don't know, right now."

Nick Saban began the week with the idea of SEC teams playing 10 BCS games every year -- during the regular season. That could be nine league games and then a bigger nonconference game or it could be eight league games with two bigger nonconference games.

Alabama athletic director Bill Battle echoed those same thoughts Wednesday.

"I don't know if nine (SEC) games is the answer. What I think is that we really need to play at least 10 good games," Battle said. "My personal feeling is we shouldn't be playing three or four games with, I guess, Football Championship (Subdivision) teams. Whether we play more conference games or just more FBS games, I think we need to play 10 (quality) games because our fans are going to get tired (of going to games with lesser opponents)."

He certainly has a point. Fans don't show up for the cupcakes like they show up for the creme brulee or even the carrot cake. Those games don't do well with ratings and they just aren't very exciting to watch in person or otherwise.

SEC commissioner Mike Slive even hinted earlier this week that he'd like to see teams beef up their nonconference schedules, which could be sort of a tradeoff for teams if the league stays at eight conference games. Regardless, he wants to see more meat on teams' schedules going forward.

So while SEC coaches left Destin Wednesday with an almost unanimous vote on keeping eight league games, their votes might not mean too much in the end. This means a more difficult road to the playoff and the national championship for the league that has won seven straight BCS titles.

Think about it, if the the SEC moves to nine conference games the SEC champion will have to play 10 SEC games and another BCS game before even starting the playoff.

Personally, I'm in favor of all the SEC teams beefing up their schedules. It's just a better product to watch. And the league's new network probably won't want a lull during the season with a weekend of, well, weak opponents littering its lineup.

Texas A&M coach Kevin Sumlin suggests you can spread conference games throughout the season to ensure that an SEC matchup occurs every weekend.

"I know with television and with everything that becomes important there's a way to maintain that and maybe reconstruct the schedule so that it serves the national need of fans and our television needs and still gives us an opportunity to play in the toughest league in America," Sumlin said.

Makes sense, but if there's a chance to bring in more fans and money by toughening up the schedule, the league will do it. And this is a chance for the league to flex its muscles even more. Sure, the old method has worked, but things change. The SEC took a major step with the first conference championship game in 1992, and this would be another one.

Coaches could get more than they asked for, but they should embrace the challenge should it arise.
April, 30, 2013
Apr 30
11:45
AM ET
SEC commissioner Mike Slive
says he wants "football expertise"
on the selection committee that will pick the four teams for the College Football Playoff starting in 2014.
The most intriguing component in the whole move to a playoff remains the makeup of that committee.
Who's going to be on it? Better yet, who wants to be on it?
From an SEC perspective and a football perspective, I've come up with a few possible candidates. And, yes, I realize that just about every one of these would be perceived as having some kind of bias, which is going to be the problem in finding a panel that satisfies everybody.
They're listed in alphabetical order:
Bill Battle:
The new Alabama athletic director was the head coach at Tennessee in the early 1970s and later founded Collegiate Licensing Company and built it into a money-making empire.
Charles Davis:
A former defensive back at Tennessee, Davis has carved out an impressive broadcasting career at several different networks and provides analysis for both college football and the NFL.
Vince Dooley:
A true legend in SEC coaching circles, Dooley is about as intertwined with SEC football as it gets. He played at Auburn and was a Hall of Fame coach at Georgia.
Jeremy Foley:
He's easily the SEC athletic director with the most clout nationally, although he's already said he wouldn't be interesting in serving on the committee.
Phillip Fulmer:
Granted, the Alabama fans wouldn't be thrilled, but Fulmer won 98 SEC games, tied for the fifth most in history, and he's available.
Bo Jackson:
Still very involved at his alma mater, Auburn, Bo knows football as well as he played it ... and just about every other sport imaginable.
Bobby Johnson:
Now retired and living in Charleston, S.C., the former Vanderbilt coach is as sharp and respected as they come and would be a terrific choice.
Roy Kramer:
He might be the father of the BCS, but few men have helped to shape college football and the SEC in a positive way more so than Kramer, who's retired and living in East Tennessee.
Archie Manning:
One of the SEC's greatest players, Manning still keeps close taps on college football in between watching his two famous sons play in the NFL.
Joe Pendry:
A veteran of both the college and pro game, Pendry is now retired from coaching after helping to build some powerhouse offensive lines at Alabama.
Bill Polian:
He's currently doing NFL analysis for ESPN, but few people anywhere know the game inside and out any better than Polian, one of the NFL's top executives for a long time.
Gene Stallings:
He has ties to both Alabama and Texas A&M and played under the legendary Bear Bryant. Stallings knows what championship teams look like.
Sterling Sharpe:
The former South Carolina and Pro Bowl receiver for the Packers is doing a little radio now in addition to his NFL Network duties. He would offer some keen insight in the selection of the teams.
Danny Wuerffel:
The former Heisman Trophy winner at Florida would be an excellent choice. He was as smart as he was good and is one of the best people you're ever going to meet. He's also doing better after battling some health problems.
March, 26, 2013
Mar 26
5:00
AM ET
1. There are several levels of shrewdness in Alabama's hiring of Bill Battle to replace Mal Moore as athletic director. Battle knows football. He knows business, having virtually invented the collegiate licensing business. He loves Alabama and the timing is ideal. Battle, 71, is a year younger than university chancellor Dr. Robert Witt. Battle is signed through 2017 and along with Witt will keep the ship afloat for a few more years. The next generation of university leaders can come in together. Most important, Nick Saban is signed through 2020.

2. Not so long ago, college football coaches got five years to succeed. Now they get three. And yet the pressure on them is nothing compare to what basketball coaches face. The firings of Ben Howland at UCLA and Tubby Smith at Minnesota indicate that winning is not enough. Making the tournament is also not enough. Neither is making the Final Four in three consecutive seasons (the Bruins did so between 2006-08). I'm betting that the new college football postseason, beginning in 2014-15, will increase the demands on this sport's coaches. Woe be onto the coach of a top program who can't get into football's Final Four.

3. No one can question the SEC's primacy in football. But everyone should question the league's nonconference scheduling. Only Georgia, Florida and South Carolina play as many as two non-league games against AQ conference teams in 2013. There is no excuse, either. The SEC is stubbornly staying with an eight-game league schedule as the Pac-12, Big 12 and Big Ten are playing or transitioning to nine-team league schedules. It's not hard. But it takes willpower. And the teams will benefit. What's not to like?

March, 22, 2013
Mar 22
1:15
PM ET
Alabama made things official on Friday by announcing that Bill Battle
will be the new athletic director
.
Battle takes over for Mal Moore, who resigned because of health reasons this week after being a part of the university since the late 1950s.
University trustees unanimously approved Moore's hand-picked successor. Battle and Moore played together at Alabama on Bear Bryant's 1961 national championship team. He also coached at Tennessee in the 1970s.
Fellow SEC blogger Chris Low wrote on Thursday that hiring Battle offers the best of both worlds for Alabama.
Click here
to take a gander at what Chris wrote yesterday.
March, 21, 2013
Mar 21
1:35
PM ET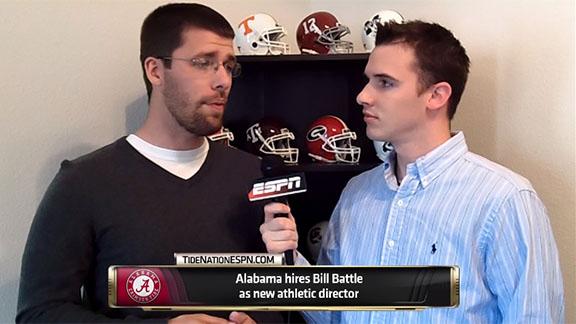 Not surprisingly, Alabama is bringing back one of its own to run the athletic department.
Not only that, but the Crimson Tide have turned to a former football coach to call the shots.
Why mess with a successful blueprint, right?
It certainly worked well with Mal Moore, who retired Wednesday to deal with health issues. Moore, 73, has a pulmonary condition and has been hospitalized at Duke University Medical Center since last week. On his watch, the Crimson Tide have put together an historic run in football with three national championships in the past four years.
Moore now turns over the keys to his beloved athletic department to one of his oldest friends and colleagues.
Alabama president Judy Bonner has recommended that Bill Battle, who played with Moore at Alabama under Paul "Bear" Bryant, replace Moore as Alabama's athletic director. The Alabama board of trustees will meet on Friday to finalize Battle's hiring.
Moore personally endorsed Battle, who was a three-year starter for the Tide from 1960-62.
There's also a bit of irony here. Battle was the head coach for seven seasons at one of Alabama's fiercest rivals -- Tennessee. Battle was only 28 when he landed the Tennessee gig and beat Bryant and Alabama in his first season with the Vols in 1970, but lost the next six. Four of those losses were by 17 points or more, and that losing streak to Alabama was a factor in Battle's ouster following the 1976 season.
He took the Vols to bowl games in each of his first five seasons, but after winning at least 10 games in each of his first three seasons, he only won more than seven once more. Toward the end, it wasn't pretty. Infamously, a moving van was once called to his house, and other times, people would put "For Sale" signs in his front yard late at night.
Battle walked away from the coaching profession, but was a smashing success in the business world. He started Collegiate Licensing Co. in 1981 and built into an empire that represented more than 200 schools, conferences and bowl games. He sold the company to IMG in 2007 for $100 million.
So suffice it to say that Battle is a shrewd businessman, which is an absolute must in today's world of college athletics. But he also has the football background that just about all coaches crave in an athletic director. Battle has played the game at a high level, and he's also been a head coach in the SEC.
The fact he's one of Bear's boys only makes it that much more of a slam-dunk for Alabama.
Battle and Moore were teammates on Alabama's 1961 national championship team and have maintained a close relationship. Moore's role in bringing Nick Saban to the Capstone was huge, and now Moore has chosen Battle as his successor.
Moore's tenure as athletic director hasn't been perfect, and Alabama has had its share of NCAA troubles. But give Moore credit for getting the program back to a point where it was in a position to land Saban.
I can assure you that Saban has been unbelievably appreciative of working for a football man like Moore who understands what it takes to win at the highest level.
Now, Saban is getting another football man in Battle, not to mention another Alabama man ... and a man who's proven he's not too shabby with money, either.
Sounds like another winning combination for the Tide.
TOP 25 SCOREBOARD
Saturday, 12/7
Thursday, 12/5
Friday, 12/6
TOP PERFORMERS