NCF Nation:

Bill Bradshaw
May, 3, 2013
5/03/13
9:00
AM ET
Outgoing Temple athletic director Bill Bradshaw admits this is not the way he envisioned going out. He had a few good years left in him, a few good plans that would have grown the Owls program even stronger.
But you cannot always plan for life. Bradshaw is needed at home. His sterling credentials as an athletic director will have to rest, while
he steps aside
to tend to his family.
He feels good about this decision, yes. But a part of him longs to keep going, too, because this is all he has known over the past 36 years. The past 11 at Temple have provided him some of the biggest challenges of his career. Yet Bradshaw met every challenge head on, never shying away from difficult decisions or difficult hires.
It was, in fact, the difficulty of the job that appealed to him. He turned down the opportunity to interview once, then accepted when he was asked a second time.
[+] Enlarge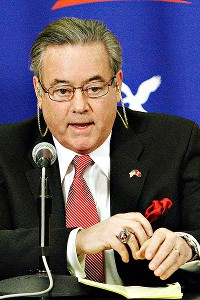 AP Photo/Frank Franklin IITemple athletic director Bill Bradshaw kept the football program alive and returned it to the Big East.
"In my mind, Temple had a lot of problems," Bradshaw recalled in a phone interview. "I finally said I would interview, and I got home and my wife said, 'How did that go?' and I said, 'You know maybe those problems are challenges. Maybe they're not problems.' And then I looked at Temple differently."
When he arrived in July of 2002, the football program had no home. It bore no resemblance to a bona fide football program, either, the constant losing, off-the-field problems and character and academics issues taking their toll year after year. Bradshaw had never been the athletic director at a school with a football program, serving at LaSalle and DePaul previously. Most believed he would come in and axe the football team.
Bradshaw did nothing of the sort. He stood up for the football program, lobbied for the football program, understood the importance of the football program. In 2004, a vote was held to determine the fate of said football program. Bradshaw begged the blue ribbon panel to vote in favor of football.
Temple football survived
.
By one vote.
Bradshaw then went about finding the football program a conference home, and then a head coach he believed would bring the program back to respectability. He recognized something in Al Golden the first time they met. Golden ended up turning the worst program in America into a bowl team.
During this time, Bradshaw was confronted with another tough decision to make regarding a coach, though on the opposite end of the spectrum. Hall of Famer John Chaney decided to retire in 2006. That retirement press conference is one Bradshaw will not soon forget. He stayed up all night coming up with the right words to explain what Chaney meant to Temple. What Chaney meant to him.
Bradshaw eventually hired Fran Dunphy, who remains head coach today. Golden left for Miami. His successor, Steve Addazio, just left after two seasons but delivered the second bowl win in school history.
Addazio also happened to be the head coach when Bradshaw delivered another seminal moment -- a move back into the Big East last year. Though the league looks vastly different today than it did when the move was made, there are no regrets. None at all. Bradshaw did what he believed best for Temple. Then, now, always.
Thanks to that move, Bradshaw was one of five finalists for the Sports Business Journal's athletic director of the year award. But he did more than that. In that 2011-12 year, Temple set department records for academic success (15 teams earned above a 3.0 cumulative grade point average) and in revenues with $11.4 million generated through tickets sales, corporate sponsorship and fund-raising.
He made change happen. It was not easy. But he did it, and for that, Temple fans should be forever grateful.
"It's the people I would mention more than the accomplishments, the teams, the wins," Bradshaw said. "The people made that all happen. I'm honored and blessed and lucky to get those people to Temple."
May, 2, 2013
5/02/13
10:45
AM ET
Temple athletic director Bill Bradshaw
will retire in June
after 11 years leading the Owls athletic department.
Bradshaw says he has to turn his full attention to unspecified family issues. He begins a leave of absence on Friday.
"My last 11 years [at Temple] were the most challenging but the most satisfying I had in this business," Bradshaw
told the Philadelphia Inquirer
. "Being a part of that bumpy, rocky ride was the most satisfying."
December, 17, 2012
12/17/12
2:15
PM ET
There are some in Philadelphia who thought Matt Rhule should have gotten the Temple job two years ago.
Better late than never?
The former Temple assistant was officially
announced as the new Owls coach
on Monday afternoon, taking over after Steve Addazio left for Boston College. Rhule was the best -- and only choice -- athletic director Bill Bradshaw could make, another no-brainer hire in the Big East head-coaching carousel this season.

Just about everybody called for Rhule to get this job. Current players. Former players. Recruits. Rhule built incredibly strong relationships during his time at Temple from 2006-2011, and is intimately familiar with the entire region. He hoped to get the job when his good friend, Al Golden, left for Miami in 2010. When Addazio got the job instead, Rhule stayed on for one more season before leaving for an assistant job with the New York Giants.
His heart -- and his wife and home -- remained in Philadelphia. Perhaps he always held out hope he would get another chance. Now he has it.
And here is what separates him from Addazio.
Rhule arrived at Temple with Golden when the school was seen as a dead end. Folks told Golden he was crazy for even taking the job at a school that had won 30 games between 1991-2005. But Golden got to work, and so did Rhule, selling their vision for Temple. Rebuilding Temple became their life's work, their passion, something they could mold out of absolutely nothing.
Addazio may have been the bigger name hire, but he never had to fight to restore his program's reputation. Rhule has the bigger connection to Temple, and can wholeheartedly identify with what the program came to represent over Golden's last few seasons on the job. He put in the time, the effort, the sweat, the salesmanship, the love, the hard work and the determination to help get Temple turned around.
Indeed, when he spent time as recruiting coordinator during the 2006 and 2007 seasons, Temple's classes ranked No. 1 in the MAC. In 2008, as well. There is nobody out there better acquainted with what it takes to win at Temple and what is needed to win at Temple.
Rhule enters at a critical moment for the program, which just completed its first year in the Big East at 4-7 -- Temple's first losing season since 2008. Many expected the Owls to take a step back because they were taking a step up in play. But this can only be a momentary step back, given all that Rhule, Golden and all the other coaches accomplished during their stay together.
The last thing Temple needs is to slip back into the Big East basement permanently, where it resided during its first stint in the league. The shifting sands of realignment mean Temple has a great chance at avoiding a repeat of their past.
And there is nobody who understands that more than Rhule.
December, 4, 2012
12/04/12
6:49
PM ET
The progress Temple has made in 10 years under athletic director Bill Bradshaw can be traced to the day he introduced his previous head football coach, on Dec. 23, 2010.

"My message is make it a destination to be at Temple. Don't be passing through," Steve Addazio said then. "I've been a lot of places and had some opportunities before that weren't right. But now I'm honestly living my dream."
With Addazio, like most in the Big East, moving to the ACC as Boston College's new head coach, can Bradshaw continue a string of successful hires?
One can hardly fault Addazio for the jump, as the highly energetic Connecticut native seems a natural fit for re-storing some pride into an Eagles program that fell on hard times under Frank Spaziani.
Addazio got that chance after a 9-4 debut season with the Owls in 2011, culminating with its first bowl win in 32 years. And he got it after the program's steady rise earned it a spot in the Big East, where Temple surpassed any and all expectations by winning two conference games after a quick turnaround, a quirky schedule and a roster comprised of MAC-recruited players.
The hire of Al Golden five years earlier helped set the foundation for this program's rise, something Addazio carried. Now Bradshaw is tasked with finding someone with the same amount of energy, and an up-and-comer who is ready to sustain this growing team's success, make it a contender in the ever-changing Big East and maybe even make Temple a destination, or at least more of one than it is now.
"Steve Addazio has done a tremendous job with Temple Football in his two years at the University, and we wish him nothing but the best," Bradshaw said Tuesday in a released statement. "Temple Football has never been stronger, and I am confident we will be able to attract a high-level pool of candidates for the position and the program will continue its upward momentum."
Temple announced that a national search for Addazio's replacement will begin immediately. That newcomer could be in for a rude awakening come Game 1 of the new era, as the Owls kick off next season at Notre Dame, which could be the defending national champions.