December, 22, 2014
Dec 22
11:00
AM ET
The doorways in the Dudek household were never safe.
Every day while growing up,
Mikey Dudek
would try to jump up and touch the top of every door he passed through. It got to be so frequent that his dad, Rick, had to tell Mikey to cut it out because he was starting to rub the paint off the frames.
As a seventh-grader, Mikey became one of the first and the youngest to join J.R. Niklos' Acceleration training program in Naperville, Illinois. He would eventually spend six hours a week going through strenuous exercises that would lead to feats of physical prowess like he shows off
in this video
.
[+] Enlarge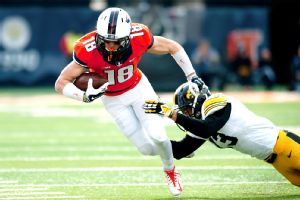 AP Photo/Bradley LeebMikey Dudek has 69 catches for 965 yards and six touchdowns, and can become the eighth Illinois player to record 1,000 receiving yards in a season.
Many of the signs were there all along that Dudek would be a precocious performer, even if most college recruiters needed more convincing -- the nonstop motor, the coordination that had him making acrobatic catches as early as six years old. Still, what he did as a true freshman wide receiver this year at Illinois stunned even his most strident believers.
Dudek caught 69 passes for 965 yards and six touchdowns, and became the Illini's go-to weapon down the stretch as they fought their way to six wins. With even a subpar performance against Louisiana Tech in the Zaxby's Heart of Dallas Bowl on Friday, he will become just the eighth Illinois player to record 1,000 receiving yards in a season.
"I knew after spring practice that I was going to play this season, but they told me it would probably be like 30 plays," said Dudek, who enrolled in January. "So this season was definitely a shock to me."
The bigger surprise might be that so few other teams hotly pursued him out of high school. As the popular story goes, Dudek's only other scholarship offers were from Illinois State and North Dakota State. In truth, his father said, several other schools likely would have followed if Mikey hadn't committed to Illinois in April of his junior year.
But just about every other recruiter -- Big Ten schools like Wisconsin, Michigan State and Indiana showed interest -- kept saying they wanted to see more from Dudek first. This despite the fact that he produced big numbers in high school and went to countless college camps, where he consistently ran a 4.4 or better in the 40-yard dash.
It's not hard to figure out why teams were skeptical. Dudek is listed, perhaps generously, at 5-foot-11 and 185 pounds.
"Everybody probably said the exact same thing: 'His size is going to hinder him, especially in the Big Ten,'" Illinois offensive coordinator Bill Cubit said. "But the more you spend time around him, the more you say, 'We've got to take a shot on the guy.' With Mikey, you've got to get over the negatives and look at the positives, and when you do that, it's a no-brainer."
Other than his small stature, Dudek's other measurables are off the charts.
In that video linked above, he runs 22 mph on a treadmill and completes a box jump of 64 inches. Niklos, a former NFL player who started his training center in 2008, has worked with thousands of athletes and has trained more than 700 Division I players in various sports. He said only about 5 percent of his athletes can reach 22 mph on the treadmill, and he can count on one hand how many have pulled off the 64-inch jump.
"He's pretty much jumping over his entire body," Niklos said. "It's like he levitates when he jumps. For some reason, he freezes at the top, and just kind of stays there before he drops."
Dudek's speed and body control have helped him make several highlight-reel catches already for the Illini, and he has quickly become a fan favorite (who doesn't love a guy named Mikey, which is what all his family and friends still call him?). What fans don't see is his dedication to his craft. Cubit said Dudek is always working, staying at the football complex many nights past 9 p.m. watching film.
"He's always asking questions, and he very rarely makes the same mistake twice, which is unusual for young players," Cubit said. "He's created this all himself."
Dudek still is motivated by the lack of respect he received in recruiting -- "especially playing all these teams that overlooked you," he says. "You have a little chip on your shoulder preparing for them, and you want to go out and beat them." Even if that edge eventually softens, he will maintain the drive to keep getting better. This is a guy who is humble enough, after all, to
help team managers push a cart
full of coolers up a ramp after he had 115 receiving yards in a win against Penn State. He was grounded enough to
befriend a classmate with special needs
in high school.
Dudek has a chance to break every Illinois receiving record there is and perhaps become the face of the program in the next few years. If a few doorways had to lose some paint back home in the process, that's a fair price to pay.