August, 7, 2012
8/07/12
6:40
PM ET
First, the appeal came from the Paterno family. Next came a group of Penn State trustees. Now eight former Penn State players, along with an ex-assistant coach, are appealing the NCAA sanctions handed down to the football program July 23.
The group on Tuesday filed an appeal of the consent decree imposed upon Penn State, challenging the manner in which the consent decree was reached and accusing the NCAA of violating its own bylaws in handing down the punitive penalties against the football program. The former players, part of Penn State's Letterman's Club, all competed between 1998-2011, the period where all Penn State wins were vacated as part of the NCAA's sanctions.
The eight ex-players are: Michael Robinson (2001-05); Anwar Phillips (2001-05); Josh Gaines (2004-08); Shamar Finney (1998-2002); Richard Gardner (1999-2003); Gerald Cadogan (2004-08); Anthony Adams (1998-2002) and Justin Kurpeikis (1996-2000). Former Penn State assistant Bill Kenney, who worked on the staff full-time from 1988-2011, also signed the appeal.
The appeal challenges the validity of the Freeh Report and the NCAA's use of it in place of a standard investigation into Penn State. Much of the focus seems to be on the vacated wins.
From
the appeal:
"... despite an express finding in the consent decree that 'no student-athlete is responsible for these [Sandusky-related] events," the NCAA decided nonetheless to 'vacate all wins of the Penn State football team from 1998 to 2011.' This sanction is unreasonable, excessive, unprecedented, and constitutes an indignity to the men who honorably fulfilled their responsibilities as student-athletes and coaches at Penn State under Coach Joe Paterno during this time period. If a primary intended purpose of the sanctions is to attempt to change the culture at Penn State and 'realign it in a sustainable fashion with expected norms and values of intercollegiate athletics,' these sanctions not only miss the mark, but they inflict permanent damage to an entire generation of student-athletes ..."
Permanent damage? Hmmm. I can think of some people involved in this scandal who suffered a different type of permanent damage.
Short, a former Penn State linebacker, wrote to members of the Letterman's Club:
The appeal to the NCAA that this group of Letterman are filing is a tangible example of how the Penn State Letterman can act to effect positive change. These letterman are acting on behalf of all of us who played, all who are playing and all who will play at Penn State. While this initiative is currently being lead by players from 1998 -2011 they represent ALL of us.
By the way, NCAA spokesman Bob Williams on Friday tweeted that
NCAA sanctions are not subject to appeal
.
November, 7, 2011
11/07/11
1:30
PM ET
The
Penn State scandal
isn't going away any time soon, and it could affect several areas of the Nittany Lions football program, including recruiting.
Penn State has 16 verbal commitments for its 2012 class, including two ESPNU 150 selections -- offensive tackle
Joey O'Connor
and defensive tackle
Tommy Schutt
.
[+] Enlarge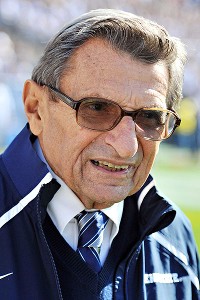 Jeffrey G. Pittenger/US PresswireSeveral recruits in Penn State's 2012 class say they are firm in their commitments whether Joe Paterno remains coach or not.
Colleague Jared Shanker of ESPN Recruiting, who covered Penn State football until last year for The (Harrisburg) Patriot-News,

checked in with several Lions recruits
during the weekend. The good news for Penn State: They're still on board.
O'Connor told Shanker he discussed the situation with his parents and still has every intention of being in State College next fall -- even if Joe Paterno is no longer Penn State's coach.
"You go to a school based on coaches, but then again you don't," said O'Connor, who officially visited Penn State in September and won't make it back to the campus before enrolling. "They could be gone tomorrow. No matter what, if coach Paterno is there or not, I still love Penn State."
Other recruits like athlete
Armani Reeves
echoed the sentiment about Paterno. The bigger issue could be if the scandal leads to major changes throughout the staff of assistants, who do the direct recruiting for Penn State.
If Paterno leaves for any reason, Reeves said he would still be solid. If the rest of the staff is also forced out or a new coach doesn't retain them -- the likely scenario -- Reeves could open things back up.
"Definitely," Reeves said when asked if he would be forced to reconsider if assistant coach Bill Kenney, his lead recruiter, was let go.
The recruits Shanker talked with seemed to have different levels of knowledge about the case. Linebacker recruit
Camren Williams
told Shanker, "It was the old coach [Jerry Sandusky] and coach Paterno actually turned him into the athletic director," Williams said. "He did his job. It's the AD under investigation for lying and not turning him in. I'm not concerned at all."
While Penn State's current commits are on board, a big question is how all of this affects the team's future recruiting.
Arguably Penn State's biggest recruiting target is
Noah Spence
, a defensive end from Harrisburg, Pa., rated as the nation's
No. 4 player in the 2012 class
by ESPN Recruiting. Spence has shut down his recruitment until after the football season but is considering Penn State and many other top programs.
"They're a very spiritual family, and Noah Spence's dad puts a high emphasis on character," Shanker told me Monday. "I can only this having a huge impact with Greg Spence, Noah's dad. The first thing he always says is he's a man of God, and he places a lot of emphasis on moral character. When I talked to him back in August, I don't think he mentioned Joe Paterno's coaching once. It was more about the person Joe is. Even though Joe's been cleared legally at this point, things are very up in the air."
Another factor is that Penn State's recruiting coordinator and wide receivers coach, Mike McQueary, reportedly was the
former graduate assistant who reported an alleged sexual assault
involving Sandusky to Paterno in 2002.
"That's huge," Shanker said. "He's going to be the first one usually [recruits] can contact. He might not end up being the lead recruiter, but in most instances he's the guy to initate contact with recruits or their parents. That's going to be something parents are going to ask. They're going to want to know what happened."
Questions also likely will be asked of other assistants who were on staff in 2002, including top recruiters like defensive coordinator Tom Bradley.
Shanker said many of the recruits he spoke to have been told that if Paterno were to step down -- Paterno's contract ends after this season -- a member of his staff would take over. The big factor going forward, if there are changes, is how dramatic those changes are.
"All of them didn't seem concerned about wholesale changes to the staff," Shanker told me. "If Paterno were to leave, that was pretty much a non-factor for them. They were building their relationships with the assistant coaches. If the assistants leave, they would have to reevaluate things."