June, 24, 2010
6/24/10
5:01
PM ET
Big Ten athletic directors have talked about playing more league games in football for quite some time.
There's support from various parts of the league. At the
Big Ten's spring meetings
last year, then-Michigan athletic director Bill Martin told me, "As the guarantees [for nonconference games] go up and up and up and the fans want to play our sister institutions in the conference, to me it's a no-brainer. Play 'em."
Minnesota athletic director Joel Maturi added: "I do believe some day that you'll see more games played within the Big Ten."
That day could be coming very soon.
As an 11-team conference, the Big Ten faced a major mathematical obstacle to playing nine conference games: one team would be limited to eight league games every year. This snag will no longer apply beginning in 2011, as Nebraska joins the Big Ten as its 12th member.
Nebraska athletic director Tom Osborne mentioned the possibility of playing a nine-game league schedule in the Big Ten at the news conference announcing Nebraska's arrival to the league. If it happens, Osborne said he'd fight to keep nonconference games at home to ensure the Huskers had at least seven home dates per season.
There are certainly pros and cons to increasing the number of league games, and Big Ten athletic directors expect to debate them in August during their next scheduled meeting in Chicago.
"Unless you're really hot, fans are finding that some of the preseason games, they just don't appreciate," Purdue athletic director Morgan Burke said. "They'd rather see you play every Big Ten opponent. If you went to nine games, you'd be bringing in one more Big Ten opponent, which would make your season-ticket package more attractive."
An additional league game would significantly impact future nonconference scheduling, much of which has been finalized far into the future. Burke noted that some of the scheduling contracts include penalties for teams that back out and can't find suitable replacement teams. The demand for home games among Big Ten schools with massive, revenue-generating stadiums, also could further diminish the quality of non-league games.
And really, how well has the Pac-10's nine-game conference schedule worked out? The league gets multiple BCS berths about as often as snow falls in Los Angeles.
Then again, there are pluses, at least for some of the folks involved.
"It sure would help with scheduling," Wisconsin athletic director Barry Alvarez said. "Scheduling has become very difficult with 12 games, and fans aren't crazy about I-AAs, and athletic directors aren't crazy about the fees that we're paying some schools to come in. So nine games would certainly satisfy those two people, but there are other factors involved."
Among those factors are the well-compensated men whose employment hinges on wins and losses.
"Just to be a contrarian, maybe we ought to go to 10 [league games]," Burke said. "They never said you couldn't do 10. I think the coaches would probably throw me out of the press box."
Revenue is another issue with increasing conference games, as six teams would have five Big Ten home dates, while six other squads would have only four. But Burke doesn't see the imbalance as a potential deal breaker.
"We do a lot of revenue sharing in the league," he said. "We have [minimums] and [maximum] in terms of the gate sharing, so there's probably a way to do it. ... Maybe there's a way to take those teams that have the fifth [Big Ten home] game that year, they end up sharing a little bit with those who have four games, just to try and get a more level revenue budget year to year."
Alvarez isn't sure how much momentum a nine-game league schedule has, but the door definitely remains open heading into the August meetings.
December, 16, 2009
12/16/09
9:45
AM ET
As you can image, the Big Ten's announcement about
potential expansion
created a ton of buzz from State College to Iowa City. Everyone's talking about possible 12th teams, the benefits and drawbacks for the league and what it all means.
Here's a sampling of what they're saying:
QUOTES/STATEMENTS
Michigan State athletics director Mark Hollis:
"With the changing landscape of intercollegiate athletics, now is a good time for the Big Ten to review its current structure and evaluate the potential for expansion. The Big Ten remains the nation's premier conference; however, it's always important to evaluate ways to make the conference even stronger. The addition of Penn State to the Big Ten in 1990 certainly proved to be a home run, so if the conference decides to expand, it is our hope that the move would bring similar prestige and success to the conference."
Michigan head football coach Rich Rodriguez:
"I am in favor of the Big Ten exploring all options to make the league stronger, whether the decision is ultimately made to expand or not. We should be proactive in examining the college athletic landscape and I'm pleased that our conference is looking for ways to make the Big Ten better. I am behind the decision to expand if it fits with the ideals of our conference."
Ohio State athletics director Gene Smith: "
When you look at the college landscape across the country and you look at the television contracts over the next five to eight years, this is probably the right time for us to see if there is any value in adding a team or teams."
Michigan athletics director Bill Martin:
"I think we'd all be open-minded about it. And, again, I think it gets back to the right fit that does make sense."
Purdue athletics director Morgan Burke:
"I think about every five years we're going to take a look, but it doesn't mean you're going to expand. It simply says things can change, and therefore we ought to be in a position of taking a look at what the various options are."
Indiana athletics director Fred Glass:
"I think it would be overstating it to say that we're looking for somebody to add. We're looking at whether we want to add somebody, and who those somebodies might be. I think it's really important to underscore that we're fine where we are. There's no need for us to do this if it doesn't add value to the conference and to the applicant that might want to join the conference."
Illinois athletics director Ron Guenther:
"About every five years the Big Ten Conference explores the possibility of expansion. Any expansion of the conference would obviously have to be a good fit academically, geographically and financially. If the Big Ten does make a change, I hope it will be as successful as the addition of Penn State."
Ohio State president E. Gordon Gee:
"We can't look in the rear-view mirror and say we love what we are. We need to say, 'What can we be?'"
Iowa athletics director Gary Barta:
"We do have a great conference and in order to add somebody it's going to have to make sense. When we added Penn State, it worked out wonderfully. They fit our philosophy. They fit athletically, academically, geographically. If we ever find the perfect partner, then I think it's worth looking at. If we don't find the perfect partner, then I'm not interested in expanding."
LINKS
November, 21, 2009
11/21/09
6:00
PM ET
ANN ARBOR, Mich. -- Only a handful of games into his Michigan tenure, Rich Rodriguez knew the program had a steep mountain to climb.
The winged helmet wouldn't equal 10 wins. The Michigan brand, which he acknowledges is one of the greatest in sports, wouldn't equal instant success. Decades of winning wouldn't equal recruiting rewards. As he put it Saturday, "The last three or four Februaries have hurt us a little bit."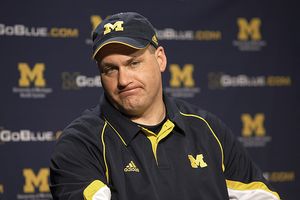 AP Photo/Paul SancyaMichigan coach Rich Rodriguez dropped to 3-13 in Big Ten play with a loss to rival Ohio State.
But where is Michigan on its ascent back to past heights? Are the Wolverines making progress, or are they still at the base of the mountain two years into the Rodriguez era?
One thing is certain.
"How much does a man got to get humbled?" Rodriguez said after Saturday's 21-10 loss to No. 10 Ohio State. "Got humbled last year. Been humbled before and will be humbled again. In this profession, there's enough humility to go around for everybody.
"I'm getting tired of being humbled."
It has been a humbling two years for the head coach, who now owns an 8-16 record at Michigan, 3-13 in Big Ten play. He'll spend another winter at home, as Michigan's loss eliminated the team from bowl contention.
Michigan finished last in the Big Ten for the first time since 1962. The Wolverines failed to beat an FBS team in October or November. They'll lose their best defensive player (end Brandon Graham) and possibly their second best (junior cornerback Donovan Warren), and the core of the team remains young. There's an ongoing NCAA investigation into allegations of time-limit violations by Rodriguez's program that could conclude with major violations, a first at Michigan.
But Rodriguez still believes the team's 2009 slogan -- "All In For Michigan" -- holds true.
"Maybe people will try to say, 'Oh, woe is Michigan,'" Rodriguez said. "Michigan's going to be just fine. Our fans are all in, the players are all in, the staff's all in, the university's all in. We're going through a growing process that we're not accustomed to here at the University of Michigan.
"I'm not accustomed to it, either, but I've been through it before, and we'll get it done."
November, 13, 2009
11/13/09
9:00
AM ET
| | |
| --- | --- |
| | |
| | US PRESSWIRE |
| | Notre Dame coach Charlie Weis and Michigan coach Rich Rodriguez are facing similar problems within their programs. |
Notre Dame and Michigan treated us to one of the season's
most entertaining games
back on Sept. 12 at the Big House. Both teams seemed destined for solid seasons back then, but the Fighting Irish and Wolverines have since fallen on hard times. Michigan hasn't beaten an FBS team since Sept. 26 and needs to upset No. 20 Wisconsin or No. 11 Ohio State to avoid missing a bowl for the second straight season. Notre Dame likely fell out of the BCS bowl mix by losing to Navy for the second consecutive time in South Bend. Not surprisingly, head coaches Rich Rodriguez and Charlie Weis are in the crosshairs.
Which coach's problems are worse? How did these two programs get here? Brian Bennett and Adam Rittenberg take a closer look.
Adam Rittenberg:
Let's talk about Charlie Weis and the Irish. They lose to Navy at home again. Nose tackle Ian Williams says they're getting outschemed. What's going on with Weis and the Domers?
Brian Bennett:
There's very little excuse for Notre Dame to be only 6-3 at this point. The Irish have legitimate stars in quarterback
Jimmy Clausen
and receivers
Golden Tate
and
Michael Floyd
, an experienced offensive line and seasoned upperclassmen all over the roster. But this program continues to lose to every ranked team it plays and throws in at least one head-scratcher each year (this time, Navy. Again.).
Something just isn't working here, and you have to blame Weis. He remains a brilliant offensive mind, but I think sometimes he outthinks himself in an effort to prove his intelligence. He doesn't appear to be able to properly motivate his teams, likely because of his NFL coordinator background. And years of suspect recruiting or talent evaluation on the defensive side has again led to a team that can't stop anybody.
Notre Dame, simply put, should be better than this in Year 5 under Weis. It's only Year 2 under Rodriguez in Ann Arbor, but people expected a lot more than this. What's wrong with the Maize and Blue?
| | |
| --- | --- |
| | |
| | Gregory Shamus/Getty Images |
| | There were high expectations for both Michigan and Notre Dame this season. |
Rittenberg:
Those expectations certainly increased after Michigan's 4-0 start, highlighted by the win over the Fighting Irish. I remember thinking then that Notre Dame was the better team in that matchup, but Michigan found a way to win and had the potential to make major progress. Instead, the mistakes Michigan overcame in its first four victories began to cost the Wolverines in October.
Quarterback
Tate Forcier
has battled injuries and some inconsistent play. He still creates a lot of plays with his feet, but he's still too much of a freelancer and struggles with his throws in the pocket.
Brandon Minor
might be the Big Ten's most dominant running back, but he just can't stay healthy. But for the most part, the offense hasn't been the problem. Like Notre Dame, Michigan's major issues are on the defensive side. There's a lot of youth and not much depth there, as evidenced by several walk-ons in the two-deep, but the number of major breakdowns is shocking. It's one thing to allow big plays to Notre Dame on Sept. 12. But to give up the same plays to Iowa, Illinois and Purdue later in the season is unacceptable.
Rodriguez isn't to blame for all the problems, but like Weis, I think he fights himself a lot. He has won a certain way for years, and he can be stubborn. Rich has talked a lot about the need to have patience but admits he doesn't have much himself. And he still talks too much about the program he inherited from Lloyd Carr. Last I checked, he coaches Michigan, not Eastern Michigan, and while there were problems in 2007, a program like Michigan should never miss bowls in consecutive years (a strong possibility), especially in an average Big Ten.
Both of these coaches are known for offense, and yet both have major problems on defense. Has Weis put enough focus on the other side of the ball?
Bennett:
Well, as you know, Weis is the offensive coordinator again this year and fully admits that he leaves most of the responsibility for the defense in the hands of veteran coordinator Jon Tenuta. The blitzing schemes favored by Tenuta haven't really worked, but that's mostly because of the personnel. Though Weis has brought in some highly rated recruiting classes, there still aren't enough big-time playmakers on defense, especially up front. When you look at, say USC, or even this week's opponent, Pittsburgh, the Irish simply don't stack up athlete for athlete on the defensive line.
What I don't understand is how Michigan can have talent problems, even in the coaching transition. Shouldn't the Wolverines have enough blue-chippers to field a good defense even as they adjust to a new offensive system?
Rittenberg:
You would think, Brian, but Michigan has had an abnormal amount of attrition on that side of the ball, coupled with some bad recruiting classes for defense toward the end of Carr's tenure. The Wolverines also have had veteran players regress this season, and there aren't enough young guys ready to fill the gaps. Rodriguez needs his defensive recruits to blossom immediately, especially since Michigan will be losing its best defensive player (DE Brandon Graham) and possibly its No. 2 defender (junior CB Donovan Warren). It will be interesting to see what happens with first-year coordinator Greg Robinson, who hasn't had the desired effect on this unit.
OK, you're on the spot. What's your prediction for the rest of Notre Dame's season? Can Weis turn things around? Will next year's Fighting Irish head coach be Weis or your man-crush, Brian Kelly?
Bennett:
The rest of the season brings a trip to No. 12 Pitt this week, followed by a visit from dangerous UConn next week and the season finale at Stanford. I have a hard time seeing Notre Dame winning more than two of those, so 8-4 or 7-5 looks like the final tally.
Jack Swarbrick isn't going to call me for advice, but I wouldn't think that record would be enough to keep Weis, especially since the Irish could once again lack any real quality wins. They don't hang banners for Gator Bowls in South Bend.
If there is a change, I would imagine Notre Dame would first try and land a big-time name, such as Urban Meyer or Jon Gruden. Once those guys say no -- and I don't think either would take the job -- the Irish would be crazy not to go after Kelly. He's Catholic, a great program salesman, he's built strong recruiting ties in the Midwest and he just wins big everywhere he goes.
He'd be a perfect fit at Notre Dame -- unless Michigan came calling first. Any chance Rodriguez doesn't survive, especially if the NCAA finds something in that whole practice time investigation?
Rittenberg:
The
NCAA investigation
is the wild card, especially if major violations are found for the first time in Michigan football history. But this isn't boosters paying players or academic fraud, so I can't see the penalties being too terrible. Michigan AD Bill Martin said earlier this week that
Rodriguez is safe
, and though Martin will be retiring soon, they're not going to make a change in football after only two years, especially during an athletic director transition.
A 5-7 season combined with NCAA violations would really sting, but Rodriguez should be back in 2010. He'll definitely be on the hot seat entering next fall, needing at least eight or nine wins to keep his job at a tradition-rich program.
Sound familiar?
August, 30, 2009
8/30/09
4:44
PM ET
Posted by ESPN.com's Adam Rittenberg
In addition to the statements from Michigan athletic director Bill Martin, football coach Rich Rodriguez and compliance director Judy Van Horn, the school released its list of athletically related activities that are both counted and not counted toward the NCAA-mandated time limits for in-season and out-of-season sessions.
One item on the non-countable list could benefit Michigan's strength staff in the forthcoming investigation:
Non-countable Athletically Related Activities. The following are considered non-countable athletically related activities and are not counted in the weekly or daily time limitations:
m. Voluntary individual workouts, provided these workouts are not required or supervised by coaching staff members, except that such activities may be monitored for safety purposes or conducted by the institution's strength and conditioning personnel who have department wide duties.
Michigan strength and conditioning director Mike Barwis and his assistants can cite this item in explaining their presence during voluntary offseason workouts that went beyond the eight-hour-per-week limit mandated by the NCAA.
August, 30, 2009
8/30/09
4:04
PM ET
Posted by ESPN.com's Adam Rittenberg
Michigan athletic director Bill Martin released a statement Sunday night saying the school will launch a full investigation into the allegations made by current and former Wolverines players of NCAA violations committed by the program.
Players told the Detroit Free Press and ESPN.com that Michigan violated NCAA time limits for practices and offseason workouts, including having players spend 10-12 hours at the football facility the Sundays after games.
"We are committed to following both the letter and the intent of the NCAA rules and we take any allegations of violations seriously," Martin's statement reads. "We believe we have been compliant with NCAA rules but nonetheless we have launched a full investigation of the allegations in today's newspaper. We have already reached out to both the Big Ten and the NCAA and we will have more to say on this as soon as we have completed our assessment."
Former Michigan wide receiver Toney Clemons, who has since transferred to Colorado, told ESPN's Joe Schad on Sunday night that the allegations made in the Free Press report are accurate.
"The allegations are true," Clemons said. "Nothing is fabricated or exxagerated in that story. I was there on Sundays from 10 a.m. to 10 p.m. or 11 a.m. to 10 p.m. depending on if guys needed treatment. You were there daylight to nighttime."
Michigan head coach Rich Rodriguez and associate athletic director for compliance Judy Van Horn also released statements Sunday night.
"We know the practice and offseason rules and we stay within the guidelines," Rodriguez's statement reads. "We follow the rules and have always been completely committed to being compliant with all NCAA rules."

"During the season, the NCAA limits 'countable' practice activities to 20 hours per week," Van Horn's statement reads. "There are activities that don't count, such as rehab and getting taped. We educate our coaching staffs and student-athletes [in all sports] to keep everyone informed of the rules. Also, compliance and administrative staff conduct in-person spot checks of practice during the academic year and summer. We have not had any reason to self-report any violations in this area with any of our sports."
June, 5, 2009
6/05/09
11:30
AM ET
Posted by ESPN.com's Adam Rittenberg
Michigan athletic director Bill Martin mentioned last month how he tries to fill out his nonconference schedule with the two Big Ten teams that the Wolverines don't play in a given season.
He wasn't kidding.
According to the blog MVictors.com, Michigan and Minnesota recently discussed scheduling a nonconference game in 2010 at Michigan Stadium. The Wolverines are still looking for an opponent for the Sept. 4 opener, which will mark the first game in the renovated Big House. Minnesota has open dates on Sept. 4 and Sept. 25 and needs to add a 12th game for 2010.
The Gophers and Wolverines don't play in 2009 or 2010.
Minnesota athletic director Joel Maturi confirmed the discussions and explained to MVictors.com why the plan ultimately didn't pan out.
We had already scheduled Southern Cal for next year [2010]. I'm not a real brilliant guy, but I'm not so sure it's in the best interest of Minnesota football to play Southern Cal and Michigan in back-to-back weeks. Non-conference, so-to-speak. As a result, if we had not scheduled Southern Cal I would have been very interested. But we had already inked Southern Cal, which again I applaud coach [Tim] Brewster for improving our schedule, but you don't want to improve it too much. I'm not so sure Ohio State or Michigan would do that either.

Bill proposed it. I thought it was intriguing because the honest truth is, I still needed a game for next year and so did he.
A Big Ten spokesman said the league would have no objection to two of its members scheduling a non-league game. In 2002, Purdue and Indiana scheduled a nonconference basketball game in December because they were scheduled to meet just once during the regular season.
You can't fault Minnesota for avoiding a trip to Ann Arbor in addition to a game with USC, though it will be interesting to see if more Big Ten teams look at this strategy.
This could be a way to add flavor to the nonconference schedule and help fellow league members (Minnesota would have pocketed a hefty sum for visiting the Big House). Fans would certainly welcome more non-league games against big-time teams, especially familiar ones.
May, 29, 2009
5/29/09
11:24
AM ET
Posted by ESPN.com's Adam Rittenberg
Big Ten commissioner Jim Delany has called league expansion a "back burner issue" more than once in recent weeks.
Well, here's one for the conference to put on the front burner.
The hiring rate of minorities to head coach and coordinator positions remains well below what it should be in college football, and it's reflected in the Big Ten.
The league has one minority head coach -- Michigan's Rich Rodriguez is Hispanic -- and only two minority coordinators in Michigan offensive coordinator Calvin Magee and Michigan State offensive coordinator Don Treadwell.
The league had six coordinator changes during the offseason, including the departure of Illinois offensive coordinator Mike Locksley, who became one of six black head coaches in the sport when he took over at New Mexico. But none of the vacancies was filled with a minority candidate.
The Big Ten has had only three black head coaches and only one, Michigan State's Bobby Williams, since 1991. Northwestern had consecutive black head coaches from 1981-91 in Dennis Green and Francis Peay.
Before Michigan hired Rodriguez, the Big Ten had only one other minority head coach in the last two decades -- Wisconsin's Barry Alvarez, one of the most successful coaches in recent league history.
"It's not more of a concern today than it was a year ago or two years ago, but it's a constant focus," Iowa athletic director Gary Barta said of minority coach hiring. "We want diversity on our campus from the president's office to the faculty, including the athletic department. And the only way you get that is through purposeful recruitment. It's not just who applies. It's who you're looking at and who you're developing through your ranks."
July, 9, 2008
7/09/08
7:05
PM ET
The RichRod-WVU case has settled, and it seems like both sides are content the drawn-out dispute is over. Rodriguez, despite being $1.5 million poorer, can move on with his duties at Michigan. West Virginia got the money it wanted from Rodriguez, and can now look ahead to a very promising football season without him.
"I'm just glad it's over," Mountaineers coach Bill Stewart told The Charleston Gazette. "Both sides need to be able to focus on what's really important, and that's the football programs at West Virginia and Michigan."
Identifying clear winners and losers in this convoluted case isn't easy, but let's take a look.
West Virginia: The school got the $4 million it sought after Rodriguez left for Michigan in December. Waiting out seven months of squabbling to get the full compensation must provide a degree of vindication. But West Virginia still must pay its attorney fees and court costs associated with the case, so it's not a complete W. Much of the venom West Virginia had for Rodriguez was justified -- the coach should have handled his departure differently -- but the focus on this very public case didn't paint anyone in a good light. West Virginia football has a good thing going: a likable new coach (Stewart), one of the nation's most accomplished seniors (Pat White) and an improving league. To quote Les Miles, it's time for West Virginia to focus on its damn fine football team.
Rodriguez: This definitely wasn't the outcome he had hoped for, and though Michigan is picking up most of the tab, it's never fun to part with $1.5 million. Rodriguez wanted to see this through, but as the case dragged on, with his new bosses possibly having to give depositions, he agreed to settle. He clearly made mistakes during the process and should have settled this long ago. At least he can focus now on his extremely difficult task on the field at Michigan without the distraction off of it.
Michigan: Athletic director Bill Martin's post-settlement statement reconfirmed the school's faith in Rodriguez but acknowledged the positives of having the issue resolved. The much-publicized dispute wasn't the start Michigan envisoned to Rodriguez's tenure. Hiring an outsider was already a concern for the Old Blues. The school will shell out $2.5 million plus Rodriguez's legal fees, all from the athletic department's reserve funds, but at least it makes this p.r. headache go away.
July, 9, 2008
7/09/08
12:54
PM ET
Posted by ESPN.com's Adam Rittenberg
Michigan Athletic Director Bill Martin just released a statement about Rich Rodriguez settling his buyout case with West Virginia. RichRod will pay $1.5 million, while Michigan handles the other $2.5 million and Rodriguez's legal fees. Here's Martin's full statement:
"We are tremendously pleased to have been able to hire Rich Rodriguez as head coach of the University of Michigan football team. With his enthusiasm, integrity, and creative strategies he has already begun to make his mark on the program, and we are looking forward with great excitement to the coming season. To help Rich focus on the challenges ahead, we have worked with him to resolve the dispute between him and West Virginia University over the terms of his buyout.
Although he continues to disagree with the validity of the terms, Rich and the rest of us at Michigan felt that it would be best to get this distracting issue behind us. Accordingly, Rich has agreed to pay $1.5 million out of his own pocket in three annual payments of $500,000 beginning in January, 2010. UM Athletics will contribute $2.5 million in a single payment made by the end of July, 2008, for the total of $4
million that WVU sought. Separately, Athletics has agreed to pay Rich's attorney fees. A financially self-sustaining unit at UM, Athletics will cover all payments from its reserve funds, which are annual operational surpluses from such sources as sponsorships, licenses, and media rights payments.
This situation is now resolved, and we are ready to move onward to a new era of Michigan football. Go Blue!"
This settles the monetary end of things, but the question of whether either side is truly happy remains.