NCF Nation:

Bill McCartney
August, 29, 2014
Aug 29
11:00
AM ET
BATON ROUGE, La. -- Every once in a while, Les Miles scrolls through the numbers stored in his cell phone and settles on digits that once connected him to a source of advice and camaraderie.
Bo Schembechler died nearly eight years ago, but Miles can't bring himself to remove his coaching mentor's number from his contacts list.
"It's impossible to take it out, isn't it?" Miles asked, staring at the number on the screen. "You know what, sometimes, I haven't dialed it in a while, but sometimes I dial it, too."
Miles will kick off his 10th season as the LSU Tigers' coach on Saturday against Wisconsin, so the 60-year-old Ohioan had plenty of time to create his own unique identity within the world of college football. And boy has he ever done that, parlaying his wacky personality and consistent winning into a status as one of the sport's rock stars.
[+] Enlarge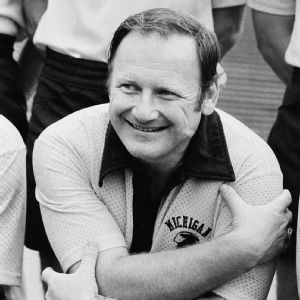 AP Photo"Bo [Schembechler] had the feel of his team," LSU coach Les Miles said. "... I was fortunate to play for him and coach alongside him and I just saw how he touched his team in really special ways."
But Miles wouldn't deny that lessons learned while coaching under father figures like Schembechler and Bill McCartney helped mold him into the head coach he became. Not that he can necessarily pinpoint individual ways that those mentors shaped his own philosophies.
"I think what happens is you have natural instincts in coaching and team philosophies and things that are in your mind right and wrong about a coaching year, scheduling, how you write the schedule for your team -- just the many things that go into developing a team," Miles said. "And I think that these two guys have so marked my memory that I don't know that I can even separate it.
"But I can tell you this, the things that when you ask [how they influenced me], Bo had the feel of his team. He had just an unbelievable, uncanny recognition for what his team needed. I don't think anybody had that ability that Bo had. I was fortunate to play for him and coach alongside him and I just saw how he touched his team in really special ways -- just roughly and sometimes with humor and sometimes matter-of-factly. He just had it. He could really just speak to his team."
It's easy to see how Schembechler's methods of communication might have rubbed off on his former pupil. In fact, he still speaks to Miles, even from the Great Beyond.
Well, sort of.
Miles chuckled while reporting that he has an enormous Schembechler bobblehead in his office at his family's Baton Rouge home. Miles said he sometimes talks to the approximately 4-foot-tall doll as though it's actually the man who coached him at Michigan, offered him his first college coaching job as a Wolverines graduate assistant in 1980 and later hired him as a full-fledged member of his staff.
Asked how those conversations might go, Miles replied, "Just some smiling thoughts. Or I can remember asking him some questions about personnel and his very candid responses."
Michigan was already on top when Miles became a part of Schembechler's program. He learned entirely different lessons about how to become successful when he followed McCartney to Colorado.
McCartney hired 28-year-old Miles to coach the offensive line as a member of his first Colorado staff in 1982. Through some rocky early seasons in Boulder, Miles helped McCartney lay the groundwork for what would become one of the nation's winningest programs in the late 1980s. The Buffaloes had become competitive by the time Miles left McCartney's staff to return to Michigan in 1987, and it would win a national championship a few years later.
Miles doesn't speak of any coach as reverently as he does of Schembechler, but it's clear that McCartney -- a man of great Christian faith -- also made a mark on his young assistant.
"Bill McCartney had vision that was unnatural," Miles said. "He knew where he wanted to go with his program. He knew how he needed to lead his team. He could recruit as well as any."
But where does Miles' trademark gutsiness come from? The trick plays in crucial situations? The decisions to go for it on fourth-and-short over and over? The call to throw for the end zone with seconds remaining when a field goal could win the game?
That's mostly Les, although even that distinctive bravado might owe a bit to his mentor.
"You've got to understand something," Miles said. "That Schembechler guy, he was pretty stinking confident."
Miles is certainly no clone, however. It's difficult to picture Schembechler or McCartney participating in TV commercials where they eat grass or engaging in some of the other antics that have transformed Miles into the sport's clown prince. But their lessons are always there, forming a portion of the eccentric coaching personality for which Miles is famous.
Every coach -- actually every successful person in any industry -- can look back at the early stages of his career and point to the people who helped him get on the right track, whose daily presence helped him understand how to do the job correctly.
Miles' first two bosses are both in the College Football Hall of Fame and Miles is well on the way there himself, proving that he must have been paying attention while learning at the feet of two football masters.
"Being around both those guys," Miles said, "I can't tell you how fortunate I am."
May, 7, 2013
5/07/13
2:00
PM ET
Former Temple coach Wayne Hardin
was one of 14 men Tuesday to be named to the College Football Hall of Fame
, emerging from a pool of 77 candidates and joining Colorado's Bill McCartney as the only coaches to make it this year.
The winningest coach in Temple history, Hardin led the Owls to an 80-52-3 record during his tenure, from 1970-82. The 1979 team's Garden State Bowl win over Cal was the first bowl win in program history, giving it a record 10 wins for the season. (The Owls finished 10-2.) The team finished ranked 17th in both the AP and UPI polls, also marking school records for the highest ranking in program history.
Temple won a school-record 14 straight games from 1973-74 under Hardin, who won the 1974 Kodak District II coach of the year and was inducted into Temple's Hall of Fame 20 years later.
"This is a great day for Temple University," interim athletic director Kevin Clark said in a statement. "Wayne Hardin is not only a Hall of Fame football coach, but a Hall of Fame person. The entire Temple community is grateful that he has been selected for induction into the College Football Hall of Fame."
Hardin is the third Temple player or coach to be inducted into the College Football Hall of Fame, joining former coaches Ray Morrison (1940-48, inducted in 1954) and Glenn S. "Pop" Warner (1933-38, inducted in 1951).
Before he entered Philadelphia, Hardin was Navy's head coach from 1959-64, coaching two Heisman Trophy winners (Joe Bellino, Roger Staubauch) and twice leading the Midshipmen to top-5 rankings.
He will be inducted Dec. 10 at the 56th annual NFF awards dinner at the Waldorf-Astoria Hotel in New York.
The other former Big East player and coach candidates -- Memphis coach Billy Jack Murphy, SMU running back Eric Dickerson and Temple running back Paul Palmer -- did not make the Hall on Tuesday.
April, 4, 2013
4/04/13
5:00
AM ET
1. As Tom Farrey's report on "Outside the Lines" illustrated, NCAA president Mark Emmert's emphasis on style and message is nothing without a foundation of competence. Emmert ratcheted up the pressure on his employees for change, and the Miami fiasco is the result. In the wake of questions about the Freeh Report, the harsh Penn State penalties meted out with a holier-than-thou flourish by Emmert last summer look like a ready-fire-aim effort. In this, the NCAA's red-carpet week, the spotlight on Emmert is harsh.

2. That wasn't hard, was it? The old Big East came up with a new name, American Athletic Conference, that contains geographic meaning (the league covers a lot of ground) and can be reduced to a simple acronym that sounds like the other top leagues. Who knows if the AAC will be a success on the football field? The odds are long. But the league found a good name, which is more than the Big Ten and the ACC can say about its divisions.

3. Chuck Fairbanks, who died Tuesday of cancer at age 79, won big at Oklahoma (52-15-1 from 1967-72) and lost big at Colorado (7-26, 1979-81) and coached in the NFL in between. He got the New England Patriots job after Joe Paterno took it overnight and gave it back the next morning. The coaches who replaced him at Oklahoma and Colorado, Barry Switzer and Bill McCartney, respectively, won four national championships between them.
November, 29, 2012
11/29/12
5:00
AM ET
1. Just warning you: If you're an unaffiliated college football fan who wants a ticket for the BCS National Championship Game in Miami, then root for the
Georgia Bulldogs
. At the TeamTix website, where fans reserve seats at market prices to see their team in the postseason, Notre Dame tickets Wednesday were offered at $1,190, Alabama tickets at $950, and Georgia tickets at $300.
2. Bill McCartney feels that his protégé, Jon Embree, was wronged by Colorado. I get that. Embree didn't get a fair shake. But racism? McCartney said that since CU gave Dan Hawkins five years to succeed, Embree should have gotten five years. Hawkins getting five years is the exact reason why Embree wasn't going to. It had nothing to do with race. Southern Mississippi fired Ellis Johnson after one season. He's white.
3. The rain is settling in Palo Alto, Calif., and it isn't supposed to stop before the Pac-12 championship game Friday evening. That means wet, mucky turf for No. 8 Stanford and No. 16 UCLA. Both teams are effective on the ground. But the job that Cardinal offensive-line coach Mike Bloomgren has done in developing freshmen
Andrus Peat
,
Kyle Murphy
and
Josh Garnett
into 20-to-30-plus-play guys means that Stanford is two deep along the front in what appears to be a grind-it-out game.
September, 12, 2012
9/12/12
7:00
PM ET
Here are two pieces of stone-cold reality for Colorado: 1. It's best chance to win a game this season probably happens Saturday at Fresno State; 2. The Buffaloes are two-touchdown underdogs.
Preseason hopes for the Buffs lay in the schedule, which seemed super-soft entering the season. Game 1 was against a Colorado State team that Colorado beat a year ago, one that was breaking in a new coach. Game 2 was against Sacramento State, an FCS team.
A 2-0 start seemed not only reasonable to project, but likely. And a 2-0 start would bring confidence to a young team. It would energize a fan base. A 2-0 start probably would have made the Buffs even money at Fresno State. After that, a trip to Washington State, UCLA coming to Boulder ...
[+] Enlarge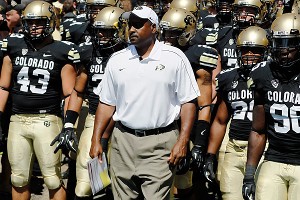 AP Photo/David ZalubowskiColorado coach Jon Embree is facing an uphill battle with a young roster this season.
It wasn't difficult to be charmed with optimistic possibilities in August. It wasn't unreasonable, looking at the schedule, to think: "Hmm. Colorado could be 4-2, heck, even 5-1 when it goes to USC on Oct. 20."
Then stone-cold reality set in. It seems more likely now that the 0-2 Buffs win no games in 2012 than they match their three wins from last season. Making matters worse, while the Buffs have receded from modest preseason expectations, the rest of the Pac-12 has advanced. Perhaps significantly. In particular, the South Division no longer appears to have any easy outs. Other than the Buffs.
We should have seen this coming, though. The coaching staff was under no illusion that its team wouldn't be extremely young this season. As bad as things have been the past couple of years, losing 28 seniors -- 26 of whom started or saw significant action (when healthy) in 2011 -- is not something that a team can easily overcome.
You want young? There are only nine seniors on the entire roster. The current depth chart features 16 freshmen -- 11 true freshmen -- seven on offense and nine on defense. Both starting cornerbacks on Saturday are likely to be true freshmen.
Did we mention costly injuries. Receiver
Paul Richardson
started things in the spring when he blew out his knee. He's only Colorado's most explosive player. But wait ... there's more. Linebacker
Doug Rippy
and safety
Ray Polk
, both seniors, are likely out at Fresno. Cornerback
Greg Henderson
and center
Gus Handler
are questionable.
The simple fact is Colorado, even against some lower-division teams, faces a talent and experience gap. Remember what Bum Phillips said about Bear Bryant: "He can take his'n and beat your'n and take your'n and beat his'n."
Bryant couldn't win with Jon Embree's roster.
The problem for Embree is he walks a fine line between maintaining confidence in his locker room -- aka, "We're close!" -- and pleading for patience to a disgruntled fan base that sees the talent gap, but also is micro-analyzing the coaching, looking for creative failures and every blip of inefficiency.
"What's killing us right now is details," Embree said. "We have to be more detail-oriented as coaches and as players."
Granted. There were mistakes aplenty in both losses. But those are the sorts of miscues young players make. The devil might be in the details, but the losses are reflective of the depth chart, which Embree has had control of for just one and a half recruiting classes (he was hired in December of 2010, so he gets a 1/2 for his first recruiting class).
Of course, the coaching staff can't just sit back and hope things work themselves out, and it doesn't appear it is. The staff made a change at tailback, and 235-pound freshman
Christian Powell
's move from fullback yielded 147 yards rushing and three TDs against Sacramento State. Embree said backup quarterback
Connor Wood
would see action at Fresno State, along with starter
Jordan Webb
. And you can expect to see plenty of shuffling along the depth chart over the coming weeks as Embree and his staff try to figure out who can play and who needs to sit.
Embree has suffered through a horrible start before in Boulder. In 1986, his senior season as Colorado's tight end, the Buffs opened with a 23-7 loss to Colorado State, the first defeat in an 0-4 start. That team stepped up and finished 6-6.
That's not going to happen here, though. The more instructive numbers Buffalo fans should consider are 2, 4 and 1.
Those are the number of wins Bill McCartney produced his first three seasons. You might recall that things got better.
Patience is no fun. Being told to have patience is even worse. But that spoonful of cod liver oil is probably the best medicine right now in Boulder.
July, 9, 2012
7/09/12
9:00
AM ET
Does a coach define your program? Think Alabama and Bear Bryant, Penn State and Joe Paterno and Florida State and Bobby Bowden.
Does he cast a shadow that's hard to escape? Or is your all-time winningest coach mostly incidental?
[+] Enlarge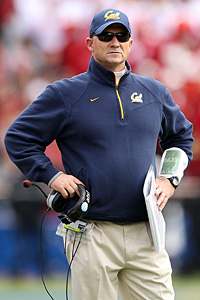 Ezra Shaw/Getty ImagesCoach Jeff Tedford is Cal's winningest coach of all time, but is he the face of the program?
ESPN.com is looking at the winningest coach for each FBS program today, and the results from the Pac-12 are interesting.
Some teams are trying to regain the past glory of a legendary coach (Arizona State and Frank Kush, Colorado and Bill McCartney, UCLA and Terry Donahue and Washington and Don James).
Some teams all-time wins leader paved the way for present glory (Oregon and Mike Bellotti and USC and John McKay).
Some are just names on a list, Hall of Famers or otherwise, men glaring at us from black and white photos (Pop Warner for Stanford, Lon Stiner for Oregon State, Ike Armstrong at Utah and Babe Hollingbery for Washington State).
And for some teams, well, things are complicated.
For one, Jeff Tedford, who has been hot-seated by many reporters and California fans, is the Bears all-time winningest coach. Then there's Oregon State's Mike Riley, who most feel is sitting on the second-warmest seat in the Pac-12. He needs just three victories to eclipse Stiner as the Beavers winningest coach.
A guy who might identify: Arizona's winningest coach Dick Tomey. Tomey went 12–1 in 1998 but was forced out in 2000.
Hey, look at this patch of grass. It's lovely. Not perfect, though. Is that a clover? Hmm. What about the grass ... over there?
The most interesting names, of course, are Kush, McCartney, Donahue and James. Each is the standard for his program. Even fans too young to have witnessed their tenures know who they are. While these coaches' programs have experienced varying degrees of success both before and after them, no one has been able to duplicate their consistency. And those who have tried over the past couple of decades seem as though they shriveled up under the shadow of the legends who preceded them.
While fans fervently cling to the "It happened before, so it can happen again" position, the truth is comparisons are sometimes unfair. College football is much different than it was before the BCS era, which none of these four experienced.
But that doesn't keep fans from hoping for a second-coming.
August, 11, 2011
8/11/11
11:00
AM ET
A quick look at the two new coaches in the Pac-12: Colorado's Jon Embree and Stanford's David Shaw.
Embree and Shaw share some similarities. Both are first-time head coaches. Both played for the program they now coach. Both coached in the NFL. Both say they want to retire in their present job instead of climbing the coaching ladder. And, yes, both are black, the fourth and fifth black head football coaches in conference -- Pac-8 to Pac-10 to Pac-12 -- history.
Here's a quick look at the new guys.

Jon Embree, Colorado
Replaces?
Dan Hawkins, who never posted a winning season in five years in Boulder.
Where was Embree last year
? He was the tight ends coach for the Washington Redskins.
What's he bring to the table that's different
? Embree is a hardnosed old school coach -- Hawkins was decidedly new school -- who is from the area and played for Colorado under the revered Bill McCartney. He's spent 10 of his 18 seasons in coaching at Colorado, working from 1993-2002 as a Buffs assistant under three different head coaches: Bill McCartney (1993-94), Rick Neuheisel (1995-98) and Gary Barnett (1999-2002). He has repeatedly said that Colorado is his dream job, not a stepping stone. His singular focus is restoring a program that was once a national power.
What else
? Embree, 45, is the first black head football coach at Colorado and the fourth black head coach in Pac-12 history (Stanford's Dennis Green (1989-91), Stanford's Tyrone Willingham (1995-2001), UCLA's Karl Dorrell (2003-07) and Willingham at Washington (2004-08). Shaw became the fifth in January)... Embree earned a communications degree from Colorado in 1988... He was a member of McCartney's first recruiting class... In 1984, he earned first-team All-Big 8 honors and set school single-season records for receptions (51) and receiving yards (680)... He was a sixth-round selection by the Los Angeles Rams in 1987. He played two seasons with the Rams before suffering a career-ending elbow injury in 1989 while a member of the Seattle Seahawks... His original plan after the NFL was to get into TV news, but he took a job as a volunteer assistant with McCartney and was immediately bitten by the coaching bug... He is married to the former Natalyn Grubb and they have three children, a daughter and two sons. Eldest son Taylor, is a receiver at UCLA, while Connor is a receiver at UNLV.

David Shaw, Stanford
Replaces
: Jim Harbaugh, who rebuilt the program into a national power before being hired away by the San Francisco 49ers.
Where was Shaw last year
: He was Stanford's offensive coordinator.
What's he bring to the table that's different
: Where Harbaugh was boisterous, often eccentric and sometimes prickly, Shaw is mellow, polished and accommodating. That said, he's repeatedly insisted that doesn't mean the competitive fire doesn't burn just as hot. He certainly knows Stanford. His father coached there and he's a 1984 graduate. He returned to Stanford in 2007 when Harbaugh arrived -- they were together at San Diego -- so he's seen the Cardinal renaissance firsthand. And, just like Embree, he says that Stanford is his destination job and that he's not looking to move on or up in the coaching profession.
What else
? Shaw is the fifth Stanford alum to become head football coach, joining Charles Fickert (1901), Carl Clemans (1902), Chuck Taylor (1951-57) and Paul Wiggin (1980-83)... He was a member of Stanford's 1991 Aloha Bowl team coached by Dennis Green that finished 8-4. He was also on the Cardinal's 1992 Blockbuster Bowl-winning squad coached by Bill Walsh that went 10-3. He finished his Stanford career with 57 receptions for 664 yards and five touchdowns... He started his coaching career in 1995 at Western Washington. He's also coached for the Philadelphia Eagles, Oakland Raiders and Baltimore Ravens... He's coached quarterbacks, receivers and running backs in his career... Shaw's offense ranked ninth in the nation in scoring last fall (40.3 ppg) and it amassed a school-record 6,142 yards, averaging a notably balanced 213.8 on the ground and 258.7 yards through the air... His father, Willie, had two separate coaching stints at Stanford (1974-76; 1989-91) during his 33-year coaching career, which was mostly spent in the NFL... His bachelor's degree from Stanford is in sociology... He was born in San Diego. He and his wife Kori have three children, Keegan, Carter and Gavin.
February, 18, 2011
2/18/11
12:57
PM ET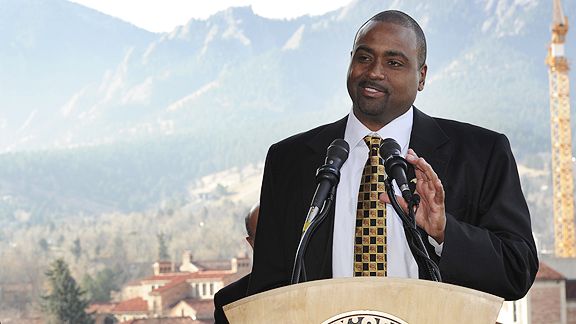 AP Photo/Jack DempseyNew Colorado coach Jon Embree is hoping to return the program to the prominence he remembers.
When you talk to new Colorado coach Jon Embree, two things stand out. First, as a former player and coach, his connection to the Buffaloes runs deep. Second, not unlike Colorado fans who feel a powerful affinity for the program -- those who remember the glory years under Bill McCartney -- the malaise of recent seasons eats at him on a visceral level.
Embree didn't negotiate the tricky coaching ladder just to become a head coach. He climbed it to become Colorado's head coach. As a competitor, he's always wanted to win, of course, whether he was at UCLA or the Kansas City Chiefs or the Washington Redskins. But Buffs fans should know this: Winning at Colorado is personal for Embree. Whatever he lacks in head-coaching experience, he may well make up for with a singular commitment to restoring football in Boulder.
"The plan was always to be back here," he said. "That was always the plan. This is the only job I've ever wanted."
There also may be an additional edge to Embree's drive to rebuild Colorado. Consider his résumé.
As a touted local recruit in 1983, he bought into what McCartney was selling and became an impact player as a true freshman tight end. In his final season, 1986, the Buffaloes overcame a 0-4 start to finish 6-6. Then it was off to a brief NFL career.
In 1991, he joined McCartney's staff as a volunteer assistant. In 1993, after a year as a high school assistant, he came back to Boulder with a full-time job, coaching tight ends, and he remained with the Buffaloes until 2002, sticking around to work for both Rick Neuheisel (1995-98) and Gary Barnett (1999-2002).
OK. This is boring. What's the point? Ah, glad you asked. Embree was in Boulder for 15 years as a player and coach from 1983-2002. What key years are missing? Correct: 1989 and 1990, when the Buffs won back-to-back Big Eight championships, went 22-2-1 and split the 1990 national title with Georgia Tech.
Embree signed with Colorado in 1983 because "I believed in the vision that Bill McCartney had for the program and where this place could go and how it could be special. It was really all Bill McCartney." And he experienced the highs and lows of a rebuilding program, including a 1-10 finish in 1984. But he wasn't there when Colorado reached the pinnacle, as a player or coach. Perhaps that's an itch that he'd like to scratch.
"I felt like we were always close," he said. "We were always right there. We were close. But we just couldn't get over the hump."
February, 17, 2011
2/17/11
11:42
AM ET
The Pac-10 doesn't become the Pac-12 officially until July 1, but with the advent of spring practices -- Stanford gets an early jump on Feb. 21 -- the reality sets in: It's going to be different this fall.
It's not just about Utah and Colorado joining the "old" Pac-10, which has been stable since adding Arizona and Arizona State in 1978. It's about a massive transformation.
For one, there will be two divisions: North (California, Oregon, Oregon State, Stanford, Washington and Washington State) and South (Arizona, Arizona State, Colorado, UCLA, USC and Utah). Teams will still play nine conference games, but the round-robin format adopted in 2006 is over. With 12 teams, every team can't play every other on an annual basis, which affects not only rivalries but also recruiting.
Divisions also bring a conference championship game, which will be played at the home stadium of the team with the best conference record on Dec. 3. The winner of that game, even if it's just, say, 8-5, will be crowned Pac-12 champion and go to the Rose Bowl, if it's not selected for the national title game.
Divisions change the dynamic. In Pac-10 play, every game mattered. In Pac-12 play, divisional games matter a little more.
While some Pac-10 coaches, particularly in the Northwest, weren't terribly excited about expansion and North and South divisions -- Oregon State's always-pleasant Mike Riley was on record as being slightly sour on the idea -- there's no turning back. For the lack of a better phrase, it is what it is.
"It's not really a focal point for us as we head into spring practice," Washington coach Steve Sarkisian said. "Our focus for us is on us, trying to get better."
Said Oregon coach Chip Kelly, "Whether there are eight teams in the conference or 18 teams in the conference, it has no effect on us ... I don't care how they split the divisions -- I don't get caught up in that. I don't know why anyone would .... They don't ask us our opinion on that. And it's not that I want that. I don't worry about things I don't have control over."
[+] Enlarge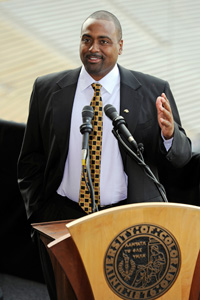 AP Photo/Jack DempseyNew Colorado coach Jon Embree believes the Pac-12 is a better conference for Colorado than the Big 12.
For Utah, coming from the Mountain West Conference -- a solid league but a non-automatic qualifying one -- the move was a no-brainer. For Colorado, leaving the Big 12 was a more complicated proposition. But new Buffaloes coach Jon Embree admits he has a West Coast bias.
"When they were forming the Big 12 [in 1994], it looked like we might go to the Pac-10 at the time, and I was really hoping that would happen for the university as opposed to the Big 12 conference," he said. "I always felt like that conference was a better fit for us."
Embree played high school football in Colorado, went to Colorado and coached there for 10 seasons under Bill McCartney (1993-94), Rick Neuheisel (1995-98) and Gary Barnett (1999-2002). He's a Colorado guy. But his parents are from Los Angeles, he was born in L.A., he spent plenty of time in Southern California growing up and he coached at UCLA. He even played for the L.A. Rams for two seasons (1987-88).
He's got plenty of West Coast in him, just as Colorado's and Utah's rosters are already laden with players from California, as well as a smattering from other Pac-10 states. The transition for both probably will be fairly easy.
And, of course, none of this has much to do with spring practices, which for all 12 programs will be business as usual: Filling voids, fostering competition, breaking in new coaches and tweaking schemes.
On the football side of things, Embree is the only new coach who arrived after a termination. His predecessor, Dan Hawkins, never posted a winning season in five years. At Stanford, Jim Harbaugh bolted for the San Francisco 49ers after leading the Cardinal to their best season of the modern era. David Shaw was promoted from offensive coordinator to replace Harbaugh.
That's it for coaching transitions, though it's fair to say that a number of coaches enter spring practices facing win-or-else seasons, particularly UCLA coach Rick Neuheisel, Washington State's Paul Wulff and Arizona State's Dennis Erickson.
Seven teams enter spring with stability at quarterback, including four with legitimate All-America candidates behind center: Stanford's
Andrew Luck
, Oregon's
Darron Thomas
, USC's
Matt Barkley
and Arizona's
Nick Foles
. Conversely, three teams appear to have wide-open competitions at the position: California, UCLA and Washington.
UCLA replaced both coordinators, which notably ended up landing Norm Chow at Utah. California and Arizona also had some significant staff turnover, with Bears coach Jeff Tedford stating he planned to work extensively with his quarterbacks this spring.
At Oregon, the Ducks begin earnest preparations to defend their consecutive conference titles needing to rebuild their offensive line and defensive front seven. Arizona, California, Stanford and USC also have questions on their offensive lines, while Oregon State must address the early departure of running back
Jacquizz Rodgers
and issues on its defensive line. Arizona State, with a conference-high 19 starters back, needs to square things away at quarterback and prepare for being the favorite in the Pac-12 South. Newbies Colorado and Utah have vacancies in the secondary, which should be worrisome in a conference of quarterbacks.
So it's really about football this spring, not transformation. Because you know what every coach will tell you when asked for his thoughts on heading into the first year of Pac-12 play?
"It's just line 'em up and tell me who to play," Embree said.
December, 2, 2010
12/02/10
2:31
PM ET
Colorado
might have picked the man
to lead it into the Pac-12.
Washington Redskins
tight ends coach Jon Embree has been offered the Buffaloes' head coaching job, according to a report in the
Denver Post
.
The newspaper named its source as former Colorado coach Bill McCartney, who has publicly stated he wanted to return to his old job.
Colorado spokesman Dave Plati denied the report to ESPN.com's David Ubben. "[Athletic director] Mike [Bohn] has not offered the job to anyone at this point. Rumors, everyone wanting to be first."
Reports earlier Thursday said that Embree, former Buffaloes running back Eric Bieniemy, and Alabama offensive coordinator Jim McElwain
topped the list of candidates
.
The Post reported that the school is hoping to hire Embree, who could then lure Bieniemy back to Boulder as his offensive coordinator.
November, 9, 2010
11/09/10
9:41
AM ET
Change is coming at Colorado before it comes to the Pac-12.
Embattled coach Dan Hawkins will be fired Tuesday and associate head coach Brian Cabral will take over as interim coach,
a source told ESPN's Joe Schad
.
Here's the story from the
Denver Post
, which reported former "CU coach Bill McCartney, who led the Buffs to a national championship, will be a strong candidate to succeed Hawkins, but other candidates from around the country will be considered."
And the
Boulder Daily Camera
-- Kyle Ringo writes about what the
next coach should "be" like
.
Just to throw in my two cents: It might make sense to get a guy familiar with Pac-10 recruiting -- read: Southern California -- and perhaps even some of the dynamics of the new conference the Buffaloes are joining.
October, 6, 2010
10/06/10
5:33
PM ET
ESPN's Tom Friend took on the Fifth Down this week, and has a great look at
the circumstances surrounding one of the most controversial finishes
in college football history.
Whether you remember the game or not, I'd encourage you to check it out. There's plenty of views from all kinds of perspectives, and input from people who knew the down shouldn't have happened and the few who didn't.
You can see more about the Fifth Down during College GameDay on Saturday morning.
An excerpt from Friend's story:
There are men to the north, south, east and west who deal regularly with the same flashback. There's the old coach in Westminster, Colo., who says he's sorry. There's the old coach in El Paso who says he could've called timeout to investigate. There's the old ref in Arkansas City, Kan., who says he was careless. There's the old head linesman in Jenks, Okla., who says it cost him a shot at the NFL. There's the old quarterback in Boulder, Colo., who says he was only following orders. And there's the old center in Denver who says he knew. Or thought he knew. And was told to shut up.

On Oct. 6, 1990, a football game was stolen, and the culprit was … the fates. It was a day when math teachers lost count and sure runners slipped and fell. It was a day when telephones went unanswered and a down marker played tricks with people's minds. If there were an easy explanation, it would've been explained by now. If there were any one villain, he would've surfaced. The consensus, 20 years later, is that it was a once-in-a-lifetime accident, that there will never be another football game that ends on Fifth Down. But only one man from that day is still on the playing field, only one can make sure it never happens again -- at least in his own stadium.

The insurance man.
Former Colorado coach Bill McCartney, a Missouri alum, apologizes to Mizzou and its fans.
August, 17, 2009
8/17/09
9:15
AM ET
Posted by ESPN.com's Tim Griffin
It's the player, school or coach that "done you wrong" once upon a time -- or maybe even repeatedly.
These figures resonate through the years for rival schools, providing an enemy that serves as a unifying element for hatred from fans of a rival school.
Here's a list of Big 12 villains over the years, both historic and present. Take a good look at the grouping and see if you have any recommendations of players or coaches I might have missed.
I'd be curious to see if any coaches or players spark greater antagonism than the ones I've selected.
Baylor Bears
Current villain: Texas coach Mack Brown, who's gone 11-0 against them with no signs of stopping.
All-time villain: Former Baylor coach Kevin Steele. His decision to try to ram in a statement touchdown against UNLV in 1999 blew up in his face like an exploding cigar when Darrell Bush fumbled and Kevin Thomas raced 99 yards for a touchdown on the final play of the game. That play snatched a sure victory from the Bears, making Steele and the Bears the laughingstock of college football. His program never recovered from that moment.
Colorado Buffaloes
Current villain: Wyoming coach Dave Christensen, who piled up 106 straight points against the Buffaloes in the last two seasons while offensive coordinator at Missouri, beating them by a combined 113-10 margin. The Buffaloes will have a chance for payback this season when Christensen brings a less-talented Wyoming team to Boulder.
All-time villain: Nebraska coach Tom Osborne directed the Cornhuskers to a career record of 21-3-1 against the Buffaloes during his coaching stint from 1973-97.
Iowa State Cyclones
Current villain: Kansas quarterback Todd Reesing has thrown seven career TDs against the Cyclones and beaten them twice, including last season's dramatic 35-33 comeback victory.
All-time villain: Iowa coach Hayden Fry, whose homespun witticisms weren't that funny for Cyclone fans when he was winning 15 straight against them from 1983-97.
Kansas Jayhawks
Current villain: Nebraska DT/FB Ndamukong Suh who beat the Jayhawks with a memorable offensive and defensive performance last season and is back for more in 2009.
All-time villain: Kansas State coach Bill Snyder beat the Jayhawks 12 of his last 13 seasons in his first coaching run, including a nine-season streak where he rolled up 41, 38, 48, 54, 50, 52, 40, 64 and 42 points in consecutive blowout victories.
Kansas State Wildcats
Current villain: Kansas running back Jake Sharp grew up only 61 miles from Manhattan in nearby Salina, but has abused them since arriving at college. He's tormented them with five career touchdowns, including four last season.
All-time villain: Texas A&M running back Sirr Parker, whose dramatic game-winning touchdown in overtime snuffed out the Wildcats' national-title hopes in 1998.
Missouri Tigers
Current villain: Oklahoma quarterback Sam Bradford has beaten the Tigers in the Big 12 title game each of the last two seasons, ruining their hopes for a first Big 12 title.
All-time villain: Colorado coach and former Missouri grad and assistant Bill McCartney should have been magnanimous after getting a gift victory over the Tigers en route to a shared 1990 national title. Instead, he sparked hostility among his old friends by ripping Faurot Field's "treacherous" playing field.
Nebraska Cornhuskers
Current villain: Missouri quarterback Chase Daniel talked a lot of smack and then backed it up by beating the Cornhuskers in each of the last two seasons. And after orchestrating a 52-17 victory in Lincoln last season, he raised the hackles of Cornhusker fans by complaining about Nebraska players spitting on him. He'll be gone this season, but definitely not forgotten among Cornhusker fans.
All-time villain: Oklahoma. Even though the rivalry was marked by immense respect on both sides -- imagine Barry Switzer doing Nebraska television commercials and endorsing Nebraska gubernatorial candidate Tom Osborne -- the Sooners' domination was a constant source of irritation for the Cornhuskers. Oklahoma claimed 16 straight from 1943-59 and beat Osborne in eight of his first nine games against them.
Oklahoma Sooners
Current villain: Those pesky BCS bowls. The Sooners have lost five-straight BCS games, stripping coach Bob Stoops of much of his national stature that should have been gleaned from an unprecedented three-straight Big 12 titles.
All-time villain: Darrell Royal represented the ultimate turncoat to Sooner fans after starring at the school from 1946-49 as a record-setting quarterback and defensive back. His 12-7-1 career record against the Sooners included eight straight victories and 12 of his 14 games against them that made his old friends despise him.
Oklahoma State Cowboys
Current villain: Texas coach Mack Brown, who has run off an 11-0 record against them. Worse, four of those victories were by four points or less, including the last two games.
All-time villain: Oklahoma. The cross-state rivals have turned the "Bedlam Series" into a one-sided affair with a 74-16-7 edge. Since Josh Fields orchestrated back-to-back upsets in 2001-02, Stoops hasn't called off the dogs in six-straight victories, exploding for 52, 38, 42, 27, 49 and 61 points.
Texas Longhorns
Current villain: The Big 12's tiebreaker rules. Texas fans are still lamenting the national-title shot that got away last season, despite beating Big 12 title game participants Oklahoma and Missouri.
All-time villain: Jackie Sherrill. He beat them regularly at Texas A&M and continued his success at Mississippi State. Even worse, he fired up his team before that 1991 victory by castrating a steer and then crowed about it after his Texas-taming success. Even more than Barry Switzer, Longhorn fans hate Sherrill.
Texas A&M Aggies
Current villain: Texas Tech coach Mike Leach. He's beaten them seven of nine games, including four straight. And he's gigged them by mocking their traditions, their coaching, their quarterbacks, everything but "The Dixie Chicken."
All-time villain: Texas. All things burnt orange set off Aggie fans -- with good reason. Their team has been dominated by the Longhorns in the school's longest rivalry. And how much of a Texas fixation do the Aggies have? The second verse of the Aggie War Hymn is essentially all about Texas.
Texas Tech
Current villain: Missouri coach Gary Pinkel. Nobody in the conference does a better job of rolling up points or handcuffing Tech's offense than his Tigers, who have averaged 47 points and won by an average of 26.3 points per game during recent three-game winning streak in the series.
All-time villain: Texas A&M. Aggie fans chap Red Raider followers by claiming the game isn't a rivalry. Mike Leach has made it seem one-sided in recent seasons. But look closely enough and you'll find it's not unusual to see the A&M logo
adorning urinals in several bars in Lubbock. Isn't that the best sign of antipathy there is?