NCF Nation:

Bill McGovern
November, 16, 2010
11/16/10
9:00
AM ET
BC linebacker
Luke Kuechly
was around the ball so much against Duke last week you'd think that he was the one carrying it.
[+] Enlarge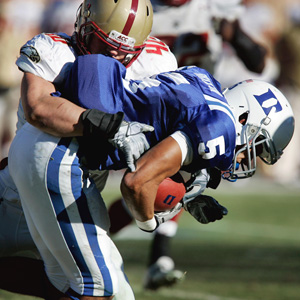 Mark Dolejs/US PresswireBoston College linebacker Luke Kuechly leads the nation with 146 tackles.
Kuechly finished with a career-high 21 tackles, broke up two passes, forced a fumble and recovered another on the next series.
Did you get that?
Twenty-one tackles
. Neither team could even get that many first downs.
When it comes to making tackles, no one in the country is better.
Kuechly is the only player in the nation to have two games with at least 20 tackles. He also had 20 at NC State on Oct. 9. For the second straight year, Kuechly has ranked either No. 1 or No. 2 in the country in total tackles and solo tackles. Last year he finished second in total tackles. This year he leads all players with 146. Yet after two seasons of racking up flabbergasting numbers, Kuechly is one of the most under-the-radar players outside of the ACC.
"Luke Kuechly is a great football player," said Duke coach David Cutcliffe. "He is a humble youngster; I know him well. I think he is the best defensive football player in college football. Absolutely, without question. And I will vote in that regard."
Cutcliffe wouldn't be the first.
As a true freshman last year, Kuechly earned All-America honors from the Football Writers Association of America. His 158 tackles were the most by a BC defender since 1993 and his 12.15 tackles per game were the most by a rookie since the NCAA began tracking tackles in 2003.
And somehow, this year, he's even better.
"Now that I've got a year under my belt I think I'm more comfortable with the whole scheme of our defense," he said. "I feel more comfortable not only with what I'm doing, but with what other people are doing, too. That's allowed me to play a little more comfortably out there and have a little more confidence in what I'm doing."
Despite his breakout season as a true freshman, it took Kuechly, a former high school safety, some time to learn the position. He was thrown into a starting role last year after Mark Herzlich was diagnosed with cancer and Mike McLaughlin ruptured his Achilles.
"He worked at it," said defensive coordinator and linebackers coach Bill McGovern. "He was one of those guys when he came in the meeting room he would ask questions. He wanted to know where he was supposed to be and how he fit, what was going on and why he should be doing that. He learned the game quickly. He takes a lot of pride in understanding what's going on, what we're doing on defense and also how the offense is attacking him."
Apparently, not very well.
Against Duke, Kuechly extended his streak of games with 10-plus tackles to 19, which is the nation's longest active streak.
In addition to his playmaking abilities, what separates Kuechly from many of his peers is his humility.
The interception at Wake Forest? He passed it off as just being "in the right place at the right time." The forced and recovered fumble at Duke? "I was just kind of around the ball." His ridiculous stats? "If I have two tackles and we can win the game I'm perfectly OK with that."
Those within the program have nicknamed him everything from Boy Wonder, to Superman and Clark Kent (because of his studious, off-field look with glasses), but Kuechly said he's just an "average student" in BC's business school, taking some electives and trying to figure out what he wants to do with the rest of his life.
He's got some time to decide.
The fact that Kuechly is a sophomore means the best is yet to come. But how does he top what he's already done? He self-scouts every week to find out.
"I need to work on angles to the ball and things," he said. "I missed a couple of tackles this past weekend because I took poor angles to the ball. There's some things in pass coverage I need to work on, get in better position, not only help myself but help the secondary behind me. That's one of the things that kind of goes unnoticed if you don't particularly know what you're looking at. I have to get in better position for pass coverage."
Regardless of how much success he has, or how much progress he continues to make, one thing that's unlikely to change about Kuechly is his modesty.
"The biggest thing is that I didn't get to where I am by myself," he said. "There's people who were constantly helping me out, guys like Wes Davis and Mark Herzlich. Everyone around me has really helped me get to where I am today. Without them I wouldn't be in this situation. The thing that you have to keep in the back of your mind is that there's always somebody better than you, and there's always somebody who helped you get to where you are."
And right now, Kuechly is at the top.
June, 8, 2010
6/08/10
11:00
AM ET
Florida State fans can rest assured their quarterback situation is in good hands. After all, how many other teams could lose their starter and have the backup earn MVP honors in a Gator Bowl win?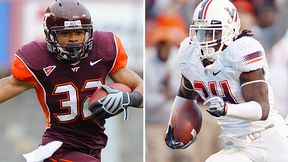 US PresswireVirginia Tech has the luxury of two 1,000-yard rushers in the same backfield.
E.J. Manuel
proved
Christian Ponder
isn't irreplaceable last season, and that's a good thing for a program vying to win the Atlantic Division title in the first season under Jimbo Fisher. When it comes to the offense, there isn't much Florida State is missing, but the Seminoles are just one of several teams in the ACC prepared to replace key players if need be.
The deepest position throughout the ACC appears to be at running back, where numerous programs have to figure out how to divvy up the carries this fall. Clemson, Florida State, Georgia Tech, Maryland, Miami, North Carolina, Wake Forest and Virginia Tech are all at least two deep at the position -- at least. The Hokies are fortunate enough to have two former backups turned 1,000-yard rushers in
Darren Evans
and
Ryan Williams
, both of whom got their opportunities at the expense of an injured teammate.
At Florida State, running back
Chris Thompson
passed
Jermaine Thomas
on the unofficial post-spring depth chart, but there's also
Lonnie Pryor
,
Tavares Pressley
,
Ty Jones
and junior-college transfer Debrale Smiley, who is a fullback/tailback like Pryor. Both Florida State and Boston College return at least four starters each on their offensive lines, which immediately helps the depth there.
Miami has four returning receivers who had at least 200 yards receiving a year ago, and Duke had so much depth at receiver that it was able to move one of its top four pass-catchers --
Johnny Williams
-- to cornerback this past spring.
Miami is also stocked on the defensive line, where the defensive ends go about three-deep on each side. The same can be said at Clemson, which returns three starters on the defensive line, and can also depend upon DE Andre Branch (38 tackles, 7.5 for loss) and DE Malliciah Goodman (26 tackles, 6.0 for loss).
Maryland returns all three of its starting linebackers and their backups. At Boston College, defensive coordinator Bill McGovern's scheme utilizes a lot of players, which helps continue the strong defensive tradition there because the players are always prepared. Reserves from 2009 such as CB Donnie Fletcher (51 tackles), DE Brad Newman (45 tackles), LB Dominick LeGrande (36 tackles), LB Anthony DiSanzo (28 tackles) and CB Isaac Johnson (27 tackles) all saw significant playing time.
No team in the ACC, though, is as loaded on defense as North Carolina, which returns nine starters. They have combined for 234career starts -- the most of any team in the ACC, with S Deunta Williams and CB Kendric Burney making 38 starts each. The challenge for Butch Davis this fall will be getting the backups some playing time in preparation for 2011.
The goal of course for all coaches is to use their backups when they want to -- not when they have to.
March, 5, 2009
3/05/09
9:48
AM ET
Posted by ESPN.com's Heather Dinich
Good morning, ACC fans. Amazingly, we survived February with no college football. March is when 10 of the 12 schools begin spring practice, with Miami having already started, and Virginia Tech waiting until April 1. We've taken a look at what to watch for each team during spring football, but there are a few overriding themes to keep an eye on throughout the entire conference this spring. We've touched on some of these in individual posts, but here it is wrapped up with a little spring bow:
1. New coordinators -- Boston College, Clemson, Miami and Virginia all have them, on both sides of the ball. BC should have a smooth transition on defense, because coach Frank Spaziani was previously defensive coordinator and promoted linebackers coach Bill McGovern. But how involved Spaziani will be remains a question. The Eagles will have to get used to first-year offensive coordinator Gary Tranquill, and could have a new starting quarterback. Clemson's offense will be interesting to watch unfold under Billy Napier, who was promoted from recruiting coordinator. Jacoby Ford said he thinks they're going to let loose a little bit, but the Tigers have the benefit of familiar faces on that side of the ball. The biggest question marks are at Miami and Virginia, where there are some serious expectations for improvement.
2. Backup quarterbacks -- The importance of these guys just can't be underestimated, and Virginia Tech could attest to that last season when their top two quarterbacks were both injured at Florida State. This spring, it will be an area of big competition at almost every school, particularly Miami, Maryland, North Carolina, Virginia Tech, Wake Forest and Duke. Backups either transferred or quit at Miami, Maryland and Wake Forest.
3. Third-year coaches -- Butch Davis, Tom O'Brien and Randy Shannon. The progress watch has begun. All of these coaches took an important step last year and won more games than they did in their first season, but the next step -- contending for their division titles -- is more difficult. Both Davis and Shannon, at some point last year, were in the mix to win the Coastal Division. O'Brien has a little bit further to go, but the team's success at the end of the season was something to build on.
4. Running backs and wide receivers -- For different reasons, these are the two positions to keep an eye on offensively in the ACC. Many of the league's top receivers from a year ago are gone, but the talent at running back runs deep at a lot of schools.
5. The next defensive superstar -- Who is it going to be? Macho Harris is gone at Virginia Tech, as is the ACC's leading tackler, Michael Tauiliili of Duke. Everette Brown, Trimane Goddard, Michael Hamlin, Clint Sintim, Jon Copper, Aaron Curry, Alphonso Smith -- a lot of big names on defense have to be replaced. The ACC's Defensive Player of the Year returns in Mark Herzlich, but who will challenge him for that title this year?