April, 30, 2013
4/30/13
11:45
AM ET
SEC commissioner Mike Slive
says he wants "football expertise"
on the selection committee that will pick the four teams for the College Football Playoff starting in 2014.
The most intriguing component in the whole move to a playoff remains the makeup of that committee.
Who's going to be on it? Better yet, who wants to be on it?
From an SEC perspective and a football perspective, I've come up with a few possible candidates. And, yes, I realize that just about every one of these would be perceived as having some kind of bias, which is going to be the problem in finding a panel that satisfies everybody.
They're listed in alphabetical order:
Bill Battle:
The new Alabama athletic director was the head coach at Tennessee in the early 1970s and later founded Collegiate Licensing Company and built it into a money-making empire.
Charles Davis:
A former defensive back at Tennessee, Davis has carved out an impressive broadcasting career at several different networks and provides analysis for both college football and the NFL.
Vince Dooley:
A true legend in SEC coaching circles, Dooley is about as intertwined with SEC football as it gets. He played at Auburn and was a Hall of Fame coach at Georgia.
Jeremy Foley:
He's easily the SEC athletic director with the most clout nationally, although he's already said he wouldn't be interesting in serving on the committee.
Phillip Fulmer:
Granted, the Alabama fans wouldn't be thrilled, but Fulmer won 98 SEC games, tied for the fifth most in history, and he's available.
Bo Jackson:
Still very involved at his alma mater, Auburn, Bo knows football as well as he played it ... and just about every other sport imaginable.
Bobby Johnson:
Now retired and living in Charleston, S.C., the former Vanderbilt coach is as sharp and respected as they come and would be a terrific choice.
Roy Kramer:
He might be the father of the BCS, but few men have helped to shape college football and the SEC in a positive way more so than Kramer, who's retired and living in East Tennessee.
Archie Manning:
One of the SEC's greatest players, Manning still keeps close taps on college football in between watching his two famous sons play in the NFL.
Joe Pendry:
A veteran of both the college and pro game, Pendry is now retired from coaching after helping to build some powerhouse offensive lines at Alabama.
Bill Polian:
He's currently doing NFL analysis for ESPN, but few people anywhere know the game inside and out any better than Polian, one of the NFL's top executives for a long time.
Gene Stallings:
He has ties to both Alabama and Texas A&M and played under the legendary Bear Bryant. Stallings knows what championship teams look like.
Sterling Sharpe:
The former South Carolina and Pro Bowl receiver for the Packers is doing a little radio now in addition to his NFL Network duties. He would offer some keen insight in the selection of the teams.
Danny Wuerffel:
The former Heisman Trophy winner at Florida would be an excellent choice. He was as smart as he was good and is one of the best people you're ever going to meet. He's also doing better after battling some health problems.
June, 6, 2011
6/06/11
5:00
PM ET
The Big Ten championship game is
headed to Naptown
for the foreseeable future. Bloggers Adam Rittenberg and Brian Bennett break down the league's decision to play its signature event in Indianapolis from 2011-15.
Adam Rittenberg:
I know you're behind this, Bennett. You wanted the shorter drive up I-65 to Indianapolis every December. One day on the blog and you're already making demands. I see how you roll.
Seriously, it's notable that the Big Ten has committed to Indy for the first five years of its new signature event. The league had two good options in Lucas Oil Stadium and Soldier Field, and ultimately made the safer and possibly smarter choice with Indy. Lucas Oil is a first-rate facility and won't provide the logistical headaches of an outdoor venue.
What was your initial take on the Big Ten's announcement?
[+] Enlarge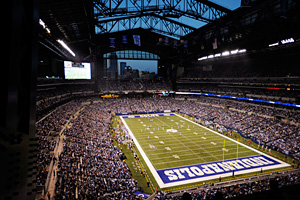 AP Photo/Tom StricklandThe Big Ten championship game will be played in Lucas Oil Stadium from 2011-15.
Brian Bennett:
That's right, Adam. Jim Delany is already throwing flowers at my feet to make my transition as smooth as possible. Smart move.
Getting back to reality, my reaction to the league choosing Indy was this: It's perfectly understandable, totally defensible on every level and yet just a bit ... uninspiring. That's no knock on Indianapolis -- anyone who's attended a Final Four or another big event there knows how well that city pulls those things off and how convenient everything is downtown for the fan experience. I certainly can't tell fans they should sit outside instead of indoors when I'll be snugly nestled in a warm press box regardless.
Still, as someone who until this point has viewed the league from afar, I've always associated the Big Ten with rugged football played outdoors, not on turf in a dome. I think of Chicago as the center of the Big Ten spoke, not Indianapolis. I see Chicago like the Big East sees New York for its basketball tournament: the league mecca.
But I'm the new guy here. What do you think?
Rittenberg:
Brian, I totally agree about Chicago, and I'm not just saying that because I live here. Chicago is the epicenter of Big Ten interest, as almost every league member, including Nebraska, boasts a significant base of fans/alums.
It comes down to whether the Big Ten wants the championship game to be a true reflection of its brand or a mostly stress-free tune-up for bigger and better things. Cold weather is an integral part of Big Ten football, plain and simple. But if you want the title game to simulate what teams will face in BCS bowls and in the national title game, Indianapolis makes more sense because they'll never play a national championship at a cold-weather venue. And, as you write, Indianapolis has the track record of being able to host successful major events.
I guess I was a little surprised that Delany mentioned "brand" as one of the elements where the Big Ten benefits by going to Indy. As you write, the Big East basketball tournament at Madison Square Garden is a tremendous brand. It should never move from MSG. And while playing outside is a different deal, a championship at Soldier Field could have provided a tremendous branding opportunity for the Big Ten.
As Delany said, this was a conservative move for a new event. It makes sense.
What do you think happens down the road? Do you think Soldier Field will ever host this event? What about other venues like Cleveland Browns Stadium and Ford Field?
Bennett:
I got the sense from Delany's comments on Sunday that he wants Chicago eventually to be the home of the Big Ten title game, but that the city has some questions to answer first.
You and I were there at the Palmer House when both Indianapolis and Chicago made their pitches to the league, and Indy brought Gov. Mitch Daniels, Colts president Bill Polian and Clark Kellogg as part of its contingent. Chicago didn't break out any heavy hitters. While Delany said that wouldn't necessarily have made a difference, Chicago clearly didn't have the all-out, integrated effort that Indianapolis brought. And Soldier Field's choppy turf may have to be addressed in the future.
Ultimately, I think Chicago will get a crack at it somewhere down the road, even if it's part of a rotation. Moving around the title game may have hurt the ACC, but the Big Ten will get a huge crowd no matter where it's located. I don't see Cleveland or Detroit or even Minneapolis or Green Bay getting the game anytime soon; Delany has made it pretty clear that Indy and Chicago are the two horses in this race.
[+] Enlarge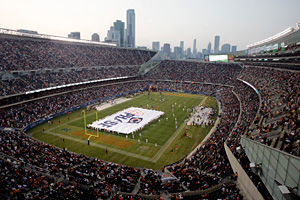 AP Photo/Charles Rex ArbogastChicago's Soldier Field was a candidate to host the Big Ten championship game.
Hey, maybe by 2016, global warming will ensure that Chicago is balmy in the first week of December. If not, do you think Indianapolis can become the Big Ten's version of Atlanta for the SEC title game? And won't a prime-time Big Ten championship game be super awesome (technical term) regardless of the site?
Rittenberg:
Hey, I wouldn't complain about a balmy December around here. Or a balmy May, for that matter.
Indianapolis has an opportunity to make it very difficult for the Big Ten title game to leave its city limits. I have little doubt this will be an extremely successful event, on par with the SEC championship game, especially if there are national-title implications. Having the game in prime time is a must, given the growing popularity of prime-time college football in the past five years. If Indianapolis can successfully run the event and enhance it during the five-year span, it will be tough for the Big Ten to consider a move. This can truly be a main event in Indy, while I'm not sure Chicago can offer the same type of top billing.
Still, I'd be surprised if this event remains in one city for, say, 10 years. Chicago seems like the next option after Indianapolis, but the Soldier Field folks should take a cue from the Indiana Sports Corporation in how to present a unified bid for an event like this. Indianapolis' experience in hosting national sporting events certainly came to light during this process. But I agree with you about Delany: A part of him wants this event in Chicago. I even think he'll be proactive in working with the city's parks department and the Soldier Field folks to present a better bid the next time around.
I also would like to see the Big Ten consider seriously other venues after 2015, particularly Cleveland and Detroit. If those groups show that they have what it takes to have the title game, they should be in the mix.
OK, Bennett, you get the last word. What are the biggest keys to long-term success for the Big Ten championship game?
Bennett:
Wow, I get a virtual home game until 2015 and the last word in this debate on my first day. It's probably all downhill from here.
I think the formula for success is pretty simple: Good games. We know Indianapolis is going to put on a first-class event and that the fans are going to eat it up. As in any sporting championship, the long-term reputation depends on memorable moments, whether that's a huge upset or two or some down-to-the-wire thrillers. The Big Ten would also like to see its marquee programs like Ohio State, Michigan, Penn State, Wisconsin and Nebraska make the game as much as possible (and bring their considerable fan bases with them).
The bottom line is you could put this thing in Gary, Ind., or Spokane, Wash., and the odds are it will be a smashing success.
May, 17, 2011
5/17/11
8:38
PM ET
CHICAGO -- The competition to host the Big Ten's three premier championship events is down to two.
Chicago/Hoffman Estates and Indianapolis.
The two groups both made detailed presentations Tuesday before Big Ten athletic directors and other officials at the league's spring meetings. Although other cities and facilities have expressed interest in hosting future Big Ten football championship games -- Detroit, Cleveland, Green Bay -- the league is almost certainly going to go with Chicago/Hoffman Estates and/or Indianapolis.
A rotation of championship sites remains possible, Big Ten commissioner Jim Delany said.
Indianapolis is bidding to host the football championship game at Lucas Oil Stadium and both the men's and women's basketball tournaments at Conseco Fieldhouse. The other group would host the football championship at Soldier Field, the men's basketball tournament at the United Center and the women's hoops tournament at Sears Centre in suburban Hoffman Estates.
The inaugural Big Ten football title game takes place Dec. 3 at Lucas Oil in Indianapolis. Big Ten basketball tournaments have been held at both Conseco Fieldhouse and the United Center, although Indianapolis has hosted the events exclusively since 2008.
"Those are the two cities we're talking to right now," Delany said. "We are where we're going to be. That's who we've spoken with so far."
Could other cities still get involved?
"We would send the signal," Delany said, "but for now, these are the two cities we've sent signals to."
The Indianapolis contingent brought out some heavy hitters for the presentation, including Gov. Mitch Daniels, Indianapolis Colts president Bill Polian, Indiana Pacers vice president and college basketball TV analyst Clark Kellogg, a former star player at Ohio State.
"It's been a real pillar of development over the last 25 years or so, the sports capital mantra," Kellogg said. "People have really rallied around that at a high level in terms of commitment, passion, enthusiasm, all the things that make an event special."
Officials from Chicago's Park District made the pitch for Soldier Field. Chicago White Sox executive vice president Howard Pizer, who oversaw the construction of the United Center, was part of the group making the pitch for the men's basketball tournament.
Pizer, a Wisconsin alum who sported a Badgers tie Tuesday, called Chicago "the capital of the Big Ten."
It's not a huge surprise the Big Ten is looking closely at these two groups.
Both are major metropolitan areas in centralized locations for the conference. Chicago is loaded with Big Ten alumni, and Indianapolis has quite a few as well. Both cities boast a ton of hotels and fun downtown areas, although Indianapolis' facilities are closer to the city center. The Big Ten is familiar with both sites for its basketball tournaments.
The big difference for the football championship is that Soldier Field is an outdoor venue.
"It'd be warmer indoors, that's for sure," Iowa coach Kirk Ferentz said. "If [there's an indoor game], that's one way to make sure you can guarantee conditions. If you went the other direction, you could say, 'Hey, the NFL does it.'"
Delany hopes to have a resolution on the championship game sites in the next few weeks. Big Ten presidents and chancellors will meet in early June at the league office. They have final say on where future championships will be held.
November, 28, 2010
11/28/10
7:05
PM ET
In a perfect world, college football's classiest coaches could also be the best ones.
If so, Bill Lynch might be hoisting a crystal football in early January.
Instead, Lynch's
Indiana Hoosiers
players hoisted the Old Oaken Bucket on Saturday at Purdue. Indiana had ended a 12-game Big Ten losing streak and beaten its archrival on the road for the first time since 1996.
[+] Enlarge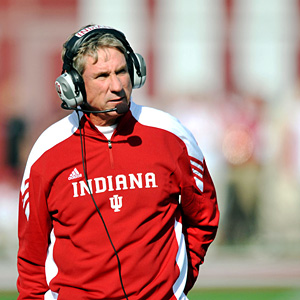 Jim Brown/US PresswireThe Hoosiers had a 6-26 conference record after Bill Lynch took over as head coach in 2007.
It was a great moment for Lynch and the Hoosiers, but that's all it was. A moment. Reality set in Sunday, as Indiana athletic director Fred Glass looked at the football program under Lynch's leadership through a wide-angle lens.
For all the good things that Glass saw -- and that so many of us see in Lynch -- the AD couldn't turn a blind eye to the number three.
As in, three Big Ten wins in the past three seasons.
Glass proceeded to make a bottom-line decision in a bottom-line business and
fired Lynch on Sunday
after the Hoosiers finished 5-7. It was the first major personnel move for Glass, and it likely will be one of the toughest choices of his career.
"I take no joy in this at all," Glass said at a news conference Sunday afternoon, "but I'm confident that it's the right thing to do."
Glass had three options with Lynch following Indiana's third consecutive bowl-less season:
Extend Lynch's contract

Allow Lynch to coach in the final year of his deal

Make a change
"Three Big Ten wins in three years isn't the basis for an extension," Glass said.
You might remember Glass, after being hired, talked a lot about how contracts needed to be honored and needed to mean something again at Indiana. Some might view Sunday's decision as hypocritical because Lynch still had a year left on the extension he received in November 2007 after leading Indiana to its first bowl appearance in 14 seasons.
But in today's college football, a coach with one year left on his deal might as well have no years left. A coach can't recruit without some semblance of security, and going through a season as a potential lame duck would be tortuous.
"That wouldn't serve Bill or Indiana University very well," Glass said.
Glass made the right call Sunday, even though it was a tough one.
Lynch is the consummate gentleman, a total class act and an excellent representative for Indiana and its football program. His players stayed out of trouble for the most part, and he and his staff upgraded recruiting in recent years.
Lynch viewed Indiana like few coaches do -- as a destination job. He grew up in the state, starred as a player at Butler and coached at three in-state schools (Butler, Ball State and Depauw) before taking over at Indiana in 2007 following Terry Hoeppner's death.
But he didn't win enough, plain and simple. Especially in the Big Ten, where he went 6-26 with two last-place finishes in his four seasons. Indiana came so close so many times in league play, especially last season and also this year, but the Hoosiers couldn't get over the hump.
The Big Ten is a tough league that is about to get tougher in 2011 with the addition of Nebraska. Indiana needs a coach who can help the program take the next step. It will take time.
"Any change often results in one or two steps back," Glass said.
Glass called Lynch "a fabulous guy" and "a great teacher" and said several times how hard the decision was to make.
"It's been really hard on me," he said. "But boo hoo for me. It's part of being an athletic director. It's my decision."
The next coach also will be Glass' decision, and he's willing to take his time to find the right man. Indiana won't use a search committee, although Glass will consult many people, including Indianapolis Colts president Bill Polian, former Colts coach Tony Dungy and Chuck Neinas, who runs the Neinas Sports Services consulting firm.
Dungy, for the record, now is being used as a consultant for both Big Ten vacancies (Indiana and Minnesota).
Glass declined to outline the specifics he's looking for in Indiana's next coach but mentioned several times that he'll reach out to the Black Coaches Association. I'd be surprised if Indiana doesn't strongly consider some minority candidates in its search.
Some early possibilities for IU: San Diego State coach Brady Hoke, former Minnesota coach Glen Mason, Houston coach Kevin Sumlin, Wisconsin offensive coordinator Paul Chryst and Michigan State offensive coordinator Don Treadwell.
Glass might not find many coaches who view Indiana as a dream job, as both Lynch and Hoeppner did. But Indiana certainly is a better job than it was several years ago, as the school has upgraded its stadium, its football training facilities and, perhaps most important,
its home attendance
.
"I think it's a fantastic job," Glass said. "Properly understood, it will be highly sought after. Indiana University is clearly committed to the football program."
Indiana can show its commitment by paying its next coach appropriately. Lynch made $650,000 this season, well below the bar for a coach from a major conference.
"We're prepared to make the resources available to get the group that we want," Glass said, "and understand that it's probably going to be significantly more expensive than what we're spending now."
It takes tough decisions to become a better program. Indiana made one today.
April, 26, 2010
4/26/10
9:00
AM ET
The 2010 NFL draft is in the books, so let's take a look at the 34 Big Ten players who heard their names called in New York. When the full list of undrafted free agents comes out, I'll post it later in the week.
ROUND 1
ROUND 2
ROUND 3
ROUND 4
ROUND 5
ROUND 6
No Big Ten players selected
ROUND 7
Here are the selections according to Big Ten team:
Illinois:
3
Indiana:
3
Iowa:
6
Michigan:
3
Michigan State:
1
Minnesota:
2
Northwestern:
3
Ohio State:
4
Penn State:
6
Purdue:
1
Wisconsin:
2
Quick thoughts:
Three of the biggest draft steals from the Big Ten were pass-catchers in 2009: Illinois wideout Arrelious Benn, Minnesota wide receiver Eric Decker and Iowa tight end Tony Moeaki. Benn had first-round skills but a fourth-round college résumé. Decker most often was compared to former Broncos wideout Ed McCaffrey, and if healthy, he could do big things in Denver. If Moeaki stays healthy, the Chiefs might have found the next Tony Gonzalez. Kirk Ferentz puts Moeaki right up there with Dallas Clark in Iowa's top tight ends.
Love the Colts' pick of Angerer, who could be a very good pro in a great situation in Indy. With Angerer and Indiana's Fisher going to Indianapolis, the Colts now have drafted 26 Big Ten players under Bill Polian.
Northwestern's Kafka also goes to a very good situation in Philly, as the Eagles love to pass the ball and will run some shotgun.
Penn State's Lee, Purdue's Neal, Wisconsin's Schofield and Northwestern's McManis could all be steals for their teams. Health has been an issue for Lee, Schofield and McManis, so they need to find ways to get on the field and stay there.
It was interesting how one Big Ten left tackle, Indiana's Saffold, rose up the draft boards late in the process, while another, Iowa's Bulaga, dropped.
Ohio State had four players drafted, but this has to be the Buckeyes' weakest draft class in recent memory. I thought Gibson would go in the second or third round, but Worthington, Coleman and Spitler barely made the cut. Did Jim Tressel deserve Big Ten Coach of the Year over Ferentz? The case looks stronger now.
Draft snubs included Michigan State wide receiver Blair White, Michigan cornerback Donovan Warren, Penn State quarterback Daryll Clark and Purdue quarterback Joey Elliott. Warren was the only Big Ten junior not to get drafted, though it was tough to fault his decision at the time. All four players have reportedly signed free-agent deals.