December, 17, 2013
12/17/13
1:00
PM ET
AUSTIN, Texas -- Your average resignation news conference involving a legendary coach is typically filled with thank-yous, fond recollections and excessive sentimentality. Mack Brown's had that.
Your average resignation news conference doesn't include a school president having to answer whether regents forced out the head coach. The average ones don't involve asking who's actually hiring the next coach and whether that coach can reunify the fan base.
[+] Enlarge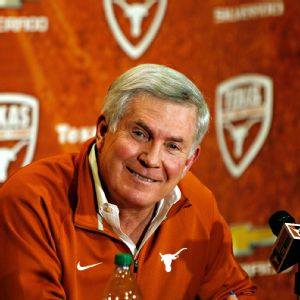 Erich Schlegel/Getty ImagesMack Brown spoke of the many great things about being the Texas coach, but also hinted at some of the problems the next coach will face.
Mack Brown's had that, too. Makes you wonder if that next coach was watching on TV. If so, he should have a better sense of the potential dysfunction that awaits whoever takes over Texas' football program.
Texas is arguably the No. 1 college football job in the country. National brand, unparalleled resources, talent-rich recruiting base, gorgeous campus and city, and oh, by the way, a generous paycheck. It's all there, a dream job in so many ways.
President Bill Powers and athletic director Steve Patterson won't need to accept applications and résumés for this opening. They'll go after the very best of the best in the coaching profession. They won't have a hard time getting someone to take the gig.
But whoever does should know what he's walking into. Brown hinted at this throughout the weekend.
When he put out a statement Saturday night declaring that his run was over, Brown alluded to the Texas program being "pulled in different directions" and that change was necessary.
A day later, he opened his news conference by referring back to a conversation he had with the late Darrell Royal when Brown took the job in the winter of 1997.
"There is such a diverse group that follows this football team that you have to pull them all together, and that is very difficult to do," Brown said. "He said when you get them all together, it's wonderful and it's a powerful place. But when it is not, it is very divided and it is a very difficult place to manage.
"So he said it's like a box of BBs and the BBs are dropped all over the room. What you got to do is get all the BBs back in the box. And we were able to do that. We were able to do that for a long time, until 2010. And then, as of late, the BBs have gotten back out of the box."
The BBs aren't just the fans and season ticket-holders. They're also the big-money donors and boosters, members of the UT System Board of Regents, the people who make up Texas' athletic department and anyone else supporting the cause of Longhorn football.
And they all have a say. They have immense influence. That's why Powers was asked whether the regents drove Brown out, which he denies. That's why he had to declare Patterson is in charge of this hire.
Think Nick Saban faces "special pressures" as the owner and operator of the Alabama dynasty? They're probably nothing like this. Did I mention that the regents could've voted Powers out last week, or that a current and former regent tried to make a run at landing Saban in January?
In Brown's final four years at Texas, he lost 20 games and the faith and support of a strong faction of the fan base. The swirling negativity and vitriol wore on him, his coaches and his players, and was exacerbated with each loss, especially in 2013.
The atmosphere of home games noticeably worsened, to the point that the Longhorns typically played better on the road in recent years.
That's why "energy" and "culture change" are two of the biggest buzzwords associated with what's setting up to be a monumental hire for Texas. The new guy needs serious savvy, enthusiasm and a willingness to play politician when necessary.
And let's not forget, that's on top of the inherent pressure of replacing a coach who won 158 games in 16 seasons, of living and playing up to the standard Brown set during his tenure.
Texas is one of just eight programs in the country with a winning percentage above .750 in the past decade. Its next coach must lead the Longhorns back into the hunt for playoff berths and national championships as soon as possible.
If Royal were still around today, he'd likely offer the new guy the same advice he once gave Brown, after a long spiel about all the folks he'd need to impress at UT: "Oh, yeah: You need to win all the games."
First, Brown's successor will have to mend some fences. He'll need to unify a fractured base. Winning is usually the most effective antidote, but it'll take more than that.
The BBs don't get back in the box all by themselves.
September, 30, 2013
9/30/13
10:04
PM ET
DeLoss Dodds is stepping down as athletic director of Texas
. The effects of that decision on the future of the Longhorns athletic department will be far-reaching.
Dodds will formally announce Tuesday his plan to leave the job he has held for 32 years and step down as AD at the end of August, 2014. The search for his replacement is already underway and could end as early as Dec. 1.
[+] Enlarge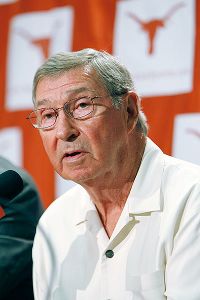 Erich Schlegel/Getty ImagesDeLoss Dodds will step down as Texas AD in 2014, sources confirmed.
Whoever is tapped to replace the Texas legend inherits one of the most powerful thrones in college athletics, and could face one of the most important transition periods in school history. We'll get into that in a moment, though it's a topic we'll be talking about throughout the next year.
Dodds is a powerful man with a legacy to match. He made the Longhorns the financial behemoth it has become today and oversaw one of the greatest periods of athletic success in school history. Whoever is deemed fit to take his place has Texas-sized shoes to fill.
By setting these plans in motion nearly a year in advance, he's providing UT more than enough time to make a smooth transition. That Dodds will stick around as a consultant should help, too. This is a major move and one that must be handled carefully.
Just imagine the résumés that will wind up on UT President Bill Powers' desk during the search process. He'll eventually pick from an elite group of candidates, and there's no doubt he'll be seeking a leader with the kind of big-picture thinking, sharp judgment and business savvy that Dodds displayed during his long tenure.
In its report breaking Monday's news, the Austin American-Statesman said West Virginia athletic director Oliver Luck is one candidate to keep an eye on. Notre Dame AD Jack Swarbrick's name has come up plenty in recent weeks, and more major players will in the next few weeks.
The successor could face a critical dilemma whenever he or she is finally chosen. What will be done about the coaches of three of Texas' most important programs?
Mack Brown knows he has to win and win big this year, and a 2-2 start didn't make life any easier. The Texas football coach has long said he has a tremendous relationship with Dodds and Powers, who have backed him throughout a trying month for Longhorn football.
"I've got the two best bosses in the world," Brown said days after Texas' loss to BYU. "They get it. They understand. I have great conversations with them. They put me in a position to run it, they want me to do it, and I'm responsible for it. That's what I've got to do. DeLoss has been around a long time. I don't have knee-jerk bosses. They get it."
Well, one of those bosses is now leaving. Who knows how much success in 2013 will be enough to impress the next boss, or whether Brown's sub-.600 record since 2009 will simply be too much to overcome.
Will the next AD be prepared to clean house? He or she could face similar big-picture decisions with Longhorns men's basketball and baseball.
The legendary Augie Garrido hasn't taken UT to a College World Series in two years and didn't make the Big 12 tournament in 2013. Rick Barnes hasn't advanced past the second round of the NCAA tournament since 2008 and didn't make the field last season.
These are worst-case scenarios, to be sure, but not unrealistic ones. The candidates for Texas' athletic director job will be well aware of these potential first-year decisions.
There are many other reasons why Texas must find the right person for the job. The truth is, there's really no replacing Dodds. This day had to come eventually, though, and evidently the countdown to that day begins Tuesday.
December, 7, 2012
12/07/12
5:00
AM ET
1. Miami self-imposed a bowl ban this season in the hopes of getting a head start on serving whatever time the NCAA gives it in the Nevin Shapiro case. Once a school receives an official letter of inquiry from the NCAA, a calendar is set into motion. If Miami is to get this nightmare over and done with before next season, it needs to receive that letter of inquiry in the next 90 days. For the sake of the 2014 recruiting class, Miami needs to receive that letter.
2. Notre Dame linebacker
Manti Te'o
everything but the John Wooden Award at "The Home Depot College Football Awards" show. Te'o won the Walter Camp and Maxwell Awards as player of the year, and the Bednarik Award as the best defensive player. He already had won the Butkus (best linebacker), Nagurski (best defender) and Lombardi (best interior player). But after three weeks of Johnny Football buzz, Te'o still feels like the Heisman underdog to Texas A&M quarterback
Johnny Manziel
. If nothing else, Te'o's haul Thursday night injected some drama into the Heisman announcement.
3. Take the most important question in the win-now business of coaching -- What have you done for me lately? -- cut the last word, and you know what Texas thinks of Mack Brown. The Longhorns aren't winning like they want to. They are still a step away from where Brown took them in his first 12 years. But university president Bill Powers and athletic director DeLoss Dodds remember those years. They appreciate how Brown has worn the burnt orange, and how he actually reads the NCAA Manual. Texas has the money to afford to act on principle. And that's not as cynical as it sounds.
September, 19, 2011
9/19/11
6:12
PM ET
The boards of regents from Texas and Oklahoma
both authorized university presidents to act on behalf
of the university at Monday afternoon meetings.
The moves clear the way for the Sooners and Longhorns to apply formally to the Pac-12, with whom they have been undergoing discussions in recent days on how to make the schools' addition to the conference work.

On Sunday, those talks were still a long way from the point at which Pac-12 leadership would be comfortable recommending the move to the league's presidents, a source told ESPN.com's Andy Katz. The proposed expansion would include fellow Big 12 schools Oklahoma State and Texas Tech.
Nothing's official yet, of course, but Texas A&M made this same decision on August 15 before formally withdrawing from the Big 12 on August 31.
Texas's president is Bill Powers. Oklahoma's president is David Boren.
The steps are in place for Oklahoma and Texas to follow the Aggies out the Big 12 door, but like Texas A&M, this is just one important step among many before either school joins a new conference.
June, 15, 2010
6/15/10
5:30
PM ET
From many perspectives, college football realignment looks like one big, shameless money grab. Heads from Texas and the Big 12 did their best to challenge that idea
while answering questions from the media
on Tuesday.
"There was no single issue that was a tipping point, this is a long-term affiliation," president Bill Powers said Tuesday morning in front of 14 video cameras and more than 50 reporters, eschewing the idea that money was the only motivator. He later pointed to the well-being of student-athletes and existing rivalries as reasons to stay, in addition to the academic benefits. "All things considered, this was not just one item or another. It's what is the most comfortable and best fit for the University of Texas. And our view, after going through all of that and giving it very careful consideration, is the new formation of the Big 12."
Said commissioner Dan Beebe later:
"Another inaccuracy is it's all about money and all of that that's been reported. Certainly resources are very important to provide the opportunities for the student-athlete...but a strong, strong consideration that I think went into the decisions by the institutions to remain in association with these schools is the fact that college athletics is very much a regionally supported endeavor, and it would be a great travesty for this part of the country if its major institutions located with conferences that aren't even in this region.
Agreed. Money's not the only consideration. There's no doubt that you don't want athletes getting back from away games at 6:30 with classes kicking off in 90 minutes. And ideally, fans would be able to attend at least a few away games, and hopefully all, within reason. And yes, the long-standing rivalries matter, too.
But money is the only reason any of those things matter. Without a high quality of life for your primary product, you lose high-quality talent. That means less winning. That means less money.
Without familiar opponents, you lose passion. That means lower TV ratings, and you know where that's headed.
Oregon has been a better team than Texas A&M over the past five years. On paper, that's an attractive matchup. But neither fan base is going to get as excited as they would for a Texas A&M-Texas game. Those rivalries may have never truly materialized in a Pac-16, and in the short term, you might find an apathetic fan base, even if the evidence inside the stadium insists otherwise.
Texas made the safe decision. They don't have any guaranteed money or guaranteed conference members, but they got enough assurance to feel "very confident" they'll be happy with both moving forward.
Beebe, Powers, Dodds and whoever else can deny money is the only consideration all they want. Everyone still knows the bottom line will always be the bottom line.