June, 4, 2013
6/04/13
11:00
AM ET
ESPN.com's Ivan Maisel looks at which conferences send head coaches to the NFL and
makes a conclusion
: "The shortest road for any FBS head coach to the NFL is through the Pac-12. In fact, no other conference even comes close."
He points out that Chip Kelly (Oregon to the Philadelphia Eagles) was the 15th Pac-12 coach to jump to the NFL since "Tommy Prothro moved crosstown from UCLA in 1971 to coach the Los Angeles Rams."
And during that span the SEC has sent three to the NFL. The Big Ten one.
Figuring out exactly why this is true is more of a challenge, particularly because folks in other regions will get mad hearing the real reason: Brains and sophistication.
[+] Enlarge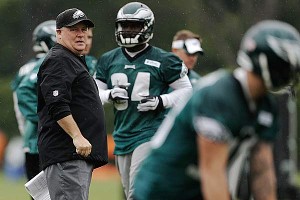 Matt Rourke/AP PhotoChip Kelly's offensive creativity helped him become the latest Pac-12 head coach to land an NFL head coaching gig.
Hey... take it easy. Just saying. And you Pac-12 folks need to behave.
Just look at the list: Dick Vermeil, Bill Walsh, John McKay, Mike Riley, Dennis Erickson and Chip Kelly. Those are some of the most innovative minds in football history, particularly offensive football.
Schematically, the Pac-12 -- historically and I think still at present -- is the nation's most sophisticated league. There's just more ... stuff. Playbooks are thicker. That, by the way, includes both sides of the football. The QBs are asked to do more. And that forces defenses to do more, too.
This, by the way, fits in with those who -- wrongly -- view the Pac-12 as a finesse league: A conference that is physically inferior has to use its wits to succeed.
But sophistication is about more than scheme. It's about psychology and managing people. There's more diversity on the West Coast. That complicates the job, so doing it well is meaningful. John McKay probably would have been successful coaching in Tuscaloosa. Not as sure the same could be said of Bear Bryant in Los Angeles.
Part of that is this: There's not as much "Yes, sir," "No, sir" on the West Coast as there is in other regions, particularly the Southeast and Texas, though that as a historical trend is likely narrowing. Going old school on an 18-to-23-year old from L.A. or Seattle probably won't work as well as it would on a kid from small town Alabama. The way a successful Pac-12 coach talks to and motivates his team is, in general, different. And, historically, it's probably closer to the NFL model, where the players are paid professionals and less willing to respond positively to a ranting coach.
Understand, there are plenty of exceptions to that. Frank Kush at Arizona State and Don James at Washington were as old school intimidating to their players as any of their contemporaries. Probably part of the reason neither made the NFL jump, either.
There's another level to that sophistication: Big cities. The NFL is a big-city league. So is the Pac-12. Maisel thinks this matters:
It could be that universities that share a market with NFL teams lose more coaches to the league. A school such as Boston College, clamoring for attention in a crowded market, might be more liable to hire a prominent NFL assistant coach such as Tom Coughlin, who left the Eagles for the Jacksonville Jaguars in 1994. That best explains why, even without counting Johnson or Erickson, the 22-year-old Big East has lost five head coaches to the NFL.
But there are other potential reasons:
Out of the box hires create fast-rising stars: Kelly, Jim Harbaugh and Pete Carroll each arrived in the Pac-12 in creative ways. Mike Bellotti made the inspired decision to hire Kelly away from New Hampshire. Harbaugh mostly generated head scratches when Stanford hired him away from San Diego. And Carroll was USC's 174th choice after a bumbling search. Heck, even Bill Walsh was a frustrated NFL assistant when he arrived at Stanford.

Previous NFL experience: Carroll had previous NFL coaching experience. So did Dick Vermeil, Bill Walsh and Dennis Erickson. Harbaugh was a longtime NFL QB. Several other guys on the list at least had a cup of coffee as an NFL assistant before taking over a Pac-8/10/12 team. You could conjecture that many of them viewed returning to the NFL as their ultimate ambition, unlike a college coaching lifer.

Recruiting rules in SEC: The most important skill for a head coach in the SEC is without question: Recruiting. The competition for recruits nationwide is brutal, but it's a blood sport in the Southeast. And that is not really a skill that translates in the NFL.

Money: Some conferences' pay scales are competitive with the NFL. The Pac-12's is not.
May, 25, 2012
5/25/12
9:24
AM ET
We asked which coach you hated most in the Pac-12. You have spoken with much bile. Congrats.
It was sometimes hard to figure out exactly which coach you hated the most in your notes, as many of you listed several coaches. Some of you listed several coaches and provided many details on the sources of your hate.
In total, you named more than 20 different coaches. Even Oregon State's Mike Riley got a vote. So did legendary coach Bill Walsh (Huskies!).
The only sitting Pac-12 coaches to not get a vote? Utah's Kyle Whittingham and Colorado's Jon Embree. Guess you guys don't know them well enough to hate them. Yet.
The race for most hated was far closer than I thought it would be. (And this was hardly scientific because I only used votes that were specific and unambiguous. And I may have skipped over some of the 1,500-word essays).
Your most hated coach? Here's the nip and tuck final tally from the mailbag.
Chip Kelly: 29
Lane Kiffin: 30
Third place went to Rick Neuheisel with 19, though that's misleading because he was mentioned by many of you in some fashion, mostly in the line of, "I used to hate Neuheisel the most but now I hate..."
I was surprised that Washington's Steve Sarkisian got 11 votes, but I guess I shouldn't be because some Cal fans aren't happy with him (Tosh Lupoi, now at Washington after bolting Berkeley, got a bunch of votes but he didn't count because he's an assistant coach).
New Arizona State coach Todd Graham got five votes. New Arizona coach Rich Rodriguez got two. New Washington State coach Mike Leach got three. New UCLA coach Jim Mora got two.
For those who chose to look back, former USC coach Pete Carroll got 10 votes and plenty of mentions. Former Washington coach Tyrone Willingham got two. Former USC coach John McKay and former Washington coach Don James also got a handful of votes.
The most surprising vote -- other than Riley -- was one for former UCLA coach Bob Toledo.
Here are some comments. Obviously, some comments aren't appropriate for a family Pac-12 blog.
Steve from Seattle writes
: By far the most hated coach is Chip Kelley. He certainly personifies the Oregon Fans with his snide comments to the media and better than everyone else attitude. Would love to see hard sanction get put on him and his institution!
Jack from Oakton, Va., writes
: I cannot stand Chip Kelly. That smug grin he carries around as if he's the smartest guy in the world just makes me want to smack him.
Glenn from Renton, Wash., writes
: Most Hated Coaches in the Pac-12: Chip Kelly. He's a smug jerk, but if I was an AD I would hire him in a New York minute.
Doug from Salt Lake City writes
: The coach I hate the most is undoubtedly Oregon's Chip Kelly.Yes, he's a fantastic coach among the nation's elite. But he's a total jerk.The last straw for me came last season when, on live TV, he took time out from his postgame interview to scream at his own fans, "shut the hell up!"
Adam from San Francisco writes
: Why is this even a question? Lane Kiffin.As for his new recent strides toward "maturity" - if I were a betting man, I'd bet a large portion of my heart, soul, and life savings that we all end up laughing at those statements by the time his tenure at Southern Cal is all said and done
Kent from Davis, Calif., writes
: Coaches We Love to Hate: Lane Kiffin. The guy has less credibility and integrity than John Edwards. He's the only person in the world who could have made the late Al Davis look like upright and ethical. How this arrogant, imperious guy keeps getting plum jobs is beyond me but clearly you don't have to produce results on the field but simply keep wearing the "up and coming innovative offensive genius" tag to make it work.
Paul from San Francisco writes
: No Pac-12 coach makes my blood boil more than Lane Kiffin. But it's not just his cavalier attitude and inexplicable career climb that drive me over the edge. It's his history against my Ducks. If you include his stint as USC's offensive coordinator from 2005 and 2006, Kiffin is 3-1 against Oregon, including last year's untimely win at Autzen that ended the longest home winning streak in the country. Needless to say, Nov. 3, 2012 has been circled on my calendar ever since
Kevin from San Francisco writes
: Pete Carroll. I hate Pete Carroll. Everyone outside of USC hates Pete Carroll. He was classy in interviews, gave the other teams in the Pac 10 respect; in fact called the Pac 10 conference games the toughest part of his schedule. The reason why he is hated is because he was the leader of the most arrogant, abrasive group of fans and players to grace the Pac 10 in the last decade. Everybody is glad we no longer have to listen to Matt Leinart tell us that he doesn't think he's a celebrity, just everyone else in the world does. After every USC game we had to listen to the fans explain that "of course we knew we were going to win, just we thought it be over by the first quarter." And probably the part that irritates me and my Cal brethren the most is that despite a campus culture of a lot of drinking and little studying, students we met from USC always attempted to equate the academics to Cal. They aren't the worst school, but Cal is in another league.
Chris from Othello, Wash., writes
: for us Oregon fans (And fans elsewhere in the conference), Rick Newheisel will always be a historical coach to hate. Growing up in the early 90's, I was consistently reminded about how that "New - weasel" in Seattle had consistently and infamously harmed our program throughout his various coaching positions. Even if he tried to turn a leaf while in UCLA, his history was never forgotten in Eugene.
Dee Dee from Portland writes
: There is no possible way any coach in the Pac is hated more than Rick Neuheisel. The Weasel is universally abhorred by no fewer than THREE Pac12 fanbases. I don't even think UCLA fans like him that much any longer, and he's an alum. As a matter of fact, opinion on Slick Rick is the ONLY thing that Oregon and Washington fans have in common
Evan from Seattle writes
: I must say, Steve Sarkisian is the lowest of low, slimiest of slime. Other than the obvious manner in which he talks, like a fake politician, he has a long list of shameless acts.
Dan from Spokane writes
: I hate Steve Sarkisian more than any other Pac-12 coach and it's not just because of his ridiculous adherence to wearing a visor in the rainy northwest. His twitter account is insufferable. "Woof" every time a new recruit commits? Give me a break! He should tweet "whimper" every time the dawgs opponent hangs more than 50 points on them.Go Cougs!
Pete from Missoula, Mont., writes
: When Utah first entered the Pac12, I instantly did not like Lane Kiffin. However, when I saw the class of not only him but the USC fans when my beloved Utes played them last year, my hatred shifted a bit. I decided that I need to stick with the hate that I already know. Hating Coach Sark from the Washington Poodles. You see Ted, it is easy to hate something you have hated before. I remember the years of hating Sark as the Team Down South, byWHO quarterback. I will always love to HATE byWHO, even if we do not play them anytime soon after this year. So Ted, this is the reason I hate Sark. It comes very naturally
Tana Vea from Sandy, Utah writes
: Most hated coach in the Pac-12. Todd Graham hasn't coached a game yet but I already hate his guts. But I use to hate Chip Kelly, not as much anymore.
Henry from slymar, Calif., writes
: Why limit your hating coaches column to head coaches? What about assistant coaches? I hate Tosh Lupoi mainly because he betrayed his alma mater for a boat.
Tim from Austin, Texas writes
: Nobody outside of Tucson likes Richy Rod!
Sar from Tacoma, Wash., writes
: regarding your request for all-time most hated coach. As a washington fan the answer is easy : 1992 Stanford Cardinal coach Bill Walsh. His well-timed (for him) block to the back of the Huskies football program is what I hold responsible for Don James' departure and a downward spiral to an eventual 0-12 season for the Huskies.
David from Tucson writes
: In order to answer which coach I hate the most I have to exclude any and all ASU coaches because, in my humble opinion, that football program is the worst thing to happen to college sports since...ever. So, that being said I'd have to say that I hate Jim Mora the most, and for a purely trivial reason: his smile makes me want to punch babies.
David from Calgary writes
: I hate Coach Mike Riley. Only because I was raised a Duck, and he's really like-able. So I hate that I can't hate him.
December, 31, 2011
12/31/11
11:00
AM ET
SCOTTSDALE, Ariz. — Stanford head coach David Shaw knows quarterbacks. For nine years in the NFL, he studied them, analyzed them and broke down every tangible mechanic and intangible characteristic trait there is.
So when he says he's never seen anyone like
Andrew Luck
-- specifically, a college quarterback with the intelligence to read defenses the way he does and call plays -- you have to consider him a credible source.
[+] Enlarge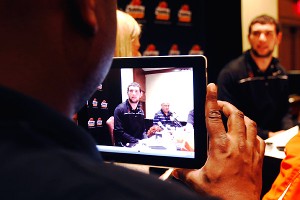 AP Photo/Paul Connors"I applaud him for being able to do it," former NFL quarterback Brian Sipe says of Andrew Luck calling plays for Stanford, "and for the coaches who are willing to give him that responsibility."
But he's also biased. Like any good coach, he sticks up for his guy. Pumps him up. Some have even accused Shaw of over-inflating his future No. 1 draft pick.
So to get unbiased sources, I looked to a pair of former NFL MVP quarterbacks from two different eras -- Steve Young and Brian Sipe -- for their take on Luck and the significance of a college football player calling his own plays. Young, a Hall of Famer, spent years carving up defenses just up the road from Palo Alto with the San Francisco 49ers.
And he knows a little something about the Stanford offense. It derives from the Bill Walsh offense Young ran with San Francisco. It's not identical, but as a Walsh disciple, Shaw kept many of the same principles.
Much is made about what Luck does pre-snap. He has a playbook of 250 plays each week in his mental Rolodex and he can pull from anything at any time. That's an awful lot to heap on a college kid. And the fact that Luck does it with amazing results is tangible, empiric evidence of his football IQ and NFL potential.
"What I appreciate is what [offensive coordinator] Pep Hamilton has done for Andrew, continuing what Jim Harbaugh did. They have really prepared him like a pro," said Young, a two-time NFL MVP. "They do pro game plans with pro verbiage and pro schemes. They can't push some of the other kids as much, because they don't have the experience. But they find ways to keep Andrew motivated. Calling his own plays, creating his own plays, putting more responsibility on him keeps him focused and sharp."
Sipe, now the quarterbacks coach with San Diego State, played during a transitional era -- spanning a time when all quarterbacks called their own plays to a time when none of them did. Sipe was one of the last to still make the calls in the huddle and at the line of scrimmage.
"[Luck] is obviously very intelligent and we know it can be done," said the 1980 NFL MVP. "What's shocking to me is that there is a coaching staff out there comfortable enough to relinquish that kind of responsibility. If we prepare these kids right, they know what we're trying to do and they should be able to do it. But at the same time, they don't have the luxury of all the information and data in front of them. I understand why coaches prefer to call their own plays from the sidelines and the press box. I applaud them for having that confidence in him."
That confidence comes from trust. Shaw said he knew early on he'd be able to take this leap with Luck -- and when Luck announced he was returning for another year and Shaw was promoted from offensive coordinator, the two clicked.
"As soon as I got the job, the first thing I said was 'Andrew, we're going back to the no-huddle,' and there was a big smile on his face," Shaw recalled. "He and I have both loved the idea from the beginning, and he's so good at it. It took a little bit of time, but he's a rare quarterback that can handle this."
Luck said they tinkered with the idea early in his career, but not until he proved he was ready to handle the extra responsibility did they start integrating his play calling into the game plan.
"Experience is a big part of it, and showing the coaches that you can execute their plan on the field," Luck said. "As a player, obviously it's great to know your coaches trust you. To go out there and make the call and know they are behind you, that's special."
Sipe said he enjoyed being able to call his own plays -- though he understands the game has evolved.
"As a quarterback, I felt like I had a feel for the game that could only come from being out on the field and being in the huddle with the guys and being close to it," Sipe said. "But at the same time I recognize the benefit of having data at your fingertips and hearing from everybody else. When you're out there, you are on your own and have to process it all … you have to think like an offensive coordinator, and I applaud him for being able to do it and for the coaches who are willing to give him that responsibility."
Chances are, Luck won't be calling his own plays at the next level. Young said the pro game has changed so much that quarterbacks actually calling their own plays could be detrimental.
"I think it's almost foolish -- like you're not a real man if you don't call your own plays," Young said, the second part tongue in cheek. "Good play-callers like Marty Mornhinweg or Mike Holmgren or Mike Shanahan, the all-timer -- in some ways the last thing you want to be doing is taking them out of the mix. I had free range to call whatever I wanted. But I liked calling their combinations. I think it's overrated a little bit in the pro game.
Drew Brees
could call his own plays. But Sean Payton can put together great combinations. I don't see it as a badge of honor.
"But in college, the way Stanford uses it for Andrew, I think it's really great. It's the perfect way to keep him active and keep him sharp."
It's when pulling those combinations together, Shaw said, that Luck is at his best.
"That's a big part of understanding the situations -- what do we need on second-and-5 as opposed to second-and-10," Shaw said. "He gets it. We don't give him any guidelines. We put it in his hands and he gets it naturally.
"We wanted to make sure we were continually challenging him. Let's give him options. Let's make sure he always has something to study. Andrew has taken it to the next level."
August, 25, 2011
8/25/11
5:00
AM ET
1. Tennessee exhaled Wednesday after the NCAA announced that it accepted the Vols' self-imposed penalties for their violations. That also made former Vols coach Lane Kiffin happy. Kiffin is now at USC, which, after being docked 30 scholarships and two postseasons, lives by the letter of the NCAA Manual. USC may not have reacted well had Kiffin been found to commit major violations in Knoxville. Meanwhile, Vols coach Derek Dooley kicked troubled Tennessee safety Janzen Jackson off the team Wednesday, reportedly for failing a drug test. Talk about a self-imposed penalty.
2. Chalk one up for Oregon State coach Mike Riley's reputation as a teacher. My colleague Ted Miller blogged Wednesday that Beavers freshman tailback
Malcolm Agnew
may start the opener next week against Sacramento State. As I wrote last spring, Riley got a lead on Agnew because the coach is an old friend of St. Louis Rams general manger Billy Devaney. Agnew's dad, longtime NFL vet Ray Agnew, is a pro scout for the Rams. The NFL guys know what kind of coach Riley is.
3. "The NCAA scholarship should be increased to handle the needs of the athlete better. If you are recruiting an athlete who lives 2000 miles away and then do not do anything to help him get to and from home, who are you kidding? How are they going to do it?... That's what breeds the illegal things that are going on." That may sound current. The late Bill Walsh said it during his second stint as Stanford coach -- in 1993. The argument for the full cost of attendance is not a new one.
August, 11, 2011
8/11/11
11:00
AM ET
A quick look at the two new coaches in the Pac-12: Colorado's Jon Embree and Stanford's David Shaw.
Embree and Shaw share some similarities. Both are first-time head coaches. Both played for the program they now coach. Both coached in the NFL. Both say they want to retire in their present job instead of climbing the coaching ladder. And, yes, both are black, the fourth and fifth black head football coaches in conference -- Pac-8 to Pac-10 to Pac-12 -- history.
Here's a quick look at the new guys.

Jon Embree, Colorado
Replaces?
Dan Hawkins, who never posted a winning season in five years in Boulder.
Where was Embree last year
? He was the tight ends coach for the Washington Redskins.
What's he bring to the table that's different
? Embree is a hardnosed old school coach -- Hawkins was decidedly new school -- who is from the area and played for Colorado under the revered Bill McCartney. He's spent 10 of his 18 seasons in coaching at Colorado, working from 1993-2002 as a Buffs assistant under three different head coaches: Bill McCartney (1993-94), Rick Neuheisel (1995-98) and Gary Barnett (1999-2002). He has repeatedly said that Colorado is his dream job, not a stepping stone. His singular focus is restoring a program that was once a national power.
What else
? Embree, 45, is the first black head football coach at Colorado and the fourth black head coach in Pac-12 history (Stanford's Dennis Green (1989-91), Stanford's Tyrone Willingham (1995-2001), UCLA's Karl Dorrell (2003-07) and Willingham at Washington (2004-08). Shaw became the fifth in January)... Embree earned a communications degree from Colorado in 1988... He was a member of McCartney's first recruiting class... In 1984, he earned first-team All-Big 8 honors and set school single-season records for receptions (51) and receiving yards (680)... He was a sixth-round selection by the Los Angeles Rams in 1987. He played two seasons with the Rams before suffering a career-ending elbow injury in 1989 while a member of the Seattle Seahawks... His original plan after the NFL was to get into TV news, but he took a job as a volunteer assistant with McCartney and was immediately bitten by the coaching bug... He is married to the former Natalyn Grubb and they have three children, a daughter and two sons. Eldest son Taylor, is a receiver at UCLA, while Connor is a receiver at UNLV.

David Shaw, Stanford
Replaces
: Jim Harbaugh, who rebuilt the program into a national power before being hired away by the San Francisco 49ers.
Where was Shaw last year
: He was Stanford's offensive coordinator.
What's he bring to the table that's different
: Where Harbaugh was boisterous, often eccentric and sometimes prickly, Shaw is mellow, polished and accommodating. That said, he's repeatedly insisted that doesn't mean the competitive fire doesn't burn just as hot. He certainly knows Stanford. His father coached there and he's a 1984 graduate. He returned to Stanford in 2007 when Harbaugh arrived -- they were together at San Diego -- so he's seen the Cardinal renaissance firsthand. And, just like Embree, he says that Stanford is his destination job and that he's not looking to move on or up in the coaching profession.
What else
? Shaw is the fifth Stanford alum to become head football coach, joining Charles Fickert (1901), Carl Clemans (1902), Chuck Taylor (1951-57) and Paul Wiggin (1980-83)... He was a member of Stanford's 1991 Aloha Bowl team coached by Dennis Green that finished 8-4. He was also on the Cardinal's 1992 Blockbuster Bowl-winning squad coached by Bill Walsh that went 10-3. He finished his Stanford career with 57 receptions for 664 yards and five touchdowns... He started his coaching career in 1995 at Western Washington. He's also coached for the Philadelphia Eagles, Oakland Raiders and Baltimore Ravens... He's coached quarterbacks, receivers and running backs in his career... Shaw's offense ranked ninth in the nation in scoring last fall (40.3 ppg) and it amassed a school-record 6,142 yards, averaging a notably balanced 213.8 on the ground and 258.7 yards through the air... His father, Willie, had two separate coaching stints at Stanford (1974-76; 1989-91) during his 33-year coaching career, which was mostly spent in the NFL... His bachelor's degree from Stanford is in sociology... He was born in San Diego. He and his wife Kori have three children, Keegan, Carter and Gavin.
December, 5, 2008
12/05/08
11:35
AM ET
Posted by ESPN.com's Ted Miller
Talk about a coaching tree suddenly taking root.
First, Tennessee hires Lane Kiffin. Then, Washington, according to reports, taps Steve Sarkisian.
That's two Pete Carroll disciples landing BCS conference jobs within weeks of each other.
There are many famous coaching trees -- Bill Parcells, Bill Walsh and Dean Smith come to mind. In college football, Hayden Fry's tree ( Bill Snyder, Barry Alvarez, Bob Stoops, Kirk Ferentz, Jim Leavitt, Bret Bielema, among others) is often celebrated.
In the Pac-10, there's Dennis Erickson's tree: Joe Tiller, Tommy Tuberville, Sonny Lubick and John L. Smith. And Mike Bellotti's: Jeff Tedford, Dirk Koetter, Chris Petersen and (in-waiting) Chip Kelly.
Carroll's coaching tree from USC has previously misfired. Nick Holt bolted to become the head coach at Idaho before returning to the Trojan fold after just two losing seasons. Ed Orgeron proved an outstanding recruiter but couldn't build a winner in three seasons at Ole Miss.
Norm Chow and DeWayne Walker, now the offensive and defensive coordinators at UCLA, have been perennial bridesmaids -- respected assistants who have yet to land a head-coaching job.
Kiffin, 33, and Sarkisian, 34, both have been handed broken former powers. Their connection to Carroll surely played a huge role in the pair of young coaches -- both will be the youngest coaches in their respective conferences by a wide margin -- getting a chance to enthuse their way through reportedly dynamic interviews.
What both Tennessee and Washington see is this: Jeff Tedford, Bob Stoops, Mark Richt, Chris Petersen, Kyle Whittingham, etc.
Each of them was a touted coordinator who made a successful jump to head coach (should we really count Kiffin's one-plus season leading the Oakland Raiders as true head-coaching experience?).
Most fanbases want a splashy hire -- think Nick Saban at Alabama or Urban Meyer at Florida.
And it's reasonable to worry about an inexperienced youngster taking over a BCS conference team and going nose-to-nose with more accomplished and savvy veteran head coaches.
Ah, but the upside. That's what both programs are crossing their fingers over.
As for Carroll, if his two protégés succeed, it will only add to his already extraordinary college legacy.
Of course, neither situation is a slam dunk. Far from it.
Kiffin has been fed to the wolves -- the SEC boasts an extraordinary collection of coaches. And patience isn't really part of the plan.
Sarkisian takes over a program in complete disarray, a winless season -- pending a loss at California on Saturday -- capping a five-year span of losing the Huskies have never experienced before.
Sark will get far more patience, though his hiring doesn't appear to be inspiring a widespread celebration within a Husky fanbase that was hoping for Jim Mora or Mike Leach or Chris Petersen.
It will take at least a couple of seasons for him -- or anyone -- to lead the Huskies back to a bowl game.
What Husky fans will start dreaming about, though, is Sarkisian, a few years hence, shaking hands with Carroll after a game, and Carroll frowning into the glow of a wide grin from his protégé.