August, 23, 2010
8/23/10
1:27
PM ET
Boston College wide receiver
Colin Larmond Jr
. suffered a season-ending knee injury Saturday that will require surgery, the school announced on Monday.
This is a huge blow to the Eagles' receiving corps and the passing game, as Larmond Jr. was expected to be the team's top receiver this fall. He was the leading returning receiver with 29 receptions for 596 yards and five touchdowns last season. He led the 2009 team in yards per catch (20.6) and finished second in receptions (29), yards (596), touchdowns (five) and average per game (45.8).
It's now crucial that
Ifeanyi Momah
produces, as he more than likely will start. Momah redshirted last season because of injury, but in 2008 he caught 11 passes for 149 yards and was second on the team with three touchdowns. The staff had planned to use Momah as a defensive end in addition to his receiver duties this fall, but this will likely scratch those plans. The other starter at receiver is
Billy Flutie
, who caught five passes last season.
Beyond those two, there really isn't much depth or experience to depend upon. Sophomore
Clyde Lee
caught four passes last season, and senior
Ryan Lindsey
has one career reception. True freshman Bobby Swigert is likely to end up playing, and he has looked good in the scrimmages. True freshman Shakim Phillips would be right in the mix, but he has been sidelined with a hamstring injury. Alex Amidon is another true freshman who might help.
The Eagles are fortunate to have running back
Montel Harris
. He might have to catch the ball out of the backfield a little more than eight times this fall, though.
June, 9, 2010
6/09/10
9:00
AM ET
Boston College running back
Montel Harris
and wide receiver
Colin Larmond Jr
. were roommates last year and are good friends, which is why Larmond Jr. has no problem doing a little grunt work and blocking for the team's leading rusher.
[+] Enlarge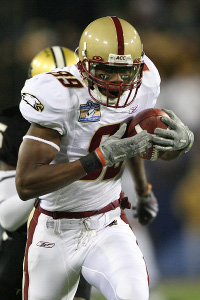 Andy Lyons/Getty ImagesColin Larmond Jr. wants to be a leader on and off the field for Boston College.
There will be a lot of pressure on Harris to carry the running game since there's not a lot of depth behind him, so the Eagles' passing game will be needed to help draw some of the defensive attention elsewhere. Larmond Jr. is the team's top returning receiver, having averaged 20.5 yards on his 29 receptions last year, but his focus this offseason has been getting the edges covered and blocking the safety for Harris.
"We talk about it all the time," Larmond Jr. said. "… He knows we're trying to work out there for him. It's fine by me because I know if I make that block he can go the distance."
Larmond Jr. will also be expected to emerge as the go-to receiver. The Eagles will miss the production of Rich Gunnell, who finished his career as the BC record holder in receiving yards. The group also lost
Justin Jarvis
and
Clarence Megwa
to graduation. Larmond was second on the team with 29 catches, 596 yards, five touchdowns and a 45.8 yards per game average. He has shown big-play capabilities, as he had four of BC's five longest receptions of the year.
Billy Flutie
is the only senior of the group, so younger players like
Clyde Lee
and
Johnathan Coleman
will have to learn quickly. Flutie and
Ryan Lindsey
could also become key contributors.
Larmond said he's looking to add more variety to his game this fall, and be able to line up in different places, and be more diverse in his route running. His responsibilities will extend beyond the field, though.
"I have to be the leader of the group and make sure I tell the guys when adversity hits us to keep going, don't give up," Larmond said. "I have to help them out, answer questions when I can and lead by example. When things aren't going right, stay with it. Don't get all frustrated. Just mainly lead by example and try to bring up the other guys. They feed off my energy. Once I'm energetic and ready to go, then they get energetic and ready to go, then we're going to be a hard receiving corps to stop."
December, 3, 2008
12/03/08
1:22
PM ET
Posted by ESPN.com's Heather Dinich
The bottom line is this: We likely won't know any more about which team is playing in which bowl until Sunday, after the ACC championship game. Until then, there's no harm in guessing:
Is Florida State a frontrunner for the Champs Sports Bowl? Maybe, but don't count out Virginia Tech.
The Miami Hurricanes would be a logical choice for the Emerald Bowl -- and they're wanted in it -- but with the way things are going, nothing is guaranteed.
Boston College do-it-all Billy Flutie walks by the statue dedicated to his uncle every day. There are a lot of expectations that come with his last name, but there's no place he'd rather be than BC.
BC and Virginia Tech have seen each other so often in the past two years that center Ryan Shuman said "it's almost boring."
Virginia's season might be over, but receiver Maurice Covington is hoping his career isn't.
November, 29, 2008
11/29/08
9:36
PM ET
Posted by ESPN.com's Heather Dinich

| | |
| --- | --- |
| | |
| | Elsa/Getty Images |
| | Billy Flutie, the Boston College backup quarterback and nephew of Heisman Trophy winner Doug Flutie, threw for a 9-yard touchdown on a fake field goal to help Boston College to a a 28-21 victory over Maryland. |
CHESTNUT HILL, Mass. -- Not only isn't this Matt Ryan's team, it's not even Chris Crane's team anymore.
What Boston College doesn't have, though, has never mattered this season, and it didn't matter in Saturday's 28-21 win over Maryland.
Boston College won the Atlantic Division without Ryan, without a veteran running back, and with its backup quarterback. The Eagles did it with one of the nation's stingiest defenses and a group effort on the day it mattered most. For the second straight season, the Eagles will face Virginia Tech in the ACC championship game.
It's the same result, but this year is much different.
There are no Ryan-esque superstars on this Boston College roster, which is why those within the program agreed this year's trip to the ACC title game is even more gratifying than last year's.
It's also why nobody outside the Yawkey Athletics Center expected Boston College to be here.
"That's the best part of it," said coach Jeff Jagodzinski, who is in his second season. "The guys believed they could. That's the whole thing about coaching, getting your guys to believe they can do it. It doesn't matter who's on the field. They're all wearing gold helmets. We had four starters out and it didn't matter. They didn't flinch, they just kept playing.
"When they believe, and the coaches believe, you've got a chance," Jagodzinski said. "Our kids fought. We didn't have to count on anybody this year to help us get into the game. They kept earning themselves into the championship game by winning."
The Eagles closed their regular season with four straight wins. It's the second straight season for Jagodzinski with at least nine wins, as last year's team finished 11-3, the first team to win 11 games since 1940. They can reach that mark again with an ACC title and Orange Bowl win.
As the final seconds ticked off the clock in Alumni Stadium, there was one fan behind the BC bench holding out an orange, a symbol that once seemed highly unlikely for this undermanned offense.
Starting quarterback Chris Crane, a fifth-year senior in his first season leading the offense, broke his collarbone last week in the win at Wake Forest. He was the fourth starter the Eagles lost to injury this season, along with linebacker Brian Toal, defensive end Alex Albright and receiver Clarence Megwa. It was up to backup quarterback Dominique Davis to lead the offense to the Atlantic Division title in his first career start. He managed the offense well without turning the ball over and finished with a career-high 134 yards passing and two touchdowns.
And as usual, he got some help.
BC scored on offense. They scored on defense, and they scored on special teams. There was even a player named Flutie involved. Billy Flutie, the nephew of BC legend Doug Flutie, completed the first pass of his career -- a nine-yard touchdown on a fake field goal. It was something they had practiced all week.
November, 29, 2008
11/29/08
6:19
PM ET
Posted by ESPN.com's Heather Dinich
CHESTNUT HILL, Mass. -- During a TV timeout, BC linebacker Mark Herzlich was jumping around and waving his arms in the air with an energy the rest of his teammates picked up on before stopping Maryland on yet another third down.
This defense has been too much for the Terps to handle. Maryland can't seem to go forward without going backwards, too, and much of that is because of Herzlich and his teammates up front. BC is controlling the line of scrimmage and, in turn, the game. The offense actually seems more effective with Dominique Davis running it. He isn't as mobile as Chris Crane, but he might be more accurate.
Maryland bit on the fake field goal attempt and Billy Flutie's nine-yard touchdown pass finally put some distance between the Eagles and the Terps. It was the first career completion for Flutie, and the first career reception for Jordon McMichael.
Boston College is now one quarter away from claiming the Atlantic Division title, and Maryland doesn't appear to be getting in the Eagles' way.
October, 23, 2008
10/23/08
1:35
PM ET
Posted by ESPN.com's Heather Dinich
The Eagles have a new hit, and no, it's not those Eagles. Boston College fans, meet Robert Francois, the replacement for Brian Toal and the subject of a new song called "Ro Fran Don't Touch Me." It's a soft rock tune comprised by your very own Billy Flutie and Will Thompson. I can't make this stuff up, folks.
Vanderbilt coach Bobby Johnson has known Duke's defensive coordinator "since he was a little kid," which is why it will be a homecoming of sorts for Mike MacIntyre on Saturday.
While the quarterbacks at Miami might continue to smile and nod and say all the right things to reporters this week, at least one of their teammates is sick of this story.
Receiver D.J. Boldin has been one of the bright spots for Wake Forest's struggling offense this season, but he had to first shake the shadow of his older brother.
Check out the numbers on Chuck Amato's last recruiting class at North Carolina State. Or, rather, what's left of it.