NCF Nation:

Billy Joe Murphy
January, 25, 2012
1/25/12
10:56
AM ET
Now that you've seen the recruiting needs for the
SEC Western Division
teams, it's time to check what teams in the East needed to focus on when it came to recruiting for the 2012 class:
FLORIDA

Offensive line:
There's no getting around how much Florida's offensive line struggled in 2011. Florida doesn't lose a lot from its line, but the Gators need more talent. There are a lot of questions surrounding this position and getting qualities bodies is a must.
Running back:
Florida loses seniors
Chris Rainey
and
Jeff Demps
, and will enter the fall with unproven players in
Mike Gillislee
and
Mack Brown
. As Florida continues to move closer to a more traditional/pro-style offense, the Gators also need to add size to the position.
Wide receiver:
Again, this is a position in which the Gators need to improve in the talent category. Florida lost just one senior from last year's squad, but unproven players lurk. What Florida needs to get in this class is a true playmaker at receiver. There is hope that
Quinton Dunbar
,
Andre Debose
and
Frankie Hammond
can step up, but some solid competition won't hurt.
GEORGIA

Offensive line:
Georgia loses three starters in
Cordy Glenn
,
Ben Jones
and
Justin Anderson
. The Bulldogs would like to add a few more big bodies up front in this class to help with all that unproven depth.
Linebacker:
In Todd Grantham's 3-4 defense, linebackers are extremely important. The Bulldogs will likely lose a couple bodies at outside linebacker next year, including star
Jarvis Jones
, and would like to add a couple of true playmakers at that position in this class.
Wide receiver:
Come 2013, Georgia will have taken some hits at its wide receiver depth. There is young talent in
Malcolm Mitchell
,
Chris Conley
and
Michael Bennett
, but veterans like
Tavarres King
,
Marlon Brown
and
Rantavious Wooten
will be gone. Adding a couple standouts at wide receiver in this class would be nice.
KENTUCKY

Offensive playmakers:
Whether it comes at quarterback, wide receiver, running back or tight end, the Wildcats need to find players who can make plays when they get the ball in their hands. Kentucky's offense was hard to watch all season because there was no one who could consistently move the ball.
Offensive line:
Kentucky loses three starters --
Chandler Burden
,
Stuart Hines
and
Billy Joe Murphy
-- from its offensive line and needs to load up here in this class. There is a handful of young players at each offensive line position, but the Wildcats need to think about adding more for the future.
Defensive back:
Veterans are leaving the Wildcats' secondary, so it's time to stock up.
Winston Guy
,
Taiedo Smith
,
Randall Burden
and
Anthony Mosley
will all be gone, meaning the Wildcats are in need of adding some depth to both the cornerback and safety positions.
MISSOURI

Running back:
Leading rusher
Henry Josey
suffered a severe knee injury toward the end of the 2011 season and the Tigers have some veterans jam packed at the top of the depth chart at the position. Getting help to add to future rosters would really help this offense as it moves to the SEC.
Defensive line:
The Tigers are losing three starters along the defensive line and 10 players from 2011 will be gone by the end of next season. There are some youngsters there, but it's time to getting into restocking mode along the defensive line. Also, this is where games are won and lost in the SEC. Finding more athleticism here is crucial.
Offensive line:
Like the defensive line, Missouri will lose three starters here. There are some bodies to fill in for now, but you can never have too many offensive linemen and now that the Tigers are headed to the SEC, getting some bigger, more athletic linemen will be key to survival in this jungle.
SOUTH CAROLINA

Defensive line:
The Gamecocks have gotten a ton of production from here lately, but South Carolina will lose two starters in
Melvin Ingram
and
Travian Robertson
. South Carolina might want to add to defensive end the most, with Ingram leaving and
Devin Taylor
getting ready to depart in a year.
Linebacker:
Over the next two years, the Gamecocks will lose some quality players at linebacker and even the spur position. A handful of veterans occupy the depth chart at linebacker, so that means South Carolina needs to add a few quality bodies for the future.
Defensive back:
South Carolina's depth in its defensive backfield could be considered thin. The Gamecocks are down two starters at cornerback and will lose solid players in
D.J. Swearinger
and
DeVonte Holloman
in 2013.
TENNESSEE

Running back:
The Vols never figured out how to run the ball last year and will now turn to a group of unproven running backs.
Marlin Lane
has the talent to excel, but he needs to be more consistent. Finding a couple talented backs in this class would help this position tremendously.
Defensive tackle:
The Vols need some help inside, and now that they are moving to the 3-4, getting quality nose guards is a must for Tennessee. Adding some girth inside will be very important in order to improving this position.
Defensive back:
Tennessee will say goodbye to quite a bit of their defensive backs in the next couple of years, so getting a head start on adding to players to both safety and corner would be a plus.
VANDERBILT

Offensive line:
The Commodores return the bulk of their offensive line next year, but after that, Vanderbilt will be pretty thin and very young up front. Adding four or five bodies to the offensive line would go a long way for Vanderbilt.
Linebacker:
Vanderbilt loses one starter, in
Chris Marve
, here for next season, but the year after will see a lot of turnover at the position, with four rising seniors on the roster.
Defensive end:
Two starters —
Tim Fugger
and
T.J. Greenstone
— are gone and Vanderbilt will lose a handful more after the 2012 season. Getting some help at this position is another must for coach James Franklin.
September, 8, 2011
9/08/11
6:04
PM ET
Joker Phillips isn't sugarcoating anything when he talks about Kentucky's ugly 14-3 win against Western Kentucky.
[+] Enlarge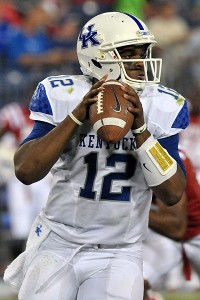 Jim Brown/US PresswireMorgan Newton and the Kentucky offense never hit stride in a 14-3 win against Western Kentucky.
It wasn't pretty and there were way too many offensive mistakes. Phillips has acknowledged as much this week. He watched like the rest of us as his offense, led by junior quarterback
Morgan Newton
, sputtered along in Nashville.
Kentucky gained a SEC-low 190 yards of offense, including an SEC-worst 97 yards passing. Newton, who started most of his freshman season, was expected to have good command of the offense, but struggled to find in any sort of rhythm. He finished the game with three interceptions to one touchdown.
His passing was more erratic than normal and when he did hit receivers, they had trouble holding onto the ball.
The lack of a passing threat caused Kentucky's running game (93 yards) to stall more most of the game.
"It's been said that we're a better throwing team, but our offense starts with our running game and we could never get our running game going to open up the passing game," Phillips said. "Once we dropped back, we didn't do a very good job of protecting."
One offensive bright spot was freshman running back
Josh Clemons
, who led Kentucky with 39 rushing yards and a touchdown. Phillips said he wanted to get Clemons the ball more, but because of the way the game went he couldn't.
Phillips expects that to change from here on out and wants Clemons to be more of a factor.
The main focus for Kentucky's defense this week has been cleaning up the mistakes -- and we're talking major spring-cleaning here.
Throwing, running, blocking and catching need to improve, Phillips said, putting pretty much everyone on offense on notice.
What doesn't help is that the offensive line is more banged up now than it was heading into the season. Center Matt Smith, who missed the opener with an undisclosed injury, is doubtful this weekend against Central Michigan and right tackle Billy Joe Murphy, who was healthy heading into the season, is also doubtful after suffering a knee injury in last week's game.
Redshirt freshman Teven Eatmon-Nared could get the start at right tackle if Murphy can't go.
But don't count on Phillips using injuries up front as an excuse.
"We're banged up, but a lot of people are this time of the year," he said. "We expect production not to drop off, especially the way it did last week. We expect those guys to go in and play like veterans when they get a chance and we did not do that last week."
One thing that keeps Phillips hopeful is the play of his defense. The defense didn't allow the Hilltoppers to find the end zone and forced four turnovers.
If the defense keeps this up and the offense finds a spark, Phillips likes the Wildcats' chances this fall.
"The way our defense is playing right now, you could win a lot of games if we score 14 points and those guys do what they did last week with shutting people down," he said.
July, 22, 2011
7/22/11
1:00
PM ET
HOOVER, Ala. -- Gone are the offensive weapons that provided the excitement in Kentucky's 2010 offense.
Do-everything athlete Randall Cobb is gone. Quarterback
Mike Hartline
, who was second in the SEC in passing a year ago -- adios. And running back
Derrick Locke
and receiver
Chris Matthews
, who were both instrumental offensive cogs, have hit the road as well.
The cupboard isn't bare, but it's full of new, shiny objects that have yet to really get much grease on them.
Except when you look up front.
[+] Enlarge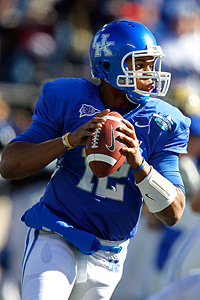 AP Photo/Butch DillMorgan Newton is looking forward to working behind a veteran offensive line.
Kentucky returns four veteran starters on the offensive line that has the makings of being one of the best in this league, accumulating more than 60 combined starts in their careers.
Senior guard Stuart Hines leads the group with 24 career starts and has enjoyed the praise he and his other fellow linemen have received this year and expects it to be the guiding force for the Wildcats' offense this fall.
"There's a lot of pride behind that. We've worked hard as a group to be where we are right now and we just want to continue to improve and continue to get better," Hines said. "It's a great starting spot to build your offense around.
"People [say] we lost a lot of guys, well we return a lot of guys on the offensive line."
Hines might be the heart and keeps the focus in the trenches, but a lot of the hype has surrounded second-year starter Larry Warford.
After playing mostly as a reserve during his freshman year, Warford burst onto the scene last season, starting 13 games and leading Kentucky's line with 43 knockdown blocks. He enters his junior year with some nice preseason accolades as well.
Hines admits that Warford was a bit lazy when he first arrived, thinking his ability alone could carry him, but now he sees a determined athlete with relentless drive on and off the field.
"He's worked his butt off to get into shape and shed a few pounds and keep his weight down," Hines said. "He's done a great job of doing of that and getting the extra stuff with Coach 'Rock' [Oliver]. It's great to see a guy that dedicated to doing what he has to do to be a good player."
Kentucky also returns junior Matt Smith at center and senior Chandler Burden, who missed spring but will return in August, at left tackle. Senior Billy Joe Murphy left spring as the starter at right tackle.
By last count, that makes three of the five up front residing in Kentucky's senior class, a welcomed realization for new quarterback
Morgan Newton
.
"Everyone knows the offensive line is a big key," Newton said. "Those guys are as good as anybody. That group, we talk about guys that work and don't really say a lot, that's that group.
"That's one of the best offensive lines in the country. Having a group like that is a great start for a special offense."
And it will have to be a great start. Along with the baby-faced Newton, the Wildcats also have a new group of young running backs to utilize. Hines said it's important for the line to make those players feel comfortable about running up the middle. They need to provide quality holes for the backs to limit the dancing around in the backfield.
Like any offensive line, this one is very close-knit. Hines said one major reason is the pride four of them take in being from the state of Kentucky. To Hines, there is something about being Kentucky bred that contributes to their on-field success.
"I guess we eat a lot of Kentucky country food or there's something in the water," he said. "I don't know what it is. A bunch of cornbread or something."
April, 27, 2011
4/27/11
11:51
AM ET
LEXINGTON, Ky. -- There were a few times this spring when Kentucky quarterback
Morgan Newton
dropped back to pass and looked for No. 18.
The only problem was that he was usually somewhere on the sideline watching in street clothes.
Randall Cobb
, who will be in New York City later this week at the NFL draft waiting for his name to be called, was the ultimate bail-out player the past few seasons for the Wildcats.
You could throw it to him, snap it to him, hand it off to him, and if none of those worked, he could always throw it.
He was the quintessential playmaker.
[+] Enlarge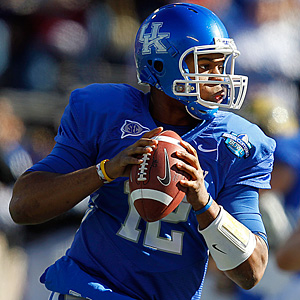 AP Photo/Butch DillMorgan Newton will have the luxury of operating behind an experienced offensive line in 2011.
"Sometimes you just wanted to tell him to jump back in there and run some of those old plays," Newton joked. "Randall has been great and great for the receivers. It's tough not having him out there, but we know what the standard is now and have some other guys who can step up and make plays."
Perhaps so, but one of coach Joker Phillips' biggest concerns coming out of the spring centered around who those guys would be on a consistent basis.
It wasn't a stirring end to the spring for the Wildcats' receivers, although
Brian Adams
made the most of his time on the football field while also playing baseball.
Sophomore
Raymond Sanders
emerged as Kentucky's go-to running back this spring and also showcased his versatility, and Phillips can't wait to get a look at incoming freshman running backs Marcus Caffey and Josh Clemons.
But if you're looking for the epicenter of Kentucky's offense next season, look no further than the five guys up front.
The Wildcats return four starters on their offensive line, and two other seniors who've played a lot of football for them and are capable of playing different positions.
It's an offensive line that should be one of the best in the SEC after finishing second in the league a year ago in sacks allowed (19 in 13 games) and paving the way for the Wildcats to finish fourth in total offense.
"That's always a good place to start, when you think you have a chance to match up with anybody you play up front," Phillips said. "We'll lean on those guys a lot next season."
Senior Chandler Burden returns at left tackle. He wasn't supposed to do much this spring after undergoing shoulder surgery, but returned for the final part of practice. Also back is junior center Matt Smith, who'll be flanked by one of the better guard tandems in college football.
Junior Larry Warford plays right guard and was a second-team All-SEC selection a year ago. Senior Stuart Hines has 24 starts over the past two seasons and will be the Wildcats' left guard.
Senior Billy Joe Murphy made starts at left tackle, right tackle and left guard last season, but will settle in at right tackle next season. Senior Jake Lanefski also returns and can play center or guard.
"We're all on the same page with each other and are really starting to learn to play together even more than last year," said Hines, one of the strongest leaders on the team. "We're able to communicate well, and even if we don't get calls made, we're still able to be on the same page. I know the center is going to still be on his block.
"What that does with our young running backs coming up is hopefully give them confidence to run behind us."
This will also be offensive line coach Mike Summers' second year with this group, and Hines points out that Burden was just learning to play offensive line a year ago after moving over from defense.
"We have a solid group of guys who are continuing to learn, and continuity makes a big difference," Hines said. "At this point last year, we'd only been together for 15 practices and only 15 practices with Coach Summers as well. We hadn't really come together as a group yet, but now we're really starting to come together as a unit and know what he expects from us."
Hines welcomes the offensive burden being on the line's shoulders next season.
With so many veterans returning, he said that's the way it should be.
"We're a group of guys who will take the blame if we have a bad game," Hines said. "Put it on us. We can take it.
"It's on us to give everybody a chance to make the kind of plays Randall and Derrick [Locke] did last season, and that's the way we want it."