August, 27, 2014
Aug 27
2:40
PM ET
COLUMBUS, Ohio -- The challenge was always clear, and Urban Meyer offered one final reminder of its importance to his offensive line on the practice field. But it still remains a bit of a mystery who exactly will be on that unit and embracing the opportunity to protect the precious cargo in the backfield just three days shy of Ohio State's opener.
[+] Enlarge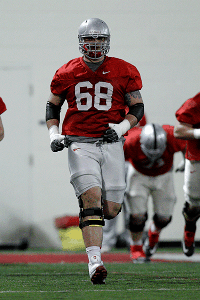 AP Photo/Jay LaPreteTaylor Decker is the only full-time starting offensive lineman returning this season for Ohio State.
It appears at least two position battles remain unsettled on the offensive line for the Buckeyes based on the depth chart Meyer released on Wednesday afternoon. Picking starters from a talented pool of options at left guard and center might not have been quite as big of a deal two weeks ago with
Braxton Miller
around to help make up for a few mistakes or a lack of chemistry up front thanks to his innate ability to escape from pressure. But the Buckeyes don't have the senior quarterback around to get them out of jams anymore, and with
J.T. Barrett
making his first start, it seems less than ideal not to have five established blockers in front of him on Saturday against Navy, even if Meyer himself isn't concerned.
"[Competition] is great," Meyer said on Monday. "If you have bad players, then it's a problem. If you have really good players and they're just battling, battling, battling, that's kind of normal at this time of year."
Those battles started in March, and now they're on the brink of spilling over into September with neither
Billy Price
nor
Joel Hale
pulling ahead at left guard or
Jacoby Boren
or Alabama transfer
Chad Lindsay
solidifying themselves as the anchor in the middle.
The Buckeyes only have one full-time starter returning on the line in the first place, and even with
Taylor Decker
back at tackle, he'll be playing in a different spot after lining up on the right side last year. But there continues to be no panic from within the Ohio State camp heading into the opener despite trotting out so many new faces who will be entrusted with keeping a redshirt freshman quarterback protected as well as opening holes for a new starting running back.
"I'm not at all concerned with it because I've seen how everybody who has been in there has performed through practice," Decker said. "When coach knows, he'll know and he'll put forth who is going to be the starters. I have no concern at all, because I know whoever is going to be in there is going to get it done.
"There's one thing, we're going to have to develop some cohesiveness once we know who is where. But there's just been high energy [in practice] because there are guys competing for spots. High energy, up tempo, everybody is going hard. That's going to help prepare us well for games."
The first of them is finally here, but it's still hard to tell exactly who is going to be where in front of Barrett. But no matter who winds up on the field for the Buckeyes, there's no uncertainty about the top responsibility for staying there.
"Braxton made a lot of bad plays right with his athleticism," Meyer said. "J.T. certainly has the ability to do that as well, maybe not as dynamic as Braxton, but everybody just has to go a little bit harder, be that much more sound and step up and protect our guy.
"They've stepped up very well. It's a very good group of players, very good group of people."
The issue for Ohio State continues to be figuring out the best way to arrange them.
July, 28, 2014
Jul 28
2:50
PM ET
CHICAGO -- Urban Meyer wasted little time updating everyone on his quarterback, saying during his opening statement that
Braxton Miller
is ready to go at full speed and is in the "best shape of his life."
As for what else the third-year
Ohio State Buckeyes
coach addressed during his time at the podium:
As happy as Meyer is with his quarterback, he was disappointed in his offensive line and his secondary coming out of the spring. He fielded three different questions about the O-line during his less-than-15-minute news conference, plus one more about the importance of keeping Miller healthy, and he said that Chad Lindsay, Billy Price and Jacoby Boren are all candidates to start at center.
Meyer did not hide his feelings on a Big Ten East division that also features traditional heavyweights Michigan, Michigan State and Penn State, saying: "I think it's one of the toughest divisions in college football." He mentioned three tough road games, as the Buckeyes will travel to East Lansing, State College and Minneapolis (in addition to College Park for Maryland's Big Ten home opener).
Meyer is much more pleased with what he has at linebacker, saying, "the last two years they weren't what we expect" before conceding that two years ago they weren't that bad. Still, anytime you have to move a fullback to linebacker, he said, you have a problem, especially at a place that has churned out the likes of James Laurinaitis and A.J. Hawk.
New Ohio State president Michael Drake took office June 30, and Meyer said he has invited him to meet the team. Meyer said he looks forward to working with Drake but added that it really doesn't affect how Meyer does his job as long as the president takes care of business.
Meyer reiterated that defensive end Tracy Sprinkle is no longer a part of the program following his arrest and charges in the wake of a bar fight earlier this month.
Asked about Miller's durability issues, Meyer said it has more to do with great players who go above and beyond what their body tells them to do. The same questions came for stars like Tim Tebow, John Simon and Christian Bryant, he said.
Asked what Ohio State needs to do to live up to the preseason expectations, many of which have it winning the Big Ten, Meyer said chemistry, trust and developing young players are the top priorities.