November, 24, 2011
11/24/11
9:59
PM ET
COLLEGE STATION, Texas -- Texas games look quite a bit different than the rest in the Big 12. That's not necessarily a good thing. The Longhorns have a solid defense, but a limping and inexperienced offense. The result: A brand of football not often seen in the Big 12.
Quite the half.
The Aggies lead 16-7
. Time for a bit of analysis.
Turning point:
Dustin Harris let a punt hit him and the Longhorns recovered. A trick play later, the Longhorns cut the Aggies' lead to 13-7 when
Jaxon Shipley
hit
Blaine Irby
for a 41-yard touchdown pass. Before that, Texas' offense hardly had a pulse. Funny how one play can produce so much confidence. The Longhorns looked much better moving forward from that point, which came at the 9:19 mark in the second quarter.
Stat of the half:
The two teams combined to convert 2 of 17 first downs. Ouch.
Best player in the half:
Randy Bullock, K, Texas A&M. Bullock's been money for the Aggies, banging home kicks of 49, 52 and 29 yards to become the school's single-season record-holder for made field goals with 24. He's also got 124 points, four short of the single-season school record set back in 1927.
Best call:
Bryan Harsin's double pass. It was pretty obvious that
nothing the Longhorns did was working
. They needed a bit of misdirection or something that could rip off a chunk of yardage. It came at the perfect time, caught the Aggies off-guard and pushed Texas back into contention in a game that, early on, looked like it had no business being in.
What Texas needs to do:
Keep mixing in some misdirection plays and tricky stuff as needed. The Longhorns don't look capable of moving the ball using their traditional offense.
Case McCoy
hasn't been able to stretch the field. Receivers haven't been getting open often. The holes haven't been there for
Malcolm Brown
. The Longhorns need big plays from the defense, special teams or offense. Without them, adding a couple more touchdowns in the second half to come back and win this is going to be extremely difficult.
What Texas A&M needs to do:
Look at the scoreboard. Texas has seven points. It came off the Aggies' biggest mistake. Quit making big mistakes. Take what the Longhorns' defense gives them. Prevent the big play. Make Texas string together completions to move the ball. There's not much evidence to suggest the Longhorns can do it. Check all those things off the list and Texas A&M gets the last shot at Texas on the way to the SEC.
November, 20, 2011
11/20/11
10:00
AM ET
A crazy week in the Big 12 means we learned a lot. Here's a look.
RG3 never should have left the Heisman conversation.
Even in losses,
Robert Griffin III
put up big numbers. If the Heisman is about the best college football player in the country, how does RG3 not make that short list? He should, and I'm guessing there aren't many folks from Norman, Okla., who would disagree. Griffin put his team on his back in the second half and wrote another chapter of his legend at Baylor that Bears fans will be re-telling for a long, long time.
[+] Enlarge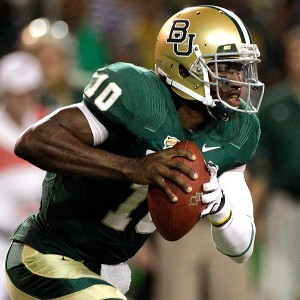 AP Photo/Tony GutierrezQuarterback Robert Griffin III led Baylor to an upset of Oklahoma on Saturday night.
Clichés become clichéd for a reason.
You hear it and dismiss it as coachspeak, but coaches speak it over and over again for a reason. Anybody can beat anybody. You have to take seasons one game at a time. Show up or get shown up. Any number of those uncreative idioms could apply to what happened to Oklahoma State in Ames, Iowa, on Friday night. The Cowboys weren't sharp. A capable Iowa State team beat them and derailed a national-title run as four-touchdown underdogs.
Missouri can respond well to adverse situations.
Rough, rough day for Missouri. The Tigers' 26 seniors had to play their final home game without their head coach and the offense stumbled for much of the first half, but Mizzou responded in the second half with gutsy plays and rallied from a 10-point, fourth-quarter deficit. It was surely one of the most difficult days of coach Gary Pinkel's career, but wherever he was watching from, I'm sure he was proud of his players. For Texas Tech, meanwhile, a historic skid has put them dangerously close to ending an 18-year stretch of bowl eligibility. The Red Raiders have lost four consecutive games for the first time since that 1993 season and now must beat Baylor at Cowboys Stadium next week to become the Big 12's ninth bowl-eligible team.
So much for progress at Kansas.
Texas A&M did what Texas A&M should do. The Aggies are talented. But what happened to the progress Kansas showed the past two weeks in close losses to Baylor and Iowa State? Turner Gill talked this past week about how close his team was. The defense had gotten so much better and the offense was playing as well as it did early in the season. Suddenly, it looked like none of it took hold for the Jayhawks, who have one more chance to escape a winless season in conference play next week against Missouri. Lose, and the year ends with a 10-game losing streak.
Texas has a quarterback controversy ... again.
It looked like
David Ash
had taken over at Texas. He had the size and the arm strength. All he needed was the experience. There's something about
Case McCoy
, though. The measurables aren't befitting of a five-star recruit, but the man gets the job done when he's not being harassed by Sooners in the backfield like he was the last time we saw him. The stats tell the whole story. Texas' only scoring drive with Ash was 7 yards and ended in a field goal. He threw two picks and averaged 2.4 yards per attempt. McCoy's completion percentage (50 percent on 8-of-16 passing) wasn't outstanding, but he accounted for 79 yards compared to Ash's 39 and led scoring drives of 81 and 78 yards. The most telling stat, though: two interceptions and no scores for Ash. McCoy didn't throw a pick and hit
Blaine Irby
for a TD pass. Next week in College Station will be interesting.
November, 19, 2011
11/19/11
11:42
PM ET
HornsNation on Kansas State's
17-13 win
over Texas:
How the game was won
: Kansas State was able to rattle Texas quarterback
David Ash
, forcing him into two interceptions. The Wildcats turned those picks into 10 points as they held off a late Texas charge for their fourth straight win over the Longhorns.


Turning point
: Ash appeared to settle down after throwing a pick on the first possession of the game. But the freshman came back with a pick on the first possession of the second half. While the Texas defense was able to hold KSU to a field goal after the first pick, KSU scored seven after the second. That pushed the lead to 17-3. With Texas' offensive struggles, the lead was safe.
Stat of the game
: Kansas State has averaged 208.5 rushing yards per game. The Wildcats were held to 38 yards rushing on 39 attempts. In all, KSU was only able to generate 121 yards of offense against the Longhorns' defense. Quarterback
Collin Klein
was sacked five times.
Player of the game
: Texas linebacker Emmanuel Acho proved to be too much for the Kansas State run game. The senior led the Longhorns in tackles with 12 and also was responsible for making sure the defensive alignment was set before each play. Acho also had a sack to give him three on the season.
Unsung hero of the game
: Tight end
Blaine Irby
came into the game with two catches for 18 yards. He had three against Kansas State, including a 36-yard touchdown in the third quarter to put some life into the Texas offense. This was Irby's first season back after sitting out two years recovering from a knee injury.
Worst call
: Faced with a fourth-and-8, trailing by seven at the KSU 10 and with only 4:27 on the clock, Texas elected to kick a 28-yard field goal rather than go for it. The kick was good, but Texas still needed a touchdown to win. In addition, instead of the KSU offense starting inside its own 10, the Wildcats had the ball on the 34.
Second guessing
: The halo rule is no longer in place in college football, but Texas did get flagged for interfering with the catch of a punt in the second quarter. The penalty proved extremely costly for the Longhorns as it allowed KSU to start at its own 46-yard line. From there Kansas State raced down the field to put the game's first touchdown on the board just before the half.
What it means
: For Texas the loss means it very well could finish the season at 6-6. The Longhorns still have to play Texas A&M and Baylor on the road. Both teams have winning records and both teams have proven they can score points, something Texas has proven it cannot do.
August, 29, 2011
8/29/11
4:15
PM ET
We know less about Texas than any team in the Big 12.
That's by design, of course, but after the team released its Week 1 depth chart on Monday, that's still the case, with apologies to Kansas State.
Texas hasn't had a practice open to the media all offseason. Quarterbacks spoke to the media today for the first time since a Thanksgiving night loss to Texas A&M.
Players weren't made available to the media during fall camp until 11 days had passed.
So, more so than any team in the league, these Horns are an unknown commodity. Coach Mack Brown provided a peek underneath the veil on Monday, but we won't get a real sense for how good Texas can be until it opens the season Saturday against Rice. We'll learn a good deal more of what we need to know when BYU travels to Austin the following week.
For now, though, here's what we've got:
The big news is obvious: Garrett Gilbert gets the nod at quarterback. He was the safe bet all offseason, and the guy I thought would eventually get it. I doubted originally how "open" the job actually was, but to be clear, I don't think this whole QB race was a ruse. It was open. Gilbert re-won it. As for the difference this year? There's no doubt that if Gilbert struggles like he did in 2010, backup Case McCoy will get a look much quicker. "He's the starting quarterback. If he moves the ball and scores, he'll keep the job," Brown told reporters on Monday.
Hyped freshman corner Quandre Diggs wowed in the spring game, and has mesmerized his teammates all fall. He's a co-starter at one of the cornerback spots alongside Adrian Phillips.
Jordan Hicks missed the spring with a broken foot, but he's come on strong in the fall, seizing a starting spot at strongside linebacker. The Ohio native was one of the nation's best linebackers in the 2010 class, but he'll get a chance to grow alongside Keenan Robinson and Emmanuel Acho.
Fozzy Whittaker is the starter at running back. His backup? A three-way tie between Joe Bergeron, Malcolm Brown and D.J. Monroe. The race at running back should be fascinating to watch.
Good to see Blaine Irby back after his awful knee injury. He'll start at H-back.
Look out for Shipley 2.0. Jaxon Shipley, Jordan's younger brother, is the starter at H receiver and will return punts. Every indication we've heard is he's a playmaker and will get a chance to show it early on. He graduated early, but instead of enrolling at UT and going through spring practice, he worked out with Jordan during the NFL lockout.
Diggs and Monroe will handle kickoff return duties.
Starting center? Redshirt freshman Dominic Espinosa. Tray Allen is back at left tackle, too, after missing all of last season because of a foot injury.
November, 30, 2009
11/30/09
12:30
PM ET
By
Tim Griffin
| ESPN.com
Texas approaches the Big 12 championship game with its first 12-0 regular-season record in history and momentum from a strong sprint through the Big 12.
And still, something appears to be missing as the Longhorns attempt to claim their first conference championship since 2005.
If Texas can beat Nebraska Saturday in Arlington, Texas, the path appears set for the Longhorns to make their second trip to the BCS national title game in five seasons. A potential matchup with Alabama or Florida beckons in Pasadena -- just like it did for the Longhorns to higher-ranked USC in the 2006 Rose Bowl.
Even with that historical parallel in place, these Longhorns aren't approaching the conference championship with a lot of national buzz. Most are seeing their Big 12 championship game with little excitement compared to the SEC championship game earlier on Saturday. It is causing the Longhorns to suffer in comparison to both the Gators and Crimson Tide as "Super Saturday" approaches.
[+] Enlarge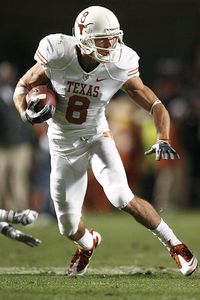 Aaron M. Sprecher/Getty ImagesJordan Shipley has 99 receptions and 11 touchdowns heading into the Big 12 title game.
Texas' performance in its 49-39 victory over Texas A&M appeared to raise some questions that the Nebraska game could be more of a challenge than expected. The Longhorns struggled on defense against an A&M team that came into the game as the Big 12's most inconsistent team. Earlier in the season, the Aggies had lost games by 28, 48 and 55 points.
The Longhorns have benefited from a series of favorable breaks throughout the season. Oklahoma was missing tight end
Jermaine Gresham
from the start of the season. Heisman Trophy winner
Sam Bradford
made it through only nine snaps in the Longhorns' 16-13 victory over the Sooners earlier this season.
Some of the difficulty of the Longhorns' trip to Oklahoma State diminished when
Dez Bryant
was suspended by the NCAA. The Cowboys also lost 2008 Big 12 rushing leader
Kendall Hunter
for most of the season. Hunter had one carry in the Texas game.
Even their toughest nonconference game against UCF featured a favorable break. The Knights opted to sit starting quarterback
Brett Hodges
and starting running back
Brynn Harvey
in their game in Austin earlier this season. UCF coach George O'Leary's strategy appears to have worked as his team has won its last three games. But it still diminished the challenge the Longhorns faced.
The Longhorns have lost three tight ends during the season, including projected starter
Blaine Irby
. So it's not like their rivals are alone in injury losses. But Texas appears to have gotten its fair share of breaks.
The Longhorns have relied on
Colt McCoy
's short passing as their major offensive weapon – mainly to wide receiver
Jordan Shipley
. Their running game has been sporadic, but appears to be coming on as the season continues with the recent emergence of
Tre' Newton
.
Texas' defense had been the Longhorns' major strength before being gouged by the Aggies for season-high totals in points and total yards. Before that game, the Longhorns had given up 37 points combined in their last three games and had allowed more than 21 points only once this season -- in a 34-24 victory over Texas Tech on Sept. 19.
Before that stumble, Texas had produced a remarkably consistent statistical season. The Longhorns still rank among the top 16 teams nationally in 13 of the 17 categories tracked by the NCAA. Included in those are first in rush defense, third in scoring, sacks, tackles for losses and kickoff returns, fifth in total defense, eighth in scoring defense and ninth in scoring defense.
Critics contend those numbers have been swelled by playing in a weaker-than-expected Big 12 and against a nonconference schedule that featured no opponents from conferences with automatic bids into the BCS.
Their margin over fourth-place TCU eroded from 114 points to 98 points in Sunday's Associated Press poll. While it doesn't appear that Texas is in danger of being lapped by TCU or Cincinnati, it still is indicative that the Longhorns' status as a legitimate title contender could be called into question by some media members.
Texas should be a heavy favorite in the championship game. But it always hasn't benefited them, especially in a game with similar circumstances eight years ago.
In that 2001 title game, Texas had a similar open path to the national championship game. All the Longhorns had to do was beat Colorado to qualify for a chance to meet Miami for the title.
Instead, the Buffaloes jumped all over them in a surprising 39-37 victory that sent the Longhorns spinning to the Holiday Bowl after their BCS title game hopes had appeared set with a victory.
Since then, Texas coach Mack Brown has learned to trust his coordinators more and become more of a delegator of authority. It has resulted in one national championship, a five-game bowl winning streak and seven consecutive finishes inside the top 13 at the end of the season.
That recent surge has helped change the national perception of his team from some of his earlier Texas squads, which always had trouble beating Oklahoma. In those days, Brown was known as "Mr. February" because his strong recruiting didn't always translate into on-the-field success against the Sooners. Brown didn't claim his first Big 12 title until 2005.
That image has changed. But the Longhorns still need a convincing victory Saturday to prove their legitimacy to much of the country heading into the national title game.
May, 26, 2009
5/26/09
10:15
AM ET
Posted by ESPN.com's Tim Griffin
All questions aren't settled during the course of spring practice as teams still have much work to upgrade their weaknesses heading into the season.
Obviously, some will receive a boost from incoming freshmen who will arrive later. But here's how each team's biggest liability shakes out heading into the summer.
Baylor: The Bears are desperately looking for help at offensive tackle after losing No. 2 overall draft pick Jason Smith and Dan Gay as their starters. Former Canadian firefighter Danny Watkins has established himself at Smith's old position protecting Robert Griffin's blind side. And on the right side, junior Chris Griesenbeck and redshirt freshmen Cameron Kaufhold are competing for the starting job with Tyler Junior College's Phillip Blake and Blinn College's Marquis Franklin set the arrive later this summer.
Colorado: Wide receiver has been a question mark for the Buffaloes throughout Dan Hawkins' coaching tenure. The Buffaloes return four scholarship wide receivers and had a chance to work out several new players with Scotty McKnight injured during the spring. Josh Smith and Markques Simas are the top playmakers coming out of the spring. Non-scholarship players like Jason Espinoza and Ryan Maxwell emerged, but the Buffaloes definitely need a big upgrade at the position from their arriving freshman class.
Iowa State: The Cyclones will be facing a big hole at left tackle, where two-year starter Doug Dedrick departs. It could be filled by Matt Hulbert, who started two games last season when Dedrick was hurt. Or it could be massive 354-pound junior Hayworth Hicks or freshman Brayden Burris at the position. Whoever emerges will face a huge challenge in filling Dedrick's experience as he protects the blind side of the Iowa State quarterbacks.
Kansas: Coach Mark Mangino will be facing a few huge rebuilding job at linebacker, where the Jayhawks lose key contributors Joe Mortensen, Mike Rivera and James Holt from last season. Mangino is talking about using a two-linebacker set as his base defense with fifth-year senior Jake Schermer and senior Arist Wright getting the starting jobs leaving spring practice. Sophomore Steven Johnson and converted running back Angus Quigley were competing for playing time during the spring and another boost is expected when junior linebacker Justin Springer, who is recovering from a torn ACL last season, returns in the fall.
Kansas State: Carson Coffman appeared to have claimed the starting job at quarterback -- at least for a few weeks -- after a strong effort during the latter stages of spring practice. But Coffman's late binge has to be tempered considering he is playing against the weak Kansas State secondary. So it's fair to say there are some lingering questions at the position. Coffman apparently has beaten back the challenge of challengers Collin Klein, Joseph Kassanavoid, Trey Scott and Milton McPeek. But the arrival of South Florida transfer Grant Gregory and heralded junior-college transfer Daniel Thomas will mean more competition in the summer.
Missouri: The Tigers will be facing a challenge of replacing NFL first-round draft pick Evander "Ziggy" Hood at defensive tackle to play opposite nose tackle Jaron Baston. Redshirt sophomore Terrell Resonno appeared to have claimed the job out of the spring, with Dominique Hamilton, Chris Earnhardt and converted linebacker George White perhaps earning their way into the rotation.
Nebraska: After the graduation of top receivers Todd Peterson and Nate Swift from last season, the Cornhuskers need to fill both positions. Leading returning receiver Menelik Holt appears to have a hammerlock on one position, but Niles Paul lost a chance to take a big step forward after missing the spring after he was suspended for driving under the influence. Antonio Bell was the biggest surprise, but converted I-back Marcus Mendoza, Chris Brooks, Wes Cammack and Curenski Gilleylen all showed flashes during the spring.
Oklahoma: There was concern before spring practice, considering the Sooners were replacing four-fifths of their starting offensive line with only Trent Williams back from last season's starters. And it got worse when Bob Stoops called out the young replacements because of their lack of diligence in their preseason conditioning. Williams emerged at left tackle with Brian Simmons and Stephen Good at guards, redshirt freshman Ben Habern at center and either LSU transfer Jarvis Jones or Cory Brandon at right tackle. The depth took a hit when center Jason Hannan left early in training camp and sophomore guard Alex Williams chose to leave after spring practice. The group struggled against the Sooners' talented defensive line, allowing Sam Bradford to be touch-sacked twice in three possessions in the spring game and produced only 27 rushing yards in 52 carries.
Oklahoma State: The loss of veteran center David Washington produced a huge hole in the center of the Cowboys' interior line. Andrew Lewis returns to his natural position, leaving Oklahoma State needing two new starters at guard. Noah Franklin and Jonathan Rush have staked claims to the starting positions with Anthony Morgan and Nick Martinez getting repetitions inside. This group needs to improve if it hopes to equal the standards of previous seasons, when the Cowboys led the Big 12 in rushing each of the last three seasons.
Texas: The tight end was rarely used for the Longhorns after Blaine Irby dislocated his kneecap last season against Rice. He still wasn't ready to go during the spring as Greg Smith, Ahmard Howard, Ian Harris and D.J. Grant all got work. None of them emerged. And with Irby's return remaining iffy, it means the Longhorns again could reduce the use of the tight end and utilize four-receiver sets when they want to move the ball. Don't look for the Longhorns to use the tight end much unless this production improves.
Texas A&M: The Ag
gies were wracked with injuries during the spring as projected starters Lee Grimes, Kevin Matthews and Lucas Patterson were sidelined all spring as A&M was down to only nine healthy offensive linemen for some practices. It still doesn't excuse the lack of offensive production for A&M's starting unit, which produced only 9 yards rushing on 24 carries against Texas A&M's first-string defense. Coach Mike Sherman will be counting on immediate production from an impressive group of incoming freshman at fall practice, but it's fair to characterize the Aggies' offensive line as the team's biggest spring concern -- especially after allowing 39 sacks last season and ranking last in the conference in rushing yards per game.
Texas Tech: The loss of productive starters Daniel Charbonnet and Darcel McBath left a gaping hole at safety for the Red Raiders. Junior Franklin Mitchem earned the free safety position leaving spring practice and redshirt freshman Cody Davis emerged at strong safety.Jared Flannel , Brett Dewhurst and converted linebacker Julius Howard also got some snaps at safety. It will still be a challenge to combat the explosive Big 12 defenses with such an inexperienced group at the position.
December, 8, 2008
12/08/08
4:20
PM ET
Posted by ESPN.com's Tim Griffin
| | |
| --- | --- |
| | |
| | Kenny Felt/Icon SMI |
| | Colt McCoy has thrown 32 touchdown passes this season. |
The decision by Texas quarterback Colt McCoy to return for his senior season might be the biggest piece in the puzzle of pushing the Longhorns into the role as a favorite for the national championship next year.
McCoy's decision was reported Monday in the Austin American-Statesman. It provides the Longhorns with an experienced senior quarterback who has already started for three seasons.
The Longhorns will lose running back Chris Ogbonnaya and top receivers Quan Cosby and Jordan Shipley. But redshirt freshman Malcolm Williams looked explosive in his limited playing time and tight end Blaine Irby should return from a knee injury that caused him to miss most of the season.
Senior guard Cedric Dockery will be the Longhorns' only departing offensive lineman. And while the defense will lose key players like Brian Orakpo, Roy Miller, Rashad Bobino and Ryan Palmer, Will Muschamp should have a more experienced unit in his second season working with the team.
It's not clear whether Sam Bradford will be returning to Oklahoma or declare for the NFL draft. If he leaves, the Longhorns should assume the role as favorites in the Big 12 South.
October, 15, 2008
10/15/08
12:08
PM ET
Posted by ESPN.com's Tim Griffin
Here's a look at some tidbits from around the league that are transpiring as teams get ready for games this week.


1. Both Kansas and Oklahoma have added more playmakers to their special teams after recent struggles for both teams covering and returning kickoffs. Bob Stoops plans to add four new members to his kick coverage team that has been blistered for two TD returns, including a pivotal 96-yard return by Texas' Jordan Shipley last week that turned the game around. And Kansas coach Mark Mangino has talked about placing starters like James Holt and Joe Mortensen on his special teams as the Jayhawks rank last in the nation in kick returns. The Jayhawks are averaging 12.4 yards per kickoff -- almost three yards per return less than the next-lowest team, Kent State at 118th.

2. Iowa State has inserted freshman Jerome Tiller as its backup quarterback after Phillip Bates left school. Coach Gene Chizik hopes that he can still make it through the season using only Austen Arnaud as the quarterback and keeping the redshirts intact for Tiller and fellow freshman Bret Bueker. Early word is that Bates likely won't resurface at another Big 12 school because it would cost him an additional season in the transfer. A more likely location would be a FCS school where he could play immediately or an FBS school like Ohio University, where his family already has a strong association with coach Frank Solich. Bates' father, Phillip Bates Sr., was a running back at Nebraska who played there when Solich was his position coach under Tom Osborne.

3. Texas ditched using a tight end in favor of a four-wide receiver look as its base offensive formation against Oklahoma. And the unit's success -- 438 total yards and 20 combined catches from Quan Cosby and Shipley -- make it likely to be used more during the rest of the season. Starting tight end Blaine Irby's season-ending injury robbed the Longhorns of their top receiving threat at the position. The four-receiver sets have made the Longhorns lethal in terms of big-play capabilities, but a little weaker trying to consistently run the ball.

4. Considering the recent injury to Lamark Brown, it wasn't surprising that quarterback Josh Freeman emerged as a key rushing threat in the Wildcats' victory last week over Texas A&M. Freeman produced career-high totals of 18 carries, 95 yards and four rushing touchdowns against the Aggies. In the philosophy of Kansas State quarterbacks coach Warren Ruggiero and offensive coordinator Dave Brock, the quarterback is used as more of a rushing weapon. Freeman has gained positive rushing yards in each of his six starts this season. Before this season, Freeman had netted positive yards in only eight of his 20 previous career starts.

5. Texas A&M coach Mike Sherman is doing what he can to instill discipline on his team, even if it affects its performance in the short term. Key players Michael Bennett andMike Goodson weren't in the starting lineup last week against Kansas State after discipline issues, paving the way for the Wildcats to jump to an early 27-3 lead over Sherman's beleaguered team. Sherman is hoping that his struggles bottom out as he tries to make the Aggies know they've got a firm leader running the program.
September, 26, 2008
9/26/08
12:31
PM ET
Posted by ESPN.com's Tim Griffin
Here are some things to watch for in Big 12 games on Saturday:
1. Oklahoma's chance to move to No. 1 -- With USC's loss at Oregon State on Thursday night, the Sooners are situated to fill the top spot in the polls by beating TCU. That hasn't been easy for them during the Horned Frogs' recent trips through Norman. Can the Sooners snap history and move to the top of the polls for the first time since 2003?
2. Colorado's backfield combination against Florida State's defense -- Heralded TB Darrell Scott has been hampered recently with a knee injury. His backup Rodney Stewart took advantage of his absence to rush for 166 yards against West Virginia last week. With Scott returning to health, I'm curious how coach Dan Hawkins divvies up the carries. It will be interesting to see an improving Colorado offensive line work against a Florida State defense that will be returning four more veteran defenders back from suspension and has allowed only one touchdown this season.
3. Can Kansas State DE Ian Campbell bounce back? -- Coming into the season, the senior was counted as one of the Big 12's top pass-rushing threats and a potential All-American player. But so far this season, Campbell has been missing in action with only three tackles and no sacks. For a reeling Kansas State defense that was forced to run as punishment when it got home from Louisville last week, Campbell's return against Louisiana-Lafayette would be huge.
4. Bo Pelini's step into the national spotlight -- The new Nebraska coach will be facing his most difficult test of his brief coaching tenure as the Cornhuskers host their first BCS foe in Virginia Tech. The Cornhuskers have barely had to battle into the fourth quarter against any of their first three foes. The Hokies are offensively challenged but still should provide a good indication of how far Pelini's rebuilding job has come along.
5. Zac Robinson's progress -- It will be interesting to judge the Oklahoma State quarterback's progress this season against Troy and to compare it to his performance last season against the Trojans. Robinson made his first career start in a nationally televised game and struggled mightily in a 41-23 loss. His chance for revenge could boost the Cowboys to their first 4-0 start under Mike Gundy and a likely return to the national Top 25 with a victory.
6. Texas' tight end options -- Blaine Irby was emerging as a blocking and receiving threat for the Longhorns before suffering a season-ending dislocated kneecap last week against Rice. Texas now is scrambling for a replacement and will use Peter Ullman and Greg Smith as his replacements Saturday against Arkansas. It will hard to match Irby's receiving contributions. Mack Brown has hinted his loss might force the Longhorns to use more four- and five-receiver threats.
7. Texas A&M's uncertainty at quarterback -- Jerrod Johnson had an uneven first start last week against Miami, throwing for three touchdowns but also making several critical mistakes. But he sustained a sprained shoulder and missed practice this week along with Stephen McGee, who is already nursing a similar injury. Which way will coach Mike Sherman turn for his starter Saturday against Army? McGee likely represents his best immediate choice, while starting Johnson would start Sherman's rebuilding project. Sherman desperately needs a victory as he attempts to break the first two-game home losing streak to start the season for the Aggies since 1972.
8. Oklahoma's offense matched against the challenge of TCU's defense -- The Sooners have been one of the nation's most potent offenses, leading the nation in scoring, ranking fourth in total offense and seventh in passing. It will be interesting to see if Sam Bradford can continue that success against a typically feisty TCU defense that leads the nation in rushing and total defense and ranks second in turnover margin. It will be the Sooners most serious offensive test of the season.
9. Colorado's adaptability to the hot sticky climate in Jacksonville -- The Buffaloes played their best football down the stretch in a comeback victory over Eastern Washington and in overtime last week against West Virginia. Can those late rallies continue in the expected heat and humidity Saturday against Florida State? Coach Dan Hawkins and the Colorado training staff has had them drinking green Gatorade throughout the week to get ready. Will those preparations keep them from wearing down against the Seminoles?
10. Nebraska's running game against Virginia Tech -- The Cornhuskers rushed for 330 yards in their most recent game against New Mexico State but will be challenged mightily by a Virginia Tech team that likes to stack the box and force teams to beat them by passing. Nebraska QB Joe Ganz has emerged as more of a running threat in recent weeks, but will likely have his chances to beat the Hokies by the air. And will Pelini turn to OL Andy Christensen, a projected starter who is finally available to play after a six-month suspension that included the first three games of the season? His eventual return could give the Cornhuskers' running game a boost.
September, 21, 2008
9/21/08
10:14
PM ET
Posted by ESPN.com's Tim Griffin
Losing starting tight end Blaine Irby to a season-ending knee injury might have bigger ramifications for Texas than might be expected.
Irby had developed into a good secondary option for Colt McCoy, producing 10 catches so far this season. He was especially effective against Florida Atlantic when the Owls did a nice job of snuffing out the Longhorns' outside receivers. Irby snagged a career-high seven receptions in that game.
Texas still has a serviceable pair of wide receivers in Quan Cosby and Jordan Shipley. They aren't burners like Jeremy Maclin or Michael Crabtree, but are still nice producers nonetheless. But their chances of getting open will be lessened after Irby's injury.
Look for senior Peter Ullman and sophomore Greg Smith to compete for reps as the starting position. Neither are the receiving threat that Irby was. And that could lead the Longhorns to sputtering little bit more later this season, particularly as defenses gear to stop their outside threats while giving more leeway to their tight ends.