NCF Nation:

Blake Jackson
August, 8, 2013
8/08/13
9:00
AM ET
STILLWATER, Okla. -- Last season Oklahoma State became the first FBS team since 1996 to have three 1,000-yard passers.
Two of those passers --
Clint Chelf
and
J.W. Walsh
-- are back. But their teammates don't seem to care which wins the starting quarterback job. They say they can put up the points with either. Or, perhaps, even both.
"Doesn't matter to me at all," said
Josh Stewart
, who led Oklahoma State in receiving last year. "They both put up big numbers without even playing the whole season.
[+] Enlarge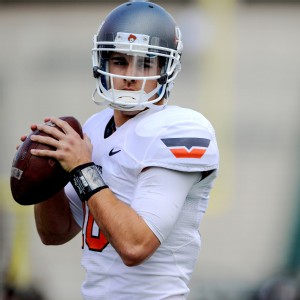 Jerome Miron/USA TODAY SportsClint Chelf passed for 1,588 yards and 15 touchdowns last season and will compete with J.W. Walsh for the starting job.
"We're very confident in both of them."
The Cowboys have reason to be.
After Brandon Weeden set school records during Oklahoma State's Fiesta Bowl run in 2011, the Cowboys were left without a clear succession plan at quarterback going into 2012. Chelf and Walsh battled incoming freshman
Wes Lunt
for the job during spring. Then days after spring ball, coach Mike Gundy stunned everyone, even his own players, by naming Lunt the starter.
"We really had no clue what our season would look like because we didn't have a quarterback until summertime," Stewart said. "And it was Wes, which was a shocker to everybody because it was a freshman coming in. We had Clint, who was a veteran and J-Dub, who performed really well in the spring game. Wes was the last person we were thinking.
"It was a shocker."
Lunt showed why Gundy picked him to start by throwing for 436 yards and four touchdowns in a shootout loss to Arizona the second game of the season. But a week later, Lunt was out of the lineup with a knee injury, and Walsh was in. And the offense kept on humming, as the Cowboys racked up 576 yards against Texas, then 625 against Iowa State.
After Walsh suffered his own knee injury -- and Lunt got knocked out again with a concussion -- Chelf was in. And the offense kept on humming. With Chelf at the helm, the Cowboys scored 55 points against West Virginia, 59 against Texas Tech and 48 at Oklahoma in a heartbreaking, overtime loss in which the Cowboys led virtually the entire game.
All told, despite shuffling through three inexperienced quarterbacks, Oklahoma State finished third in the nation in scoring, averaging almost 46 points a game.
"We were very fortunate they didn't have any experience and still played pretty well," Gundy said. "You feel a little better this year because they've been out there, they've played on the road, they've been in tough environments, they've executed and they certainly know the offense better than they did a year ago."
Gundy hasn't made either quarterback available to the media this preseason. He hasn't indicated when he'll name a starter, either – although he did say he would have done so already if the Cowboys weren't facing an SEC opponent in the opener.
Because he ended last season as the starter, Chelf is the favorite to get the nod over Walsh against Mississippi State in Houston. But their teammates hinted a two-quarterback attack isn't off the table, either.
"I'd be looking out for both of them," said running back
Jeremy Smith
. "I think it's going to be a one-two punch with those guys."
Walsh is the better runner, and operated Oklahoma State's goal line package late last season when he returned from injury. Chelf, meanwhile, is more comfortable throwing downfield out of the pocket.
"I think that's got to be the scariest thing for rest of the Big 12, if we put both those guys back there at different times," said receiver
Blake Jackson
. "That's really dangerous."
Whether they play Chelf, play Walsh or play both, the Cowboys ought to be dangerous on offense once again. Due in large part to their two quarterbacks.
"This year, we know what we have," Stewart said. "We know what our quarterbacks can do.
"And we're very confident, because both are great."
August, 5, 2013
8/05/13
11:00
AM ET
STILLWATER, Okla. -- Through the years, Oklahoma State's high-powered offense has featured better individual receivers. Wideouts like Hart Lee Dykes, Rashaun Woods, Dez Bryant and Justin Blackmon -- who were all first-round draft picks.
Yet top to bottom, coach Mike Gundy agrees his Cowboys have never featured a deeper, more talented overall receiving corps than the one he'll take into this season.
[+] Enlarge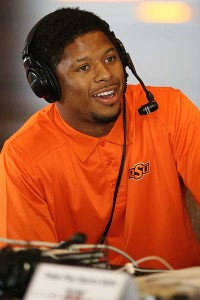 Kevin Jairaj/USA TODAY SportsJosh Stewart is just one of the many solid players returning for the Cowboys' receiving corps this season.
"I think we have a really good group," he said. "At times it's a little unfair to compare guys to Dez and Blackmon -- two of the most talented guys to compete in this league.
"But from top to bottom ... we have 10 or 12 guys that I think in three weeks could play in a game and go out there with the ones and have success. So we may be as good at that position as we've ever been -- without having maybe a potential first-round guy."
The Cowboys might not have that potential first-round pick, but thanks to the fortuitous timing of an injury, they do have two go-to guys.
Oklahoma State went into 2012 counting on senior
Tracy Moore
to take over for Blackmon as the No. 1 receiver. Moore proved up to the challenge, hauling in four touchdown passes in a shootout loss at Arizona early in the season. But a month later, Moore's season was derailed when he suffered an ankle injury that sidelined him for the year.
"Other than (running back) Joseph Randle, before Tracy got hurt, he was our best player on offense," Gundy said.
Moore getting hurt, however, provided a silver lining that should benefit the Cowboys this season: it cleared the way for
Josh Stewart
to shine out of the slot. After taking over as Oklahoma State's primary pass-catcher, Stewart rapidly developed into one of the most dangerous receivers in college football and finished with 101 receptions, third-most in the Big 12.
And because Moore played less than 30 percent of the 2012 season, he was given a medical redshirt to come back, providing Oklahoma State with two playmakers who have shouldered the No. 1 receiver role.
"Not a lot of teams have that," Stewart said.
Moore and Stewart will have plenty of help, too.
The Cowboys return two other starters at receiver in
Charlie Moore
and
Blake Jackson
, who combined for more than 65 receptions and 1,000 yards last season. Oklahoma State also brings back
Austin Hays
, who filled in admiringly after Tracy Moore got hurt with 29 catches, and
Blake Webb
, who got the start against Oklahoma.
"It's crazy because last year I thought that we had great depth at the position," said Jackson, who plays on the inside opposite Stewart. "Now getting Tracy back for another year, it's crazy how many good receivers we have. We have 12 guys that could start right now and we'd be productive and keep moving."
Among those 12 are underclassmen
David Glidden
,
Brandon Sheperd
and
Jhajuan Seales
, who all are vying for time. Seales has been especially turning heads. Gundy singled him out as someone who developed physically during the offseason as much as anyone on the squad.
"Anyone in the starting lineup go down, we've got someone that could fill them up at every spot and do good, and I'm not just saying that," Stewart said. "We've had pretty good depth the last three years -- but nothing like this."
The Cowboys are also about to reap the benefits of more fruitful recruiting efforts. In its most recent signing class, Oklahoma State landed four-star receivers
Ra'Shaad Samples
and
Marcell Ateman
, incoming freshmen who appear talented enough to contribute right away.
"The success we're having has a lot to do with this, the previous success," Tracy Moore said. "People see what Blackmon did, people see what Dez Bryant did. They want to come here and we're getting top guys now."
The Cowboys don't have a Blackmon or a Bryant. But the position in Stillwater has never been better.
"We are so stacked on receivers," Moore said. "We're definitely pretty stacked."
August, 2, 2012
8/02/12
10:00
AM ET
DALLAS --
Joseph Randle
remembers getting in some post-practice work last fall with a guy almost no one outside his Oklahoma State team had heard of.

The Cowboys running back sat and watched as receiver
Charlie Moore
was practicing one-handed catches from a machine tossing him balls.
Twenty balls whizzed toward Moore. All 20 stopped abruptly in just one of Moore's hands.
"I'm like, 'This dude's got great hands and he ain't even playing'," Randle, a 1,200-yard rusher in 2011, said of Moore.
So you'll have to excuse Randle's lack of surprise when that sticky-handed, 6-foot-2, 202-pound talent turned nine catches into 243 yards and three touchdowns in the spring game, capping a productive set of 15 spring practices.
"Even (former quarterback Brandon) Weeden last year was saying, 'Charlie Moore's gonna step up.'" Randle said. "But we have a lot of guys who are ready to step up."
Randle doesn't have to do any thinking when asked why the Cowboys are being written off as contenders to defend their 2011 Big 12 title, the first in school history.
"Because we lost Brandon and (two-time Biletnikoff Award-winning receiver Justin) Blackmon," he said. "They don't understand that in great programs, people step up and make plays and we have guys in our program who have been waiting for this opportunity and they're going to step up and make a lot of plays."
For Oklahoma State, that means bigger roles for returning receivers like
Isaiah Anderson
and
Tracy Moore
. Coach Mike Gundy suspended
Michael Harrison
, arguably the team's receiver with the most potential, for all of 2012. Harrison then left the team.
Sophomore
Josh Stewart
emerged this spring in Blackmon's absence, and Randle classified Charlie Moore as one of the fastest players on the team.
All that without even mentioning another spring standout,
Blake Jackson
, the nation's top juco tight end who transferred to Oklahoma State this offseason.
"You see what I'm saying? We're just naming guys who can make plays, have play-making abilities," Randle said. "I think we'll be just fine. I'm comfortable with the guys we have out there and their play-making abilities."
Oklahoma State did lose Blackmon and Weeden. There's no escaping that. Randle's back, though, with plenty of rising stars at receiver to buoy the first season under
Wes Lunt
, the Cowboys' true freshman quarterback.
"I'm around it every day and it's a winning environment. It's not a losing environment," Randle said. "We've got guys who have bought into the program and are ready to win."
June, 15, 2012
6/15/12
9:00
AM ET
If we're going to be technical about this, Oklahoma State broke through last season, winning its first Big 12 title and a bushel of respect in the process.
Just a few months later, the questions are out. The doubts are fresh.
"Losing Brandon Weeden and Justin Blackmon was too much."
"Welcome back to Earth, Cowboys."
"Their new quarterback is
how
old?"
[+] Enlarge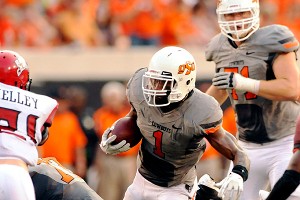 AP Photo/Brody SchmidtStar RB Joseph Randle has helped Oklahoma State earn national respect in recent seasons.
We've heard all three of those before and will again in 2012. The age jokes are back, but replace jokes about Weeden's AARP status with ones about 18-year-old Wes Lunt's acne and prom date. Then replace "Brandon Weeden and Justin Blackmon" with "Zac Robinson and Dez Bryant."
The 2011 team was better. It won more and went further, twice setting the school record for wins, racking up 23 in two seasons and
bringing some new hardware to Stillwater
that had never found a home at Boone Pickens Stadium.
That's just one breakthrough season. Oklahoma State, though? It's about to prove it's a breakthrough program ready to take its place among college football's elite.
The Cowboys have sustained success, winning at least nine games in four consecutive seasons. They'll do it again in 2012, because that's what elite teams do after they win a title. They keep winning, and Oklahoma State has stockpiled plenty of talent outside of Weeden and Blackmon, talent that's ready to shoulder the load and carry the Pokes to a solid season.
They're not built for a title in 2012, but they're built for a solid season. Expect 8-9 wins. Don't be surprised if a bowl win gives the Pokes their third consecutive 10-win season.
That's not a breakout season in the traditional sense, but its further validation that the Cowboys' arrival on the big stage last season didn't precede a humbling rebuilding season in 2012.
Jeremy Smith
and
Joseph Randle
will make life easier for Lunt. A solid, underrated receiving corps is ready to make a name for itself, highlighted by
Tracy Moore
,
Josh Stewart
and newcomer Blake Jackson filling in for Blackmon, Josh Cooper and
Michael Harrison
.
The defense led the nation in turnovers last season -- a third consecutive season in the national top 11 -- and will be more experienced and talented in 2012. Linebackers
Alex Elkins
and
Shaun Lewis
hold down the middle, while cornerbacks
Justin Gilbert
and
Brodrick Brown
stake a claim as one of the Big 12's best duos on the outside.
Oklahoma State made a name for itself in the 2011 season, but the national audience is fickle. It may have forgotten.
The Cowboys will remind them this year.
And just wait until next year.
April, 5, 2012
4/05/12
1:00
PM ET
STILLWATER, Okla. -- We've only scratched the surface of my notebook after my visit to Stillwater on Wednesday. Lots, lots, lots more to come. Here's a few spare thoughts, notes and quotes from my day with the reigning Big 12 champs.
You've heard enough about Oklahoma State's QBs for today (Part 1, Part 2), with more to come on that trio, but whoever wins the job won't be short for targets. Receiver Josh Stewart's made the biggest improvement this offseason, but Tracy Moore has come on strong on the outside, too. Inside, you really do have to watch out for Blake Jackson. I regret not putting him on my "Top Newcomers in the Big 12" list from earlier this week. He's playing inside, but he's basically a tight end, and was the best of the junior college ranks last year. He's also a man. He's a huge target with great, great hands. Look for him to get some run on the goal line, but in this offense, he may actually be my frontrunner for Big 12 Newcomer of the Year. I'd almost guarantee him getting a high volume of touches, and he's going to be tough to bring down at 6-foot-3, 238 pounds. He's every bit of that, too. "He's a big body guy and has really good hands. If it's in the general area of him, he's going to catch it," quarterback J.W. Walsh said. "He's got really good leaping ability and great ball skills."
Speaking of newcomers, you don't hear as much hype around him, but defensive coordinator Bill Young is hopeful that Calvin Barnett can have a big impact on the defensive line. Plenty of folks were after the one-time OSU commit, turned Arkansas signee, turned juco All-American, turned Cowboy signee. The 6-foot-2, 300-pounder has big-time potential, but he has to pick up the speed of the game and focus on technique. OSU's defense may ultimately depend on strength at the defensive tackle spot. "He's a very talented guy, he's really strong and powerful. Weight coaches have raved about what he's done in the weight room," said Young. "He's a big guy who can run and change direction. We're fortunate to have him." Big impact? "We're hoping he can," Young said.
Fired Ole Miss coach Houston Nutt, an Oklahoma State alum, was back on OSU's campus on Wednesday visiting with the coaching staff. Colorado coach Jon Embree also showed up unannounced earlier this spring to meet with Gundy, who granted the request.
Oklahoma State's corners and running backs are both having great springs, as expected. Those two spots might be the biggest strength on the team. OSU has a great case as the Big 12's best set of running backs, and is second to only Texas at cornerback.
Defensively, Mike Gundy feels like this year's team is the most talented and deepest of any team he's had dating all the way back to even when Gundy was an assistant under Les Miles.
Oklahoma State may be hurt the most of anyone with the new rule changes in special teams. Kickoffs have been moved up to the 35-yard line and touchbacks are now brought out to the 25-yard line. That negates two huge advantages OSU has had the past two season. Quinn Sharp boomed 61 touchbacks last season. No other kicker had more than 40. Meanwhile, Justin Gilbert is one of the most dynamic return men in the league, but he'll have fewer opportunities. He says he'll still plan on taking it out when he gets a chance, but he'll have to dial it back some and take the unselfish route a whole lot more. Sad to see that. He's electrifying.
Oklahoma State moved safety Daytawion Lowe to nickel back and Lavocheya Cooper is holding down the free safety spot. The void at strong safety will be filled by committee, Young said. Zack Craig will be part of it, as and Shamiel Gary and Deion Imade will get a shot, too. "The good thing about is we have all the backups back," Young said.
OSU is missing center Evan Epstein this week. He's out with pneumonia.
Former OSU lineman Levy Adcock showed up briefly to Oklahoma State' facilities on Wednesday. I can confirm he's shaved his mullet.