January, 6, 2015
Jan 6
9:00
AM ET
In a new AT&T commercial, Heisman Trophy winners Bo Jackson, Doug Flutie and Herschel Walker, sitting around watching the new College Football Playoff on ESPN, try to tease Joe Montana about his not winning the bronze statue. Montana seems duly impressed.
"What an accomplishment," he says. Only he raises his hand to his face, and it features four Super Bowl rings and a ring for the 1977 national title he won at Notre Dame.
#winning!
When it comes to team sports, particularly in this country, winning championships trumps eye-popping statistics and individual accomplishments. That's why no one ranks Dan Marino ahead of Montana on lists of all-time great quarterbacks, even though Marino was a better pure passer.
This is an important sports cultural note because we are on the cusp of potentially making a huge distinction. If Oregon beats Ohio State in the College Football Playoff National Championship Presented by AT&T on Jan. 12,
Marcus Mariota
will have a strong case for the greatest quarterback in college football history. He'll have the Heisman, eye-popping numbers over three brilliant seasons and, most important, that championship. It would further boost his case that Oregon's first Heisman winner also led it to its first football national title, the Ducks then being the first first-time national title winner since Florida in 1996.
[+] Enlarge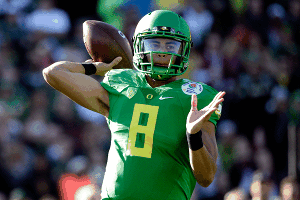 AP Photo/Jae C. HongMarcus Mariota's passing efficiency numbers are among the best in college football history.
Ah, Florida. It can counter with two legitimate entrants to the discussion of best quarterback in college football history: Danny Wuerffel and Tim Tebow. Both put up huge numbers over multiple seasons and won Heismans. And both won national titles.
By those measures, you'd also have to include USC's Matt Leinart in the discussion. He won the 2004 Heisman and finished sixth in 2003 and third in 2005. While his overall numbers aren't as sparkly as Mariota's, Weurffel's or Tebow's, he went 37-2 as a starter and nearly won three consecutive national titles.
If winning is our primary measure, how can QBs like Tommie Frazier and Vince Young be overlooked? Frazier and Young each finished second in Heisman voting, but Frazier won consecutive national titles at Nebraska (1994 and 1995) without losing a game -- that 1995 team ranks among the best in the history of the sport -- while Young resurrected the Longhorns and won the 2005 national title.
Our old-timers are reminding us that college football is more than a few decades old. Any discussion of all-time greats needs to include TCU's Sammy Baugh, who was slinging the ball around well before passing was a significant part of the game, and the Horned Frogs claimed a national title in 1935 with Baugh behind center. The two-time All-American had 39 career TD passes and also ended up an NFL Hall of Famer.
So what is Mariota's case should he prevail against the Buckeyes? The CFP, in itself, would be a good Point A: His winning a national title will rate a bigger accomplishment than those of his predecessors because he will have to win consecutive games against highly ranked, top-four foes in order to earn that final No. 1 ranking. Those who won BCS or pre-BCS titles didn't have the added rigor of the CFP.
As for numbers, both this season and career, Mariota's case is strong. He leads the nation in
Total QBR
, ESPN.com's advanced metric for measuring a QB's efficiency and overall effectiveness, by a wide margin, and his 91.7 rating is third best since 2004. He finished ranked second in QBR the previous two seasons to Heisman winners
Jameis Winston
of Florida State and Johnny Manziel of Texas A&M. Those QBR numbers rank 10th and 17th of all time, making him the only QB since 2004 to have three seasons ranked in the top 20.
The same lofty measures hold true with
standard QB efficiency ratings
. Mariota is No. 1 this season after ranking seventh in 2013 and 2012. Those ratings rank 6th, 55th and 97th all-time (since 1956). His
career efficiency rating ranks second
all-time behind Oklahoma's Sam Bradford.
Mariota has been responsible for more touchdowns (134) and racked up more yards of total offense (12,661) than any other player in Pac-12 history. He has thrown a touchdown pass in all 40 career starts, the second-longest streak in FBS history. He
is on pace to set the FBS record for career interception percentage, as only 13 of his 1,130 career attempts have been picked off (1.15 percent).
With any subjective measure, as this undoubtedly is, you can highlight or downplay aspects to suit an argument. Leinart and Frazier led dynastic runs of sustained excellence but were hardly one-star constellations for college football superpowers. Young completed an outstanding 2005 season -- second to Reggie Bush in Heisman voting -- with a tour de force performance in a thrilling victory over Leinart, Bush and USC in the national title game. Tebow finished first, third and fifth in Heisman voting, was a significant part of a second national title team, had 145 career TDs and put up strong efficiency numbers.
A further complication in this debate is blocking out how these quarterbacks were evaluated by the NFL and then produced as professionals. The only aforementioned QB who succeeded in the NFL was Baugh. Wuerffel and Tebow were widely doubted by NFL scouts in advance of the draft. Injuries ended Frazier's career before he could play on Sundays. Leinart and Young were top-10 picks in 2006, but they both flopped in the NFL.
Mariota is expected to be a top-10 pick this spring and could go No. 1 overall. In terms of NFL prospects, he's decisively better than Wuerffel and Tebow, and it's already clear he has a superior arm compared to Leinart and is far more advanced mechanically than Young. In terms of pure QB ability and talent as it would translate to the NFL, Mariota is the best prospect of the bunch, even before you factor in his ability as a runner.
Of course, Ohio State coach Urban Meyer can do his old QB Tebow a favor in this debate. If the Buckeyes triumph over the Ducks, Mariota won't get to flash a championship ring, a prerequisite for inclusion in our "best ever" conversation.
August, 5, 2014
8/05/14
9:00
AM ET
It's
the
Season, as in singular. There can be only one, which means along the way we had to make some some gargantuan choices.
This is what we set out to determine -- one great season by an individual that can be considered the best in the history of all 128 FBS schools. ESPN.com writers and editors, in consultation with sports information directors, settled on
one player for each school
.
As you would imagine in the SEC, there were some incredibly close calls. These are the top three, and we'd like your help to see if we got it right.
Auburn
Cam Newton, quarterback, 2010


Newton played just one season at Auburn, and boy, was it epic. He won the Heisman Trophy in a landslide, led the Tigers to an undefeated season and the BCS National Championship. His numbers were eye-popping: 4,369 yards of total offense, 51 touchdowns to lead the nation, 1,473 yards rushing to lead the SEC. It was, quite simply, one of the most dominant individual efforts in NCAA history.
Bo Jackson, running back, 1985
Twenty-five years before Newton, Jackson became a legend at Auburn with his intoxicating blend of speed, power and grace. He won the Heisman Trophy after running for 1,786 yards and 17 touchdowns. He averaged 6.4 yards per carry, which at the time was the best in SEC history. Jackson was recently
named the greatest athlete of all time
by ESPN Sport Science.
Tennessee

Peyton Manning, quarterback, 1997

Few question Manning's place as the greatest Vol of all time. Heck, they even renamed one of the roads leading to Neyland Stadium, changing it to "Peyton Manning Pass." He surprised many by returning to Tennessee for his senior year and delivered an SEC championship after a 10-1 season. He threw for 3,819 yards and 36 touchdowns, which earned him the runner-up spot to Michigan cornerback Charles Woodson in the Heisman Trophy voting. Manning was, however, a consensus first-team All-American and won plenty of hardware after his memorable final season at Tennessee, including the Maxwell Award, the Davey O'Brien Award and the Johnny Unitas Award.
Reggie White, defensive end, 1983
Before he became known as the "Minister of Defense," White was a relentless, dominating defensive end for the Volunteers. After a subpar junior year (by his standards), White was a force of nature in his final season wearing Tennessee orange. He set the school's single-season record with 15 sacks, and also had nine tackles-for-loss and an interception. White recorded 100 tackles, including 72 solo stops -- ridiculous numbers for a lineman. He was named the SEC Player of the Year, a Lombardi Award finalist and was a consensus All-American.
Ole Miss

Eli Manning, quarterback, 2003

Manning holds most of the Ole Miss passing records, but his senior season stands above the rest. He threw for a school-record 3,600 yards and 29 touchdowns in leading the Rebels to a 10-3 record, a share of the SEC West crown and a Cotton Bowl victory. He was a first-team All-American and racked up several honors, including SEC Player of the Year, the Maxwell Award as the nation's best all-around player, and the Johnny Unitas Golden Arm Award.
Archie Manning, quarterback, 1969
The patriarch of the first family of Southern football, Archie Manning is revered in his home state. He held several of the school records that were eventually broken by son Eli. In his junior season, Archie was named SEC Player of the Year after throwing for 1,762 yards and nine touchdowns. He also ran for 502 yards and led the SEC with 14 rushing TDs. Manning won the Walter Camp Memorial Trophy, given annually to the college football player of the year. He also earned All-America and All-SEC honors and came in fourth in the 1969 Heisman Trophy voting.
You can also
vote on who had the best individual season in college football history
. Stay tuned throughout the week as we narrow the list from 16 to one.
November, 25, 2013
11/25/13
2:00
PM ET
Good luck finding a rivalry in college football as deep-rooted, passion-filled and polarizing in one state as the Iron Bowl.
Alabama and Auburn get it on every year in late November, and they spend the remaining 364 days in that state reliving the game.
It's not just football. It's life.
And while it's a rivalry that has spawned scores of legendary names, games, moments and memories, it has been a while since an Iron Bowl has meant more for both sides going into the game than the one that will be played Saturday afternoon on the Plains.
[+] Enlarge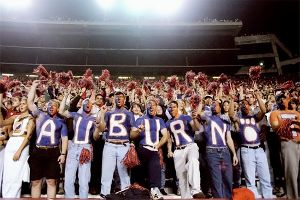 Elsa Hasch/Getty ImagesThe anticipation for Saturday's Iron Bowl on The Plains is palpable.
It's only the second time in Iron Bowl history that both teams have been ranked in the top five nationally. Alabama is No. 1 and Auburn No. 4 in the latest BCS standings.
The only other time came in 1971, when Alabama entered the game No. 3 in the Associated Press poll and Auburn was No. 5. The Crimson Tide rolled the Tigers and Heisman Trophy winner Pat Sullivan 31-7 that day to capture the SEC championship.
The buildup to that game was obviously huge, especially with both teams being unbeaten and Sullivan being announced as the Heisman winner on Thanksgiving night, two days before the game.
The same goes for the 1989 game, which was the first Iron Bowl to be played at Auburn. Previously, the game had always been played in Birmingham at Legion Field, and there are a lot of Auburn people who will tell you that there will never be a more important game in the series for them than that 1989 affair.
Of course, it helped that the Tigers beat the No. 2 Crimson Tide 30-20 in Auburn's Jordan-Hare Stadium to earn a share of the SEC championship along with Alabama and Tennessee.
One of the strangest Iron Bowls was played in 1993, when Auburn was on probation after being hit with NCAA sanctions. The game couldn't be shown on television. So other than those at Jordan-Hare Stadium that day, the only people who saw Auburn's 22-14 win were the 40,000 or so fans who watched the game on closed-circuit television at Bryant-Denny Stadium on Alabama's campus. Auburn's victory completed an 11-0 season under first-year coach Terry Bowden.
The game in 2010 will go down as the most electrifying comeback in the series. Cam Newton and Auburn rallied from 24 points down to win 28-27 in Tuscaloosa and save the Tigers' national championship season.
Legendary names on both sides have left their mark in this series.
Ken Stabler's Run in the Mud in 1967 will never be forgotten, nor will Bo Jackson's going over the top in 1982 to beat Alabama in what was Bear Bryant's last Iron Bowl.
Perhaps the most stunning finish came in the 1972 Punt, Bama, Punt game. Auburn's Bill Newton blocked a pair of punts in the fourth quarter and both were returned for touchdowns by David Langner to give Auburn a 17-16 win over No. 2 Alabama.
It's hard to find a more thrilling game than the 1985 classic. Van Tiffin booted a 52-yard field goal in the closing seconds to give Alabama a 25-23 win. There were four lead changes in the fourth quarter alone.
So as we try to put into perspective where Saturday's game ranks in the annals of this storied rivalry, we could go on endlessly talking about the memorable players, plays and games that the Iron Bowl has provided.
But in terms of stakes for both teams, I'm not sure we've seen anything quite like this.
Alabama is chasing history and looking for a third straight national championship, something that hasn't happened in the modern era.
Imagine the thrill for Auburn to be able to end the Crimson Tide's historic run right there on the Plains, especially when you consider the way Auburn was reeling this time a year ago.
The Tigers were putting a miserable 3-9 season to bed in which they closed out their SEC schedule with a 38-0 blowout loss to Georgia and an even more lopsided 49-0 loss to Alabama.
Now, a year later, here they are going toe-to-toe with Alabama, with the SEC's Western Division title on the line. Not only that, but Auburn could thrust itself right into the middle of the national championship picture with a win, especially if Florida State or Ohio State stumbles in these next two weeks.
For a rivalry that has given college football junkies just about everything we could ask for over the years (and then some), this game Saturday might be the most anticipated yet because of what it means to both sides.
Let's hope the game can match the stakes.
November, 13, 2013
11/13/13
6:30
AM ET
The ESPN.com college football reporters are on a foreign mission this week. We're venturing outside our conference footprints to see how folks in other parts of the country experience the game in their own unique ways. College football means different things to different people in different places. We're heading out there to soak it in and report back what we see, hear, smell and taste.
For those who don't know us, Adam covers Big Ten football from his Chicago base, while Edward is all over the SEC happenings from his headquarters in the ATL. We both have ties to our regions and attended schools in the leagues we now cover.
We'll trade places later this week, as Edward ventures north to Madison, Wis., for Wisconsin's game against Indiana, and Adam takes in the oldest rivalry in the Deep South: Georgia-Auburn at Jordan-Hare Stadium. It'll be different, eye-opening and a whole heck of a lot of fun.
Let's get started ...
Adam Rittenberg:
Edward, I'll admit I'm a Yankee. I grew up first in the Northeast (New Jersey and Massachusetts), spent most of my formative years in Northern California and have called Chicago my sweet home for the past 14 years. If there's a blue state, I've probably lived in it. My experience in the South has been limited to major cities like Atlanta and New Orleans, one of my favorite places on earth. My college football roots are firmly in the Big Ten with a little Pac-12 mixed in. But after hearing about the SEC's game-day experience from you, C-Low, that Schlabach fella and others, I'm ready to see it for myself.
[+] Enlarge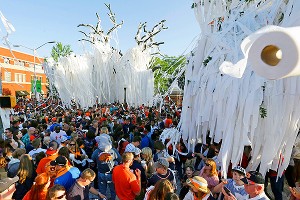 AP Photo/Dave MartinThe oak trees no longer stand on Toomer's Corner, but the tradition is still rich on The Plains.
Auburn is a great place to start. I'm looking forward to seeing what The Loveliest Little Village on the Plains is all about. Checking out
Toomer's Corner
and where the oaks once stood definitely is high on my to-do list, and I'll obviously head back if Auburn beats Georgia on Saturday. Sources tell me the lemonade isn't bad there, either. What's the
War Eagle
tradition all about? I'm going to find out. I'll check out the
Tiger Walk
-- and the Reverse Tiger Walk -- and the
tailgating
around Jordan-Hare. I'll talk to people who have been around Auburn football, and learn about Pat Sullivan, Zeke Smith, Bo Jackson, Terry Beasley and, yes, Cam Newton. I cover the Ohio State-Michigan rivalry, considered the most intense in all of sports. Auburn fans surely will disagree, and will tell me why Auburn-Alabama is king.
I'll leave my heavy jacket at home, but should I bring my houndstooth hat along? Kidding, kidding.
My main objective is to have fun and to identify the answer to a question you and I have often discussed. Why does college football mean so much in the South? Don't get me wrong: It resonates in Big Ten country, too, but so do other sports, both at the college and professional levels. As you'll find out, Big Ten folks take great pride in their tailgates, their stadiums and their game-day traditions, but football seems to consume the communities more in SEC territory. Why is that the case, and how that passion impact the product on the field?
Auburn, here I come. Can't wait. What are you looking forward to in Mad City?
Edward Aschoff:
Well, you certainly have done your homework when it comes to Auburn. Just make sure you check out Toomer's Drugs, where you can get the best lemonade under the Mason-Dixon Line. Oh, and watch your head because Auburn's War Eagles have a tendency to go rogue sometimes. You're gonna have a blast, especially with Auburn back in the national spotlight.
I'm so excited to see Madison on game day. You know, I have some Midwestern roots. Half of my family calls Iowa City/Cedar Rapids home, so the cold weather will be nothing new to this southern gentleman. And I've been to Madison a few times in the past, but never for a game. Actually, I've never been to Madison when the sun was shining or the temperature rose above 50 ... and I was there for a few days in July!
But I couldn't care less about the weather during this trip. I'm ready to see State Street and all its game day glory. I want to see Camp Randall on a Saturday when the students are at their very best. You know, when the, uh, "water" is flowing through their veins. I'm ready to smell the brats and cheese curds early Saturday morning. As a former member of the drum line at the University of Florida, I'm excited to see Wisconsin's band during its pregame concert at Union South and during the Fifth Quarter.
[+] Enlarge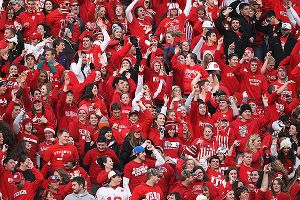 Jonathan Daniel/Getty ImagesWisconsin students "jump around" after the third quarter at Camp Randall Stadium.
Obviously, I plan on throwing my body around with those Mad-town students during "Jump Around," and because I grew up in a household that embraced "The Rocky Horror Picture Show," I'm dying to school some kids in the Time Warp.
I also hear there's a pretty fun call-and-response between the students during games. We all know there's plenty of room for a potty mouth on game day!
Really, I'm just thrilled that I'll be stepping out of the South and into an environment where maybe the party really is bigger than the actual football game. I'm not saying that Badgers fans don't enjoy their football, but I just don't think it will be as ceremonial as it is down South. Maybe I'm wrong, but I'm sure there's plenty of fun to be had up north!
Any other advice for me, other than packing my pea coat and mittens?
Rittenberg:
The ATL Kid might end up being the Mad City Kid by the end of the weekend. You sound well prepared, my friend, certainly more than our pal Schlabach, whose system shuts down any time the temperature drops below 50 degrees.
Madison is my favorite town in the Big Ten, and you seem to have a good handle on it. Any place that ties its identity to beer, meat and cheese will warm a man's heart (and possibly block it). I expect you to come home 5-10 pounds heavier. Definitely check out State Street, buy a "Sconnie" T-shirt, check out the terrace and climb Bascom Hill on campus, where ESPN's "College GameDay" set up for its broadcast before the Wisconsin-Ohio State game in 2010.
Wisconsin's tailgating scene is arguably the best in the Big Ten (Penn State is also right up there), and despite the early start time, you should spend some time on Regent Street before the game. Stop by Lucky's for sure, as I saw people dressed up as sausages there before last week's game against BYU. The parties along Breese Terrace should be buzzing before and after the game. The neighborhood just west of Camp Randall is worth checking out.
Downtown Madison offers plenty in the way of fun, but to get a true sense of Wisconsin flavor, head on out to Quivey's Grove on the outskirts of town. It has been a regular stop for me the night before Badgers games. You'll leave stuffed and extremely happy. Other than that, you have most of your bases covered. You should spend some time in the student section, for sure, and enjoy one of the better in-game atmospheres. The Fifth Quarter also is a lot of fun. And if you can spend any time with Barry Alvarez, the face of Wisconsin's program, be sure to do it.
Any advice for me for my trip to the Plains?
Aschoff:
I can already feel myself changing the word "Coke" to "pop" in my vocabulary. I'm really excited about everything. I actually have a Sconnie shirt and I'm on the email list, but I'll make sure I add to my collection.
If you think I'm going to gain some pounds, have fun getting in those pants after a few days with fried southern delicacies. While you're waiting for that prime-time kickoff, make your way to Momma Goldberg's and get a plate of nachos. They're simple, but well worth the trip and serves as a great pregame meal. Don't stay too long because you have to make it to what the folks on the Plains call the original Tiger Walk. Also, take a stroll near Samford Hall, which might be the most iconic building on Auburn's campus.
You'll certainly need to make enough time to walk around the glorious tailgating spots Auburn has to offer. Yes, expect to see chandeliers hanging in tents. The campus is absolutely gorgeous and don't worry if you don't have anything to share among your new family members, the folks at Auburn will have plenty for you to choose from ... as long as you aren't wearing red and black.
After the game, you'll have plenty of places to check out. Rumor has it that Good Ol' Boys has the best steaks in town and Niffer's Place is a great local spot. If want to try and run into Sir Charles Barkley while you're in town, check out Hamilton's, which is a bistro downtown.
You can also check out Cheeseburger Cheeseburger, which is a nice throwback place at the end of Toomer's Corner. You want a nice burger and a vintage milkshake? Well, then that's your place. Make sure you get there early because it will fill up quickly.
Trying to relive your college days where you try to outlast the moon, Adam? I'd head to the War Eagle Supper Club. There's live music, a bus bar out back, it doesn't close until the sun comes up and there's a van that will take you home. I mean, it just doesn't get any better than that.
I can't stress enough how much you need to get some of that Toomer's lemonade. According to urban legend, Abe Lincoln himself once sipped it.
Rittenberg:
Lincoln was a Big Ten guy: Don't forget that, Aschoff. And please send along pictures of you wearing a Sconnie shirt, eating cheese curds and playing drums. You can let Bret Bielema know what he's missing.
Well, we both have plenty on our plates (literally) as we venture into the great football wilderness. But we need your help, too, to enhance the experience. Wisconsin/Big Ten fans, if you have some advice and recommendations for Edward when he hits the ground in Madison, send them
here
or tweet him at @
AschoffESPN
. Auburn/SEC fans, you can do the same for me
here
or tweet me at
@ESPN_BigTen
. Let's see what Southern Hospitality is all about.
That's it for now. War Eagle. On Wisconsin. It's time to hit the road.
April, 30, 2013
4/30/13
11:45
AM ET
SEC commissioner Mike Slive
says he wants "football expertise"
on the selection committee that will pick the four teams for the College Football Playoff starting in 2014.
The most intriguing component in the whole move to a playoff remains the makeup of that committee.
Who's going to be on it? Better yet, who wants to be on it?
From an SEC perspective and a football perspective, I've come up with a few possible candidates. And, yes, I realize that just about every one of these would be perceived as having some kind of bias, which is going to be the problem in finding a panel that satisfies everybody.
They're listed in alphabetical order:
Bill Battle:
The new Alabama athletic director was the head coach at Tennessee in the early 1970s and later founded Collegiate Licensing Company and built it into a money-making empire.
Charles Davis:
A former defensive back at Tennessee, Davis has carved out an impressive broadcasting career at several different networks and provides analysis for both college football and the NFL.
Vince Dooley:
A true legend in SEC coaching circles, Dooley is about as intertwined with SEC football as it gets. He played at Auburn and was a Hall of Fame coach at Georgia.
Jeremy Foley:
He's easily the SEC athletic director with the most clout nationally, although he's already said he wouldn't be interesting in serving on the committee.
Phillip Fulmer:
Granted, the Alabama fans wouldn't be thrilled, but Fulmer won 98 SEC games, tied for the fifth most in history, and he's available.
Bo Jackson:
Still very involved at his alma mater, Auburn, Bo knows football as well as he played it ... and just about every other sport imaginable.
Bobby Johnson:
Now retired and living in Charleston, S.C., the former Vanderbilt coach is as sharp and respected as they come and would be a terrific choice.
Roy Kramer:
He might be the father of the BCS, but few men have helped to shape college football and the SEC in a positive way more so than Kramer, who's retired and living in East Tennessee.
Archie Manning:
One of the SEC's greatest players, Manning still keeps close taps on college football in between watching his two famous sons play in the NFL.
Joe Pendry:
A veteran of both the college and pro game, Pendry is now retired from coaching after helping to build some powerhouse offensive lines at Alabama.
Bill Polian:
He's currently doing NFL analysis for ESPN, but few people anywhere know the game inside and out any better than Polian, one of the NFL's top executives for a long time.
Gene Stallings:
He has ties to both Alabama and Texas A&M and played under the legendary Bear Bryant. Stallings knows what championship teams look like.
Sterling Sharpe:
The former South Carolina and Pro Bowl receiver for the Packers is doing a little radio now in addition to his NFL Network duties. He would offer some keen insight in the selection of the teams.
Danny Wuerffel:
The former Heisman Trophy winner at Florida would be an excellent choice. He was as smart as he was good and is one of the best people you're ever going to meet. He's also doing better after battling some health problems.
April, 8, 2013
4/08/13
3:00
PM ET
Auburn's football program is coming off of a bad week in the media world.
First,
there was the report
by former New York Times and Sports Illustrated writer Selena Roberts discussing grade changes, money exchanging hands and other recruiting violations conducted under the watch of former coach Gene Chizik.

Then, a six-month investigation conducted by
ESPN The Magazine and "E:60"
stated that a dozen players, including star running back, Michael Dyer, failed tests for synthetic marijuana during Auburn's national championship run in 2010.
Shortly after these stories ran, Chizik, former players and athletic director Jay Jacobs denied any wrongdoing. Jacobs even went as far as to write an open letter to the Auburn community disputing the ESPN The Magazine report. You can read Jacob's
full letter here
.
If you follow Twitter or Internet message boards, you'll notice that most of the Auburn faithful are quite upset with Roberts and ESPN The Magazine. No one likes when bad things are written about their teams, and they have every right to be upset by the negativity thrown Auburn's way. So do current players and coaches.
But you
won't hear much coming from Auburn's team
about reports. On the surface, players either don't care, aren't worried about any potential fallout or both. Honestly, there really isn't any other way players could handle the situation. Sure, they could be mad and sling mud at Roberts and ESPN, but they know this entire ordeal is out of their hands. They can't control what's been written, but they can control how they get through it and finish spring practice.
That's what's important to this team, especially after a disaster of a 2012 season that led to the firing of Chizik and the hiring of Gus Malzahn. Routes, schemes and technique should be on the minds of players, not the 2010 season.
Players have even said coaches haven't really addressed the allegations with them.
"You really just don't pay any attention to it," cornerback
Joshua Holsey
told members of the media last week. "You try to stay off the Instagrams and the Twitters and the ESPNs. You just try to block it out as much as you possibly can. It's really hard because there's so much of it, but you just try to do your best to not worry about it and focus on what you've got in front of you."
And what the Tigers have in front of them is the challenge of getting back to being a factor in the SEC West race again. Kudos to players and coaches for staying focused during a spring that has thrown a lot at them. A new staff is in town, so this team is trying to build trust while re-learning old stuff and digesting new concepts. There's no time to worry over allegations.
Even Auburn great Bo Jackson
isn't sweating the negativity
. Over the weekend, Jackson told reporters that he thinks attention might be the main factor behind the allegations from former players. One of those former players is defensive back Mike McNeil, who was the subject of the Roberts' report. Monday, he received a split sentence after
pleading guilty to first-degree robbery
.
"I don't even know the kids. I've probably met them. But it seems like to me somebody's fishing, somebody wants some attention, and they aren't getting it," Jackson said. "I actually wouldn't give those accusations the time of day, to be honest with you."
Opinions on the truth surrounding Auburn's situation will surely differ, and we may never truly get all of the answers, but that's not for these current players to worry about. Their concern should be elsewhere, and it sounds like they're doing a good job of avoiding what Chizik once deemed as "energy vampires."
March, 28, 2013
3/28/13
3:05
PM ET
In honor of Florida Gulf Coast's stunning run in the NCAA basketball tournament, I started thinking back to some of the biggest SEC football upsets of my lifetime.
The mid- to late-1970s is about as far back as I go, but I've gone back and picked out some of the more memorable ones over the past 30 or 35 years.
These are all SEC vs. SEC matchups, and I'll rank the top 5 as well as five more that just missed the cut. I'll come back later Thursday with a few more, including some upsets in non-conference and bowl games.
Here goes:
1. Mississippi State 6, Alabama 3 (1980):
The No. 1-ranked Crimson Tide had won 28 straight (and an SEC-record 27 straight conference games) and were heavily favored against the unranked Bulldogs. But Mississippi State played suffocating defense that day in Jackson, Miss., and snuffed out a late Alabama drive. The Crimson Tide had moved to the Bulldogs' 4, but were out of timeouts. Alabama quarterback Don Jacobs took the snap and started down the line of scrimmage to the right side. Mississippi State's Tyrone Keys shot through and tackled Jacobs, forcing a fumble that Billy Jackson recovered to seal one of the greatest wins in Mississippi State history. Alabama's wishbone attack, which had been averaging more than 300 yards per game, mustered just 116 rushing yards against the Mississippi State defense. The Crimson Tide lost four fumbles in the game. And in a classy gesture afterward, Alabama coach Paul "Bear" Bryant visited the Mississippi State locker room to congratulate the Bulldogs on the win.
2. LSU 17, Alabama 13 (1993):
The No. 5 Crimson Tide had gone 31 straight games without a loss and were coming off an unbeaten national championship season. Inexplicably, they lost at home to an unranked LSU team that had lost five of its first seven games that season and finished 5-6. The Tigers were a 24-point underdog that day and in the midst of their fifth straight losing season. Alabama starting quarterback Jay Barker was out with an injured shoulder, and the Tide -- using three different quarterbacks -- threw four second-half interceptions. Coach Gene Stallings finally went to David Palmer at quarterback late in the third quarter, and "The Deuce" directed the Tide on a pair of scoring drives. But LSU held on for the win, and Stallings said afterward that he waited too long to go to Palmer, who was normally a receiver.
[+] Enlarge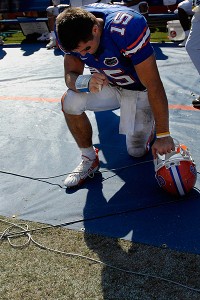 AP Photo/Phil SandlinTim Tebow bows his head in dejection after his No. 4 Gators lost 31-30 at home against Mississippi on Sept. 27, 2008.
3. Ole Miss 31, Florida 30 (2008):
The Rebels would go on to have a very good season, but ventured into the Swamp that day as a 22-point underdog with losses to Wake Forest and Vanderbilt during the first month of the season. Nobody gave them a chance. The Gators were ranked No. 4 and riding high with Tim Tebow running the show. But the Rebels stuffed him on fourth-and-short late to pull off an improbable road win. The game is best remembered for Tebow's emotional speech afterward, when he promised that nobody would work harder than him and his teammates the rest of the season. The Gators would go on to win their next 22 games in a row, including the 2008 national championship.
4. Auburn 23, Georgia 23 (1994):
Even though it wasn't a loss, it sure felt like one for No. 3 Auburn, which had its 20-game winning streak under Terry Bowden stopped. The Bulldogs were unranked and had lost at home to Vanderbilt a few weeks earlier. But they rallied from 14 points down on the road thanks to a couple of Eric Zeier touchdown passes and survived a missed 44-yard field goal attempt by Auburn's Matt Hawkins with 13 seconds to play. That was Ray Goff's next-to-last season at Georgia, which finished 6-4-1 and didn't play in a bowl game. It didn't get any better the next week for Auburn. The Tigers, who were on NCAA probation, lost to Alabama.
5. Alabama 9, Tennessee 6 (1990):
The Vols were ranked No. 3, coming off a 45-3 demolition of Florida and very much in the national title picture. Alabama had started the season with three straight losses, the first season with Stallings as coach, and was unranked entering the game. But Alabama's defense stole the show that day before a stunned crowd at Neyland Stadium and shut down Tennessee's high-powered offense. With the game tied at 6-6, the Vols were able to get into a position for a 50-yard field goal attempt with 1:35 to play, but Alabama's Stacy Harrison blocked it. The ball scooted more than 20 yards the other way to the Tennessee 37, and Phillip Doyle won it for the Crimson Tide with a 47-yard field goal on the last play of the game to make it five in a row against the Vols.
The five that just missed the cut:
Ole Miss 22, Alabama 12 (1988):
Yep, it's the infamous brick through the window game. An irate fan tossed a brick through the office window of Alabama coach Bill Curry after the Rebels stunned the No. 12-ranked Tide in Tuscaloosa. It was Ole Miss' first win ever against Alabama in the state of Alabama, and spoiled the dedication of the new Paul "Bear" Bryant Museum. Alabama didn't complete a pass that day.
Alabama 17, Auburn 15 (1984):
The Alabama fans refer to it as the "Wrong Way Bo" Iron Bowl. Auburn coach Pat Dye elected to go for it on fourth-and-goal from the 1 late in the fourth quarter, but Bo Jackson went the wrong way on the play. Alabama's Rory Turner forced Brent Fullwood out of bounds on the sweep, and the Tide held on to beat the No. 11-ranked Tigers and knock them out of the Sugar Bowl. It was a sweet end for Alabama to its first losing season since 1957.
LSU 31, Tennessee 20 (2001):
The No. 2-ranked Vols were coming off a huge win at Florida and poised to go to the Rose Bowl to face Miami for the national championship, but backup quarterback Matt Mauck rallied the Tigers in the second half after filling in for the injured Rohan Davey and gave Nick Saban his first of two SEC titles in Baton Rouge.
Georgia 24, Florida 3 (1985):
The Bulldogs romped past the No. 1-ranked Gators with freshman running back backs Keith Henderson and Tim Worley both rushing for 100 yards. It was the only game Florida lost all season. The Gators were ineligible to play in the Sugar Bowl because of NCAA sanctions, but finished No. 5 in the final Associated Press poll.
Arkansas 25, Tennessee 24 (1992):
The Vols were ranked No. 4 and had already beaten Florida, Georgia and LSU. The Hogs opened that season, their first in the SEC, by losing to The Citadel, resulting in the firing of Jack Crowe as coach. Joe Kines took over as interim coach and guided a 1-4 Arkansas team to a stunning comeback win against the heavily favored Vols in Knoxville. Todd Wright won it for the Hogs with a 41-yard field goal with two seconds left.
November, 10, 2010
11/10/10
3:00
PM ET
It's time for a blogger debate! And it doesn't get much better than when we match the SEC and Pac-10.
Our topic: No. 1 Oregon and No. 2 Auburn. Who's better and why?
Both are unbeaten, and if the season ended today, they'd play for the national title.
We've got lots of football left, and probably many more plot twists in the hunt for the national title, but there's no reason we can't engage in a hypothetical, is there?
So the Pac-10 blog -- Ted Miller -- and the SEC blog -- Chris Low -- have decided to meet for some civilized debate on Auburn versus Oregon.
Ted Miller
: Chris, since things are so quiet in the sleepy SEC, I think we should spice things up with a Pac-10-SEC blogger debate! It seems like a long time since we last had a debate between our two conferences. How'd that one go? Let's see I championed Taylor Mays and you celebrated Eric Berry. Wait.
Why did I bring that up
?
Anyway, our topic is Oregon and Auburn: Who's better and why.
[+] Enlarge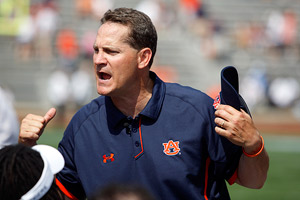 John Reed/US PresswireGene Chizik has silenced those critical of his hiring last year but getting Auburn off to a 10-0 start this season.
This is a potential national title game between the No. 1 Ducks and No. 2 Tigers, who are both unbeaten and feature Heisman Trophy candidates leading high-powered offenses.
You get first blood. Tell me about Auburn. It seems like it wasn't too long ago that Jay Jacobs was getting hounded for hiring Gene Chizik. Guessing that's died down a wee-bit.
Chris Low
: No doubt, Ted. I wonder where that obnoxious guy is now, the one yelling at Jacobs as he was leaving the airport after finalizing the deal with Chizik? Maybe Jacobs knew what he was doing after all. The guy with the 5-19 record at Iowa State has done all right by himself on the Plains. He has a Heisman Trophy-caliber quarterback and the SEC's leading rusher in Cam Newton, a 6-foot-6, 250-pound freak of nature who runs like Bo Jackson and also has an NFL arm. Keep your eyes, too, on freshman running back Mike Dyer, who they haven't had to lean on much this season, but is oozing with talent and has fresh legs for this stretch run. The Tigers' defensive numbers are nothing to write home about, but they do have the kind of dominant interior defensive lineman, Nick Fairley, who can take over games. Georgia coach Mark Richt said Fairley's the closest thing he's seen to Warren Sapp. Auburn's calling card defensively has been making plays at key times in the fourth quarter. The Tigers have been a serviceable defense through three quarters this season, but they've been a championship-caliber defense in the fourth quarter -- which is why they're 10-0.
So tell me about Oregon?
[+] Enlarge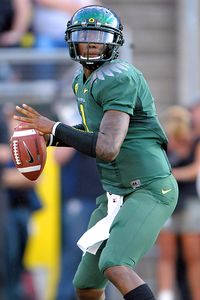 Kirby Lee/Image of Sport/US PresswireSophomore Darron Thomas was thrust into the starting quarterback job and has performed admirably.
Ted Miller
: Speaking of coaches: How about Oregon's Chip Kelly? How could he possibly expect to top winning the Pac-10 and playing in the Rose Bowl his first season? How about contending for a national title in his second? The Ducks, however, expected to be here when the 2009 season ended because just about everybody was coming back from the Pac-10 champions. That is until a guy you are now familiar with -- quarterback
Jeremiah Masoli
-- got caught up in some off-field issues and eventual got himself booted from the team. That seemingly left a void behind center, but sophomore
Darron Thomas
has not only filled Masoli's shoes, he's gone up a few sizes: He's 15th in the nation in passing efficiency and 21st in the nation in total yardage. Meanwhile, speedy running back
LaMichael James
is the top Heisman alternative to your guy, Newton. As for the defense, it's like the offense: Extremely fast. It ranks 13th in the nation in scoring defense and it has forced 28 turnovers, second-most in the nation. Folks often underestimate the Ducks' defense because it gives up some yards -- it ranks 29th in the nation in total defense -- but that's because the offense scores so quickly: The nation's No. 1 offense ranks 115th in the nation in time of possession. But the Ducks only give up 4.45 yards per play. Our factoid of the day is that number would rank No. 1 in ... wait for it ... the SEC!
Obviously, we're talking about two very good teams that have done impressive things on their way to remaining unbeaten. I know we both have Oregon ahead of Auburn in our power rankings, but give me the case for Auburn.
Chris Low
: Ted, I think what separates Auburn is Newton. Nobody has been able to stop him. If you commit to taking away the run, he's proved he can beat people throwing the ball. And if you come after him and/or don't have enough people in the box, he's been magic running the ball. Keep in mind, too, that we're not talking about a 220-pound guy running the ball. We're talking about a 250-pound guy who's physical, tough and doesn't run out of bounds. In the red zone, he's the great equalizer, because he gains 3 yards when he falls forward and has the size and the strength to push the pile. On top of it all, he's always a threat to throw the ball. Similar to Oregon, Auburn doesn't flinch if somebody puts 30-plus points on the board, because the Tigers' mentality is that they're going to score 50. Their offensive coordinator, Gus Malzahn, will make you defend everything -- reverses, throwback passes, passes to the backs, even passes to Newton. He caught a touchdown pass two weeks ago against Ole Miss. The Tigers also play at a tempo on offense that has opposing defenses gasping for air in the fourth quarter. But when they have to, they can put teams away and finish games by running the ball. They're fourth nationally (one spot ahead of Oregon) this week in rushing offense with an average of 307.2 yards per game. Auburn's top four rushers -- Newton, Dyer,
Onterio McCalebb
and
Mario Fannin
-- are all averaging at least 6.4 yards per carry. Do the Ducks have any answers for that running game?
[+] Enlarge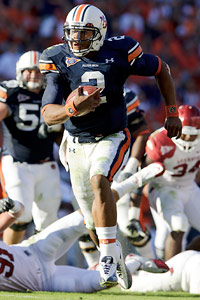 Paul Abell/US PresswireAuburn's Cam Newton is just as dangerous with his arm as he is on his feet.
Ted Miller
: That's what's so interesting about this as a potential national title game match -- there's an odd familiarity that both teams will have with each other despite never crossing paths. My guess is Malzahn and Kelly already have studied each other, just in terms of mutual admiration. And both defenses will be familiar with up-tempo, no-huddle, spread-option offenses that can power you and finesse you and throw downfield. Further, the Ducks have played against a number of big, fast, capable quarterbacks with NFL futures: Washington's
Jake Locker
, Ohio State's
Terrelle Pryor
and Stanford's
Andrew Luck
. The results have been mixed. Last year, Luck and Pryor got them. Luck beat the Ducks with uncanny downfield accuracy, which is why he'll go No. 1 in this spring's NFL draft. Pryor shocked them with the best passing game of his career in the Rose Bowl. Locker missed this year's game, but he's never had much luck against Oregon. In general, Oregon has a good run defense: Opponents are averaging 3.38 yards per rush. But the Ducks are undersized. A physical Stanford team had some success, rushing for 177 yards. But one thing about Oregon on both sides of the ball: It is masterful with halftime adjustments. They shutout Stanford, owners of the nation's No. 5 scoring offense, in the second half, and have given up just 48 points in the second half this year -- just seven in the fourth quarter!
Obviously, two very good teams that have done impressive things on their way to remaining unbeaten. I know we both have Oregon ahead of Auburn in our power rankings, but give me the case for Auburn if it played Oregon in the national title game. How do you see it going?
Chris Low
: Well, if that happens, the first thing we all better make sure we have is a calculator. That and make sure there's no danger of a power surge to the scoreboard. You're right about Oregon. Nobody in the country has been better in the second half. The Ducks' ability to score points in bunches is amazing, but the Tigers are equally adept at going on head-spinning scoring sprees. Just ask Arkansas, which saw Auburn roll up 28 points in the fourth quarter in Xbox-like fashion. I have no doubt that an Auburn-Oregon matchup would be played in the 40s. I think the difference, though, would be Auburn's ability to put the breaks on the track meet and run the football in the fourth quarter, especially with Newton being so good at converting on third down. So I'm going Auburn 45, Oregon 41 in a game that rates up there with the Texas-USC classic to decide the 2005 national title.
Ted Miller
: That's clearly something we can all agree on: This likely would be a highly entertaining, offensively driven national title game if these two teams manage to get themselves there. Further, I think, after never getting a USC-SEC title game, folks on both coasts would enjoy an SEC-Pac-10 matchup. No trash-talking there, right? And I do see a clear advantage for Auburn: It has been tested. It's played five games decided by eight points or fewer, and three decided by a field goal. The Ducks closest game? An 11-point win at Arizona State. But that's also why I'd pick Oregon in this one. Oregon beat the No. 6 team in the nation, Stanford, by 21 points. It shut Andrew Luck out in the second half. And I look at all of Auburn's close games: Mississippi State, Clemson, South Carolina, Kentucky and LSU, and think: None of them would be within 10 points of the Ducks. Maybe LSU, because any game Les Miles touches is surprising. And I think Vegas would agree with me. So if we ended up with an Oregon-Auburn national title game, my guess is the Tigers would go TD for TD with the Ducks in the first half, then the Ducks would pour it on late for a 50-35 win. But I reserve the right to change my mind, particularly because I think the Tigers' toughest test -- Alabama -- is ahead.
Moreover, both teams should be advised: You probably should get to the Jan. 10 date in Glendale before you start trash-talking each other. At least before you use your best stuff.
October, 28, 2010
10/28/10
5:30
PM ET
Bo knows a special player when he sees one, and the most iconic football player in Auburn history has been enthralled by what he's seen out of Cam Newton this season and the No. 1 Tigers.
[+] Enlarge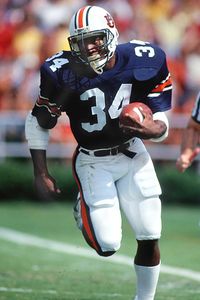 Manny Rubio/US PresswireAuburn's Bo Jackson won the Heisman Trophy in 1985.
"I haven't seen one like him, not at quarterback," Bo Jackson said earlier this week, fresh off a hunting trip.
Obviously, Jackson is royalty at Auburn. For that matter, he's royalty in the SEC.
In my time of watching SEC football, which goes back to the late 1970s, Jackson would be in my holy trinity along with Herschel Walker and Peyton Manning as the three best players I've seen in this league.
So when Bo speaks, I listen, and something tells me they're listening on the Plains, too.
He's marveled as much as anybody this season at what Newton has done to SEC defenses.
But over and above that, Jackson is a fan of where this entire Auburn program is headed.
"From an Auburn football player, it's been a very, very long time since I've been this excited about Auburn football," Jackson said. "I actually don't watch football and don't watch baseball, but I watch Auburn football.
"This is one of those years when I couldn't wait for the season. It was the same way last year. I couldn't wait for the season to start, not because of what has happened, but because I knew the people that are running the show down there now care more about the players than just what they do on the football field. When you have that and the performance they're getting, this is the kind of season you get."
[+] Enlarge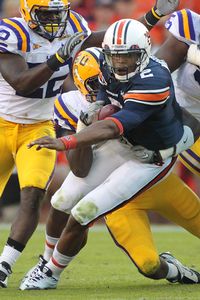 AP Photo/Dave MartinQuarterback Cam Newton has a combined 27 touchdowns rushing and passing.
Jackson, who won the Heisman Trophy in 1985, is
on record as saying that he's voting for Newton
.
And while Newton is clearly the front-runner right now nationally with his 14 rushing touchdowns and 13 passing touchdowns, Jackson said the only trophy on Newton's mind is a national championship trophy.
"I'm quite sure Cam Newton would tell you the same thing," Jackson said. "He'd rather win a team accolade than an individual accolade. That's the type of kid he is."
Jackson was also on board with the hiring of Gene Chizik from the beginning and liked his pedigree.
"He was on the staff here when we went unbeaten in 2004 and then went to Texas and helped them win a national championship," Jackson said. "From there, he went to Iowa State to coach a football team that was little to none. At Iowa State, they drew more for a wrestling match than they did for a football game, so he really didn't have too much to work with.
"But he's fit right in at Auburn, and as I said, it's been a long time since I've felt this good about the football team."
August, 5, 2010
8/05/10
11:00
AM ET
You asked for it. Well, you get it.
As ESPN.com continues with its countdown of the 50 most-painful outcomes in college football history, I've come up with the most agonizing loss for each SEC team. Some of these games have already been featured in the
House of Pain countdown
, and some may still be yet to come.
This is going to be painful for some of you, but here goes:

ALABAMA
Notre Dame 24, Alabama 23 (Sugar Bowl); Dec. 31, 1973:
It was perhaps the most hyped game in Alabama's storied history with two coaching giants -- Bear Bryant and Ara Parseghian -- going head-to-head in a classic duel. But the No. 1-ranked Crimson Tide lost a heartbreaker, ending their perfect season. They had already won the UPI national championship, but the Irish vaulted to No. 1 in the AP poll.

ARKANSAS
Texas 15, Arkansas 14; Dec. 6, 1969:
It was dubbed the 'Game of the Century." Texas was No. 1 and Arkansas No. 2. President Richard Nixon was in the stands that night at Razorback Stadium, and the Hogs built a 14-0 lead. But the Longhorns rallied with quarterback James Street completing an improbable 44-yard pass to tight end Randy Peschel on a fourth-and-3 play to set up the winning touchdown. Street, a wishbone quarterback, had only thrown 80 passes all season.

AUBURN
Alabama 25, Auburn 23; Nov. 30, 1985:
In Bo Jackson's final SEC game, Alabama's Van Tiffin kicked a 52-yard field goal with six seconds left to send the No. 7-ranked Tigers reeling in the 50th Iron Bowl. The Crimson Tide streaked downfield with no timeouts remaining and less than a minute on the clock to get in field goal range. There were four lead changes in the fourth quarter alone.

FLORIDA
Georgia 27, Florida 10; Nov. 5, 1966:
The Gators, led by senior quarterback Steve Spurrier, were ranked No. 7 nationally and unbeaten, but were no match for arch-rival Georgia that day in Jacksonville. The Gators' SEC championship hopes were derailed, and they had to wait until 1991 to win their first SEC title, Spurrier's second year as coach at his alma mater. Spurrier still hasn't forgiven the Bulldogs.

GEORGIA
Penn State 27, Georgia 23 (Sugar Bowl); Jan. 1, 1983:
The No. 1-ranked Bulldogs were on the doorstep of a second national championship and unblemished season in three years, but fell behind 20-3 to the Nittany Lions and could never catch up. Heisman Trophy winner Herschel Walker played his final game for the Bulldogs and didn't have a run that was longer than 12 yards. In the 36 games that Walker played for Georgia, the Bulldogs lost only three times.

KENTUCKY
Tennessee 7, Kentucky 0; Nov. 25, 1950:
Bear Bryant's No. 3-ranked Wildcats lost a chance at an undefeated season and outright national championship in the regular-season finale, dropping a heartbreaking 7-0 decision to the Vols after a winter storm hit Knoxville and dumped 10 inches of snow on the ground the morning of the game. The loss stung even more after Kentucky went on to defeat No. 1-ranked Oklahoma in the Sugar Bowl and snap the Sooners' 31-game winning streak.

LSU
Tennessee 14, LSU 13; Nov. 7, 1959:
One week after Billy Cannon's historic punt return for a touchdown to beat Ole Miss on Halloween night, No. 1-ranked LSU was upset at Tennessee when Cannon was stopped at the goal line on a two-point conversion attempt in the fourth quarter. Cannon claims to this day that he got in. The loss ended the Tigers' 19-game winning streak and their hopes of a second consecutive national championship.

MISSISSIPPI STATE
Tennessee 24, Mississippi State 14; Dec. 5, 1998:
It's the closest the Bulldogs have come to winning an SEC championship in the modern era. They led No. 1-ranked Tennessee 14-10 late in the fourth quarter in what remains Mississippi State's only trip to the SEC championship game. But the Vols got a pair of touchdown passes from Tee Martin 28 seconds apart to escape and go on to win the national championship that season.

OLE MISS
LSU 7, Ole Miss 3; Oct. 31, 1959:
Billy Cannon's Halloween magic on an 89-yard punt return for a touchdown spoiled what could have been one of the greatest seasons in Ole Miss history. It's the only game the Rebels lost all season, and they only gave up 21 points in 11 games. They wound up beating LSU in a Sugar Bowl rematch, but lost out on a chance to win the outright national championship when they couldn't get Cannon on the ground two months earlier.

SOUTH CAROLINA
Navy 38, South Carolina 21; Nov. 17, 1984:
If ever there was proof that the "Chicken Curse" really exists, it's that dreary November day in Annapolis, Md., 26 years ago. The No. 2-ranked Gamecocks were unbeaten and on their way to playing for a national championship, but were inexplicably upset by a Navy team that finished 4-6-1 that season. The Gamecocks had a chance earlier in the week to lock in a Sugar Bowl berth (win or lose) if they would commit, but they were holding out for the Orange Bowl. They wound up tumbling to the Gator Bowl and were beaten by Oklahoma State.

TENNESSEE
LSU 31, Tennessee 20; Dec. 8, 2001:
Tennessee's program hasn't been the same since. The Vols were coming off an epic win over Florida in a game that was moved to the end of the season because of the 9/11 terrorist attacks and were all set to face Miami in the Rose Bowl and play for their second national championship in four years. But they couldn't get past LSU in the SEC championship game. The Tigers rallied from 10 points down and won despite losing their starting quarterback and starting running back to injuries during the game.

VANDERBILT
Tennessee 20, Vanderbilt 17; Dec. 1, 1973:
Leading No. 19-ranked Tennessee 17-13 with less than two minutes left in rain-soaked Neyland Stadium, Vanderbilt punter Barry Burton, an eventual All-American at tight end, dropped the snap. The Vols recovered inside the 40 and scored the winning touchdown in the waning seconds. The Commodores, under first-year coach Steve Sloan, missed out on their chance to become bowl eligible for the first time in 18 years and finished 5-6.
May, 11, 2009
5/11/09
12:32
PM ET
Posted by ESPN.com's Chris Low
A glance at what others are saying and writing about SEC football: