NCF Nation:

Bo Scarbrough
August, 1, 2014
Aug 1
6:00
PM ET
TUSCALOOSA, Ala. -- Alabama wasn't missing just three players to start fall camp on Friday.
In addition to announcing the
suspensions of Brandon Ivory, Jarran Reed and Tim Williams
, coach Nick Saban updated the status of two highly coveted signees who have not made it to campus.
"Two freshmen that are not here," Saban said. "
Bo Scarbrough
, we have an appeal in place because he is very close to qualifying. That will take some time. We will have a plan here at his high school to try to do the things that he needs to do to finish and be able to qualify. And our goal is to get him here in January.
"
Montel McBride
did not qualify and will be placed in junior college."
McBride was one of six offensive linemen in the 2014 class. Multiple reports have the three-star prospect heading to Iowa Western Community College.
Scarbrough, on the other hand, was a much more highly regarded recruit. The 6-foot-2, 215-pound native of Northport, Alabama, was a five-star prospect and the No. 2 ranked athlete in his class, according to ESPN. He was the first to commit to the Crimson Tide from the 2014 class, which ranked No. 1 in the country.
Scarbrough, even if he had qualified, would have faced quite an uphill battle for playing time at running back, where
T.J. Yeldon
and his 2,343 career rushing yards are firmly atop the depth chart. Talented sophomore
Derrick Henry
, who scored two touchdowns and accounted for 161 total yards against Oklahoma in the Sugar Bowl, is not far behind, and he's trailed by junior
Kenyan Drake
, who had 694 yards on the ground and averaged 7.5 yards per carry last season. There's also
Jalston Fowler
,
Altee Tenpenny
and
Tyren Jones
in the mix.
Without Ivory and Reed, Alabama is in a bigger pickle. Ivory was one of only five returning starters on the defense after starting all 13 games at nose guard last season. And Reed, a junior college transfer, was expected to push for reps at the same position. Now the incumbent is
Darren Lake
, who played in all 13 games last season and mustered only 15 tackles, none of which resulted in a loss.
To balance the good with the bad, Alabama welcomed back corner
Eddie Jackson
to the practice field only a few months after tearing his ACL during spring practice.
The sophomore, who started four games last season, wore a brace to protect his surgically repaired knee.
Jackson is on a "pitch count," according to Saban, but he prefaced his comments by saying that Jackson had a successful rehab this summer and is is doing "really, really well."
"With these guys, it's always about how much can they do before they start to get sore or before they start to break down relative to where they are," he said. "We'd like to just not push the envelope too far that we get to that point. We're going to kind of keep him on a pitch count that will gradually increase and see when he gets back to 100 percent.
"Eddie took all the tests and passed them, so straight-line running is not the issue. It's cutting, changing direction, doing those kinds of things and see what issues those things create. But we're very encouraged with where he's at."
February, 5, 2014
Feb 5
9:35
PM ET
TUSCALOOSA, Ala. -- Nick Saban isn't a particularly joyous man in front of a microphone. Speaking with the media is more an obligation he suffers through for the greater good. He doesn't enjoy previewing games; he's too worried about the process of preparing. He doesn't enjoy the postmortem following games either; win or lose, he's too concerned about the next challenge that awaits.
But the 62-year-old head coach of the
Alabama Crimson Tide
does allow himself a respite from the pain of constantly looking ahead at least one day during the year. He is in his element more than ever on signing day. And despite the media hubbub that surrounds the counting of stars and the faxing of paperwork, Saban appears happy, relieved even. A smile shows on his tanned face and he looks like a man who genuinely loves his job no matter its obligations. At least for a moment, he's willing to take a deep breath and reflect.
Christmas in July? Try Christmas in February, at least in Alabama.
[+] Enlarge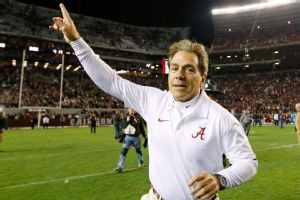 Kevin C. Cox/Getty ImagesIf there's anything that can get Nick Saban smiling, it's the process of building and signing a recruiting class.
Maybe it was the prospects hung like ornaments on the "Big Board" that created the festive atmosphere at Alabama's football offices.
Derek Kief
, a four-star wide receiver from Ohio, was the first to fax in his letter of intent early Wednesday morning.
Da'Shawn Hand
, the No. 2 defensive end in the ESPN 300, and
Bo Scarbrough
, the No. 2 athlete in his class, would join him as the 15th and 27th signees, respectively. Eight early enrollees beat everyone to the punch by starting class in January, including the top offensive tackle and the second-best cornerback in the country.
Jacob Coker
, a highly sought after quarterback from Florida State, signed his paperwork to transfer to Alabama weeks earlier. By the time signing day was over and all the faxes had rolled in, Saban counted up five five-stars, 17 four-stars and the
No. 1 recruiting class in the country
for the third consecutive year.
"Certainly great to see everybody here again," Saban said that afternoon, giving the media assembled for his annual news conference a knowing, sarcastic smile. "I've missed you all since Jan. 1. I think you know how much."
Sporting brownish slacks, a crimson coat and a matching crimson and cream tie, Saban looked the part of a proud University of Alabama salesman, a veteran campus recruiter ready to give a campus tour on the spot.
Before gushing over his prized signees, he allowed himself to look back on the process as a whole, calling the day "an accumulation of a lot of hard work and a lot of time spent by a whole bunch of people." His laundry list of thank-yous included everyone from the president of the university to the athletic director to the academic support staff. He even thanked fans who come out to games and events, such as A-Day.
It was as though he had to go around the table once and say a few words before digging into a holiday feast. He didn't want to leave anyone out on a day like this.
"We had a good class and we sort of identified our needs," Saban said. "I think the key to that is that we satisfied our needs because we identified those needs early on in the recruiting process and evaluated the players we thought fit in best for what we want to do. I think that we did a good job of going out and getting a lot of those players."
Alabama needed a quarterback. So it went and got Coker to go along with
David Cornwell
, the No. 4-rated pocket passer in the country.
Alabama needed a couple of cornerbacks. So it signed
Tony Brown
and
Marlon Humphrey
, two five-stars.
Alabama needed help on the offensive line. So it put together maybe the best O-line class in school history with not only Robinson, but
Dominick Johnson
, the top junior college offensive tackle.
[+] Enlarge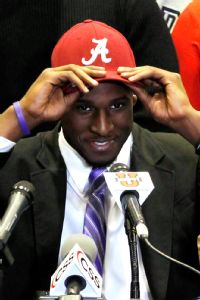 AP Photo/Butch DillTaking Rashaan Evans out of Auburn's backyard put a bow on top of another top-ranked recruiting class.
Finally, Alabama needed more athletic defensive linemen and outside linebackers to create pressure off the edge. So it signed some of the best pass-rushers available, pulling off a huge coup by
nabbing four-star Rashaan Evans
out of Auburn's backyard.
"One of the goals we had was to get a little more fast-twitch, quicker-body-type guys to play on the edges for us," Saban said. "We're playing against a lot more spread. I feel between the outside backer types we got, as well as some of the more athletic kind of defensive ends we got, that maybe we satisfied that need as well.
"We also needed a punter and we feel good about the punter we were able to attract in this class."
Whatever Saban needed, he got. Prospects were just waiting for him under the tree as if it were Christmas morning. His haul turned out to be the envy of every program in the country.
But why was Saban so happy? It wasn't that he won signing day or that he had all the best toys when it was over. No, he has had plenty of wins in his career. He's not one to bask in a trophy, real or imagined.
Rather, he was pleased because this is what he does year-around. This is what he works for and what the NFL could never offer him: a chance to develop relationships. Getting to know recruits, establishing trust and convincing them to come to his program is the first step in his life's calling as a college football coach. It's Part 1 in his beloved "Process" -- the second step being to develop his players and win games. But even winning means recruiting to Saban, who famously said after winning the national championship in 2013 that it took time away from talking to prospects.
He could smile on signing day because it's the end of something challenging. He can laugh and poke fun at the media because there's not something dreadful that lies ahead. Instead, signing a recruiting class is both the end and the start of something special.