November, 20, 2014
11/20/14
2:00
PM ET
SOUTH BEND, Ind. -- Brian Kelly will coach his 63rd game at Notre Dame on Saturday, which is remarkable for the simple fact that the three men in his chair before him never made it this far.
Not Charlie Weis (62 games). Not Tyrone Willingham (36). Not Bob Davie (60).
No, the last time a Fighting Irish coach took the field for Game 63 of his tenure came Sept. 21, 1991, when Lou Holtz's squad rolled over Michigan State, 49-10. So much has changed since then. And yet so little has changed, too.
[+] Enlarge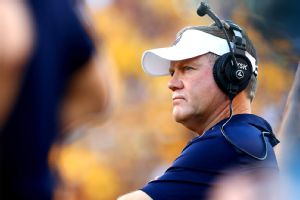 Mark J. Rebilas/USA TODAY SportsAfter some recent struggles, Brian Kelly's Irish look to finish the season strong.
A win this weekend over Louisville would make Kelly the first Notre Dame coach to start his tenure with five straight seasons of eight-plus wins. No Irish coach has done that during any five-year stretch since 1987-93, a run that saw Holtz coach the program to its last national title.
Notre Dame will go yet another season without a title in 2014, a drought that now stretches 26 years, and a goal that probably looked like a distant dream this past weekend as the Irish fell to Northwestern for loss No. 3 on the year.
Of course, as recently as two weeks ago, before losing at Arizona State, the Irish were right in the thick of things. A month ago they looked ready to break through that title ceiling, unbeaten as they took defending champion Florida State down to the final seconds in a loss.
Reconciling the fall from grace has been a maddening task for the Irish as they enter Senior Day against the Cardinals.
"I think college football is such that it comes down to a couple of plays and a fine line," Kelly said. "And that's why it's so critical that when you turn the ball over like we do, and when we turn it over, it's critical. I mean it's catastrophic turnovers."
Of course, the frustration that comes with a three-loss season is a far cry from what those seniors experienced upon entering Notre Dame at the ground level of the Kelly era.
"I think definitely from freshman year to now, we definitely turned the program around," said offensive tackle
Christian Lombard
, who, like Kelly arrived to the Irish for the 2010 season. "It's a winning program now, and we expect to win every game. We expect to win every game at home, we expect to be right there with teams, it's just the way it is around here now. It's one of those institutions [like] it was back in the day, so we're all really proud of that."
Added end
Justin Utupo
, a fellow redshirt senior: "We're obviously the first class that was brought in and [the coaches] looked at us to help build what they were trying -- this winning culture. I was here from the start. I've seen when we were bad. I've seen when we were really good."
Holtz said Kelly has been able to implement such expectations because of his vision and because of his plan to execute that vision. It comes from the benefit of being a head coach at three other stops beforehand, a luxury Holtz was afforded as well, having been in the big seat at five different college and pro stops before taking the Notre Dame job.
Kelly's last three coordinators at Notre Dame earned head-coaching jobs elsewhere. Last year's Irish team had eight players drafted, the program's most in a single draft in 20 years. That the Irish started 6-0 without them -- and without four players lost to academic suspensions two weeks before the season -- speaks to what is in place. That three losses in their past four games has sparked a world-is-ending feeling around the fanbase speaks to the climb left to be done.
"He's got a young football team this year," Holtz said of Kelly. "And I think next year may be his best football team."
Depending on one's preferred math, the Irish could be returning 20 starters in 2015. And that does not include the potential return of several of their currently suspended players.
That could make this final stretch all the more important for the near-term future of a program that is toeing the line between a 7-6 and a 10-3 campaign this year, a program soon-to-be filled with a new cast of characters that had little part of that 12-1 run to the national title game two years ago.
"They understand that there are some tough times," Kelly said. "But, relatively speaking, I remind them of some tough times, that we were here just a few years ago, when we were 4-5. Those are tough times. Those are difficult times. This pales in comparison. You're now in a winning environment. And you've won a lot of football games. Our seniors win on Saturday, that would be 182 in the last 20 games at home. So keep it in perspective."
Holtz, who lasted 132 games on the Notre Dame sideline, is doing just that when it comes to the man currently in charge.
"I hope Brian Kelly reaches the next 63," he said.
April, 24, 2013
4/24/13
9:00
AM ET
Another list, another debate — though this one should again have Notre Dame fans pleased following the Irish's 2012 campaign.
The Sporting News' Matt Hayes
released his list of college football coach rankings this week
, one week after AthlonSports
delivered a list of its own
. Athlon had Brian Kelly ranked fourth. Hayes has Kelly fifth.
His reasoning:
5. Brian Kelly, Notre Dame: How impressive has Kelly been at ND? The weight of the program hasn't crushed him like it did every other coach since Lou Holtz retired. The Alabama loss in last year's BCS National Championship Game was brutal, but he somehow managed to get a team with significant flaws (freshman quarterback, tight-end-oriented passing game) all the way to the big game. He won championships at the NCAA lower divisions, won conference championships at the non-BCS and BCS levels, and will win a national title at Notre Dame.
The usual suspects top this list: Alabama's Nick Saban and Ohio State's Urban Meyer. After that? The debate really begins.
Boise State's Chris Petersen is No. 3, followed by Oklahoma's Bob Stoops.
Athlon's list, meanwhile, had Kansas State's Bill Snyder at No. 3.
There really are no right or wrong answers with any of these, depending on your view. Program-builder? Hard to argue with Snyder, Petersen or Northwestern's Pat Fitzgerald, who comes in at No. 8 on Hayes' list. Length of success? Few can doubt Stoops' mark in Norman, though consecutive BCS-bowl-less campaigns have not made him the most popular guy among the die-hards lately.
Then there are the real head-scratchers, guys like Virginia Tech's Frank Beamer, who comes in at No. 34 on Hayes' list but is No. 9 on Athlon's. Les Miles is another one who seems to draw opposing reactions, as the LSU coach is ninth on Hayes' list but 24th on Athlon's.
Most can agree with Saban and Meyer at the top. After proving this past season that Notre Dame can succeed at the highest level, Kelly is making a case for himself to be right up there, too.
Former Notre Dame coaches Charlie Weis and Bob Davie check in at Nos. 57 and 87, respectively.
April, 11, 2013
4/11/13
9:00
AM ET
Much of college football debate is based on lists and rankings. Notre Dame fans know this as much as anyone after a 2012 regular season that did not see the Irish rise from fourth to first in all of the major polls until the three teams ahead of them dropped games.

Those same fans will have a hard time being upset with the list that AthlonSports released this week:
College football head coaches, Nos. 1-125
.
Brian Kelly's spot? No. 4.
Steven Lassan writes:
Not many coaches in college football can rival Kelly's resume in four stops as a head coach. Kelly's first head coaching gig came in 1991 at Grand Valley State, and he stayed in that capacity until 2003. During 13 years with Grand Valley State, Kelly went 118-35-2 and won two Division II titles. After his success with the Lakers, Kelly went 19-16 with Central Michigan, which included a MAC championship in 2006. Kelly moved on to Cincinnati at the end of the 2006 season and guided the Bearcats to back-to-back Big East titles in 2008 and 2009. After back to-back 8-5 seasons with Notre Dame, Kelly led the Fighting Irish to an appearance in the BCS National Championship game at the end of the 2012 season. Despite the blowout loss to Alabama in the title game, Kelly clearly has the program back on track to be an annual top 10-15 team.
The three men ahead of Kelly? Alabama's Nick Saban, Ohio State's Urban Meyer and Kansas State's Bill Snyder. Few can make a legitimate argument right now against the first two, as each is the owner of multiple national championships at college football's highest level. The Snyder spot could be up for debate, but when you take into account his longevity -- and remember just how bad the Wildcats were before his arrival -- it is tough to top what he has done in his 21-year career, ring or no ring.
How about some of the names above whom Kelly is ranked? South Carolina's Steve Spurrier (No. 5), Oklahoma's Bob Stoops (No. 7), LSU's Les Miles (No. 24) and Texas' Mack Brown (No. 28) are title-winners who finished behind Kelly on the list, though Miles is the only of that quartet whose best years have been among his most recent ones.
Other names of note to Notre Dame fans are UCF's George O'Leary (No. 68), New Mexico's Bob Davie (No. 89) and Kansas' Charlie Weis (No. 106).
December, 27, 2012
12/27/12
3:00
PM ET
One of the most impressive parts of Notre Dame's run this year has been how Brian Kelly has done it with defense after lighting up the scoreboards at all of his previous stops.
The unit, as ESPN Stats and Info notes, has been historically good by Irish standards:
Kelly's Irish have allowed an average of 17 points per game since he took over as head coach, which will be the best by a Notre Dame coach in his first three seasons since either Lou Holtz (whose teams allowed 16.9 points per game in his first three seasons) or Dan Devine (12.3), depending on how the team fares in the BCS Championship.

Even factoring this year's team out, the defensive numbers for the Irish in his first two seasons were more favorable than those under Bob Davie, Tyrone Willingham, and Charlie Weis.

This year's team is Notre Dame's best in a long time.

Notre Dame has allowed 124 points this season and will almost certainly end the season having allowed its fewest since 1996 (when it allowed 181). It has a chance to be the first Notre Dame team to hold its opponents to fewer than 150 points since the 1980 team yielded 128.
For more on a unit that has the chance to allow fewer than 10 points per game for the first time in 39 years, click
here
.
August, 15, 2012
8/15/12
9:00
AM ET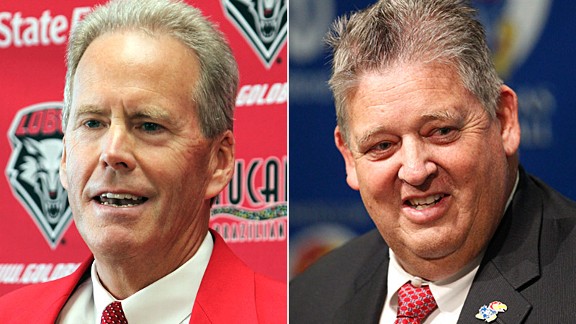 AP PhotoBob Davie, left, is taking over a 1-11 New Mexico team; Charlie Weis inherited a 2-10 Kansas squad.
Bob Davie's and Charlie Weis' finales were one and the same, the broadcaster and the Florida assistant joking before the Gators' senior-night loss to Florida State last November.
Davie was barely a week into his new job, Weis was closing his first regular season in Gainesville, and here they were, chatting it up on sidelines of the Swamp, the nexus between the coaches on the verge of tightening once more.
"We were down there laughing a little bit, and all of a sudden a couple weeks later he's the head coach at Kansas," Davie, now New Mexico's head coach, said of Weis.
Act II for the former Notre Dame head coaches is underway this month, each scaling a precipice steeper than Touchdown Jesus, sans all the ballyhoo. Each has embraced his new locale, where the records that cost them their first head-coaching jobs would be cause for celebration.
The tasks, however, remain the same.
"I want to win," Weis said. "That is what I want. I want to win. I want this team to win. They haven't been winning -- that is what I want to do, win. The more wins, the happier I am.
"It puts a big damper on things, when things don't go well. I want to get this program where we are winning more than we are losing. I think when we get to that point, then we will aim even higher, but let's get to that point first."
Davie has admitted to being more comfortable in his own skin his second time around, no longer feeling the need to over-prepare or rehearse on a daily basis.
"At the end of the day, it's all the same process," Davie said. "The process for me at New Mexico is no different than it was at Notre Dame, and Notre Dame is no different than anywhere else -- coach the football team. It's all the same thing.
"Don't get so tied up in, 'Oh, we've always done it this way. We've always done it that way.' Let it rip, man."
It will be easier said than done for the two. The Lobos are coming off three consecutive 1-11 seasons that were notable for former head coach Mike Locksley's off-field troubles, and they could be 10 scholarships short of the 85-man limit this season. The Jayhawks, Orange Bowl winners just five years ago, have gone 18-31 in the four years since, with Mark Mangino and Turner Gill losing their jobs along the way.
Each school was projected last at Mountain West and Big 12 media days, respectively.
Weis will have a familiar leader in Lawrence, having landed one of his biggest recruiting coups from Notre Dame in quarterback
Dayne Crist
. The transfer, who started the Irish's past two openers but was plagued by injuries and a crowded position unit, said fans on the Big 12's most basketball-centric campus will come out so long as the production is there on the field.
"There's a great deal of excitement," said Crist, who is joined by former Irish teammates and Weis recruits
Mike Ragone
and
Anthony McDonald
. "The fans are very encouraged with what they've been seeing, and you can tell that it's just a fan base that's very eager to win. It hasn't been too long ago when they were in the Orange Bowl and things like that, so fans are ready to cheer for the football team. We just have to give them a reason to."
Ten years as an ESPN analyst gave Davie access he otherwise would have never had. Shortly after playing Michigan and USC, he recalled, he was meeting with coaches Lloyd Carr and Pete Carroll, getting up-close looks at how their programs operate.
[+] Enlarge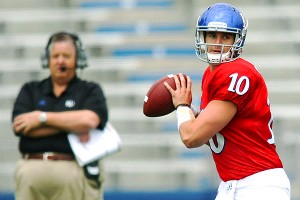 William Purnell/Icon SMIFor his new gig at Kansas, Charlie Weis, rear, brought along former Irish QB Dayne Crist.
"You go from, you're lucky to even share a handshake, to all of a sudden you're sitting in their office watching them practice," Davie said. "So that was a tremendous opportunity to get out and do those things. But there's nothing like actually coaching. You can analyze things and comment, [but] the great part of coaching is you're actually doing it, and there's just nothing like that.
"I can still smell the grass at Notre Dame Stadium, what it felt like on Saturdays, and that never goes away. You always have that -- the simple things that are hard to explain."
In taking over at Albuquerque, where nearly half a century has passed without a conference title, the 57-year-old Davie is hoping to replicate some of the rebuilding jobs he has seen on the road over the past decade. Bill Snyder's resurrection of Kansas State -- the losingest program in FBS history upon his arrival 23 years ago -- has particularly served as inspiration.
"Just seeing -- and I'm not saying I'm Bill Snyder or saying I can ever do a job like he's done or be the coach that he is -- but just going around the country seeing different programs, to see what Bill Snyder has brought to a Kansas State, for example, is something to me that's tremendously rewarding and tremendously fulfilling, to try to do something like that," he said. "I've been to Manhattan, Kan., done games there. To me, that's what's fun. It's fun to really take a place and put your name on it, try to build it. I'm not saying we can do that but that's kind of the mission."
In late October 2001, just more than a month before being fired by Notre Dame after a 35-25 record over five seasons, Davie and his family built a house in South Bend. They didn't move to Scottsdale, Ariz., until three years later, when the Irish made a new hire.
"I'll be forever grateful for Charlie Weis because he bought my house in South Bend, so I'm a huge Charlie Weis fan," Davie said with a laugh. "I'd still have that house sitting there."
A 35-27 record over five seasons with the Irish did Weis in in 2009, and now, like Davie, he is hoping the lessons learned from the spotlight of one of college football's biggest platforms translate to a second, smaller stage.
"I am more motivated than I have ever been to make this program successful," Weis said. "There might be more unknowns, but I have the same obligation to the administration, to the fan base and to the university. I have the same obligation to work as hard as I possibly can to get us as good as we possibly can be as quick as we possibly can.
"I mean, OK, Notre Dame has a big, national fan base down there, but what does that mean? Fans are fans; alumni is alumni. It's still the same to work as hard as we can collectively both as a coaching staff and players to try to get this right as fast as we can. That's why I'm here. Now it's time to go to work."
November, 17, 2011
11/17/11
5:00
AM ET
1. Remember when Notre Dame fired Bob Davie for having the temerity to go 35-25 (.583)? Neither of his successors, Ty Willingham (.583) or Charlie Weis (.565), surpassed him. New Mexico announced Wednesday that Davie will be its next head coach. It has been 11 seasons since Davie last ran a practice or coached a game, a longer hiatus than any current FBS head coach has on his resume. Given the mess that Mike Locksley made of the Lobos, you have to assume that Davie will have time to scrape off his rust.

2. Love this note that ACC blogger Heather Dinich sent me. North Carolina State sophomore corner David Amerson leads the FBS with 10 interceptions, three more than anyone else. Not only has no defender picked off 11 passes since safety Jim Leonhard of Wisconsin in 2002, but if Amerson maintains his pace of one interception per game, he will be the first to do so over an entire season since safety Terry Hoage of Georgia in 1982. You now may find Hoage in the College Football Hall of Fame.

3. If No. 11 Houston falters down the stretch, there are two other non-AQs waiting to qualify for an automatic BCS bid. If either No. 19 TCU wins the Mountain West Conference or No. 20 Southern Miss knocks off Houston to win Conference USA, it's possible that one of them will reach 16th or higher in the final BCS standings. That would qualify the higher-ranked team of the two of them for a BCS bid. One of them will end up in the Fiesta or the Sugar.
November, 16, 2011
11/16/11
1:27
PM ET
Bob Davie has been hired as the
next coach at New Mexico
, ESPN's Joe Schad is reporting.
Davie, who coached at Notre Dame from 1997-2001, is set to replace Mike Locksley. The Lobos are in need of a major rebuilding project. Locksley won just two games in his two-plus seasons at New Mexico. He was fired in September, and New Mexico just won its first game of the season last week.
The Lobos have not had a winning season since 2007. Davie, who works as an analyst for ESPN, last served as a head coach with the Irish 10 years ago. He was 35-25 as head coach at Notre Dame, where he had the tough task of succeeding Lou Holtz.
November, 30, 2009
11/30/09
4:15
PM ET
The
Charlie Weis era is over
at Notre Dame, and the Big Ten might be sad to see him go.
Though Weis and his assistants did well on the recruiting trail, they didn't convert a wealth of talent into victories. Like most Notre Dame head coaches, Weis faced the Big Ten more than any other league and finished with a 9-9 mark. Remove his 4-1 record against Purdue, and Weis ended up just 5-8 against the league.
Here's the final breakdown of Weis vs. the Big Ten:
vs. Michigan:
2-3
vs. Michigan State:
2-3
vs. Purdue:
4-1
vs. Penn State:
1-1
vs. Ohio State:
0-1*
*-loss came in the 2006 Fiesta Bowl
Weis' predecessor at Notre Dame, Tyrone Willingham, went 5-4 against the Big Ten in three seasons, while Bob Davie went 4-8 in five years at the helm of the Irish.
With Weis out, a lot of names are being mentioned as possible successors at Notre Dame. Northwestern's Pat Fitzgerald has denied any interest in the job, and while Iowa's Kirk Ferentz keeps being brought up, I highly doubt Ferentz would leave his post right now.