July, 12, 2012
7/12/12
9:00
AM ET
The Big Ten used to be the league of longevity. Good coaches almost always stuck around, often for more than a decade. No wonder the league's most famous bosses went by first names only: Woody, Bo, Joe, Hayden.
The longevity label didn't only apply in 1970 or 1980. Simply go back to December 2006.

At that point, Iowa's Kirk Ferentz was finishing up his eighth season in the job, making him the Big Ten's fifth-longest-tenured coach. Penn State's Joe Paterno, Michigan's Lloyd Carr, Purdue's Joe Tiller and Minnesota's Glen Mason all had been in their jobs longer than Ferentz.
As the 2012 season beckons, Ferentz is the longest-tenured coach in the league. By far. The second-longest tenured? Wisconsin's Bret Bielema and Northwestern's Pat Fitzgerald. Bielema, a 42-year-old newlywed, and Fitzgerald, who turned 37 in December, both landed their first head-coaching positions before the 2006 season.
Since January 2007, the Big Ten has said goodbye to 11 head coaches, including three -- Paterno, Carr and Ohio State's Jim Tressel -- who won national championships. Michigan, which has had six head coaches serve for 10 or more years, has made two changes during the span. So has Ohio State.
Several factors play into the league's historic turnover at the top. Carr and Tiller retired, in part because of their teams' performances. Minnesota got fed up with Mason's middling results and then took a bigger step backward with Tim Brewster before firing him midway through the 2010 season. Indiana and Illinois made understandable changes after subpar results on the field.
The most shocking changes stemmed from scandal and involved two men with solid reputations: Tressel and Paterno. Tressel had led Ohio State to six consecutive Big Ten titles, seven consecutive wins against Michigan and back-to-back BCS bowl wins before being pink-slipped for knowingly playing ineligible players and not coming forward about NCAA violations. Paterno guided Penn State to a 9-1 mark before being fired by the school's trustees days after the child sex abuse scandal broke.
After relative quiet in 2008 and 2009, the Big Ten has had three head-coaching changes in each of the past two offseasons.
Will longevity ever become a Big Ten hallmark again? There won't be another like Paterno, but several coaches could stay in their positions for a while. Ferentz has turned down multiple opportunities in the NFL to remain with Iowa, which pays him handsomely. He could easily finish his career in Iowa City. The Iowa job is somewhat of a novelty in today's college football, as only two men (Ferentz and Hayden Fry) have led the Hawkeyes since 1979.
Brady Hoke openly admits Michigan is his dream job. He'll be in Ann Arbor as long as they'll have him.
Mark Dantonio also finds himself in a stable situation at Michigan State, which has upgraded its program in recent years. It's not a stretch to see Dantonio finish his career in East Lansing.
Bielema and Fitzgerald also find themselves in good situations. Although Fitzgerald's name often surfaces for other jobs, he has deep roots at Northwestern in the Chicago area and intends to stay with the Wildcats for many years. Bielema played for Iowa but finds himself in a great situation at Wisconsin, and his recent success suggests he'll be in Madison for the long haul.
Bo Pelini several times has shot down rumors of his departure from Nebraska. Although Pelini faces pressure to take the Huskers to the next level, Nebraska had a great track record of stability with Bob Devaney and Tom Osborne -- and paid the price for diverting from it.
It's too soon to tell if coaches like Danny Hope, Tim Beckman, Jerry Kill, Kevin Wilson and Bill O'Brien are keepers.
The Big Ten's most intriguing debate about longevity concerns its highest-paid and most successful coach -- Ohio State's Urban Meyer. Although Meyer owns two national championships and has roots in Ohio, he also has hopped around and had a health scare in 2009. While Buckeyes fans celebrated Meyer's arrival, many also did so with the understanding he might not be in the job that long.
Perhaps in 2020 the Big Ten will be the league of Captain Kirk, BB, Fitz, Coach D, Brady, Bo and Urban.
More than likely, we'll be playing the name game all over again.
July, 9, 2012
7/09/12
9:00
AM ET
Joe Paterno has become a polarizing figure in recent months, but all parties would agree that he defines Penn State football.
Paterno was affiliated with the Nittany Lions program for 62 years of its 125-year existence. He served as Nittany Lions coach for nearly 46 seasons before being fired in November. And his impact is particularly significant in the program's victories total.
[+] Enlarge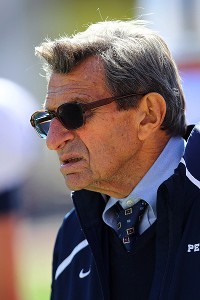 Michael Hickey/US PresswireAccounting for nearly 50 percent of the program's wins, Joe Paterno was the face of Penn State.
Of Penn State's 827 all-time victories in football, Paterno coached the team for 409, the most of any coach in Division I history. Other than former Florida State coach Bobby Bowden, who accounts for an astounding 64 percent of the Seminoles' all-time wins (304 of 475), Paterno's percentage of Penn State's wins (49.4) places him in select company. Only Air Force's Fisher DeBerry (49.1 percent) and BYU's LaVell Edwards (49.2 percent) have accounted for a similar chunk of program wins -- among FBS programs that have been around for more than 30 years -- as Paterno has at Penn State.
ESPN.com is taking a closer look at coaches this week, and today's topic examines which programs are defined by one coach. Penn State fits the description because of Paterno's long and successful career. Penn State also is unique because its program has been around so long, and while there was success before JoePa -- eight undefeated seasons between 1894-1947, a Rose Bowl appearance in 1923 -- almost all of the program's significant achievements (two national titles, 24 bowl wins) occurred on Paterno's watch.
What about the other Big Ten teams?
In terms of winningest coaches, here's how they look:
Illinois:
Robert Zuppke, 131 of program's 580 wins (22.6 percent)
Indiana:
Bill Mallory, 69 of 449 (15.3 percent)
Iowa:
Hayden Fry, 143 of 593 (24.1 percent)
Michigan:
Bo Schembechler, 194 of 895 (21.7 percent)
Michigan State:
Duffy Daugherty, 109 of 638 (17.1 percent)
Minnesota:
Henry Williams, 136 of 646 (21.1 percent)
Nebraska:
Tom Osborne, 255 of 846 (30.1 percent)
Northwestern:
Lynn Waldorf, 49 of 488 (10.04 percent)
Ohio State:
Woody Hayes, 205 of 837 (24.5 percent)
Purdue:
Joe Tiller, 87 of 586 (14.8 percent)
Wisconsin:
Barry Alvarez, 118 of 635 (18.6 percent)
As you can see, no coach comes close to Paterno in terms of percentage of his program's wins. But this ratio is just one gauge of a program-defining coach.
Another important factor is a team's history both before and after a coach took the job. Look at Wisconsin before Alvarez arrived in 1990. The program had endured five consecutive losing seasons and had just six winning seasons since 1963. Wisconsin's previous two coaches, Don Morton and Jim Hilles, had gone a combined 9-36 at the helm.
Alvarez transformed Wisconsin into an upper-tier Big Ten program, leading the Badgers to three Big Ten titles and three Rose Bowl championships. His hand-picked successor, Bret Bielema, has carried on Wisconsin's momentum, but Alvarez fostered the change. He is Wisconsin football, period.
Two iconic coaches regarded by many the faces of their respective programs are Ohio State's Hayes and Michigan's Schembechler. They tied for the most Big Ten championships with 13. Hayes won the most Big Ten games (152 to Schembechler's 143), while Schembechler owns the record for best winning percentage in conference games (.850).
But both men led programs that had success under other coaches. Michigan was a national superpower under the likes of Fielding Yost (.888 career win percentage), Harry Kipke, Fritz Crisler and Bennie Oosterbaan, while Schembechler never won a consensus national title. The Wolverines boast six coaches who have served 10 or more years, most recently Lloyd Carr (1995-2007).
Ohio State carved a place among the nation's elite under shorter-tenured coaches like Francis Schmidt and Paul Brown, while Jim Tressel won a national title and more than 81 percent of his games during his 10 years in Columbus.
Are Michigan and Ohio State defined by Schembechler and Hayes, respectively? Depends on your perspective. My take: both are iconic, but Hayes is more defining.
Iowa's Fry fills a similar role to Alvarez. He took over a program on the downturn for several decades and put it in the Big Ten's top half. Fry is the coach people think of when Iowa comes to mind, although his successor, Kirk Ferentz, has put his own stamp with a solid run since 1999.
Other Big Ten programs seem to fit into different categories.
Programs with two great coaches:
Nebraska -- Osborne (255-49-3) and Bob Devaney (101-20-2)

Purdue -- Tiller (87-62) and Jack Mollenkopf (84-39-9)
Programs that had its most successful coaches many years ago
Illinois -- Zuppke (131-81-13 from 1913-41); Arthur Hall (27-10-3 from 1907-12)

Minnesota -- Williams (136-33-11 from 1900-21; Bernie Bierman (93-35-6 from 1932-41 and 1945-50)

Michigan State -- Daugherty (109-69-5 from 1954-72); Biggie Munn (54-9-2 from 1947-53); Charles Bachman (70-34-10 from 1933-46); Chester Brewer (58-23-7 from 1903-10, 1917, 1919)
Historically weak programs with a lot of coaching turnover
Indiana -- No coach with career winning record since Bo McMillin (1934-47), no coach with 70 or more wins at school

Northwestern -- No coach with 50 or more wins at school, only one coach with tenure longer than 10 years
You could argue Zuppke remains Illinois' defining coach, even though he hasn't coached in more than 70 years. Osborne is undoubtedly the face of Nebraska's program, but is he the Huskers' defining coach? Tough to say that after looking at what Devaney did (two national titles, eight Big Eight titles).
Could any current Big Ten coach end up being a program-defining figure? None will occupy his job as long as Paterno did at Penn State. Northwestern's Pat Fitzgerald is just nine wins shy of Waldorf's victories mark, and he turned 37 in December. Fitzgerald's strong ties to the program, plus Northwestern's poor history and absence of coaching greats, create an opportunity should Fitzgerald have success for a long period.
What are your thoughts? Which Big Ten programs are defined by a coach, and which are not? Share them
here
.
June, 11, 2010
6/11/10
6:22
PM ET
It will take some time to get used to
the Big Red in the Big Ten
.
College football is built on tradition and long-term associations, and Nebraska always has been linked to Colorado, Oklahoma and others from the former Big 8. It'll feel odd to see the Huskers invade the Big House, The Horseshoe, State College and even Iowa City.
That's OK. Change isn't supposed to feel normal.
But give it time and you'll realize that these Huskers are a lot like you.
They love to run the football! They love walk-ons! They don't mind cold weather!
They boast loads of tradition in football -- Nebraska is the fourth winningest program of all time and owns five national titles -- complete with legendary coaches (Bob Devaney, Tom Osborne) and unforgettable players (Mike Rozier, Dave Rimington, Johnny Rodgers), just like your favorite teams. College football is everything to their fans, just like it is in Ohio, Pennsylvania, Michigan and Iowa. Their fans live in the same area of the country and treasure the same values in both football and life as you do. Nebraska is an Association of American Universities member, just like the rest of the Big Ten.
I've never been to a
game in Lincoln
, but I can't wait to see one. You should be fired up, too.
Many folks went into this thinking only Notre Dame and Texas would add great value to the Big Ten. I'd like to direct you to Forbes' list of the most valuable college football teams. Texas and Notre Dame are Nos. 1 and 2, but
Nebraska comes in at No. 4
with a team value of $93 million and a profit of $49 million. Nebraska is ahead of both Ohio State and Michigan in the rundown.
Need more evidence? Nebraska apparently was valuable enough to several Big 12 South schools to determine whether they stay in the league. Although Nebraska chancellor Harvey Perlman said Friday that one school leaving a conference doesn't break the conference (six schools leaving does), all eyes were on the Big Red.
"I [asked Big 12 presidents] 'What if Nebraska stayed and Missouri left?' Perlman said. "The response was that they would stay. I said, 'What happens if Nebraska stays and Colorado leaves,' and the response was they would stay. I said, "What happens if both Missouri and Colorado leave and Nebraska stays?' And they could make no commitment that they would then stay in the Big 12."
So Nebraska matters, people. And it will be a strong addition to the Big Ten.
Just think of the potential rivalries. Farmageddon between Iowa and Nebraska. The Barry Alvarez Invitational between Wisconsin and Nebraska. Put Nebraska against Penn State, Michigan or Ohio State, and TV execs will drool.
I don't like shaping divisions based on geography, but Nebraska certainly strengthens the western edge of the Big Ten. While I'd urge Jim Delany to break up the Ohio State/Michigan/Penn State bloc, a division with Nebraska, Wisconsin and Iowa looks pretty solid.
Notre Dame and Texas would be slam-dunk additions to the Big Ten, but both schools bring different types of baggage with them. Nebraska isn't a prima donna. And the
Huskers really, really like the Big Ten
.
You might shake your head in disbelief when Nebraska plays its first Big Ten Conference game in 2011. But before long, you'll nod and see that this makes too much sense.
January, 21, 2010
1/21/10
11:00
AM ET
By
Tim Griffin
| ESPN.com
The arrival of Mack Brown and Bob Stoops late in the 1990s helped rejuvenate dormant programs at Texas and Oklahoma. By the end of the following decade, both traditional powers were clearly the Big 12's top two programs and among the nation's best.
The return of Bo Pelini to Nebraska helped the Cornhuskers close the decade strongly and claim a spot just below the Big 12's "Big Two." Texas Tech has been among the nation's most consistent teams of the decade. North teams like Colorado, Kansas State and Missouri all popped up to make at least two appearances in the Big 12 title game.
But Oklahoma and Texas have been the Big 12's behemoths during the recent decade. Here's how I rank the programs ranked based on their accomplishments in the last decade.
1. Oklahoma:
The Sooners earn a slight edge over Texas despite the same number of victories in the decade because Bob Stoops took them to six Big 12 titles. The earlier teams depended more on defense, while Stoops' more recent squads have been offensive juggernauts to reflect the overall change in the Big 12.
2. Texas:
A victory in the BCS title game earlier this month might have catapulted Texas into the top slot. Mack Brown has pushed his program into parity with Oklahoma after struggling with the Sooner dynasty built by Stoops earlier in the decade.
3. Nebraska:
The Cornhuskers withstood more tumult in the last decade than in any era since Bob Devaney turned the program in 1962. Even with two coaching changes, Bo Pelini has the Cornhuskers steered to the top of the North Division and poised for much more heading into the new decade.
4. Texas Tech:
Mike Leach took the Red Raiders to an 84-43 record during the decade, with another victory added by Ruffin McNeill in the Valero Alamo Bowl for third place among Big 12 teams in victories. They fall behind Nebraska because they still have never advanced to the Big 12 title game or claimed a BCS bowl berth. That will be Tommy Tuberville's task to change the culture and break that ceiling for the program.
5. Kansas State:
The program was at its best during the early part of the decade when Bill Snyder took the Wildcats to the last title by a North Division team in 2003. The program dipped under Ron Prince, but could be poised to make another step forward after confounding prognosticators by remaining in the North Division title hunt until the last game in 2009.
6. Missouri:
Gary Pinkel has the program humming with two title-game berths, strong incoming talent and a reputation as the conference's foremost developers of unheralded recruiting talent. Pinkel's growth has been strong, but he still needs to take them another step where they start winning conference championships and appearing in BCS bowl games.
7. Oklahoma State:
The infusion of T. Boone Pickens' money has helped make the Cowboys' facilities as good as most in college football. That growth has helped pick up recruiting as Mike Gundy's program has made a bowl trip in four of his five years coaching the Cowboys.
8. Colorado:
Gary Barnett had the Buffaloes as the North Division's most consistent program with four championship game appearances in five seasons, including the 2001 Big 12 title. They haven't been nearly as successful since Dan Hawkins took over with one bowl trip, no bowl victories or trips to the championship game.
9. Texas A&M:
The Aggies still have the elements that could return them to prominence with rich tradition, strong facilities and an ideal recruiting location. But it's tougher for them to challenge in the South Division with Oklahoma and Texas at the highest levels in recent history and growing programs at Texas Tech, Oklahoma State and even Baylor.
10. Kansas:
Mark Mangino has awakened football interest here, but it will be up to Turner Gill to build on that growth. The North Division looks open, but Gill will be challenged to match Mangino's achievements early in his coaching tenure without an immediate replacement for
Todd Reesing
at quarterback.
11. Iowa State:
Dan McCarney's turnaround of this program in the early part of the decade is one of the more underrated building projects in recent college football history after taking the Cyclones to five bowls in the first six seasons of the decade. Included in that run were two near-misses where the Cyclones legitimately could have made a championship-game appearance with more consistent kicking. Athletic director Jamie Pollard went for the sizzle when he hired Gene Chizik to replace McCarney. He now appears to have found a McCarney clone with steady Paul Rhoads in charge.
12. Baylor:
The last decade will be marked by an incredible series of building projects at Baylor, but still no bowl game. The Bears appeared poised in 2009 before Robert Griffin's unfortunate season-ending knee injury. Art Briles turned down a couple of intriguing possibilities to remain at Baylor and try to stem the bowl drought, currently at 15 seasons and counting.
May, 22, 2009
5/22/09
8:59
AM ET
Posted by ESPN.com's Tim Griffin
As anybody who reads this blog knows, I love all lists.
I came across an interesting list this morning at the Bleacher Report ranking the 11 worst college coaching performances of the 21st century.
It wasn't surprising that the Big 12 was solidly represented with two recent coaches who were fired after unceremonious struggles at traditional powers.
In a list that was topped by Ty Willingham from his Washington days and also included Syracuse's Greg Robinson and BYU's Gary Crowton among its top three spots, the Big 12 also was prominently highlighted with Bill Callahan of Nebraska ranking fourth and Texas A&M's Dennis Franchione coming in ninth.
Here's what the author had to say about Callahan:
"Twenty-two losses in four years. Legendary Cornhusker coach Bob Devaney lost only 20 games in his entire career at Nebraska. Frightening."
Or about Franchione:
"He wasn't that bad at Alabama (17-8), and he was pretty good at TCU and his other stops, but in College Station he went 32-28."
It's fair to remember that Callahan had taken the Cornhuskers to back-to-back bowl games in his previous two seasons, including a Big 12 North title in 2006. But his team's defensive struggles were a factor he couldn't overcome.
And Franchione, who qualified the Aggies for three bowl games in his final four seasons before he was fired, had his moments as well. He left with a two-game winning streak over Texas, becoming only the second coach in school history to leave with an existing multi-season winning streak over the Longhorns.
The other was Jackie Sherrill.
But his admission of selling "state secrets" through his VIP Newsletter eventually pulled his program down.
Today, few fans of either program were sorry to see Callahan and Franchione go.
But it was still interesting to me to see them ranked among the biggest coaching flops in recent history. While they struggled building their programs, I don't know if I would necessarily go that far.
December, 31, 2008
12/31/08
1:04
PM ET
Posted by ESPN.com's Tim Griffin
Here are 10 things I'm looking forward to watching in Big 12 bowl games that start on Thursday.
1. Clemson's defense performs with new leadership: Heralded defensive coordinator Vic Koenning left Clemson before the Tigers' matchup in the Konica Minolta Gator Bowl against Nebraska for a new job at his alma mater at Kansas State. It will leave Clemson linebackers coaches David Blackwell and Ron West calling defenses in an interim capacity in the bowl game against Nebraska. It won't be an easy chore considering that the Cornhuskers rank in the top 20 nationally in passing yards, yards per game and points.
2. Joe Ganz's final game: Nebraska's senior starting quarterback has quietly led a resurgence of the Cornhuskers' offense, directing them to at least 30 points in 10 of 12 games this season and at least 41 points and an average of 504 total yards in their last three games. Ganz needs four touchdown passes to break Nebraska's single-season and career marks. Considering the way he has played down the stretch, those marks might not be out of the question with a big day against the Tigers.
3. Pelini's mark on history: First-year Nebraska coach Bo Pelini will be gunning for his ninth victory of the season against Clemson, which would enable him to join Frank Solich, Tom Osborne and Bob Devaney as the only Nebraska coaches to win nine games in their first full season with the Cornhuskers.
4. Texas Tech finally returns to football: The Red Raiders have endured a long month since the end of the season as Graham Harrell has recovered from delicate surgery on his non-throwing hand and Mike Leach has been involved in continued contact negotiations with school officials. It will almost be a relief to get back to football -- particularly with the return to health of wide receiver Michael Crabtree, who was hobbled much of the season with a sprained ankle. A victory against Mississippi in the AT&T Cotton Bowl would boost the Red Raiders to a school-record 12 victories in a single season.
5. Say goodbye to the Cotton Bowl -- in Fair Park: Thursday's game between Texas Tech and Mississippi will be the final AT&T Cotton Bowl game played in its historic facility near downtown Dallas before moving to the Dallas Cowboys' new stadium in Arlington next season. The bowl has been one of the more tradition-steeped games in college football, beginning at its current location in 1937. Memories of that rich 73-year history will be especially vivid on Friday.
6. Harrell's remarkable legacy: Texas Tech's senior quarterback Graham Harrell will finish his career Friday as the clear best to ever play at his position in school history. He can punctuate his college career by staking two significant statistical claims. With 253 passing yards he can become the first player in NCAA history to pass for 5,000 yards in multiple seasons. And he needs two touchdown passes to surpass Hawaii's Colt Brennan's career record of 131 touchdown passes for the most in FBS history.
7. The Rebels' defense put to a test: Mississippi is allowing only 123.3 yards per game in their last three contests and have held opponents to less than 215 total yards in five games this season. They will be supremely challenged against an explosive Red Raider offense that ranks first nationally in passing and fourth in total offense and scoring. Tech erupted for at least 538 yards of total offense in eight of its first 10 games this season, but has been progressively limited to its lowest offensive totals in each of the last two games against Oklahoma and Baylor.
8. Will Ohio State's success against Big 12 teams continue against Texas? The Buckeyes have compiled a remarkable 28-4 record against Big 12 teams, including a 5-0 mark in bowl games. But they will be facing a Texas squad in the Tostitos Fiesta Bowl that is hungry after being snubbed for a shot at the Big 12 title game and the FedEx BCS National Championship Game if it would have won there. The Longhorns are one of four programs nationally that are undefeated in BCS games.
9. Colt McCoy's retribution against the Buckeyes: Texas quarterback Colt McCoy was making only the second start of his career early in the 2006 season when he directed the Longhorns to a 24-7 home loss to Ohio State in his second career start. Since then, McCoy has claimed 30 of his 36 career starts to become the winningest starting quarterback in school history (31-7, .838 winning percentage.) Included in that streak have been both his bowl games.
10. Ohio State's trickeration on offense: The Buckeyes have spent much of their early bowl practices tinkering with a package where quarterbacks Terrelle Pryor and Todd Boeckman are in the lineup at the same time. They will try that offense against a Texas defense familiar with such a philosophy for chunk plays after early work this season with McCoy and Texas backup quarterback John Chiles playing at the same time. Ohio State coach Jim Tressel can only hope his gadgetry is more fruitful than Texas' ended up being.
August, 21, 2008
8/21/08
11:45
AM ET
Posted by ESPN.com's Tim Griffin
And people thought it was known just for its jazz history and barbecue.
Kansas City is undoubtedly the northern hub of the Big 12. It was always the center for the old Big Eight Conference and some of the locals still haven't forgotten the interlopers from Texas who pushed the Big 12's offices to Dallas when the conference opened.
But "The City of Fountains" is bigger than just a few fax machines and file cabinets. And it will be proved again today when Iowa State and Kansas State announce they are coming soon.
Multiple newspapers reported this morning that the Cyclones and Wildcats will move 2009 and 2010 games to Arrowhead Stadium in Kansas City. Sources told the Topeka Capital-Journal the two teamswill receive payments of at least $1.8 million per game. KSU nets about $1 million from a normal game in Manhattan, according to the Kansas City Star and Wichita Eagle.
Kansas City is on a roll attracting Big 12 events. Arrowhead Stadium will be the site for the Big 12 championship game on Dec. 6. The breathtaking new Sprint Center was the host for the Big 12's men's basketball championships in March and will be solidly in the rotation for future tournament events. And the venerable Municipal Auditorium, with its stately art-deco ambience, is the best arena around for the women's title.
It's surprising that more regular-season Big 12 games don't end up in facilities like Arrowhead Stadium. The Missouri-Kansas game last season was one of the most ballyhooed sports events I've ever seen and the atmosphere lived up to the hype.
That game was bigger than any Texas-Oklahoma game I had ever attended because it had significant championship ramifications penned solely on that game. Now if we could get those Kansas City engineers to figure out how to get traffic moving a little faster, the next time might be easier.
The Kansas City Chiefs' organization appears more than willing to shell out big guarantees for games that it feels will be successful. I'm surprised that Nebraska hasn't convinced an opponent to move a home game to Arrowhead for those kind of windfall profits after a successful game there in 1998 against Oklahoma State.
So don't be surprised to see more Big 12 events end up at "The Paris of the Plains" in the future.
Just save a few extra cinnamon rolls for me at the legendary Stroud's Restaurant when you get there.
Until then, here are some tasty Big 12 links. They are almost as habit-forming and not nearly as gooey on your fingers.