December, 30, 2009
12/30/09
4:24
PM ET
By
Tim Griffin
| ESPN.com
Mike Leach's firing wasn't a surprise on Wednesday.
His attorney had predicted to several reporters earlier this week that his client would be let go by Texas Tech officials -- probably sooner rather than later.
[+] Enlarge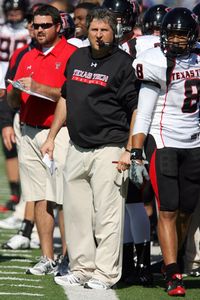 Douglas Jones/US PresswireMike Leach led Texas Tech to 10 straight bowl appearances.
But it was still a cataclysmic shock in Lubbock and West Texas when Leach was let go earlier this morning. For a period after his firing was announced, the Lubbock Avalanche-Journal's Web site crashed due to interest in the story.
That firing speaks to a larger controversy than what happened over
Adam James
' concussion and "The Shed."
Leach and Tech athletic director Gerald Myers always had a contentious relationship from the very beginning of his tenure there. It's understandable when you consider the turf wars that sometimes develop in athletic departments when a headstrong former basketball coach is the athletic director and makes decisions over a similarly headstrong football coach.
It all started in 2002, when rumors about Leach's off-field activities led to an investigation by the athletic department.
Leach was cleared, but the schism between him and his boss started at that time. At one point, Myers stopped Leach's outgoing mail in a dispute about postage stamps.
It simmered early in Leach's time when the Red Raiders played the toughest nonconference schedule in the Big 12 as a way to make money for the athletic department. During the 2002 season, for example, Tech played Ohio State, Mississippi and NC State in addition to the Big 12 South gauntlet.
That chapped Leach and he let Myers know about his concerns. The two always seemed to be better off if they were an arms-length away from the other.
Tech officials weren't happy when news surfaced of Leach shopping himself for a number of major coaching openings over the past several years.
And it continued when he went through an extremely contentious negotiation with school officials before he was given a three-year extension on what was a five-year, $12.7 million contract. To get the deal done, Leach went over Myers' head and personally negotiated with Tech chancellor Kent Hance.
Under terms of the contract, Leach was due an $800,000 bonus if he was still the Red Raiders' coach on Thursday.
Now, it appears he won't receive that bonus, although I'm sure the contract is headed for litigation between Leach and the school.
Even with the firing, Leach will be considered one of Tech's top football coaches ever, leaving the school with a program he helped boost into contention in the extremely difficult Big 12 South Division. It's not a stretch to say that he was one of the seminal figures in Big 12 history, helping transform the way offense was played from the ground-based philosophies of the old Southwest and Big Eight conferences into today's high-powered aerial attacks that have become the national rage recently.
Leach built a program out of castoffs like Wes Welker, Michael Crabtree, Graham Harrell and Brandon Williams and turned them into a team that could consistently compete with teams like Texas and Oklahoma. The Red Raiders were ranked No. 2 in the nation for a three-week period during last year's 11-2 season, which was a national breakthrough for the school.
Leach was Texas Tech football. He was as much a part of Lubbock as dust storms, Buddy Holly's statue and the blueberry muffins at the legendary Fifty-Yard Line Restaurant.
And no matter who follows Leach, he will face a mammoth chore of replacing a legend who directed the Red Raiders to 10 consecutive bowl appearances and more bowl victories in his tenure than the rest of the school's 85-season football history combined.
The football program upstaged Myers' basketball program and his hand-picked coach of choice, Bob Knight. Even with the legendary career leader in victories along the sidelines, the Red Raiders' basketball team had trouble filling the United Spirit Arena or selling the personal-seat licenses that were intended to help build the facility.
But that wasn't the case for the football program, which became a national phenomenon under their quirky coach. Tech's success led to him being a cover story in the New York Times magazine and the subject of a fawning piece on CBS-TV's "60 Minutes" late last season.
Leach gained notoriety for his fascination with pirates, mobsters and Indian chiefs. His stint as a weatherman on a Lubbock television station -- memorable because of his explanation of the local occurrence of "raining mud" -- became a YouTube staple with hundreds of thousands of hits.
He could coach a little, too. During what was expected to be a rebuilding job this season, Leach juggled three starting quarterbacks en route to an 8-4 mark and a berth in Saturday night's Valero Alamo Bowl.
He'll be gone from the sidelines in that game. The Red Raiders likely have the perfect solution to settle the upheaval with unassuming defensive coordinator Ruffin McNeill. He's familiar with the players because of his recruiting and will give them the best opportunity to keep their program together against Michigan State on Saturday night.
But after that, it will be a different story.
Myers needs to mobilize quickly to salvage what had been the best recruiting season for Tech in recent years. Whether those recruits will be willing to stay firm on their commitments to the far-flung West Texas locale that is still one of the toughest recruiting destinations in the Big 12 will be interesting to see.
Leach carved an identity that made Tech one of the top 25 or 30 programs in the country over the past 10 years.
Now, we'll see if his replacement can keep it there.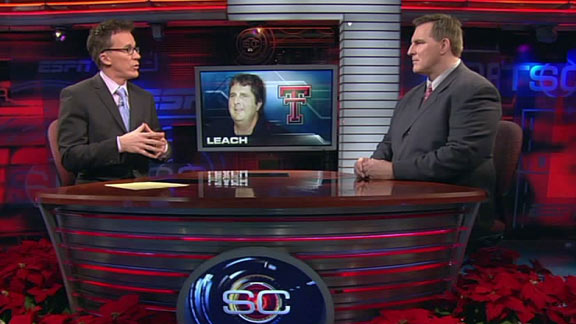 August, 17, 2009
8/17/09
9:30
AM ET
Posted by ESPN.com's Adam Rittenberg
There's enough hero worship in college football these days. Let's talk about the villains.
Which player, coach or opponent haunts your favorite Big Ten team like none other? Some Penn State fans might still have Richard Nixon dartboards in their homes. Jim Tressel has become a modern-day villain for Michigan fans, but who holds the all-time title?
Here are my picks for Big Ten villains, current and all-time. But as always, I want to hear from you as well. Send me your top villains, current and all-time, and I'll have a post Tuesday with the responses.
ILLINOIS FIGHTING ILLINI

Current villain: Iowa. Until last year, the Hawkeyes had won five straight against the Illini, and even though Iowa is off the schedule until 2011, Illinois star wideout Arrelious Benn still hates the black and gold.
All-time villain: Missouri. The rivalry might be bigger in hoops, but Missouri accounted for Illinois' only regular-season loss in 1983. Illinois began its 2007 Rose Bowl run with a loss to Mizzou and has dropped 10 of the last 13 meetings.
INDIANA HOOSIERS
Current villain: Purdue. The hate for the Boilers always runs deep, and Indiana still seethes from the 62-10 loss at Ross-Ade Stadium that ended the 2008 season and the coaching career of Purdue's Joe Tiller, who went 10-2 against IU.
All-time villain: Basketball. The sport is king in the state and especially in Bloomington, thanks to Bob Knight. Football always will play second fiddle to hoops, which makes things tough to compete in the Big Ten.
IOWA HAWKEYES
Current villain: Bret Bielema. The former Iowa defensive lineman now coaches at rival Wisconsin, despite still having a Hawkeye logo tattooed on his leg. Bielema has won two of his first three games against his alma mater.
All-time villain: Eric Ball. The UCLA freshman rushed for 227 yards and four touchdowns against Iowa in the 1986 Rose Bowl, leading the Bruins to a 45-28 victory and preventing Iowa from a No. 2 finish behind Oklahoma.
MICHIGAN WOLVERINES
Current villain: Jim Tressel. The Vest has dominated Michigan since his arrival as Ohio State coach, going 7-1 and claiming the last five games.
All-time villain: Woody Hayes. The legendary Ohio State coach stoked the rivalry against "That school up North" whenever he could and dominated the series with Michigan in the 1960s, going 7-3.
MICHIGAN STATE SPARTANS
Current villain: Mike Hart. Hart no longer plays for Michigan, but his "little brother" reference after the Wolverines' 2007 win at Michigan State still angers Spartans fans, who point to head coach Mark Dantonio's comeback: "Pride comes before the fall."
All-time villain: Ara Parseghian. The Notre Dame coach went for the tie in the 1966 "Game of the Century," and the Fighting Irish finished ahead of Michigan State in the final polls (the schools shared the national title).
MINNESOTA GOLDEN GOPHERS
Current villain: The Little Brown Jug. Minnesota should implode this thing after losing 39 of its last 42 games against Michigan.
All-time villain: The Metrodome. A former national powerhouse, Minnesota became largely irrelevant after moving inside the dome in 1982. The Gophers won more than eight games just once in 27 years indoors, endured 15 losing seasons, never beat Michigan at the dome and ended things with a 55-0 loss to archrival Iowa.
NORTHWESTERN WILDCATS
Current villain: Ohio State. Northwestern has beaten the Buckeyes just once since 1971 and dropped its last four meetings by a combined score of 205-34. Ouch.

All-time villain: The streak. Northwestern's NCAA-record 34-game losing streak still haunts the program as it strives for national respect.
OHIO STATE BUCKEYES
Current villain: The SEC. Whether it's Urban Meyer, Les Miles or Albert E. Gator, the Buckeyes can't stand anyone or anything associated with the SEC, which handed Ohio State losses in consecutive national title games.
All-time villain: Bo Schembechler. Buckeyes fans have no love lost for Bo, who worked for Hayes at Ohio State and earned his Master's degree in Columbus before coaching archrival Michigan. Schembechler's Wolverines upset Ohio State in 1969, and he held a 5-4-1 edge in the Ten-Year War.
PENN STATE NITTANY LIONS
Current villain: Terrelle Pryor. The nation's No. 1 recruit spurned his home-state school for Ohio State and didn't make many friends in State College by calling it "too country" for him. Penn State won Round 1 against Pryor last year and will face him at least two more times.
All-time villain: Richard Nixon. The president declared Texas the national champion in 1969 before the poll voters had cast their final ballots, depriving an undefeated Penn State team of the crown.
PURDUE BOILERMAKERS
Current villain: The Top 25. Purdue simply can't get over the hump against ranked opponents, failing to beat a Top 25 team since Nov. 8, 2003. Longtime coach Joe Tiller went just 12-38 against ranked teams.
All-time villains: Ted Provost and Jack Tatum. The Ohio State defensive backs starred in a win against No. 1 Purdue in 1968, and the Buckeyes went on to the national title while Purdue didn't make a bowl game with one of its best teams ever.
WISCONSIN BADGERS
Current villain: Michigan. Despite Wisconsin's renaissance since 1990, the Badgers have struggled against the Maize and Blue, dropping 31 of their last 36 meetings. Michigan handed Wisconsin its only loss in 2006 and started the Badgers' four-game losing streak last season with an upset in Ann Arbor.
All-time villain: John Coatta and Don Morton. The former Badgers coaches share the tag after combining to go 9-53-1 as Wisconsin became largely irrelevant from 1967, Coatta's first year, until program savior Barry Alvarez took over.
February, 11, 2009
2/11/09
2:01
PM ET
Posted by ESPN.com's Tim Griffin
Here are some stories for your lunchtime perusal from across the Big 12.