December, 2, 2009
12/02/09
12:20
PM ET
By
Tim Griffin
| ESPN.com
Some sage advice prepared
Zac Lee
for the highs and lows he's faced this season.
Lee has been both booed and cheered by Nebraska fans throughout his first season as the Cornhuskers' starting quarterback. During his early-season travails, Lee leaned on some guidance from his father, Bob, a 12-year veteran NFL quarterback who has seen the best and worst of times during his own professional career.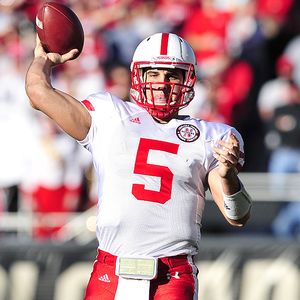 Ron Chenoy-US PRESSWIREAfter being benched for one game, Nebraska quarterback Zac Lee has rebounded and helped lead the Cornhuskers to the Big 12 Championship Game.
"My dad told me when I first started playing that you're not really a true quarterback until you've been run out of at least one place," Lee said. "So I always kind of took it to heart and just prepared for it."
While he technically wasn't "run out of a place," his one-game demotion gave him an opportunity to clear his head and prepare for his second chance as a starter.
Since his return, he has provided solid leadership and production that has helped spark the Cornhuskers' late five-game winning streak after starting the season 4-3. It's helped them claim their first Big 12 North title since 2006, earning a berth in the Big 12 championship game against No. 3 Texas Saturday night.
Along with the rest of the team, Lee struggled in a 31-10 loss against Texas Tech that was their worst defeat of the season. And although he played better the following week, the offense struggled with eight turnovers in a stunning home loss to Iowa State.
That led to his benching against Baylor in the next game in favor of freshman quarterback
Cody Green
, who directed the win.
"There really wasn't much we could say to him," junior receiver
Niles Paul
told the Lincoln Journal-Star. "It's something he had to deal with, and he either was going to make it through or he wasn't.
"But that's just the type of person he is. He's a confident person. He patiently waited for another chance to get out there, and when he got out there he executed."
Green also got the start against Oklahoma, but struggled and was removed after producing no first downs over the first five possessions against the Sooners. Lee entered the game, directed the victory and has been the starter ever since.
"I never had any doubts I could produce when I got another chance," Lee said. "The biggest thing has been that my teammates stayed with me the whole way."
Nebraska offensive coordinator Shawn Watson has tailored the offense to Lee's specific strengths. It's featured heavy doses of running by Roy Helu Jr. and
Rex Burkhead
, play-action passes and occasional running from the quarterback that has picked up over the last several games.
Texas defensive coordinator Will Muschamp said the changes have helped emphasize Lee's strengths.
"He's been effective in what they ask him to do," Muschamp said. "They have changed philosophically to a certain degree in what they are doing. They have put him in a lot better situations are far as play action and pocket movement. He's a good athlete and those things have helped him as much as anything philosophical in what they've done."
Nebraska fans had a brief moment of anxiety last week against Colorado when Lee went with an ankle injury. Green took two snaps, but Lee had his ankle re-taped and returned on the next series and finished out the game. He said Tuesday his ankle felt "phenomenal."
Lee's passing statistics are down since his return, but his passing efficiency rating is up. Earlier this season, he posted three games of at least 200 yards passing and threw four touchdown passes against Arkansas State and three touchdown passes to lead the comeback against Missouri.
But in his last three games, Lee has not passed for more than 196 yards or thrown for more than a touchdown in any single game. It hasn't really mattered because of the game results.
"We've had some relative success, but a lot of people have been caught up in the numbers," Lee said. "But the reality is that we've been winning games."
Lee will have to click as a "game manager," as Watson has called him. It means the Cornhuskers need to stay ahead of the chains and can't afford long down-and-distance situations where the Texas defense has been proficient at forcing turnovers, notching sacks and holding opponents to a conference-leading 28 percent third-down conversion rate.
"What those circumstances are going to be on Saturday night, you don't know. It's always ever-changing," Nebraska coach Bo Pelini said. "We have to be ready to respond no matter what happens. If that means managing the game, great. But if that means we need Zac to throw four touchdown passes, let's go."
September, 16, 2009
9/16/09
4:03
PM ET

Posted by ESPN.com's Tim Griffin
It's been the kind of early start that has Nebraska fans reminiscing about all the storied quarterbacks who have played for the Cornhuskers in the past.
Sure, there's that Heisman Trophy winner named Eric Crouch, but he was more of a runner anyway. Tommie Frazier, all he did was run the option and win national championships.
| | |
| --- | --- |
| | |
| | Bruce Thorson/US Presswire |
| | Nebraska quarterback Zac Lee is starting his Cornhuskers career well. |
But as far as pure passers, there have been few to match new starter
Zac Lee
, whose deep arm has some pundits calling him Nebraska's most accomplished pocket passer since Vince Ferragamo in the mid-1970s.
Lee leads the Big 12 in passing efficiency after two games and ranks seventh nationally. He's thrown for 553 yards and six touchdowns in the kind of debut that the junior said he always expected once he received his starting opportunity.
"I'd like to say I have pretty high expectations for myself, so I feel like I'm pretty much right on track," Lee said.
Nebraska's new quarterback was the Cornhuskers' biggest question coming into the season. And Lee, a junior who transferred into the Nebraska program in January 2007 from San Francisco City College, appears to have answered most of those early concerns with an unexpectedly quick start.
His early work was punctuated by a 340-yard, four-TD pass effort last week that sparked the Cornhuskers' 38-9 triumph over Arkansas State. Most impressively, he distributed the ball to 11 different receivers while playing.
Nebraska coach Bo Pelini has been impressed with Lee's early work, but not stunned.
"I think Zac is doing what we thought he was capable of doing," Pelini said. "I've said all along that I have a tremendous amount of confidence in him. I think if you asked anybody associated with our team they feel the same way. It doesn't surprise me at all."
But some are wondering how he will handle his first road game against a traditional power like Virginia Tech. The Hokies are 46-7-1 against nonconference teams at Lane Stadium since 1991, winning 31 straight nonleague games.
Despite those daunting odds, Lee is excited about his team's opportunity heading into Saturday's game.
"This is what college football is all about," Lee said. "Going into places like that, a great atmosphere and just competing. That's why this is fun."
His coaches believe that Lee won't wilt in the heightened competitive atmosphere.
"This dude is a cool customer, man," Nebraska offensive coordinator Shawn Watson told reporters earlier this week. "He's a ballplayer. None of that stuff is going to bother him. He's a cool dude."
Some of Watson's confidence stems from Lee's bloodlines. His father, Bob, was a quarterback in the NFL for 12 seasons and was active in developing his son's talents.
That detail has produced a quarterback who appears impervious to some of the typical concerns that would worry coaches about many first-game starters on the road.
"He's been raised by a professional football player and he gets it," Watson said. "He understands it. He's been around it his whole life. It'll be nothing to him."
But playing the Hokies will represent a step up after his first two games against FAU and Arkansas State.
"I'd imagine things might move a little faster," Lee said. "You'll probably have to be a little more precise with things overall. We need to be more precise and detailed because of the caliber of athletes and the coaching they have."
Saturday's game could be judged as a litmus test for the No. 19 Cornhuskers, who are still looking for a breakout victory that would grab national attention for Pelini's program.
The Cornhuskers will bring in a six-game winning streak into Saturday's game -- longest since winning 13 straight games in 2000-01.
A win over the Hokies would be a signal to the nation that Pelini's team is getting closer to the levels of the Cornhuskers of old.
"This is a great opportunity for us, especially against a team like Virginia Tech that has had such long-term success," Lee said. "I think this is something that we're really looking forward to."