October, 18, 2012
10/18/12
11:10
AM ET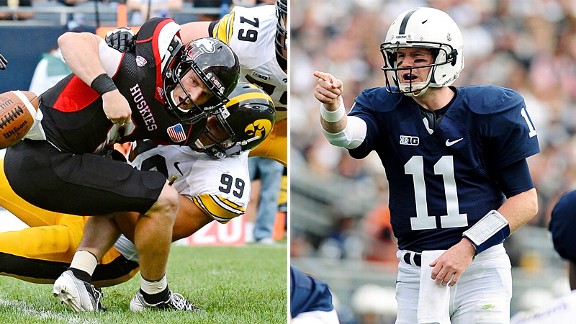 US PresswireJoe Gaglione and Iowa's staunch defense will try to stop Matt McGloin's surprisingly effective offense.
Image No 1: Penn State quarterback
Matt McGloin
dives into the end zone for the go-ahead touchdown in the fourth quarter against Northwestern, his
fifth
rushing score in six games, as the Lions score 22 fourth-quarter points to rally for a 39-28 win. McGloin celebrates with the Aaron Rodgers championship belt move ... also
known as the discount double check
.
Image No. 2: After forcing two overtimes behind the strength of its defense, Iowa seals a 19-16 win against Michigan State when sophomore defensive lineman Louis Trica-Pasat deflects an
Andrew Maxwell
pass, and cornerback
Greg Castillo
comes down
with it for an interception
.
If you predicted either of these things happening two months ago, you might put Miss Cleo out of business. Or just hop the first plane to Vegas.
Expectations for both Penn State's offense and Iowa's defense were tempered before the season.
Penn State had the nation's 110th-ranked scoring offense in 2011 and this summer saw its top running back (
Silas Redd
) and top receiver (
Justin Brown
) transfer to other schools.
Rob Bolden
, the team's opening-day starting quarterback in each of the past two seasons, also transferred. The Lions' leading returning receivers were a running back (
Curtis Dukes
) and a fullback (
Michael Zordich
), who each had five catches in 2011. Their leading returning rusher, Dukes (237 yards), missed spring practice for academic reasons -- the time when new coach Bill O'Brien installed his NFL-style scheme. Penn State had zero proven offensive weapons entering the season.
Iowa's defense also featured more no-names than usual. The Hawkeyes, who had four defensive linemen selected in the NFL draft the past two years, turned to two seniors with limited production (
Steve Bigach
and
Joe Gaglione
) and another coming off of a serious knee injury (
Dominic Alvis
) to lead their front four. Freshman and sophomore defenders filled Iowa's preseason depth chart, particularly at the line positions. "This is our youngest team," Hawkeyes coach Kirk Ferentz said at preseason media day.
Yet midway through the season, both Penn State's offense and Iowa's defense are two of the more pleasant surprises in the Big Ten. The two units have been instrumental in Penn State's and Iowa's 2-0 starts to league play, and they'll match up against each other Saturday night when the Lions visit Kinnick Stadium.
"I'm not really surprised at all," McGloin told ESPN.com "I knew we had the talent on this team, and guys who were willing to put in the work to get the job done and learn this offense. I'm not really surprised at what I've done, or what
Kyle Carter
has done, or
Allen Robinson
or [Zach] Zwinak or [Michael] Zordich or the line."
McGloin leads the Big Ten in passing average (249.8 ypg) and is tied for the league lead in touchdown strikes with 12, four more than he had all of last season as Penn State's primary quarterback. With 1,499 pass yards through the first six games, he needs just 73 more to eclipse his season total from 2011.
Robinson, who had a grand total of three receptions as a true freshman for Penn State last fall, leads the Big Ten in receptions per game (6.8) and touchdown receptions. Penn State's other offensive standouts include Carter, a redshirt freshman tight end with 23 catches for 279 yards; and Zwinak, a former walk-on who had three carries for seven yards last year and now leads the team in carries (68) and rush yards (320). Zordich, a senior fullback, is a more familiar name but someone who hasn't had much of a chance to contribute until this season (37 carries, 167 yards, 10 receptions).
"It's an NFL offense," McGloin said. "This offense definitely gives guys an opportunity to showcase their ability and gives them a lot more recognition."
O'Brien's arrival has modernized Penn State's offense. Iowa, meanwhile, hasn't gone through dramatic scheme schedules defensively, although secondary coach Phil Parker moved into the coordinator role in the offseason following Norm Parker's retirement.
The defense has been better than expected from the start, holding Northern Illinois to 12 first downs and 201 total yards in the season opener. Iowa has surrendered 17 points or fewer in five of six games and allowed fewer than 350 yards in five of six games. While Penn State's offense isn't the strongest unit on its team, Iowa's defense undoubtedly deserves the label as the Hawkeye offense is still finding its identity.
"We're making progress," Ferentz said. "We were hopeful that we could during the course of the season. Some weeks have been a lot better than others, obviously, but the group's growing."
The defensive line, a major area of concern in August, has been a strength. Gaglione boasts eight tackles for loss, four sacks and two forced fumbles, while other linemen like Trinca-Pasat (three tackles for loss, two quarterback hurries) and Bigach (one sack, one forced fumble) have contributed.
Iowa has surrendered just five rushing touchdowns in six games.
"I knew they were going to go in there and be a help to the defense," linebacker
Christian Kirksey
told ESPN.com. "Coach Ferentz always talks about the next man in. As soon as Joe Gaglione and Steve Bigach jumped in, they were just eager and hungry to help out the defense."
The linebackers also have done their part. Veterans
James Morris
and Kirksey have combined for two interceptions, two fumble recoveries, three sacks and 7.5 tackles for loss.
Anthony Hitchens
, a converted safety in his first season as a starting linebacker, leads the nation with 13 tackles per game (78 total).
"Iowa defense is built on one thing," Kirksey said. "Way back when Bob Sanders was here, way back when Adrian Clayborn was here, it was all still the same focus. We all grew around the tradition and we just took it to the field.
"We're a new group, but Iowa teaches the same lessons throughout the years."
McGloin sees it, too, calling the young Hawkeyes "a typical Iowa defense." O'Brien's system certainly isn't a typical Penn State offense, but that has been a good thing.
Although McGloin expected the unit to perform, his contributions as a rushing threat -- he had no rushing touchdowns in 2011 and just two in his career before this season -- are a bit of a surprise.
The only bad news: the discount double check is probably a thing of the past.
"I think I'm done with that," McGloin said, laughing. "That was just a one-time thing."
February, 2, 2010
2/02/10
10:30
AM ET
It's Super Bowl week, and here in Chicago, we're celebrating the
hiring of Mike Martz
as Bears offensive coordinator after a month-long search. Hope
Jay Cutler
has a life insurance policy.
OK, moving on to less depressing topics, like the Big Ten and Super Bowl XLIV.
Once again, the Big Ten has plenty of connections to the game, including 20 former players on the two teams, more than any other conference.
All 11 member schools will be represented by a player and/or coach participating in the game. Michigan has the highest number of former players (four), followed by Ohio State (three) and then six teams -- Illinois, Indiana, Iowa, Northwestern, Purdue and Wisconsin -- each with two former players. Penn State and Minnesota will have former coaches on the sideline Sunday.
Both head coaches have Big Ten roots, as the Colts' Jim Caldwell played at Iowa and served as an assistant at Iowa, Northwestern and Penn State. The Saints' Sean Payton had a one-year stint as an Illinois assistant in 1996.
Here's the full lineup of Big Ten links to Super Bowl XLIV, courtesy of the league office:
INDIANAPOLIS COLTS
Players
Kelvin Hayden
, DB, Illinois
Dallas Clark
, TE, Iowa
Bob Sanders
*, DB, Iowa
Mike Hart
, RB, Michigan
Marlin Jackson
*, DB, Michigan
Ervin Baldwin
, DE, Michigan State
John Gill
, DL, Northwestern
Anthony Gonzalez
*, WR, Ohio State
Curtis Painter
, QB, Purdue
Jim Sorgi
*, QB, Wisconsin
Coaches
Jim Caldwell, Head Coach (Played at Iowa from 1973-76; Assistant at Iowa in 1977, Northwestern in 1981 and Penn State from 1986-92)
Larry Coyer, Defensive Coordinator (Assistant at Iowa from 1974-77 and Ohio State from 1991-92)
Gene Huey, Running Backs (Assistant at Ohio State from 1988-91)
Tom Moore, Offensive Coordinator (Played at Iowa from 1957-60; Assistant at Iowa from 1961-62 and Minnesota from 1972-73 and 1975-76)
Ray Rychleski, Special Teams (Assistant at Penn State in 1991)
Bill Teerlinck, Defensive Assistant (Assistant at Indiana from 2003-04)
John Teerlinck, Defensive Line (Assistant at Illinois from 1980-82)
NEW ORLEANS SAINTS
Players
Pierre Thomas
, RB, Illinois
Tracy Porter
, CB, Indiana
Courtney Roby
, WR, Indiana
Adrian Arrington
, WR, Michigan
Jonathan Goodwin
, C, Michigan
Zach Strief
, OT, Northwestern
Malcolm Jenkins
, CB, Ohio State
Will Smith
, DE, Ohio State
Drew Brees
, QB, Purdue
Jonathan Casillas
, LB, Wisconsin
Coaches
Sean Payton, Head Coach (Assistant at Illinois in 1996)
Greg McMahon, Special Teams (Assistant at Minnesota from 1983-84 and Illinois from 1992-2004)
Bret Ingalls, Running Backs (Assistant at Northwestern from 2006-08)
Aaron Kromer, Offensive Line/Running Game (Assistant at Northwestern from 1999-2000)
Mike Mallory, Assistant Special Teams (Played at Michigan from 1982-85; Assistant at Indiana from 1986-87 and Illinois from 2001-05)
Terry Malone, Tight Ends (Assistant at Michigan from 1997-2005)
*-Injured reserve
January, 20, 2010
1/20/10
9:00
AM ET
Unlike the lists for top players and top moments from 2000-09, I had an easier time identifying the top 10 Big Ten squads from the most recent decade. For starters, the Big Ten produced only one national champion and six BCS bowl winners, all but one of which made the top 10 (actually 11). You won't see any three-loss teams on the following list, and 10 wins was the minimum criteria for selection.

Bowl victories counted, but I also put a lot of emphasis on how a team performed during Big Ten play. This is, after all, the Big Ten blog.

Here they are:

1. Ohio State 2002: The only Big Ten squad to win a national title during the aughts tops the list. Ohio State rode a ferocious defense, a clutch quarterback (Craig Krenzel) and a dynamic freshman running back (Maurice Clarett) to a 14-0 record and its first national title since 1975.

2. Penn State 2005: If not for a Michigan touchdown on the final play at the Big House, Penn State could have been playing for a national title. The Nittany Lions still went on to an 11-1 finish and an Orange Bowl championship as Big Ten MVP Michael Robinson led the way at quarterback.

3. Ohio State 2006: No Big Ten team this decade looked more dominant than these Buckeyes, who steamrolled their way through the Big Ten behind Heisman Trophy winner Troy Smith. Ohio State outlasted No. 2 Michigan in a shootout at The Shoe, but lost its mojo before the national title game against Florida. Despite an ugly final result, this team was a juggernaut.

4. Iowa 2002: Only three teams went undefeated in Big Ten play this decade, and the 2002 Hawkeyes were one of them. Quarterback Brad Banks came out of nowhere to become the Heisman Trophy runner-up, while Dallas Clark, Bob Sanders and others helped the Hawkeyes to a share of the league title and road wins against both Penn State and Michigan.

5. Michigan 2006: LaMarr Woodley, Alan Branch and Leon Hall led one of the decade's top defenses as Michigan won its first 10 games, allowing just 13.3 points per contest. The Wolverines ended the year with losses to Ohio State and USC but boasted three All-Americans and several impressive wins.

6. Penn State 2008: Much like Ohio State in 2006, the Nittany Lions were dominant for much of the year, as a dynamic and experienced offense put up points in bunches. Penn State scored 38 points or more in seven of its first eight games. A last-second field goal kept Penn State out of the national title game, but the Lions claimed their second Big Ten championship in four years.

7. Ohio State 2009: Teams are usually remembered by how they finished, and this group got better as the season progressed. Ohio State wasn't much fun to watch in September or October, but a November surge and a very impressive Rose Bowl win against Oregon completely changed the buzz around this squad. Few Big Ten defenses this decade were better than the 2009 Buckeyes.

8. Ohio State 2007: In a season where nothing went according to plan, the Buckeyes surged out of the gate with 10 consecutive wins. A stunning upset loss to Illinois seemed to end Ohio State's national title hopes, but a truly wacky season put the Buckeyes back in the spotlight, where they lost to LSU. The national runner-ups certainly deserve a spot on the list.

9. Iowa 2009: If this were a list of teams not for the faint of heart, these Hawkeyes would be at the top. Every week seemed to bring new drama, and Iowa constantly faced doubts about its success. The truth: This team wasn't far away from an undefeated season and a trip to the Rose Bowl, and it silenced the critics with a very impressive performance in the Orange Bowl against Georgia Tech.

T-10. Wisconsin 2006: The Badgers didn't win any Big Ten titles this decade, but their best team deserves a spot on the list. BCS rules kept Wisconsin from the big bowls, but Bret Bielema's first squad was one of only three Big Ten teams to win 12 or more games in a season this decade. The Badgers finished fifth and seventh in the final polls.

T-10. Ohio State 2005: I just couldn't leave a team that finished fourth in the final AP poll off of this list. The Buckeyes' only losses came against national champion Texas and Orange Bowl champ Penn State, and they finished with an impressive win in the Fiesta Bowl against Notre Dame.

Others considered: Iowa 2004, Ohio State 2003, Illinois 2001, Michigan 2003, Iowa 2003, Ohio State 2008.
January, 19, 2010
1/19/10
9:00
AM ET
Our decade recap continues with a look at the top players in the Big Ten from 2000-09. The league produced just one Heisman Trophy winner, Ohio State quarterback Troy Smith in 2006, but many other national award recipients on both sides of the ball.
We saw outstanding one-year performances from players like Brad Banks (2002), Larry Johnson (2002), James Hardy (2007) and Shonn Greene (2008), and impressive four-year career efforts from Paul Posluszny, James Laurinaitis, Mike Hart, Javon Ringer, Taylor Stubblefield and others.
[+] Enlarge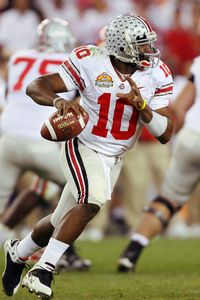 Jason Parkhurst/US PresswireOhio State's Troy Smith was the runaway winner of the Heisman Trophy in 2006.
The league produced solid linemen and linebackers the entire decade, while star quarterbacks and running backs were sprinkled throughout.
Believe me, it wasn't easy to get this list down to 10 players, but here goes.
I put more weight on players who had multiple outstanding seasons. Also, players who had most of their production in the 1990s didn't make the cut.
1. Troy Smith, QB, Ohio State:
The league's lone Heisman Trophy winner tops the list. Smith took home the Heisman, the Walter Camp and the Big Ten MVP awards in 2006. He also led Ohio State to a Fiesta Bowl championship following the 2005 season.
2. Braylon Edwards, WR, Michigan:
The 2004 Biletnikoff Award winner earned consensus All-America honors that year, completing a terrific four-year run in Ann Arbor. Edwards still holds the Big Ten record for career touchdown receptions with 39, two more than fellow Wolverine Anthony Carter.
3. A.J. Hawk, LB, Ohio State:
Hawk was the face of a ferocious Buckeyes defense during the mid part of the decade. The two-time All-American (unanimous in 2005) won the Rotary Lombardi Award and helped Ohio State to a Fiesta Bowl victory.
4. Joe Thomas, T, Wisconsin:
The Thomas-Jake Long debate is a good one, but I'm giving the edge to Thomas, the 2006 Outland Trophy winner. Thomas anchored several powerful Wisconsin offensive lines, earned consensus All-America honors in 2006 and twice made the All-Big Ten squad.
5. Paul Posluszny, LB, Penn State:
Posluszny is one of only two Big Ten players to win the Bednarik Award two times. He also took home the Butkus Award in 2005 and helped restore Penn State after the program had slipped from 2000-04.
6. James Laurinaitis, LB, Ohio State:
Laurinaitis was quite possibly the most decorated Big Ten player of the decade on either side of the ball. He joined select company at Ohio State in earning All-America honors three times (unanimous in 2007). Laurinaitis won the Butkus and Nagurski awards and twice earned Big Ten Defensive Player of the Year honors.
7. Greg Eslinger, C, Minnesota:
Laurence Maroney and Marion Barber III shared the rushing load, but Eslinger was the mainstay who created rushing lanes no matter who had the ball. The 2005 Rimington Trophy winner was Minnesota's only three-time All-Big Ten selection this decade.
8. Bob Sanders, S, Iowa:
No player meant more to Iowa's renaissance this decade than Sanders, the team's only three-time All-Big Ten selection in the aughts. Nicknamed "The Hitman," Sanders epitomized a program that got the most from its players for the majority of the decade.
9. Mike Hart, RB, Michigan:
We witnessed lot of great one-year performances from Big Ten running backs, but Hart was one of the league's few mainstays this decade. Despite being plagued by injuries as a sophomore, Hart finished fourth on the Big Ten's all-time rushing list (5,040 yards) and had 28 career 100-yard rushing games.
10. Antwaan Randle El, QB, Indiana:
Randle El brought a new brand of football to the Big Ten and had a record-setting career despite never reaching a bowl game. The dual-threat star won Big Ten MVP honors in 2001 and ranks fourth on the league's career total offense list with 11,364 yards.
Also considered:
Michigan T Jake Long, Michigan State WR Charles Rogers, Michigan State RB Javon Ringer, Iowa QB Brad Banks, Iowa T Robert Gallery, Purdue WR Taylor Stubblefield, Ohio State WR Ted Ginn Jr., Michigan DE LaMarr Woodley, Illinois RB Rashard Mendenhall, Penn State QB Michael Robinson, Penn State RB Larry Johnson, Purdue WR Dorien Bryant, Purdue WR John Standeford, Ohio State S Mike Doss, Wisconsin DE Erasmus James, Iowa RB Shonn Greene, Northwestern QB Brett Basanez, Illinois LB J Leman, Penn State LB Dan Connor.
Posted by ESPN.com's Adam Rittenberg
A little less to link this time of year. Bear with me.
Paterno said that when he starts talking about this to the Big Ten folks, "They're polite, but they snicker." Anyone who has ever seen a 13-year-old kid humor his elders knows the snicker.

"They don't know I know they're snickering," Paterno said.

They also apparently don't know what they don't know. The Big Ten has lost its edge in football, partly because its best teams are sitting around, waiting for their bowl game while rival conferences such as the Southeastern and Big 12 are playing widely watched league championship games.
Michigan's newest commit can be used in a lot of ways, Mark Snyder writes in the Detroit Free Press. Speaking of recruiting, Penn State added another 2010 commit in running back Silas Redd, Philip Cmor writes in The Altoona Mirror.
Dismissals, defections and transfers contributed to Minnesota becoming the first Big Ten program to lose scholarships because of a low APR score, Dennis Brackin writes in the Star Tribune.
"There's no doubt that some of the kids [from the 2007 class] were academically challenged," athletic director Joel Maturi said. "But we were trying to get a recruiting class at the end [after Tim Brewster's hiring in January] and we took some gambles, and lost on them."
November, 12, 2008
11/12/08
12:06
PM ET
Posted by ESPN.com's Adam Rittenberg
Kirk Ferentz earned his Bachelor's degree in English Education, but the Iowa head coach could easily pass for a history major.
| | |
| --- | --- |
| | |
| | David K Purdy/Getty Images |
| | Daniel Murray's field goal on Saturday clinched Iowa's upset of Penn State. |
Ferentz frequently references the program's past when he surveys the present and the future of Hawkeyes football. And for quite some time, Ferentz has talked about the 2001 season.
Back in the spring, as Iowa endured an embarrassing series of off-field incidents involving football players, Ferentz brought up 2001, "our worst conduct year," he said. The Hawkeyes were solid citizens the next fall, and Ferentz hoped the same would hold true with his current squad.
The pattern from 2001 also has been reflected on the field. That year, Iowa lost five regular-season games by single digits, adding up to a total of 27 points. The 2008 Hawkeyes entered Saturday at 5-4, with all four losses coming by five points or fewer (12 points total).
"I talked to the team [Nov. 2] about our 2001 season, which was a little bit like how this one's been," Ferentz told ESPN.com on Monday night. "It took us till our 12th game, the Alamo Bowl against Texas Tech, where we finally won a close one. We drove the ball the length of the field, kicked a field goal and then Bob Sanders picked off a Hail Mary in the end zone to seal it.
"We were hopeful it wouldn't take 12 games to get one of those."
It didn't. Iowa's breakthrough came early Saturday evening against then-No. 3 Penn State, as Daniel Murray drilled a 31-yard field goal to lift his team to a 24-23 come-from-behind win.
The upset triggered a raucous on-field celebration, a congratulatory message from Iowa Gov. Chet Culver and the hope that perhaps Iowa had turned a corner. After all, the Hawkeyes followed the 2001 season with a dominant run from 2002-04, averaging 10.3 wins per year and reaching three January bowl games.
Could the Penn State win be the breakthrough Iowa needs?