August, 7, 2014
Aug 7
10:30
AM ET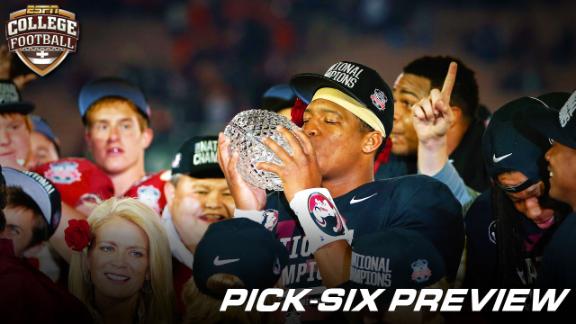 »
More team previews:
ACC
|
Big 12
|
Big Ten
|
Pac-12
|
SEC
Previewing the 2014 season for
Florida State Seminoles
, the reigning ACC and national champions.
[+] Enlarge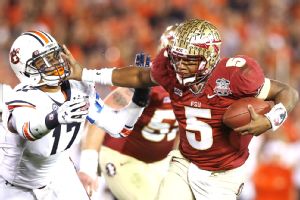 Matthew Emmons/USA TODAY SportsJameis Winston and the Seminoles will try to repeat as national champions.
Key returners:
QB
Jameis Winston
, RB
Karlos Williams
, WR
Rashad Greene
, OT
Cameron Erving
, OG
Josue Matias
, OG
Tre' Jackson
, OT
Bobby Hart
, DE
Mario Edwards
, DT
Eddie Goldman
, LB
Terrance Smith
, CB
Ronald Darby
, CB
P.J. Williams
, DB
Jalen Ramsey
, S
Nate Andrews
.
Key losses:
RB
Devonta Freeman
, WR
Kelvin Benjamin
, WR
Kenny Shaw
, OC
Bryan Stork
, DT
Timmy Jernigan
, LB
Telvin Smith
, CB
Lamarcus Joyner
, S Terrence Brooks.
Most important 2014 games:
Aug. 30 versus Oklahoma State (neutral site), Sept. 20 versus Clemson, Oct. 18 versus Notre Dame, Oct. 30 at Louisville, Nov. 15 at Miami and Nov. 29 vs. Florida.
Projected win percentage:
93.5 percent.
Over/under Vegas odds:
11.5 wins
Instant impact newcomers:
There has been a lot of hype surrounding the freshmen in Florida State camp, and Jimbo Fisher is not doing much to lower expectations.
Ermon Lane
and
Travis Rudolph
, two of the top six receivers in the 2014 recruiting class nationally, could start at some point this season. Defensive tackles
Demarcus Christmas
,
Derrick Nnadi
and
Arthur Williams
are impressing the coaches and offensive linemen, and the Seminoles need depth along the D-Line.
Best NFL prospects:
The over/under for how many first-round picks the Seminoles have in the 2015 draft should be set at five. If he remains healthy and declares following his redshirt sophomore season, Winston could be the No. 1 pick. Two of his linemen, Ervin and Jackson, could be first-round selections, too. Defensively, Edwards could move into the top 10, and Darby and Williams are competing to be the No. 1 cornerback taken in next spring's draft.
Best-case scenario for 2014:
It's rather simple -- the 2013 scenario plays out a second time in 2014. Florida State has the talent to become the first team to go 15-0 and win the inaugural College Football Playoff. Las Vegas expects the Seminoles to finish the regular season undefeated, and Florida State should be able to dispose of its opponent in the ACC championship game. Florida State 2014 might be competing against Florida State 2013 as one of the greatest teams in school history.
Worst-case scenario:
Any season that does not end with Florida State in the College Football Playoff has to be considered a disappointment. The Seminoles could probably survive one regular-season loss and still advance to the playoff, but two losses would almost certainly eliminate them from the conversation. With Winston likely off to the NFL following this season, the Seminoles could take a lengthy step back in 2015 as they reload offensively.
Budding superstar:
Ramsey is already regarded as one of the best defensive backs in the country, and he should be squarely in the Thorpe Award conversation this fall. He's not quite a national name yet, though, and he was not even named to the preseason All-ACC team. Fisher has said repeatedly that as a sophomore Ramsey is the vocal leader of the defense. In a secondary that possibly houses four first-round picks, if not more, Ramsey could go the highest when he's eligible in 2016.
They said it:
"People ask me, 'When did I know Florida State was the team that they are?' You never believe it until you get out there on the field, but in warm-ups, I was looking at their kids warming up, and I said, 'Who the heck is that guy? Who is that guy?' I'm looking at them and, oh, they're getting redshirted. And they're a foot taller than our guys and can run, too." -- Syracuse coach Scott Shafer.
November, 19, 2013
11/19/13
3:00
PM ET
TALLAHASSEE, Fla. -- The fact that quarterbacks don't get hit in practice has never quite felt right to
Jameis Winston
.
Back in high school, he got a feel for when his head coach,
Matt Scott
, might whistle a play dead to keep his quarterback from getting pummeled. So, just before the whistle blew, Winston would turn upfield, find a defender and deliver a hit of his own.
[+] Enlarge
Melina Vastola/USA TODAY SportsJameis Winston's diving block on Kermit Whitfield's touchdown run was the latest example of Winston's sometimes ill-advised physical play.
"It's just his will, his competitive nature," Scott said.
Not much has changed at Florida State. Winston dons a green non-contact jersey during practice, and Jimbo Fisher doesn't take any risks when it comes to halting a play before a big hit, but on game days, all bets are off.
Opponents bring the blitz, and Winston laughs. He's made a habit of shedding defenders, escaping tackles and chucking the ball downfield for a big play.
Put a defender in his face, and Winston is brilliant. For the season, he's completing nearly 74 percent of his passes (at 13.6 yards per attempt) when being hurried or hit, according to ESPN Stats and Info.
Even when he hands off the football, there's no guarantees Winston won't find himself in the thick of the action, with his diving block of Syracuse defensive back
Julian Whigham
on a 74-yard touchdown run by
Kermit Whitfield
the latest example of his eagerness to mix it up downfield.
"That says a lot about his character and what type of player and person he is," running back
James Wilder Jr
. said. "After a handoff, a toss, you can just chill back there, hold your hands up and say 'touchdown.' But it shows what type of determination and team player he is, 40 yards downfield making a block."
Fisher understands the implicit message being sent, too, so it's tough for him to be too upset when Winston puts himself in harm's way for the good of the team.
"You'd like to say no and you've got to be smart about it, but when guys know you're in the hunt with them and you're in the fight with them, they'll play really hard for you," Fisher said. "That's why they love him, because they know he's full-board with them."
The on-field scuffle between tackle
Bobby Hart
and Miami's
Anthony Chickillo
a few weeks ago wasn't any different. When the ruckus started, Winston was quick to jump to his teammate's defense. Again, Fisher was less than thrilled to see his quarterback mixing it up, and again, Winston knew it wasn't the wisest decision.
Still, it's tough to keep those emotions at bay.
"Next time it happens, I might run full speed to the sideline and be like, 'Coach Fisher, are you going to do something about this?'" Winston joked afterward. "It's just in us to react when something like that happens."
Of course, Winston's instincts kick in most often is in the pocket. Even that's become a hot-button issue for the quarterback.
In the blowout win over Syracuse last week, Winston played just the first half, but he was still sacked three times. The problem, he said, was that he wasn't playing physical enough.
"They brought a lot of pressure," Winston said. "And on two instances I did hold the ball too long. But I've got to break those tackles."
Winston has yet to chalk up a sack to poor blocking by his offensive line, but he's actually been pretty good at keeping the pass rush at bay this year.
Winston has been sacked 17 times this season -- once every 18 drop-backs. That's still a better rate than last year's quarterback, EJ Manuel, experienced, and Winston has tallied 102 yards after contact, according to ESPN Stats and Info, more than 70 percent of his rushing total for the year. Overall, Winston goes down on first contact less than 40 percent of the time.
Still, all those hits don't exactly sit well with his coach.
"You've got to be safe now," Fisher said. "We have to talk about that."
In the end though, all those talks probably won't amount to much, and Fisher shouldn't be entirely surprised.
The physical approach to the game is in Winston's DNA, and that's a big reason Fisher wanted him in the first place.
"I think it's about the guys Jimbo recruits. They always have that edge," running back
Karlos Williams
said. "Jameis is one of those guys. If it came down to it, and everything was live in practice, we'd see Jameis laying a few licks on guys."
November, 3, 2013
11/03/13
1:50
AM ET
TALLAHASSEE, Fla. --
Devonta Freeman
's voice is usually quiet, subdued. But when he speaks, his teammates listen.
Freeman provided a voiceover for a video Florida State watched in advance of its showdown Saturday against No. 7 Miami. He told his teammates he loved them, that he'd fight for them, that he'd carry them.
The message resonated with quarterback
Jameis Winston
, who pulled Freeman aside before the game to exchange an emotional embrace.
"From then," Winston said, "I knew he was ready."
Winston struggled early, throwing two first-half interceptions, but just as he'd suspected, Freeman picked up the slack. Freeman, a Miami native, finished with 176 yards from scrimmage and three touchdowns, carrying the load in Florida State's 41-14 win against the Hurricanes.
[+] Enlarge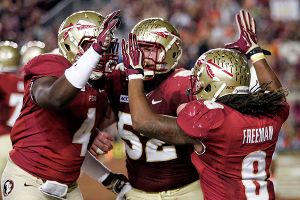 AP Photo/Steve CannonFlorida State running back Devonta Freeman (8) celebrates with tight end Giorgio Newberry (4) and offensive linesman Bryan Stork (52) after scoring on a 5-yard touchdown run in the first quarter.
It's the second win over a top-10 team in the past three weeks for No. 3 Florida State. The two victories have come by a combined score of 92-28, but they played out in far different fashion.
Against Clemson on Oct. 19, Winston was the star, throwing for 444 yards and accounting for four touchdowns. Against Miami, however, Winston stumbled early, misfiring on a handful of first-half throws, including two deep balls down the middle that the Hurricanes picked off, then turned into points.
"I was very high emotionally and sometimes you can't let the emotions affect the way you play," said Winston, who admitted he was eager to complete the deep ball rather than settling for shorter routes in the early going. "I was in the game emotionally and mentally, but the emotions took over the mental part of it."
But if the emotions rattled Winston, they fueled Freeman.
The junior tailback grew up in one of Miami's toughest neighborhoods, but he wasn't heavily recruited by the Hurricanes until late in his senior season of high school. He never wavered in his commitment to Florida State, but he's always held a grudge.
"Every time I get a chance," Freeman said, "I want to destroy them."
Freeman did plenty of damage Saturday.
His 5-yard touchdown run capped Florida State's first drive. His 48-yard reception -- a dump-off pass followed by a long run -- provided the game's biggest play, swinging momentum back in Florida State's direction after Miami held tough early. But it was his powerful, punishing runs throughout the game that drained time off the clock and set the standard for how Florida State enforced its will against the overmatched Hurricanes.
"I wanted to let people know we're hard-nosed," Freeman said. "We're coming."
Freeman scored again late in the third quarter, effectively ending any comeback hopes for Miami. His 29 touches were a career high, and his punishing hits on Miami defenders provided a spark for his teammates.
"He's one of those guys, he's got the heart of a lion," defensive tackle
Timmy Jernigan
said. "We feed off him."
After each big run or physical hit, Freeman celebrated. He flashed the Miami "U" with his hands, signaled a "305" as a nod to Miami's area code.
For Freeman, each play was personal, a message he wanted to send.
In three career games against the Hurricanes, Freeman has 343 total yards and five touchdowns.
"This game, I had more of a chip on my shoulder," Freeman said. "Just to let everybody know, I'm from Miami -- including the kids in my neighborhood, to show them you don't have to be in Miami to do something special. You can go anywhere and do something special and still rep your hometown. That's kind of what it was."
Freeman kept Florida State chugging along early, but Winston responded late.
At halftime, Winston promised his teammates he wouldn't turn the ball over again. In the second half, he threw just two incompletions.
The turning point, however, may have been an on-field skirmish between FSU tackle
Bobby Hart
and Miami defensive end
Anthony Chickillo
. Clinging to a seven-point lead midway through the third quarter, Winston completed a pass to
Kenny Shaw
for 26 yards to the Miami 5. On the play, FSU tackle
Cameron Erving
blocked Chickillo to the ground. Hart then pounced on Chickillo, who ended up underneath the Florida State lineman. Chickillo grabbed Hart's face mask without letting go, and as officials tossed flags, the two players argued. Eventually both teams were posturing on the field before coaches intervened.
Before Florida State lined up for its next play, Winston shouted at each of his teammates, pounding his fists in the air and slapping hands with his linemen.
"That's me telling the guys, 'It's on,'" Winston said. "We're not taking no prisoners. We don't care about those guys anymore. At first, we respected them because they're a great team with great players. But after that skirmish, it was over. All that nice stuff, all the game day and that stuff of them being compared to us, it was over. We know we had one goal, and that was to beat them bad."
Winston proved his point. What began as a close game ended as a 27-point victory. Miami's only points came off turnovers, and Florida State dominated at virtually every level, nearly doubling the Hurricanes' total yardage.
It was exactly what Freeman had predicted before the game. It was, Freeman said, a message delivered.
"I told them, [the Hurricanes] aren't like us," Freeman said. "We're different. We grind different."
March, 19, 2012
3/19/12
9:00
AM ET
TALLAHASSEE, Fla. -- Florida State offensive line coach Rick Trickett likes to joke that the Seminoles have their own version of the United Nations.
Star defensive end
Bjoern Werner
is a native of Berlin, Germany, and the Seminoles' starting offensive tackles this coming season might be from England and Switzerland.
Anything might be better than the inexperienced group the Seminoles put on the field last season. Because of injuries, Florida State started four freshman offensive linemen in its 18-14 victory over Notre Dame in the Champs Sports Bowl.
[+] Enlarge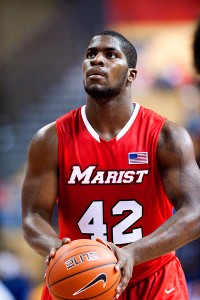 Cal Sports Media via AP ImagesMenelik Watson -- a Manchester, England, native -- played basketball and considered boxing before commiting to football.
As FSU begins spring practice, those freshmen are now sophomores, and two JUCO transfers -- Daniel Glauser and Menelik Watson -- might step in to anchor the offensive line.
Glauser, a native of Rheinfelden, Switzerland, enrolled at FSU in January and is participating in spring practice. Watson, from Manchester, England, is expected to join the Seminoles this summer.
"The [foreign-born] players are more mature," FSU coach Jimbo Fisher said.
But when it comes to football, Glauser and Watson are relatively inexperienced. Glauser grew up playing soccer in Switzerland, but he was encouraged to move to the U.S. by his American-born coach to play college football. Glauser, 6-foot-6 and 315 pounds, spent the past two seasons at New Mexico Military Institute. Fisher was so impressed with Glauser that he offered him a scholarship even though he'll have only one season of eligibility at FSU.
"New Mexico Institute didn't know they could have redshirted him," Fisher said. "They didn't know. We didn't know."
Watson took an even longer route to Florida State. He came to the U.S. to play basketball at Marist College in Poughkeepsie, N.Y. Watson, 6-6 and 320 pounds, averaged 4.4 points and 3.3 rebounds for the Red Foxes during the 2010-11 season.
"Watson was a Division I basketball player," Fisher said. "He was 270 pounds and was a wing, not a post player. He wasn't scoring with his back to the basket. He was making moves and driving to the basket."
Because of his size, Watson figured he'd reached his ceiling as a basketball player. After briefly considering a professional boxing career, Watson enrolled at Saddleback College in Mission Viejo, Calif., where he not only had to learn how to play offensive tackle but also the game's rules. He played in eight games at Saddleback last season. The Gauchos' other offensive tackle was Kyle Long, son of NFL Hall of Famer Howie Long, who signed with Oregon.
Watson still has a long way to go in his development, but he'll probably compete with Glauser and sophomore
Bobby Hart
for the starting offensive tackle jobs this coming season. The Seminoles lost departed senior tackles Zebrie Sanders and Andrew Datko, who combined to play in 90 games in their FSU careers. Datko missed all of last season because of shoulder injuries and chose to turn pro, instead of appealing to the NCAA for another season of college eligibility.
Sophomores
Austin Barron
, Tre' Jackson and
Josue Matias
, who started against Notre Dame at center, right guard and left guard, respectively, are coming back to compete in the middle of the offensive line.
Cameron Erving
, a converted defensive tackle, also will be in the tackle mix.
"I like the young guys," Fisher said. "They're all sophomores. They're big and athletic. They actually know they can play with the way they came back [against Notre Dame]. They're confident now. They don't have to walk on the field and think, 'Can I play?' They know they can play."
Right guard
Bryan Stork
said continuity and staying healthy are keys for FSU's offensive line this coming season.
"Before you're at the top, you're always at the bottom," Stork said. "I feel like we're a diamond in the rough. We've got the guys. It's just everybody getting better together."