December, 1, 2009
12/01/09
11:55
AM ET
Colt McCoy
has to go way back to the dusty playing fields of West Texas to remember the last time he accomplished the ultimate in team goals for a season.
Sure, there have been a slew of individual accomplishments over the years and enough personal records to keep the Texas quarterback satisfied long after his playing career is over.
But McCoy has to revert to his days at tiny Jim Ned High School when his Class 2A team was beating up on the likes of the Bangs Dragons, Ballinger Bearcats, San Saba Armadillos and Coleman Bluecats for District 3 supremacy to remember his last true on-the-field team championship.
[+] Enlarge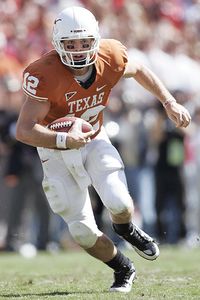 Tim Heitman/US PresswireColt McCoy has his sights set on winning a Big 12 title Saturday.
His next chance will come Saturday night at Cowboys Stadium in Arlington, Texas, when the Longhorns meet Nebraska.
"It's right there in front of us," McCoy said. "It's a goal we've worked for all year long and it's finally here. This is the most important game. We know there are big things after the game if we go out and handle our business. But right now, Nebraska is our focus."
Only a year ago, McCoy and the Longhorns dealt with the bitter disappointment of failing to make the Big 12 championship game. Earlier, they had defeated eventual champion Oklahoma in a dramatic comeback. But their South Division championship hopes were dashed by a last-second loss at Texas Tech that caused a three-way tie for division title. The split championship affected the computer polls and kept Texas out when the final numbers were tallied at the end of the regular season.
That snub resonated through all of the Longhorns' offseason practices and workouts before leading to their success this season.
Texas coach Mack Brown reminded them of that past disappointment as they began work for Nebraska earlier this week.
"They were disappointed as any group of kids I've ever seen," Brown said. "But [they] committed themselves to be in this game and win it. And now they have it all in front of them."
McCoy battled through a mid-season crisis of confidence to direct the Longhorns to a 12-0 record. Only a 16-13 victory over Oklahoma has been by a margin of less than 10 points.
Throughout the season, McCoy has talked about his personal need to play in the Big 12 championship game -- the biggest of all stages in his conference. Such a goal, he said, is bigger than an individual award like winning the Heisman Trophy.
He's never been there before, watching Paul Thompson and
Sam Bradford
claim titles for Oklahoma during his career at Texas.
He'll go down in history as the winningest quarterback in NCAA history. His 44-7 record likely will never be broken -- at least until the NCAA starts mandating 13-game or 14-game regular seasons.
In order to claim his place among the pantheon of great Texas quarterbacks like Vince Young, James Street, Bobby Layne and James Brown, McCoy needs to earn a title.
Texas offensive coordinator Greg Davis remembers hearing from McCoy only minutes after he learned that Vince Young was leaving school early for the NFL.
"Colt told me not to worry, that he was ready," Davis said.
Such a pronouncement might have been construed as a tad bold coming from a redshirt freshman who had never played before. But McCoy has been proving it ever since.
There was his first wild road victory when he beat Nebraska in a raging snowstorm in 2006.
And the way he's beaten old rivals Texas A&M and Oklahoma in back-to-back seasons. Nobody has done that since the Longhorns' salad days of late 1960s and early 1970s when Darrell Royal was roaming the sideline.
But the Big 12 title has been elusive for McCoy.
McCoy's quest has even infused Brown, who said Saturday's title game will be more meaningful for him for players like his senior quarterback than any sense of personal accomplishment in claiming his second Big 12 title and qualifying for his second BCS title game.
"I would like is for Colt and these seniors to have a championship," Brown said. "They deserve it. They have given us so much. It's a thing that's not on their résumé.
"And that's what Saturday night is about for me. I want Colt to finish getting the acclaim he should for this program and for college football. He'll have a lot more by winning Saturday."
March, 19, 2009
3/19/09
1:51
PM ET
Posted by ESPN.com's Tim Griffin
Thanks for squeezing in a few minutes for some lunch links during the basketball games today. Hopefully, these will be more interesting than a couple of early 2-15 blowouts.
Here are some of the more notable Big 12 stories people are talking about.
Enjoy them -- and the basketball games, too.
August, 16, 2008
8/16/08
12:57
PM ET
Posted by ESPN.com's Tim Griffin
Few schools have the rich historical base of Texas. And that's why the recent addition at Darrell K. Royal/Texas Memorial Stadium is so neat.
School officials have installed an exhibit in the stadium's north end zone that will list and honor the five retired numbers in the school's football history. Players who have been honored include Vince Young, Ricky Williams, Bobby Layne, Earl Campbell and Tommy Nobis.
Other schools have done this. I always have a fond remembrance of the past when I see Johnny Roland's or Kellen Winslow's number at Faurot Field or Rashaan Salaam at Folsom Field. It's a great way to recall the past.
I'm still waiting for some school to erect its own version of Monument Park like I saw at Yankee Stadium. Walking up to the bronze plaques of Babe Ruth, Lou Gehrig and Mickey Mantle left me with a lump in my throat. And I don't even like the New York Yankees.
Here's hoping that the Texas architects have arranged for these retired numbers to be prominently displayed where it will occasionally be noticeable on television broadcasts and be clear enough for people in the stadium. Because schools need to remember great players and their history.
And hopefully, these links will be as similarly cherished in 50 years.