NCF Nation:

Bobby Ratliff
May, 3, 2011
5/03/11
12:09
PM ET
Washington State quarterback
Jeff Tuel
was chilling last week with his roommates -- receiver
Gino Simone
and cornerback Nolan Washington -- when three other Cougars came over to hang out. At first they just sat on the sofa and watched TV, tossing a football between them in order to insure proper modern multi-tasking.
It was raining, but the six soon decided to go outside to toss the rock around. Shortly thereafter, what had once been lazy chilling transformed into what it typically does around Tuel: earnest football.
"Nolan is telling me about playing corner and what he does with his feet," Tuel said. "Gino is showing me releases. I'm showing him quarterback stuff. It's goofing around but it gets serious. It's non-stop with us, whether we're talking serious game planning or chucking it around in the street, it's non-stop with us."
Because football matters to Tuel.
The problem for Tuel -- as well as Washington State and its fans -- is Cougars football has been irrelevant for a while now. Washington State hasn't enjoyed a winning record since posting three consecutive 10-win seasons from 2001-2003. In three seasons under coach Paul Wulff, the Cougars are 5-32 with just two Pac-10 victories.
[+] Enlarge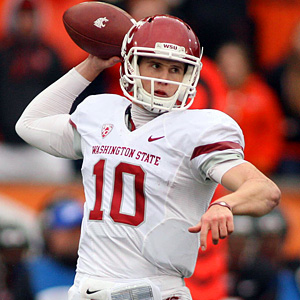 Craig Mitchelldyer/US Presswire Jeff Tuel hopes to get Washington State on the winning track this season.
What that means for a guy who cares about football is a lot of frustration, not to mention a fairly sizable amount of resentment for opponents who don't appear to respect you.
"Without a doubt," Tuel said. "Any true competitor does not like to lose. It pisses you off. And when you don't get the respect you feel like you deserve, it will start a fire underneath you as well. It's definitely a humbling feeling a times, but you put somethings in the back of your mind, for sure."
That was in the back of Tuel's mind last season as the Cougars lined up in victory formation in November against a quality foe -- Oregon State -- for the first time since 2007. Tuel took a knee and was thrilled. But he was also, well, still upset.
"It was kind of like, 'Holy crap,'" Tuel said. "But for me personally, I was kind of like ... I don't know how to describe it. Almost angry in a sense because it's like, 'Dang, we could have been doing this the whole year.'"
Angry is good. That tells you there's fire and belief inside Tuel, a junior who heads into his third season as the Cougars' starter and the biggest reason some expect the program to line up in at least a few more victory formations in 2011.
That would be good for Wulff, who's on the hot seat this fall after receiving only a luke-warm endorsement from athletic director Bill Moos. One school of thinking asserts that Wulff needs a bowl game to survive into 2012, though that might be a bit ambitious for the Cougars, who are still young.
Tuel, the best quarterback most of the nation has never heard of, is the Point A for hope. He completed 60 percent of his passes for 2,780 yards and 18 touchdowns last year and welcomes back his top two receivers in freshman All-American
Marquess Wilson
and
Jared Karstetter
, who combined for 117 receptions. The Cougars could pass on anybody last year, and the conventional thinking is they'll be even more potent in 2011, particularly with the rise of talented youngsters
Kristoff Williams
and
Bobby Ratliff
.
"We're a lot sharper [during spring practices]," Tuel said. "It was sloppy my previous years, but this was for sure our best spring. We looked really sharp. We had a lot of fun this year. It's hard for us not to be confident and excited when spring ball went the way it did."
The Cougars were far more competitive in 2010 than the previous two years under Wulff, but it was a humiliating 42-zip loss at Arizona State that seemed to transform the season. At that point, more than a few folks thought the Cougs might pack it in and bail on Wulff. They clearly weren't ready to play in Tempe and they didn't put up much of a fight.
Yet the loss seemed to trigger an immediate, positive response.
"We all were just fed up. We heard what people were saying. It's embarrassing to throw up a donut against a team like that. It was kind of a thing of, 'That's enough,'" Tuel said. "There was not really one moment or a speech by an individual. The team came out hungry and ready to practice Monday and it carried throughout the whole week. That was something we hadn't had, but it seemed to come together. It sort of jumped-started a lot of guys."
The Cougars nearly beat California before yielding 20-13. Then they won at Oregon State and lost a barnburner to rival Washington, 35-28, after overcoming a 21-7 second-quarter deficit. In that game, Tuel outplayed Huskies quarterback
Jake Locker
, the No. 8 pick in last week's NFL draft, passing for 298 yards and three touchdowns, while Locker had 226 yards and two touchdowns (both tossed an interception).
"Once we got rolling, we were going. They didn't have an answer for us. We just kind of ran out of time," Tuel said. "Guys went into the offseason with a lot of confidence and belief in each other and where this is going."
If that confidence helps create wins, then Wulff's job will be safe. But Tuel said the focus isn't on saving Wulff or just preventing a negative result. It's about football -- winning football.
"We want to win for everybody, for the fans, for the coaching staff, for ourselves, for the Cougar Nation," he said. "I don't think as a team we are dedicating our wins to an individual. We just want to win, man. We know that winning cures everything. When you win, everyone is happy."
February, 4, 2010
2/04/10
4:46
PM ET
Washington State signed a
class of 22
that ranked at or near the bottom of the Pac-10.
Still, coach Paul Wulff was satisfied. He said the class upgraded the Cougars size and speed.
"I think this is as good a class as has come here," he said.
Top prospects
: Linebacker
C.J. Mizell
, a former Florida State signee, sort of came out of nowhere. You can
read about him here
. Offensive linemen
David Gonzales
and
Wade Jacobson
, both junior college transfers, should compete immediately for playing time.
Bobby Ratliff
will upgrade the Cougars receiving corps. Tight end
Aaron Dunn
will play next year.
Under the radar
: There's a lot of that with this class, but it's notable that there were plenty of "under the radar" guys playing their way into the NFL when Washington State was winning. More than a few people think quarterback
Connor Halliday
is underrated.
Issues?
The Cougars took a big hit when tight end Asante Cleveland backed out of his commitment and signed with Miami. Also, Wulff was clearly miffed that committed lineman Maxx Forde -- son of a former Cougar player -- decided to sign with Idaho. It's also a bit worrisome that the class only had one defensive lineman and, of the three offensive linemen, only one is a high school player.
Notes
: One of the Cougars best new players may be JC defensive end Brandon Rankin, a 2009 signee who's already enrolled. ... The class features five wide receivers, which should help Wulff run the shotgun, no-huddle spread offense that he brought from Eastern Washington. ... Running back
James Montgomery
, who missed last season after major surgery on his calf, may be ready to return for the 2010 season. The California transfer was the Cougars No. 1 running back before getting hurt. ... Wulff said told reporters he may still sign a couple of JC players. ... The Cougars signed players from four states, including eight from the Bay Area and three from the Spokane area.