August, 23, 2011
8/23/11
5:00
PM ET
Jerry Kill is in the middle of another reclamation project. After bolstering programs at Northern Illinois, Southern Illinois and other stops along the way, Kill has brought his turnaround tactics to the Twin Cities. He takes over a Minnesota program that went 3-9 last year and has suffered some roster attrition. Most project the Gophers to finish at the bottom of the Legends division this season.
Unlike his predecessor, Tim Brewster, Kill isn't one to make bold preseason predictions. He's trying to build a program "on concrete, not sand," and the process could take some time.
I checked in with the first-year Gophers coach Tuesday to get his thoughts on preseason prep.
What has been your top priority in camp?
Jerry Kill:
The biggest thing is when you take over a new team, you go through spring ball, but they haven't been through two-a-day camp with you. They're not familiar with what you do and how you do things. So getting everybody into a routine and familiar with the way we approach things, it's been a challenge but the kids have handled it pretty well.
Do you feel like you're still starting over?
[+] Enlarge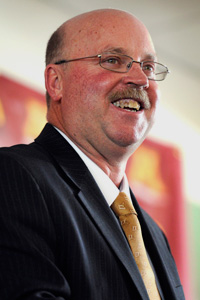 AP Photo/Craig LassigJerry Kill opened up practice for a few weeks because he believes players work harder in public.
JK:
It's a new coaching staff, and we haven't been through it. Until we go through a full year, people aren't going to understand what you expect or what you want. You can't get to know somebody in three or four months. It takes time, and trials and errors, so we are starting over. It is what it is. We've never been through two-a-day camp together, we've never been through the first game together, we've never been through a season together. Once you go through it for a year, you can get all the things figured out. That's just the way it is. And you hope you win some games along the way.
You've had quite a few open practices and scrimmages this month. What has the atmosphere been like?
JK:
I remember asking Bobby Ross, back when I was coaching Saginaw Valley State and the Detroit Lions were having training camp and Coach Ross was in charge. They had the open practices. I asked him why he did that and he said because players will practice harder. I don't think there's any question about that. So we opened up our first two weeks, it's closed now, but we had 200 people at probably every practice at least. So it's a good atmosphere for the kids to practice. They don't want to be embarrassed when there's people around, so I thought it was a good deal.
You were pleased with MarQueis Gray coming out of the spring. How has he looked to you so far this camp?
JK:
He's still going through the learning process, and he will for a while. He's never been in a game at quarterback. He has played some Wildcat or whatever, but he has never been a true quarterback in a game. There's learning going on every game, and it's certainly different from spring ball to two-a-day camp because we're getting closer to game day, and there's a lot more to do at that position. But he's working his tail end off to do something that's pretty darn near impossible, to go from a wide receiver to a quarterback.
He's worked hard at it, we're making progress. Will we be real complicated early in the year? We can't be. We've basically got four freshmen quarterbacks. So we'll have to simplify things. He's athletic enough to do some special things once we get him in the right position. He's what you look for in a quarterback and he's got the skill set to do it, but the other people around him have got to do a good job also.
How many young players do you anticipate playing, true freshmen and redshirt freshmen?
JK:
Too many. It is what it is. We've got a situation where we've got one recruiting class that only has five players left. There's a reason things are open. We've got one senior running back [
Duane Bennett
] and four freshmen, whether they're redshirt or true freshmen. We've got one senior wide receiver [
Da'Jon McKnight
] and the rest are freshmen and a junior college player. Offensive line, we've got three seniors and the rest of them are freshmen and redshirt freshmen, a couple sophomores sprinkled in there. So it's a young football team.
June, 2, 2010
6/02/10
9:00
AM ET
This season will mark the 20th anniversary of Georgia Tech's 1990 national championship team. It was voted No. 1 in the nation by the football coaches poll, which was then the United Press International poll.
[+] Enlarge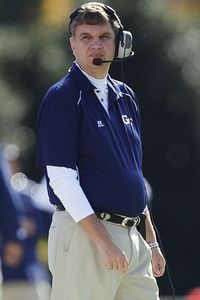 Josh D. Weiss/US PresswireGeorgia Tech needs a more balanced offense if Paul Johnson and the Yellow Jackets hope to win a national title.
The question is whether Georgia Tech can be No. 1 again.
Why not?
Bobby Ross needed only five seasons.
Paul Johnson has already won an ACC title in two.
First-year defensive coordinator Al Groh probably wouldn't have taken this job had he not recognized the potential for something bigger than an ACC title. A conference title, a trip to the Orange Bowl, and the recent turnover of players to the NFL should all be major selling points to potential recruits. Demaryius Thomas is evidence that receivers can flourish in this run-happy offense.
Recruiting is not what will make winning a national title difficult at Georgia Tech. The lack of a balanced offense will. And so will the rest of the ACC. The rise of other programs like North Carolina, Miami -- even Duke and Virginia -- will make it nearly impossible for any ACC team to escape the conference season undefeated. And even a perfect season is no guarantee of a national title.
Georgia Tech finished 2009 ranked ninth in the final BCS standings. It's not exactly a quantum leap from there to the top, but it's a grueling climb. Especially for an offense that doesn't throw the ball with any regularity.
And that's what Georgia Tech will need to win a national title -- an efficient passing game. The Jackets passed 168 times all season. Only Army, Navy and Air Force threw it fewer times. Alabama threw it 346. In modern day football, teams in contention for the national title have had a balanced offensive attack. Bama had about a 400-yard differential in passing and rushing yardage last year.
Johnson's quest to win a national title with his version of the spread option offense makes for an interesting study in college football.
It's not that Georgia Tech can't win with Johnson's offense. They've already proven the contrary. The Jackets don't necessarily have to pass more often, but they do have to pass
more efficiently
to win a national title. That's hard to do when the quarterback isn't asked to do it consistently -- even for one as talented as Joshua Nesbitt. Especially against a disciplined defense like Iowa that has more than a week to prepare. Nesbitt completed 2 of 9 passes for 12 yards and an interception.
If you have a pitcher who throws a good fastball and finally runs into a good fastball hitting team, he needs to be able to throw a curveball every once in a while if he wants to win the World Series.
These days, teams playing for the national title have a month to prepare, and elite defenses can slow Johnson's offense with a calendar like that. Against a defense that forces you into third-and-long situations, a dependable passing game does wonders. A national title contender will dare Georgia Tech to throw. And it will control the clock as well as, if not better than, Georgia Tech. Iowa had the ball for 32:23 -- about five more minutes than Georgia Tech.
No one can fault Paul Johnson for winning 75 percent of his games and running the ball for more than 4,000 yards in a season. What he does works. But you have to take a serious look at whether a one-dimensional offense can win a national title when the opposing defense has a month to prepare.
If the program has won a national title before, though, there's no reason it can't be done again. The last time Georgia Tech won it had 2,300 total rushing yards and 2,000 passing yards that season.
Georgia Tech can win a national title with a balanced offense. It already has.