NCF Nation:

Bobby Williams
December, 5, 2012
12/05/12
9:37
AM ET
Darrell Hazell might not have been Purdue's first choice as football coach, but he could turn out to be the right one.
After it became clear earlier this week that Purdue's courtship of Cincinnati coach Butch Jones wasn't going anywhere, the school quickly moved onto Hazell, the Kent State coach who guided the Golden Flashes to an 11-2 record and a MAC East Division title in his second season. If Kent State had beaten Northern Illinois in Friday's MAC title game, it would be the team headed to Miami for the Discover Orange Bowl.
[+] Enlarge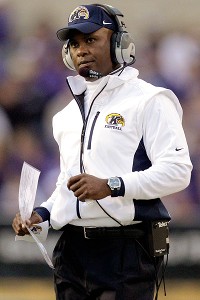 AP Photo/Charlie RiedelDarrell Hazell guided Kent State to an 11-2 record this season.
Purdue
officially named Hazell its coach Wednesday
. No contract terms were released immediately, and Hazell will be introduced at a 7 p.m. ET news conference.
"Darrell is a great fit to build on our existing foundation," athletic director Morgan Burke said in a prepared statement. "His leadership at Kent State, combined with his prior experience at Ohio State and other stops along the way, has prepared him to help us continue to move toward developing a championship-caliber program. He understands our '25/85' vision as well as our desire to recruit both locally and nationally. Furthermore, it is clear that he appreciates the Cradle of Quarterbacks tradition, and it will remain a focal point of our program."
As MAC jobs go, Kent State isn't one of the best, and Hazell made the Flashes into a winner. As Big Ten jobs go, Purdue's isn't near the top, either, but Hazell also can succeed there.
Although he has only two years of head-coaching experience, he has Big Ten roots at Ohio State, serving as an assistant under Jim Tressel from 2004-2010. Hazell coached the Buckeyes' receivers and served as assistant head coach for his final six seasons. If he hadn't taken the Kent State job, he would have served as the Buckeyes' acting head coach in 2011 following Tressel's resignation.
Burke made it clear after firing Danny Hope that
he wanted an offense-minded coach
. Hazell played wide receiver in college and has spent his entire career on the offensive side of the ball. He was instrumental in Ohio State's offensive game plans during his time in Columbus. As a Tressel disciple, Hazell places an emphasis on special teams and turnover margin, two areas where Kent State excelled this season.
He's a New Jersey native who worked as an assistant at Rutgers, which will join the Big Ten as a new member in a few years (most likely 2014). Hazell, 48, also has coached in West Virginia (WVU), Michigan (Western Michigan), New York (Army), Pennsylvania (Penn) and Illinois (Eastern Illinois). His ties to New Jersey should be beneficial in recruiting, as the Mid-Atlantic region takes on added importance because of the Big Ten's expansion. Hope looked to his home state of Florida for talent. Don't be surprised if Hazell does the same with New Jersey.
Hazell's hire also is significant for the Big Ten. I wrote in February about the
Big Ten's lack of minority football coaches
, and took a lot of heat for it. The league has had only three African-American coaches -- at only two schools -- in its history and none since Bobby Williams at Michigan State (2000-2002). While other leagues had seen increases in the hiring of coaches of color, the Big Ten had not. Hazell becomes the fourth African-American coach in league history, and he's certainly qualified for the job.
Purdue is one of three Big Ten schools (Illinois, Nebraska) that had never hired an African-American coach in football or men's basketball. It's nice to see that change.
Hazell faces tough challenges at Purdue. Joe Tiller (1997-2008) and Jim Young (1977-81) are the only Boiler coaches with winning records since Jack Mollenkopf's tenure ended following the 1969 season. Although Burke feels Purdue has invested enough in its football program, Hazell soon will realize that he's not at Ohio State. The state isn't flush with top-level recruits, although I'd expect Hazell's local recruiting efforts to be stronger than Hope's.
Perhaps most important, Purdue needs to generate some buzz around its program again, as attendance has been on the decline. Hazell isn't a huge name, but he has a good track record and presents himself very well publicly. Purdue fans will like him, and while he doesn't have as much head-coaching experience as Jones, he's no stranger to leadership roles.
Hazell also enters the easier division (Leaders) in the Big Ten. Although he has to contend with his former employer in Ohio State, the other programs are struggling, transitioning or both.
I like this hire for Purdue, and while I'll take some heat for this again, I like it for the Big Ten, which had lagged behind in minority hiring for football.
There's only one problem with Hazell, and it's a major one: no mustache. It's a job requirement for the Purdue coach, and a potential deal breaker. Better lose that razor for a while, Darrell.
Jones would have been a nice get for Purdue, but don't be surprised if Hazell makes more sense in the long run. Good choice.
May, 23, 2012
5/23/12
9:00
AM ET
Most Big Ten coaches label their jobs with a capital D for destination. When a head coach arrives on a Big Ten campus, he usually isn't looking for his next stop. Big Ten fans take pride in this.
The league has been largely immune from the wandering-eye coaches who leave programs at inopportune times for the next big thing. Even the Big Ten programs that could be classified as stepping stones haven't been left in the lurch very often in recent years. While it's not shocking that a Big Ten coach hasn't jumped to a different college job, it's a bit of a surprise that the NFL hasn't plucked one away.
[+] Enlarge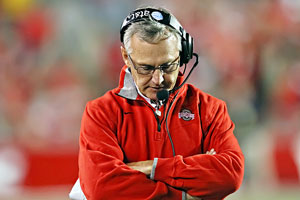 Icon SMIJim Tressel resigned after his involvement in the Ohio State tattoo/memorabilia scandal.
The last Big Ten coach to voluntarily leave his team at a less-than ideal time was Nick Saban, who ditched Michigan State for LSU on Nov. 30, 1999. Saban had led the Spartans to a 9-2 record, a No. 10 national ranking and berth in the Florida Citrus Bowl. Although then-Michigan State athletic director
Clarence Underwood praised Saban
for putting the program "back on solid ground," Saban's departure put the school in a tough situation. Less than a week after Saban's departure, Michigan State promoted longtime assistant Bobby Williams to head coach, a decision that didn't turn out well.
After flirting with several bigger-name programs during his time at Northwestern, Gary Barnett finally left to take the Colorado job on Jan. 20, 1999, just weeks before national signing day. Although Northwestern immediately named Barnett's replacement, Randy Walker, the drawn-out saga wasn't much fun, given what Barnett had meant to the school.
But since Saban and Barnett, the Big Ten hasn't had any coaches voluntarily leave at bad times. There have been some midseason firings (Tim Brewster at Minnesota, Williams at Michigan State) and some late firings (Rich Rodriguez at Michigan, Glen Mason at Minnesota), but in those cases the schools, not the coaches, made decisions that put themselves in tough situations.
The most recent instances of coaches leaving Big Ten programs in tough spots involved two men who certainly didn't walk away on their own terms.
After months of scrutiny stemming from the tattoo/memorabilia scandal and his attempted cover-up, Jim Tressel resigned his post as Ohio State's coach on Memorial Day of 2011. Tressel stepped down just three months before the season and with spring practice all wrapped up. Ohio State knew it would be without Tressel for the first five games of the 2011 season, but his resignation under pressure left the program scrambling.
The school named 37-year-old assistant Luke Fickell, who had never been a head coach before, to the top job. After six consecutive seasons of Big Ten titles (won or shared), Ohio State went 6-7 under Fickell last fall, its first losing season since 1988 and its first seven-loss season since 1897. Ouch.
But the ugliest and most untimely departure was yet to come. Five days after former Penn State assistant Jerry Sandusky was arrested on child sex abuse charges, Penn State's board of trustees voted to fire longtime coach Joe Paterno. The date: Nov. 9. Penn State was 8-1 at the time, and 11 days earlier Paterno had recorded his 409th coaching victory, moving him past Eddie Robinson for the most wins in college football history. Hours before the board's decision, Paterno had announced he would retire following the season, his 46th as head coach. Instead, he was informed via telephone that his tenure was over, which triggered a backlash from Penn State students and fans.
The school promoted longtime assistant
Tom Bradley
to interim head coach. Bradley led the team during a hellish eight weeks that featured, among other things: a 1-3 record that knocked Penn State out of the Big Ten race; snubs by several bowl games who didn't want to deal with a p.r. nightmare; the announcement that Paterno had been diagnosed with lung cancer; a locker-room fight that left starting quarterback
Matthew McGloin
concussed and unable to play in the bowl; and a seemingly rudderless coaching search that took too long and put Bradley in an awkward situation.
In six months, two iconic Big Ten programs lost incredibly successful coaches under extremely messy circumstances.
A Big Ten coach bolting for an NFL job suddenly doesn't sound so bad.
October, 29, 2010
10/29/10
10:11
AM ET
It's probably good that Wisconsin has an open week. I'm not sure Madison could handle a football game featuring the nation's No. 10 team and
Freakfest
in the same 24-hour span.
Oh, yes, it's Halloween weekend in Big Ten country. Hopefully, we'll get some
crazy costumes
and thrilling games, in no particular order. For the third straight Halloween, I'll be going as a tired sports blogger.
To get you scared and prepared, I've put together this Big Ten Halloween primer.
Enjoy ...
Haunted House:
Ohio Stadium remains the most intimidating venue in the Big Ten, if not the country, especially at night. It has a lot to do with the team that calls The Shoe home, but a large, rowdy and passionate crowd decked out in red creates a Dante's Inferno-like environment for games.
[+] Enlarge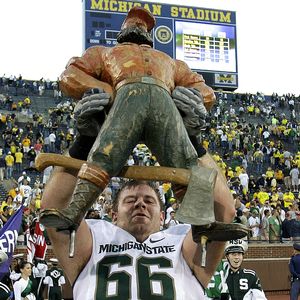 AP Photo/Carlos OsorioThe Paul Bunyan Trophy was first introduced for the 1953 Michigan-Michigan State game.
Trick-or-treat:
There's plenty at stake throughout the Big Ten on Saturday, but particularly at Kinnick Stadium. Michigan State can stay in the national title picture with a victory that would improve its record to 9-0, while an Iowa loss would effectively remove the Hawkeyes from the Big Ten title race. Rich Rodriguez and the
Michigan Wolverines
also face a pivotal game at Penn State after dropping two in a row.
Jigsaw team:
Purdue has been piecing together its depth chart all season because of injuries and other factors. The Boilers entered the year without top running back
Ralph Bolden
(torn ACL) and backup quarterback
Caleb TerBush
(academically ineligible) and then lost starting quarterback
Robert Marve
and top wide receiver
Keith Smith
to season-ending knee injuries. Wideout
Justin Siller
(foot) also has missed time, and quarterback
Rob Henry
is a game-time decision Saturday with a laceration on his throwing hand. Coach Danny Hope and his assistants really have been challenged in their game-planning and preparation.
Witchcraft:
Michigan quarterback
Denard Robinson
has been the most spellbinding player in the Big Ten and perhaps all of college football this season. The speedy sophomore already has recorded the top three offensive performances in team history this season. He ranks second nationally in rushing average (156.7 ypg) and has eclipsed 100 rushing yards in six of seven games. Robinson also ranks 16th nationally in quarterback rating (159.1).
Jack-O-Lantern:
Penn State really needs the light to go on for senior running back
Evan Royster
down the stretch. Royster, a first-team All-Big Ten selection in 2009, has only one 100-yard rushing performance through the first seven games. Given the injuries on defense and now at quarterback with Rob Bolden, the Lions really need Royster to start producing if they want to make a bowl game.
Black Cat:
They prefer purple, but the
Northwestern Wildcats
have three wins against ranked opponents in November since 2008. The Wildcats will get two more chances for upsets next month against Iowa (Nov. 13) and Wisconsin (Nov. 27), two teams they beat last season. Michigan also could play spoiler as it takes on both Wisconsin (Nov. 20) and Ohio State (Nov. 27). Penn State could be the ultimate spoiler if it hosts a potentially undefeated Michigan State squad on Nov. 27.
Twilight Zone:
Minnesota would love a do-over after dropping seven consecutive games. Everything went downhill after a Sept. 11 loss to FCS South Dakota, which shredded the Gophers defense for 41 points. Minnesota never recovered and coach Tim Brewster was fired Oct. 17, becoming the first Big Ten boss dumped midseason since Michigan State dismissed Bobby Williams in 2002.
Thriller:
This label applies to Michigan State, which has provided the most exciting play of the Big Ten season, a fake field goal in overtime that went for a touchdown to beat Notre Dame. The Spartans followed up "Little Giants" with "Mousetrap," a fake punt pass into the wind last week at Northwestern when they trailed 24-14 in the fourth quarter. It has been quite a thrill ride for the Spartans and their fans through the first eight games.
May, 29, 2009
5/29/09
11:24
AM ET
Posted by ESPN.com's Adam Rittenberg
Big Ten commissioner Jim Delany has called league expansion a "back burner issue" more than once in recent weeks.
Well, here's one for the conference to put on the front burner.
The hiring rate of minorities to head coach and coordinator positions remains well below what it should be in college football, and it's reflected in the Big Ten.
The league has one minority head coach -- Michigan's Rich Rodriguez is Hispanic -- and only two minority coordinators in Michigan offensive coordinator Calvin Magee and Michigan State offensive coordinator Don Treadwell.
The league had six coordinator changes during the offseason, including the departure of Illinois offensive coordinator Mike Locksley, who became one of six black head coaches in the sport when he took over at New Mexico. But none of the vacancies was filled with a minority candidate.
The Big Ten has had only three black head coaches and only one, Michigan State's Bobby Williams, since 1991. Northwestern had consecutive black head coaches from 1981-91 in Dennis Green and Francis Peay.
Before Michigan hired Rodriguez, the Big Ten had only one other minority head coach in the last two decades -- Wisconsin's Barry Alvarez, one of the most successful coaches in recent league history.
"It's not more of a concern today than it was a year ago or two years ago, but it's a constant focus," Iowa athletic director Gary Barta said of minority coach hiring. "We want diversity on our campus from the president's office to the faculty, including the athletic department. And the only way you get that is through purposeful recruitment. It's not just who applies. It's who you're looking at and who you're developing through your ranks."
August, 6, 2008
8/06/08
4:25
PM ET
Posted by ESPN.com's Adam Rittenberg
I had hoped to post this earlier in the week during my trek through the state of Michigan but got bogged down with practices, interviews, tours and the like.
E-mailer Steven from Phoenix brings up an interesting note about the Michigan-Michigan State rivalry.
Steven writes:
Hi Adam: I read your predictions on the Big Ten Rival football games this fall. As a Wolverine fan, I hope you're right on the Michigan/Michigan State game because there's an interesting historical note to this series. First year coaches don't typically win in this series. The last coach to win in his first try was Nick Saban for MSU in 1995. But something had to give because he was going up against first year coach Lloyd Carr in the game. Saban is the first coach to win in his first try in at least the last ten MSU coaches. At Michigan, the last coach to win in his first try against MSU was Bennie Oosterbaan in 1948. Bump Elliott, Bo Schembechler, Gary Moeller and Lloyd Carr all failed in their first attempt at beating Michigan State. On another note, first year Michigan coaches are nearly perfect against Ohio State in their first try. Just a couple of notes I thought I'd pass along for future use in case you're interested. You can check out the records to see what I mean. Keep up the good work. Steve
Let's check out the history of first-year coaches in the series since the first rookie coach faced the opposing team in 1911:
First-year coaches in the UM-MSU series
Year
New coach
Team
Game result
2007
Mark Dantonio
Michigan State
Michigan 28, Michigan State 24
2003
John L. Smith
Michigan State
Michigan 27, Michigan State 20
2000
Bobby Williams
Michigan State
Michigan 14, Michigan State 0
1995
Nick Saban
Michigan State
Michigan State 28, Michigan 25
Lloyd Carr
Michigan
1990
Gary Moeller
Michigan
Michigan State 28, Michigan 27
1983
George Perles
Michigan State
Michigan 42, Michigan State 0
1980
Frank Waters
Michigan State
Michigan 27, Michigan State 23
1976
Darryl Rogers
Michigan State
Michigan 42, Michigan State 10
1973
Denny Stolz
Michigan State
Michigan 31, Michigan State 0
1969
Bo Schembechler
Michigan
Michigan State 23, Michigan 12
1959
Bump Elliott
Michigan
Michigan State 34, Michigan 8
1954
Duffy Daugherty
Michigan State
Michigan 33, Michigan State 7
1948
Bennie Oosterbaan
Michigan
Michigan 13, Michigan State 7
1947
Clarence Munn
Michigan State
Michigan 55, Michigan State 0
1938
Fritz Crisler
Michigan
Michigan 14, Michigan State 0
1933
Charlie Bachman
Michigan State
Michigan 20, Michigan State 6
1929
Harry Kipke
Michigan
Michigan 17, Michigan State 0
Jim Crowley
Michigan State
1928
Harry Kipke
Michigan State
Michigan 3, Michigan State 0
1927
Tad Wieman
Michigan
Michigan 21, Michigan State 0
1923
Ralph Young
Michigan State
Michigan 37, Michigan State 0
1921
Albert Barron
Michigan State
Michigan 30, Michigan State 0
1920
George Clark
Michigan State
Michigan 35, Michigan State 0
1918
George Gauthier
Michigan State
Michigan 21, Michigan State 6
1916
Frank Sommers
Michigan State
Michigan 9, Michigan State 0
1911
John Macklin
Michigan State
Michigan 15, Michigan State 3
The history obviously doesn't bode well for Michigan coach Rich Rodriguez, who gets his first taste of the rivalry Oct. 25 at Michigan Stadium. Then again, more first-year Michigan coaches have won their first games in the series than their Michigan State counterparts. And it was interesting to see that even though Schembechler and Moeller lost their first games against State, both coaches guided Michigan to Big Ten championships those seasons.
The best debut? Oosterbaan, whose team beat Michigan State in the season opener before running the table and winning the 1948 national title. A quick note: Michigan coach Fielding Yost didn't face Michigan State in his first season of 1901 even though the series began in 1898.
As for first-year coaches in the Michigan-Ohio State series, the last six Wolverines first-year coaches have won their initial matchup with the Buckeyes. In contrast, four of the last six Ohio State first-year coaches dropped their first game against Michigan.
July, 24, 2008
7/24/08
7:40
PM ET
Posted by ESPN.com's Adam Rittenberg
CHICAGO -- Big Ten commissioner Jim Delany reads your letters and e-mails.
A growing continent of college football fans advocate some sort of playoff system, and they're directing their opinions toward Delany, the man many believe is most responsible for the BCS system staying put. Delany on Thursday reiterated that the Big Ten and the Pac-10 are not the two primary roadblocks to a college football playoff. He said five of the BCS governing members had no interest in a playoff system during meetings this spring, and the two members who expressed interest "weren't committed to the concepts."
The "consensus" among the powers-that-be is that the current system works, but what about the fans? Don't the BCS conference commissioners and the Notre Dame athletic director have a responsibility to listen to the majority of their constituents?
"We do have a responsibility to consider it," Delany said. "My address is well known. I get lots of communications on the subject. I read them all. But I think also we have responsibilities to our schools, to our athletes, to our teams and to the bowl system. ... I will tell you this: in many, many ways the college football fan votes with their feet by going to the games and the college football fan votes by watching the games. I think they're voting fairly affirmatively for what we have."
Playoff proposals present several problems, according to Delany. A playoff would spill into the second semester or occur during final exams, creating problems for the school presidents. A bigger issue is determining which teams would qualify for a playoff, and how many.
"Once you go to a four-team playoff, that means in last year's circumstances, Georgia and (USC) are not included," he said. "That would take about 18 months to be able to make the playoff based on political pressures. Then, you have eight, who should get them? The six conference champions? If you don't give it to the conference champions, then you've really relegated your championship. ... If you give it to all conferences, then you're at 10 automatic qualifiers. I've seen the (NCAA) basketball tournament, the automatic bid is the most important thing. So very quickly, we'd be at a 16-team playoff. The slippery slope argument is there."
Delany also weighed in on several other topics:
Post-Thanksgiving games are likely here to stay in the Big Ten, as coaches requested and received a bye week after previously playing 12 straight games before the holiday. "We have the bye this year, we don't in '09 and in '10 we have it again," Delany said. "And then going forward indefinitely, as far as we have schedules, it will be after Thanksgiving."
Would the Big Ten ever implement a Rooney rule to increase its number of minority head coaches? The league has been underrepresented, with no black head coaches since Michigan State's Bobby Williams (1999-2002). "I wouldn't be opposed to talking about it," Delany said. "The six major conferences have been bringing 18 African-American football coaches, 18 athletic directors, six conference commissioners and search folks together for three years now, the goal being at the end of six years, there will be 100 African-American coaches who know 100 athletic directors. We've got to reach out. We've got to open up."
The Comcast-Big Ten Network deal is done, but negotiations are still ongoing with several other cable providers in the Midwest. "Our job is not finished," Delany said. "We're only in about seven out of 10 homes in the Midwest."
Delany on the Big Ten's recent BCS bowl performance: "We want to play the big games on the big stage, and sometimes you just get whipped, and we did. So you have to kind of nuzzle up to that and sort of accept it. But what I don't like to do is take it further than you should."