NCF Nation:

Boseko Lokombo
August, 28, 2013
8/28/13
10:00
AM ET
Across the ESPN blogosphere on Wednesday, we're looking at players/coaches/position groups with something to prove in each conference. In the Pac-12, the answers should be fairly obvious. Here are 10 from the league in no particular order.
1. Lane Kiffin
: OK, maybe this one is in particular order. USC's head coach is on the hottest seat in America after a disastrous 2012. There were embarrassments for the program on and off the field. That has led to plenty of speculation about what he needs to do to keep his job. Win 10 games? Nine? Win nine and beat UCLA or Notre Dame? Or both? This is a storyline that will no doubt carry deep into the season.
[+] Enlarge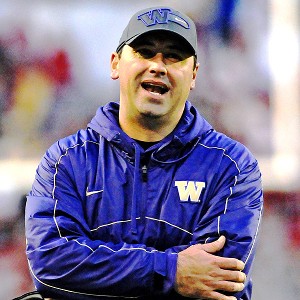 James Snook/US PresswireLane Kiffin isn't the only Pac-12 coach feeling growing pressure for a successful season.
2. Steve Sarkisian:
His seat isn't as hot as Kiffin's. But the heat index has certainly risen in the wake of another seven-win season. The Huskies have a lot of returning talent – including a quarterback with potential, a healthy offensive line, an outstanding running back and receivers (including TE), and a fairly veteran defensive core. The pieces are in place for Washington to, at the very least, get over the seven-win hump. Seven wins or fewer will be met with harsh criticism and questions about whether Sarkisian is the right guy for the job.
3. Oregon's linebackers
: This appears to be the only question mark for the Ducks, at least on paper, because they have a solid front and an outstanding secondary. Losing Michael Clay, Kiko Alonso and Dion Jordan is a big hit in terms of production, talent and leadership.
Boseko Lokombo
is a veteran presence, and
Tony Washington
,
Derrick Malone
and
Rodney Hardrick
have all been in the system for a few years. If they can match the production of their predecessors, the Ducks should be fine defensively.
4. Stanford's wide receivers:
Ty Montgomery
headlines this list. At the end of 2011, he showed explosive playmaking ability and his future looked sparkling. But injuries slowed him in 2012. With the Cardinal doing some overhauling after losing their top two tight ends, the receiver spot will likely take on more emphasis in 2013. Players such as
Devon Cajuste
,
Michael Rector
and
Kelsey Young
will need to be productive as well.
5. Paul Richardson
: The Colorado receiver missed all of last season with a knee injury and had to sit and watch his team fall apart around him. The Buffaloes went 1-11 and their coach was fired. A new coach, a new offense and a new enthusiasm in Boulder is motivating Richardson
to make up for lost time.
He is Colorado's most explosive player and knows he has the potential, and responsibility, to carry the offense. Now he just has to go out and prove he can do it.
6. Oregon State's receivers
: We know what we're getting with
Brandin Cooks
. He proved last season that he's an outstanding player. How much of that, however, was a product of the guy across the field, Markus Wheaton? With Wheaton gone, either
Richard Mullaney
or
Obum Gwacham
will have to step up as a complementary threat to Cooks -- along with
Kevin Cummings
in the slot.
7. QBs, old and new
: Not all the quarterback competitions are completed. But whoever wins the job at Arizona and USC will likely be looking over his shoulder for the bulk of the season.
Connor Wood
is back in the starting role for Colorado, true freshman
Jared Goff
gets the start for Cal, and
Sean Mannion
finally won Oregon State's job after a grueling seven-month competition with
Cody Vaz
. Nothing is set in stone at Washington State, so
Connor Halliday
will need consistent play to hold the job (we're assuming, for now, that it's Halliday). Expect these players to be under the microscope all season.
8. UCLA's running backs:
There are big shoes to fill with the departure of running back Johnathan Franklin, the school's all-time leading rusher and a Doak Walker finalist last year. Jim Mora has said that he'll likely use five backs throughout the season.
Jordon James
is the front-runner of the committee and has the best opportunity to distance himself. But expect
Paul Perkins
,
Malcolm Jones
,
Steven Manfro
and
Damien Thigpen
(health pending) to all fight for time and carries.
9. Utah's secondary
: It's not necessarily young. Just inexperienced. And in a pass-happy league, that could spell trouble. Free safety
Eric Rowe
has the most playing time among the group. Cornerback
Davion Orphey
is a juco transfer and opposite him is
Keith McGill
, a former safety and juco transfer who appeared in five games in 2011 but suffered a season-ending injury and then missed all of 2012. There is talent there. It's just mostly untested.
10. Arizona State:
Yep, the whole team. This is what you wanted, ASU fans … for the sleeping giant to be awoken. The alarm clock just went off. Now it's time to prove all the hype is worth it. A challenging schedule early -- including Wisconsin, Stanford, USC and Notre Dame in consecutive weeks -- will be a good measuring stick. Though the USC game is really the one that has South title implications. Still, the other three will go a long way toward determining how ASU is viewed nationally. Going 1-3 and beating USC wouldn't be disastrous. Going 0-4 will draw the requisite "same old ASU" criticisms.
November, 11, 2012
11/11/12
3:49
AM ET
BERKELEY, Calif. -- There were some nerves. There was some trepidation. As Chip Kelly put it, there was some fear that "Coach Kelly's head might fall off."
Yes, the Oregon players knew what happened to No. 1 Alabama before they took the field Saturday night against California. And when Kelly gathered the team around for the final meeting, he could feel the tension.
So he broke it, and as a team they talked about it.
"Everyone has a phone," Kelly said following his team's
59-17 victory
over the Bears at Memorial Stadium. "They were all looking around, so I said, 'I'll tell you, Alabama lost.' I think people were afraid to talk about it. Just because they won or lost shouldn't affect us. I felt like I had to address it so they didn't know if we talk about it or not talk about it. I didn't want them worried that Coach Kelly's head would fall off if we talk about it. I told them and said, 'Hey, they lost, what does that have to do with us?'
"The outcome of that game shouldn't affect us. Our deal is did we have a good Monday? Yes. Did we have a good Tuesday? Yes. Did we have a good Wednesday? Yes. That's what's going to help us play well tonight, not the fact that somebody else in another part of the country lost a football game."
Said linebacker
Michael Clay
: "It was like walking on egg shells. And when he addressed it, it was like a huge weight off of our shoulders. It was very freeing."
And for quarterback
Marcus Mariota
, it served as both ice-breaker and crucial reminder.
[+] Enlarge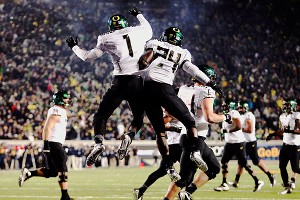 Kelley L Cox/US PresswireJosh Huff (1) and Kenjon Barner celebrate the first of Huff's three touchdown grabs in Oregon's rout.
"You could feel the relief," he said. "It was kind of a tense thing because you already have so much stuff on your mind. It really reminded us that every game counts and we have to understand that other games don't affect us and we have to take care of our own business."
And Mariota did just that. The redshirt freshman matched an Oregon record by tossing six touchdowns on 27-of-34 passing for 377 yards with no interceptions.
With the Bears selling out to stop the run, the Pac-12's top rushing team managed just 180 yards on the ground. But Mariota picked up the slack, finding
Josh Huff
three times for scores and tight end
Colt Lyerla
twice for touchdowns.
"He's a special player," Kelly said of his quarterback. "He keeps getting better and better. They did some things today where we felt like they were going to try to take away the run game and play some zone coverage on us. He's got to do a good job figuring out what they are in, and it seemed like he was on target and making the right reads and making good decisions. You keep seeing him better and better each week."
So instead of blowing a team out in the first 30 minutes, it took Oregon 45 against a Cal squad that challenged an injury-depleted Oregon defensive line.
Isi Sofele
rushed for 134 yards and a touchdown against a front that -- at one time -- featured three true freshmen and one redshirt freshman.
"Normally, Oregon backs break for 75-yard runs, but it wasn't happening today," said Cal linebacker
Chris McCain
. "I felt like defensively we did pretty well to stop their run, but the passes got to us."
None bigger than Mariota's 35-yard touchdown to Huff midway through the third quarter. Cal had narrowed the gap to 24-17 in early in the third quarter. A few possessions later,
Allan Bridgford
was intercepted by
Boseko Lokombo
at the Cal 35. On the next play, Mariota connected with Huff to put Oregon ahead 31-17.
"I thought that two-play sequence might have been the game-changing part of it," Kelly said. "It was kind of a back-and-forth game. I felt like we got some distance."
From there, Oregon scored four more second-half touchdowns. And as the Bears were forced to go to the air, the young defensive line started to get some pressure up front.
"You hear people talk about, 'Well, we're young.' Too bad, you gotta go," Kelly said. "We've recruited kids and told them they'll have an opportunity to play. They've prepared for it. ... They don't act like young guys, and that's something we're looking for. I think this young group is more mature than any young group I've been around."
October, 19, 2012
10/19/12
12:28
AM ET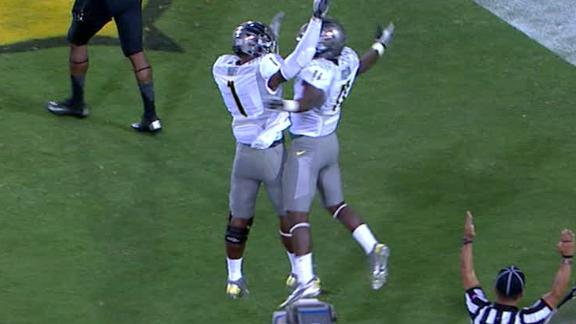 Both Arizona State and Oregon were looking to make statements. One succeeded. Here's how the Ducks ran away with it,
43-21
, on the road:
It was over when:
On the first play of the second quarter Arizona State quarterback
Taylor Kelly
was intercepted by
Boseko Lokombo
. It was Kelly's first interception in 103 attempts. Three plays later,
Kenjon Barner
plowed ahead on a 1-yard touchdown run to put the Ducks ahead 29-7. You could certainly argue it was over before that, but this one felt like the proverbial nail in the coffin.


It was really over when:
Jesse Palmer and Rece Davis started sucking down burgers in the TV booth (11:23 in the second quarter).
Game ball goes to:
Oregon running back Kenjon Barner, who rushed for 143 yards on 16 carries with three touchdowns -- including a 71-yard touchdown run.
The cycle:
A rare statistical achievement for Oregon quarterback
Marcus Mariota
, who had one passing touchdown, one rushing touchdown and a receiving touchdown.
Stat of the game, 20:
That's how many consecutive games Oregon has scored at least 30 points.
Fun stat of the game, 195:
The number of pushups between The Duck and Sparky (153 for the Duck, 42 for Sparky).
Unsung hero:
Oregon linebacker
Dion Jordan
had two sacks and five tackles (all in the first half) to stymie Taylor, who was 10-of-18 for 93 yards with a touchdown and two interceptions.
Unsung hero II:
Snaps to ASU running back
D.J. Foster
for his touchdown in the fourth quarter. It was a 23-yard run on fourth-and-6 following a swing pass from
Michael Eubank
. He cut back across the middle of the field, broke two tackles and kept his balance for the score.
What it means for Arizona State:
Nothing left to do but pick up the pieces, because this was a kick in the teeth. It didn't help that they lost
Will Sutton
on the second play of the game. That was a factor -- but only on defense -- because Sutton doesn't impact what they do on offense. The Sun Devils can't let this game beat them twice because they've got UCLA next week followed by Oregon State and USC. One bad loss could turn into a tailspin if they can't bounce back.
What it means for Oregon:
Business as usual for the third-ranked Ducks. Another week, another blowout win. They've got Colorado next week before that big showdown at USC on Nov. 3. If they didn't turn heads in this game, they can certainly do it on Nov. 3 with a similar performance.
December, 29, 2011
12/29/11
11:30
AM ET
Let's play a quick game of fill in the blank: Oregon fans are ... What comes to mind? Keep it clean, folks. Behave!
Yes, it is fair to say that Oregon fans have eagerly, zealously and vociferously embraced the recent success of their team. The seed that was planted when Kenny Wheaton went the other way against Washington in 1994 is now a full-grown oak, and Oregon fans enjoy pointing out that their oak is more stately and beautiful than yours.
[+] Enlarge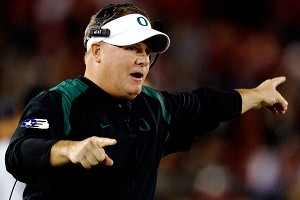 Jason O. Watson/US PRESSWIRENCAA sanctions appear to be the only thing that could derail Chip Kelly's Oregon juggernaut in the near future.
Eleven other Pac-12 teams want Oregon to go away. We have bad news for those 11. Not happening.
With the Rose Bowl on Jan. 2 against Wisconsin, the Ducks are playing in their third consecutive BCS bowl game. No other team in the country has played in three consecutive BCS bowl games. But this rise to the nation's elite started before this run of conference success. Oregon's first taste of national title contention was in 2000 and 2001. After a middling, post-Joey Harrington, pre-Chip Kelly interim, it was ranked No. 2 and a national title contender in 2007 before quarterback Dennis Dixon blew out his knee. Oregon finished the 2008 season ranked 10th. It finished 11th in 2009 after losing the Rose Bowl to Ohio State. It finished third in 2010 after losing to Auburn in the national title game.
While opposing fans can still pull out the "They haven't won a BCS bowl game under Kelly" card, that tweak comes from beneath the Ducks in the Pac-12 pecking order, so as ripostes go, it's rather pyrrhic.
And the Ducks, even if they lose to Wisconsin, will be a preseason top-10 team in 2012, probably top-five if they win the Granddaddy. There certainly is a lot to like about the depth chart.
Not including junior running back
LaMichael James
, who is likely off to the NFL, the Ducks should welcome back six starters on offense, six on defense and both specialists in 2012. But that doesn't tell the entire story.
For one, the Ducks will have a two-year starter returning at quarterback in
Darron Thomas
. While Thomas has had runs of inconsistent accuracy, there are two bottom lines: He's 22-3 as a starter and has thrown 63 touchdown passes with just 16 interceptions.
But what's notable about the Ducks' depth chart is not just returning starters.
Oregon only lists a two-deep. That means 44 players on offense and defense. Of the 22 names on offense, just four are departing seniors, not including James. Of the 22 names on defense, just six are seniors.
And most of the players who are leaving -- or are expected to leave, as in James' case -- are presently backed up by intriguing young talents who already have significant game experience. James leaving? Well, you all know who
Kenjon Barner
is. Tight end
David Paulson
? Freshman
Colt Lyerla
caught five touchdown passes this season. Lose two offensive linemen? Junior Ryan Clanton and freshman Jake Fisher have seen plenty of action. Lose two linebackers? Kiko Alonso has started five games and Boseko Lokombo has played a lot. Cornerback Anthony Gildon out the door? Redshirt freshman Troy Hill has started five games while Gildon has been hurt (and is doubtful for the Rose Bowl).
Further, the Ducks have some redshirt freshmen on both sides of the ball -- particularly at linebacker and receiver -- who figure to make an impact next year. Receivers
Devon Blackmon
,
Tacoi Sumler
and
B.J. Kelley
were highly touted 2011 signees, who could bolster the Ducks passing game.
If you were connecting the dots, you'd actually project the Ducks to be better in 2012 than their 2011, 11-2, Pac-12 champion selves.
And, even with the loss of Thomas after next season, the Ducks appear to set up nicely for 2013. And beyond.
I know. I know. Fans of those 11 other Pac-12 teams are jumping up and down and waving their arms, bellowing, "What about Willie Lyles and the NCAA?"
True, major NCAA sanctions would seem the mostly likely way the Ducks get knocked from their ascent to the nation's elite. And it could happen. You never know with the NCAA.
But the more I talk to people who make educated guesses on NCAA investigations, not to mention a few who have specific knowledge of the NCAA's inquiry into the Ducks, the more I'm leaning toward the position that the NCAA will not pound Oregon. I suspect sanctions will fall short of what Ohio State
recently received
.
Of course, I thought USC would receive less severe penalties than Alabama
received in 2002
, so I've also learned to not expect the NCAA to be logical and fair.
The point is this: If you are wondering what Oregon is likely to be doing in, say, 2014, my projection is they still will be annoying 11 other teams.
The Ducks aren't going to go away.
December, 6, 2011
12/06/11
8:32
PM ET
By
Gregg Found
| ESPN.com
There were 770 games played in the 2011 college football season. We give you the 10 plays that shaped the BCS Championship race.

1. Tyrann Mathieu returns fumble for TD
LSU 40, Oregon 27
Significance: These top-five teams were locked in a 6-3 game. The Tigers went three-and-out and punted, but
Kenjon Barner
fumbled the return at the three and LSU's playmaker snapped it up and went into the end zone for a momentum-shifting score.
2. Kirk Cousins completes 44-yard Hail Mary to Keith Nichol
Michigan State 37, Wisconsin 31
Significance: Wisconsin had its eyes on a perfect regular season and a spot in the title game. But after a last-second heave, ricochet, catch and then video review, that dream was dashed.

3. Oklahoma misses 28-yard field goal vs Texas Tech
Texas Tech 41, Oklahoma 38
Significance: The Sooners were preseason No. 1 and still undefeated, but trailed 31-7 at home. They mounted a comeback, but after Michael Hunnicutt's missed FG from 28 yards out there wasn't enough time left to overcome a 10-point deficit.
4. Tajh Boyd gets intercepted in the end zone
Georgia Tech 31, Clemson 17
Significance: Down 14 points, Clemson had just intercepted Georgia Tech, getting the ball at Georgia Tech's nine-yard line. But on the first play, Boyd was picked by Jemea Thomas, ending the Tigers' comeback and dashing their national-title hopes.

5. LSU's Eric Reid intercepts Alabama at the 1-yard line
LSU 9, Alabama 6 (OT)
Significance: In a 6-6 game in the fourth quarter, LSU's Eric Reid wrestled the ball away from Alabama TE
Michael Williams
at the one-yard line for an interception, preventing what could have been the winning score. LSU would win it in overtime.
6. Boseko Lokombo picks off Andrew Luck and returns it for TD
Oregon 53, Stanford 30
Significance: This was Stanford's last major obstacle to a perfect regular season. Down 16 points, Luck had Stanford driving. But the pick ended those hopes, putting the game out of reach and handing the Cardinal its only loss of the season.

7. Boise State misses 39-yard field goal as time expires
TCU 36, Boise State 35
Significance: Playing on the home turf where they had been dominant for so long, the Broncos went down a point after TCU made the gutsy call to go for two. But Boise drove down the field before Dan Goodale sailed his kick wide right as time expired and the Broncos were no longer unbeaten.
8. Brandon Weeden's pass intercepted in first play of second overtime
Iowa State 37, Oklahoma State 31 (2 OT)
Significance: The Cyclones came back from a 24-7 deficit to tie the game at 24 heading into overtime. But on the first play of the second overtime, Brandon Weeden was intercepted. Three plays later Iowa State scored to end Oklahoma State's dream.

9. Oregon misses 37-yard field goal as time expires
USC 38, Oregon 35
Significance: Even after their season-opening loss, the Ducks still had a shot at the BCS Championship. But USC, ineligible for postseason play, gave the Ducks a battle at Autzen Stadium. Down three, Oregon had the chance to send it into overtime. But Alejandro Maldonado missed a 37-yarder.
10. Robert Griffin III completes 34-yard TD pass with :08 left
Baylor 45, Oklahoma 38
Significance: Just like Oregon, Oklahoma still had a chance to sneak back into the title picture despite a loss. But Baylor's Heisman candidate Griffin shocked the Sooners with a game-winning touchdown pass with eight seconds left.
To see images of these plays,
click here
.
October, 13, 2010
10/13/10
8:18
PM ET
Oregon coach Chip Kelly channeled Bizarro World Allen Iverson this week.
We're (not) talking about practice, man. We're (not) talking about practice. We're (not) talking about practice. We (can talk) about the game. We're (not) talking about practice.
Kelly closed practices this week -- a bye week, no less -- and won't say anything about what happened during practice, which means fans and media will have to keep guessing as to the health of quarterback
Darron Thomas
(shoulder) and backup running back
Kenjon Barner
(concussion). We know this because of a wonderful, testy exchange on the Pac-10 coaches conference call between a good, persistent beat writer -- the Eugene Register-Guard's Rob Moseley -- and Kelly, who never gives in to reporters' questions.
(You can
listen to it here
-- the exchange starts at 1:19).
[+] Enlarge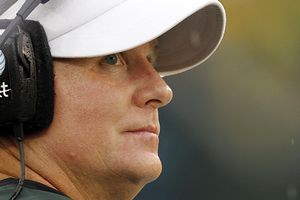 AP Photo/Don RyanChip Kelly and Oregon have closed practices to the media. The Ducks play just one game during a 20-day stretch this month.
Moseley asked about Barner's status: "I'm not talking about that. Practice is closed, Robby, that's why we closed it. I'm not going to discuss practice," Kelly said.
Moseley followed up by asking why Kelly closed practice (the decision preceded the injuries on Saturday): "I thought that's what our football team needed, so we don't have to deal with questions like this," Kelly said.
(Moseley later felicitously
noted this on his blog
: "This struck me as odd. He closed practices so that he wouldn't have to face questions like, "Why did you close practice?" Seems to me that, had he not closed practices, the odds were pretty low that I would have asked that question.")
Pac-10 coaches tend to be an open and affable group, unlike the reputations of a number of SEC, Big 12 and Big Ten coaches. And Kelly is no exception, though he can be a bit grumpier than most at times. Most teams have open practices (until Kelly's move only California and Stanford completely closed practices). But a gigantic, pink polka dotted elephant has wandered into Eugene and parked itself in front of Autzen Stadium, and this exotic interloper seems to have made Kelly even more intense than usual.
The elephant's name, by the way, is "National Championship Talk." But you can call her "Natty Champ" for short.
Kelly is trying to ignore this elephant, who is known to be fickle with her affections.
I stopped laughing just after the Moseley-Kelly exchange and was able to ask Kelly how he planned to shield his team from all the hype that is simmering around it.
"We don't shield our team," he said. "I think our kids can read whatever they want to read. I don't talk about that. But they also know that it means absolutely nothing. You can just look at Alabama. They were the No. 1 team in the country and they lost. Now they're the No. 8 team in the country. So I don't shield my team. I know our kids can read the paper. I know our kids can read the Internet. But we don't need to discuss it. Because it means nothing."
The Ducks have been here before, though not as an undefeated team. They were 8-1 and ranked No. 2 in 2007 before an ill-fated trip to Arizona. Not sure if any Ducks fans will remember this, but quarterback Dennis Dixon's knee blew up in the first half, the Ducks lost and national title hopes went splat. They then meandered through their next two contests and ended the regular season with a three-game losing streak.
That season is not only noteworthy as a parallel but also as an example of what is different now. When Dixon went down -- and he was only the biggest name on a long injury list that season -- there was no one capable of adequately filling his shoes. The Ducks were shut out -- think about that: Kelly's offense shut out! -- in their next game at UCLA.
But when Thomas went down against Washington State, senior
Nate Costa
, who lost a close battle for the starting job during the preseason, stepped in and the offense just kept doing its ludicrous speed thing. Costa completed 13 of 15 passes for 151 yards and a TD. And he rushed eight times for 84 yards and a score.
"It just speaks to the depth we have in this football program," Kelly said. "It's just like bringing Michael Clay in at linebacker or Boseko Lokombo or Cliff Harris or Josh Huff. We have depth at a lot of different spots right now, and that's paying off for us."
The Ducks don't play again until UCLA comes to town on Oct. 21 for a Thursday night, ESPN game, so there's time for Thomas and Barner to heal, though the best guess is there will be no rush to get Barner back on the field after taking a huge hit against the Cougars that knocked him out and required two nights of hospitalization. There then will be a long week of preparation before the visit to USC on Oct. 30, which remains a big game even though it doesn't have the same gravitas that it appeared to have during the preseason.
So the Ducks have one game in a 20-day span. That's plenty of time for Thomas to get healthy (and perhaps Barner). And if Thomas still needs a few more weeks, the offense remains in good hands with Costa.
In other words, things are setting up nicely for the Ducks to remain in the national title hunt.
Chip, "Natty Champ" really is cute. You don't have to ignore the elephant in the room.
"We don't run this football program based on outside influences," Kelly said. "People saying you're this or that, whether you're good or bad. I don't think you can do that. We don't as a coaching staff talk about it. We as a group don't talk about it. Our players, when I listen to them talk, they don't talk about it either."
And Kelly most certainly is not going to talk about practice.