May, 15, 2014
May 15
1:30
PM ET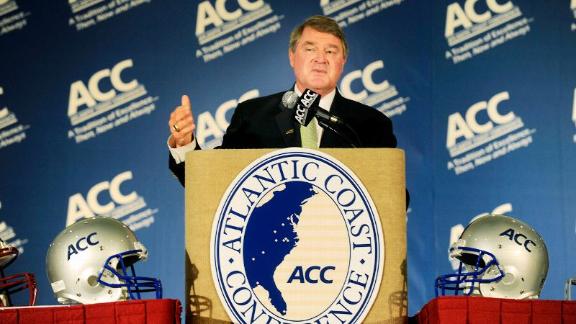 AMELIA ISLAND, Fla. -- The dysfunction that greeted the ACC during its spring meetings over the past several years was replaced with an odd feeling this time around, a sense that even commissioner John Swofford noticed as he looked across the room.
Normalcy.
All 15 schools represented in these meetings are league members moving forward, giving the ACC added momentum as it heads into a new era in college football. Perhaps that is why it was so easy to come to
a scheduling decision
that had been years in the making. There are no more doubts, no more questions about where this league is headed.
Aside from the lingering question about legislation to change how conference championship games are governed, this league has set its course into the future, a course it believes will allow its teams to thrive and contend for national championships.
"

We have a lot of momentum from a league standpoint and specifically a football standpoint. It makes a world of difference to win a national championship, but along with that to have Clemson beat Ohio State in the Orange Bowl. ... The national championship was terrific, but that additional win over Ohio State really complements the national championship aspect of it, and having 11 bowl teams.

"

-- ACC commissioner John Swofford
That course means staying with eight league games, but adding a requirement that all schools must play at least one power-five opponent per season. That course meant minimal discussion on changes to divisions in order to see how the current scheduling model plays out. That course meant focusing on the future, and building off the football success the ACC had a year ago.
Indeed, the league went into these meetings facing all these critical decisions. There almost seemed to be a requiem for change, with the College Football Playoff coming, strength of schedule taking on greater importance and general unease about cross-divisional scheduling. The ACC could have radically changed. Instead, it opted to stay the course.
Who can blame the league, really? What the ACC did last season worked, as Florida State won a national championship and Clemson made the Discover Orange Bowl. A five-game scheduling partnership with Notre Dame will only enhance schedules in the ACC. There was no real need to change.
Not yet, anyway.
"We have a lot of momentum from a league standpoint and specifically a football standpoint," Swofford said Thursday as the spring meetings wrapped up. "It makes a world of difference to win a national championship, but along with that to have Clemson beat Ohio State in the Orange Bowl. We spent some years not doing well in the BCS and we finished with three straight wins in our BCS games. The national championship was terrific, but that additional win over Ohio State really complements the national championship aspect of it, and having 11 bowl teams."
Now comes the wait-and-see approach on multiple fronts. The ACC and Big 12 have submitted legislation to the NCAA, asking that leagues with 12 teams and two divisions no longer be required to hold conference championship games. An answer is expected in August, and Swofford believes the legislation will pass.
But that does not necessarily mean the ACC will change its championship game setup. Views are mixed among athletic directors on whether the current division champion model should be kept in place, or whether divisions should be scrapped entirely to create opportunities to play league opponents more frequently and have its two best teams play for the league title.
"I don't think people should necessarily interpret our pushing this forward to mean we'd definitely change what we're doing but it would give us the flexibility to," Swofford said. "If that occurs, we'll have a thorough discussion about it."
So why push forward legislation at all?
"As much as anything, it's the principle of the thing," Swofford said. "We feel conferences should have the freedom to make that decision."
The league also must take a wait-and-see approach on how the College Football Playoff committee ends up evaluating the strength-of-schedule component. Will eight league games plus one nonconference game against a power-five team be viewed as challenging enough when it comes time to selecting the top four teams?
"That remains to be seen," Boston College athletic director Brad Bates said. "We're entering in the first year of the playoffs and we'll see what is rewarded ultimately on the back end of it, and I think that's going to shape people's philosophy on how they approach scheduling in the future."
The ACC may very well change somewhere down the line. But for now, going with what is known is the best philosophy to have. Normal probably never felt so good.
May, 12, 2014
May 12
9:00
AM ET
The ACC opens its spring meetings today with critical decisions to be made about its future. And we are not just
talking about scheduling
.
Divisional structure, potential changes to the championship game and more discussion about a possible ACC Network are all on the table as league athletic directors, coaches and administrators gather in Amelia Island, Florida, for the next four days.
Each topic is carefully interlaced and fraught with its own complicated issues. No decision about one can be made without impacting another. Just as an example: Any new information on a possible ACC Network could end up determining whether the league stays with an eight-game or moves to a nine-game conference schedule. Then that decision could ultimately determine what the ACC does with its division and championship game format.
"It's like dumping out a Lego set and trying to piece it all together and do it right," Syracuse athletic director Daryl Gross said. "And it's not as simple as red goes with red, yellow goes with yellow. It's a little more complex. But all these things are such good, challenging things to look at. It's exciting, the discussions are really exciting right now because there are so many creative things that can happen out of all this."
[+] Enlarge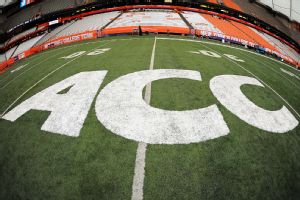 Rich Barnes/CSM/AP ImagesThe Atlantic Coast Conference begins spring meetings on Monday that will last through Thursday.
As it stands today, there is no clear consensus among athletic directors on what will best position the league moving forward into the College Football Playoff era. Because of that, nobody inside the league knows whether a vote on future scheduling will even happen when the meetings conclude Thursday. Considering the ACC is the last conference to determine what its future conference schedule will be, what happens here will be watched much more closely.
While there does seem to be more movement toward a nine-game schedule among the athletic directors than there was last year,
the league does not yet
have a simple majority in favor of adding another conference game.
There also is very little traction for changing the division format or championship game setup -- even though the
ACC petitioned the NCAA
to be granted the flexibility to determine its title game participants.
In interviews ESPN.com conducted with all 14 athletic directors leading up to the meetings, none were in favor of rearranging divisions. Nine were opposed to getting rid of divisions entirely, four remain undecided and one had no preference. Clemson athletic director Dan Radakovich, in the undecided camp, wants an answer on league scheduling before moving forward to the division and championship game discussion.
He agrees, however, with the decision to petition the NCAA to change title game legislation.
"Depending upon where the conversation goes with the eight versus nine games, I think that the lineup, whether it is 1-14, whether it's two seven-team divisions, whether the divisions are the same as they currently are, I think will be a totally separate discussion," Radakovich said. "But first, we have to make that other decision on the eight or nine games."
Getting rid of divisions altogether would relieve some of the headaches that go along with the current eight-game scheduling model, which features only one rotating crossover opponent. That has drawn criticism from both coaches and athletic directors who do not want to go as long as eight years between games against conference opponents.
Without divisions, teams could rotate through a cycle that would allow student-athletes to play every conference team at least once in their careers. But it could also mean getting rid of permanent crossover rivalries like Miami-Florida State, North Carolina-NC State and Duke-Wake Forest. And it could also mean chaos when it comes to determining who will play in the championship game.
[+] Enlarge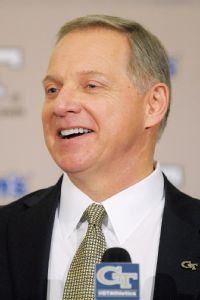 AP Photo/David TulisGeorgia Tech athletic director Mike Bobinski is satisfied with the current division setup in the ACC.
"You open up Pandora's box," Miami athletic director Blake James said. "At the end of the day you have two divisions that have shown over nine years they're very equitable. The Atlantic has won five, the Coastal has won four. That's the best way to determine who's in the championship game."
Only two athletic directors are in favor of the top two teams in the league playing in the title game, while five remain undecided on the format. If the goal of the pending NCAA legislation is ultimately for the ACC to try to get its two top teams in the championship game to improve its stature and bump up strength of schedule, there are perils that go along with that, too.
"What's the best way to make sure we have a team in that four-team playoff?" Georgia Tech athletic director Mike Bobinski said. "Obviously, multiple teams would be awesome, but if you really want them playing each other in that last week of the season, I'm not sure that's the best setup for having teams advance into that playoff. It's served us reasonably well.
"I would tell you that I'm OK with the flexibility and the possibility to rethink it in different ways, but I'm not sold sitting here today that we need to do it differently."
Over the past several months, the ACC has sent so many scheduling and championship game models to athletic directors to study, there are literally too many to count. Newer athletic directors like Brad Bates at Boston College and Whit Babcock at Virginia Tech remain undecided about what is best not only for their programs but the ACC in general.
Therein lies some more of the complexities. How do all these athletic directors put aside self interests to vote for what is in the best interest of the league?
"You can make compelling arguments for a lot of different models," Bates said. "Different institutions are going to look at the different models in ways that best impact each of us selfishly, but at the same time, we have to look at everything holistically and see how it best impacts the league. And I think that's probably where the discussion rests right now."
More discussion will follow over the next few days. But will it be enough to change minds?
"It's not a real simple solution," Babcock said. "That's why there wasn't anywhere near a unanimous thought process during our winter meetings, so it got pushed off. I'm not sure it will be any easier to solve in May than it was in January."
March, 7, 2013
3/07/13
5:00
PM ET
Head coaching salaries have been on the rise for years. So have assistant coach salaries, sparking a further separation between the programs that can pay and the programs that cannot.
Therefore, it should come as no surprise that athletic directors have seen their salaries grow as well.

USA Today, which annually compiles head coaching salaries, recently found FBS athletic directors make
an average of $515,000
. That is an increase of more than 14 percent since USA Today last reported on AD salaries in 2011.
The ACC beats that average. Of the
available salaries compiled by USA Today
, ACC athletic directors were set to make an average of $602,829 in 2013. All but two made more than $500,000 -- Kevin Anderson at Maryland ($499,490), and Randy Spetman at Florida State ($350,00).
That doesn't count incoming Louisville athletic director Tom Jurich, who makes a cool $1.4 million -- the highest paid athletic director at a public school. Only nine athletic directors make $1 million or more. The next highest paid public school AD is Dan Radakovich at Clemson, checking in at $725,000.
Boston College and Miami, two private schools, did not disclose figures.
While Spetman's salary has remained the same for the past several years, it still surprises me that the athletic director at one of the most high-profile football programs in the nation is the lowest paid in his league. And one of the lowest paid in the entire state of Florida. Florida AD Jeremy Foley makes more than $1 million; USF AD Doug Woolard makes nearly $500,000; Todd Stansbury at UCF makes just a smidge more ($375,000); and FIU AD Pete Garcia makes $441,832.
I know Spetman has faced his share of criticism, and the Noles have fought through some financial problems. They do pay Jimbo Fisher $2.75 million -- the highest paid coach in the ACC. But something seems off when the ADs at FIU, UCF and USF make more than the guy at Florida State.
Here are is the complete list of AD salaries in the ACC, thanks to USA Today.
Tom Jurich, Louisville: $1.4 million*
Kevin White, Duke, $906,536
Dan Radakovich, Clemson: $725,000
Ron Wellman, Wake Forest: $688,000
Mike Bobinski, Georgia Tech: $625,000
Jim Weaver, Virginia Tech: $621,529
Steve Pederson, Pitt: $596,595
Craig Littlepage, Virginia: $586,750
Daryl Gross, Syracuse: $570,057
Bubba Cunningham, North Carolina: $565,000
Debbie Yow, NC State: $500,000
Kevin Anderson, Maryland: $499,490**
Randy Spetman, Florida State: $350,000
Brad Bates, Boston College: NA
Blake James, Miami: NA
*Louisville expected to join ACC in 2014
** Maryland will depart ACC in 2014
December, 5, 2012
12/05/12
10:15
AM ET
The ACC, historically one of college football's most inconsistent leagues, had stability at the top from the preseason through the postseason, with Florida State and Clemson holding onto a firm grasp of the No. 1 and No. 2 spots in the power ranking, respectively. That hasn't changed as we head into bowl season.
With the regular season and the championship game officially behind us, here is how the ACC stacks up heading into the new year:
1. Florida State (11-2, 7-1 ACC; LW: No. 1) --
The Seminoles won their first ACC title since 2005 with a 21-15 win over Georgia Tech. It was a disciplined defensive performance against the nation's No. 3 rushing offense, and the Noles will represent the ACC against Northern Illinois in the Discover Orange Bowl.
2. Clemson (10-2, 7-1; LW: No. 2) --
After finishing the regular season with a loss to rival South Carolina, Clemson has a chance to redeem itself against the SEC against LSU in the Chick-fil-A Bowl. Clemson has won seven of its past eight games and could win an 11th game for the fourth time in school history.
3. Miami (7-5, 5-3; LW: No. 3) --
The Canes will be home for the holidays after their second straight self-imposed postseason ban, but the success this season was something to build on for next year. Running back
Duke Johnson
was named the ACC's Rookie of the Year.
4. Georgia Tech (6-7, 5-3; LW: No. 4) --
The Yellow Jackets had a chance to upset the Noles in the ACC title game, but an interception with a minute remaining in the fourth quarter ended any hopes of it. Georgia Tech needed a waiver from the NCAA to play in the Hyundai Sun Bowl, where it will face USC.
5. North Carolina (8-4, 5-3; LW: No. 5) --
It was a successful first season for coach Larry Fedora; now it is a waiting game to see if star running back
Giovani Bernard
will leave school early to enter the NFL draft, and if there is any substance to the coaching rumors surrounding Tennessee's interest in Fedora.
6. Duke (6-6, 3-5; LW: No. 6) --
The Blue Devils will face Cincinnati in the Belk Bowl as Duke returns to the postseason for the first time since 1994. David Cutcliffe was named the ACC Coach of the Year. Duke is making its ninth bowl trip and has a 3-5 record in postseason games. The Belk Bowl will be the program's first appearance in a bowl game in North Carolina.
7. NC State (7-5, 4-4; LW: No. 7) --
Athletic director Debbie Yow didn't waste any time hiring Dave Doeren from MAC champion Northern Illinois. Instead of coaching in the Discover Orange Bowl against FSU with his old team, Doeren immediately began working for NC State, which will play Vanderbilt (8-4) in the Franklin American Mortgage Music City Bowl. Offensive coordinator Dana Bible will coach the Pack in the bowl game.
8. Virginia Tech (6-6, 4-4; LW: No. 8) --
After going 0-2 against the Big East during the regular season with losses to Pitt and Cincinnati, the Hokies will have a chance to redeem themselves against Rutgers in the Russell Athletic Bowl.
9. Wake Forest (5-7, 3-5; LW: No. 10) --
The Deacs' main priority now is recruiting, as it was another trying season for coach Jim Grobe and his staff. Wake Forest ended the season with three straight losses.
10. Virginia (4-8, 2-6; LW: No. 9) --
Coach Mike London made sweeping changes following a disappointing season, firing four of his assistants, including defensive coordinator Jim Reid. It's likely the next coordinator will have a different, more aggressive defensive philosophy and scheme.
11. Maryland (4-8, 2-6; LW: No. 11) --
Anything and everything Maryland did this year on the field was overshadowed by its intent to join the Big Ten for the 2014 season. The ACC announced its intent to sue Maryland in order to force the university to pay the $50 million exit fee in full. As Randy Edsall and his staff recruits this offseason, they will do so looking for athletes to compete in the Big Ten.
12. Boston College (2-10, 1-7; LW: No. 12) --
Coach Frank Spaziani was fired, and first-year BC athletic director Brad Bates hired Temple coach Steve Addazio.
December, 4, 2012
12/04/12
1:33
PM ET
Notre Dame defensive coordinator Bob Diaco, Ball State coach Pete Lembo and New Orleans Saints offensive line coach Aaron Kromer are
finalists for the Boston College job
, sources told ESPN's Brett McMurphy on Tuesday.
First-year BC athletic director Brad Bates is searching for a replacement for former coach Frank Spaziani, who was fired one day after the Eagles finished their 2-10 season with a loss to NC State.
November, 25, 2012
11/25/12
7:03
PM ET
When Boston College coach Frank Spaziani was hired as the Eagles' head coach, he was lauded for his loyalty to the program, and his longevity there as a former assistant was one of his biggest attributes.
Spaziani was a better defensive coordinator than he was a head coach, though, and that was revealed throughout
his tenure at BC
, as the program saw a steady decline under his watch. The hire of first-year athletic director Brad Bates coupled with back-to-back losing seasons stacked the odds against Spaziani. After a 4-8 finish last year, he was under pressure from the moment former AD Gene DeFilippo announced his retirement in August.
Sunday's announcement
should be the least surprising development in the ACC this year. Boston College ended the season with four straight losses and only one win against an FBS opponent, Maryland. After BC's loss to NC State this past weekend, the program concluded its worst season since the 1978 team finished 0-11. It was a miserable season for those within the program and anyone who watched it.
It wasn't a matter of if, it was when.
The most glaring criticism of Spaziani's tenure was a perceived inability to manage his staff. There was turnover at the offensive coordinator position, a complete overhaul of the offensive staff this past offseason, several off-field issues with players and vague answers about the direction of the program and the problems within it -- not to mention some questionable on-field decisions and
average-at-best recruiting classes

.
While Spaziani shouldered the blame, he also inherited some of the mess. Spaziani entered the 2009 season without a single quarterback on his roster with collegiate starting experience. He turned to
Dave Shinskie
, a 25-year-old former minor league baseball player who wasn't exactly the next Chris Weinke. The problems and inconsistency at quarterback plagued the program along with the instability at the coordinator position.
This past summer, Doug Martin became the Eagles' fourth offensive coordinator in three seasons, as Spaziani had to replace Gary Tranquill, who retired after the 2010 season, and Kevin Rogers, who took a leave of absence for health reasons last year. Dave Brock was promoted to the position before Martin was hired.
This year, when the offense finally seemed to click under Martin's supervision, the usually staunch defense came unraveled. Little if anything seemed to go right for Spaziani in the past two seasons.
While Boston College fans have long been clamoring for this change, they should also realize that they're losing a true loyalist of the program. Spaziani had been on the BC sideline for the past 16 years.
His best days, though, were spent following, not leading.
November, 25, 2012
11/25/12
6:16
PM ET
Boston College
fired coach Frank Spaziani
on Sunday after a disastrous 2-10 season -- the Eagles' worst since 1978.
"A personnel decision of this magnitude affects many people and is never taken lightly, but I felt a change was necessary," BC athletic director Brad Bates said in a statement.
[+] Enlarge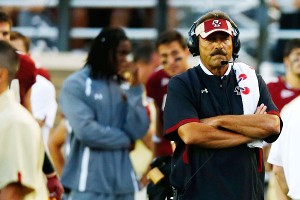 Jared Wickerham/Getty ImagesFrank Spaziani's best season was his first, when he led the Eagles to an 8-5 record in 2009.
Spaziani becomes the second head coach let go Sunday in the ACC, joining NC State coach Tom O'Brien,
fired earlier Sunday
. Spaziani just finished his fourth season as head coach, and leaves with an overall record of 22-29. His teams got worse each season under his watch. This season was the obvious low point, as the Eagles only beat one FBS team on the season -- Maryland.
Before becoming head coach in 2009, Spaziani spent 10 years as the BC defensive coordinator and two years as running backs coach. All season, he deflected speculation about his job security, saying as recently as October, "Nobody sheds more blood, sweat, and tears on Saturday than I do. I know what our situation is, I know what I'm doing, I know the problems I have to work through. That's what I'm worried about."
Spaziani said in a statement issued through the school a short time after his firing was announced: "Obviously this is a sad day for my family and me. Boston College has been my home for more than 16 years, and I have been fortunate to work with some amazing student-athletes. I will always treasure my relationships with them and the BC staff. Boston College is a tremendous place, and I am extremely thankful for my time there. I wish the current and future Eagles nothing but the best."
"It is with gratitude that we recognize the many contributions Coach Spaziani has made to Boston College during his 16 years in Chestnut Hill," Bates said in the release. "He displayed unwavering dedication and loyalty to our institution and our football student-athletes, while consistently representing Boston College with class and dignity. He and his staff have devoted countless hours to our student-athletes and the BC community. We thank them and wish them well."
Bates said Boston College would begin a search for a successor immediately.
"We will be seeking a leader whose vision of our football program mirrors the mission of our University, who values the development of our studentathletes and whose goal is to return our program to national prominence," he said. "Our fans and the entire university community value the rich tradition of Boston College football, and we are committed to making it a successful program."
November, 24, 2012
11/24/12
9:05
PM ET
If this was Frank Spaziani's last game as head coach of Boston College -- and it likely was -- it will be a forgettable one.


The Eagles defense had no answer for NC State's passing game, and the Wolfpack won,
27-10
, despite a slow start offensively. With the loss, the Eagles dropped to 2-10, the program's worst season since the 1978 team finished 0-11. It's been a steady decline recently under Spaziani, and BC finished the season having lost four straight games. The only FBS win came against Maryland, and it will be the second straight season the Eagles didn't qualify for a bowl game.
Mike Glennon
threw three touchdown passes -- including two to
Tobais Palmer
in a span of 51 seconds late in the third quarter. He completed 24 of 37 passes for 245 yards and three touchdowns. BC ran the ball well, but it had three turnovers and was just 3-of-15 on third-down conversions.
NC State did what it was expected to do -- win. Now the question is if BC's new athletic director will do what many expect him to.
Brad Bates was hired as BC's new athletic director in early October. He's already seen enough BC football to make a decision on the future of the program. BC fans made their decision long ago.
October, 9, 2012
10/09/12
2:45
PM ET
Boston College
has hired former Miami (Ohio) athletic director Brad Bates
to replace Gene DeFilippo, who retired as athletic director on Sept. 30,
the school announced on Tuesday
.

Bates is going to have a chance to put his stamp on the program immediately, first with his decision about the future of embattled coach Frank Spaziani, and second with a new hire should he decide to go that route. It's not looking good for Spaziani. The Eagles are 1-4, have lost three straight, and have yet to beat an FBS team this season as they head to Tallahassee this weekend to face No. 12 Florida State.
Bates is coming in with an appreciation for good football.
He is a graduate of Michigan, where he began as a walk-on defensive back before earning a scholarship under legendary coach Bo Schembechler. He has a master's degree in education from Michigan and a doctorate in education from Vanderbilt. He was also a member of the faculty at Miami (Ohio), teaching undergraduate and graduate courses in sports administration.
As athletic director at Miami, Bates oversaw a program that featured the school's first back-to-back football bowl game appearances in nearly 30 years (2003-2004) and two MAC championships in 2003 and 2010. Under his direction, 14 of Miami's 18 teams won at least one conference championship, including football, men's and women's basketball, baseball, soccer, cross-country and field hockey. The RedHawks men's ice hockey team won a Central Collegiate Hockey Association championship and appeared in two consecutive NCAA Frozen Fours, including the national championship game in 2009.
BC is known for its hockey. We'll see if Bates can make it known for its football again.