April, 17, 2013
4/17/13
11:00
AM ET
Florida coach Will Muschamp added to his coaching staff on Wednesday by announcing the hire of new special-teams coordinator/outside linebackers coach Jeff Choate.

Choate, a 21-year coaching veteran, served as Washington State's linebackers coach in 2012 before being named UTEP's defensive coordinator this spring.
"I'm excited about the opportunity to join the Gator staff and have the chance to compete at the highest level," Choate said in a release through UF. "I've gotten to know Coach Muschamp over the past couple of years and have a tremendous amount of respect for him as a coach and a person. I'm looking forward to continuing the great special-teams tradition that has been established here and can't wait to get to work.
"I would also like to thank everyone at UTEP, and most importantly Coach Kugler, for the support and opportunity they gave me. I wish him and the program nothing but the best of luck."
With assistant defensive line coach Bryant Young's
sudden resignation last week
, Muschamp had room to hire another assistant. Since Brad Lawing was hired to coach the Gators' defensive line in January, finding a replacement for D.J. Durkin's old position as linebackers/special-teams coach appeared to be more of a priority.
(Durkin was promoted to defensive coordinator after Dan Quinn left to become the Seattle Seahawks' defensive coordinator in January.)
Choate brings 10 years of experience coaching either linebackers or special teams.
"We are excited to have Jeff Choate join our staff," Muschamp said in a statement through UF. "He is a high-energy coach, an outstanding recruiter and evaluator, and has a reputation as one of the top special-teams coaches in the nation. He has coached on both sides of the ball and was most recently a defensive coordinator. He sees the big picture and will be a great addition to our staff.
"I got to know Jeff several years ago when I as at Texas and he was at Boise State. He visited Austin and we spent a lot of time talking defensive and special teams schemes. He also visited us in Gainesville last spring and we are very much on the same page philosophically."
January, 23, 2013
1/23/13
11:30
AM ET
After seeing
Marcus Lattimore
squirm and claw in pain last October, it left many people wondering if he'd ever be back on a football field again.
This wasn't your normal knee injury. His right knee was dislocated and several ligaments were torn. For an instant, it didn't even look like Lattimore's knee was attached to the rest of his leg.
But what looked like a career-threatening injury could be just another bump in Lattimore's football career, as he told members of the media at Senior Bowl practice on Tuesday that he is more optimistic about the
chance of playing football in 2013
. After it seemed like it would take well over a year for Lattimore to come back, he's thinking about trotting out onto the football field as early as the 2013 season. Lattimore opted to leave South Carolina early and make the jump to the NFL.
Lattimore told reporters that Dr. James Andrews told him that his progress is "nothing short of a miracle" and that he's "way ahead of schedule" as far as his rehab goes.
"When Dr. Andrews came in to see me, he said, 'You're doing remarkable; you're doing everything you can,'" Lattimore said. "His words were, 'You're going to shock the world.' That's what Dr. Andrews said."
It doesn't matter what school you root for or what color scheme you wear each Saturday, you're cheering for Lattimore to have a speedy recovery. It was as if the college football world stopped when he went down with that devastating knee injury against Tennessee on Oct. 27. Players huddled around him and fans from all over delivered their support. He's not only an excellent player but he's an excellent person.
He might have run over people during his time in Columbia, but he never ran his mouth about it and commanded the utmost respect from his counterparts. Lattimore has the talent to be an every-down back in the NFL and could be very fun to watch if he gets back to 100 percent. Remember, he entered the 2012 season with first-round status before his injury.
No one knows if Lattimore will ever be the same player he was before he suffered his first knee injury halfway through the 2011 season, but you know he's going to work as hard as he can to get back to where he once was.
"I feel like 80 percent of it is mental," Lattimore said. "If you don't do your rehab, if you keep asking yourself, 'Why me?' your knee reacts to that. You have to stay positive, or you're not going to come back."
Here's hoping his knee responds the same way he has.
Deke Adams added to staff
Steve Spurrier didn't waste any time filling the vacancy he had on his coaching staff after defensive line coach Brad Lawing left for Florida. On Tuesday, Spurrier announced the hiring of new defensive line coach Deke Adams, who coach North Carolina's defensive line in 2012.
"We are thrilled to have Deke Adams come in as our defensive line coach," Spurrier said in a statement. "Several of our coaches are very familiar with Deke, having coached with him previously. He has an excellent track record both as a player and as an assistant coach. He has a lot of experience coaching the defensive line, and in recruiting the state of North Carolina and other parts of the South. He and his family will be an excellent addition to our coaching staff."
Before coaching at North Carolina, Adams served as Southern Miss' defensive line coach the three previous seasons.
"I'm excited about getting to Columbia and the opportunity to coach with Coach Spurrier and Coach (Lorenzo) Ward," Adams said in a statement. "I've known about South Carolina for a long time and it's a great opportunity for me and my family."
August, 31, 2011
8/31/11
10:31
AM ET
He might be the most hyped player to come into the SEC in a long time, and that's saying something when you think about how anointed most of these five-star prospects are before they ever play a snap of college football.
[+] Enlarge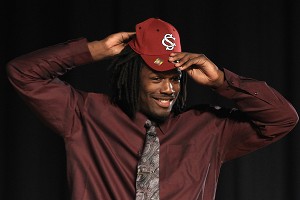 Photo by Streeter Lecka/Getty ImagesJadeveon Clowney has made a great early impression on the South Carolina coaching staff.
South Carolina's
Jadeveon Clowney
makes his much anticipated debut on Saturday night in Charlotte, N.C., just a short drive north of where he carved out a legendary high school career in Rock Hill, S.C.
It wouldn't matter whom the Gamecocks were playing in the opener. Much of the focus still would be on No. 7.
Clowney is a 6-foot-6, 254-pound freak of an athlet who by all accounts will be one of the SEC's next great pass-rushers.
But he's only a freshman, and even the most talented freshmen endure their share of growing pains in this league.
Who knows?
Maybe Clowney will skip that part.
Either way, South Carolina is good enough on its defensive line that Clowney won't need to be be the savior right away. He has talented players around him, and while South Carolina coach Steve Spurrier is as eager as anyone to see what Clowney can do, the Head Ball Coach is also realistic.
"I think he's done about what we all expected," Spurrier said. "What surprised us is he's a little bit of a power rusher also. He can knock those guys backward when he needs to. He's not just a fast guy coming around the edge.
"Jadeveon has had an excellent attitude. Coach [Brad] Lawing is working him in with all the other guys. He's done well. He'll be in early and often, and we'll let him earn his way as he goes through the season."
In a lot of ways, Clowney has already earned his scholarship before playing his first game Saturday against East Carolina.
Spurrier said there's no way to measure the value of getting the No. 1 player in the country, especially when that player is from your state.
"We appreciate Jadeveon coming here," Spurrier said. "A kid who could have gone anywhere in the nation picked a school with a really not great football tradition, but he believes we can win big. Signing guys like him gives us hope that something good can happen for us. He was a huge sign for us, that the No. 1 guy thinks South Carolina can win big."
Lawing, the Gamecocks' defensive line coach, said Clowney has been unbelievably coachable and that his rock-star status during the recruiting process didn't go to his head.
"It's very impressive to me that he wants to learn," Lawing said.
It's almost as impressive as Clowney's burst and the way he explodes off the line of scrimmage.
"When he mentally sees what he needs to see, he can really accelerate to the football," Lawing said. "I haven't taught him that. That is God-given. He has tremendous acceleration, and he will play physical, too."