September, 20, 2012
9/20/12
11:00
AM ET
Perhaps we've been looking at this Iowa running back "curse" thing all wrong.
It's true that the long list of calamities that have befallen Hawkeyes players at that position zoomed past the point of absurd a while ago (for a refresher, click
here
). AIRHBG, a term first coined by fan blog Black Heart Gold Pants that stands for Angry Iowa Running Back Hating God, has become such an accepted acronym that it now has its own web page, Twitter account and entry in the Urban Dictionary.
Superstitious types would be wise not to get on an elevator or cross a rickety bridge with the current starting Iowa tailback. Yet how can a position truly be cursed when the Hawkeyes keep finding ways to succeed there despite ridiculous obstacles?
So Adam Robinson gets kicked off the team in 2010. Freshman
Marcus Coker
steps in and rumbles for 219 yards in a bowl game. So Coker leaves the team after last season, and other options are sidelined in the offseason. Little-used
Damon Bullock
steps in and runs for 150 yards and the game-winning score against Northern Illinois in the opener.
[+] Enlarge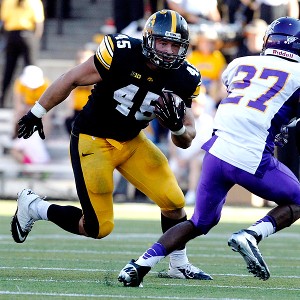 David Purdy/US PRESSWIREWalk-on fullback Mark Weisman rushed for 113 yards and three touchdowns against Northern Iowa.
So Bullock suffers a concussion in the first half last week against Northern Iowa, while backup
Greg Garmon
hurts his elbow. Well, this one really gets crazy. Iowa turns to walk-on fullback
Mark Weisman
, and he responds with 24 carries for 113 yards and three touchdowns.
The question isn't really why the running backs are cursed in Iowa City. It's more like, how do the Hawkeyes keep finding these guys?
"First of all, you have to give credit to the players; they're the ones doing all the work," Iowa coach Kirk Ferentz said. "That part is where it all starts. Then [running backs coach] Lester [Erb] has done a great job with our backs in coaching and instructing them. So that's a credit to him."
Iowa would like to take credit for Weisman, but he all but fell into their laps from the sky. Or the Air Force, to be more precise.
The Buffalo Grove, Ill., product was very lightly recruited out of high school and primarily as a blocking fullback. But he still wanted to carry the ball, so that's why he decided to play at Air Force.
"They run the fullback a lot, and not many schools do that any more," he told reporters this week.
But Weisman wasn't quite prepared for the other differences at Air Force.
"He was tired of having guys bounce quarters off his bed," Ferentz said. "I don't know if just a story or a legend now at this point, but he got tired of sleeping on the floor. He figured out if he made his bed perfectly one time, he wouldn't have to go through that aggravation again if he slept on the floor."
Weisman left Air Force after just one semester and decided to walk-on at Iowa -- "I knew the tradition here," he said this week, apparently not in reference to AIRBHG.
Ironically, though, he picked a program that didn't run the fullback much. Ferentz said that his fullbacks have traditionally been "frustrated middle linebackers" or "a glorified guard position, really." The coaches didn't pay too close attention to Weisman last year as he sat out under NCAA transfer rules, but Ferentz said he stood out during spring practice this year and then had "an exceptional" August.
Still, the staff didn't start looking at Weisman as a main ball carrier until last week in practice. Then he became the main guy when Bullock and Garmon went down, a 6-foot, 225-pound wrecking ball that teammates have jokingly nicknamed "Juggernaut."
"Mark's kind of, hit the hole, and he's not really going to try to make a move," center
James Ferentz
told reporters. "He's going to try to run over guys."
With Garmon questionable and Bullock doubtful this week, Weisman should get his first start at running back. Backing him up is another walk-on, true freshman
Michael Malloy
, with junior fullback
Brad Rogers
behind them.
Jordan Canzeri
, who suffered a torn ACL this spring, but has been medically cleared to resume playing, may or not be ready yet.
Can Weisman keep this up?
"Would he be our go-to guy, our predominant back? I don't know," Ferentz said. "Only time will tell. But I think certainly he showed that he can do some things out there competitively and he brings a different tempo running the football, than everybody else. ... We are hardly out of the woods yet."
No one can ever feel too safe about the status of Iowa's running backs. But given how the Hawkeyes keep filling the position successfully, perhaps we should start considering it blessed, not cursed.
March, 30, 2012
3/30/12
10:46
AM ET
AIRBHG has reared his ugly head.
AIRBHG? You don't know him? Unfortunately, Iowa fans know him all too well. He's the Angry Iowa Running Back Hating God, and he has taken another victim.
Hawkeyes sophomore running back
Jordan Canzeri
has
torn an ACL in his knee and likely will miss the 2012 season
, according to multiple reports. Canzeri, listed as Iowa's top running back on the pre-spring depth chart, injured his knee in practice Wednesday, and an MRI performed Thursday revealed the tear.
Scout.com
first reported the news
and talked with Canzeri's father, Brian.
"Dr. [Ned] Amendola said it was the ACL but the good news is that the rest of the knee is solid," Brian Canzeri said. "He's going to have surgery next week and hopes to get back into practice in September."
Brian Canzeri said that he expects his son to ease into things when he's cleared to practice and will most likely redshirt for the 2012 season.
Sources tell
The (Cedar Rapids) Gazette
that Canzeri, who has a redshirt available, won't play this fall.
The team has yet to confirm Canzeri's injury.
The loss of Canzeri isn't as devastating as Marcus Coker's departure in January, it continues a baffling string of setbacks for Iowa's running backs. Although
AIRBHG has been around since 2001
, he has been particularly cruel since Doak Walker Award winner Shonn Greene departed following the 2008 season. Since Greene declared for the NFL draft, Iowa has had six running backs leave the program, culminating with Coker, who ranked second in the Big Ten with 1,384 yards in 2011.
Canzeri started in place of the suspended Coker for the 2011 Insight Bowl, and he would have been in the mix to start this coming season. He's a smaller back, and Iowa likely will use a rotation rather than identify a bell cow like Coker was in 2011.
Canzeri's injury leaves
Damon Bullock
and
De'Andre Johnson
as Iowa's primary running backs in spring practice. Fullback
Brad Rogers
could see some carries at running back, but the big hope is that incoming freshmen Greg Garmon and Barkley Hill can contribute. Garmon in particular drew high marks as a high school standout.
As The (Cedar Rapids) Gazette's Marc Morehouse points out, Iowa has used a true freshman at running back in each of the past five seasons.
"Both of them are a little bit bigger backs," Hawkeyes running backs coach Lester Erb told reporters Wednesday, before Canzeri injured his knee. "Greg is more of a slasher. but he shows he can get downhill and run tough. Very good speed. Then Barkley just had a tremendous high school career up there at Cedar Falls and we are excited to get him in here. Both guys have a passion for football and both guys are going to have a chance to come in here and compete."
Iowa wants to run the ball and have balance in its offense, but the running back position has been so unstable that the Hawkeyes might have to once again trend toward the pass in 2012. It would really help if Garmon and/or Hill can contribute immediately this fall.
December, 29, 2011
12/29/11
2:30
PM ET
It's time to look at three keys for the
Iowa Hawkeyes
before their Insight Bowl showdown Friday night against Oklahoma.

1. Establish some type of run game:
Iowa must win the Insight Bowl without its top rusher for the second consecutive season, but this year brings an even bigger challenge. Suspended sophomore
Marcus Coker
basically has been Iowa's rushing attack this season, accounting for 67.4 percent of the carries and 80.7 percent of the yards. While Iowa boasts a strong passing attack and Oklahoma ranks 83rd nationally in pass defense, the Hawkeyes aren't built to win games with a one-dimensional offense. The onus is on the offensive line to create room for an inexperienced stable of backs.
Jordan Canzeri
could be a factor, while
Brad Rogers
,
Damon Bullock
and
De'Andre Johnson
also could get touches.
2. Rattle Landry Jones:
The OU quarterback hasn't been the same since star receiver
Ryan Broyles
tore his ACL. Jones has thrown five interceptions and zero touchdowns in the past three games, barely completing half of his pass attempts against Iowa State and Oklahoma State. Iowa's defensive backs must make some impact plays in the game, and cornerback Micah Hyde is more than capable after recording the game-deciding pick-six against Missouri's Blaine Gabbert in last year's bowl to earn defensive MVP honors. Hyde and fellow corner Shaun Prater both need strong performances, and perhaps more important, the Iowa defensive line has to get in Jones' face. Iowa's line has been hot and cold, recording three or more sacks in six games and one or zero sacks in five other contests. The Hawkeyes need the good front four to show up.
3. Start off strong:
Many are questioning Oklahoma's motivation for this game after a disappointing season. While it's hard to imagine a Bob Stoops not being ready for a winnable bowl, Iowa must capitalize on any Sooners letdown. The Hawkeyes have outscored their opponents 69-50 in the first quarter and 175-118 in the first half this season. Oklahoma stumbled out of the gate in all three of its losses (Texas Tech, Baylor and Oklahoma State). Iowa had a blistering start in the 2010 Insight Bowl, building a 17-3 lead against Missouri before having to rally late. A few quick scores could put the Sooners on their heels and have them start questioning whether they really want to be in Tempe.
December, 27, 2011
12/27/11
5:00
PM ET
Iowa is no stranger to facing adversity in a bowl game.
In the 2001 Alamo Bowl, the Hawkeyes' first postseason appearance under head coach Kirk Ferentz, running back Ladell Betts couldn't play with a hamstring injury, leaving Iowa without a four-year starter. Iowa turned to Aaron Greving, who racked up 115 rush yards and earned offensive MVP honors in a win against Texas Tech.
[+] Enlarge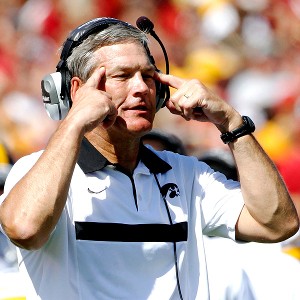 AP Photo/Charlie NeibergallKirk Ferentz says he can't explain all of the backfield issues Iowa has faced, but the Hawkeyes have to forge on in their bowl game against OU.
The Betts-Greving situation hardly compared to the crisis Iowa faced before the 2010 Insight Bowl. Top running back Adam Robinson had been suspended and subsequently arrested. Top receiver Derrell Johnson-Koulianos had been arrested on drug charges, leading to an odd news conference where Iowa admitted to
finding problems with its drug-testing program
for student-athletes. The team also announced that two reserve running backs,
Jewel Hampton
and Brandon Wegher, were transferring.
And yet Iowa still won the game, rallying to upset Missouri 27-24.
Another Insight Bowl matchup is on tap Friday night against Oklahoma, and Iowa once again is dealing with some adversity. Sophomore running back
Marcus Coker
, the team's most productive offensive weapon, is suspended for an undisclosed violation of team policy. There are other potential personnel issues, which
Ferentz deflected Tuesday
, but replacing Coker's 281 carries and 1,354 rush yards is the big one.
"It's football," Ferentz told ESPN.com on Tuesday. "If our running back had sprained his ankle, he wouldn't play then, either. So you don't surrender and forfeit the game. You keep playing. It happens all year long. Players are in and out. Somebody has to be ready to step in, and everybody else has to help those guys out."
Coker was that guy for Iowa last December, rushing for a team-bowl record 219 yards and two touchdowns against Missouri. But his loss leaves the Hawkeyes with a stable of unproven backs.
Ferentz said
Jason White
, who he describes as "steady" and "dependable," and
Brad Rogers
, who has mostly played fullback for Iowa, likely will be the team's top two ball-carrying options Friday against Oklahoma. Freshmen
Jordan Canzeri
and
Damon Bullock
are the next two in line.
"We'll basically use everybody we have," Ferentz said. "I don't know if I foresee us getting 200 yards like a year ago, and if we did, it will probably be three, four, five guys contributing to that yardage, not one. We'll do it by committee and just see how it goes."
Iowa's passing attack has been very effective at times, especially early in the season when the Hawkeyes employed some no-huddle. Oklahoma ranks just 83rd nationally against the pass.
But the Hawkeyes won't abandon their run game Friday night. Because they can't.
"We have to at least attempt it," Ferentz said. "We're not built to throw it 70 times a game. It's just not our mode of operation. If we get in a situation like that, it's not good. But the group's capable. They've been practicing well and they'll step up and do a good job."
The suspensions of both Coker and freshman
Mika'il McCall
have once again placed the spotlight on Iowa's running back position, which has seen an extraordinary amount of turmoil since the departure of Doak Walker Award winner Shonn Greene after the 2008 season.
Five promising backs have dealt with off-field issues
since Greene's departure.
"I wish I could explain it," Ferentz said. "There's no conspiracy theory or anything like that. We've just had some situations. You have to evaluate each one on an individual basis. We have had our share of transactions and transition. We'll get it settled down again."
When bowl games kick off, Iowa usually finds a way.
October, 31, 2009
10/31/09
10:07
AM ET
Posted by ESPN.com's Adam Rittenberg
IOWA CITY, Iowa -- Happy Halloween from Kinnick Stadium, where No. 4 Iowa tries to continue its perfect season today against Indiana (ESPN, noon ET).
I dressed up as a sportswriter. How about you?


Iowa leads the all-time series, 39-27-4, though Indiana has won two of the last three meetings.
I'm excited to finally see Indiana in person, as the Hoosiers are the only Big Ten team I haven't seen live since starting this job.
The sun is shining and temperatures will hover in the mid to upper 40s, but the wind likely will be a factor as it's blowing at 15-20 miles an hour. Should be a fun day for the specialists.
Injuries:
Indiana's injury report can be found
here
. Starting outside linebacker Will Patterson is expected to return from a hand injury, while cornerback Donnell Jones also returns to the lineup. Iowa will be playing its first game without leading rusher
Adam Robinson
, out for the
rest of the regular season with an ankle sprain
. True freshman
Brandon Wegher
makes his first career start at running back, and Iowa could be using two more freshman,
Brad Rogers
and
Josh Brown
, for the first time this season. Iowa also will replace starting right guard Dace Richardson (broken leg) with Julian Vandervelde. It will also be interesting to see how safety Brett Greenwood and wide receiver
Colin Sandeman
respond after absorbing big hits in last week's win against Michigan State.
THREE KEYS FOR INDIANA
1. Pressure Ricky Stanzi:
Iowa is shorthanded at running back and likely will look to throw often, so Indiana must pressure Stanzi with talented defensive ends Jammie Kirlew and Greg Middleton. The Hawkeyes' offensive line hasn't been all that great at preventing sacks, and Kirlew, who has 5.5 sacks this season, needs to have a big day.
2. Hit home runs on offense:
The Hoosiers can't expect many sustained drives against Iowa, but they have enough big-play ability to test the Hawkeyes' defense. Running back
Darius Willis
can take it to the house if he gets in the open field, and wideouts
Tandon Doss
and
Damarlo Belcher
can stretch the field.
3. Hang in there:
Iowa hasn't blown out anybody at home and will let teams hang around. Indiana must limit turnovers and major mistakes, play field position and force a few miscues from Stanzi. Despite Iowa's clutch play this season, the Hawkeyes can only play with fire for so long.
THREE KEYS FOR IOWA
1. Get the run game going:
Everyone wants to know how Iowa will respond without Robinson, so getting Wegher some early confidence will be key. Wegher hasn't taken on a full load of carries this season, but he boasts breakaway ability around the edges.
2. Attack downfield with Moeaki, McNutt and DJK:
Indiana's secondary is vulnerable, and Stanzi has been at his best when attacking down the field. Iowa must force Indiana's linebackers to chase tight end
Tony Moeaki
, and wideouts
Marvin McNutt
and
Derrell Johnson-Koulianos
should be able to create some separation.
3. Put a team away if the opportunity is there:
Winning close games on the road are great, but Iowa has failed to pull away from Northern Iowa, Arkansas State and Michigan on its home field. If the Hawkeyes get up early on Indiana, they must put the Hoosiers away. Iowa could really use a fourth quarter without much drama right about now.