May, 1, 2014
May 1
9:00
AM ET
EAST LANSING, Mich. -- Ron and Erin Waynes named their first son Trae because he became the third member of their family. Now,
Trae Waynes
is looking to add his name to another lineage: the one involving Michigan State standout defensive backs.
With Thorpe Award winner
Darqueze Dennard
and All-Big Ten safety
Isaiah Lewis
off to the NFL, Waynes will become a focal point in the Spartans' secondary. The junior will be taking over Dennard's role as the team's boundary cornerback and hoping to keep the "No-Fly Zone" in place.
"I feel like I have to fill his spot," Waynes told ESPN.com. "I basically just have to continue to do what I was doing and hopefully not take any steps back. There is a tradition of great cornerbacks here, and I'm trying to continue that."
[+] Enlarge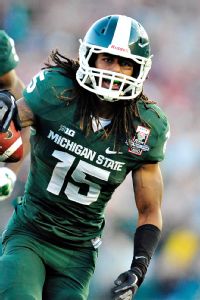 Gary A. Vasquez/USA TODAY Sports Trae Waynes has all the skills to be the next great Michigan State DB.
Waynes has only one year of starting under his belt but has shown the potential to be a top-flight corner, including his acrobatic interception early in the second half of the Rose Bowl win over Stanford. Michigan State head coach Mark Dantonio has
talked in the past about The Bus
, which is what he calls the group of star defensive backs he has coached over the years. Dennard and Lewis earned coveted spots on that bus last season, and Waynes could be next in line.
"Yeah, I think maybe he is," Dantonio said. "He had a good year last year for us, and he's got two years left, hopefully. I think he has the ability to be a shutdown guy and a top player for us."
The 6-foot-1, 185-pounder has the size and the will to get physical with receivers and the speed to track them down. He has been clocked at around 4.3 seconds in the 40-yard dash. Credit that swiftness to genetics, as both his parents ran track in college, and his younger brother currently does so at Eastern Michigan. But Ron Waynes said he discouraged Trae from participating heavily in track in high school because "I never wanted people to think he was just a track guy playing football."
Waynes grew up in Kenosha, Wis., and won a lottery to attend Harborside Academy, a charter school. Since it didn't offer sports, he played football at Bradford High School, taking a bus to workouts and practices before he got his driver's license.
"I think that shows you the commitment level he had," said Jed Kennedy, his coach at Bradford. "I can probably count on one hand the number of workouts he missed in four years."
He was not a hotshot recruit for most of his prep career, in part because he played safety until his senior year -- "I should have moved him to corner earlier," Kennedy said. "That's on me." -- and because he missed parts of his last two seasons with a shoulder and then a leg injury. But Waynes went to a lot of camps between his junior and senior seasons and gained notice for his athleticism.
Michigan State got in with him early thanks to a relationship built by recruiting coordinator Brad Salem, and Waynes hit it off quickly with secondary coach Harlon Barnett.
"Having Coach Barnett and Coach Dantonio coaching me was a big part of [the decision]," he said. "I mean, if you're a defensive back, why wouldn't you want to come here?"
Going to Michigan State meant Waynes would not play in college with his high school teammate and best friend, current Wisconsin star running back
Melvin Gordon
. Gordon originally committed to Iowa before switching to the Badgers, and despite Bret Bielema's efforts, Wisconsin couldn't keep Waynes in his home state.
"It was just bad timing," Gordon told ESPN.com. "Michigan State was also his first offer, so you always got love for the people that show you first love. I think if I would have committed to Wisconsin and said, 'Come on, Trae, let's do this. Let's pair up,' he would have been here. But when he got on Michigan State's campus, that's when they got him. ... [But] everything is working out for both of us."
"You can say they're like brothers," Ron Waynes said. "But I think they both made phenomenal choices. Look at where Melvin is for a running back, and to be a defensive back, Trae's at a great school."
Waynes and Gordon still talk or text daily, trying to avoid football subjects but usually failing. Waynes said Gordon gave him grief during the NCAA basketball tournament when the Badgers made the Final Four and the Spartans fell just short. But when in doubt, Waynes said, "I always just throw the Rose Bowl win at him."
Talking trash isn't really Waynes' style. He's soft-spoken and describes himself as shy. But he's trying to force himself to become more of a vocal presence on this year's team and says he gained a lot of confidence after last season's performance. His coaches haven't had to worry much about him since he got his first major exposure in the 2012 Buffalo Wild Wings Bowl win over TCU.
"The most impressive thing is how consistent that guy's been since the TCU game two years ago," defensive coordinator Pat Narduzzi said. "He hasn't looked back and had a bad day since. He's got ball skills, and he's tough. What else do you want in a corner?"
Narduzzi said Waynes -- whose first two career interceptions came in the regular season finale against Minnesota -- could make a lot more plays this season as he moves over to Dennard's spot. That gives him the chance to join the elite company of former Michigan State and Dantonio-coached star defensive backs. No one needs to remind him of that lineage.
"It's just a known fact," Waynes said. "The previous guys set the bar really high, so I've got a lot to live up to."
December, 29, 2013
12/29/13
10:00
AM ET
LOS ANGELES -- As a father, Chris Cook always provided his son,
Connor
, with positive reinforcement, because that's what parents do.
As a former college football player, the elder Cook also knew how such statements can translate to on-field performance. So he and his wife, Donna, a former basketball player at Cincinnati, told Connor that he would be special, that he would become Michigan State's starting quarterback, that he would lead the Spartans to a Big Ten championship and a Rose Bowl. They repeated the messages, even during MSU's drawn-out and wayward quarterback competition, which Connor calls "the most stressed out I've ever been in my entire life."
[+] Enlarge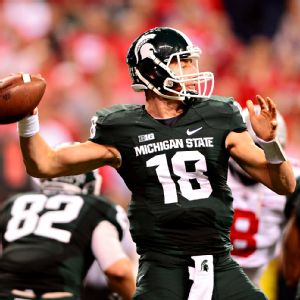 Andrew Weber/USA TODAY SportsSince being named the permanent starter to start conference play, quarterback Connor Cook and Michigan State are 9-0.
Last week, while home in Ohio, Connor, a Big Ten title-winning, Rose Bowl-bound quarterback, acknowledged what most parents love to hear: You were right.
"He says, 'At that time, I thought you guys were just talking, trying to pump me up.' Now to see this, I don't know, it's been a magical year," said Chris Cook, who played tight end at Indiana. "All these things have come true."
There's certainly magic around Cook, who will lead Michigan State's offense on Wednesday against Stanford in the Rose Bowl Game presented by VIZIO. You could see it in Big Ten play, when he passed for 2,012 yards and 15 touchdowns in nine double-digit wins. You could see it when he bounced back from bad passes with precise ones, when he made tough throws on the move, when he spread the ball around.
You could see it on the biggest stage, when Cook put up career numbers in the Big Ten championship, reminding receiver
Bennie Fowler
of former Spartans quarterback
Kirk Cousins
.
The 6-foot-4, 218-pound Cook always had enough skill and confidence. But like any young quarterback, he had to master his own mind.
"We're an athletic family, so we're big into the mental game," Chris Cook said. "At this level, what separates good players from great players? A lot of it's between your ears. Hell, the challenges Connor went through, if he doesn't keep a positive attitude, your mind can get the best of you."
Connor Cook's head was swimming during a competition that began in preseason camp and spilled into September.
Andrew Maxwell
, last season's starter, took most of the snaps with the first-team offense and started the opener. Cook started the following week against South Florida but was replaced by
Tyler O'Connor
, who was replaced by Maxwell.
Michigan State's quarterback situation had gone from shaky to messy.
"It takes a couple series to establish a rhythm," Cook said. "So when we're splitting it up, I get one series and Maxwell has one, Tyler. You don't know when you're going to get pulled. ... That's kind of stressful."
Cook started Sept. 21 at Notre Dame, struggling early before settling down. After a three-and-out, Cook gave way to Maxwell for the final drive with 2:11 left and MSU down 17-13. The drive went nowhere (backward, actually) and the Spartans suffered their first loss.
Afterward, a despondent Cook said
he wished the coaches had shown more faith in him
for the final possession. Even now, he calls it "heartbreaking."
"I'd want to be that guy to lead Michigan State down in a hostile environment in a historic stadium to beat the Irish," he said. "To not get that opportunity, it hurt."
During the open week that followed, Cook's coaches decided he deserved the opportunity. Coach Mark Dantonio met with Cook to clear the air and reinforce his support.
"We said as an offensive staff that Connor is our guy," coordinator Dave Warner said. "We've got to go with him the entire way. That was a point where our offense began to grow."
For Cook, it's when "the stress went out the window."
The following week, he passed for 277 yards and two touchdowns against Iowa. He completed 71 percent of his attempts against Indiana and 93.8 percent -- a team record -- against Illinois.
The magic surfaced when a Cook pass tipped by two Illinois defenders landed in Fowler's arms for a touchdown, or hit a Northwestern defender in the back and went to Fowler for another score. Other likely interceptions fell harmlessly to the ground.
In 925 plays, Cook has had just five interceptions and two fumbles.
"That was his growth," quarterbacks coach Brad Salem said. "He moved in the pocket, threw the ball away when he needed to."
Michigan State identified, offered and landed Cook early, as he committed in April of his junior year. His recruitment wasn't as quiet as it has been portrayed -- Chris Cook said Wisconsin, Iowa and other major-conference programs showed interest -- but he didn't generate the hype of other standout Ohio prep quarterbacks like
Braxton Miller
and
Cardale Jones
.
"You could always see the potential in him," said John Carroll University coach Tom Arth, who has worked with Cook the past four summers. "He's a tremendous athlete and a very natural player. He's a special individual who has a great work ethic.
"He can be great. We've seen a little bit of that this year."
Connor was at his best in the Big Ten championship game, recording his first career 300-yard passing performance and firing three touchdowns. With MSU down 24-20 early in the fourth quarter, Cook led an 8-play, 90-yard scoring drive, completing four passes for 76 yards and a touchdown.
MSU won 34-24 and Cook earned game MVP honors.
"He was pointing out things that he was seeing, making adjustments on the fly," Fowler said. "That's just like how Kirk [Cousins] was."
As time expired in Indy, Cook ran to the stands and embraced his parents and sister, Jackie, a former basketball player at Old Dominion. The family celebrations have become a tradition after Spartans wins.
"Those are special moments," Chris Cook said.
There could be another Wednesday at the Rose Bowl.
"Before I was the quarterback I would talk to my parents and they would tell me, 'You're going to be the guy, you're going to lead your team to the Rose Bowl,'" Connor said. "To finally be here now ... it's truly a blessing."
December, 8, 2013
12/08/13
10:00
AM ET
Three lessons from the Big Ten championship game.
[+] Enlarge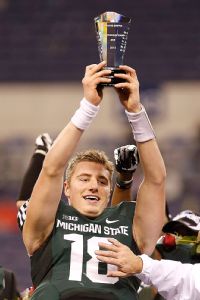 Gregory Shamus/Getty ImagesConnor Cook and the Spartans proved beyond a doubt that Michigan State was the best team in the Big Ten.
1. Michigan State is the Big Ten's best finisher:
Many counted out the Spartans after Ohio State erased a 17-0 lead to take a 24-17 advantage midway through the third quarter at Lucas Oil Stadium. The Buckeyes had finished off opponents throughout the season with their two-headed running attack and powerful line. But Michigan State also had been terrific late in games, outscoring opponents 185-56 in the second half and 91-27 in the fourth quarter. The Spartans made the necessary corrections, scoring 17 unanswered points to outlast Ohio State and secure a league championship. They limited Ohio State to 25 yards in the fourth quarter and mounted touchdown drives of 90 and 61 yards. And like they did in every regular-season Big Ten game, they won by double digits, leaving no doubt about the the league's best and most resilient team in 2013.
2. Ohio State's flaws finally caught up to it:
Sure, it may sound weird to talk about the weaknesses of a team that won 24 straight times. But the Buckeyes never were a perfect team despite their amazing streak of perfection. For a heavyweight power, they were surprisingly light on star power at linebacker outside of Ryan Shazier. Safety Christian Bryant's midseason injury created major vulnerabilities in the secondary. The offense lacked consistent receiving threats other than Philly Brown. "We know what our weaknesses are," center Corey Linsely said. "They're obvious." The Michigan game and, to a lesser extent, the win at Illinois exposed some of those troubles. And when Ohio State finally played a powerhouse on its own level in Michigan State, its Achilles' heels caused it to stumble. The Buckeyes came out flat on the big stage in falling behind 17-0, and they only really played well for about a 20-minute stretch before letting the Spartans score the final 17 points. Ohio State deserves all respect for its winning streak, and this team is fully capable of winning a BCS game. But its flaws proved fatal in the quest for a national championship.
3. Connor Cook is the biggest surprise in the Big Ten and perhaps the country:
If anyone pegged Cook to be the MVP of the Big Ten title game before the season -- his immediate family members excluded -- hop on the first flight to Vegas. Cook exceeded all expectations in guiding the Spartans to a perfect mark in Big Ten play, and he shined in the brightest lights Saturday night, passing for a career-high 304 yards and three touchdowns on 24 of 40 attempts. Quarterbacks coach Brad Salem told ESPN.com that Cook's growth could be seen each week and that Cook's confidence in himself never wavered, even after low moments like a Sept. 21 loss at Notre Dame. Michigan State hasn't simply found a serviceable game manager to complement its defense. It has found a championship quarterback who oozes moxie and doesn't back down from challenges. Cook began championship week by introducing himself on a conference call with reporters. Everyone knows who he is now.
September, 21, 2013
9/21/13
10:16
PM ET
SOUTH BEND, Ind. -- The end result, which is all that matters, looked dishearteningly similar for Michigan State.
Stop me if you'd heard it before: an impressive (yet takeaway-less) defensive performance wasted, a smattering of special-teams shortcomings, an offense unable to finish drives, catch enough passes or make enough clutch plays ... and a few points shy of a momentum-building win. Michigan State lost five Big Ten games by a total of 13 points last season, failing to make up the inches coach Mark Dantonio often talks about, the ones separating wins and losses.
It would be easy to file
Saturday's 17-13 loss to No. 22 Notre Dame
with last year's near misses. The Spartans couldn't quite overcome the Irish, some trigger-happy officials (more on them later) and, ultimately, themselves.
The outcome looked familiar, but it didn't feel that way.
"It does not feel the same," Dantonio said. "I don't know how it feels. You lose a close game, it's tough. Last year against Notre Dame, I felt like we were completely outplayed [in a 20-3 loss]. ... I felt like this time, we were [in the game] right down to the end."
The Spartans were more than in the game. They outperformed Notre Dame in several areas, finishing with more first downs (19-14) and more yards (254-224). A one-dimensional Notre Dame offense entered the red zone just once in the second half.
But the Fighting Irish held the edge in the only category that matters.
"Obviously Notre Dame won the game," Dantonio said, "so you have to say they outplayed us."
[+] Enlarge
Brian Spurlock/USA TODAY SportsMichigan State's DBs played tough in coverage, but that toughness too often resulted in pass interference penalties.
Michigan State's toughest opponent Saturday, other than the Big Ten officiating crew, was itself. The Spartans had four possessions reach the red zone but emerged with only 13 points.
Kevin Muma
hooked a 30-yard field-goal attempt on MSU's first series. After reaching the Irish 14-yard line early in the fourth quarter, Michigan State went backwards, losing five yards on a rush and another five on a false start penalty.
MSU's most painful SIW -- that's self-inflicted wound, for the coaching cliche-challenged -- came late in the third quarter, at a time when the offense seemed to have a rhythm, especially on the ground. Facing first-and-10 from its own 47-yard line with the game tied at 10-10, Michigan State went razzle dazzle, putting the ball in the hands of true freshman receiver
R.J. Shelton
, who threw deep downfield into double coverage. Irish safety
Matthias Farley
made the easy interception.
The Spartans lost possession -- and momentum.
No,
Michigan offensive coordinator Al Borges
didn't hack into Michigan State's playbook. The call actually came from Dantonio, who has a defensive background but has summoned some memorable trick plays in the past, including the "Little Giants" fake field goal to
beat Notre Dame in 2010
.
"We had a little bit of rhythm, but I also thought we needed a big play," Dantonio told ESPN.com. "We needed to be able to go down the field, which we had not been able to do. They were overplaying RJ because he's run some jet sweeps in the first three games. I thought it was the right time."
Michigan State fans will question the decision, but they have far more questions for the officials, who called 10 penalties on the Spartans, including four pass interference penalties and defensive holding.
Three of the fouls extended drives that led to Notre Dame touchdowns. One nullified a
Darqueze Dennard
interception. None of the P.I. penalties was an obvious mauling. Spartans defenders weren't out of position.
Dantonio didn't directly criticize the officials but defended the defensive backs' technique -- "We played the ball the way we teach them to play the ball," he said -- and their right to go after the ball.
Asked if he had ever seen so many P.I. calls, Dantonio said. "No, never. I guess that's why we should stop talking about it right there."
Notre Dame repeatedly challenged Michigan State with back-shoulder throws. Irish coach Brian Kelly felt if they weren't completed, a flag likely would fly.
"We'll continue to do what we do," Dennard said, "basically press, man up, and we do what we do."
Spartans defensive tackle
Tyler Hoover
admitted the penalties were tough to handle, but maintained that, "You've got to make plays. It's not the refs. It's going to be us, all the time."
Other than forcing turnovers, Michigan State's nationally ranked defense did enough. Three times, it forced Notre Dame punts in the fourth quarter, giving the offense a chance to drive for the game-winning touchdown.
The offense had a total of one first down and 20 net yards on those possessions. But the earlier drives, the ones that went deep into Notre Dame territory, stung more.
"We've got to score touchdowns," quarterback
Connor Cook
said. "It's the name of the game."
Cook was pulled for the game's final possession in favor of senior
Andrew Maxwell
, who threw three incomplete passes before trying to scramble on fourth-and-20. Although Cook had taken a hit to his shoulder, the injury didn't play a role in the decision.
"I was a little disappointed," Cook said. "They said I was a little inaccurate, but I would have wished that the coaches had faith in me to keep me in there in a critical situation like that."
Quarterbacks coach Brad Salem told Cook afterward that Cook remains the No. 1 signal caller. Dantonio was noncommittal.
"That's something we'll have to answer at a later date," he told ESPN.com. "The only thing I can tell you is you better do something with the football. At some point in time, 13's not enough."
Michigan State has two weeks to sort out its quarterback situation, two weeks to build on a surprisingly solid rushing performance, two weeks to clean up the kicking game and find ways to complement suffocating defense with takeaways after recording eight in the first three games. The Spartans can be a dangerous team in a wide-open Big Ten, especially without Ohio State or Wisconsin on their schedule.
Dantonio and his players were proud of Saturday's performance, despite the result. And it could be a springboard.
"All our goals are still in front of us," Dennard said. "We still can go to Indy for the Big Ten championship game."
Michigan State will have to get past Michigan, Nebraska, Northwestern and the rest of a formidable Legends division to reach Naptown.
Its biggest obstacle is still itself.
March, 4, 2013
3/04/13
2:05
PM ET
Michigan State officially announced the hiring of Jim Bollman on Monday as co-offensive coordinator and tight ends coach. But he will not serve as the Spartans' main playcaller.
That responsibility will belong to Dave Warner, who had been the team's quarterbacks coach the past six seasons. A team spokesman confirmed that Warner will take the lead on game days.

That's part of some major shuffling of the offensive staff by Mark Dantonio. In addition to serving as co-offensive coordinator, Warner will now also handle the running backs. Brad Salem, who had overseen the Michigan State running backs the past three years, now will take over the quarterbacks. And defensive coordinator Pat Narduzzi will now have the additional title of assistant head coach.
Here's what Dantonio had to say about Warner:
"Dave has been an important figure in our offense for the past six years – both the successes as well as the setbacks. There's power in all of that information, so it's a great advantage for him to assume the role of co-offensive coordinator as we move forward. I've been impressed with his organizational and time management skills. In addition, Dave has displayed the ability to make quick decisions."
Warner has been a coordinator before, at UConn from 1999-2000. Now he'll be paired with a longtime veteran in Bollman. When news of Bollman's hiring leaked last week, it didn't exactly fire up Michigan State's fan base, since he was often criticized for being too conservative as Ohio State's OC. But it's also true that Dantonio wasn't going to completely overhaul his offensive system and that he trusts Bollman.
"This is the fourth time in my career that I've had an opportunity to work with Jim Bollman, so there's definitely a comfort level there," Dantonio said in the school's official release. "He has a tremendous amount of football knowledge, especially on the offensive side of the ball. In addition to serving as co-offensive coordinator, Jim will coach the tight ends, and he spent three years coaching that position in the NFL. He also has long-standing recruiting ties in Ohio. We're excited about having Jim and his family back in the MSU community.

"Jim has been an offensive coordinator for 11 of the last 12 years. During his tenure in Columbus, Ohio State won six Big Ten championships, a national championship and played in two other BCS National Championship Games. He has performed under pressure at the highest level and on the biggest stage. With pressure comes experience, and Jim has been rock solid in those situations. He's respected for his development as well as treatment of his players. He's simply a ball coach."
The Michigan State offense merely needs to be competent if the team's defense continues to play at a high level under Narduzzi, who has more than earned his assistant head coach title.
"No one has officially held that position before on my staff, but in Pat Narduzzi's case, it's certainly warranted," Dantonio said. "Pat is a great leader on the defensive side of the football, who has forged strong relationships with his players, and he's also an outstanding recruiter. Over the last six years, he has helped build one of the Big Ten's best defenses, and over the last two years, Michigan State has become one of the nation's elite units, ranking among the NCAA's Top 10 in rushing defense, total defense and scoring defense.

"I also appreciate his loyalty because Pat has been approached by several programs over the last few years and he's elected to remain a Spartan. I know he doesn't take this position lightly. When I'm not in the office, Pat takes control of the day-to-day operation. He's held those duties for the last two years, but without the formal title."
Warner and Salem also have a lot of work to do with their new position responsibilities. Salem needs to get
Andrew Maxwell
on track and work with young contenders for the quarterback job in
Connor Cook
,
Tyler O'Connor
and incoming freshman
Damion Terry
. Warner will have to groom the replacement for
Le'Veon Bell
and may have to turn to some true freshmen to help get the job done there.
Last year's offense excelled only at producing squeamishness. Time will tell if these changes help rectify matters.
"We might simplify some things, yet become more diversified as an offense," said Dantonio. "Throughout the spring, things will be added and subtracted from the offense. Changes aren't being made for the sake of change; changes are being made with a purpose. With that mindset, we can create different opportunities for our playmakers."
April, 20, 2011
4/20/11
2:30
PM ET
EAST LANSING, Mich. -- Several days after Michigan State's disheartening loss in the Capital One Bowl, running back
Edwin Baker
turned his focus toward the 2011 season.
[+] Enlarge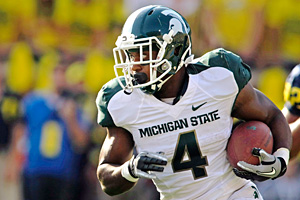 AP Photo/Tony DingMichigan State's Edwin Baker finished with 1,201 rushing yards and 13 touchdowns last season.
Baker always has motivated himself with tangible goals, and the coming season would be no different.
In high school, Baker set the bar at 1,000 rushing yards per season. He racked up 1,295 yards as a prep junior and finished with 863 yards as a senior despite missing four games with a hyper-extended knee. Before last season, he once again targeted 1,000 rushing yards and finished with 1,201 to go along with 13 touchdowns.
But Baker really raised the stakes for himself in 2011. His magic numbers are 2,000 rush yards and 21 touchdowns.
"It's definitely a big difference," Baker said. "But if I want to be an elite player, I have to make elite goals."
Baker's goals aren't totally random. He knows that Michigan State has had only one 2,000-yard rusher in a season, as Lorenzo White racked up 2,066 yards in 1985.
The 21 touchdowns would tie Baker for second on Michigan State's single-season list with former bruiser Jehuu Caulcrick. Former Spartans All-American Javon Ringer holds the record with 22 scores in 2008.
Baker understands the lofty goals mean nothing unless he backs them up this fall. And it'll take a lot of work to come close to his magic numbers.
The 5-foot-9, 208-pound Baker always has stood out in the weight room, earning the nickname "Rock" for his physique. His body hasn't changed, but Baker spent much of the offseason working on his mind.
"I've been watching a lot more film, trying to get my football IQ up," Baker said. "I'm trying to read defenses with [quarterback]
Kirk Cousins
, and I'm picking up more and more every day at practice. Just trying to become a complete football player."
Despite Baker's production as the team's featured back in 2010,
Michigan State's spring depth chart showed three co-starters
in the backfield: Baker, sophomore
Le'Veon Bell
and junior
Larry Caper
, Baker's roommate. Bell was extremely impressive in the first half of the 2010 season, while Caper looked like the team's running back of the future in 2009.
Coach Mark Dantonio calls the running back situation "very competitive," but Baker has only helped himself this spring.
"He gained a lot of confidence a year ago in his play," offensive coordinator Dan Roushar said of Baker. "He has a whole other level of maturity. He's going into his third season here, and it's showing in the way he's playing."
Several ex-Spartans now in the NFL have spent time around the Skandalaris Football Center this spring, including Ringer. Baker has latched onto the former Michigan State star, who had 390 carries and 1,637 rush yards in 2008.
"I always want to know, what can I do to get better?" Baker said. "He says, 'Go out there and be you. Play hard and run hard and don't try to make things that aren't there.' Like [running backs coach Brad] Salem always says, 'You've got to get four [yards] to get 44.' The big plays are going to happen."
Baker will need plenty to reach his goals this fall.
"I reached my goal last year," he said. "Now I'm going to reach for a much bigger goal."
February, 1, 2011
2/01/11
6:58
PM ET
Staff continuity has been a hallmark of Mark Dantonio's success at Michigan State.
Dantonio has lost only two assistants during his MSU tenure, and both men (Dan Enos and Don Treadwell) have gone on to head-coaching positions. When it came time to replace Treadwell, the team's offensive coordinator who recently left for the top job at Miami (Ohio), you heard practically no buzz about possible replacements.
That's because Dantonio, not surprisingly, looked to within his staff for a replacement. Michigan State on Tuesday announced that offensive line coach
Dan Roushar has been promoted to offensive coordinator
.
Roushar, the Spartans' O-line coach for the past four seasons, has served as an offensive coordinator at four schools: Illinois (2004), Northern Illinois (1998-2002), Ball State (1994) and Butler (1989-92).
"He's done this at the Big Ten level," Dantonio said in a
video posted on the team's website
. "He's coached a multitude of positions: he's coached the offensive line, the tight ends, the quarterbacks, the running backs, so he's got an overall great sense of what we're trying to do. He's very well organized and I think there will continue to be good chemistry in that room, which is important."
Maintaining chemistry, continuity and familiarity with the offensive scheme and the personnel was paramount for Dantonio in finding a replacement.
"Knowing the kids, we've all got a real good idea of who they are, what they do very well and what they need to work on," Roushar said. "So it's going to move us forward quickly."
UPDATE: Mark Staten will take over as Spartans' offensive line coach, while running backs coach Brad Salem becomes the team's recruiting coordinator. Roushar will work with the tight ends, a group Staten previously managed. Michigan State will search for a new assistant to work with the wide receivers, a group Treadwell oversaw.
Michigan State's offense made some strides in 2010, ranking fourth in the league in scoring and third in passing. It'll be important for Roushar to get the run game going as the Spartans' rushing production dropped off during Big Ten play.
I like the hire. Michigan State might have wanted a bigger name, but it's hard to argue with experience and continuity, two qualities Roushar brings to the table.
March, 2, 2010
3/02/10
9:00
AM ET
The Big Ten was the only major conference to avoid head-coaching changes this offseason, but the league certainly had its share of staff shuffling with assistants coming and going. Indiana's
hiring of Mo Moriarity as offensive line coach
on Monday marked one of the last turns on this year's Big Ten coaching carousel. Wisconsin still needs to hire a defensive assistant, but things are just about wrapped up.
Barring any late coaching changes, here's a look at who's gone, who's back and who's in new roles.
ILLINOIS
Offensive coordinator
Who's out: Mike Schultz (fired)
Who's in: Paul Petrino (previously offensive coordinator/wide receivers coach at Arkansas)
Defensive coordinator
Who's out: Dan Disch and Curt Mallory both were demoted to position coaches. Disch is staying on staff as linebackers coach.
Who's in: Vic Koenning (previously co-defensive coordinator at Kansas State)
Quarterbacks coach
Who's out: Kurt Beathard (fired)
Who's in: Jeff Brohm (previously quarterbacks coach at Florida Atlantic)
Tight ends coach
Who's out: Jim Pry (fired)
Who's in: Greg Nord (previously running backs coach/recruiting coordinator at Louisville)
Running backs coach
Who's out: Reggie Mitchell (left to become running backs coach/recruiting coordinator at Kansas)
Who's in: DeAndre Smith (previously running backs coach at UNLV)
Other moves
Mallory left his position as secondary coach to become defensive coordinator at Akron.
Special-teams coordinator Mike Woodford was fired along with Schultz, Beathard and Pry.
Ron West was hired as a defensive assistant. His official responsibilities have not been announced.
INDIANA
Offensive line coach
Who's out: Bobby Johnson (left to become assistant offensive line coach with the Buffalo Bills)
Who's in: Myron "Mo" Moriarity (previously served as head coach at Carmel (Ind.) High School
IOWA
No staff changes, but recruiting coordinator Eric Johnson was named tight ends coach. Wide receivers coach Erik Campbell previously had worked with the tight ends, while Johnson had helped Darrell Wilson with the linebackers.
MICHIGAN
Linebackers coach
Who's out: Jay Hopson (left to become defensive coordinator at Memphis)
Who's in: Quality control assistant Adam Braithwaite was promoted to outside linebackers/strong safeties coach. Defensive coordinator Greg Robinson will take a more active role with the linebackers in 2010.
Other moves
Secondary coach Tony Gibson will continue to work with cornerbacks and free safeties, and also serve as special-teams coordinator.
MICHIGAN STATE
Running backs coach
Who's out: Dan Enos (left to become head coach at Central Michigan)
Who's in: Brad Salem (previously served as head coach at Augustana College)
MINNESOTA
Offensive coordinator/quarterbacks coach
Who's out: Jedd Fisch (left to become quarterbacks coach with the Seattle Seahawks)
Who's in: Jeff Horton (previously served as quarterbacks coach with the Detroit Lions)
Wide receivers coach
Who's out: Richard Hightower (left to become assistant special-teams coach for the Washington Redskins)
Who's in: Steve Watson (previously served as associate head coach with the Denver Broncos in 2008)
Other moves
Running backs coach Thomas Hammock was named co-offensive coordinator
NORTHWESTERN
No coaching changes
OHIO STATE
No coaching changes
PENN STATE
No coaching changes
PURDUE
Defensive line coach
Who's out: Terrell Williams (left to become defensive line coach at Texas A&M)
Who's in: Gary Emanuel (previously served as defensive line coach at Rutgers). Emanuel also was named co-defensive coordinator with a focus on run defense.
WISCONSIN
Defensive backs coach
Who's out: Kerry Cooks (left to become outside linebackers coach at Notre Dame)
Who's in: Chris Ash (previously served as defensive backs coach/recruiting coordinator at Iowa State)
Other moves
Randall McCray, who served as Wisconsin's recruiting coordinator and assistant secondary coach, left to become defensive coordinator at Middle Tennessee. Wisconsin has yet to fill the vacancy.