NCF Nation:

Brad Traviolia
December, 7, 2012
12/07/12
10:00
AM ET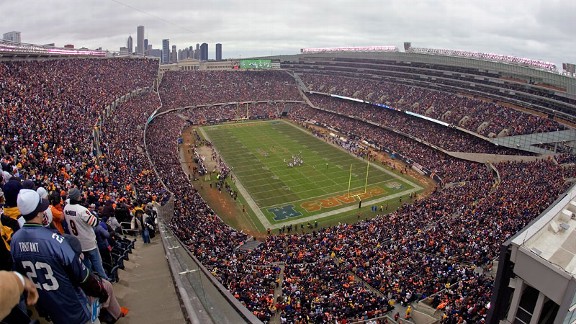 AP Photo/Scott BoehmChicago, a mecca for Big Ten alums of all stripes, is a worthy spot for the league's title game.
Indianapolis has almost everything a league like the Big Ten could want for its signature sporting event.
It boasts first-rate facilities for the game itself and for surrounding events like Big Ten Fan Fest. It boasts an excellent concentration of downtown hotels and restaurants. Indiana Sports Corporation has an unmatched track record of staging major sporting events, including the Super Bowl and the Final Four. The Big Ten picked Indianapolis to host its football championship game for these reasons and others. And from an event production standpoint, Indy has delivered.
But Indianapolis has two drawbacks.
1. There aren't overwhelming numbers of Big Ten fans who live there.
2. It isn't a true destination city.
In other words, Indianapolis isn't Chicago.
Some might say I'm picking on Indy after last Saturday's Big Ten championship game, which drew a crowd of only 41,260 to Lucas Oil Stadium, which can seat more than 67,000 for football games. Few anticipated a great crowd after a season in which the Big Ten had two of its best teams -- Ohio State and Penn State -- facing NCAA sanctions and barred from the title game or bowls. The fact that the title-game participants, Nebraska and Wisconsin, weren't in the national title race didn't help matters, either. Add in that Wisconsin finished third in the Leaders division with a 7-5 regular-season record, and the Big Ten title game had as much buzz as bingo night (yes, I know some of you love bingo).
No one expected a packed house at Lucas Oil. But 41,000 and change?
Big Ten commissioner Jim Delany, speaking Thursday in New York, called the turnout "a little bit disappointing."
"The two fan bases and those who came out to watch were excited about the game and bought some tickets, but it didn't have that extra zip," Big Ten deputy commissioner Brad Traviolia told ESPN.com. "The inaugural game was unique in that you can't really take that first year with all the buzz and excitement of something new … and have that be the standard going forward.
"But for many reasons, we can't take this year's experience and say this is the norm going forward. It's a unique year."
Traviolia is right. It's hard to imagine another Big Ten season with such a perfect storm of bad as this one. The likelihood of having another title game matchup as humdrum as last Saturday's is slim. And if Ohio State starts reaching the title game on a regular basis -- a strong possibility -- Buckeye fans can make the easy drive west on I-70 and flood Indy with scarlet and gray. But Ohio State and, to a lesser degree, Michigan are the only massive fan bases that can easily access Indy. The Big Ten also can't count on having matchups that resonate nationally every year, either.
Looking at all those empty seats Saturday night, I couldn't help but wonder what the attendance would have been like at Chicago's Soldier Field. Chicago is the Big Ten's nerve center. Almost every Big Ten school has huge alumni bases in Chicago. There are multiple Michigan bars, multiple Iowa bars, multiple Wisconsin bars, multiple Nebraska bars, multiple Ohio State bars ... the list goes on. The league office is located just outside the city limits in Park Ridge, Ill.
Chicago is first and foremost a pro sports town, but it's also a Big Ten town. I know. I live here. I meet Big Ten fans everywhere, whether it's at restaurants, grocery stores, concerts or just on the street. Even when I don't want to meet Big Ten fans -- like while exercising at my gym -- they pop up. They're everywhere.
When the title game matchup isn't great, it's a lot easier to fill seats when the target audience already lives in the area. The die-hards always are going to travel to see their teams, but the Big Ten needs to market not only to the two participating fan bases, but to the general Big Ten fan, who can decide hours before kickoff to head to the stadium, grab some tickets and watch the game.
There are simply many more of those folks in Chicago than Indy.
"Demographic-wise, absolutely that's true," Traviolia said. "Chicago is just a bigger city. It has a bigger population base. There are more Big Ten alums here in Chicago than there are in Indianapolis. That's just a fact. But population is one area we looked at when we made a decision in terms of assigning the championship game, but we also looked at the facility and the community involvement, the local organizing committee, what the city can bring to the table, the cooperation with the NFL franchise.
"There's a whole list of things you go through."
[+] Enlarge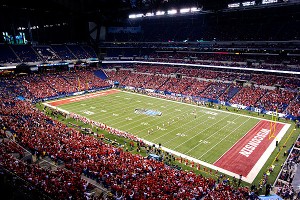 AP Photo/David StlukaA crowd of just over 41,000 watched the 2012 Big Ten title game in Indianapolis' Lucas Oil Stadium. Would a title game in Chicago pack the seats?
Traviolia couldn't cite the exact number of Big Ten alums in Indy when we talked, but he called it "a nice amount." It's still not close to what you see in Chicago.
Chicago also is a true destination city, even when the mercury drops. It offers more to do and see.
When Indianapolis and Chicago presented their bids for the championship game in May 2011, Indianapolis did to Chicago what Wisconsin did to Nebraska on Saturday night. Indy had the better pitch, the better pitchmen (Gov. Mitch Daniels and former Ohio State basketball star/TV analyst Clark Kellogg), the better track record and the better facilities. The Big Ten made the right decision to go with Indy for the first five championship games.
The Chicago group needs to put together a better, more cohesive plan. Even then, there are drawbacks, namely an outdoor venue with a horrifically bad natural grass field. There would be more logistical headaches in Chicago.
There also likely would be more demand for tickets. The Big Ten and other leagues are asking fans to travel to both the league title game and to bowl games. When the college football playoff arrives in 2014, fans might be deciding between three postseason sites (league title game, national semifinal, national championship). If more of fans already live in the city that hosts the league title game, those decisions are easier.
"If you have an undefeated, No. 1-ranked team in the country, there's a buzz surrounding that," Traviolia said. "I remember when Illinois [basketball] was ranked No. 1, we had the men's tournament in Chicago. That was really the first time we had sold out the tournament prior to the games starting. A team having a great year has a huge impact.
"That being said, local support is very important as well."
I'm seeing a similar pattern with the Big Ten men's basketball tournament, which used to alternate between Chicago and Indy, and then went to Indy permanently in 2008 because of many of the reasons outlined above. But tournament attendance at Bankers Life Fieldhouse has fluctuated -- it largely hinges on the strength of Indiana University's team -- so the Big Ten decided to bring back Chicago to the rotation.
Traviolia and his staff are in the process of reviewing this year's football championship and how they can improve future events. They'll look at factors like ticket allotment to participating teams as well as ticket prices.
Although it's too early to say what might change in 2013, the Big Ten likely will make some tweaks.
"We're in Year 2 of a five-year commitment to Indianapolis, and right now the mindset is to make Year 3 the best we can," Traviolia said. "We're not pretending we have it figured out by any means. We didn't after Year 1 and we don't after Year 2. It's something that you look at, review, you talk to people, you see what went well, what can be done better."
Big Ten officials have used the word demographics a lot in recent weeks to discuss the league's recent expansion. Demographics also apply to the title game, and Chicago's advantage can't be ignored when the Big Ten looks for sites beginning in 2016.
May, 16, 2011
5/16/11
11:00
AM ET
The Big Ten spring meetings are here, as league officials, administrators and coaches gather Monday through Wednesday at the Palmer House Hilton in Chicago.
The site of this year's meetings has a historical connection, as the Big Ten was founded at the Palmer House in 1896. I think Joe Paterno was entering his 12th season as Penn State's coach. I kid, I kid.
I will be on hand throughout the meetings. Although this year's spring session shouldn't resemble the chaos of 2010, when realignment was the rage and Nebraska's arrival was just around the corner, there could be some important news coming out of Chi-Town.
Here's a look at some things to know heading into the spring meetings:
Nine-game discussion
Big Ten athletic directors and coaches will continue discussing whether to add a ninth conference game to the schedule, and a resolution is possible this week. Commissioner
Jim Delany first broached the possibility of a ninth game
at media days last summer and indicated that it could happen several years down the line.
The
momentum seems to have slowed a bit
, but the conference schedule structure will be a main item on the agenda this week. Big Ten officials will present financial models of nine games versus eight games to the ADs. The Big Ten schedules are set through 2014, so the 2015 season is the earliest a nine-game schedule can go into effect.
"I think we'll finally get a resolution to it after all this time of talking about it," Big Ten senior associate commissioner for television administration Mark Rudner, who oversees the schedule, told ESPN.com.
If the schedule issue does go to a vote, Rudner expects a large degree of agreement one way or the other.
"I don't think we'll get a 6-6 vote," he said. "I don't think we'll get a 7-5 vote. You'd like to have a strong majority favor one format over another. There's a great deal of interest in looking at it and getting it resolved once and for all. They need to move on with their nonconference scheduling."
Division tiebreakers
In announcing the new divisions, the
Big Ten outlined its basic tiebreakers
for determining division champions: head-to-head record, conference record, record within the division and BCS ranking. But the league still must finalize some of its more complex tiebreakers, and the discussion will continue this week.
Why is this a huge issue? Just look to the 2010 season, when three teams finished atop the Big Ten at 11-1. Because Ohio State and Michigan State didn't play, the ultimate tiebreaker was highest rating in the final BCS standings. Wisconsin held the distinction despite its loss to Michigan State. The Spartans ended up being left out of the BCS bowl mix. Michigan State coach Mark Dantonio said he was the only Big Ten coach to vote against using the BCS standings as a tiebreaker.
The head-to-head tiebreaker will prevent any two-team ties within a division. But what if there's a three-way tie and each team boasts a 1-1 record against the others? Could the BCS standings once again break the tie? I'd imagine there will be some resistance to this, and the discussion this week should be interesting.
"There's a lot they [the coaches] can use," Rudner said.
Future championship game sites
The inaugural Big Ten football championship takes place Dec. 3 at Indianapolis' Lucas Oil Stadium. The league still is in the process of determining championship sites for 2012 and beyond.
Big Ten deputy commissioner Brad Traviolia said the league began its evaluation of potential future sites this winter and wants to make a decision by early summer. The league is evaluating football sites as well as sites for the men's and women's basketball tournaments, which enter the final year of a deal with Indianapolis' Conseco Fieldhouse.
Although Traviolia declined to reveal many details of the evaluation process, he said, "There's a general excitement over a new premier event. The buzz is great."
Expect the Big Ten to announce a multiyear plan for sites this summer, but the league is flexible with length of term and could use a rotation for all three championship events.
"We're open to any possibility," Traviolia said. "If there was a foolproof method of hosting a successful conference championship game and it would work well no matter what area of the country you're in or what the economic environment you're in, we'd sign up. But there are different schools of thought, whether you park it one place, whether you rotate it around.
"You take a look a the pros and cons of what's in front of you and you make a choice."
Because of scheduling and the advance planning needed to produce the football championship game, the Big Ten can't wait until after the 2011 event at Lucas Oil to determine sites for 2012 and beyond, Traviolia said.
Big Ten presidents and chancellors have the ultimate say on future championship sites, but the topic will come up this week with coaches and administrators. Athletic directors ultimately will recommend sites to their presidents or chancellors.
"The coaches and the administrators have very important opinions that need to be included in the process," Traviolia said.
Coaches' meeting
The football coaches will gather Tuesday morning for their first meeting, which will be held in executive session without any league officials. Dantonio is the chair of the coaches' group and will lead the meeting.
Four new coaches will be in attendance: Michigan's Brady Hoke, Indiana's Kevin Wilson, Minnesota's Jerry Kill and Nebraska's Bo Pelini.
"They need some time together alone to sit across the table and communicate," Rudner said. "Our approach has always been, 'No surprises.' Don't leave anything off the table. Get it out in the open. Let's make sure we're communicating efficiently. And it makes a difference, it really does."
Rudner expects the coaches to discuss recruiting issues, including the possibility of an early signing date (which many Big Ten coaches want). Other topics include agents, freshman eligibility issues, the rise of 7-on-7 teams and gambling awareness initiatives. Delany will present the coaches and ADs with a report on the BCS and the Big Ten's bowls, and coordinator of football officials Bill Carollo will update the coaches on rules changes and the officiating training program.
Stay tuned for more coverage of the spring meetings throughout the week.