December, 4, 2011
12/04/11
3:09
AM ET
INDIANAPOLIS --
Russell Wilson
had barely arrived in Madison this past summer when he shared his vision for the season.
"I want to be part of something special," the NC State transfer announced upon meeting his new Wisconsin teammates. "I don't want to be common. I want to be uncommon."
Very little was common about the first Big Ten championship game. A league known for grinding it out in cold weather put on a thrilling, offensive pingpong contest at Lucas Oil Field. Michigan State and Wisconsin figured to have a hard time matching their Oct. 22 classic, but they came pretty close to repeating it note for note. And
the Badgers won 42-39
despite getting outgained and outplayed most of the night before somehow finding a way to secure their second consecutive trip to the Rose Bowl.
"The adversity we faced this season helped us tonight, I believe," Wisconsin fullback
Bradie Ewing
said. "To be able to battle back like that is special. You remember a season like that more than you would a lot of other seasons."
A season that began with enormous expectations nearly came crashing down on consecutive October weekends, when Michigan State and Ohio State delivered last-minute, intestine-twisting, game-winning touchdowns. The Badgers had zero room for error after those two conference losses and needed help from other teams just to get to Indianapolis.
When they got here, they had to face a Spartans team that beat them in three of the previous four meetings. And the rematch began to play out in eerily similar fashion to Michigan State's 37-31 victory on Oct. 22 in East Lansing.
Just as in that game, the Badgers raced out to a two-touchdown lead in the first quarter, only to see the wheels come off. The Spartans outscored Wisconsin 23-0 in the second quarter of the first game; on Saturday, they ripped off 22 consecutive points to take a 29-21 halftime lead.
"For whatever reason, we don't play well in the second quarter against Michigan State," head coach Bret Bielema said. "So we survived it."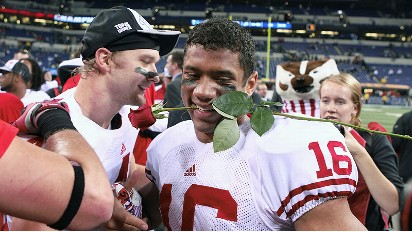 Andy Lyons/Getty ImagesTo be able to battle back like that is special," Russell Wilson said. "You remember a season like that more than you would a lot of other seasons."
Wisconsin inched back into the game but still trailed 39-34 late in the fourth quarter and had little choice but to go for a fourth-and-6 from the 43-yard line. As he had been many times in the game, Wilson got flushed from the pocket by Michigan State's pressure. He flung a pass toward
Jeff Duckworth
, who had two Spartans covering him.
"I had to give him a shot," Wilson said. "It was pretty much the only thing I could do. I knew I had to throw it up and give it a chance."
Duckworth had broken his corner pattern to the inside -- "It was kind of a bad route, actually," he would say later. But the receiver who caught only 12 passes in the regular season went up and grabbed the ball for a first down at the 7.
Montee Ball
then did what he does best, scoring his 38th touchdown of the season, and Wilson scrambled until he could find
Jacob Pedersen
for the 2-point conversion.
The Duckworth pass brought back instant memories of Michigan State's Hail Mary pass to win in East Lansing on Oct. 22. That play started from 1 yard farther back on the field and also went toward the right corner of the end zone, although the degree of difficulty was higher. Karmic payback, perhaps?
"A common saying that we've been using quite a bit over the last three or four weeks is 'Those who are humbled will be exalted, and those who are exalted will be humbled,'" Bielema said. "And I thought that play right there gave justice to everything."
More weird turnarounds were at work. Special-teams breakdowns played a key role in both Badgers losses this season, as Michigan State and Ohio State each blocked a punt that was taken in for a score or directly led to a touchdown. Surely the Spartans considered that weak spot when they decided to go after a Wisconsin punt with less than two minutes left.
That proved disastrous when Isaiah Lewis was flagged for running into punter Brad Nortman, resulting in a first down and Wisconsin bringing on the victory formation. (It only adds to the irony that Lewis made headlines before the first game when he said Michigan State's defense was going to hurt Wilson.) Nortman had an excellent game, averaging 45 yards on five punts, and Wisconsin actually forced a turnover in the kicking game to score a touchdown.
"I preached special teams all week," Bielema said.
This was an uncommon way to win a championship. The Badgers were outgained 471 to 345 by the Spartans and had only 126 rushing yards to Michigan State's 190. Ball alone ran for 105 yards in the first quarter before the normally powerful ground game stalled. Michigan State took advantage of Wisconsin's lack of speed on the edge of its defense most of the night. Look at the stat sheet, and it's hard to figure out how the Badgers won. But their entire season was about not staying down.
"With the team we had, we were thinking national championship," safety Aaron Henry said. "For us to lose the way we did in those two games, it was definitely devastating. [But] our guys rallied, and it pretty much unfolded in front of your eyes."
In Wilson's case, an ear told the story. He tucked a rose over his right ear and kept it there long after the game was over, savoring his first chance to play in a BCS bowl. His vision from the summer had been fulfilled.
"We are definitely uncommon," he said.
September, 1, 2011
9/01/11
11:24
PM ET
You couldn't have scripted a much better Wisconsin debut for quarterback
Russell Wilson
.


The NC State transfer led eight Wisconsin possessions, all of which led to scores and seven of which ended in the UNLV end zone. He completed 10 of 13 passes for 255 yards and two touchdowns, numbers that would have been even better had he hit two open tight ends in the first half. And while Wilson showed mobility in the pocket and the ability to extend plays, he also took off twice, recording a 46-yard touchdown and a 16-yard scramble. With this offensive line, Wilson shouldn't hesitate to run the ball when he sees fit.
Although UNLV's defense is bad, Wilson's accuracy bodes well for Wisconsin, which figured to see a drop-off after losing Scott Tolzien (72.9 percent completions in 2010). The Badgers also had more explosion plays than I expected, especially with passes and long runs after catches by
Montee Ball
,
James White
and
Bradie Ewing
. Wilson definitely can check down the ball and expect big gains.
Wilson certainly earned the right to wear a headset before the end of the third quarter as Wisconsin cruised to a
51-17 win
. Just a terrific debut for a guy who looks like an excellent fit for a Big Ten title contender.
The concerns for Wisconsin coming out of tonight's game rest with the defense. The Badgers struggled against the run in the first half and allowed two sustained touchdown drives after halftime. There didn't seem to be enough sustained aggressiveness.
The Badgers didn't have a shut-down defense in 2010, but they made big plays. Top playmaker J.J. Watt is gone, so who fills the void? Chris Borland would seem like the top choice, but he might not be as effective at middle linebacker than he was on the outside as a freshman in 2009. Wisconsin could really benefit from a lineman taking a big step like Watt and O'Brien Schofield did the past two seasons.
There's a lot of time to work things out on defense, and coordinator Chris Ash will demand a better effort when Oregon State comes to Madison on Sept. 10.
August, 22, 2011
8/22/11
11:30
AM ET
Less than two months after setting foot on Wisconsin's campus,
Russell Wilson
can call himself a team captain.
Wilson was one of
four Badgers seniors elected co-captains
Sunday night. The others are fullback
Bradie Ewing
, defensive tackle Patrick Butrym and safety Aaron Henry.
One of the big unknowns when Wilson showed up at Wisconsin this summer was how his new team, unaccustomed to high-profile transfers, would receive him. Wilson didn't come to Madison to pay his dues. He came to lead the offense in another push for a Big Ten championship.
He has drawn rave reviews for his performances in practice this month, but the strongest endorsement came Sunday. Few quarterbacks succeed if they don't have the locker room on their side, and Wilson clearly has taken the right steps to connect with his teammates.
"He has so much confidence," running back
Montee Ball
said. "He's so urgent with everything because this is his last year, so he's going to make sure he gets the job done. It's his one shot."
There are no surprises with the other co-captain choices. Butrym and Henry emerged as leaders on defense immediately after the Rose Bowl, while several folks told me this spring that
Ewing had emerged as a more active leader
.
November, 20, 2010
11/20/10
5:46
PM ET
ANN ARBOR, Mich. -- The state of Michigan hasn't been kind to Wisconsin.
Michigan soil might as well be quicksand for the Badgers.
[+] Enlarge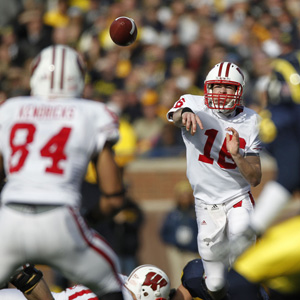 Gregory Shamus/Getty ImagesWisconsin's Scott Tolzien completed 14 of 15 for 201 yards against Michigan.
Wisconsin entered Saturday's game not having won in the state since 2002. The seventh-ranked Badgers had dropped five straight contests at Michigan Stadium -- their last victory coming in 1994 -- and 17 of their past 18 at the Big House.
But the failures of the past haven't gone for naught. They are part of Wisconsin's history, coach Bret Bielema says, just like all the triumphs during the program's renaissance since 1993.
After Wisconsin ended its Michigan misfortune with a
48-28 victory
Saturday, Bielema said of his players: "They taste it, they believe it."
Asked when that process began, Bielema didn't hesitate.
"Michigan State," the coach said.
Really? The Badgers' only loss of the season? The game where they couldn't capitalize on Spartans turnovers or stop Michigan State in clutch situations? The road loss that had looked like so many others under Bielema?
Bingo.
"Maybe going into that game, I don't know if every kid in that room believed how special this team could be," Bielema said. "But I know leaving that locker room, they knew they could be."
Bielema isn't the only one who feels this way. Senior guard John Moffitt has brought up the Michigan State loss in conversations with his dad.
"You want to look at it and you want to say, 'You know something? Without that loss, maybe we wouldn't have been jump-started the way that we have been, and we wouldn't have respected the game as much as we do now,'" Moffitt said. "And even more so, we took it upon ourselves to turn it around."
Boy, have they ever.
Wisconsin is the hottest team in the Big Ten and one of the hottest in the country. The Badgers on Saturday extended their win streak to six games with a performance that encapsulated their identity: past, present and future.
Never was this more the case than early in the third quarter.
The normally disciplined Badgers committed turnovers on consecutive possessions and watched their 24-0 lead trimmed to 24-14. The last time Wisconsin visited Ann Arbor, in 2008, it blew a 19-0 lead as Michigan mounted the biggest comeback in stadium history, one from which the Badgers never truly recovered. And unlike in 2008, Michigan boasts a quick-strike offense and the Big Ten's most exciting player in quarterback
Denard Robinson
.
So how did the Badgers respond to their predicament?
They ran the ball. Then they ran it again. And again. And again.
Wisconsin called 28 consecutive running plays. Add in a
Scott Tolzien
scramble on the front end and two kneel-downs on the back end, and that's 31 straight rushes.
"We were setting 'em up for play-action," Bielema joked.
Although offensive coordinator Paul Chryst calls the plays, Bielema delivered a message to his top assistant in the third quarter: "They can't stop your run game, point blank. There wasn't anything they could do to slow that down."
[+] Enlarge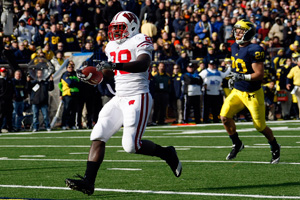 AP Photo/Tony DingMontee Ball rushed for 173 yards and four of Wisconsin's six touchdowns on the ground.
A ferocious offensive line and running backs
Montee Ball
and
James White
were the primary reasons why. As 2009 Big Ten Offensive Player of the year
John Clay
(sprained knee) watched from the sideline, Ball and White combined for 354 rushing yards and six touchdowns on 52 carries.
White (189 rush yards) and Ball (173 rush yards) became the first Badgers' tandem to both eclipse 150 rush yards in a game since Billy Marek and Ken Starch in 1973, and just the second tandem to do so in team history.
"In practice, we have this inside drill, where we just run the ball, run the ball," Ball said. "That's what it felt like today. ... We just imposed our will on them."
The backs and the offensive line get most of the praise, and rightfully so, but Wisconsin received contributions from other areas.
J.J. Watt continued to show why he's the Big Ten's top playmaking defender, tipping a Robinson pass and coming down with his first interception this season to stem Michigan's momentum early in the fourth quarter .
When Michigan coach Rich Rodriguez, leery of his team's defensive woes, tried an onside kick late in the third quarter, Wisconsin's Bradie Ewing was there for the recovery.
Tolzien opened the game with 13 consecutive completions -- 24 if you count the end of last week's game -- and finished the game 14 of 15 for 201 yards.
"Scotty will do anything to win," Bielema said. "That's said for everybody on this football team."
Although Wisconsin's identity had been in place long before any of the current players arrived, Bielema has seen this team buy in more and more with each game.
"We're not the spread, we're not sexy, it's not on the front of everybody's wish list," Bielema said, "but I tell you, 48 points is fun."
The Badgers finally had some fun in the state of Michigan, and the moment wasn't lost on the players or coaches. Before heading down the tunnel, Badgers senior safety Jay Valai told several teammates, "Look around one last time. Take this in."
In the postgame interview area, former Wisconsin coach and current athletic director Barry Alvarez greeted Bielema with a bear hug, telling his protégé, "That was sweet, man."
It'll be even sweeter if Wisconsin beats Northwestern next week to secure a possible trip to the Rose Bowl.
"We only get one more chance with these guys," Bielema said, choking up a bit. "They're a special group. They compete. They believe in something bigger than just themselves."