September, 15, 2014
Sep 15
11:00
AM ET
PISCATAWAY, N.J. --
Christian Hackenberg
flexed like a prizefighter at midfield, tilted his head back and let out a scream as his sideline erupted into smiles and chest-bumps.
Penn State's quarterback had just transformed Saturday night from a potentially historic one for Rutgers -- what could have been its first win in its first-ever Big Ten game -- into a footnote of his own, by leading his fourth career game-winning drive in
a 13-10 win
. His teammates couldn't hide their relief or delight, either: Defensive end
Deion Barnes
turned to the crowd and waved good-bye, wideout
DaeSean Hamilton
flung his gloves into the front row, and linebacker
Brandon Bell
leaped around with a grin.
[+] Enlarge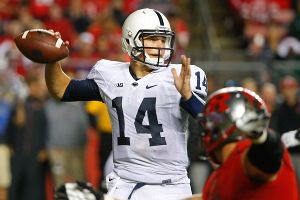 Jim O'Connor/USA TODAY SportsChristian Hackenberg led Penn State's late comeback win against Rutgers.
Maybe this is a rivalry; maybe not. But don't say this wasn't a big game -- and don't think players didn't take some things personally from this past week.
"I just felt they didn't respect us," Bell, a New Jersey native, said matter-of-factly.
Added PSU tailback
Bill Belton
, also from New Jersey: "They asked for a big-time game, and they got one."
This was Rutgers' chance at respect, for showing up that team from Pennsylvania and proving wrong the opposing fans who sneered at
their (lack of) tradition
. The importance of this game can't be minimized; Rutgers wideout
Leonte Carroo
told
the Asbury Park Press
a win could "change New Jersey and Rutgers football forever."
Instead, the contest sold out in record time, but question marks are now swirling around whether quarterback
Gary Nova
should remain the starter after throwing five interceptions. Instead, the crowd set the school's attendance record, but lingering Rutgers fans were forced to hear "We Are … Penn State!" chants after the final whistle. Instead of putting Rutgers atop the Big Ten East and halfway to bowl-eligibility, it's more of the same for a team that boasts the hardest schedule in the conference.
"This hurts. It should hurt," Rutgers coach Kyle Flood said. "But I will not allow them to be defined by their losses."
Bass from the loudspeakers thumped so hard you couldn't feel your own heartbeat, and the pageantry surrounding High Point Solutions Stadium served as the tinsel to what could have been an unprecedented Rutgers victory. One large, stenciled sign read,
"Enemies of the State"
and listed all the New Jersey natives on Penn State's roster. (Bell said word of the sign made its way around the locker room before the game.) And Penn State coach James Franklin added that Rutgers fans greeted the Nittany Lions' buses by waving their middle fingers.
There were plenty of similar ingredients here for a future rivalry -- disrespect, a close game, proximity -- but both teams walked off the field with completely different mindsets. Flood referred to this loss as "devastating," and Franklin summed everything up by saying he felt "really, really proud."
This could have been a dream start for Rutgers but, instead, it's a dream one for Penn State. Several thousand PSU fans
spilled into the street last Monday
, some crowd-surfing on mattresses, after the NCAA announced this team was once again postseason-eligible. Now it's nearly on the cusp of a bowl berth.
The Nittany Lions are playing for more than just dignity now, and Hackenberg and these Lions now stand -- improbably -- atop the Big Ten East. They are the only undefeated team in their division and just one of two undefeated teams left in the conference (Nebraska). If it wasn't for that final touchdown against Rutgers, all that could have been flipped upside down. And Hackenberg and these Lions knew it.
Hackenberg seemed to exorcise all that emotion and those "what-ifs" with that one, long yell on the field. Once he reached the postgame media room, his demeanor had already reverted back to its normal, calm self. He spoke as if the game had ended days before; he didn't even so much as grin while recounting his game-winning drive that came about 30 minutes prior.
You ever take time to enjoy these wins, Christian? It seems like you always just talk about how you guys have a long way to go.
"It's just one of those things, man. We do," he said, stone-faced. "Looking at that film after a win feels a lot better than looking back on that film after a loss. ...
"This is huge because a win's a win's a win. We're 3-0 right now, and we're confident. We haven't played our best ball yet."
June, 24, 2014
Jun 24
10:08
PM ET
Although there's been plenty of good news on the recruiting trail for James Franklin and the Nittany Lions, injuries and depth issues sure seem to be stacking up for the program this offseason.
According to
a report from Lions 247
, linebacker
Ben Kline
is the latest to succumb to a serious injury -- a torn Achilles tendon that should make him miss "significant time," according to the outlet's sources.
[+] Enlarge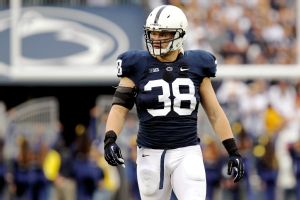 Matthew O'Haren/USA TODAY SportsBen Kline's reported injury further depletes a thin group of Penn State linebackers.
The injury comes about seven months after Kline
suffered a torn pectoral that required surgery
. He also underwent a second shoulder surgery shortly after that. At the time of those surgeries, then-coach Bill O'Brien remained hopeful that Kline would be ready in time for kickoff this season.
Now? Well, with Franklin's philosophy to not discuss injuries, it's anyone's guess as to when -- or whether -- Kline will return for his redshirt junior season.
Regardless of the severity, the injury obviously sets Penn State back. Depth issues along the offensive front
have been well-documented
, but the corps of linebackers are also extremely thin. Penn State now has just four linebackers who played last season and entered the university on scholarship:
Mike Hull
,
Nyeem Wartman
,
Brandon Bell
and
Gary Wooten
.
Kline, a team leader who
penned an articulate open letter in January
about the program, could've challenged for a starting job had he been healthy. At the least, he would've played a crucial role as a backup. Last season, he battled through injuries but eventually won the starting job later in the season -- before the torn pectoral ended his year.
Kline offered this team a safety blanket of sorts at his position. He was a solid player who would've contributed in some manner -- but now that production will have to come from elsewhere, which likely either means a lot more Wooten, time split among non-scholarship players or an immediate impact from the two true freshmen,
Jason Cabinda
and
Troy Reeder
.
Linebacker for Penn State just went from a potential issue to a real concern. The rest of these players need to stay healthy -- or Penn State's defense could end up being in almost as much trouble as the offensive line.
January, 2, 2014
Jan 2
1:30
PM ET
STATE COLLEGE, Pa. -- Most Penn State players reacted with a stunned silence when told of the news that their head coach, Bill O'Brien, was
heading to the NFL's Houston Texans
.
The story broke about 90 minutes before the new year, and most players were either with friends or on their way to parties. Linebacker
Brandon Bell
was driving when he answered his buzzing cell phone.
"It's official?" he asked at 10:30 p.m. Tuesday night. "I don't have much to say. ... Yeah, I guess I'm surprised."
[+] Enlarge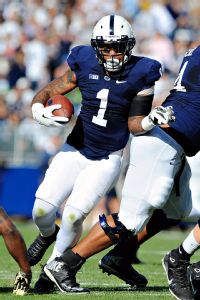 Rich Barnes/USA TODAY SportsBill OBrien's departure caught Bill Belton and his teammates by surprise, but the players feel Penn State will be just fine moving forward.
He paused a few seconds and then continued on: "You can't worry about what you can't control. We got to do what we got to do."
Fifteen minutes later and defensive end
C.J. Olaniyan
said he hadn't heard anything about O'Brien heading elsewhere either. He seemed just as off-guard and even a bit reticent to believe the breaking story.
"Like I said, I haven't heard anything," Olaniyan said. "But no matter what happens, Penn State has shown -- everybody's shown -- that we're going to keep striving forward. No matter what happens."
The overwhelming sentiment from players on Tuesday and Wednesday was one of surprise, but not of betrayal. Their emotions were mixed but not polar -- they felt disappointed, but they were happy for their head coach. They seemed down, but they spoke with conviction about their university and the next season.
"As long as we have each other," wideout
Jake Kiley
said Wednesday, referring to his teammates, "we'll be fine. I think everyone's in the same mind-set."
Tailback
Bill Belton
wanted to enjoy the new year, forget about the coaching change and deal with it later. Wideout
Allen Robinson
hung up as soon as O'Brien's name was mentioned. Offensive guard
John Urschel
took to Twitter to
congratulate his head coach
.
Different players reacted differently. But everyone seemed to agree that Penn State's certainly been through worse, and that it would emerge once again just fine.
Those same players who congratulated their head coach first met O'Brien in January 2012 when the relative unknown landed in Happy Valley and told the media he was
"thrilled to be the head football coach,"
months before the NCAA levied unprecedented sanctions against the school. O'Brien asked players for their commitment, their loyalty, and they overwhelmingly surrendered it.
Eugene Lewis, now a rising redshirt sophomore, was one of those players. The coveted four-star recruit arrived on campus a few weeks before those sanctions, and he could've chosen to transfer elsewhere without penalty. But he decided to stick with O'Brien in Happy Valley.
And, even now, Lewis doesn't regret his decision. Even now, he bristled at feeling even the slightest twinge of betrayal by his old coach.
"That's a strong word because you have to look at it from his point of view," Lewis said Wednesday. "He came into a position that was hard for his family, with the sanctions that we got. You have to look at what he did and how he did all he could. You can't really be mad at him for leaving after two years. I still really respect him."
Lewis was at a friend's house, watching ESPN, when he discovered the news of O'Brien's departure. His phone buzzed with calls and texts from his teammates shortly before midnight. They agreed they'd enjoy the night and then just see what happens.
But Lewis was adamant, whomever the next head coach turns out to be, that he'll still be all-in.
"At the end of the day, we all know we're family and we all know we still have to go out there and play for our school," he said. "You have to be able to fight through adversity, and this is just another obstacle. I'm not mad at Coach O'Brien, I'm happy with what he's done for me and this university.
"I know my team and everyone else there at Penn State -- everyone -- is going to be behind us, and we're going to greet the next coach the same way we greeted Coach O'Brien."
Defensive end
Curtis Cothran
echoed Lewis' words and succinctly summed up the message from Penn State's players: "We're going to be OK."
September, 25, 2013
9/25/13
10:30
AM ET
True freshmen are having a bigger and bigger impact throughout college football these days, as coaches are either becoming less afraid to throw their youngsters into the fire or are facing fewer options.
[+] Enlarge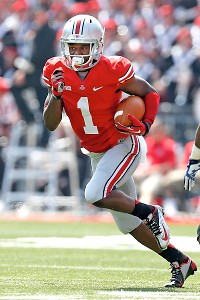 Kirk Irwin/Getty ImagesThe versatile Dontre Wilson could be one of many to get touches in the diamond formation.
With that in mind, today we are ranking the top five teams in the Big Ten in order of the impact true freshmen are making for that team. We're going with quality over quantity here, mind you.
1. Penn State:
The Nittany Lions are starting just one true frosh, but he's a guy with a little bit of importance to the team's fortunes: quarterback
Christian Hackenberg
. The 18-year-old has had some ups and downs but is on pace for a 3,000-yard season. Tight end
Adam Breneman
and receiver
Richy Anderson
have also played in every game, with one start each.
Von Walker
,
Brandon Bell
and
Jordan Smith
are among others who have seen time for coach Bill O'Brien, who doesn't have the luxury to redshirt many guys with the Lions' depth issues.
2. Nebraska:
The Huskers' defense is young, all right. So young that two true freshmen are starting at linebacker for Bo Pelini in
Josh Banderas
and
Nathan Gerry
. They rank fourth and fifth on the team in tackles, and Banderas is handling a leadership position as the middle linebacker.
3. Ohio State:
Urban Meyer says Ohio State doesn't redshirt. If you're ready, you play. Technically, the Buckeyes don't start any true freshmen, but
Dontre Wilson
has already made a big impact as a runner, receiver and kick returner. Several other first-year players dot the two-deep, such as safety
Vonn Bell
and defensive lineman
Joey Bosa
, and running back
Ezekiel Elliott
ran for more than 100 yards and scored two touchdowns last week versus Florida A&M.
4. Indiana:
No surprise to see the Hoosiers on this list, since coach Kevin Wilson has played as many true freshmen as any coach in the country the past few years. That means Indiana finally has some veterans, but Wilson is starting
T.J. Simmons
at linebacker and getting contributions from
Darius Latham
on the defensive line,
Antonio Allen
in the secondary and
Marcus Oliver
and
Clyde Newton
at linebacker.
5. Wisconsin:
The Badgers are mostly an experienced, veteran team. The one exception is in the secondary.
Sojourn Shelton
is starting at cornerback for the Badgers, while
Jakarrie Washington
and
Nate Hammon
are top reserves in the defensive backfield.
April, 11, 2013
4/11/13
5:00
PM ET
On Wednesday, the head coach and one player from each Big Ten Legends Division team participated in a
spring football teleconference
with the media. On Thursday, it was the Leaders Division's turn. Here are some notes and updates from the call:

Illinois
Head coach Tim Beckman said the junior college players he brought in helped with depth and age issues on his young team. "We have 40 football players that have never been in our spring football until this year," he said. Of the juco imports, Beckman said wide receiver Martize Barr has quick hands and good playmaking skills, both in the passing game and on kick returns; Eric Finney has earned a starting job at the Star linebacker position; Abe Cajuste is adding depth by playing both defensive tackle and defensive end; and Dallas Hinkhouse is making an impact at offensive tackle.
Beckman sung the praises of offensive lineman Corey Lewis, a sixth-year senior who has battled back from five knee surgeries and has become a team leader. "Corey Lewis comes to my office probably four or five times a week, just to talk," he said. "To me, he is what college football is all about." Beckman said that Lewis has "had a special spring" and hinted that he has earned a starting job.
Quarterbacks Nathan Scheelhaase and Reilly O'Toole will take most of the snaps in Friday's spring game so they can get more experience in the new offense. Beckman said Scheelhaase has "got a step in front" because of his experience, but the competition continues.
Scheelhaase on reasons for optimism in 2013: "Establishing an identity. That's something I don't know that we necessarily had last year, on offense or defense or as a team in general.

Indiana
Like many of you, head coach Kevin Wilson would like to know the new Big Ten division alignment. The reason? It's harder to recruit without being able to tell a prospect where he'll be playing his freshman season. Wilson added that if the league does indeed go to an East/West split, he'd like to see the Hoosiers placed in the East since they're located in the Eastern Time Zone.
Wilson said run defense and takeaways are two huge priorities for the Hoosiers' defense during the offseason. He noted that the Big Ten doesn't boast a large group of elite pass offenses, so IU must prepare better for run-driven attacks. Indiana finished last in the Big Ten in both run defense (231.3 ypg) and takeaways (13). Cornerback Greg Heban said the defense is working on takeaways every day in practice. "Every time the ball touches the ground, the defense is scooping it and scoring it," Heban said, "trying to give us a feel of what it's like."
Both Wilson and Heban praised the play of junior cornerback Tim Bennett this spring. Other spring standouts include linebacker T.J. Simmons, a freshman early enrollee, and Steven Funderburk, a junior-college transfer.
Heban called this "easily the best spring I've been around." He has seen more physical play and better effort on both sides of the ball, and the team also is having more fun than in past springs.

Ohio State
Head coach Urban Meyer said running back Rod Smith won't play in Saturday's spring game because he recently suffered a concussion. Before that, Meyer said Smith was one of the five most improved players on offense this spring. Meyer listed Carlos Hyde and Smith as the team's top two running backs, while Bri'onte Dunn and Warren Ball are even for the No. 3 spot.
Although the receivers have been better this spring -- especially Corey Brown and Chris Fields -- the depth is still nowhere near where it needs to be for Meyer's spread offense. "We're way behind on quality of depth at that position," Meyer said. "That's a major, major concern." Moving Jordan Hall to H-back should help, and Meyer noted that the Buckeyes boast two good tight ends in Jeff Heuerman and Nick Vannett.
Buckeyes offensive tackle Jack Mewhort paid close attention to the way John Simon and others led in 2012. He's ready to take on a greater load this season. "I welcome that," he said. "I see that as an honor, being compared to a guy like John Simon. I also see it as a challenge. I feel the pressure to step up and get guys going in the right direction." Mewhort also has seen quarterback Braxton Miller recognize his leadership responsibilities more this spring and get after teammates when he needs to.
Meyer said he puts more emphasis on spring practice and the spring game than most coaches. He has told his players that there will be a depth chart after spring ends, and while changes are possible in the summer, they're not likely. "In spring ball, you're trying to win a spot," he said. "During the fall, we're trying to win games."

Penn State

Purdue
Head coach Darrell Hazell said the Boilermakers have made major improvements in the last three and a half weeks. "Anytime you put in three different schemes, there's a little bit of a learning curve for the first couple weeks," he said. "You could see guys start to really get comfortable the last five or six practices."
Hazell said he has "three capable guys" right now at quarterback with Rob Henry, Danny Etling and Austin Appleby. He reiterated that he would keep the competition open until two weeks before the opener at Cincinnati. Of Etling, a freshman early enrollee, Hazell said: "For a young guy, a guy that should be at his prom, I think he's got tremendous poise. He's smart and really studies the game."
Hazell said backup tight end Justin Sinz and center Robert Kugler are two guys that have really caught his eye this spring. He called Kugler a "very much a leader on the offensive line."
Cornerback Ricardo Allen said Hazell has instilled an "all is one" mentality. "If one person does something, we all have to do it. We all wear black socks. We all wear the same uniform. We all tuck our shirts in. I feel like we're becoming closer as a team, and it's helping us build."

Wisconsin
Head coach Gary Andersen confirmed Curt Phillips and Joel Stave have separated themselves in the quarterback competition. It's a "mixed bag" of who takes snaps with the first-team offense, but both will continue to rotate through the rest of the spring and into fall camp. "The way they've separated themselves is simply production," Andersen said. "They know exactly where they sit and so does the rest of the team. … If they put all their friendships aside, their depth chart would look exactly like our depth chart."
Andersen praised the offensive line for tackling another transition, as the group works with its fourth position coach (T.J. Woods) since the 2012 Rose Bowl. The line has seen varying looks from the defense in practice and had players move around to different positions, in part because of injuries. Wisconsin had only seven healthy linemen a week ago, but Andersen is hopeful the number will rise to nine or 10 by next week's spring game. "Those kids have grinded through it every single day," Andersen said. "They're a tough-minded group."
Badgers senior linebacker Chris Borland said losing defensive end David Gilbert to recurring foot problems is a blow but the team has others to step in like Tyler Dippel, Brendan Kelly and Jesse Hayes, a redshirt sophomore who has stood out this spring.
Much like his old boss Urban Meyer, Andersen believes in constant competition and declares winners and losers in each practice. Andersen also mixes in some fun with a dance-off and throwing footballs into trash cans. "Some of them are a little bit quirky, but through the years establish some things we like," he said.
Borland said the strength program has brought the biggest changes in the transition to Andersen's staff. Cardiovascular work is stressed more, as is preventative care. Head strength and conditioning coach Evan Simon operates at a faster pace and uses more of an instructional approach than Ben Herbert, who stressed motivation.
February, 7, 2013
2/07/13
9:00
AM ET
The letters have all been signed and the faxes sent in. Signing day is officially over. So how did each Big Ten team do in fulfilling its most pressing needs?
Of course, the real answer to that question won't come for another one, two or even three years. But we'll take a stab now at figuring out how league teams addressed some glaring concerns, beginning with the Leaders Division. Adam will look at the Legends teams a little bit later in the blog.

INDIANA
Needs met:
It's no secret that the Hoosiers desperately needed reinforcements on defense. They focused on that in this class with 13 of their 22 signees on that side of the ball, plus four players labeled for now as "athletes." That includes six defensive linemen and four linebackers for a team that must improve its front seven.
Holes remaining:
After finishing with one of the worst rushing attacks in the Big Ten, Indiana signed only one true running back --
Daryl Chestnut
-- in this class.

ILLINOIS
Needs met:
After a disastrous 2-10 season where nothing went right, the Illini needed help everywhere, especially at the offensive skill spots. They signed five juco transfers for some immediate assistance and some speed to run the spread offense, including future starting quarterback
Aaron Bailey
.
Holes remaining:
Illinois lost linebacker recruit
Reggie Spearman
to Iowa and didn't sign anyone at that position, though it had two freshmen starters there last year.

OHIO STATE
Needs met:
Speed, speed, speed. Urban Meyer wanted a whole lot more of it, especially at the offensive skill positions. And that's exactly what he got in receivers
Jalin Marshall
,
Dontre Wilson
,
James Clark
and
Corey Smith
. The Buckeyes should also be able to stop the pass with defensive backs
Eli Apple
,
Gareon Conley
,
Vonn Bell
and
Cam Burrows
among the standouts in this class.
Holes remaining
: Very few, as you'd expect with one of the nation's top classes. Ohio State signed only two offensive linemen, but the Buckeyes addressed that position group in the 2012 class.

PENN STATE
Needs met:
The Nittany Lions had to get two quarterbacks in this class, and they managed to land the top-rated quarterback in the land in
Christian Hackenberg
as well as junior college transfer
Tyler Ferguson
. The team also needed to add some talent to the secondary and brought in four defensive backs.
Holes remaining:
The Lions are bringing in only one running back, though they have last year's signee Akeel Lynch, along with Bill Belton and Zach Zwinak returning. With severe scholarship limitations, Penn State's holes will revolve around depth. The team has to be selective and hope its run-on program produces some gems.

PURDUE
Needs met:
The Boilermakers needed reinforcements in the backfield after losing two senior quarterbacks and with a thin tailback corps. Their two top recruits in this class are pro-style QB
Danny Etling
and running back
Keyante Green
. The Boilers also added running backs
Keith Byars II
,
David Yancey
and
Dalyn Dawkins
.
Holes remaining:
Purdue signed just one offensive lineman in this class (
Jason Tretter
). That's an area new coach Darrell Hazell will have to address in next year's class.

WISCONSIN
Needs met:
The Badgers needed to restock the secondary after losing three starters from the 2012 team. They signed five defensive backs, including early enrollees
Keelon Brookins
and
Sojourn Shelton
. Wisconsin also got a potential impact defensive end in
Alec James
and possibly the latest in a long line of star running backs in
Corey Clement
.
Holes remaining:
Wisconsin could still use a bit more playmaking at the wide receiver position after struggling to find complements to Jared Abbrederis last season. The Badgers will hope
Robert Wheelwright
and
Jazz Peavy
provide some help. Neither was a highly rated recruit -- but then again, the highly productive Abbrederis was a walk-on. And although you wouldn't expect Wisconsin to need more offensive linemen, new coach Gary Andersen said the team is a couple of linemen short of the ideal number after signing three in this class.
February, 6, 2013
2/06/13
6:49
PM ET
Penn State has signed larger and more decorated recruiting classes than the 2013 version, and brought in more big names. But the program has never faced NCAA sanctions, including scholarship reductions and postseason probation. Under the circumstances, the
17-member recruiting class PSU signed
Wednesday might be one of the most impressive in team history. Penn State brought in star power like quarterback
Christian Hackenberg
and tight end
Adam Breneman
, retained most of its top recruits and addressed several needs. Head coach Bill O'Brien and his assistants have received a lot of praise for their first recruiting class of the sanction era, and deservedly so.
ESPN.com caught up with O'Brien on Wednesday to discuss the class.
[+] Enlarge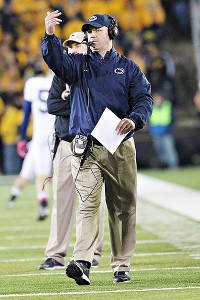 Reese Strickland/US PresswireCoach Bill O'Brien says Penn State filled immediate needs with its recruiting class.
How did you guys keep this class together with all the challenges you had?
Bill O'Brien:
I think it has a lot to do with two groups of people. Really the assistant coaches here, and then the prospects and their families that we signed. We started early on these guys, and we began to develop relationships with these guys right when I was hired here. And then we just began to keep grinding out those relationships. We never missed a phone call, we never missed an opportunity to talk to somebody that was influential in this young man's life. You have to give a lot of credit to our assistant coaches, and then give a lot of credit to these guys and their families who stuck with us.
Was there ever a point where you started to worry, or did you have faith all along that you'd keep the group together?
BO'B:
I was certainly concerned when the sanctions came out. That day in July, I was definitely concerned. What happened was a group of guys who were committed to us, about eight guys, they drove up here to State College and they met with us that weekend, maybe two days after the sanctions came out, and that was a very productive meeting. They reaffirmed their commitment to me and to our football program. So that was when I began to say, 'As long as we work at it and we stay with these guys and we stay committed and they stay committed, we'll be OK.' Right after that, it got a little bit better.
How did the season itself affect keeping guys on board or bringing in interest from other recruits?
BO'B:
Winning always helps. Any time you can go out and win eight out of your last 10 games -- we were on TV all the time, or these guys were actually at the game and they saw that atmosphere, that winning locker room and the atmosphere at Beaver Stadium -- that's a very positive thing for any football program.
What's the significance of Christian signing with you guys at the quarterback spot?
BO'B:
It's really important. At the end of the day, Christian comes from a great family and he's just a really good person who has got a lot of talent and is going to come in here and make us a better football program. It's important that all these other guys, not just Christian, stayed committed to us. That was such a big, big thing for us. We owe a lot to those guys and their families. We're proud that they stayed with us.
How does he fit what you want to do on offense?
BO'B:
He definitely fits what we're looking for. He's a tall guy who's athletic. He's an accurate passer, he's smart, he's competitive, he's made plays in big games, he's run 2-minute drills in high school to win games. So we feel really good about him. We felt good about him right from the start. He was the No. 1 guy we went after, and we were able to get him. It says a lot about him, and it says a lot about us. He fits our system to a T.