NCF Nation:

Brandon Burton
May, 1, 2011
5/01/11
12:26
PM ET
The Pac-12 provided 37 players to the NFL draft over the weekend, one fewer than the SEC, which led all conferences.
If the six combined picks from Colorado and Utah are taken away from the conference, the old Pac-10 provided NFL teams 3.1 draft picks per team, also just behind the SEC at 3.17.
Here's where the Pac-12 players went:
First round
No. 8
Jake Locker
, QB, Washington: Tennessee
No. 9
Tyron Smith
., OT, USC: Dallas
No. 17
Nate Solder
, OT, Colorado: New England
No. 24
Cameron Jordan
, DE, California: New Orleans
No. 27
Jimmy Smith
, CB, Colorado: Baltimore
Second round

7.
Akeem Ayers
, LB, UCLA: Tennessee
10.
Brooks Reed
, DE, Arizona: Houston
13.
Rahim Moore
, FS, UCLA: Denver
21.
Stephen Paea
, DT, Oregon State: Chicago
24.
Shane Vereen
, RB, California: New England
Third round

13.
Jurrell Casey
, DT, USC: Tennessee
20.
Mason Foster
, LB, Washington: Tampa Bay
25.
Shareece Wright
, CB, USC: San Diego
29.
Christopher Conte
, S, California: Chicago
33.
Sione Fua
, DT, Stanford: Carolina
Fourth round

5.
Jordan Cameron
, TE, USC: Cleveland
19.
Casey Matthews
, LB, Oregon: Philadelphia
21.
Jalil Brown
, CB, Colorado: Kansas City
27.
Owen Marecic
, FB, Stanford: Cleveland
Fifth round

8.
Brandon Burton
, CB, Utah: Minnesota
9.
Gabe Miller
, DE, Oregon State: Kansas City
14.
Jacquizz Rodgers
, RB, Oregon State: Atlanta
23.
Richard Sherman
, CB, Stanford: Seattle
Sixth round

2.
Ryan Whalen
, WR, Stanford: Cincinnati
14.
Caleb Schlauderaff
, OG, Utah: Green Bay
17.
Ronald Johnson
, WR, USC: San Francisco
19.
David Carter
, DT, UCLA: Arizona
22.
Allen Bradford
, RB, USC: Tampa Bay
24.
Mike Mohamed
, LB, California: Denver
32. Ricky Elmore, DE, Arizona: Green Bay
38. Zach Williams, C, Washington State: Carolina
Seventh round

12.
D'Aundre Reed
, DE, Arizona: Minnesota
24.
Scotty McKnight
, WR, Colorado:
New York Jets
30.
Lawrence Guy
, DT, Arizona State: Green Bay
37.
Stanley Havili
, FB, USC: Philadelphia
38.
David Ausberry
, WR, USC: Oakland
39.
Malcolm Smith
, LB, USC: Seattle
By Pac-12 school:

Arizona (3)
Arizona State (1)
California (4)
Colorado (4)
Oregon (1)
Oregon State (3)
Stanford (4)
UCLA (3)
USC (9)
Utah (2)
Washington (2)
Washington State (1)
The final tally by automatic qualifying conferences
:
SEC... 38
Pac-12... 37
Big Ten... 36
ACC... 35
Big East 22
Big 12...19
Nebraska was a big swing to the Big Ten from the Big 12 with seven picks. With Colorado and Nebraska, the Big 12 provided 30 selections.
This was the tally through three rounds
:
SEC: 20
ACC: 19
Pac-12: 15
Big Ten: 13
Big 12: 9
Big East: 4
January, 19, 2011
1/19/11
4:30
PM ET
The NFL on Tuesday released its official list of underclassmen who have declared for the draft, and it is a doozy --
a record 56 players have decided to leave school early
to turn pro.
There are always several head-scratchers every year. In 2010, for example, Ole Miss quarterback Jevan Snead went undrafted; SMU running back Shawnbrey McNeal went undrafted; and Central Michigan receiver Antonio Brown went in the sixth round to Pittsburgh (No. 331 overall).
This season is no different, especially among players in the non-AQ conferences. First: the official list of all the non-AQ players who have declared themselves for the NFL draft:
DeAndre Brown, WR, Southern Miss
Brandon Burton, CB, Utah
Jamel Hamler, WR, Fresno State
Sealver Siliga, DT, Utah
Muhammad Wilkerson, DT, Temple
As I explained in a video last week, it seems Burton is the one most likely to go in the late first to second round. It also appears Siliga and Brown made questionable moves. Brown has had injury problems and character issues he is going to have to address, while Siliga was nowhere to be found on any pre-draft evaluation boards of top underclassmen. As for Hamler, his decision also raises some questions.
This past season he had 54 catches for 812 yards and six touchdowns. He does have good size at 6-foot-2, 195 pounds, but it is safe to say his decision is a stunner. He is not listed as one of the elite receivers in the country and has hardly been mentioned as someone with top draft potential.
With any of these players, all you can do is wish them luck and hope they made the right decisions for their future.
January, 3, 2011
1/03/11
3:19
PM ET
Utah cornerback Brandon Burton has declared for the NFL draft, leaving school with one year of eligibility remaining.
Burton broke the news via Twitter on Monday: "Officially declared for the nfl draft today. To ute nation I love u guys and appreciate all the support through the years."
The 6-foot-1, 185-pound Burton is rising quickly up draft boards. ESPN NFL draft expert Mel Kiper Jr.
has Burton ranked as the No. 5 cornerback among underclassmen

and noted he is a player to watch. Burton has been projected to be a first- or second-round pick.
Burton had two interceptions and 51 tackles this season, and
had the critical block on BYU's field goal attempt
that would have won the Utah-BYU game in November.
He has been a shutdown corner for Utah, and there is no question he is NFL talent. Burton told Dirk Facer of The Deseret News that he
checked with the NFL draft advisory board before making his decision
.
"I was looking for a certain response, and it was exactly what I thought it would be," Burton told the newspaper. "So when I heard back from them that just clarified what I wanted to hear from them. It just gave my decision that much more weight. I felt like I was making the right decision."
December, 16, 2010
12/16/10
12:00
PM ET
Third-year players -- juniors and redshirt sophomores -- have until Jan.17 to declare their intentions to enter the 2011 NFL draft, and a number of Pac-12 players are likely to do so.
USC
already has lost two
: Defensive tackle Jurrell Casey and offensive tackle Tyron Smith.
Many of the upcoming decisions -- both to stay or to go -- are going to be surprises. Some certain early draft picks opt to return for whatever reason, including the fact that they will never -- ever -- have as much fun as they did in college. And a handful of obscure players annually decide to enter the draft for whatever reason, including getting bad advice from a know-it-all "acquaintance" who doesn't know a darn thing.
This will not turn out to be a complete list. And our speculation is intentionally vague because it can be nothing else: We don't know what's going on inside these young men's heads.
Note: Though some players have indicated they plan to return, they are included here because, well, you never know -- they might change their minds.
You can review
Mel Kiper's "junior" rankings here
.
Arizona
QB Nick Foles, Jr.:
Foles would benefit from returning for his senior year and could improve his stock considerably. But his knee injury this year and questions about the Wildcats' offensive line might give him pause.
WR Juron Criner, Jr.:
Criner is the best receiver in the country few folks have heard of, but he might want to look at this year's receiver class, which is loaded.
CB Trevin Wade, Jr
.: Wade needs to return for his senior season after taking a step back as a junior.
Arizona State
CB Omar Bolden, Jr
.: Bolden rejuvenated his career this fall, earning first-team All-Pac-10 honors. He also knows what it's like to get hurt and miss a season. The Sun Devils could break through in 2011, and that could greatly benefit his status.
DT Lawrence Guy, Jr
.: The general thinking is Guy wants to return for his senior season. He faces a tough choice.
California
RB Shane Vereen, Jr.:
Mel Kiper ranks Vereen No. 5 among junior running backs. The Bears' questionable supporting cast on offense next year might sway him to the pros.
OLB Mychal Kendricks, Jr
.: Lots of potential, but he's not ready.
Colorado
OG Ryan Miller, Jr
.: Miller has already said he plans to return next fall, though Kiper ranks him No. 2 among junior guards.
Oregon
RB LaMichael James, RSo
.: Kiper ranks James as the No. 3 "junior" running back. The Ducks' first unanimous All-American must choose between college glory -- Heisman Trophy, (another) national championship -- or getting paid now. Probably won't get picked until the second round because of size and middling skills as a receiver, but his top-end speed is enticing.
TE David Paulson, Jr.:
Kiper ranks him No. 4 among junior tight ends. Good bet to return.
Oregon State
RB Jacquizz Rodgers, Jr
.: Rodgers has indicated he plans to return because his brother, James, is likely to get a fifth year via medical hardship because of a knee injury this past season. But Beavers fans are rooting for it to be Jan. 18.
WR James Rodgers, Sr.:
It's likely the Rodgers are a package deal: Both stay or both go.
Stanford
QB Andrew Luck, RSo.:
If he enters the draft, he's almost certain to be the No. 1 overall pick. More than a few folks, however, believe he's seriously considering a return for his junior year, particularly if coach Jim Harbaugh remains at Stanford. We'll see.
UCLA
LB Akeem Ayers, Jr
.: Odds are that Ayers will enter the draft. A likely first-round pick.
FS Rahim Moore, Jr.:
Odds are that Moore will enter the draft. A likely first-round pick.
USC
DL Armond Armstead, Jr
: Armstead has said he plans to return. He should. A healthy season could send his stock skyrocketing.
Utah
CB Brandon Burton, Jr
.: Burton, second-team All Mountain West, is No. 5 on Kiper's list of junior corners. He's definitely on the NFL radar.
OT Tony Bergstrom, Jr.:
It would make sense for the second-team All Mountain West player to return for his senior year.
Washington
WR Jermaine Kearse, Jr
.: Kearse is highly productive but dropped a few too many balls this year. While he'd benefit from another year, he might be worried about the Huskies breaking in a new quarterback.
RB Chris Polk, RSo
: Polk eclipsed the 1,000-yard mark for a second consecutive season. He's admitted that entering the draft is a possibility.
Washington State
DT Brandon Rankin, Jr.:
It would be wise for Rankin to return for his senior season.
November, 29, 2010
11/29/10
4:00
PM ET
Here are your non-AQ players of the week, as selected by each conference.
Conference USA
Offense:
Tulsa QB
G.J. Kinne
. Completed 62 percent of his passes and was 23-of-37 for a career-best 406 yards and four touchdowns in a 56-50 win over Southern Miss. He also ran for two scores.
Defense:
Marshall LB Mario Harvey. Recorded a career-high 21 tackles, had two sacks, forced a fumble, and recorded five pass breakups in a 38-23 win over Tulane.
Special teams:
Southern Miss KR
Francisco Llanos
. Returned seven kickoffs for 197 yards, including an 87-yard return for a touchdown the first time -- his first-ever kickoff return for Southern Miss.
MAC
East Division
Offense:
Miami RB
Thomas Merriweather
. Ran for a career-high 182 yards on 22 carries and one touchdown in a 23-3 victory over Temple. His 96-yard touchdown tied for the second-longest run in Miami history.
Defense:
Kent State LB Cobrani Mixon. Had eight tackles, one sack, 1.5 tackles for loss, one forced fumble, one fumble recovery, two pass breakups and a hurry in a 28-6 win over Ohio.
Special Teams:
Ohio P Paul Hershey. Averaged 46.7 yards per punt on three kicks at Kent State.
West Division
Offense:
Toledo QB
Terrance Owens
. Went 24-of-32 passing for a career-high 304 yards and three touchdowns in a 42-31 win over Central Michigan in his third career start.
Defense:
Northern Illinois DE Jake Coffman. Had five solo tackles, one sack, two tackles for loss and a forced fumble in a 71-3 win at Eastern Michigan.
Special Teams:
Toledo KR
Eric Page
. Became the first Rocket in history to return two kickoffs for touchdowns, a 99-yarder in the first quarter and a 95-yarder in the third quarter, in a 42-31 win over Central Michigan.
Mountain West
Offense:
San Diego State QB
Ryan Lindley
. Completed 22 of 30 passes for 338 yards and four touchdowns in a 48-14 win over UNLV. It was his sixth 300-yard passing game of the season.
Defense:
Utah DB Brian Blechen. Had seven tackles, one sack, an interception and a pass breakup in a 17-16 victory over in-state rival BYU.
Co-Special Teams:
Utah DB Brandon Burton, UNLV K
Marcus Sullivan
. Burton blocked a 42-yard field goal attempt on the final play of the game, helping preserve the victory over the Cougars. Sullivan set a new UNLV single-game record for kick return yards with 224 yards and an average of 37.3 yards per return.
Sun Belt
Offense:
North Texas RB
Lance Dunbar
. Set a career-high and had the sixth-best rushing performance in the nation this season with 270 yards and three touchdowns in a loss to Kansas State.
Defense:
Middle Tennessee LB Darin Davis. Set a Sun Belt record with 101 yards on his two second-half interception returns in a win over FAU.
Co-Special Teams:
Louisiana SS Cooper Gerami, North Texas WR
Brelan Chancellor
. Blocked an extra point attempt to preserve a victory for the Cajuns over their in-state rivals. Gerami also added five tackles on the night. Chancellor returned a kickoff for a touchdown for the second game in a row, taking one back 93 yards against Kansas State. He is one of seven players in the nation this season to have two or more kickoff returns for a touchdown.
WAC
Offense:
Hawaii RB
Alex Green
. Ran for a school-record 327 yards and three touchdowns on just 19 carries in a 59-24 win at New Mexico State.
Defense:
Fresno State LB Travis Brown. Made five tackles and returned an interception for a touchdown in a 23-20 win over Idaho.
Special teams:
Louisiana Tech KR/PR
Phillip Livas
. Returned a punt a career-long 88 yards for a touchdown in the third quarter of Louisiana Tech's 45-38 win at San Jose State. It was his eighth career return (kick or punt) for a touchdown, tying an NCAA record set by five others. He had a total of three punt returns for 103 yards and added a kickoff return for 27 yards against the Aggies.
November, 29, 2010
11/29/10
2:00
PM ET
Let's take a look at the good and the bad for the non-AQs in Week 13.
The good:
TCU completed its second straight undefeated regular season and is the flag bearer for non-AQS everywhere as the top team remaining in the BCS standings. Meanwhile, Nevada beat a Top 10 team for the first time in program history with its huge 34-31 overtime win over Boise State. But this weekend rewind would not be complete without a major hand clap for Akron and coach Rob Ianello, waiting until the very last game of the season for its first win, a 22-14 victory over Buffalo last Friday.
Alex Allen
posted his third straight 100-yard game, and
Patrick Nicely
threw for three touchdowns. The season will end without a winless team. ... FIU also made history with its first Sun Belt title and first bowl berth.
[+] Enlarge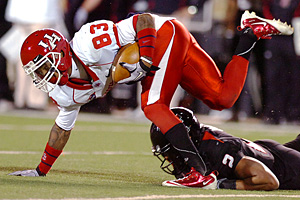 AP Photo/Zach LongPatrick Edwards and the Cougars ended the season on a four-game losing streak. The losses mean Houston will miss a bowl game for the first time in six years.
The bad:
Houston, a preseason favorite to win Conference USA, ended the season on a four game losing streak and will miss a bowl game for the first time since 2004. The Cougars gave it a valiant effort, but in the end, the loss of
Case Keenum
was too much to overcome. The running game was never consistent, mainly because teams loaded the box and dared Houston to throw. When they did, true freshman
David Piland
put up a lot of yards, but also threw too many interceptions. During the four-game skid, he had 13 touchdowns to 11 interceptions. … Ohio (8-4) managed a season-low six points in a loss to Kent State with a berth in the MAC title game on the line. The Bobcats had four turnovers, 11 first downs and just 183 total yards. They had won seven straight going into the game and now await their bowl fate.
The offensive:
Nine non-AQ teams scored 40 points or more this weekend, including five that scored 50-plus. Two of the wildest games were Tulsa beating Southern Miss 56-50 and Louisiana Tech beating San Jose State 45-38. In the Tulsa game,
G.J. Kinne
threw for 406 yards, while Southern Miss quarterback
Austin Davis
had 371. The two teams combined for 1,197 yards and 56 first downs. In San Jose, the two teams combined for 1,001 yards and 50 first downs. San Jose State quarterback
Jordan La Secla
threw for 496 yards, five touchdowns and three interceptions while Louisiana Tech running back
Lennon Creer
ran for 252 yards and three touchdowns.
The heartache:
Boise State may be 10-1, but it's hard to imagine anybody is more heartbroken than the Broncos today. Their dreams of playing for a national championship have been dashed, and so has any hope of playing in a BCS game. You have to feel for kicker Kyle Brotzman, who missed two field goals, including one that would have won the game.
BYU also had its hearts broken on a missed kick in the Holy War against Utah. It was a wild game in Salt Lake City, featuring seven combined turnovers. The most costly for BYU came late in the game. Leading 16-10, Brandon Bradley intercepted
Jordan Wynn
with about five minutes to play. But he fumbled during the return and Utah recovered. Though TV replays showed his knee was down, the ruling on the field stood.
Matt Asiata
ended up scoring on a 3-yard touchdown run to put the Utes ahead 17-16. BYU had a chance to win it, but Mitch Payne's 42-yard attempt was blocked by Brandon Burton. Interestingly, BYU was involved in a highly publicized instant replay error against San Diego State earlier this season. After finding a BYU employee and alumni were working the booth in that game, the Mountain West changed its rules and no longer allows alums or school employees to work instant replay during games involving their teams.
A few more helmet stickers:
UNLV freshman kick returner
Marcus Sullivan
set a new UNLV single-game record for kick return yards with 224 yards in a loss to San Diego State. That ranks second in conference history. … North Texas running back
Lance Dunbar
set a career-high and had the sixth-best rushing performance in the nation this season with 270 yards and three touchdowns in a loss to Kansas State. He scored a fourth touchdown on a 17-yard pass reception. Also in the Sun Belt, Western Kentucky running back
Bobby Rainey
now leads the nation in rushing with 1,649 total yards rushing.
Week 14 look ahead:
Two conference championship games to look forward to: Miami (Ohio) versus Northern Illinois on Friday in the MAC and SMU versus UCF on Saturday in Conference USA. No. 17 Nevada plays Louisiana Tech, No. 11 Boise State plays Utah State and Hawaii plays UNLV. If all three win out, they share the WAC championship.
November, 28, 2010
11/28/10
12:49
AM ET
Time for a few non-AQ helmet stickers for Week 13:
Lennon Creer, Phillip Livas, Louisiana Tech.
Creer ran for a career-high 252 yards and three touchdowns in a
45-38
win over San Jose State. Livas tied a NCAA record with an 88-yard punt return for a touchdown -- his eighth career combined kickoff/punt return for a score. Five other players also have reached the mark, most recently C.J. Spiller of Clemson last season.
Rishard Matthews, WR, Nevada
. Matthews was instrumental in helping the No. 19 Wolf Pack upset No. 4 Boise State
34-31
on Friday night. He had a combined 216 yards of total offense with two touchdowns -- including a 7-yarder with 13 seconds left to send the game into overtime. Matthews finished with 10 catches for a career-high 172 yards -- just his second 100-yard game of the season.
Alex Green, RB, Hawaii.
Set a school record with 327 yards rushing, in less than three quarters no less, in a
59-24
win over New Mexico State. He broke the old record of 270 yards, set by Pete Wilson in 1950. Green went had more than 1,000 yards on the season, the first Hawaii player to go over that mark since 1992.
Ronnie Hillman, RB, San Diego State
. Ran for 152 yards on 19 carries to break the conference record for rushing yards by a freshman with 1,304 this season in a
48-14
win over UNLV.
Brandon Burton, CB, Utah.
Blocked what would have been a game-winning 42-yard field goal on the final play of the game in a
17-16
win over BYU in the Holy War.
Eric Page, WR, Toledo
. Accounted for five touchdowns in a
42-31
win over Central Michigan on Friday. Page scored on kickoff returns of 99 yards and 95 yards, becoming the first player in school history to score twice in one game on kickoff returns. His 99-yard return in the first quarter was the second-longest in school history. Page also caught touchdown passes for 9 and 25 yards and threw a 28-yard touchdown pass to QB
Terrance Owens
.
G.J. Kinne, QB, Tulsa
. Threw for 406 yards and scored six touchdowns in a
56-50
win over Southern Miss on Friday night. Kinne threw for four touchdowns and ran for two more as the Golden Hurricane closed their season on a six-game winning streak.
Darin Davis, LB, Middle Tennessee.
Had two interceptions and returned them for a combined Sun Belt-record 101 yards in a
38-14
win over FAU to keep the Blue Raiders' bowl chances alive.
October, 26, 2010
10/26/10
12:30
PM ET
August, 31, 2010
8/31/10
9:00
AM ET
Rebuilding a defense is never easy. Imagine, then, having your new defense face one of the best running backs in the country on opening night.
Such is the task facing Utah defensive coordinator Kalani Sitake on Thursday, when the Utes host No. 15 Pittsburgh and powerful back
Dion Lewis
.
Utah lost seven starters, including all of its starting linebackers, rover and three defensive backs. Five of its top-six leading tacklers are gone.
[+] Enlarge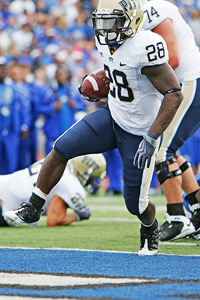 Jerome Davis/Icon SMIUtah knows it has a challenge in trying to slow down Dion Lewis.
"You wish you could have a lot more time as a coach, but the game is a test itself," Sitake said in a phone interview. "We've got some young guys, but so does everybody else in the country. We're sick of playing each other. We want to play against a good team, and we're all excited to play."
Sitake heaped generous amounts of praise on Lewis, who finished third in the country last season with 1,799 yards and 17 touchdowns as a true freshman. This season, he has garnered Heisman buzz, and many of the high hopes for Pittsburgh rest with how he plays.
"We've gone against some good running backs here since I've been here, and I think he may be one of the best," Sitake said. "He's a Barry Sanders-type -- he'll make you miss. He's also got very powerful legs and he'll lower the shoulder, a guy who has all the tools. I love the way he plays the game. We're going to have to stop a monster and we know that."
What should help Utah is the depth it has returning on the defensive line, even without Koa Misi, who was third on the team last year with 71 tackles. Tackles Dave Kruger and Sealver Siliga are all-conference candidates. Six players are expected to rotate in at tackle.
Defensive end Christian Cox led the team with 5.5 sacks last season in a mostly backup role, but he did start three games. Derrick Shelby returns from a knee injury.
"We have to take advantage of the depth we have there, but my main concern is taking Dion down and make sure he stays down," Sitake said. "If you watch film, he breaks tons of tackles. Even when you think he's down, he'll break out of it and take a 4-yard run into an 80-yard touchdown."
Linebacker is the biggest concern going into the season, with leading tackler Stevenson Sylvester gone along with much depth. JJ Williams, expected to start at rover, is a game-time decision with a foot injury. Sitake wasn't sure whether linebacker Jamel King (concussion) would play. Former quarterback Chad Manis is slated to start at strongside linebacker. If Williams can't play, Matt Martinez and Chaz Walker will start.
Meanwhile, cornerback Brandon Burton anchors a secondary that features a true freshman at strong safety -- 6-foot-2, 208-pound Brian Blechen, a former quarterback in high school.
"Brian's very mature when it comes to football knowledge," Sitake said. "He's very aggressive and likes to hit. All of that put together is a good thing. But now it's time to grow up and what better way to grow up than throwing him in the fire with a bunch of big, physical players in Pittsburgh."
Though this group is young and inexperienced compared to last year, Sitake was pleased with what he saw through fall camp. But now it is time to find out how his players will respond to a huge test.
"We have a good idea on our kids, but we'll find out Thursday," Sitake said.
March, 12, 2010
3/12/10
3:40
PM ET