September, 13, 2014
Sep 13
7:25
PM ET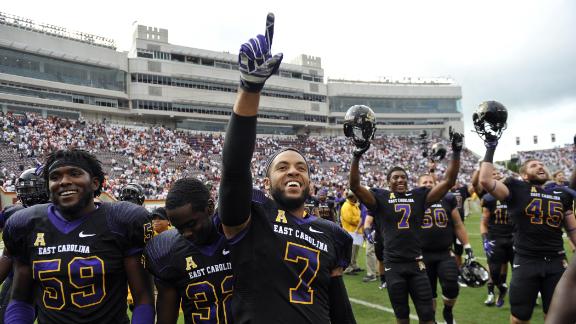 The game screamed trap! -- and letdown! -- in the week leading up to kickoff.
Yet Virginia Tech failed to see all the signs, failed to heed all the warnings -- and fell into the same pothole that has become all too common after big wins.
The No. 17 Hokies saw all that they earned in a victory over Ohio State last week come falling down in one big heap following a
28-21
home loss to East Carolina on Saturday afternoon.
Virginia Tech has now lost four of its last five games immediately after beating a ranked team. What was particularly galling about this loss was the way it happened.
East Carolina blitzed the strongest part of the Virginia Tech defense right from the start, daring the Hokies' supposedly top-notch secondary to slow down
Shane Carden
& Co.
Cornerback
Brandon Facyson
had a particularly brutal day, getting beaten on several long plays, and before the first quarter was over, the Pirates were ahead 21-0 -- all on touchdown passes.
[+] Enlarge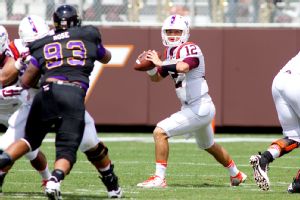 Jeremy Brevard/USA TODAY SportsAfter making great decisions at Ohio State, Michael Brewer threw two interceptions and 26 incomplete passes against East Carolina.
Virginia Tech defensive coordinator Bud Foster earned praise for his innovative defensive scheme last Saturday against Ohio State, flummoxing
J.T. Barrett
and coach Urban Meyer for most of the game. But in the early going against East Carolina, the Virginia Tech defensive backs simply could not cover one-on-one, and Foster was the one with no answers.
Meanwhile, the Virginia Tech offense reverted back to its familiar ways. No run game. Dropped passes galore. Terrible decisions from its quarterback.
Michael Brewer
, the picture of poise against Ohio State, had a difficult time getting the offense going for most of the game. Virginia Tech had two first downs and 14 yards in the first quarter. But even when Brewer came around in the fourth quarter, it was too late.
The Hokies tied the game at 21 with 1:20 left, and there was hope because Virginia Tech had not allowed a point in nearly 45 minutes. Surely the highly touted defense would come through.
Yet the defense was exposed again -- giving up the game-winning drive on three plays that took just more than a minute.
So many times last season, Virginia Tech failed to win games because its offense failed to deliver. On Saturday, Virginia Tech had equal parts fail on offense and defense. Given the returning players in the secondary, it is inexcusable for Virginia Tech to allow Carden to throw for 427 yards -- the most against Virginia Tech since 1993.
Last week, the Hokies won as an entire team. This week, they lost as an entire team, and now there are serious questions about what exactly we saw against Ohio State and whether the Buckeyes are any good at all.
And that schedule that appeared as if it laid out so perfectly for Virginia Tech? It cannot lay out perfectly without victories. Today, all that premature playoff talk goes the way Virginia Tech does.
Out the door.