NCF Nation:

Brandon Hardin
September, 5, 2011
9/05/11
10:00
AM ET
Says the Oregon fans: At least there's Sacramento State. Thanks Hornets.
Says the Oregon State fan: At least there's LSU. Thanks Tigers.
[+] Enlarge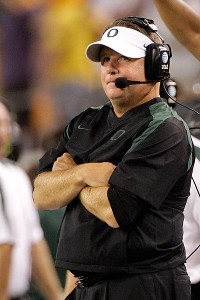 AP Photo/Tony GutierrezOregon's high-powered offense has averaged 17.8 points per game in Chip Kelly's four nonconference losses at the school.
Otherwise, either Ducks or Beavers fans would be crowing at the other's expense this week. As it is, both are miserable.
And they should be.
Oregon laid an egg instead of taking advantage of a major opportunity against LSU. The loss, naturally, inspired more of the same talk about the present leader of the Pac-12 not being able to physically keep up with an elite SEC team.
We
went that route, too
. But let's pause for a moment and wonder how that game might have gone for the Ducks if the teams had the same number of turnovers and penalties. You know: What if the game happened the way Oregon wanted it to instead of the way it actually did.
That same approach, which all unhappy football fans use the day after, is surely being employed by Oregon State adherents.
Beavers, yes, you are now on the ignoble list of FBS teams that have lost to FCS teams. In fact, you are on the list of FBS teams from BCS AQ conferences that have lost to FCS teams. Put all those letters together and they spell, "Embarrassing."
But we come not here to bury fans from the state of Oregon but to console them!
First, you have this: These defeats did nothing to damage your Rose Bowl chances. There are 11 games left. The only fact as of today is the best you can do in the regular season is go 11-1.
Oregon, you might have played yourself out of the national title chase. Or you might not have. Fair to say, it will take a lot of losing all over the country and impressive winning from the Ducks to get pollsters to rank the Ducks Nos. 1 or 2.
Oregon State, you might have a little embarrassing left to do. You are going to Wisconsin on Saturday. Did you watch the Badgers against UNLV? One word: Gulp. Hard to imagine that being a pleasant trip, though Beavers fans surely will enjoy one of the nation's great college towns.
But Beavers, you aren't whole. You are without your big front teeth and wonderful paddle tail: receiver
James Rodgers
, cornerback Brandon Hardin, defensive tackle Kevin Frahm, defensive tackle Dominic Glover and tight end
Joe Halahuni
. That's a lot of quality starters to be missing.
Many of those guys will be back at some point: Frahm this week, Halahuni by the Sept. 24 game with UCLA. Rodgers ... hopefully sometime.
But let's be honest Oregon State: This is a team with issues. Coach Mike Riley said as much during the preseason. Sure injuries have been brutal, leading to 14 players making their first career starts and a school-record eight true freshman playing. But even without the injuries, this team didn't look like a threat in the Pac-12 North Division.
That said: Slow starts are often a staple of good seasons in Corvallis.
The 2000 team that went 11-1 nearly lost its opener to Eastern Washington. The 2004 team started 1-4 but went 7-5. In 2006, the Beavers got bombed at Boise State but went 10-4. In 2007, they got stomped at Cincinnati but went 9-4. In 2008, Penn State delivered the beatdown, but that team went 9-4.
In fact, the Beavers best seasons seem to have featured multiple early defeats -- in many years bad ones -- which likely will be the case after the trip to Madison. So maybe this is just the unhappy required part of a pattern for success?
Just like Oregon, which has now lost four consecutive marquee nonconference games to A-list foes with extra time to prepare. That pattern, nonetheless, has been imposed upon the two-time defending conference champions, not exactly a struggling program.
Ducks, Beavers: It's Labor Day. Let it go sometime around 10 a.m. PDT. Find a fan of opposite color and rib him or her, and take it back good naturedly.
It's a long season. But you don't know that it's going to be a looooooong season just yet. Eleven more games to turn those frowns upside down.
August, 29, 2011
8/29/11
10:00
AM ET
Welcome to the final preseason Pac-12 power rankings!
You can review the
post-spring power rankings here
. There is a good deal of movement. And a lot of different iterations -- including change at the very top -- were heavily considered.
This week's vote is based on one factor: If the Pac-12 had a tournament this week on a neutral field, how do you think things would finish. That means, for example, a team's schedule doesn't matter. But preseason camp momentum -- read: an absence of controversy or injuries -- does.
Going forward, the power rankings will be far more focused on that immediate present reality: How did teams handle their business that past weekend? It won't necessarily be a projection of finish.
And, for those new to the power rankings, the motto here is simple: If you don't like where you are in the power rankings, play better.
1.
Oregon
: Based on what we typed above, one might think the Ducks would fall behind Stanford. And our thought process in early August was exactly that --
see here
-- as our top-25 poll included other factors, such as schedule, such as Stanford playing host to Oregon this season. But here's the deal: Oregon is the top bird until somebody shoots it out of the air.
2.
Stanford
: A lot of folks are questioning Stanford. The Pac-12 blog is, too. My question: Will
Andrew Luck
and the Cardinal win the national championship this season. My hunch? A strong maybe.
3.
USC
: If the Trojans were eligible for the postseason, the gap between them and Nos. 1 and 2 would be fairly small. As it is, the gap between USC and the top two spots is fairly gigantic.
4.
Arizona State
: The Pac-12 blog has been banging the Sun Devils' drum since late in the 2010 season. And if this team was getting ready to send out the depth chart it appeared to have last December -- just about everyone back -- I'd project it in the top-15. But with all the attrition -- injuries, players quitting, etc. -- it's hard to know who the Sun Devils will be.
5.
Washington
: The Huskies' big question was replacing quarterback Jake Locker. Ther second question was at linebacker. It seems more than a few folks are optimistic those questions will be adequately answered. There's a lot to like on this roster, particularly what looks to be a dramatically improved defense.
6.
Utah
: It's hard to project Utah because we've never seen them before in this environment. What we can say is the success of this season hangs on keeping quarterback
Jordan Wynn
's surgically repaired shoulder safe.
7.
Arizona
: Just when we were starting to think the Wildcats might be an underrated team, they lose their best cover corner -- Jonathan McKnight -- for the season to a knee injury. While Arizona State and Oregon State have had the worst injury luck of the offseason, the Wildcats aren't far behind.
8.
UCLA
: The Bruins feel like a sleeper. It almost seems as simple as this: If UCLA is merely adequate at quarterback, it will be a bowl team and a factor in the Pac-12 South.
9.
California
: See what we typed for UCLA, only in the North Division. Further, the Bears look like they are going to play a lot of their talented true and redshirt freshmen classes. That should at least be very interesting.
10.
Colorado
: Not unlike Utah, we don't really know what we're going to get with the Buffaloes. There was a big temptation to rank them higher -- this is an experienced team with more talent than many old school Pac-10 folks think. But how could we rank the Buffs ahead of Cal after what happened in Berkeley last season?
11.
Oregon State
: Beavers fans are erupting... no way! Yes way. On the list of injured or at least uncertain: receiver
James Rodgers
, tight end
Joe Halahuni
, cornerback Brandon Hardin, defensive tackle Dominic Glover, defensive tackle Kevin Frahm and linebacker Cameron Collins. And many more, actually. The Beavers entered preseason practices with a lot of questions -- as coach Mike Riley repeatedly said -- they will head into the first week with perhaps more than they did at the beginning of August.
12.
Washington State
: There was some thought of bouncing the Cougars out of the basement. They, unlike a number of teams, have stayed relatively healthy during camp, and just about every report coming out of Pullman is colored with optimism. But the same rule that applies to Oregon in a positive way applies to the Cougars in a negative one: You're here until you prove otherwise.
August, 24, 2011
8/24/11
1:12
PM ET
Oregon State and Arizona State seem to be battling to become the Pac-12's biggest MASH unit.
Most folks already know about the uncertainty of receiver
James Rodgers
(knee) and tight end
Joe Halahuni
(shoulder), who are doubtful to play at Wisconsin on Sept. 10. But there are a couple of other injuries worth following that are also critical.
On the "fairly good," side of the injured list is DT Kevin Frahm. He had surgery on Monday to repair a torn meniscus. The hope is he will return to practice in time to play at Wisconsin.
The news is not so good for cornerback Brandon Hardin and his shoulder. He'll need surgery to fix a fracture, and the procedure could end his season. At the minimum, he'll be out six weeks. Sophomore Rashaad Reynolds will step into a starting role.
Defensive tackle Dominic Glover still hasn't been cleared academically. What once seemed like a minor issue is taking longer than expected to resolve, which is reason to be nervous.
Things are cloudy at tight end until Halahuni comes back. Freshman Kellen Clute hurt his knee in the scrimmage, and two redshirt freshmen, Tyler Perry and Connor Hamlett, will be suspended for a game, though it's unclear which game at this point.
Also, linebacker Cameron Collins continues to be limited by an abominable issue. He had offseason surgery and has missed a lot of practice time.
Getting away from injuries, it appears that true freshman
Malcolm Agnew
is on the cusp of earning the starting spot at running back. The last true freshman to start at the position for the Beavers turned out OK, you might recall.