NCF Nation:

Brandon LaFell
March, 11, 2010
3/11/10
9:00
AM ET
It may take
Russell Shepard
a while before quarterback is completely out of his system.
"You're giving up something you've always done, so that's hard," he said.
[+] Enlarge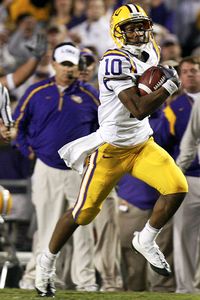 AP Photo/Bill HaberLSU will try to get the ball into Russell Shepard's hands in a variety of ways in 2010.
Not as hard, though, as being a glorified gimmick, which Shepard was for much of his freshman season at LSU.
He came to Baton Rouge as the No. 1-rated multi-purpose quarterback prospect in the country, one of those rare athletes that doesn't come along very often, but never found his niche last season in an LSU offense that never found its identity.
Shepard practiced with the quarterbacks and dabbled with the receivers. He never settled into a comfort zone at either position, and the end result was that the Tigers got very little production out of perhaps the most dynamic playmaker on their roster.
That won't be a problem in 2010.
Shepard is working exclusively with the receivers now and considers himself a receiver. He'll also get a little work at running back and will get a shot at returning kickoffs and punts, too.
He's playing the 'Z' receiver position, which is where
Brandon LaFell
and Early Doucet lined up in the LSU offense. The Tigers have typically moved the 'Z' receiver around to create favorable matchups.
"It's a big chance at such a young age, but I'm going to do a lot of things at that position, and I'm going to get in the backfield some and do a lot of things, sweeps, catching the ball out of the backfield, some of the things they may not ask
Stevan Ridley
or
Richard Murphy
to do," Shepard said. "I'll be on special teams, too, on punt return and kick return.
"They're going to give me the ball as much as possible next year."
Over and above his vast talent, one of the most refreshing things about Shepard is his attitude.
Sure, he was a five-star prospect coming out of high school, but he didn't fall prey to that five-star, I'm-entitled mentality.
Even when he wasn't getting the ball last season and sort of faded into obscurity in LSU's stagnant offense, he never complained. He never pouted, and he never quit believing that he could help the team.
"I think last year helped me, because it humbled me and taught me patience," said Shepard, who didn't have an offensive touch in the 19-17 Capital One Bowl loss to Penn State. "That's the way it is when you have All-Americans in front of you.
"But, honestly, it made me such a better player. Sitting on that sideline really hurt, but I know now what it takes to be an impact player in this league. That's what is most important for me, being a big contributor to this LSU football team."
Sensing that his quarterback days were probably numbered, Shepard went to LSU coach Les Miles two days after the Florida loss last season, a game in which the home Tigers were held to a single field goal and only 162 yards of total offense.
In short, Shepard told Miles that he was ready to make a position change and was willing to give up quarterback for good.
"It was the best thing for me and the best thing for this team," Shepard said. "I knew coming into this spring that it was going to be different, and it has been."
The 6-1, 188-pound Shepard has immersed himself into being a receiver at this level, which means gleaning anything he can from the likes of LaFell and Doucet and soaking up the nuances of playing the position.
"The biggest adjustment is just learning the process," Shepard said. "When you're on that island one-on-one with a Patrick Peterson or a Janoris Jenkins, that's a whole different deal. It's not like the quarterback position where you're going on instinct a lot of the time. You have to know where you've got to be. You have to know your reads, your hot reads, and you have to be on the same page as the quarterback.
"Running around and catching balls has been the easiest thing for me, because I am a natural athlete. But learning all the little things that it takes to be a great receiver will take some time."
That may be, but Miles has seen enough of Shepard to know that he's a natural wherever he is with the ball in hands.
"Who knows where he'll take a lot of the snaps from?" Miles said. "But I can tell you that the opportunity to give him the ball will be easier (at receiver)."
January, 12, 2010
1/12/10
11:00
AM ET
Having had a few days now to digest the 2009 bowl season, here's a look at the All-SEC bowl team:
OFFENSE
[+] Enlarge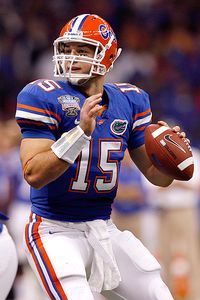 Matthew Stockman/Getty Images Tim Tebow torched Cincinnati for a career-high 482 passing yards and three TDs.
QB Tim Tebow, Florida

Broke Vince Young's record for total offense in a BCS bowl game with 533 yards in the Gators' 51-24 rout of Cincinnati in the Allstate Sugar Bowl. Completed 31 of 35 passes for a career-high 482 yards.
RB Dexter McCluster, Ole Miss

Was there a better player in the SEC the second half of the season? McCluster rushed for 184 yards and two touchdowns in the AT&T Cotton Bowl win.
RB Mark Ingram, Alabama

Despite cramping up in the Citi BCS National Championship Game, the Heisman Trophy winner showed his grit and led the Crimson Tide with 116 rushing yards and two touchdowns.
WR Riley Cooper, Florida

Led the Gators' offensive explosion in the Sugar Bowl with 181 receiving yards, including an 80-yard touchdown. Cooper averaged 25.9 yards on seven catches.
WR Brandon LaFell, LSU

The Tigers didn't put up much offense, but LaFell had five catches for 87 yards, including a 24-yard touchdown. LaFell led all SEC players with 19 touchdown catches over the past two seasons.
TE Aaron Hernandez, Florida

His nine catches led all players in the Sugar Bowl, and he finished with 111 receiving yards. Hernandez opened the Gators' scoring with a 7-yard touchdown catch.
OL John Jerry, Ole Miss

Helped clear the way for Ole Miss' 193 rushing yards against an Oklahoma State defense that finished ranked 11
th
nationally against the run.
OL James Carpenter, Alabama

Combined with
Mike Johnson
to make the key block that helped spring
Trent Richardson
on his 49-yard touchdown run in the second quarter of the Citi BCS National Championship Game.
OL Justin Anderson, Georgia

The Bulldogs were playing without starting right tackle Josh Davis, and Anderson came off the bench in the second half to help give a much-needed lift to the running game.
OL Mike Johnson, Alabama

The anchor of an Alabama offensive line that paved the way for both Mark Ingram and Trent Richardson to each rush for more than 100 yards against Texas' vaunted defense.
C Maurkice Pouncey, Florida

Spent more than five hours at Tulane Hospital with kidney stones and had several IV's, but didn't miss the start and led the way for the Gators up front.
DEFENSE
DE Marcell Dareus, Alabama

Had the hit that knocked Texas quarterback
Colt McCoy
out of the game and also returned an interception 28 yards for a touchdown right before halftime.
DE Carlos Dunlap, Florida

Came back strong from his suspension in the SEC championship game with two sacks in the Gators' Sugar Bowl romp.
DT Geno Atkins, Georgia

Pressured Texas A&M quarterback
Jerrod Johnson
relentlessly. Atkins finished with a sack and also blocked a field goal attempt in the second quarter.
DT Dan Williams, Tennessee

A rock all season long in the middle for the Vols, Williams ended his career with nine tackles, including a half a sack in the 37-14 loss to Virgina Tech in the Chick-fil-A Bowl.
LB Patrick Trahan, Ole Miss

His 34-yard fumble return for a touchdown sealed the game for the Rebels with 3:12 remaining. Trahan also had an interception on Oklahoma State's next possession.
LB Jerry Franklin, Arkansas

Finished with 10 tackles and had a third-quarter interception that turned the game around for the Hogs. East Carolina was leading 10-0, but Franklin intercepted a pass and returned it 31 yards to set up an Arkansas field goal.
LB Eric Norwood, South Carolina

Wrapped up a record-setting career at South Carolina by leading the Gamecocks with 10 tackles in their 20-7 loss to Connecticut in the Papajohns.com Bowl.
DB Walter McFadden, Auburn

Intercepted two passes in Auburn's Outback Bowl win. McFadden's first pick set up a touchdown, and he did the honors himself on the second one – returning it 100 yards for a touchdown.
DB Tramain Thomas, Arkansas

His 37-yard interception return for a touchdown tied the game in the third quarter. Thomas also tipped away a pass at the goal line in the final minutes that might have saved the game.
DB Kendrick Lewis, Ole Miss

Intercepted two passes in Ole Miss' 21-7 Cotton Bowl victory over Oklahoma State. His big hit in the fourth quarter also forced the fumble that Patrick Trahan returned 34 yards for a touchdown to break the game open.
DB Chad Jones, LSU

Did a little bit of everything in his final game at LSU. Led the Tigers with eight tackles, including one for loss, while also forcing a fumble, breaking up a pass and blocking a kick.
SPECIAL TEAMS
K Alex Tejada, Arkansas

His 37-yard field goal in overtime was the difference in Arkansas' 20-17 victory over East Carolina in the AutoZone Liberty Bowl.
P Spencer Lanning, South Carolina

In extremely cold conditions, Lanning punted seven times for a 42.3-yard average and had a long of 48 yards. He also doubles as the Gamecocks' place-kicker.
KR Brandon Boykin, Georgia

Tied an SEC record with his third kickoff return for a touchdown this season, taking one back 81 yards to answer Texas A&M's first touchdown.
January, 6, 2010
1/06/10
12:07
PM ET
In today's college football, offense sells. I get that. Players love offense, sports writers love offense, TV broadcasters love offense, fans love offense. Heck, I love offense, too.
And particularly when the offense uses a gimmicky, er, innovative scheme, it will attract a ton of attention.
Did anyone else get tired of hearing about Oregon's high-powered zone read spread or Georgia Tech's unstoppable triple option?
In the end, Big Ten defenses made those offenses look pedestrian. All four Big Ten bowl winners faced teams boasting high-powered offenses and/or supposedly superior skill players. And all four bowl winners played lock-down defense.
While the Big Ten received surprisingly strong quarterback play in the bowls -- more on that later -- it regained some national respect because of its defensive performance. Sound fundamentals and strong preparation trumped tricky systems.
Here's a look at how Big Ten defenses stepped up to win bowls:
WISCONSIN
Result:
20-14 win
against No. 15 Miami in the Champs Sports Bowl
Opposing QB:
Jacory Harris
completed 16 of 29 passes for 188 yards with one touchdown and no interceptions. He had nine rushes for minus-1 yard.
Defensive superlatives:
Recorded five sacks and nine tackles for loss as seven players contributed TFLs
Allowed only 249 yards (Miami came in averaging 412.5)
Allowed only 61 rush yards on 23 carries (Miami came in averaging 144.4 rush yards)
After Miami scored on its first play from scrimmage, the Badgers blanked the Hurricanes for the next 58 minutes
Held Miami to six drives of nine yards or fewer
PENN STATE
Result:
19-17 win
against No. 12 LSU in the Capital One Bowl
Opposing QB:
Jordan Jefferson
completed 13 of 24 passes for 202 yards with a touchdown and an interception. He had eight carries for 11 yards.
Defensive superlatives:
Allowed only three points, 67 yards and two first downs in the first half. LSU gained 54 of those yards on just two plays, as Jefferson twice found wideout Brandon LaFell
Held LSU to 41 yards rushing and a season-low nine first downs in the game
Kept LSU out of the end zone for the first 44:47
Recorded two sacks and six tackles for loss to go along with two takeaways
OHIO STATE
Result:
26-17 win
against No. 7 Oregon in the Rose Bowl Game presented by Citi
Opposing QB:
Jeremiah Masoli
completed only 9 of 20 passes for 81 yards with no touchdowns and an interception. He had just six carries for nine yards and a touchdown.
Defensive superlatives:
Held Oregon well below its season averages in points (17 vs. 37.7), total yards (260 vs. 424.7), offensive plays (53 vs. 69.3), 20-yard plays (3 vs. 6) and possession time (18:23 vs. 28.12)
Held Oregon to season lows in passing yards (81). Oregon's total yards total was its second lowest of the season, and its 12 first downs marked a low for a Ducks bowl game.
Held Oregon to just 2 of 11 on third down
Forced two turnovers, giving Ohio State 35 takeaways for the season
IOWA
Result:
24-14 win
against No. 9 Georgia Tech
Opposing QB:
Josh Nesbitt
completed 2 of 9 passes for 12 yards with no touchdowns and an interception. He had 20 rushes for 46 yards
Defensive superlatives:
Georgia Tech had season lows in points (14), total yards (156) and first downs (9)
Iowa forced Yellow Jackets punts on their first six possessions after Tech had gone 22 consecutive possessions without a punt
The Hawkeyes held Georgia Tech to 32 yards of total offense in the first half, marking Tech's lowest first-half total in at least 20 years
Georgia Tech's scoreless second quarter marked just the eighth time in 55 quarterbacks that the Yellow Jackets failed to score
Iowa recorded three sacks, five tackles for loss and an interception
January, 1, 2010
1/01/10
6:35
PM ET
A quick look at Penn State's
19-17
victory over LSU on Friday in the Capital One Bowl:


How the game was won:
Penn State took advantage of a lethargic and turnover-prone LSU offense and put together a 12-play drive in the final minutes of the game that ended with Collin Wagner's game-winning 21-yard field goal with 57 seconds to play. The Tigers turned the ball over three times and were held to 243 yards of total offense. They went nearly three quarters with only three points before making a late charge to take a 17-16 lead.
Turning point:
After Wagner's three points the Tigers still had a chance and moved into Penn State territory. But an unsportsmanlike conduct penalty on LSU's Lyle Hitt killed any hope of winning it on a field goal and moved the Tigers back to their own 40.
Stat of the game:
LSU had more penalties (10) than first downs (nine). The Tigers also had more penalty yards (64) than rushing yards (41).
Player of the game:
In his final game at LSU, senior receiver
Brandon LaFell
had five catches for 87 yards. His 24-yard touchdown catch ignited the Tigers' charge at the end of the third quarter.
What it means:
The Tigers (9-4) had their four-game winning streak in bowl games snapped. Les Miles had previously never lost in the postseason at LSU. But he'll surely be answering questions all offseason about an offense that never found an identity this year and that just wasn't very good. There were problems in the offensive line. Key injuries played a role, and sophomore quarterback
Jordan Jefferson
showed some glaring growing pains of being a first-year starting quarterback in the SEC and was also limited by an ankle. The Tigers lost this game despite allowing just one touchdown. It was reminiscent of the Florida game earlier this season in Baton Rouge. If they're going to get back to the top of the SEC hierarchy, they will have to improve dramatically on offense next season. Once again, the Tigers had clock management issues on offense. LSU has now lost nine games in the last two seasons. That's after losing only 10 in the five seasons prior.
November, 7, 2009
11/07/09
4:13
PM ET
Posted by ESPN.com's Chris Low
TUSCALOOSA, Ala. -- There was some chatter that Alabama was going to come out throwing Saturday, and the Crimson Tide did just that with seven straight pass attempts.
Greg McElroy
has looked down the field a couple of different times already for
Julio Jones
, but the Tigers are doing a nice job in coverage. LSU cornerback Patrick Peterson has been looking forward to this matchup with Jones ever since last season.
The Tigers are chucking the ball down the field, too. A couple of different times,
Jordan Jefferson
has stepped up in the pocket and tried to go deep. He completed one to
Brandon LaFell
for 30-plus yards, but it was called back because of an illegal formation.
At this point, it looks like neither team believes it can run on the other.
September, 25, 2009
9/25/09
2:01
PM ET

Posted by ESPN.com's Chris Low
| | |
| --- | --- |
| | |
| | Nelson Chenault-US PRESSWIRE |
| | LSU receiver Brandon Lafell has posted eye-opening numbers over the past two seasons. |
The SEC has no shortage of marquee receivers.
A.J. Green
at Georgia,
Julio Jones
at Alabama,
Dexter McCluster
at Ole Miss and
Randall Cobb
at Kentucky would be at the top of any list.
But that list isn't complete without LSU's
Brandon LaFell
, who is the No. 1 NFL draft prospect in the league among senior receivers. He has the speed and size every team covets, and his production the last two seasons has been outstanding.
A year ago, he caught 63 passes for 929 yards and eight touchdowns, which tied for the most in the league. He was named first-team All-SEC by the Associated Press following the season. But when the preseason honors came out this season, he was stuck on second team.
It didn't go unnoticed by the 6-3, 205-pound LaFell, who's been shadowed by every defense the Tigers have faced this season. Still, his 14 catches through three games are more than every other player in the league with the exception of Auburn's
Darvin Adams
and Green.
The thing LaFell hasn't done so far is hit the big play. His longest catch is 21 yards, although he had a pair of touchdown catches last week in the win over Louisiana-Lafayette.
He's confident that he and the LSU offense are just getting started and took some time this week to break it all down:
Did anything in particular get you untracked last week with the two touchdowns?
Brandon LaFell:
It just sort of happened that way. Coach called the right plays. My receivers down the field made a couple of blocks for me, so it wasn't really breaking out. It just was taking what was there.
Where do you think LSU is offensively right now?
BL:
I think we're real close to putting it all together. We had a pretty good game against Washington and then came back and had an OK game these last two games, where we really didn't throw it that well or run it that well. We just did enough to win the ballgame. So it's coming. I feel like we're on track to really break loose.
What's held LSU back offensively in the first three games?
BL:
It's not that we're not used to everybody. We've been together and had the whole summer and the whole spring to get ready. But I think we all thought we would be clicking by this time. We just haven't yet. We've had a few series that were pretty good, but we want to put together a bunch of series in a row this week.
How have teams defended you this season?
BL:
I'm getting a lot of double teams, and they're really trying to take me away on third downs by rolling the safety over there where I am. On first and second downs, they're trying to take away our running game. But on third down, they're coming after me.
How impressed are you with what Jordan Jefferson has done in his first full season as a starter?
BL:
He's doing what they're asking him to do, managing the game, making sure we win the game and making sure we win the turnover margin every game. That's been happening so far. He's only had one interception. So he's playing winning football, and I think you'll see him do more as we go on in this season.
How wide open is the West race this season?
BL:
I think it's going to come down to the last week of conference play. There are a lot of teams that could win it, and we have to play a lot of good teams on the road. We also have to play Florida at home, and you know that's going to be a big game. But we can't look at it as a whole. We've got to look at it as what's right in front of us. If we don't, we won't be there at the end.
With Georgia and Florida coming up in back-to-back weeks, is there any chance you guys aren't as focused this Saturday as you need to be against Mississippi State?
BL:
Nah, that's not going to happen. We know what happens when you're not ready to play every week in the SEC. I don't care who it is, and we know Mississippi State is coming to take us out. We've got to have that same attitude.
How has your game evolved?
BL:
As the years have gone on, I've gotten better in different parts of my game. My first year, I had a couple of drops, and everybody wondered if I had good hands. Then I got better at running routes and getting open, and then I got into the weight room and focused on my blocking. This year, I just want to be a better teammate all the way around.
Is it pretty obvious to you that your team chemistry is better than last season?
BL:
It's way better than it was last year. If something started going the wrong way last year, there was no stopping it. There was a lot of finger-pointing going on in the locker room, things like that, and we took it upon ourselves in the summer to make sure we weren't going to have any of that on this team. When that stuff starts, it's hard to get it stopped.
Who are the toughest defensive backs you've gone against in the SEC?
BL:
I'd say Jerraud Powers at Auburn last year, and Joe Haden at Florida is really good, too. The other one is Kareem Jackson at Alabama.
Has it motivated you guys that LSU has sort of been an afterthought this year when people talk about the league race?
BL:
It doesn't really matter. We haven't played our best ball. Nobody has seen our best ball this year. Everybody has just seen what Alabama and Florida are capable of. Even though we're one of the top teams, nobody is focusing on us like they are those other teams. That's not a problem, though, because we know week in and week out we all have to go play each other.
With defenses trying more to take you away, do you have more guys on this offense that can make them pay for that?
BL:
We have so many guys that can make plays, so I don't really get mad when they gang up on me because I know it's going to come back to get them. Sooner or later, people are going to have to start coming back and playing me man-to-man. It gets frustrating. But at the same time, if they've got two guys on me, somebody's going to be making a play for us.
What went through your mind when you heard Washington beat Southern California?
BL:
We were surprised, but we weren't shocked. We knew Washington was pretty good after playing them. We saw how good that quarterback (
Jake Locker
) was. That guy … everybody was saying after the game that he was going to be a first-round pick.
March, 26, 2009
3/26/09
11:21
PM ET
Posted by ESPN.com's Chris Low
BATON ROUGE, La. -- Brandon LaFell had a career year last season, but he wasn't ready to call it a career at LSU.
| | |
| --- | --- |
| | |
| | Nelson Chenault/US PRESSWIRE |
| | LSU receiver Brandon LaFell (1) led all SEC players last season with 63 reception. |
He said LSU fans should probably thank his mother and his grandmother for that. He's thankful that he listened, because he'd probably still be kicking himself if he had walked away on the heels of such a disappointing season for the Tigers.
"You never want to leave with a record like we had last year after winning the national championship," said LaFell, who initially declared for the NFL draft, but changed his mind and decided to return for his senior season. "The Chick-fil-A Bowl was a good way to end the season, but it really wasn't a good season for us."
LaFell led all SEC players last season with 63 catches. He was second to Georgia's A.J. Green with 929 receiving yards and tied with three other players for the league high in touchdown catches with eight. He was a first-team All-SEC selection and possessed the kind of size and speed NFL teams covet.
But he'd also made his mother and grandmother a promise. He vowed when he came to LSU that he would get his degree.
"My mom wouldn't let me leave for nothing," said LaFell, wearing a sheepish smile. "Her and my grandma were saying one minute that I could go, that the decision was up to me. Then the next minute, they were like, 'Nah, you're getting your degree.'"
March, 13, 2009
3/13/09
1:42
PM ET
Posted by ESPN.com's Chris Low
LSU's Jordan Jefferson is acting like the starting quarterback, practicing like the starting quarterback and doing his best to lead like the starting quarterback.
If the Tigers were to play a game today, LSU coach Les Miles said Jefferson would be the starter.
| | |
| --- | --- |
| | |
| | Crystal LoGiudice/US Presswire |
| | Quarterback Jordan Jefferson started two games for the Tigers last season. |
But the Tigers don't play a game today, and Jefferson knows there's still a job to win this spring.
"I look at it like it's my job, but I'm sure all the other guys do, too," said Jefferson, who ended his true freshman season a year ago as the starter. "We'll push each other, and at the same time, we'll help each other. But when it comes down to it, we're all going to do what we have to do to get on the field."
There were several on the Bayou who thought Miles should have played Jefferson earlier last season, but the head coach simply didn't think Jefferson was ready. Jefferson didn't receive his first meaningful snaps until the final month of the season.
Jarrett Lee, who threw 16 interceptions a year ago as a redshirt freshman, injured his ankle late in the season. It was probably only a formality, though, because it was obvious by that point that the Tigers needed to at least try something different at quarterback.
Jefferson was solid in both of his starts, against Arkansas in the regular-season finale and Georgia Tech in the Chick-fil-A Bowl. He threw three touchdown passes, and perhaps most importantly, no interceptions.
LSU lost in the final seconds to Arkansas, 31-30, but Jefferson had staked the Tigers to a 30-14 lead in the third quarter. He took advantage of the bowl practice time and became an even better manager of the offense, and LSU routed Georgia Tech 38-3 in the bowl game.
With this being Jefferson's first spring practice, he understands how important this next month will be, especially with highly touted true freshman Russell Shepard on campus for spring practice and nipping at his heels.
"To have the success we had in that last game gives me a lot more confidence this year," said Jefferson, who's added 10 pounds and hopes to play in the 220-pound range next fall. "I feel more advanced and more comfortable this spring. I still need to make better reads and just be more advanced, doing all the things it takes to win at quarterback."
Jefferson concedes that Shepard is a better runner than he is and more mobile.
"But I'm more of a passer anyway," Jefferson said.
Miles has said he will allow the quarterback situation to play out and won't rush in naming a starter.
That said, Jefferson thinks the answer will come sooner rather than later.
"We'll be able to tell by the end of spring who's going to be the starter," he said.
January, 19, 2009
1/19/09
10:27
AM ET
Posted by ESPN.com's Chris Low
On further review, LSU made out as well as anybody in the SEC when it came to holding onto top underclassmen.
Imagine the smile on offensive coordinator Gary Crowton's face when he got the news Sunday that receiver Brandon LaFell was returning to school after he initially declared for the NFL draft. LaFell took advantage of the 72-hour rule that's in place for juniors to change their minds as long as they don't sign with an agent.
Earlier, running back Charles Scott and offensive tackle Ciron Black had already announced that they were coming back. With LaFell joining them and signing on for another year, that means the Tigers will return their three top offensive players next season.
LaFell led the Tigers in catches (63), receiving yards (929) and receiving touchdowns (8). Scott was among the SEC's rushing leaders with 1,174 rushing yards and an SEC-leading 18 touchdowns. Black will be the top returning left tackle in the league next season.
LSU also returns dependable tight end Richard Dickson. So the pieces are in place for the Tigers to make a run in the Western Division if they can solidify the quarterback position. Jordan Jefferson will be the favorite to win that job, but count on incoming true freshman Russell Shepard being a factor at some point next season. He's on campus and will go through spring practice.
The Tigers did lose tackle Ricky Jean-Francois to the draft on defense, but Jean-Francois had a disappointing junior season. There's still plenty of talent on defense for first-year coordinator John Chavis to work with, as LSU's defense tries to shake off what was a forgettable 2008 season.
December, 31, 2008
12/31/08
10:29
AM ET
Posted by ESPN.com's Chris Low

WHO TO WATCH: LSU is prepared to ride the whole way against Georgia Tech with true freshman quarterback Jordan Jefferson, who showed some promise toward the end of the season after stepping in for turnover-prone Jarrett Lee. Jefferson is more of a threat to run than Lee and also has a good arm. His challenge is not giving Georgia Tech anything easy. The Tigers threw 18 interceptions this season, which was tied for second highest in the SEC. Jefferson has plenty of playmakers around him, and the Yellow Jackets have to prove they can cover speedy receiver Brandon LaFell. But this is a game in which Jefferson needs to play within himself if the Tigers are going to win.
WHAT TO WATCH: Can the Tigers send a message in the first quarter with their tackling and discipline on defense that they're not going to be a doormat for Jonathan Dwyer, Roddy Jones and the rest of the Yellow Jackets' option offense? LSU allowed 30 or more points in its last three games of the regular season, so seeing is believing. What's more, the Tigers have never allowed 30 or more points in four straight games during the history of the program.
WHY TO WATCH: It's not every day that a defending national champion collapses the way LSU did this season. A loss to Georgia Tech would be the fourth straight and the sixth of the season for LSU. The Tigers are trying to avoid the dubious distinction of becoming only the third defending national champion ever with six or more losses. The last time a defending national champion lost that many games was Ohio State in 1943. Defending national champ TCU lost seven games in 1939.
November, 18, 2008
11/18/08
11:51
AM ET
Posted by ESPN.com's Chris Low
LSU's football team would seem to be at the proverbial crossroads.
The same goes for the Tigers' quarterback, Jarrett Lee, who's had one of those seasons that all coaches fear when they hand the keys to the offense to a freshman.
| | |
| --- | --- |
| | |
| | Doug Benc/Getty Images |
| | Quarterback Jarrett Lee has had his ups and downs as a starter this season. |
It hasn't been a nightmarish season for the defending national champion Tigers, but there's no getting around the fact that they've underachieved.
For Lee, the redshirt freshman from Brenham, Texas, it's been nothing short of a nightmare. Seven interceptions returned for touchdowns tends to have that effect.
Yet, somewhere in a 31-3 second-half deficit to Troy last week, LSU found something.
So did Lee.
The Tigers, on the brink of what would have easily been the most embarrassing loss of the Les Miles era, found enough pride, enough resolve and enough courage to fight back and score 37 unanswered points to win 40-31 in front of what might have been 25,000 fans in Tiger Stadium when the game ended.
Now, let's see what they do with their great escape and the largest comeback victory in the modern history of LSU football.
"I've been around those games, basketball games and really in every sport -- football, baseball -- where a team makes a great run at you and they can't quite get over the hump," Miles said. "That wasn't the case. There was only one way.
"I can tell you that the enjoyment of that victory certainly was strong, that the sweet taste of victory was very significant. I felt like their quarterback (Levi Brown) played lights out. They played as strong a game as they could play. We took their best shot and found a way on a day where we were less than inspired to come back and win. That, to me, is the key."