February, 2, 2010
2/02/10
3:30
PM ET
You would think that with how well the ACC has fared in recruiting the past four years, it would have eventually made a bigger push on the national landscape during the season. Miami has had three top-10 classes, and Florida State has had two. Overall, the trend in the ACC has been that Florida State, Clemson, Miami, Virginia Tech and North Carolina have led the conference on the recruiting front. Three of those teams have appeared in ESPN.com's final Top 25 ranking in each of the past four years (UNC has been there three of the past four.) Only the Hokies, though, have had it translate into postseason success -- so far. There was a common thread, though, amongst the other programs -- a coaching change or, in Florida State's case, coaching questions.
[+] Enlarge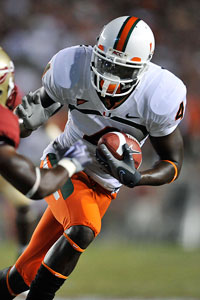 Paul Abell/US PresswireAldarius Johnson was one of 12 ESPNU 150 players in Miami's No. 1-rated 2008 class.
It was impossible to predict, though, that players like former Miami quarterback
Robert Marve
would transfer, or that former FSU linebacker Marcus Ball would have off-field troubles and ask for his release.
Here's a reminder at how highly ranked several teams in the ACC have repeatedly finished since 2006, according to ESPN.com's Scouts Inc. rankings. You can click on the year to go to the full ranking. I mentioned a few of the top players in each class who were facing high expectations at the time, or players who weren't facing many expectations and have since proved otherwise (see: Virginia Tech).
2006
No. 6 FSU (Myron Rolle)
No. 13 Clemson (
C.J. Spiller
, Jamie Cumbie, Ricky Sapp)
No. 17 Miami (Kylan Robinson)
No. 23 Maryland (Pha'Terrell Washington, Drew Gloster)
No. 24 Virginia Tech (Rashad Carmichael, Nekos Brown, Kam Chancellor)
No. 25 UNC (Aleric Mullins, Johnny White)
2007
No. 9 Miami (Robert Marve, Allen Bailey)
No. 11 UNC (Quan Sturdivant, Marvin Austin)
No. 14 Georgia Tech (
Jonathan Dwyer
, Derrick Morgan,
Josh Nesbitt
)
No. 15 Virginia Tech (
Tyrod Taylor
, Blake DeChristopher, Barquell Rivers)
No. 18 Clemson (
Willy Korn
, Scotty Cooper, Marcus Gilchrist)
No. 25 Florida State (Brandon Paul, Markish Jones)
2008
No. 1 Miami (Sean Spence,
Jacory Harris
,
Aldarius Johnson
)
No. 2 Clemson (DaQuan Bowers,
Kyle Parker
,
Jamie Harper
)
No. 12 FSU (Zebrie Sanders,
E.J. Manuel
, Nigel Carr)
No. 15 Virginia Tech (
Ryan Williams
)
No. 20 NC State (
Mike Glennon
,
Brandon Barnes
)
2009
No. 7 Miami (Ray Ray Armstrong,
Mike James
)
No. 8 FSU (Greg Reid, Jacobbi McDaniel)
No. 13 UNC (
Bryn Renner
, Donavan Tate,
Jheranie Boyd
)
No. 18 Virginia Tech (Jayron Hosley,
David Wilson
,
Logan Thomas
)
No. 19 Clemson (
Tajh Boyd
,
Bryce McNeal
)
September, 3, 2008
9/03/08
4:48
PM ET
Posted by ESPN.com's Heather Dinich
Florida State running back Antone Smith is listed as 5-foot-9 on the Seminoles' depth chart, but he is a little more realistic about how he stacks up.
"Five-eight. And a half," he added quickly with a laugh. "That half counts.
"Everybody wants a big back these days, but I can do the same things a big back can do."
With little depth and no collegiate experience behind him, the Seminoles are going to need Smith to do just about everything in the running game, starting this Saturday in their season opener against Western Carolina. The one thing he can't afford to do, though, is get hurt -- something Smith has been unable to avoid for almost his entire career.
"He's sure gotta do it," coach Bobby Bowden said of Smith leading the running game. "We felt pretty good going into this year. We had Antone coming back for his senior year. We signed a couple of good freshmen backs. We had Marcus Sims back, although he can't play in the first four ball games, and then we brought in a junior college player, [Tavares] Pressley, who has got 20 games under his belt. We felt like he could give us immediate help, but he got hurt and is out for the year. We need to stay healthy there. If we don't, you could be looking at some freshmen there."
Those freshmen would be Carlton Jones and Jermaine Thomas, neither of whom made it through all of summer camp. Jones missed a few days with heat-related issues and Thomas had a few hang-ups with the NCAA Clearinghouse and missed a few days. Brandon Paul, a redshirt freshman, is also an option.
Florida State's running game has shown marginal improvement since 2005, when it ranked last in the conference at 94 rushing yards per game. The Noles were last again in 2006, at 94.1 rushing yards per game. Last season, the team finished eighth in the ACC with 127.5 yards per game, and much of that can be attributed to Smith, as he had the most productive season of his career. He accounted for 43 percent of the team's rushes in 2007 and finished with a career-high in starts (11), rushes (192), rushing yards (819) and receiving yards (203).
And that's while he was bothered by turf toe the whole season. He's also had a dislocated elbow, a bruised thigh, a nagging shoulder injury, a concussion ... "a lot of different things," he said.
Smith has looked impressive all summer, though, and said he is finally feeling 100 percent healthy again.
"It definitely hasn't been what I thought it would be coming out of high school," Smith said of his career. "I know it's a tough game and you have to be tough and injuries are part of the game, but I didn't expect to have all those small injures. Now I'm healthy.
"My goals are to stay healthy and be successful at everything, helping this team and doing the little things right and being the ultimate teammate. That's the biggest thing for me is to stay healthy. I'm going to see how far that takes me and what that does for me."
And that, in part, will determine how far the Seminoles go this season.
July, 23, 2008
7/23/08
8:26
AM ET
Posted by ESPN.com's Heather Dinich
Good morning from Annapolis, Md. No, Paul Johnson is not here, but I still call this place home.
Not that I'm here that often during the season. One of the better trips this year will be to Tampa, for the ACC Championship. Anything has got to be better than the half-empty stadium in Jacksonville, and ACC officials all but promised it will be. The key will be a smaller venue, bigger city and cheaper tickets. More ACC alumni, too. But you know the No. 1 rule in real estate - location, location, location.
So far the rule seems to apply to ACC football, too -- more than half of the seats there are already sold.
Want one? Check out their web site.
In addition to talking up Tampa on Tuesday, ACC commissioner John Swofford gave his take on the state of the ACC yesterday, so that's where much of the news came from. And yes, he is pleased with the way things are going.
Even in the face of numbers like these.
Also addressed on Tuesday in the final day of the ACC football kickoff was the new rule changes. Here's a more in-depth look at the clock change for this season.
Swofford and SEC commissioner Mike Slive are ready for a change in the BCS, but believe it or not, some coaches are OK with the status quo. The coaches in the Triangle don't mind it so much, either.
Speaking of coaches in the Triangle, somebody else noticed how Butch Davis dressed on Monday, too. And David Cutcliffe and Jenny Craig in the same sentence? More on how the Blue Devils slimmed down to shape up.
And more on food -- Gregg Doyel says recruiting at Wake Forest is like is like visiting a seven-course buffet and being allowed to pick only from the salad bowl.
Despite the high hopes for the Carolina schools, Clemson is obviously the best team this year. If the Tigers are going to win it all, though, quarterback Cullen Harper said they will need a little luck.
It appears Florida State has the speed. Who's the fastest at FSU? Redshirt freshman Brandon Paul is ready for a "race-off" to find out.
Elsewhere in Florida, former Miami coach Larry Coker is gearing up for his second season as a TV analyst for ESPN but hasn't ruled out returning to the sidelines. Click here for his take on that and the Hurricanes' move to Dolphin Stadium.
Back to the BCS -- remember that excuse for not going with the plus-one, that whole thing about academics?
Well, how about playing in the Congressional Bowl the same day you've got a final exam? Given its locale, Maryland would be a natural fit for this game. Given its potential, it won't have to worry about it.
The bigger question is who -- if anyone -- will qualify for it.