NCF Nation:

Brandon Pendergrass
November, 7, 2011
11/07/11
1:00
PM ET
Here's a look at the weekend that was for the Irish in their first-ever trip to Winston-Salem, N.C.:
The Good:
Notre Dame overcame a seven-point halftime deficit to beat Wake Forest 24-17. The Irish became bowl eligible and won their first-ever game under Brian Kelly after trailing at halftime.
Jonas Gray
and
Cierre Wood
combined for 179 yards on the ground and the Irish defense stifled Wake Forest's offense during the final 30 minutes.
[+] Enlarge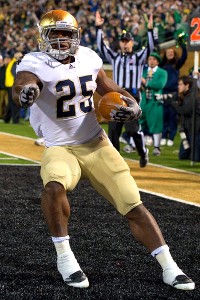 Matt Cashore/US PresswireJonas Gray added a touchdown to go with his 92 rushing yards against Wake Forest.
The Bad:
Notre Dame turned the ball over twice, most notably when Josh Bush intercepted a
Tommy Rees
pass off a flea flicker and returned it 54 yards, putting the Demon Deacons in position to tie the game. Ultimately, it went for naught.
The Ugly:
Braxston Cave left after the first play of the second quarter with a mid-foot sprain. Manti Te'o missed Wake Forest's final drive of the third quarter because of an ankle injury before re-entering the next series. Aaron Lynch left the game twice and has a lateral sprain. And, in the truly ugly department,
T.J. Jones
took a big hit and had a rough landing on a 6-yard catch in the third quarter, though, amazingly, he re-entered the game and is apparently doing better than his other three injured teammates.
Turning point:
Wake Forest was knocking on the door, down seven in the third with a second-and-goal following a huge interception return. Then Harrison Smith jarred the ball loose from
Brandon Pendergrass
and Gary Gray pounced on it, and the Irish came up with a huge turnover, stopping the Demon Deacons on what would be their best chance at tying the game in the second half.
Call of the day:
Going into nickel packages for a majority of the second half paid huge dividends for the Notre Dame defense, which did not allow a second-half point after giving up 17 in the first half. Jamoris Slaughter played the hybrid role for the Irish, replacing drop linebacker Prince Shembo.
Next up:
Notre Dame plays Maryland in what is technically an Irish home game at FedEx Field in Landover, Md. The Terrapins, in their first year under coach Randy Edsall, are an abysmal 2-7 this season, and just 1-5 in ACC play. They also
have a way with uniforms
.
November, 5, 2011
11/05/11
11:22
PM ET
WINSTON-SALEM, N.C. -- That was a close one, no?


Notre Dame overcame a pair of turnovers Saturday night to escape BB&T Field with a
24-17 win
over Wake Forest, making the Irish bowl-eligible at 6-3.
A couple of big defensive plays in the second half played a role in deciding this one, as Harrison Smith forced
Brandon Pendergrass
to fumble with Wake Forest facing second-and-goal late in the third quarter. Gary Gray recovered for the Irish.
Wake Forest received another chance to even things up in the fourth quarter, getting as close as first-and-goal from the 10. But Stephon Tuitt came up with a sack for a loss of 11, a pass in the backfield was blown up by Smith for a four-yard loss and
Tanner Price
overthrew on 3rd-and-goal from the 25.
Jimmy Newman then missed a 42-yard field goal attempt with 5:24 remaining, and the Irish were able to run out the clock from there.
Be sure to keep it here for postgame reaction from a close one at BB&T Field.
November, 5, 2011
11/05/11
8:59
PM ET
WINSTON-SALEM, N.C. — We've got a wild one here early, with each offense scoring on its first two possessions and each being aided by long kickoff returns.
Notre Dame and Wake Forest are tied at 10 entering the second quarter, with two big coverage breakdowns resulting in wide open touchdown passes.
The first came from the Demon Deacons'
Tanner Price
to
Brandon Pendergrass
for 20 yards for an early 7-0 lead.
Tommy Rees
later answered by finding a wide open
Tyler Eifert
for a 38-yard touchdown pass to tie things up at 10.
Wake Forest had the first punt of the game right before the first quarter ended, giving the Irish the chance to take their first lead of the night.
I can't say the early fireworks are too surprising, as Wake has a tendency to jump out to early leads. The key, as always, has been sustaining that for four quarters, something that will be all the more difficult with a depleted backfield and undersized defensive front. We'll see if the Irish try to take advantage of that when the second quarter begins.
June, 20, 2011
6/20/11
3:52
PM ET
Last week we looked at how the quarterbacks stacked up in the ACC. This week, we'll take a closer look at the running backs. Again, the position rankings by team put heavy weight on the depth of the position -– hence the
team
ranking, not individual. Just because Virginia Tech has one of the best running backs in the ACC doesn't mean that collectively, as a group, Virginia Tech is the best team in the league at the position. Florida State? Loaded. Wake Forest? Not. These are based on the best combination of talent, experience and depth.
Here's a look at how each team ranks in the position:
[+] Enlarge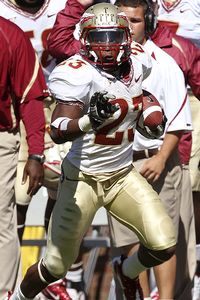 Lee Coleman/Icon SMIChris Thompson averaged 6.4 yards per carry for the Seminoles last season.
1. Florida State:
Chris Thompson
,
Ty Jones
and
Jermaine Thomas
combined for 1,862 yards, 6.1 yards per carry, and 17 touchdowns last year. Thompson had 1,000 yards combined from both rushing and receiving last year, and Thomas enters his senior season with 1,084 career yards -- the second most of any active ACC runner, behind only
Montel Harris
(3,600).
2. Boston College:
Montel Harris could break a 33-year-old ACC rushing record this fall, and his backup,
Andre Williams
, is a bigger back who has proven more than capable of shouldering the load himself. Together they're one of the best one-two combos in the league.
3. Miami
: The transfer of
Storm Johnson
hurt, but
Lamar Miller
should be one of the best in the ACC, and
Mike James
was ahead of Johnson on the depth chart. The Canes also have
Darion Hall
,
Maurice Hagens
and incoming freshman Kevin Grooms.
4. Clemson
:
Andre Ellington
will be the leader of the pack, but true freshman Mike Bellamy could also make an immediate impact, and the group runs deep with
Roderick McDowell
,
D.J. Howard
and
Demont Buice
.
5. Virginia Tech:
Had Ryan Williams and
Darren Evans
returned, this would have been one of the premier groups of running backs in the country. Instead, it will be the
David Wilson
show (and
Josh Oglesby
). Not that the Hokies will have any problem with that.
6. Maryland:
Davin Meggett
and
D.J. Adams
are a talented duo, but depth should be a concern. Meggett posted a team-high 720 rushing yards in 2010, while Adams had a freshman school-record 11 rushing touchdowns.
7. NC State:
The Wolfpack are in a much better position at running back than they were a year ago, when nobody with starting experience returned.
Mustafa Greene
,
James Washington
and
Brandon Barnes
should make NC State's running game a bigger factor this fall.
8. Georgia Tech:
Coach Paul Johnson isn't concerned about his B-back position because it's one of the deepest on the team. There isn't one superstar like in recent years, but
Richard Watson
,
Charles Perkins
and
Preston Lyons
will work together to keep the Jackets one of the top rushing teams in the country.
9. North Carolina:
The Tar Heels have to replace three tailbacks who accounted for 96 percent of their rushing last year.
Ryan Houston
is back for his sixth season of eligibility, but he is the only one who has seen significant playing time.
Giovani Bernard
,
Hunter Furr
and Travis Riley help the depth.
10. Wake Forest:
Josh Harris
could crack the 1,000-yard mark if he stays healthy, and
Brandon Pendergrass
is a capable backup. There are three true freshmen at the position, and it's one area coach Jim Grobe can't afford any injuries.
11. Virginia
:
Perry Jones
and
Kevin Parks
are talented, but the Cavaliers will miss the production of
Keith Payne
, who accounted for 14 of the team's 17 rushing touchdowns. Jones started all but one game last year, but only scored one touchdown.
12. Duke:
The Blue Devils' running game is starting to show progress, but last year it still ranked 104th in the country. Depth isn't a problem, as
Desmond Scott
,
Josh Snead
and
Juwan Thompson
should help make it a more productive group this year.
Stay tuned for the top 10 ACC running backs for 2011 ...
April, 14, 2011
4/14/11
2:00
PM ET
Wake Forest has its spring game at 1 p.m. on Saturday, so I caught up with coach Jim Grobe on Wednesday for an update on the Deacs' spring. Here are the highlights:
CONSISTENCY KEY:
It's been a good spring for the defense, which he hasn't held back, and inconsistent for the offense. Grobe said he would like to see the offense close on Saturday with more consistency, particularly from the wide receivers. Grobe said the offense will make a good play and then follow with a busted blocking assignment, dropped pass or bad throw.
NAME YOUR PRICE:
Tanner Price
is the unquestioned starter, but Grobe said he liked what he saw from
Ted Stachitas
this spring. Stachitas eased Grobe's concerns about his durability, as he made every practice. Stachitas threw the ball better than Grobe expected he would after two shoulder surgeries on his throwing arm, and also showed he can run with it. Occasionally, Stachitas has to pull the ball down and get out of the pocket because of his size. Grobe said he's not looking for the quarterback situation to change, but option is part of the offense and would suit Stachitas better. Grobe said it wouldn't be a problem to use Stachitas if he needed a spark for two or three series, but Price is the starter, and there's no doubt about it.
SOLID LINE:
Grobe said the offensive line was "solid" this spring, and he liked what he saw from
Brandon Pendergrass
and
Josh Harris
, even though Harris missed a few practices with a hamstring injury.
SPEED ON D:
One of the things Grobe was most pleased about was the energy on the defense. "That's what's been giving our offense problems, just the way the defense has been pursuing the football," Grobe said. "And they're having fun. Sometimes they're not going in the right direction, but they're getting there in a hurry."
KICKING CONCERNS:
Punter/place-kicker Jimmy Newman sat out all spring with an injured hip, leaving the kicking game with an inconsistent walk-on. This is an issue that could extend into late summer for the Deacs. True freshman punter Alexander Kinal from Australia, and true freshman kicker Chad Hedlund from Texas could contribute as soon as they arrive on campus this summer. Grobe was told that rest this spring could be the answer, but there's no timetable for Newman's return.
LOOKING AHEAD:
Grobe said he's not going to know what this team is truly capable of until Wake starts playing games. It's still a young group, but the players are all more comfortable with the system. Still, Grobe said he can tell from this spring that the Deacs are going to be a "much, much better football team."
April, 4, 2011
4/04/11
10:00
AM ET
Wake Forest quarterback
Tanner Price
is the Demon Deacons' returning starter, but all five quarterbacks had a chance to make their case on Saturday in the second spring scrimmage. Price,
Brendan Cross
,
Ted Stachitas
,
Patrick Thompson
and redshirt freshman Keenon Rush each had at least one completion of 35 yards or longer in the hour-long scrimmage. Each of the top four quarterbacks either accounted for a scoring drive or drove the team into field goal range.

Offensive highlights

:
Lovell Jackson scored on a 65-yard swing pass from Cross.
Brandon Pendergrass scored on a 12-yard run and led all rushers with 52 yard on four carries, including a 34-yard run.
Price drove the Deacons to the 11 and 29 while Stachitas had a drive that ended at the 9. Thompson led Wake to the 1 before a fumble at the goal line.
Michael Campanaro led all receivers with six receptions for 77 yards. Jackson had five catches for a team-high 91 yards while Matt James finished the scrimmage with 67 yards on three receptions.
Defensive highlights

:
Zachary Allen, Riley Haynes and Mike Olson all recorded sacks during the scrimmage.
Kris Redding and Gelo Orange each recovered fumbles.
Quotable

:
"Last season doesn't cut it," coach Jim Grobe said of delivering a message to his players. "It's not like we have a season like we had last year, we can't all get together at Chuck E. Cheese and hand out trophies. At this level, it just doesn't happen and our guys have to understand it. If you don't practice, it's going to be hard for us to be a good football team. We have to have durable and dependable guys."
October, 2, 2010
10/02/10
9:19
PM ET
Wake Forest went to the half with a 10-6 lead over Georgia Tech thanks in large part to
Brandon Pendergrass
' run up the middle on fourth down. The Yellow Jackets are again struggling on defense and Wake Forest has once again tried all of its healthy options at quarterback, relying the most on the mobility of
Skylar Jones
.
On Georgia Tech's final possession of the first half, the Jackets weren't able to convert on third down because receiver
Stephen Hill
couldn't make the play. At some point,
Joshua Nesbitt
's receivers have to help him out.
Orwin Smith
did that in the third quarter, catching a 14-yard pass on third-and-15. The Jackets were able to sustain the drive on fourth-and-one.
Would you believe Wake Forest has more rushing yards and Georgia Tech has more passing yards?
The difference so far has been turnovers, with Georgia Tech continuing to have trouble holding onto the ball for the second straight week.
September, 5, 2010
9/05/10
2:09
AM ET
Here they are, the rewards for the five top performers in the ACC each week. Don't worry, Hokies and Terps, I'll put out a special edition on Monday for you guys, but on regular game weekends five's the limit, so they've gotta be good. Here are your helmet sticker winners for Week 1:

Virginia TB Keith Payne
: He rushed for a single-game career-high 114 yards and four touchdowns in the Cavaliers'
34-13 win over Richmond.
It was the most rushing yards by a Virginia player since Cedric Peerman rushed for 118 yards against Georgia Tech in 2008. Payne scored his first touchdown since Nov. 10, 2007 against Miami in the Hurricanes' final game at the Orange Bowl. He became the first Cavalier to rush for four touchdowns in a game since Mikell Simpson did it against Indiana in 2009, and he was a big reason Virginia won its season opener for the first time since 2005.
Florida State coach Jimbo Fisher:
He led the Seminoles to a convincing
59-6 win over Samford
in his first game as a head coach. Not bad for following in the footsteps of a living legend with 389 wins.
NC State quarterback Russell Wilson:
He completed 21 of 31 passes for 306 yards and four touchdowns and led seven consecutive scoring drives as the
Wolfpack defeated Western Carolina
48-7 won their season opener for the first time in four tries under coach Tom O'Brien.
Wake Forest's running backs:
The Demon Deacons had six rushing touchdowns and ran for 415 yards in a
53-13 route of Presbyterian
. Each of Wake's three running backs --
Brandon Pendergrass
,
Josh Adams
and
Josh Harris
-- scored at least once.
UNC quarterback T.J. Yates:
It was a valiant performance in
a losing effort
, and the LSU players were raving about how much better Yates was on Saturday night than what they saw from him on tape. Had tight end
Zack Pianalto
caught either of two passes in the final six seconds, Yates would have been the team's hero. He threw for a career-high 412 yards, three touchdowns and no interceptions. There were many impressive performances by ACC quarterbacks this weekend, but none against competition of LSU's caliber.