NCF Nation:

Braxton Miller Out For Season
August, 22, 2014
8/22/14
4:00
PM ET
The praise has flooded in from all directions for
J.T. Barrett
since his rapid ascension to the top of the depth chart at
Ohio State
.
Tight end
Jeff Heuerman
hailed the leadership skills of the redshirt freshman. Offensive coordinator Tom Herman rattled off Barrett's positive attributes as a passer, starting with his ability to make the right decisions and consistent accuracy that should allow them to pay off for the Buckeyes. Coach Urban Meyer focused on Barrett's potential as a "distributor," likening him to
famed Ohio State backup
Kenny Guiton in the process.
But there is one more comparison that has popped up during a wild week at the Woody Hayes Athletic Center that might offer another clue about how the Buckeyes might look this season without
Braxton Miller
running the show, one which the coaching staff mentioned to
SI.com's Pete Thamel
.
Barrett's smooth release and pretty spiral prompted numerous members of the Buckeyes staff who worked with Meyer at Florida to compare Barrett to former Gators QB Chris Leak. "I'll take that," Meyer said with a smile. "I'm a big Chris Leak fan."
If Barrett is Meyer's latest version of Leak, it stands to reason he might also have a need for somebody to fill the role Tim Tebow played in the two-quarterback system that won Florida a national title in 2006. And, look at that, Ohio State has a 6-foot-5, 250-pound battering ram in
Cardale Jones
already on the roster.
The conversation about Jones has died down considerably since he left spring practice with the backup job ahead of Barrett, but it's not hard to envision how he could still have an impact for the Buckeyes as they put together a game plan for next week's opener against Navy.
For starters, Meyer has proven adept at managing multiple quarterbacks in his spread system in the past. Even a year ago with Miller in the fold, Meyer expressed his desire to find a way to get Guiton more involved and eventually installed a package of plays in the red zone that featured his backup quarterback.
One problem with using them both more often, aside from Miller's athleticism clearly setting him apart, was Meyer's two options behind center had similar skill sets. But that isn't really the case with Barrett and Jones, with the former four inches smaller and relying on an accurate arm, and the latter boasting a powerful-but-inconsistent arm but capable of pounding away at opponents regularly on the ground.
When asked on Wednesday, Meyer didn't rule out playing both quarterbacks as he tries to replace Miller's production, though he didn't provide any insight into how that rotation might work.
But even with Meyer simply saying "sure, yeah," looking at his past and the talent on hand, it's not a stretch to think some sort of quarterback combo could be back in his playbook -- if it isn't already there.
August, 19, 2014
8/19/14
3:30
PM ET
Wait a minute,
Michigan State Spartans
fans.
Hang on a second,
Virginia Tech Hokies
.
Braxton Miller
's season-ending injury
wasn't good for anyone
. Not the
Ohio State Buckeyes
. Not the Big Ten. And not the inaugural College Football Playoff -- or any of Ohio State's opponents trying to get there.
Put simply: Beating a ranked Ohio State team led by a Heisman contending, veteran quarterback would carry more weight in the eyes of the 13-member playoff committee than a win against a 9-3 team led by a rookie quarterback who hasn't played in two years. (This is all assuming, of course, that
J.T. Barrett
will play like the redshirt rookie he is.) If Ohio State is now weaker -- a logical assumption following the injury to one of the nation's best quarterbacks -- then its opponents' strength of schedule just got weaker, too.
And so did the Big Ten.
In spite of Michigan State's ascension (not to mention its 2013 win against the Buckeyes), the Big Ten has still been measured by Ohio State in the court of public opinion. The Buckeyes had two things going for them this season: Miller and arguably the best defensive line in the country. Even with having to replace four starters on the offensive line, there was enough confidence in Urban Meyer's recruiting to consider the Buckeyes a true contender for the playoff. Now, Michigan State clearly has more answers and should be the clear-cut favorite to win the East Division, but would a win against Oregon in Week 2 be enough to propel the Spartans into the playoff?
Not if the selection committee shares the public's perception of the Big Ten, which has lost 25 of its past 33 games against ranked, power conference competition and Notre Dame. The Big Ten hasn't played for a national title since Ohio State's last appearance in 2007. As a Power Five conference, the Big Ten has been playing catch-up to the SEC (like everyone else), the Pac-12 and even the ACC, which finally raised its profile with Florida State's national title.
Virginia Tech's schedule, though, looks like a cotton ball with the exception of their visit to Ohio State in Week 2. With North Carolina the only other ranked opponent on the schedule, and seven home games, the Hokies could be one of the country's most deceiving teams come November. A road win against a full-strength Ohio State team would have shocked the country and propelled the Hokies into the playoff conversation.
Now? Strength of schedule will be called into question, but Virginia Tech isn't alone.
Should Michigan State win the East and play in the Big Ten title game, it's debatable whether a win against the West Division winner would do much to further impress the committee. The East is the stronger and more compelling race, as three teams in the West had losing records last season (Northwestern, Purdue and Illinois), and Nebraska was the only team to win its bowl game.
Fair or not, Ohio State was entering this season carrying the banner for the entire conference once again. The Buckeyes certainly aren't doomed -- there are plenty of rookie quarterback success stories for a blueprint, and Barrett could easily join them. The big picture, though, has certainly changed. After what was easily the most impactful playoff news of the summer, the Buckeyes aren't the only ones who have lost.
August, 19, 2014
8/19/14
2:30
PM ET
COLUMBUS, Ohio -- There was optimism at seemingly every turn.
Braxton Miller
pronounced himself 100 percent healthy whenever he was asked over the past two months. Urban Meyer expressed some concern about the volume of his reps, but he never indicated anything was off the schedule the Ohio State coach and his staff had set out for the star quarterback. Even in the hours leading up to a practice that the Buckeyes considered critical in gauging Miller's rehab, there were no indications from offensive coordinator Tom Herman that anything was wrong.
And although it might be tempting to suggest that Ohio State rushed Miller back and put him in danger of reinjuring his surgically repaired shoulder or to think maybe the Buckeyes knew all along he was more seriously hurt than they let on, there's nothing to suggest that everybody involved wasn't doing all he could to have him on track to start on Aug. 30 at Navy.
Fluke injuries happen, and there doesn't seem to be anything the Buckeyes could have done to prevent the devastating one that struck Miller on Monday and
ended his season
.
"It's just the muscle," Miller had said after the first workout of the two-a-day session, hours before leaving the practice field under the supervision of trainers. "It's just getting it back, that little muscle around the surgery that I wasn't using after I had the sling and stuff. Now that I'm back using it on an everyday basis, it just gets sore.
"I was throwing full-go every other day in the summer, so right now it's practice every day. I can't throw every day and just blow it out, then it's sore for the next three days. We've just got to take it slow."
The Buckeyes tried to do that every step of the way after Miller went under the knife in February.
He was held out entirely of spring practice, but Herman adjusted by doubling down on mental reps by attaching a camera and microphone to Miller's hat and having him call out protections, coverages and reads with where to deliver the football.
He was supposed to ease his way back into throwing a football during the offseason, but the progress was considered so encouraging that Miller breezed through a step that called for him to throw tennis balls in one day, impressing the training staff with his rapid recovery.
By the time Big Ten media days arrived in late July, nobody representing Ohio State, including Miller himself, thought he would miss any time.
But when training camp did arrive, despite all the optimism and repeated mentions of Miller's rehabilitation schedule, there were at least a couple of subtle signs that maybe everything wasn't as rosy as the Buckeyes were indicating. They never made the exact details of the plan public, but Miller was limited to throwing every other day during the opening weeks of camp. He was always supposed to be limited to largely observing both scrimmages, but his absence still set off alarm bells as the start of the season crept closer without Miller showing he was as healthy on a daily basis as he had claimed to be.
The admission of soreness and Herman's confirmation on Monday that there was a minor setback added fuel to the fire that everything wasn't necessarily in full working order, but Ohio State still had no reason to question its approach to getting him back on the field.
"It's hard for me to speculate," Herman said after Monday morning's practice. "He is where he is right now not because the shoulder is injured but because the fatigue of multiple practices, practices day after day after day, 50, 60, 70 balls being thrown. The thing is going to get tired. The muscles aren't ready for that, and we've got to continue to build him up.
"I think it's too early to have that concern [of missing a game]. I think the trainers are optimistic, everything is on schedule. He had a little bit of a setback with some additional soreness that we weren't expecting, but I'm not ready to say 'concerned' is the right word. Not yet."
That final caveat was ominous, and Ohio State's worst fears would soon be realized in the afternoon practice.
Maybe Miller was always going to miss some time and the Buckeyes weren't prepared to admit it. Or, perhaps more likely, Miller, Meyer, Herman and an experienced training staff were all right when they evaluated his progress on the road back from February.
But either way, it doesn't matter now. It's safe to assume that Ohio State did everything it could to get Miller ready for this season, but now it's over before it even began.
August, 19, 2014
8/19/14
12:10
PM ET
Winning championships in college football no longer requires having an experienced quarterback.
Last year's BCS national title game featured a pair of teams who started a redshirt freshman (Florida State's
Jameis Winston
) and a junior-college transfer (Auburn's
Nick Marshall
) under center. Notre Dame made it to the title game the year before with a redshirt freshman quarterback (
Everett Golson
). Michigan State won the Big Ten and the Rose Bowl last season with a first-year starting quarterback (though
Connor Cook
did get some valuable experience in the bowl game the previous season). Johnny Manziel won the Heisman Trophy as a redshirt freshman, just as Winston did.
That's a long-winded way of saying that Ohio State's 2014 season is not over simply because
Braxton Miller
is out for the year after
re-injuring his throwing shoulder
.
[+] Enlarge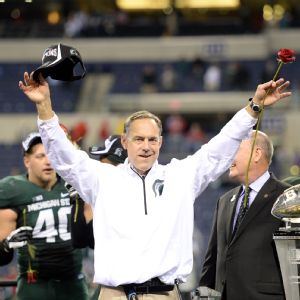 Allen Kee/ESPN ImagesIf Braxton Miller is forced to miss significant time, Mark Dantonio and the Spartans become the clear preseason favorite in the Big Ten.
Who knows? Maybe
J.T. Barrett
, Ohio State's new starting quarterback, will surprise us all.
Yet that unknown is also why the entire 2014 Big Ten race has been flipped on its head after Miller's unfortunate injury. All the Las Vegas sports books and virtually every preseason prognostication hailed the Buckeyes as the league favorite based primarily on two reasons: 1) the vast potential of Ohio State's young, blue-chip talent, and 2) the presence of Miller, the two-time reigning Big Ten offensive player of the year.
Now, virtually Urban Meyer's entire team, outside of its star-studded defensive line, is made up of question marks. Remember that Ohio State was already replacing four-fifths of its starting offensive line this season, a situation seemingly made less worrisome because of Miller's ability to improvise out of the pocket. We think
Ezekiel Elliott
and several of the young skill players will be terrific, but there is no proven safety net along the lines of Carlos Hyde and Philly Brown. Questions also exist in the defensive back seven.
Because of all those young players in key spots, I was never quite as high on the Buckeyes as some national experts were. I thought Michigan State was just as deserving of the favorite's role, given that the Spartans beat Ohio State in last season's league title game and get to host the Buckeyes in East Lansing on Nov. 8. Now, Michigan State becomes the clear preseason favorite, in my view.
Other teams, including Wisconsin, Iowa and Nebraska in the West and even Michigan and Maryland in the East, have to feel slightly better today about their chances of winning the conference championship.
Still, there's no doubt that a weakened Ohio State could hurt the entire Big Ten. Fairly or not, the Buckeyes have often been viewed as the standard-bearer for the league, and they were considered prime College Football Playoff contenders for 2014. The league already faces an uphill
fight against its national perception problems
, and Miller's injury raises the specter of critics dismissing the Big Ten champ as a team that merely took advantage of Ohio State's problems. If the Buckeyes are not a strong, top 10 type of team, then that could take away credibility for Michigan State even if the Spartans do beat Meyer's team in East Lansing.
It's not quite as bad as 2012, when Ohio State went 12-0 on probation and a 7-5 Wisconsin team claimed the Big Ten title. But Miller's injury clearly creates an impact beyond Columbus.
Don't expect the Buckeyes to collapse -- at least by their lofty standards -- as they did in 2011, when the tattoo scandal prompted the firing of coach Jim Tressel and the departure of quarterback Terrelle Pryor in the offseason. This team remains supremely talented, blessed with arguably more speed and athleticism than Meyer had in his first two years (when he went a mere 24-2). If Barrett can work through his growing pains in some early-season tests, including Navy in the opener and Virginia Tech in Week 2, Ohio State could still roll through the first half of its schedule. Presumably, a battle-tested Barrett would then be far more ready to take on second-half challenges at Penn State, at Michigan State and against Michigan.
But the key is that these are all hypothetical propositions, and Ohio State has no sure things any longer at its most important position. Because of that, the entire Big Ten looks a lot different than it did 24 hours ago.