September, 27, 2014
Sep 27
9:44
PM ET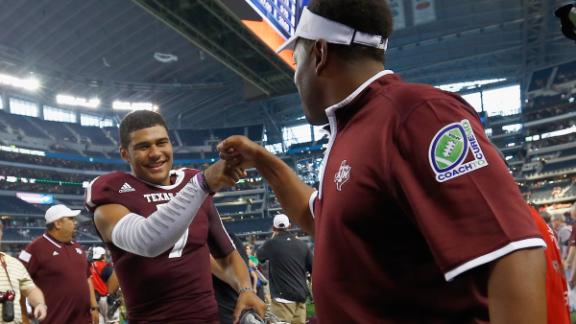 ARLINGTON, Texas -- In all honesty, Texas A&M probably shouldn't have won Saturday.
The Aggies' offense spent the better part of three quarters out-of-sync. Texas A&M's drive chart in that span looked foreign to those who know them best: Touchdown, punt, punt, punt, touchdown, missed field goal, punt, turnover on downs, punt.
Defensively, they weren't much better: 395 yards yielded in those first three stanzas and 214 on the ground (though 51 should be counted against the special teams for a fake punt). Those special teams had forgettable moments as well, with a missed field goal on top of everything else.
But as Kevin Sumlin-coached teams are wont to do, the No. 6 Aggies found a way to swipe a victory from Arkansas and remain undefeated by climbing out of a two-touchdown hole at AT&T Stadium for a thrilling
35-28 overtime win
.
[+] Enlarge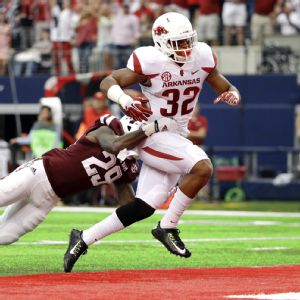 AP Photo/Tony GutierrezTexas A&M's defense struggled with Arkansas' running game through three quarters, but held firm in the fourth quarter and overtime.
"Was it perfect? No," Sumlin said afterward. "But it was a heck of a football game, and there's a lot of things we can learn from today."
The win provided both cause for concern and signs of encouragement. For starters, the Aggies didn't play to their lofty ranking and often showed why this young team gave so many pause prior to the season.
The Aggies (5-0, 2-0 SEC)
knew
their run defense would get their first true test of the year from the SEC's top rushing attack. It did (Arkansas ran for 285 yards), and it often left Texas A&M frustrated and chasing Arkansas running backs
Alex Collins
(131 yards) and
Jonathan Williams
(95 yards). When the Aggies weren't failing to fill their gaps, play-action passing from
Brandon Allen
and Co. gave them several headaches.
But when Arkansas (3-2, 0-2) smelled blood and tried to put the Aggies away, the Aggies' defense found its backbone (and the Razorbacks shot themselves in the foot a few times, too). The Razorbacks' final five drives went as such: punt, punt, punt, missed field goal, punt, turnover on downs. The final stop, which came on fourth-and-1 in Arkansas' overtime possession and secured the win, might prove to be a seminal moment for an A&M defense still trying to shake off its 2013 reputation -- last in the SEC in every statistical category that mattered.
Defensively, are the Aggies more what we saw in the first three quarters or the unit seen in the fourth quarter and overtime? That remains to be seen.
Similarly, Texas A&M sophomore sensation
Kenny Hill
and the Aggies' offense were off, as Sumlin admitted. Starting only his fifth game, Hill showed some of the ills that come with a young quarterback -- forced throws, inaccuracy, inconsistent play -- and his receivers and offensive line contributed at times with dropped passes or by allowing Hill to get pressured.
Conversely, when the Aggies needed a spark, Hill was on the money. He hit
Edward Pope
and
Joshua Reynolds
for two huge, fourth-quarter touchdown passes to pull even with the Hogs. He threw a dart to
Malcome Kennedy
for the game-winning, 25-yard score. It was fitting, considering Hill threw one behind Kennedy in the first half that -- had it been thrown perfectly -- would have likely resulted in a touchdown.
"I just saw him run wide open and said, 'I need to put it on him,'" Hill said. "They had the defender getting there late, and I had to fit it in to him, and he took care of the rest."
Let's make one thing clear: The Aggies are a good football team. Exactly how good is the question and one that won't be answered for a few weeks.
This improved Arkansas team gave Texas A&M everything it could handle, and though the Hogs are winless in two SEC games (and in 14 straight conference games dating back to 2012), they came away from home against highly-ranked foes (Auburn being the other), and both were contests in which the Razorbacks competed well. The Razorbacks no longer look like pushovers in Bret Bielema's second year, and they have made significant progress from a year ago.
Meanwhile, A&M's season-opening shocker at South Carolina and the Aggies' subsequent dominance of three cupcake opponents has sparked talk of the Aggies being perhaps the best in the SEC and a serious contender for the College Football Playoff. Those goals remain attainable, but those discussions should perhaps pause as this team navigates a gauntlet of a schedule that starts a week from now with a showdown against rising Mississippi State in Starkville. That will be followed by a home date with Ole Miss and a trip to Tuscaloosa for a clash with Alabama.
If the Aggies emerge from that stretch unscathed, they truly do deserve to be mentioned in the top-four discussion.