NCF Nation:

Bret Bielema to Arkansas
December, 6, 2012
12/06/12
2:05
PM ET
Arkansas pulled a shocker when it hired Bret Bielema away from Wisconsin to be its new head coach.
He was officially introduced to the Arkansas faithful on Wednesday and just after his introductory news conference (featuring an awkward "Call the Hogs" for Bielema), he took a few minutes to talk with ESPN.com about his new job and leaving a place he'd been so successful at:
Now that you've had a little time to process this whole thing, has it really hit you that you're now the head coach at Arkansas?
Bret Bielema:
Bits and pieces. It's still a little overwhelming with all the things that are on the agenda, on the radar with recruiting and staffing and getting the feel for a new place. My wife can handle all the little things and details on living and all that jazz. I'm just kind of full speed ahead, put your nose down and go to work.
With as much success as you had at Wisconsin, why the SEC, why Arkansas and why now?
BB:
Arkansas is very intriguing to me because it is the only show in the state. Obviously, without a professional team and to have the only Division I football team playing at the level that it's at, it kind of draws unified support throughout the whole state. When you've got that, it's something special. Obviously, there are a lot of good schools across the country, but there aren't very many of them that have the one show. The second thing is, at the age of 42 I felt I was at a point in my life where I'd had some success, obviously with the three straight Big Ten championships, but I wanted to see if there were some bigger things out there for my coaching career. It's something I could really see myself building a future around and a family around.
How did all this even start and did it catch you off guard when Arkansas reached out to you?
BB:
It did a little bit. Obviously, I went about my season and the things that it brought. As a head coach, you're obviously aware of different opportunities that are out there and you don't know if people are going to have an interest. Then, when our game was done (the Big Ten championship game) -- I didn't even check my phone until the following day on Sunday -- received a phone call from Arkansas, set up a time to meet with them on Monday night. I was going to be in New York City for the Hall of Fame inductions, as it was. I got a chance to visit Monday and Tuesday, and Tuesday afternoon we were flying to Madison to pick up my wife and flying to Fayetteville to have this press conference today.
[+] Enlarge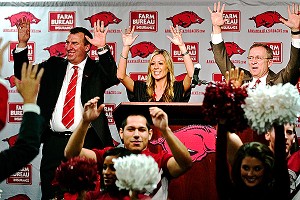 AP Photo/April L. BrownFrom left, new Arkansas coach Bret Bielema, his wife Jen and athletic director Jeff Long "call the hogs" during a news conference on Thursday.
What was your wife's response when you said that Arkansas was calling?
BB:
You know, my wife is a south Florida girl. She was born and raised in Tampa so she's traditionally lived in the South. I think she's just as excited as I am to try a new part of the country and a new opportunity to start together and a new life together with a whole different set of surroundings with a lot of good people. Maybe we'll have a chance to win a few ball games.
I know you said you have some family ties to Arkansas in your news conference, but what was your knowledge of the program before you got that phone call?
BB:
Well, to come full circle, we actually played Arkansas in my first tenure as a head coach. We were an 11-1 team before we played them and we beat them in the Capital One Bowl. I had a tremendous amount of respect for them from that point forward and you'd have to be living in a cave not to know all the things they've gone through last year. I respected the way that [athletic director] Jeff [Long] stood up there in front of a group of people and talked to them very passionately and it was very, very clear to me. To have the season unfold the way it did; I know people weren't happy with it, but we're not behind us, we're only looking forward.
While you were at Wisconsin, did you get to the point where you're thinking that it was going to get harder to win a national championship there and in the Big Ten?
BB:
When the playoff system came to truth for 2014 where we're changing the rules, it became very, very evident to me and it couldn't be more clear. The SEC had a road to that game, as it should. They play very, very good football and I want to be able to get into a race and see where it goes.
When it came to recruiting, you had some pretty controversial words about the SEC earlier this year. Looking back on it, is it kind of funny to see yourself now having to compete even more with the SEC in recruiting and having to adapt to it?
BB:
I don't know if it's funny. It was out of respect and I was the head coach at the University of Wisconsin and in the Big Ten Conference. Someone posed a question and I answered it. I don't know what the exact context of it was, but it definitely wasn't a slam on the SEC. It wasn't anything more than me being a head coach at a Big Ten university and someone posed a question that obviously made me respond that way. But it's very important for me to understand [how tough recruiting in the SEC is] and no one is a bigger fan of the SEC than myself.
Recruiting in the SEC is a different animal, as you know, so how ready and how excited are you to get into the middle of it?
BB:
I couldn't be more excited to know that we're going to have a chance to get everybody on board as a staff and then we'll get our players on board and bring in some new recruits and it's going to be an exciting couple of years. I can't wait to get running.
When you're at a place like Arkansas, how important is it for you to hit the southeast and hit Texas? I feel like it has to be more of a challenge there and how to be more of an emphasis for you now.
BB:
One hundred percent, especially this year's recruiting class. We're going to work ourselves through with the staffing and all that goes into that, but it's very, very important for us to establish a class right now. It's been said to me on several occasions that the classes that we have here are strong, but they're just a little bit low on numbers. We have to supplement it through high school recruiting and junior college recruiting. It's very, very important.
I know it's still early, but have you talked to anyone at Wisconsin about coming with you and are you considering any of Arkansas' current staff members?
BB:
Absolutely, I have tried to meet with the staff (Wednesday), but a couple of coaches were on the road. We're meeting early (Thursday) morning and we'll have a chance to sit down and visit with the entire staff and then visit with them individually and see exactly where they are right now and what they need to know and give us a chance to decide if we are going to move together or go through a second interview or go in different directions. As far as Wisconsin, I haven't hired anybody at all.
Your style is a little different than what Arkansas has been doing. It can be hard to make a smooth transition in your first year, so what would you like to accomplish in your first year?
BB:
Offensively, we're going to get a staff in here that believes in a certain methodology,whether it's fast-paced or slow-paced; two backs, one back; two wide receivers, four wide receivers. We're going to buy in, we're going to execute, we're going to coach it and we're going to find out what our players can do at a championship level and we're going to go out and perform every Saturday and try to get better each week. [On defense] it's important that we find the right players to play the right positions. We have to be strong personnel-wise and be able to execute the Xs and Os. The big thing is for everyone to get on the same page and execute the same plan.
You obviously ran the ball very well at Wisconsin, and running is the bread and butter of the SEC. How important is it to have that sort of SEC-style run attack back at Arkansas?
BB:
It's very important to me that I let our people know that we're going to run the football. We've also been very good at the quarterback position and the wide receiver position. We have more players in the NFL at the tight end position than anyone else in the NFL. We've been good on offense. We've had more offensive linemen selected in the first round than anybody in the world. It's going to be a fun time to get the ball rolling in many different directions.
Everyone wants to win championships, but you talked about in your news conference wanting to do something different at Arkansas, like you did at Wisconsin. How important is it to you to take Arkansas to the next level?
BB:
It's important to build this with a strong foundation. You can't skip a step and assume you're going to get to where you want to be. You want to build it in a way that you can sustain it and hold it while you're there. It's priorities. You don't have much time to sleep. My three biggest priorities are meet with the seniors, get to know them, get to know the current staff and make decisions there, and the third thing is to be involved in recruiting of next year's class -- a class that's going to come in and change the faces of what we do for years to come.
December, 6, 2012
12/06/12
11:51
AM ET
Pitt head coach Paul Chryst grew up in Madison, played at Wisconsin and coached there as an assistant. But he won't be the next Badgers head coach.

Wisconsin athletic director Barry Alvarez said Thursday that he doesn't plan to pursue Chryst for the team's head-coaching vacancy. Chryst released a statement Tuesday night, following the departure of Bret Bielema from Wisconsin to Arkansas, affirming his commitment to Pitt. He previously served as Wisconsin's offensive coordinator under Bielema.

Alvarez noted that it wouldn't be right for Chryst to leave Pitt after just one season. Alvarez added that he had asked "some close friends" to assist Chryst in getting the Pitt job, and that it wouldn't be appropriate to attempt to hire him back.

"Paul is going to stay at Pitt," Alvarez said.

Wisconsin's search will start with acting head-coaches, Alvarez said, but won't exclude qualified assistants. Although Alvarez wants a candidate who knows Wisconsin, he said direct ties to the school aren't a top priority.
December, 5, 2012
12/05/12
8:30
PM ET
The biggest question regarding Bret Bielema's move from Wisconsin to Arkansas has been a simple one: Why?

Why would Bielema leave what looked like a great situation with the Badgers for a mid-tier SEC program? That question grew louder when it was revealed that Bielema would be making only $600,000 more per year with the Razorbacks, a figure that Wisconsin could have easily matched.

But Bielema made it clear in his introductory Arkansas news conference that pay for his assistant coaches was a major factor in his decision to leave.

"When I began to have more and more success at Wisconsin, I stayed but lot of my coaches left," he said. "I just wasn't able to compensate them in the way other coaches were. I know I'm hiring the right guys, because everybody keeps taking them from me."

Bielema lost six assistants last year, and he noted that three of them went from salaries around $225,000 per year to over $400,000 annually. He said that hours after the Badgers won the Big Ten title game last Saturday, three of his assistants told him they'd been contacted by other schools and were offered significant raises. He said he wouldn't have been able to match those offers.

"Wisconsin isn't wired to do that at this point," he said. "With what I wanted to accomplish, I needed to have that ability to do that. I've found that here at Arkansas."

Was Bielema also looking to escape Barry Alvarez's shadow? He joked that Wisconsin might finally win a Rose Bowl if Alvarez coached this year's team in Pasadena and noted how he'd been reminded by everybody that Alvarez had won two Rose Bowls but he was 0-2. He said he wanted to come to a place "where I could give them something they've never had."

"We just won three [Big Ten titles] in a row, and that's something you can't put a price tag on," he said. "By that same account, it's been done. At Arkansas, it's never been done."

Bielema said he was "chasing a dream" by coming to Arkansas and that "I just felt it was time for me to spread my wings and fly a little bit further."

And as for his comments last offseason that the Big Ten didn't want to be anything like the SEC? Bielema said those were taken out of context.

"Those quotes really weren't at the root of what it was," he said. "Nobody will be a stronger supporter of the SEC going forward than myself."
December, 5, 2012
12/05/12
10:52
AM ET
Former Wisconsin defensive coordinator Dave Doeren isn't a candidate to return as the Badgers' next head coach, a source close to Doeren told ESPN.com on Wednesday morning.
NC State hired Doeren as its head coach Saturday, the day after he led Northern Illinois to its second consecutive Mid-American Conference championship. Doeren went 23-4 in two seasons at NIU after serving as a Badgers assistant from 2006-2010, the last three seasons as defensive coordinator.
Doeren is on the road recruiting for NC State, and has no intentions of leaving the job.
The interesting question here is whether Wisconsin athletic director Barry Alvarez should have reached out to Doeren before Doeren accepted the NC State job. Alvarez reportedly knew about Bret Bielema's potential departure for several weeks, although
he said in a statement Tuesday night
that he was "very surprised" when Bielema took the Arkansas job.
With Doeren out of the mix and Pitt coach Paul Chryst, the former Wisconsin offensive coordinator, affirming his commitment to the Panthers, it will be interesting to see where Wisconsin's search turns next.
Keep an eye on two NFL assistants who played at Wisconsin: Seattle Seahawks offensive coordinator Darrell Bevell, and Jacksonville Jaguars defensive coordinator/assistant head coach Mel Tucker.
December, 4, 2012
12/04/12
10:28
PM ET
Anytime a head-coaching job opens in the SEC, the athletic director at that school stands at the podium and promises his fans with conviction that he's going to go out and hire a proven winner.

Sometimes that's a difficult promise to keep, especially when three other schools in your league are coach-shopping at the same time.
But say this for Arkansas athletic director Jeff Long: He delivered on
bringing a guy to the Ozarks
whose record needs no deciphering.
Bret Bielema was 68-24 (.739) in seven seasons as Wisconsin's head coach, the ninth-highest winning percentage among active coaches in the NCAA with at least five years of experience. He guided the Badgers to their third consecutive Big Ten championship this season, and they became the first team to represent the Big Ten in three straight Rose Bowls since Michigan in 1976-78.
Over the past four years, Wisconsin has won 40 games, which is tied for the most of any four-year stretch in school history.
Long wanted a proven winner, and he got one.
But winning in the Big Ten and winning in the SEC are two different worlds. That's not a slight against Bielema. It's just the way it is.
The fact that Bielema would leave Wisconsin was stunning to a lot of people there. Clearly, though, he's not afraid of a challenge.
He'll get a daunting one at Arkansas, which plays in the toughest division (SEC West) in all of college football and doesn't have the luxury of producing the kind of homegrown talent most of the SEC states do.
Moreover, going into the state of Texas and getting players will be harder than ever with Texas A&M making the kind of splash it did in its first season in the SEC.
The biggest question Bielema will have to answer is whether or not he can recruit at a high level in the SEC. He's smart enough that he'll hire guys who know the Hogs' key recruiting territories, but the head coach has to be a good closer in this league.
As successful as Bielema has been at Wisconsin, the proof will be in the pudding as to whether he can score big on the recruiting trail.
But when it comes to coaching and developing hard-nosed football teams committed to running the ball and playing sound defense, Bielema has cornered the market on that brand of football in the Big Ten.
It just so happens to be the same brand that wins championships in the SEC.
Bobby Petrino got the Hogs within striking distance of a championship and took them to a BCS bowl before it all came crashing down with that ill-fated motorcycle ride last April.
Bielema will take his shot at finishing what Petrino started.
December, 4, 2012
12/04/12
8:26
PM ET
As soon as the stunning news of Bret Bielema's departure from Wisconsin broke earlier Tuesday, the attention quickly shifted to Pitt head coach Paul Chryst.

The Madison native and former Wisconsin offensive coordinator seems like a natural choice to step into a suddenly shaky situation. He knows the program, knows the players and knows the fan base.
But Chryst released a statement Tuesday night affirming his commitment to Pittsburgh, where he went 6-6 this season.
"I understand the speculation surrounding my name given today's developments," Chryst's statement reads. "I am committed to the Pitt football program and the University of Pittsburgh. I am focusing all my time and energy on our team's bowl game preparation and recruiting a great group of young men to join our program and this outstanding university. We are working hard every day to re-establish this program and I am excited about the future of Pitt football."
So there you have it, for what it's worth. I still think Chryst would listen if Wisconsin athletic director Barry Alvarez calls.
December, 4, 2012
12/04/12
7:47
PM ET
It's official:
Arkansas has hired Bret Bielema
to be its next head football coach.
Here are some statements on Bielema's departure from Wisconsin and his arrival with the Razorbacks.
Wisconsin athletic director Barry Alvarez
"I was very surprised when Bret told me he was taking the offer from Arkansas. He did a great job for us during his seven years as head coach, both on the field and off. I want to thank him for his work and wish him the best at Arkansas.
"I have a responsibility to our student-athletes, our football family and our fans, one that I take very seriously. It is my responsibility to ensure that the football program continues at a high level, and I have already started the process of trying to find a new head coach.
"Along with finding a new coach, my other main objective is to make sure that our student-athletes, specifically our seniors playing in their final game as Badgers, have a tremendous experience in the Rose Bowl. We will do everything within our power to make that happen."
Arkansas athletic director Jeff Long
"Bret Bielema is an exceptional leader of young men and an outstanding football coach who has proven his program is centered on establishing an unshakable foundation that emphasizes the development of each student-athlete as an individual. Coach Bielema has led his team to a historic run of championships while seeing a record number of student-athletes recognized for academic achievement.
"Throughout his career, he has demonstrated a commitment to competing for a national championship with a program known for discipline, honesty and integrity. His tough, aggressive style of play has been successful and will be appealing to student-athletes and Razorback fans. He not only shares the vision and values for the future of Arkansas football, he embraces them."
Bret Bielema
"I am very humbled and honored to become the head coach of the
Arkansas Razorbacks
. During my conversation with Jeff [Long] he described the characteristics for the perfect fit to lead this program. It was evident we share the same mission, principles and goals. The infrastructure in place at Arkansas shows the commitment from the administration to accomplish our goals together and I am excited to begin to lead this group of student-athletes. This program will represent the state of Arkansas in a way Razorback fans everywhere will be proud of."
One of the big questions Alvarez faces is who takes over the head-coaching duties for the Rose Bowl. There's been some buzz that Alvarez himself, who went 3-0 in Rose Bowls, could step into the top job. If not, defensive coordinator Chris Ash is expected to handle the head-coaching duties in Pasadena.
December, 4, 2012
12/04/12
7:31
PM ET
Bret Bielema was born in Illinois at a place called Illini Hospital. He played his college football at Iowa and has a tattoo of a tiger hawk on his leg.
Except for a two-year stint at Kansas State as co-defensive coordinator, Bielema spent his entire career in the Big Ten and was groomed by Barry Alvarez to take over Wisconsin. In February, after he objected to some of Ohio State coach Urban Meyer's aggressive recruiting tactics, Bielema said this: "We at the Big Ten don't want to be like the SEC -- in any way, shape or form."
Now, less than a year later, Bielema is leaving for a middle-of-the-pack SEC job at Arkansas. And that's a bitter pill to swallow not only for Badgers fans, but for the entire Big Ten.
[+] Enlarge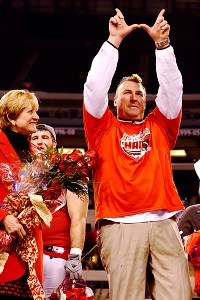 Brian Spurlock/USA TODAY SportsBret Bielema is heading to Arkansas just days after celebrating a Big Ten title with Wisconsin.
Bielema is a Midwest guy, through and through, a coach who seemed sent straight out of central casting to lead a Big Ten program. He had a close-knit relationship with Alvarez, who became his athletic director, and on Saturday night he clinched his school-record third straight Rose Bowl trip with a surprisingly easy 70-31 Big Ten title game upset win over Nebraska. Bielema had received some minor criticism for dumping new offensive line coach Mike Markuson just two weeks into this season, but nobody was questioning that bold move after the offense steamrolled for 539 yards against the Huskers. Standing on the Lucas Oil Stadium field an hour after the win Saturday night, he looked as happy and contented as anyone in the often-deranged profession of coaching could be.
That's why Tuesday afternoon's news was so stunning. While coaches switch jobs all the time and are smart to stay one step ahead of the ax, Bielema had as much security and control over his team as he could possibly wish. Despite a 7-5 regular season, the program still appeared to be at its zenith. Bielema told me in the spring that while he liked his chances in 2012, he thought 2013 would be the best team he would ever have in Madison, which was saying a lot for a guy who'd averaged nearly 10 wins a season and all but made Pasadena his winter home.
So this raises two obvious questions: Why would Bielema leave? And if the Big Ten can't hold on to this coach, in this situation, does it have any prayer of actually competing with the SEC?
Arkansas isn't Alabama or Florida. It's a step behind the top SEC powers, but has a fan base that expects to win national titles. Wisconsin, meanwhile, is easily one of the Big Ten's best four or five jobs, though the arrival of Meyer has definitely made life much more difficult in the Leaders Division. Of course, if Bielema didn't want to deal with tough division rivals or intense recruiting wars, he picked a funny way of showing it by leaving for the SEC West.
Wisconsin presented its own share of challenges. The state does not annually produce a lot of Division I prospects, so the Badgers have to do a great job of evaluating and developing players. It said a lot that the team's starting quarterback and top receiver in the middle of this season both were walk-ons. But starting with Alvarez and continuing with Bielema, Wisconsin made a habit of churning out NFL starters from non-scholarship or lightly recruited players. It had a system, based first on dominant offensive lines and the running game, and that system worked like a factory line.
At Arkansas, Bielema will have much more access to blue-chip talent, but also far more competition for it. Simply getting to BCS games, as he has in Madison, won't cut it in Fayetteville. Bielema will also find that certain flaws that left him unloved by some Badgers fans -- some questionable late-game management, a personality that bordered on cocky at times -- are about to be magnified exponentially in the maniacal SEC.
The biggest advantage the Razorbacks can offer, besides a mascot that will remind Bielema of his family's hog farm, is money. Bielema was making more than $2.6 million at Wisconsin, ranking as the 18th-highest paid coach in the country. Early reports indicate that he will be paid more than $3 million by Arkansas. It's not just his own pay, though, that makes a difference. Six assistants departed Bielema's staff last offseason, and while Paul Chryst understandably left for a head-coaching opportunity at Pitt, the others all took jobs that were not major steps up.
The Badgers, like many Big Ten teams, have lagged behind other power leagues in pay for assistant coaches. In June, the Lansing State Journal reported that
Wisconsin ranked only seventh
among 10 Big Ten schools who reported their salaries for assistants, with a total pool of just under $2 million. Matt Canada and Chris Ash were among the lowest-paid coordinators in the league. Wisconsin also has dealt with some outdated facilities, though the school is in the midst of a multimillion-dollar improvement project.
The money angle is the most concerning for the Big Ten. Even though the conference ranks as the richest conference thanks to its successful cable network, it is still losing one of its top coaches over what appears to be mostly a pay issue. Decry the out-of-control salaries and never-ending arms race all you want. Just don't complain when the SEC is winning national titles and the Big Ten is not.
Only Pat Fitzgerald, who became Northwestern's head coach the same year Bielema took over the Badgers, and Iowa's Kirk Ferentz had been in their chairs as long as Bielema. The dean of coaches in the Leaders Division is now Indiana's Kevin Wilson, who just completed his second season.
Bielema had all the characteristics of a Big Ten lifer. Instead, like the college football world in general, he's moving to the South. Score another victory for the SEC, this one a disheartening upset.
December, 4, 2012
12/04/12
7:27
PM ET
Bret Bielema didn't start his career at Wisconsin, but he appeared to feel right at home in Badger Land.
He had good and sometimes great teams. He had a great boss in athletic director Barry Alvarez, who handpicked Bielema as his coaching successor after the 2005 season. He made pretty good coin ($2.6 million). He seemingly had much more job security than most major-conference coaches. As long as Alvarez was around, Bielema was safe. He talked before this season about the promise of the 2013 squad.
But he evidently didn't have enough resources to keep him in Madison. Why else would he leave such a good situation? He'll also inherit much better facilities and more money to hire top assistants.
[+] Enlarge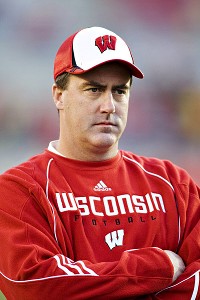 David Stluka/Getty ImagesIf asked, might Paul Chryst be willing to return to Wisconsin?
A decent portion of Wisconsin fans never fully embraced Bielema, despite his success in continuing what Alvarez had built with the Badgers. Although Alvarez played at Nebraska, he's a Badger, through and through. Alvarez is the reason the program is nationally relevant. Bielema never achieved that status despite winning 12 games his first season, as well as three consecutive Big Ten titles. Badgers fans never truly felt Bielema was one of them. His in-game coaching was questioned, especially after the 2012 Rose Bowl.
Bielema's surprising exit, on the heels of Wisconsin's dominating performance in the Big Ten championship game, leaves Alvarez scrambling to find the Badgers' next coach. He'd be wise to hire one of Wisconsin's own.
Alvarez could pull a Bill Snyder and reinstate himself as head coach. Crazier things have happened, and although Alvarez, who turns 66 on Dec. 30, seems more than content in his current role, he still loves the game.
A much likelier approach would be to bring Paul Chryst home.
Chryst grew up in Madison, played for Wisconsin, coached the Badgers' tight ends in 2002 and returned in 2005 as the team's co-offensive coordinator. He moved into the permanent coordinator role in 2006, which he occupied until becoming Pitt's head coach following the 2011 season. Chryst led record-setting Wisconsin offenses in 2010 and 2011 and had been coveted for several jobs before taking the one at Pitt.
The loyalty questions (fair or unfair) that sometimes surfaced among fans with Bielema likely wouldn't be there with Chryst. He knows the program, knows the town and knows the fan base. He makes a lot of sense.
Darrell Bevell's name also will come up. Bevell played quarterback for Alvarez and led Wisconsin to a Rose Bowl championship after the 1993 season. Although he started his career in the college ranks, he has been in the NFL since 2000 and serves as the Seattle Seahawks' offensive coordinator. Like Chryst, he has Wisconsin roots and would make a lot of sense.
Would Dave Doeren take Alvarez's call? Doeren, the former Badgers defensive coordinator under Bielema,
accepted NC State's head-coaching job
on Saturday, hours after winning his second straight MAC championship at Northern Illinois. Although Doeren's Wisconsin ties aren't as strong as Chryst's, he has spent much of his career in the Midwest.
It's a tough day for Wisconsin, which enjoyed stability and success under Alvarez and saw it continue with Bielema. The Badgers' program is a lot closer to Ohio State's and Michigan's than it is to the middle of the pack in the Big Ten. To see a coach leave for a good but not great SEC job can't be easy.
Wisconsin needs to decide what it wants to be. It'll soon have an upgraded athletic facility. Will there be additional resources to attract top assistants? Bielema lost six, including Chryst, after the 2011 season. So there had better be. The challenges in recruiting always will be there, but Wisconsin has found ways to overcome them with player development.
This is a very good program that shouldn't be viewed as a stepping stone, especially to a place like Arkansas.
Alvarez needs to hire someone who sees Wisconsin as a potential destination job.
Hope he didn't lose Chryst's number.
December, 4, 2012
12/04/12
3:36
PM ET
In a shocking development when it comes to SEC coaching searches, Arkansas is expected to hire Wisconsin's Bret Bielema to be its
new head coach
, a source told ESPN.
Yahoo! Sports
originally reported that Bielema, who has spent seven years at Wisconsin and compiled a 68-24 record during his time there, is expected to be announced as Arkansas' new coach Tuesday.
Arkansas was looking to replace interim head coach John L. Smith, who was not retained after the Razorbacks went 4-8 this fall. Smith filled in for former head coach Bobby Petrino, who was fired in April for lying about an affair he had with a staff member that he hired.
Wisconsin (8-5) will play No. 6 Stanford in the Rose Bowl Game Presented by Vizio on Jan. 1. It's the third straight Rose Bowl appearance for the Badgers.
Check out the SEC blog later for more on Arkansas' hiring of Bielema.
December, 4, 2012
12/04/12
3:19
PM ET
In the most stunning coaching move of the silly season,
Arkansas has hired Wisconsin's Bret Bielema
as its next head coach, sources tell ESPN.
Colleague Mark Schlabach reports that Bielema still wants to coach the Badgers in their upcoming Rose Bowl appearance against Stanford. Wisconsin won its third consecutive Big Ten championship on Saturday night and will play in Pasadena for the third straight season.
Bielema is 68-24 in seven seasons at Wisconsin. He was Barry Alvarez's hand-picked successor. Alvarez now serves as the Badgers' athletic director.
Much, much more to come on this surprising move.