NCF Nation:

Brett Basanez
October, 3, 2013
10/03/13
11:30
AM ET
EVANSTON, Ill. -- Northwestern's rise from national doormat to national darling to consistent winner is impossible to deny, even for farsighted skeptics who still discuss the program as if it were 1983, not 2013.
A team once best known for owning college football's longest losing streak can point to Big Ten titles in 1995, 1996 and 2000, five consecutive bowl appearances, and, finally, a bowl victory this past Jan. 1. But there's a scarlet and gray asterisk next to Northwestern's name. Of all the hurdles -- real or perceived -- the Wildcats have cleared since 1995, one opponent consistently trips them up and leaves them lying flat on their faces.
Ohio State hasn't merely dominated the all-time series against Northwestern, holding a 59-14-1 edge, including wins in the past four meetings and 28 of the past 29. Most of the matchups haven't even been competitive, beginning with the first, a 58-0 Buckeyes win a century ago.
Since a 60-0 win in 1973 at Ohio Stadium, the Buckeyes own 13 victories against Northwestern by 40 points or more and 21 victories by 20 points or more. Single-digit losses to Ohio State are almost as uncommon as wins for Northwestern. Even the Wildcats' championship seasons in 1995, 1996 and 2000 occurred without Ohio State on the schedule.
The dark days are over at Northwestern. No reasonable person could dispute that. But Ohio State remains a dark cloud hovering around the program. Saturday night, the fourth-ranked Buckeyes storm into Ryan Field for the most-anticipated regular-season Northwestern game in recent memory. The forecast, by the way, calls for showers.
[+] Enlarge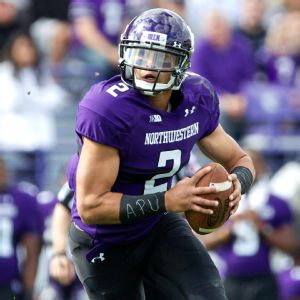 John Gress/Getty ImagesKain Colter and the Wildcats hope to end Ohio State's dominance with a win Saturday night.
Will Northwestern's big-stage appearance be a washout, or will the purple reign?
"It's going to be a big measuring stick for us, to see where we're at," Northwestern quarterback
Kain Colter
said Monday.
Nine years earlier, Noah Herron sat in the same room as Colter, discussing Northwestern's upcoming home game against an Ohio State team ranked No. 7 nationally. Herron, the Wildcats' running back at the time, and several of his teammates made comments that were true then and are true to this day but that still created a stir in Buckeye Country. Wide receiver Mark Philmore described the Buckeyes as "kids just like you out there."
"It was along the lines of, 'They're just Ohio State. They're the same guys that we are, playing for their school. They're no different than us,'" Herron recalled in a phone interview with ESPN.com this week. "It became poster-board stuff for their locker room, which is not what it was intended to be, but it was supposed to look at it from our approach. We're not playing their tradition, we're playing them. We're playing the current roster for 2004, not Archie Griffin and all these other great names that they've had."
Brett Basanez, the Wildcats' quarterback at the time, had a similar feeling. Despite playing with a separated throwing shoulder suffered the previous week, Basanez passed for 278 yards and two touchdowns and added 53 rushing yards, including a 21-yard dash to set up Herron's eventual winning TD.
Basanez had watched Ohio State's game against NC State and saw similarities between NC State's offense and Northwestern's.
"You're not playing Eddie George," Basanez said. "You're playing normal guys. Just play your game and win. We knew if we came out and played, we could score with them, we could score more than them. And that came to fruition as the game started."
Herron might have violated Big Ten etiquette by not paying homage to the Buckeyes. Ohio State came to Ryan Field eager to put Northwestern in its place.
Instead, the Wildcats won 33-27 in overtime. Herron scored the winning touchdown in what
one Northwestern fan website
calls the "33 game" -- Herron wore No. 33, scored the team's 33rd point on his 33rd carry and helped snap a 33-year losing streak to the Buckeyes.
"We weren't intimidated by them from the very beginning," Herron said. "Offense, defense, special teams, everybody played with that same kind of swagger, that, 'Hey, we're playing this team right now, nobody else.' Sometimes you catch a little heat for saying some things, but nevertheless they're true and they prove to be true. They're college kids just like us.
"Just because they're Ohio State, they don't get a free pass."
The current Northwestern players had nothing inflammatory to say this week about Ohio State. Colter praised the Buckeyes' coaches and said Ohio State has "athletes all over the board."
But the Wildcats also aren't in awe of Ohio State, which might have been a problem for Northwestern teams of the past.
"If you grow up watching college football, you hear about tradition, you hear about the successes that programs have had," Herron said. "You can be enamored by it. You can even be intimidated by it."
Herron acknowledges that, from top to bottom, Ohio State had more talent than Northwestern in 2004 and still does today. Wildcats coach Pat Fitzgerald agrees, saying Monday, "I think there's a talent gap between anybody in the top five and everybody else, including us. ... But we're pretty darn talented."
The talent gap has narrowed for Northwestern, as recruiting is on the rise under Fitzgerald. The are-you-kidding-me losses that used to plague Northwestern, particularly in nonleague play, have gone away. The Wildcats actually can stay ranked for more than a week.
But there are steps to legitimizing a program, and beating the Big Ten's most talented and visible program is one Northwestern eventually has to take, especially if it intends to return to the Rose Bowl.
Saturday night's opportunity, Basanez said, is more about Northwestern's future than its past.
"If you're judging your football program in the Big Ten, especially with [Buckeyes coach] Urban Meyer, with the tradition that [Jim] Tressel and other guys have had there, yeah, that's a measuring stick," he said. "It's very important to beat Ohio State because they're a Big Ten foe, but it's just as important to beat Michigan or Iowa. Everyone just thinks of Ohio State, but you beat them, arguably right now you're the best in the Big Ten."
Herron, who played five NFL seasons with four teams, calls the touchdown run in overtime against Ohio State his best moment on a football field. Personal achievement played a small role, as the win resonated for a team and a school still trying to escape its putrid past on the gridiron. The Ohio State win turned out to be the high point for the 2004 Wildcats, who went 6-6 and missed a bowl, thanks to a 1-3 mark in nonleague play.
The program since has been elevated. So have the stakes Saturday night.
"It is a measuring stick because it's the main stage, and it's seemingly been a team that Northwestern has had a hard time beating," Herron said. "Two ranked teams, game of the week, 'GameDay' is going to be there.
"What more can you ask for, not only for that team but for the program?"
September, 15, 2010
9/15/10
5:31
PM ET
Dan Persa
's 86.4 percent completion ratio so far this season doesn't surprise Northwestern coach Pat Fitzgerald.
Fitzgerald sees this all the time from the Wildcats' junior quarterback.
Asked Tuesday if Persa passes the ball as accurately in practice as he does in games, Fitzgerald flipped through his notes from the team's workout earlier that morning.
[+] Enlarge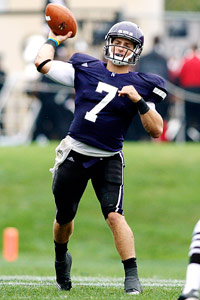 Jerry Lai/US PresswireDan Persa in the early national leader in pass efficiency with a rating of 212.1.
"We just got off the field and he threw for 92 percent in seven-on-seven," Fitzgerald said. "And in team [drills], he threw for 88 percent.
"So yeah, he's pretty consistent."
Persa opened the season by completing 19 of 21 passes for 222 yards and three touchdowns in a road win against Vanderbilt. He set a single-game team record for completion percentage (90.5 percent, minimum 20 attempts) and added 82 rush yards.
Last Saturday, Persa took a huge step back. He only completed 82.6 percent of his throws (19-for-23) in about a half of work against Illinois State.
On-target passing combined with five touchdown strikes and no interceptions has helped Persa lead the nation in pass efficiency with a rating of 212.1.
"It's just all about your confidence," Persa told me earlier this week. "Once it becomes second nature, you don't really think about making mistakes. You just think about getting the ball to [the receivers] as quick as you can and watch what they do with it."
Persa is only two games into his stint as Northwestern's full-time starter and entered the year with only 34 career pass attempts (20 completions). His fast start is linked to his ability to maximize the offseason, whether it was earning team awards for his weight-room prowess, working with former Northwestern quarterback Brett Basanez on his skills or leading voluntary workouts with his receivers.
Northwestern's spread offense is built around high-percentage passes, some of which coordinator Mick McCall considers the equivalent to run plays. Most of Persa's throws don't travel very far, but the execution needs to be there on both ends.
"Some are short, easy passes," Persa said, "but at the same time, we work really hard in the offseason and in fall camp to get our timing right. It's really showing right now."
Northwestern enjoyed similar accuracy with All-Big Ten quarterback Mike Kafka in 2009.
Kafka led Big Ten starters in completion percentage (64.8). He completed his first 16 passes against Syracuse, breaking a 47-year-old team record, and finished the game 35-for-42 (83.3 percent).
Persa has continued the pattern.
"I just try to make all the throws that I'm capable of," he said. "You're going to have some incompletions, just because sometimes you've got to throw the ball away or sometimes, you have to save yourself. I'm not really focused on making or missing passes as much as executing and getting the job done."
Fitzgerald said there's only one throw Persa would like to have back so far this season, a pass that sailed through the hands of a Vanderbilt linebacker and into those of Northwestern receiver
Demetrius Fields
.
So even when Persa messes up, he still completes the pass. Figures.
"He's managed it outstanding," Fitzgerald said. "I don't know if he could have done a better job in the first two games. ... He's a great fit to our offense. He can do everything: He can run, he can throw the quick game, he can throw on the move, he can throw the ball vertically.
"He's just the full package."
April, 5, 2010
4/05/10
10:30
AM ET
EVANSTON, Ill. --
Dan Persa
is still a novice when it comes to playing quarterback at the college level.
His career stat line shows only 34 pass attempts, 51 rushing attempts, two touchdowns, two interceptions and zero starts. It's a résumé not unlike those of other backup quarterbacks in the Big Ten.
Where Persa distinguishes himself is leadership. He's the resident expert at Northwestern.
[+] Enlarge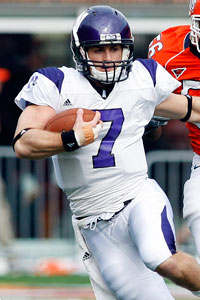 Jerry Lai/US PresswireAlready a threat running the ball, Dan Persa is working on fine-tuning his passing skills.
Since the moment Persa arrived in Evanston, he has prepared to lead. After the 2007 season, head coach Pat Fitzgerald formed a 10-man leadership council to give players greater ownership of the offseason program. Persa is the only player elected to the council in each of the three seasons.
Despite his place on the depth chart -- behind C.J. Bacher and Mike Kafka in 2008, and behind Kafka in 2009 -- Persa always tried to find ways to assert himself and gain confidence among others. He even saw time on special teams in 2008, returning one kickoff for 15 yards.
"I tried to get in here as much as I can to show people than I'm willing to work as hard as anyone," Persa said. "Everybody looks to you for energy, they look to you for attitude. If you're having a bad day and you're wearing your feelings on your sleeve, everybody's going to see that and then they're going to be down.
"But if they see you energized and ready to go, they're like, 'Alright, let's go.'"
Persa will get his chance to lead in the spotlight this fall as he moves into a starting role. The former Pennsylvania high school superstar takes over an offense that relied almost exclusively on Kafka's right arm last season.
Although Persa established himself as a locker-room presence years ago, he cranked things up during the winter months in preparation for his first spring practice at the helm.
"Mike Kafka was an extremely hard worker," left tackle Al Netter said, "and Dan works as hard, if not harder. This offseason, he's the first guy in the football offices, and he's the last guy to leave, every single day. His work ethic is spectacular. I look up to him, all the other guys look up to him, so he's taken this role very seriously."
Persa's rationale: "Knowing that you'll be the leader of this team, it's not just taking care of yourself any more. You've got to bring the whole team, the whole offense, along. If the offense fails, it's pretty much on you."
Since installing the spread offense before the 2000 season, Northwestern has had different types of trigger men. Brett Basanez and C.J. Bacher developed into record-setting passers, while Kafka transformed himself from a run-first quarterback into the Big Ten's passing leader last fall.
In Persa, the Wildcats might have the most natural fit for the spread since Zak Kustok, who led NU to its last Big Ten championship (2000). Persa is a true dual-threat quarterback who became the first Pennsylvania high school player to eclipse 2,000 passing yards and 1,000 rushing yards in a season.
It's noteworthy that if Persa didn't end up at NU, he likely would have signed with Rich Rodriguez at West Virginia. Rodriguez is arguably the biggest reason Northwestern runs the spread, as Wildcats coaches implemented the system
after visiting with Rodriguez at Clemson in 1999
.
"If I don't run, I think that's taking away from one of my strengths," Persa said. "But I don't see myself running 20, 25 times a game."
NU coaches know Persa can run, so they're spending more time fine-tuning his passing skills. As a smaller quarterback -- Persa is somewhat generously listed at 6-foot-1 -- he has to be precise with his footwork to help his field vision.
"I know he worked hard last summer about really getting some depth on his drop," offensive coordinator Mick McCall said. "He did a good job with that. We're going to try and move the pocket a little bit more to help him out, but we still are who we are. We're a spread team, we're going to be in empty, we're still going to run the ball with the quarterback at times."
Persa's size hurt him a bit in the recruiting process, as some schools wanted him to play defense. But the shotgun spread offense isn't married to 6-5 quarterbacks, and so far, Persa is standing tall at Northwestern.
"He has always led," McCall said. "He was always a voice here because he still worked his fanny off in the weight room, he still worked his fanny off in workouts. But he had to be [Kafka's] right-hand man.
"Now he's the guy."
August, 12, 2009
8/12/09
3:17
PM ET
Posted by ESPN.com's Adam Rittenberg
EVANSTON, Ill. -- It's no secret around these parts that Northwestern's offensive production largely depends on quarterback Mike Kafka's ability to evolve as a passer.
Kafka might not be a household name in the Big Ten, but he holds the league's single-game record for quarterback rushing with 217 yards against Minnesota last year. The senior is less accomplished as a passer, but he spent the summer focusing on the passing game.
| | |
| --- | --- |
| | |
| | Jonathan Ferrey/Getty Images |
| | Mike Kafka, above, spent time this summer working with former Northwestern QB Brett Basanez. |
Part of Kafka's summer regimen involved working with former Northwestern quarterback Brett Basanez, the 2005 Big Ten co-Offensive Player of the Year. Basanez, who ranks third on the Big Ten's career passing yards list (10,580), returned to the area after signing with the Chicago Bears as a reserve quarterback.
Kafka gathered several of Northwestern's receivers and worked with Basanez twice a week for six weeks. Wildcats backup quarterback Dan Persa and Kafka's brother, Jason, who will play football at San Jose State this fall, also participated.
"We were working out with an NFL quarterback," Kafka said. "You can't beat that."
Basanez critiqued Kafka's passing mechanics and footwork, but his most valuable advice had to do with the mental aspect of playing the position.
"We talked a lot about being able to manage the game and control and lead," Kafka said. "That was one of the biggest things -- leadership. A lot of times, the quarterback doesn't have to be the best player on the field, as long as you lead your team down the field."
Since installing the spread offense in 2000, Northwestern has struggled to overcome the loss of a starting quarterback. The Wildcats stumbled to 3-9 in 2002, after losing Zak Kustok, and went 4-8 in 2006, after losing Basanez.
C.J. Bacher held the top job the past two-and-a-half seasons, though Kafka isn't a stranger to the spotlight. He started four games as a freshman and two last fall after Bacher hurt his hamstring.
Head coach Pat Fitzgerald said Kafka is "throwing the ball as well as he ever has" and gained confidence by being the clear-cut starter in camp.
"You can just tell that he's taken the time to improve, even on the little things," said wide receiver Andrew Brewer, a former quarterback who competed with Kafka in 2006. "It's definitely helped his mechanics and helped his arm speed and strength."
March, 20, 2009
3/20/09
10:12
AM ET
Posted by ESPN.com's Adam Rittenberg
The departure of a three-year starter at quarterback is never cause for celebration, but Northwestern offensive coordinator Mick McCall could get exactly what he wants in the backfield this fall.
| | |
| --- | --- |
| | |
| | Jonathan Ferrey/Getty Images |
| | Mike Kafka is one option for the Wildcats at quarterback in 2009. |
Northwestern's spread offense works best with a mobile quarterback who poses a legitimate rushing threat. After all, the roots of the Wildcats' system can be traced directly to Rich Rodriguez, who has directed dynamic offenses with mobile quarterbacks (Shaun King, Woody Dantzler, Pat White) and struggled mightily when his quarterbacks lack foot speed (Michigan's 2008 season).
McCall also enjoyed his best coaching success when he mentored mobile quarterbacks Josh Harris and Omar Jacobs at Bowling Green.
Outgoing Northwestern starter C.J. Bacher and his predecessor Brett Basanez showed decent mobility at times, but the team has lacked a true rushing threat since Zak Kustok finished his career in 2001.
McCall will have two when spring practice opens March 30.
"It puts a lot of pressure on the defense when the quarterback can run and be able to break some things open that way," McCall said. "The defense definitely has to be a lot different."
Projected starter Mike Kafka already has established himself as a rushing threat in the Big Ten. Making his first start in three years Nov. 1 against Minnesota, Kafka set a Big Ten quarterback record with 217 rushing yards. He followed with 83 rushing yards the next week against Ohio State.
Backup Dan Persa can move a bit, too.
As a high school senior in Bethlehem, Pa., he became the first player in state history to eclipse 2,000 passing yards and 1,000 rush yards in the same season. Despite serving as Northwestern's third-string quarterback last fall, Persa was used regularly on special teams, even returning a kickoff against Michigan.
Kafka and Persa should enhance a rushing attack that loses Tyrell Sutton, a four-year starter at running back, but McCall chooses to focus more on their arms than their legs.
"We've still got to find ways to move the football through the air because you cannot sit there and pound the quarterback and pound him and pound him, and expect him to throw for 65 percent completion or 70 percent completion," McCall said. "[Tim] Tebow can't even do it, and you're talking about a guy who's won a Heisman.
"We've got to be realistic about what our guys can do and how many hits they can take."
July, 28, 2008
7/28/08
10:30
AM ET
Posted by ESPN.com's Adam Rittenberg
The night between Big Ten media days gives players from rival teams the rare opportunity to spend some time together. This isn't quite Ohio State and USC stars partying at the Playboy All-America function, but the players get a chance to hang out in Chicago before the season.
It's a good time for all, though the good vibes rarely last. Three years ago, Northwestern quarterback Brett Basanez organized a group -- all of whom were legal drinking age, of course -- and went to a sports bar. Basanez hung out with Iowa linebacker Chad Greenway, who several months later he accused of head-hunting following a game.
Players from several teams met up Thursday night, and Iowa players ended up spending most of the time with the contingent from Penn State. Both the Hawkeyes and Nittany Lions have endured their share of problems during the offseason. ESPN's Outside the Lines recently documented Penn State's string of transgressions, while Iowa coach Kirk Ferentz and other athletic officials are being investigated for a second time regarding their handling of an alleged sexual assault involving two former football players.
"Both of us have had some off-field issues, and our seasons haven't gone the way we wanted them (to go) the last couple years," Iowa defensive tackle Matt Kroul said. "We just talked about as leaders, what they're trying to do, what their coaching staff does. You just try to find similarities, how different schools react to the same problems."
Like Kroul, Penn State center and team captain A.Q. Shipley is accepting a greater responsibility for keeping teammates in line this season.
"With (Iowa) going through the same things, dealing with that, talking about that, it was interesting to see how they were handling things, too," Shipley said. "We've been through it for a while. It's good that we're past it now. Guys faced the consequences and were able to move on."
Though the Outside the Lines piece rehashed Penn State's problems, the worst appears to be over in Happy Valley. Iowa is a different story, as an incoming freshman was arrested July 19 after leading Iowa City police on a foot chase.
Kroul said Iowa's team leaders have addressed disciplinary issues throughout the summer and will continue to do so when preseason practice begins Aug. 4.
"We changed some things, made it a little more of an open forum with the older and younger players," he said. "Hopefully, they can feed off us and see how we do things. We're trying to get in more contact with them, let them know that we actually care about them and they're not some little freshmen that don't mean anything to us. It's up to us to keep the Iowa tradition and try to restore the image that we've had."