NCF Nation:

Brett Dewhurst
June, 30, 2011
6/30/11
1:15
PM ET
We'll move on to the safeties today in our position rankings across the Big 12.
Here's what we've covered so far:
The group of safeties across the Big 12 isn't fantastic, without any truly elite groups, but it's decent. There aren't any teams that look really hopeless at the position in the immediate future.
I haven't given it real close examination so far on the positions we haven't covered yet, but this is by far the closest gap between 1-10 of any position so far.
Here's how I ranked them. (Remember, I lumped in nickel backs with linebackers, so Ahmad Dixon and Tony Jefferson won't be found anywhere in this post.)
[+] Enlarge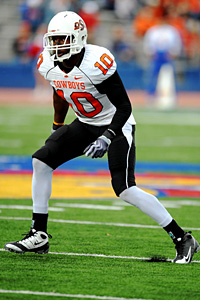 John Rieger/US PRESSWIREOklahoma State's Markelle Martin is the Big 12's best overall safety.
1. Oklahoma State
-- The Cowboys have Markelle Martin, the Big 12's best overall safety who's a big talent but a much better hitter than he is a cover man. Johnny Thomas is solid and both safeties got a lot better as the 2010 season progressed. OSU's depth lands them here, though. Daytawion Lowe could start for a few Big 12 teams and is slightly better than A&M and Texas' reserves, the other two teams with the deepest group of safeties.
2. Texas
-- Blake Gideon takes his share of criticism, a good deal of it fair, but there's a reason he's starting for Texas for a fourth season this fall. He knows what he's doing. Kenny Vaccaro will challenge OSU's Martin, among others, for the title of the Big 12's biggest hitter and Nolan Brewster and Christian Scott are strong reserves at the position. The Longhorns lose a lot at corner, but all the safeties are back from a defense that allowed just over 170 yards a game through the air in conference play last season.
3. Texas A&M
-- The Aggies' Steven Terrell and Trent Hunter are solid, and Hunter is a big playmaker who made 62 stops and picked off two passes last year. Toney Hurd Jr. is the backup and was one of the most impressive freshmen in fall camp last year, joined by Steven Campbell in the rotation.
4. Kansas State
-- Tysyn Hartman has loads of experience and is one of the Wildcats that Bill Snyder loves to rave about. Ty Zimmerman was one of the Big 12's best freshman last year, and picked off three passes. They should be solid again next year, and for as much criticism as K-State's defense faced last year, they were fifth in the Big 12 in pass defense. Logan Dold should be in the rotation, too.
5. Oklahoma
-- Reserve Sam Proctor has starting experience, but Javon Harris and Aaron Colvin enter fall camp as starters. That says plenty about how Bob Stoops and Brent Venables feel about them. In a word: confident. Colvin has the most potential in the group, but the two starters will have to learn on the go. Proctor, a senior, should be able to help. James Haynes will also be in the rotation.
6. Missouri
-- Jasper Simmons is gone, but Missouri's safeties might be a bit underrated in this spot. Kenji Jackson has loads of experience and should be solid, and Tavon Bolden and Matt White are a pair of promising sophomores who should compete at free safety. Kenronte Walker should be in the rotation, too.
7. Texas Tech
-- Injuries were a problem last year for the Tech secondary, but Cody Davis and D.J. Johnson will hold down the traditional safety spots away from the line of scrimmage in new coordinator Chad Glasgow's 4-2-5. The unit gave up lots of big plays in 2010 (151 over 10 yards, 46 over 20, and 25 over 30, all the most in the Big 12), but I'd expect that number to drop under Glasgow if the secondary stays healthy. Davis is the team's leading returning tackler, with 87 stops. Brett Dewhurst and Giorgio Durham should be in the rotation.
8. Kansas
-- Keeston Terry and Bradley McDougald give Kansas a lot of speed and athletic ability at the position, but both of the team's safeties from 2010 graduated and Terry and McDougald are short on experience. Lubbock Smith should add some solid depth to the position.
9. Iowa State
-- Iowa State loses their top playmaker at the position, David Sims, but returns starter Ter'Ran Benton. He'll be helped out by some combination of Jacques Washington, Earl Brooks and Deon Broomfield once the season starts. Iowa State's biggest weakness is on the defensive line, so it's hard to get a good read on how good the safeties really are with such a poor pass rush up front.
10. Baylor
-- This group might move up the list during the year under Phil Bennett, but the two best raw athletes (Ahmad Dixon, Prince Kent) at the position moved to nickel back and linebacker, respectively. The team's leading tackler, Byron Landor, graduated, and that left Mike Hicks as the other starter. He'll be helped out at safety by Sam Holl, Josh Wilson and K.J. Morton. Last year, the Bears ranked last in the Big 12 in pass defense in conference play, giving up over 300 yards a game. That'll have to change or Baylor won't get past seven wins.
May, 26, 2009
5/26/09
10:15
AM ET
Posted by ESPN.com's Tim Griffin
All questions aren't settled during the course of spring practice as teams still have much work to upgrade their weaknesses heading into the season.
Obviously, some will receive a boost from incoming freshmen who will arrive later. But here's how each team's biggest liability shakes out heading into the summer.
Baylor: The Bears are desperately looking for help at offensive tackle after losing No. 2 overall draft pick Jason Smith and Dan Gay as their starters. Former Canadian firefighter Danny Watkins has established himself at Smith's old position protecting Robert Griffin's blind side. And on the right side, junior Chris Griesenbeck and redshirt freshmen Cameron Kaufhold are competing for the starting job with Tyler Junior College's Phillip Blake and Blinn College's Marquis Franklin set the arrive later this summer.
Colorado: Wide receiver has been a question mark for the Buffaloes throughout Dan Hawkins' coaching tenure. The Buffaloes return four scholarship wide receivers and had a chance to work out several new players with Scotty McKnight injured during the spring. Josh Smith and Markques Simas are the top playmakers coming out of the spring. Non-scholarship players like Jason Espinoza and Ryan Maxwell emerged, but the Buffaloes definitely need a big upgrade at the position from their arriving freshman class.
Iowa State: The Cyclones will be facing a big hole at left tackle, where two-year starter Doug Dedrick departs. It could be filled by Matt Hulbert, who started two games last season when Dedrick was hurt. Or it could be massive 354-pound junior Hayworth Hicks or freshman Brayden Burris at the position. Whoever emerges will face a huge challenge in filling Dedrick's experience as he protects the blind side of the Iowa State quarterbacks.
Kansas: Coach Mark Mangino will be facing a few huge rebuilding job at linebacker, where the Jayhawks lose key contributors Joe Mortensen, Mike Rivera and James Holt from last season. Mangino is talking about using a two-linebacker set as his base defense with fifth-year senior Jake Schermer and senior Arist Wright getting the starting jobs leaving spring practice. Sophomore Steven Johnson and converted running back Angus Quigley were competing for playing time during the spring and another boost is expected when junior linebacker Justin Springer, who is recovering from a torn ACL last season, returns in the fall.
Kansas State: Carson Coffman appeared to have claimed the starting job at quarterback -- at least for a few weeks -- after a strong effort during the latter stages of spring practice. But Coffman's late binge has to be tempered considering he is playing against the weak Kansas State secondary. So it's fair to say there are some lingering questions at the position. Coffman apparently has beaten back the challenge of challengers Collin Klein, Joseph Kassanavoid, Trey Scott and Milton McPeek. But the arrival of South Florida transfer Grant Gregory and heralded junior-college transfer Daniel Thomas will mean more competition in the summer.
Missouri: The Tigers will be facing a challenge of replacing NFL first-round draft pick Evander "Ziggy" Hood at defensive tackle to play opposite nose tackle Jaron Baston. Redshirt sophomore Terrell Resonno appeared to have claimed the job out of the spring, with Dominique Hamilton, Chris Earnhardt and converted linebacker George White perhaps earning their way into the rotation.
Nebraska: After the graduation of top receivers Todd Peterson and Nate Swift from last season, the Cornhuskers need to fill both positions. Leading returning receiver Menelik Holt appears to have a hammerlock on one position, but Niles Paul lost a chance to take a big step forward after missing the spring after he was suspended for driving under the influence. Antonio Bell was the biggest surprise, but converted I-back Marcus Mendoza, Chris Brooks, Wes Cammack and Curenski Gilleylen all showed flashes during the spring.
Oklahoma: There was concern before spring practice, considering the Sooners were replacing four-fifths of their starting offensive line with only Trent Williams back from last season's starters. And it got worse when Bob Stoops called out the young replacements because of their lack of diligence in their preseason conditioning. Williams emerged at left tackle with Brian Simmons and Stephen Good at guards, redshirt freshman Ben Habern at center and either LSU transfer Jarvis Jones or Cory Brandon at right tackle. The depth took a hit when center Jason Hannan left early in training camp and sophomore guard Alex Williams chose to leave after spring practice. The group struggled against the Sooners' talented defensive line, allowing Sam Bradford to be touch-sacked twice in three possessions in the spring game and produced only 27 rushing yards in 52 carries.
Oklahoma State: The loss of veteran center David Washington produced a huge hole in the center of the Cowboys' interior line. Andrew Lewis returns to his natural position, leaving Oklahoma State needing two new starters at guard. Noah Franklin and Jonathan Rush have staked claims to the starting positions with Anthony Morgan and Nick Martinez getting repetitions inside. This group needs to improve if it hopes to equal the standards of previous seasons, when the Cowboys led the Big 12 in rushing each of the last three seasons.
Texas: The tight end was rarely used for the Longhorns after Blaine Irby dislocated his kneecap last season against Rice. He still wasn't ready to go during the spring as Greg Smith, Ahmard Howard, Ian Harris and D.J. Grant all got work. None of them emerged. And with Irby's return remaining iffy, it means the Longhorns again could reduce the use of the tight end and utilize four-receiver sets when they want to move the ball. Don't look for the Longhorns to use the tight end much unless this production improves.
Texas A&M: The Ag
gies were wracked with injuries during the spring as projected starters Lee Grimes, Kevin Matthews and Lucas Patterson were sidelined all spring as A&M was down to only nine healthy offensive linemen for some practices. It still doesn't excuse the lack of offensive production for A&M's starting unit, which produced only 9 yards rushing on 24 carries against Texas A&M's first-string defense. Coach Mike Sherman will be counting on immediate production from an impressive group of incoming freshman at fall practice, but it's fair to characterize the Aggies' offensive line as the team's biggest spring concern -- especially after allowing 39 sacks last season and ranking last in the conference in rushing yards per game.
Texas Tech: The loss of productive starters Daniel Charbonnet and Darcel McBath left a gaping hole at safety for the Red Raiders. Junior Franklin Mitchem earned the free safety position leaving spring practice and redshirt freshman Cody Davis emerged at strong safety.Jared Flannel , Brett Dewhurst and converted linebacker Julius Howard also got some snaps at safety. It will still be a challenge to combat the explosive Big 12 defenses with such an inexperienced group at the position.