December, 19, 2009
12/19/09
11:56
PM ET
Central Florida's great season came to an unfortunate end after they
weren't able to top
Rutgers in the St. Petersburg Bowl on Saturday. The Knights finish the season with eight wins for only the fourth time since becoming a member of the FBS.


How the game was won:
Rutgers was able to limit Central Florida's running game and convert quarterback
Brett Hodges'
two turnovers into touchdowns. After playing even with the Scarlet Knights early, Central Florida couldn't get closer than four points and Rutgers was able to secure the game in the second half.
Turning point:
Rutgers linebacker Damaso Munoz intercepted Brett Hodges on the first drive of the game, setting up Rutgers' first score, and set the tone for the rest of the game. Hodges threw two interceptions, including one that was returned for a touchdown.
Stat of the game:
Central Florida's 32 rushing yards is the second-lowest total of the season. The Knights had just 15 rushing yards against Southern Miss on Sept. 12. Running back
Brynn Harvey
, who came into the game off three consecutive 100-yard rushing games, had just 30 yards on 13 carries.
Unsung hero of the game:
UCF quarterback
Rob Calabrese
came in late in the fourth quarter for injured starter Brett Hodges and led the Knights on a 10-play, 75-yard drive to cut the lead to 38-24 with 2:23 remaining.
What it means:
While this is not the way Central Florida wanted to end its season, it has to be encouraged by the late play of Calabrese and running back
Jonathan Davis
, who are the future of the team. Both came in during the fourth quarter and helped the Knights score their final touchdown. There are a lot of young players on this team and the experience will serve them in 2010.
Rutgers (8-4) vs. Central Florida (8-4)
Dec. 19, 8 p.m. (ESPN)


Rutgers take by Big East blogger Brian Bennett:
Rutgers is proof that you can schedule your way to a bowl, as six of the Scarlet Knights' victories came against Howard, Florida International, Texas Southern, Army, Maryland and Louisville.
Yet there's little doubt that this team was improving as the year went along. That should have been expected since the Scarlet Knights were starting true freshman
Tom Savage
at quarterback, and one of their best weapons was Savage's classmate,
Mohamed Sanu
. Their development -- and particularly Sanu's added spark as a runner out of the Wildcat formation -- helped a rudimentary offense find its legs.
In Central Florida, Rutgers finds a team that's capable of scoring in bunches -- the Golden Knights averaged 40 points in their last three games, including a win over Houston. But Greg Schiano's array of confusing blitz schemes can often rattle players and teams who haven't seen it before. Central Florida will have less than two weeks to prepare for it.
The short turnaround also throws into question whether Rutgers wideout
Tim Brown
-- one of the Big East's best receivers and the team's lone true deep threat -- will be ready in time. Brown re-aggravated a sprained left ankle on Saturday against West Virginia and was not able to contribute. Without him, the Scarlet Knights may have to rely on their special teams and defense to help out in the scoring department, something that's happened with great frequency this season.
---
Central Florida take by Independents and others blogger Graham Watson:
Central Florida was hoping rival South Florida would be in this bowl, but the No. 4 team in the Big East will present a nice challenge.

This will be a defensive matchup since both teams don't allow many points and neither team's offense has been lighting up the scoreboard this season. However, Central Florida comes into this game beaming with confidence after finishing the regular season with eight wins, four more than a year ago. The offense, which was last in the country in 2008, has been much better with quarterback
Brett Hodges
and running back
Brynn Harvey
.
But the strength of the Knights is their front seven and their rush defense. The Knights are allowing just 82.50 rushing yards per game and have given up just 10 rushing touchdowns. UCF also ranks fifth in the country with more than three sacks per game. Both of those statistics give the Knights an advantage in the game considering Rutgers allows more than three sacks per game and its running game is generating less than 140 yards of offense.
Rutgers does have similar defensive stats, which should make this game a grind. Expect a low scoring game and probably a lot of turnovers.
November, 30, 2009
11/30/09
12:30
PM ET
By
Tim Griffin
| ESPN.com
Texas approaches the Big 12 championship game with its first 12-0 regular-season record in history and momentum from a strong sprint through the Big 12.
And still, something appears to be missing as the Longhorns attempt to claim their first conference championship since 2005.
If Texas can beat Nebraska Saturday in Arlington, Texas, the path appears set for the Longhorns to make their second trip to the BCS national title game in five seasons. A potential matchup with Alabama or Florida beckons in Pasadena -- just like it did for the Longhorns to higher-ranked USC in the 2006 Rose Bowl.
Even with that historical parallel in place, these Longhorns aren't approaching the conference championship with a lot of national buzz. Most are seeing their Big 12 championship game with little excitement compared to the SEC championship game earlier on Saturday. It is causing the Longhorns to suffer in comparison to both the Gators and Crimson Tide as "Super Saturday" approaches.
[+] Enlarge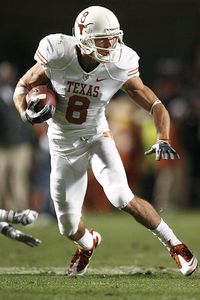 Aaron M. Sprecher/Getty ImagesJordan Shipley has 99 receptions and 11 touchdowns heading into the Big 12 title game.
Texas' performance in its 49-39 victory over Texas A&M appeared to raise some questions that the Nebraska game could be more of a challenge than expected. The Longhorns struggled on defense against an A&M team that came into the game as the Big 12's most inconsistent team. Earlier in the season, the Aggies had lost games by 28, 48 and 55 points.
The Longhorns have benefited from a series of favorable breaks throughout the season. Oklahoma was missing tight end
Jermaine Gresham
from the start of the season. Heisman Trophy winner
Sam Bradford
made it through only nine snaps in the Longhorns' 16-13 victory over the Sooners earlier this season.
Some of the difficulty of the Longhorns' trip to Oklahoma State diminished when
Dez Bryant
was suspended by the NCAA. The Cowboys also lost 2008 Big 12 rushing leader
Kendall Hunter
for most of the season. Hunter had one carry in the Texas game.
Even their toughest nonconference game against UCF featured a favorable break. The Knights opted to sit starting quarterback
Brett Hodges
and starting running back
Brynn Harvey
in their game in Austin earlier this season. UCF coach George O'Leary's strategy appears to have worked as his team has won its last three games. But it still diminished the challenge the Longhorns faced.
The Longhorns have lost three tight ends during the season, including projected starter
Blaine Irby
. So it's not like their rivals are alone in injury losses. But Texas appears to have gotten its fair share of breaks.
The Longhorns have relied on
Colt McCoy
's short passing as their major offensive weapon – mainly to wide receiver
Jordan Shipley
. Their running game has been sporadic, but appears to be coming on as the season continues with the recent emergence of
Tre' Newton
.
Texas' defense had been the Longhorns' major strength before being gouged by the Aggies for season-high totals in points and total yards. Before that game, the Longhorns had given up 37 points combined in their last three games and had allowed more than 21 points only once this season -- in a 34-24 victory over Texas Tech on Sept. 19.
Before that stumble, Texas had produced a remarkably consistent statistical season. The Longhorns still rank among the top 16 teams nationally in 13 of the 17 categories tracked by the NCAA. Included in those are first in rush defense, third in scoring, sacks, tackles for losses and kickoff returns, fifth in total defense, eighth in scoring defense and ninth in scoring defense.
Critics contend those numbers have been swelled by playing in a weaker-than-expected Big 12 and against a nonconference schedule that featured no opponents from conferences with automatic bids into the BCS.
Their margin over fourth-place TCU eroded from 114 points to 98 points in Sunday's Associated Press poll. While it doesn't appear that Texas is in danger of being lapped by TCU or Cincinnati, it still is indicative that the Longhorns' status as a legitimate title contender could be called into question by some media members.
Texas should be a heavy favorite in the championship game. But it always hasn't benefited them, especially in a game with similar circumstances eight years ago.
In that 2001 title game, Texas had a similar open path to the national championship game. All the Longhorns had to do was beat Colorado to qualify for a chance to meet Miami for the title.
Instead, the Buffaloes jumped all over them in a surprising 39-37 victory that sent the Longhorns spinning to the Holiday Bowl after their BCS title game hopes had appeared set with a victory.
Since then, Texas coach Mack Brown has learned to trust his coordinators more and become more of a delegator of authority. It has resulted in one national championship, a five-game bowl winning streak and seven consecutive finishes inside the top 13 at the end of the season.
That recent surge has helped change the national perception of his team from some of his earlier Texas squads, which always had trouble beating Oklahoma. In those days, Brown was known as "Mr. February" because his strong recruiting didn't always translate into on-the-field success against the Sooners. Brown didn't claim his first Big 12 title until 2005.
That image has changed. But the Longhorns still need a convincing victory Saturday to prove their legitimacy to much of the country heading into the national title game.
November, 10, 2009
11/10/09
5:42
PM ET
Posted by ESPN.com's Graham Watson
Central Florida quarterback
Brett Hodges
and running back
Brynn Harvey
are expected to play this week, according to
the Orlando Sentinel
.
The Knights two star offensive players missed last week's game against Texas because of health concerns, but coach George O'Leary said he expects both to be ready for this week's pivotal Conference USA game against No. 15 Houston.
Hodges suffered injured ribs after taking multiple hits against Marshall two weeks ago and Harvey injured his ankle in the same game.
November, 7, 2009
11/07/09
11:11
AM ET
Posted by ESPN.com's Graham Watson
Central Florida quarterback
Brett Hodges
and running back
Brynn Harvey
will not start Saturday against No. 2 Texas for what the school is calling health reasons.
Both players, who were nicked up in last week's game against Marshall, made the trip to Austin, but will only be used in an emergency situation.
Rob Calabrese
will start at quarterback and
Jonathan Davis
will start at tailback for the Knights.
Coach George O'Leary said earlier in the week that his team's focus was on winning a Conference USA championship and that he wouldn't jeopardize that by playing players who were not 100 percent in a nonconference game.
So, it's no surprise that the team's two best offensive players would sit especially with a game against No. 14 Houston looming next week.
"Our most important goal is the conference," O'Leary said during his press conference this week. "That dictates what happens at the end of the year. Our team is aware of that. Our goal is to win the conference championship and our second goal is to go to a bowl game. I think that is what is on their minds. They are real enthused to play Texas. You have to play to win. The players that can go 100 percent are going to play and that's the way I have always run the game. I don't look at the next game until we have to play it. We are going to play the people that are available to play and hopefully those are the people who played last game."
Posted by ESPN.com's Heather Dinich
Around the ACC we go ...
Former Wake Forest backup quarterback Brett Hodges will transfer to UCF and is eligible to compete for the starting job immediately. How? By using the same NCAA transfer rule Duke guard Greg Paulus will have to use if he wants to be an FBS quarterback, too.
At Virginia Tech, Marcus Davis might not have been ready to be the No. 2 quarterback, but quarterbacks coach Mike O'Cain thinks Davis is a more talented athlete than Ju-Ju Clayton.
Here are five questions Maryland still needs to answer on defense.
Bobby Bowden's spring tour has begun, and Andrew Carter of the Orlando Sentinel has the play-by-play.
And two leftovers for you ...
Thanks to one reader for providing this link on Monday: Maryland coach Ralph Friedgen wasn't shy about his feelings regarding the NCAA sanctions FSU is facing. Friedgen's take? Bowden should vacate the wins.
How much could fans tell about Virginia's new spread offense from its spring game? Not much, and that was exactly how coach Al Groh wanted it.
Posted by ESPN.com's Heather Dinich
ACROSS THE HALL FROM JIM GROBE'S OFFICE -- Hello, ACC fans, from Winston-Salem, where Grobe's assistant, Bonnie, was nice enough to find a room for me to set up shop for the daily links. Welcome to my mobile office, complete with a flat-screen TV, NFL helmets and pictures of all of the Deacs who have gone pro.
Speaking of which, former Wake linebacker Aaron Curry stole the spotlight on Monday at Wake's NFL pro day -- and he hardly did a thing. Why should he? The Butkus Award winner has already proven himself as a top pick.
In addition to Wake Forest, Maryland also starts spring practice today. Here are five things to watch in College Park this spring.
Newsday questioned the quarterbacks in the ACC and ranked them. I'll have to respectfully agree to disagree with the list, as Russell Wilson and Tyrod Taylor give defenses the most trouble, and Brett Hodges is no longer on Wake's team.
It appears Dan Brooks is on the verge of being hired at Clemson.
Here's a shocker (seriously) -- Virginia cornerback Vic Hall is starting the spring exclusively as the Cavaliers' No. 1 quarterback.
There was plenty of news that came out of Georgia Tech on its first day of spring practice. The good news? Josh Nesbitt looked sharp.