NCF Nation:

Brian Anderson
October, 13, 2010
10/13/10
11:15
AM ET
The cure to what ails Marshall is probably not going against the top defense in Conference USA.
But the Herd have no choice at this point, and are hoping a home crowd and national television stage can provide them some momentum when they play UCF tonight at 8 p.m. on ESPN.
[+] Enlarge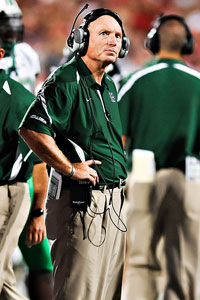 Jamie Sabau/Getty ImagesDoc Holliday is off to a 1-4 start in his first year as head coach.
Marshall has plenty to play for in a season that has not exactly gone to plan under first-year coach Doc Holliday. At 1-4, this is a make-or-break game. A loss means the team would have to go 5-1 down the stretch to even be bowl eligible. But a win over one of the best teams in the East would go a long way toward restoring confidence that took a severe beating in a last-minute loss to West Virginia earlier this year.
The Herd have not appeared to be the same since that game. Their lone win came against Ohio, when the Bobcats failed to make a two-point conversion with no time left. In its two losses since the West Virginia game, Marshall has been outscored 85-44. That includes an embarrassing 41-16 loss to Southern Miss in which the Herd had more penalties (12) than first downs (11) and gained just 170 total yards.
Quarterback
Brian Anderson
was pulled after going 4-of-13 for 16 yards in the first half. Though
A.J. Graham
was better, he hurt his ankle and Anderson will start against the Knights.
Perhaps fans can take some measure of solace in knowing Anderson plays better at home. In two home games this season, he is 41-of-59 for 524 yards and six touchdowns with no interceptions.
But the bottom line is the Marshall offense has been mediocre, and the Herd have struggled to establish a running game. They rank No. 106 in the nation in total yards, averaging just 300 yards a game, and are 105 in rushing offense. A shaky quarterback and shaky run game have kept point production down, too, as Marshall ranks No. 100 in scoring offense, averaging 19.2 points a game.
"We spend a lot of time in that meeting room to find ways for our offense to be successful," Holliday said. "We all know being one-dimensional is not one of those ways. Believe me, we are working extremely hard and spending a lot of time trying to find the best way to run the football. It comes down to blocking and we've got to do a better job of doing that."
About the only highlight has been the play of Vinny Curry and Mario Harvey on defense. Curry leads the nation with eight sacks, 11.5 tackles for loss and two forced fumbles. Harvey leads the nation with an average of 13 tackles a game, and also has four sacks. Putting pressure on quarterbacks
Jeffrey Godfrey
and
Rob Calabrese
is going to be a huge goal.
Marshall has yet to beat UCF in Conference USA play, dating to 2005, and is still smarting from a 21-20 loss last season in which the Knights came back to win with 23 seconds left. The Herd has plenty to get them motivated.
"This game concerns me," UCF coach George O'Leary said. "It's a big game up there. There's not a lot of love there, more so on Marshall's part than our part. It will be an interesting game. I don't think there will be a lot of handshakes. As I told our team, just take out the West Virginia film. That's the kind of capabilities they have and I think that's the effort that we'll get."
September, 6, 2010
9/06/10
9:46
AM ET
COLUMBUS, Ohio -- Before it became certain he would return to football, Ohio State's Tyler Moeller heard the doubters and their questions.
At times, he might have asked the same ones of himself.
"There were all these questions, 'Are you OK?'" Moeller said. "I read all the [online] forums and they're like, 'Moeller's not going to be back. He shouldn't play again.'"
The concerns from Ohio State fans were justified. Moeller suffered a head injury in July 2009 after being attacked by a man at a Florida bar. Moeller was blindsided and hit his head on the ground, suffering bleeding on his brain that required emergency surgery on Aug. 8, 2009, right around the time Ohio State opened preseason camp.
[+] Enlarge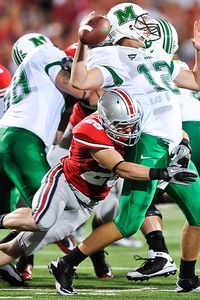 Jamie Sabau/Getty ImagesTyler Moeller was excited to be back on the field with his Ohio State teammates.
After a strong spring at the star position, a safety-linebacker hybrid, Moeller missed the entire 2009 season, and many wondered if he'd ever suit up for the Buckeyes again. But he was back Thursday night, starting on defense and recording a team-high six tackles, two for loss, with a sack and a forced fumble in Ohio State's 45-7 win against Marshall.
"I feel like I have something to prove out there," Moeller said, "and I think I proved it tonight."
Moeller played in 23 games in 2007 and 2008, but the jitters returned Thursday night as he took the field before 105,040 at Ohio Stadium. It took a series or two for Moeller to get fully comfortable.
Late in the first quarter, Moeller locked in on Marshall's
Andre Booker
and ran him out of bounds for a 4-yard loss.
"After that first hit, everything else felt natural," Moeller said.
His swagger also returned.
"He got a tackle and said, 'I may be white, but I'm fast!'" Buckeyes linebacker Brian Rolle recalled. "He said it out loud."
When asked if the comment was accurate, Moeller blushed a bit: "Something like that," he said.
Early in the third quarter, Moeller recorded his first career sack, dropping Marshall's
Brian Anderson
and jarring the ball loose. Moeller's doctors cleared him for full contact before Ohio State opened camp, but he hadn't truly played at full speed until Thursday.
"It's a completely different feeling," he said. "To make plays and contribute, I'm truly blessed. I hadn't been out there in a while.
"It has a whole new meaning now."
September, 2, 2010
9/02/10
6:42
PM ET
COLUMBUS, Ohio -- Ohio State's push for a national championship begins Thursday night against Marshall.


And make no mistake: The BCS title is
the
goal for the Buckeyes this season. Head coach Jim Tressel returns one of his most complete teams, and after winning or sharing five consecutive Big Ten championships and winning the Rose Bowl on Jan. 1, the next step is rather obvious.
There's a ton of anticipation for this Buckeyes season. I saw people wearing Ohio State jerseys at Midway Airport Thursday morning in Chicago, more Ohio State jerseys after I landed in Chicago and even a few more when I grabbed lunch at Chipotle near my hotel. The Buckeyes are everything in this town, and the anticipation for the season is very noticeable.
These two teams had better be in shape because its very hot tonight. The temperature will be in the high 80s around kickoff and not drop much during the game, maybe 10 degrees. It was very balmy walking to the stadium from the new media parking lot, in a tie, no less. Rain is on the way, but not until early Friday.
Marshall is an interesting first opponent for the Buckeyes. The Thundering Herd return 13 starters but have new systems on both sides of the ball as the Doc Holliday era begins. Senior quarterback
Brian Anderson
isn't an ideal fit for the spread offense, but the Herd plan to stick with the veteran.
Unless Ohio State stumbles out of the gate, most of my attention Thursday night will be on Buckeyes junior quarterback
Terrelle Pryor
. Will he take the next step or continue to be inconsistent like he was for much of his sophomore season? I'm also interested to see who emerges at running back, and how young defenders like John Simon and C.J. Barnett perform. Safety/linebacker Tyler Moeller's return to the field also should be pretty special.
We've waited for months, and the season is finally here. Time to get excited. You know I am.
August, 26, 2010
8/26/10
10:35
AM ET
We told you about quarterback battles still going on among the non-AQ schools in a two part series yesterday:
Part I
and
Part II
.
Here is a look at the quarterback battles that have already been decided as we close in on the start of the season:
Akron
Winner:
Patrick Nicely
.
Buzz: Nicely and
Matt Rodgers
played pretty evenly throughout fall camp and split the reps evenly. But Nicely emerged thanks to his play throughout the spring and camp. He started seven games as a true freshman in 2009, completing 120 of 222 passes for 1,349 yards and six touchdowns.
Bowling Green
Winner:
Matt Schilz
.
Buzz: With Tyler Sheehan gone, Bowling Green turns to the redshirt freshman, who has never thrown a pass in a collegiate game. The Falcons have had much stability at the quarterback position, so it will be interesting to see how Schilz does this season.
Colorado State
Winner: Pete Thomas.
Buzz: The highly touted true freshman enrolled in school early and beat out redshirt freshman
Nico Ranieri
. The last time a freshman started at quarterback for Colorado State was Caleb Hanie in 2004.
[+] Enlarge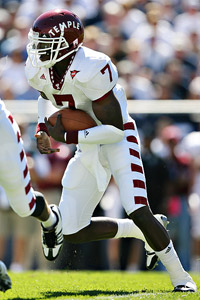 Hunter Martin/Getty ImagesTemple's Chester Stewart needs to improve his completion percentage for the Owls to succeed this season.
Louisiana Tech
Winner:
Steven Ensminger
.
Buzz: The Auburn transfer found new life under new coach Sonny Dykes' spread offense. After playing tight end last spring under former coach Derek Dooley, Ensminger was able to beat out
Ross Jenkins
, who started parts of the past two seasons.
Marshall
Winner:
Brian Anderson
.
Buzz: The incumbent survived a challenge from
A.J. Graham
, Eddie Sullivan and former Clemson player Willie Korn to emerge as the starter once again. Korn ended up transferring. Important to note: Anderson is learning his third different offense, now that new coach Doc Holliday is there.
New Mexico
Winner:
B.R. Holbrook
.
Buzz: Holbrook won the job over freshman Tarean Austin and
Brad Gruner
, and coach Mike Locksley cited his knowledge of the offense, the way he moved the team during scrimmages and his mostly error-free play.
New Mexico State
Winner: Matt Christian.
Buzz: Coach DeWayne Walker went with the junior college transfer over
Jeff Fleming
, who was 1-7 as a starter last season. Christian had been nursing a sore elbow during camp. Watch for Andrew Manley, a freshman from Hawaii, in case Walker decides not to redshirt him.
North Texas
Winner:
Nathan Tune
.
Buzz: Tune got the opportunity to compete for the starting job with
Derek Thompson
after last season's starter,
Riley Dodge
, moved to wide receiver because of the accumulation of injuries to his arm. Tune, a former walk-on, has served as the backup the past two seasons.
Temple
Winner:
Chester Stewart
.
Buzz: Stewart emerged as the leader for the job during the spring when
Vaughn Charlton
moved from quarterback to tight end. Stewart played last season but had his struggles, completing 40 percent of his passes, throwing for three touchdowns and three interceptions.
UAB
Winner:
David Isabelle
.
Buzz: Isabelle won the job over
Bryan Ellis
to replace Joe Webb. Coach Neil Callaway cited Isabelle's athleticism, but also said Ellis would play this season. Isabelle has played in spot duty behind Webb.
Western Kentucky
Winner:
Kawaun Jakes
.
Buzz: The sophomore started eight games last season, and coach Willie Taggart says Jakes has shown potential to be a very good quarterback in the new West Coast offense that is being installed. Jakes missed nearly all of spring after injuring his ankle during a pickup basketball game and had to work his way back into Taggart's good graces.
January, 26, 2010
1/26/10
11:59
AM ET
National signing day is just about a week away and there are several non-AQ teams that will be looking for the next great player to help their team to a conference championship or even a BCS bowl. The non-AQs are notorious for finding diamonds in the rough, but most teams are just looking to plug holes for positions depleted by graduation and the NFL Draft. Here's a quick look at the non-AQ's top areas of concern for this year's class:
BYU

Defensive line:
The Cougars took some big hits on the defensive line this year with the graduation of star end Jan Jorgensen and nose tackle Russell Tialavea. There's some depth there for the Cougars, but it didn't contribute much this season.
Linebackers:
BYU graduates all of its starting linebackers from 2009 and the Cougars will have three seniors starting in that unit next year. The linebacking corps was a great strength for BYU in 2009 and building it back up will be the highest priority.
Running back:
Star running back
Harvey Unga
is returning for his senior year and the Cougars will have two talented juniors in JJ Di Luigi and
Bryan Kariya
, but beyond that there isn't much help. The Cougars have gotten used to rotating a few guys in the backfield, so adding some young talent will allow that trend to continue.
TCU

Wide receiver:
The Horned Frogs had a lot of success spreading the ball around to several different receivers this past season, but enter 2010 with six seniors on the wide receiver depth chart, including playmaker
Jeremy Kerley
.
Secondary:
The secondary loses both of its corners this season and will have three seniors starting next year. The secondary has been one of the few weak spots of the defense in the past, so shoring that up will be a major priority.
HOUSTON

Offensive line:
The O-line loses senior center Carl Bennett, but will have three senior starters in 2010 and many of the players on the depth will be seniors as well. With as potent as the Houston offense is, finding players to step in right away is a must.
Quarterback:
Star
Case Keenum
is a senior and backup
Cotton Turner
is a junior. It would be good to get a couple young quarterbacks in to learn the system and have the benefit of learning from Keenum, who has essentially become the offensive coordinator on the field.
Athletes:
In Houston's offense, guys with great hands will be rewarded. The Cougars need athletes at both receiver and in the secondary and that should be a big focus in this class.
FRESNO STATE

Wide receiver:
All of Fresno State's starting receivers are gone, including leader
Seyi Ajirotutu
. Ajirotutu was a dynamic player and finding someone to replace him, especially with a couple young quarterbacks waiting in the wings, should be the top priority in this class.
Secondary:
The Bulldogs lose four seniors from the secondary and will lose two more in 2010. The secondary actually was the strength of an otherwise poor defense and the Bulldogs will want to continue to build on that momentum.
Running back:
With
Lonyae Miller
lost to graduation and
Ryan Mathews
leaving early for the draft, Fresno State was left scrambling for some depth at the running back position. Running back has long been the strongest position for the Bulldogs and finding a back to complement sophomore
Robbie Rouse
would be key.
SAN DIEGO STATE

Linebackers:
The linebacking corps was the strength of the Aztecs last season and with defensive coordinator Rocky Long's 3-3-5 scheme, it probably will be the strength for some time. SDSU graduated three linebackers and will have two seniors on the depth chart next year.
Hybrid:
The SDSU 3-3-5 defense uses a Warrior and Aztec position as its hybrids and finding the right athletes to play those spots will be key. Long used what he had last year, but with a full recruiting year under his belt, he should be able to find players that are specifically tailored to fit that hybrid role.
SMU

Running back:
With
Shawnbrey McNeal
opting to leave early for the draft, the Mustangs will need a couple running backs to keep that a viable position on the team. McNeal was coach June Jones' first 1,000-yard rusher and his presence took a lot of the pressure of the young quarterbacks.
Athletes:
All-everything player
Emmanuel Sanders
is gone and the Mustangs don't really have anyone to fill his role immediately. The run-and-shoot offense is successful because of playmakers and finding some of those players in this class will help SMU continue its winning ways.
SOUTHERN MISS

Running back:
The Golden Eagles picked up running back
Kendrick Hardy
in the last recruiting class, but he didn't do enough to unseat the guys who were already on the two-deep. Coach Larry Fedora has gotten a big-name kid each season he's been with Southern Miss, and with his top two running backs lost to graduation, that could be where he strikes next.
Offensive line:
Southern Miss lost four starters off the offensive line and could lose three more after 2010. There are some competent guys waiting in the wings, but they need to start building that depth now.
UCF

Offensive line:
The Knights lose two offensive linemen this year and will lose three next year, so adding more players to that unit in this class has become a priority. The O-line struggled mightily last season with 2.54 sacks allowed and the rushing offense ranked 82
nd
in the country.
Defensive line:
Similar to the offensive line, the Knights defensive line also will need some fresh faces. The defensive line was a major strength in 2009 and should be again in 2010. After that, the Knights will need the youth to start contributing.
Playmakers:
The UCF offense was better this year than it was a year ago, but it still wasn't good enough to be a consistent threat in Conference USA. The Knights need to find some offensive playmakers to really push this team to the forefront of the conference again.
UTAH

Quarterback:
Sophomore
Jordan Wynn
is the future of Utah, but he doesn't have a lot of depth behind him.
Terrance Cain
will be a senior in 2010, so the Utes will need a couple more bodies to provide a push for Wynn and some much-needed depth.
Secondary:
The Utes lose five seniors off the secondary two-deep and while there is some young talent there, the secondary has consistently been the Utes best unit and much of that has been because of the ability to develop young players.
Running back:
This position has consistently been riddled with injuries for the Utes and so stockpiling a few running backs, especially with both
Eddie Wide
and
Shaky Smithson
entering their final seasons, wouldn't be a bad idea.
BOISE STATE

Athlete:
Boise State lost one senior starter this year, so the Broncos needs aren't as great as most other teams around the FBS. However, this squad can never have too many athletes. The secondary could use a little help, as could the receiving corps, which is riddled with young players.
Quarterback:
Kellen Moore
will be a junior next season and backup Michael Coughlin will be a senior. With
Joe Southwick
still a freshman, the need for a new quarterback isn't pressing, but it might be good to get someone in to learn the ropes and give Southwick a challenge in a couple years.
MARSHALL

Quarterback:
The quarterback position hasn't been the strong point of Marshall's offense in quite some time, so finding a guy who can be a difference maker is key. Both
Brian Anderson
and
Press Taylor
will be seniors in 2010, so finding a young quarterback to challenge in this class would be the right move.
Wide receiver:
Marshall's leading receiver for most of last season was its now graduated tight end. While there is a lot of freshman talent on the two-deep, Antavious Willson was the only one that really made a lasting impression. If new coach Doc Holliday could get some high-level receiving talent, it would make his quarterbacks look better than they are.
Defensive line:
The Herd lost three seniors this season and will have four on the depth in 2010. Marshall's defense was one of the best in conference play and the reason why it was able to play in and win a bowl game.
October, 7, 2009
10/07/09
1:30
PM ET

Posted by ESPN.com's Graham Watson
Marshall running back
Darius Marshall
is the nation's leading rusher, but beyond him, the Marshall offense has been ineffectual.
The Thundering Herd rank 112th in the country in passing offense with just 158.60 yards per game. That poor passing game helped contribute to last week's crucial 21-17 loss to East Carolina, and coach Mark Snyder knows that he'll have to get his passing game going if his team wants to have a chance at the Conference USA East title.
"It starts with protection," Snyder said during his weekly news conference. "You want to stay ahead of the chains. You would like to throw the ball when you want to throw the ball, not when you have to throw the ball, and that is what I mean by staying in front of the chains."
In the first half of last week's game against East Carolina, Marshall quarterback
Brian Anderson
was 3-of-9 for just 10 yards. He finished the day 16-of-31 for 127 yards. Part of that was East Carolina's pass defense, which played its best game against the pass since facing Appalachian State at the beginning of the season. But it was also a breakdown in Marshall's protection. The Pirates had a sack and were credited with seven quarterback hurries.
With the exception of throwing for 316 yards in the season opener, Marshall hasn't thrown for more than 127 yards this season.
Marshall might have better luck this week against a Tulane pass defense that is holding opponents to 194.75 yards per game. The Thundering Herd also should be able to run the ball against the Green Wave's porous rushing defense. It's allowed at least 200 yards in three of its four games this season. Army had 196 last week. The Green Wave have allowed 10 touchdowns on the ground as opposed to just four through the air.
It's likely that Tulane will concentrate its efforts on stopping the running game, giving Anderson an opportunity to get the passing game some confidence.
August, 13, 2009
8/13/09
4:26
PM ET
Posted by ESPN.com's Graham Watson