June, 29, 2011
6/29/11
1:15
PM ET
We've taken a look at the Big 12 offensive skill positions in our position rankings, and we'll circle back along to the lines eventually. For now, though, we'll flip to the defensive side of the ball, starting with linebackers.
There's a lot of turnover in this space, and the bottom half was pretty hard to sort out. We haven't seen a lot of these new faces on the field for extended periods of time, so it's somewhat of a crapshoot. I don't feel like there's a wide gap between teams 7-10, and each of those squads have at least one linebacker who could be due for a huge year and shoot them up this list.
I see Nos. 1-3 possibly being great, with dropoffs before the No. 4 and No. 7 teams.
Also, if you missed them, here are the other position rankings we've done so far.
So, without further ado, here's how I ranked the linebackers. (Nickel backs are included in this list, hybrid DE/LBs will be with defensive lines)
[+] Enlarge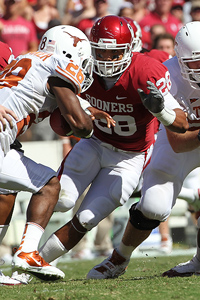 Matthew Emmons/US PresswireOklahoma's Travis Lewis is the Big 12's top returning defender.
1. Oklahoma
-- The Sooners boast the Big 12's top returning defender in Travis Lewis, who has notched at least 100 tackles in each of the past three seasons, and he'll be joined by the Big 12's co-Defensive Freshman of the Year, Tony Jefferson. Tom Wort and Corey Nelson are both loaded with potential, and will fill out the rotation, after the starter at middle linebacker, Austin Box, died on May 19.
2. Iowa State
-- The Cyclones boast two of the Big 12's best in Jake Knott and A.J. Klein, who combined for more tackles than any two teammates in the Big 12 last season. They had 241 stops, and, after healing from a broken leg suffered midseason last year, Matt Tau'fo'ou should join them at middle linebacker.
3. Texas
-- Texas' offense may be lacking, but the defense will be strong once again, led by two others likely to earn spots as some of the Big 12's best. Keenan Robinson and Emmanuel Acho were Texas' top two tacklers last year with 187 stops, and return as likely captains come fall camp. Texas' depth chart is wide open, but look for former blue-chip recruit Jordan Hicks to emerge as another star this year, despite being forced to sit out spring camp with a broken foot. Dravannti Johnson played some defensive end last year at the Buck position for the Longhorns, but may find his way back to linebacker. Tevin Jackson was ineligible last year, but he's ready for 2011, and could make an impact.
4. Oklahoma State
-- The Cowboys "Star" linebacker is occupied by co-Defensive Freshman of the Year Shaun Lewis, and sophomore Caleb Lavey is charged with replacing Orie Lemon, the leader of last year's defense. Oklahoma State has questions on the weak side, but LeRon Furr and Chris Dinkins will compete next fall.
Kris Catlin
could be a factor, too.
5. Texas A&M
-- The Aggies must replace their leading tackler, Michael Hodges, and don't have a clear replacement heading into fall camp. The good news: They've got two others with lots of experience in the linebacking corps that look like budding stars. Garrick Williams should be one of the defense's leaders and Sean Porter returns after making 74 tackles last year to rank third on the team.
6. Missouri
-- The Tigers have lots of experience at middle linebacker, where a pair of seniors (albeit frequently injured seniors) Will Ebner and Luke Lambert will be on the field a lot. One of the Big 12's most exciting players, junior Zaviar Gooden, will hold down the weakside and perhaps become a household name by season's end. Sophomores Andrew Wilson and Donovan Bonner, who missed all of last season with a knee injury, will likely compete for strongside duties in fall camp. Andrew Gachkar, the team's leading tackler, is gone, but here's guessing Gooden emerges as the defense's top playmaker.
7. Kansas
-- The Jayhawks linebackers were solid last year, and could be pretty good again, despite losing Drew Dudley and Justin Springer, two of the team's top four tacklers. Steven Johnson, the team's leading tackler in 2010, is back and he'll be joined by possible star Huldon Tharp, who missed all of last season with a leg injury. Fellow sophomore Darius Willis earned a starting role after spring.
8. Kansas State
-- K-State's front seven struggled last year, but will get a big boost from Arthur Brown. One man won't be enough to totally fix the Wildcats rush defense problems, though. K-State gave up 26 more yards on the ground per game than any other team in the Big 12 (more than 231 per game) but Brown may be playing in a 4-3 next fall rather than the 4-2-5 the Wildcats have employed since Snyder's return. Alex Hrebec, Emmanuel Lamur, Tre Walker and Blake Slaughter will likely fill the rotation along with Brown.
9. Baylor
-- Baylor's defensive depth chart, like Texas', is a bit amorphous after bringing in a new coordinator, but Elliot Coffey figures to be the Bears biggest playmaker at linebacker. Chris McAllister should be solid and Ahmad Dixon is promising at nickelback, too. Brody Trahan is a great story, but him
going from third-string quarterback to starting linebacker
isn't a ringing endorsement for Baylor's depth at the position.
10. Texas Tech
-- Tech will be moving to a 4-2-5 this year under new coordinator Chad Glasgow, and could rise up this list, but the Red Raiders lose a lot of talent from last season's team, which ran the 3-4. Bront Bird and Brian Duncan are both gone, and youth will be a big factor with this group. Cqulin Hubert's outstanding potential is matched by his more outstanding first name, and freshman
Blake Dees
showed promise after arriving early this spring. They'll likely be the rotation at middle linebacker spot alongside Daniel Cobb and Zach Winbush. Terrance Bullitt could be a playmaker at his new safety spot, listed as a strong safety but with plans to spend lots of time near the line of scrimmage, a la nickelback.
February, 16, 2011
2/16/11
9:00
AM ET
Springtime is almost here. And here's a look at what to expect across the Big 12 when it gets into full swing here in the next couple weeks.
BAYLOR BEARS

Spring practice starts:
February 28
Spring game:
April 2
What to watch:
Big changes on defense. Baylor brought in Phil Bennett as its new defensive coordinator, and he says his scheme will be multiple, built to fit the Bears' personnel. Considering the Bears' recent recruiting successes in the secondary, look for a 4-2-5 type of look.
Recruiting stars: time to shine. Both safeties, Tim Atchison and Byron Landor, are gone. Baylor, though, has two former ESPNU 150 recruits at safety who would be well served to start filling their potential. Prince Kent was a reserve last season and at one time, the nation's No. 51 overall recruit who originally signed with Miami. Ahmad Dixon, meanwhile, was the No. 15 overall prospect in the 2010 class. The opportunity is there. Baylor needs big talent at the position. Briles has recruited it. Can they develop into players who make Baylor a contender?
Running back competition. Jay Finley topped 1,200 yards in 2010, but he's gone. Who steps into his void? Terrance Ganaway is a bowling ball at 5-foot-11, 235 pounds, but the shifty Jarred Salubi could get a good amount of carries, too. They could begin to share carries this spring.
IOWA STATE CYCLONES

Spring practice starts:
March 22
Spring game:
April 16
What to watch:
Quarterback competition. It should be a good one in Ames this spring. Jerome Tiller is the name most recognize after getting lots of meaningful time and starts because of injuries to Austen Arnaud over the past two seasons. But juco transfer Steele Jantz sounds confident he can win the job. Rising sophomore James Capello and redshirt freshman Jared Barnett will compete, too.
Paging Cyclone receivers. Iowa State had one of the most underwhelming receiving corps in the league during the past season, and three of its top five pass-catchers won't return in 2011. Of those three, however, one is a tight end (Collin Franklin) and another is a running back (Alexander Robinson). The new quarterback will need some help, and Darius Darks and Darius Reynolds will need to provide it as seniors.
Shontrelle's time or not? Freshman Shontrelle Johnson looked like the running back with the most pop behind Robinson for most of 2010, but two other freshmen running backs jockeyed for carries, too. Paul Rhoads is hardly handing the job over to Johnson, but spring could be the time when he really separates himself from the pack.
KANSAS JAYHAWKS

Spring practice starts:
April 1
Spring game:
April 30
What to watch:
What are they doing behind center? Kansas never got much consistent play out of the quarterback position last year, but freshman Brock Berglund is one of the 2011 class' top recruits, and enrolled early to compete in the spring with Jordan Webb and Quinn Mecham. With a building program like Kansas, there's perhaps some value in handing the program to a younger player like Webb or Berglund, but they'll have to earn it. Doing so will start in the spring, but don't expect the Jayhawks to have a set-in-stone starter by spring's end.
Top linebacker back on the field. Huldon Tharp missed all of 2010 with a foot injury, but he says he's 100 percent and ready to get back on the field. As a freshman in 2009, he was fifth on the team in tackles, with 59, and looked like one of the league's possible budding stars. Now, he'll get his chance to join fellow linebacker Steven Johnson as one of the team's top tacklers, and he'll do it as a sophomore after redshirting in 2010.
Toben rising? Turner Gill raised plenty of eyebrows when he moved his team's leading rusher in 2009, Toben Opurum, to linebacker in fall camp, and eventually slid him up to defensive end. But toward the end of 2010, Opurum started showing some major signs of growth at the position. We'll get a better idea this spring if he's one of the league's most unlikely new stars at defensive end.
KANSAS STATE WILDCATS

Spring practice starts:
April 6
Spring game:
April 30
What to watch:
Prodigal Kansan sons come home. There's no doubt that the Wichita native Brown brothers are the main attraction at Kansas State this spring, a season after transferring back home. Bryce Brown, the running back, was the nation's No. 8 prospect in the 2009 class. Arthur Brown, the linebacker, was the nation's No. 6 prospect in the 2008 class. Bryce transferred from Tennessee and Arthur from Miami. The Wildcats are pinning much of their hopes on the duo, and we'll get a good sense of what they can provide soon.
Quarterback competition. Carson Coffman is gone, and two new faces will challenge for the job: juco transfer Justin Tuggle and Daniel Sams. Sammuel Lamur is also up for the gig. Collin Klein may or may not be; Bill Snyder hasn't explicitly confirmed a past comment from Sams saying Klein had moved to receiver. Don't expect a starter to be named by spring's end, but a general order could start to form.
Can the defense show improvement? Kansas State had the Big 12's worst overall defense last year, and the worst rushing defense in college football, giving up 3,008 yards on the ground. Coordinator Chris Cosh looks like he'll still be around in 2011, and defensive backs David Garrett and Tysyn Hartman are solid pieces to try and build around. But this young maturing defense must get better to make a bowl game again with so many questions on offense. That starts in the spring.
MISSOURI TIGERS

Spring practice starts:
March 8
Spring game:
April 16
What to watch:
Franklin comes alive! Blaine Gabbert bolted to the NFL early, and Missouri has a gaping hole a quarterback. The position, however, is surrounded by a lot of quality talent that likely makes the Tigers a Top 25 team. There's no understating the importance of the position for the Tigers, and that will begin to be decided in the spring. James Franklin, a rising sophomore, saw spot duty in 2010 as more of a runner, and may have the inside track on the job, but Tyler Gabbert, Blaine's younger brother, and Ashton Glaser should make it an interesting competition in the spring. If neither of them impress early, don't count out incoming freshman Corbin Berkstresser.
Here is the new secondary. Same as the old secondary? After years of pass defense being one of the Tigers' biggest weaknesses, it became a strength in 2010 behind the leadership of senior corners Kevin Rutland and Carl Gettis. But the Tigers lose them and safety Jarrell Harrison. Rutland emerged as one of the team's most impressive players last spring, but was Missouri's success in the secondary a one-time thing or the beginning of a welcome trend?
Time to dominate the trenches? Missouri played without likely first-round pick Aldon Smith for much of the previous season, but the defensive and offensive lines for the Tigers were as good as ever in 2010. How will they look in 2011? Impact juco transfer Sheldon Richardson won't be enrolled by the spring, but the four returning starters on the offensive line should get some solid work against Brad Madison, Jacquies Smith and Terrell Resonno.
OKLAHOMA SOONERS

Spring practice starts:
March 21
Spring game:
April 16
What to watch:
Freshmen on display. Coach Bob Stoops hasn't been shy about saying his 2010 recruiting class was his best ever, but it could look even better after this spring. Two of his best emerging recruits, Justin McCay and Geneo Grissom, didn't even play in 2010, and could start to make an impact. The same goes for Corey Nelson, who will try to earn some more time somewhere backing up star Travis Lewis.
Is there a golden boot in Norman? Jimmy Stevens was much more accurate in 2010, finishing 19-for-23, but his attempts outside 45 yards were sparse. The good news is he missed none of his 53 extra points. Field goals have been a bit of an adventure for the past couple years, but continuing in the spring what he started last year would be a good sign for Oklahoma. The Sooners are strong everywhere and need good special teams play to reach their lofty title goals.
Are the Sooners' backs back? Roy Finch missed the Fiesta Bowl with a stress fracture, and his durability is certainly questionable entering 2011. When he's healthy, he looks like the next star in the Sooners' backfield, but they'll need some depth behind the 5-foot-8, 173-pounder. Jermie Calhoun, Jonathan Miller and Brennan Clay have all looked good at times, but there should be some good competition from newcomers Brandon Wegher, an Iowa transfer who'll be in camp this spring and eligible next season, and blue-chip recruit Brandon Williams, who enrolled early.
OKLAHOMA STATE COWBOYS

Spring practice starts
: March 7
Spring game
: April 16
What to watch
:
Every piece of the offense. The spring in Stillwater is all about keeping or improving upon the status quo. Had it kept Dana Holgorsen, there'd be little doubt that would happen, but Oklahoma State must make the most of its five returning offensive linemen, quarterback Brandon Weeden and receiver Justin Blackmon. The opportunity for a historic season is there, but they'll have to pick up the nuances of the new offense quickly in the spring like they did last year.
What about the kicker? Dan Bailey won the Lou Groza Award as the nation's top kicker in 2010, but he's gone. Oklahoma State needs to fill that role quickly, and we'll likely know who will get the nod after the spring.
Who steps up on the defensive line? The Cowboys lose three starters up front on defense, including All-Big 12 performer Ugo Chinasa and tackles Chris Donaldson and Shane Jarka. Can senior Richetti Jones become a star in the Big 12? We'll have a good idea if he, or any of the Cowboys' other defensive linemen, can by the end of April.
TEXAS LONGHORNS

Spring practice starts
: February 24
Spring game
: April 3
What to watch
:
New coaches and their students/players. Texas has five new coaches. Although it's hard to get a good read early on, how they relate with the players on the field, in the film room and around the facilities will have a big impact on how the 2011 season plays out in Austin. The young-blooded coordinators could serve themselves well by relating to players and the players will need to spend plenty of extra time learning new schemes and plays.
Quarterback competition ... or not? Mack Brown says the gig is open and it is, for now. Garrett Gilbert can close it with a strong spring. If Garrett struggles on the field or has difficulty grasping the new system, the door will be wide open for Connor Wood or Case McCoy to step in and close it. Gilbert didn't get much help, but he did very little in 2010 to inspire a lot of breathing room with McCoy and Wood clamoring for playing time.
And you've got to defend the pass, too. Texas loses its top three cornerbacks to the NFL, and only Carrington Byndom and A.J. White got much meaningful playing time last season. Younger players can earn some rare early playing time with a strong spring. Will anyone step up?
TEXAS A&M AGGIES

Spring practice starts
: March 22
Spring game
: April 16
What to watch
:
New linebackers in the running. Spring isn't so scary when you bring back nine defensive starters, but the two Texas A&M lost were the heart of its defense. Linebackers Michael Hodges and Von Miller are gone. Kyle Mangan didn't look fantastic when forced into action during the Cotton Bowl, but the time is now for Damontre Moore and Dominique Patterson, a pair of sophomores, to make their impact.
Tannehill's tuning things up. Quarterback Ryan Tannehill played about as well as anyone could have hoped late last season, but he'll need it to continue his performance with a solid spring nailing down the timing with his receivers, who all return. He's already got a leg up on last year's quarterback, Jerrod Johnson, who was held out of team drills last spring after shoulder surgery that eventually derailed his senior season.
Christine's back. Christine Michael missed the second half of the season with a broken leg, giving way to Cyrus Gray's rise among Big 12 backs. It should make Texas A&M's depth at the position even more impressive, but we'll see how Michael looks coming back from the injury.
TEXAS TECH RED RAIDERS

Spring practice starts
: February 19
Spring game
: March 26
What to watch
:
Past defending that pass defense. Texas Tech had the Big 12's worst pass defense last season, but has a pair of big potential players at cornerback in rising sophomores Tre Porter and Jarvis Phillips. Starters LaRon Moore and Franklin Mitchem are gone, but if returning starters Cody Davis and Will Ford can continue to mature, the defense should improve in the area most important for success in the Big 12.
And they're off! There's a four-man quarterback derby set in Lubbock this spring between Seth Doege, Jacob Karam, Michael Brewer and Scotty Young. I don't expect it to be settled until midway through fall camp, similar to last season, but there should be a solid front-runner and more clarity after spring. Coach Tommy Tuberville was extremely impressed with Doege and Karam last spring after Taylor Potts and Steven Sheffield went down with injuries.
Time to find new stars. Most of the big names on Texas Tech's defense are gone. Colby Whitlock, Bront Bird, Brian Duncan will all continue their careers elsewhere. The leaders on the defense will have to begin to emerge in the spring. Is it Scott Smith? Cody Davis? A younger, unexpected player? We'll find out. Sometimes these types of situations aren't as easy to predict as they might seem, like Missouri's strength in 2010 emerging in the secondary.
September, 15, 2010
9/15/10
10:42
AM ET
Texas Tech linebacker Brian Duncan knew it was coming -- and quarterbacks knew he was coming.
When Tommy Tuberville arrived along with his blitz-happy coordinator James Willis Duncan moved to outside linebacker. He is now basically a defensive end in Willis' 3-4 scheme.
[+] Enlarge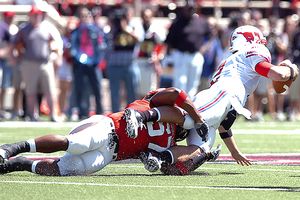 AP Photo/Lubbock Avalanche-Journal/Zach LongSwitching Brian Duncan to outside linebacker is really paying off for the Red Raiders.
After spending most of his career in coverage, he had half a sack to his name after two seasons. Through two games this season, Duncan leads the Big 12 with four, also good for a four-way tie at No. 1 nationally.
"It's really intense," Duncan says of the new role. "It's most definitely different going against O-linemen every single play. I love contact, I love football, I love defense, and to get a chance to go against those guys every play and get after sacks its all rewarding. I love that position."
Duncan estimates that he now draws the assignment of chasing quarterbacks on the majority of his snaps. Last year, he says, that number was about 15-20 percent.
It paid off early for the Red Raiders. Duncan already had one sack against SMU in the season opener. With the Mustangs driving down late, Duncan sacked quarterback
Kyle Padron
twice to secure the win.
"He's got a really good start, teams depend on the pass to win games," Tuberville said. "He'll be a difference maker."
Texas Tech will need him to be on Saturday against Texas where the Longhorns are starting first-year quarterback
Garrett Gilbert
.
"You move from a more complex position to a less complex position. It's not as hard," Duncan said. "I'm going to get the QB every time, that's basically it."
So far, he's proven to be pretty good at it.
"Every drive, excitement and adrenaline is pumping through me and it's even more exciting after I get a chance to make a play," Duncan adds. "Any contact is a great opportunity. I'm going to be hitting like crazy."
Sack masters like Jared Allen and Shawne Merriman in the NFL have perfected post-sack dances. Though Duncan hasn't figured his out yet, he says he's got something special planned against the Longhorns if he's able to bring Gilbert down. But for now, the time spent he used to spend memorizing coverages and complex schemes can be spent serving as a team leader and helping younger players -- a task Tuberville needs from his seniors.
"You don't win games on Saturday, you win them during the week and by working hard and showing how much it means to you," Tuberville said. "It's got to be relayed by the leaders of team, it can't just be coaches."
September, 6, 2010
9/06/10
12:09
PM ET
We'll start a weekly Monday morning feature this week, handing out awards, some general, some very specific.
Best individual offensive performance:
Kendall Hunter
, RB, Oklahoma State. Hunter made a big return, rushing for 208 yards in the first half on the way to 257 for the game. Who knows how many he would have had if the game was closer?
[+] Enlarge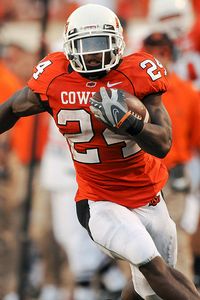 AP Photo/Brody SchmidtKendall Hunter rushed for 257 yards and four touchdowns against Washington State.
Best individual defensive performance:
Three-way tie. Keenan Robinson, LB, Texas. Aldon Smith, DE, Missouri. Brian Duncan, LB, Texas Tech. Robinson earned a sack, an interception and a fumble recovery for a touchdown in the first half of Texas' win over Rice. Smith made 10 tackles, including two sacks and three tackles for loss. And two of Duncan's sacks in Sunday's win came on the final drive with Texas Tech trying to protect an eight-point lead. All three deserve it.
Best individual play:
Carl Gettis, CB, Missouri. Up just four in the fourth quarter, Gettis pulled in a ridiculous one-handed interception,
immortalized by a photo
in the Columbia Tribune and
a story in the Columbia Missourian.
Best confidential performance:
Tie, Texas A&M and Baylor. The Aggies and Bears cleanly dispatched FCS foes in untelevised games, 48-7 for the Aggies and 34-3 for the Bears. Vintage performance from both teams' quarterbacks,
Jerrod Johnson
and
Robert Griffin
.
Worst confidential performance:
Kansas. The Jayhawks dropped a 6-3 game to FCS foe North Dakota State on Fox College Sports. Everyone heard about it, but raise your hand if you saw it (and not on the internet). That's what I thought.
Runner-up
: Oklahoma, who charged fans $40 to watch them need a late defensive stop to secure a 31-24 win over Utah State.
Best debut:
Taylor Martinez
, QB, Nebraska. Martinez snatched hold of the lead for Big 12 Freshman of the Year, piling up 263 yards of offense and three touchdowns. He's the team's leading passer and rusher, helped by a 46-yard touchdown run on his first carry as a Husker.
Best impression of himself:
Daniel Thomas
, RB, Kansas State. Thomas got back to business, but a better version of business. He ran with vision, power and proved elusive, even though Kansas State's passing game struggled. His career-high 234 yards featured a career high 44-yard run.
Worst impression of himself:
DeMarco Murray
, RB, Oklahoma. Murray was everything his critics said he was not against Utah State: a durable every-down back. Murray took 35 of the 37 carries given to Oklahoma running backs and turned them into 218 yards, 90 more than his previous career high, 128 yards as a freshman against Texas. We'll see if he can continue that as the season moves on, but he's off to a nice start.
Biggest identity crisis:
The Big 12. Known for it's stellar quarterback play, a
shift to ground has been in the works
since Sam Bradford and Colt McCoy left the league. After Week 1, the nation's three leading rushers are all from the Big 12: Kendall Hunter, Daniel Thomas and DeMarco Murray.
Worst identity crisis:
Texas, whose desire to establish a downhill running game hit a few speed bumps against Rice. The Longhorns most-used running backs,
Cody Johnson
and
Tre' Newton
averaged just 3.6 yards on 33 carries, though Newton did score three touchdowns. Johnson was denied by the owls on a fourth-down sweep from the 1-yard line early in the game.
Best disregard of history:
Taylor Martinez, QB, Nebraska who threw the bones to the Nebraska crowd after his third rushing touchdown, an elbow-crossing gesture usually reserved for defensive players.
September, 5, 2010
9/05/10
9:49
PM ET
LUBBOCK, Texas -- For most of the first quarter, Texas Tech's offense didn't perform the way fans at Jones AT&T Stadium have grown accustomed to over the past decade. The Red Raiders moved the ball 50 yards on the first drive and had a field-goal attempt blocked. On the second and third drives, they combined for zero yards and two three-and-outs.
Excluding a lopsided result against Texas A&M last season, the Red Raiders never scored more than seven points in the first quarter of a loss.
They scored seven on Sunday, but unlike last season, Texas Tech's new defense held, dominating SMU in the first half before a few second-half mistakes and mishaps made the win a less-convincing
35-27 final
.
Tuberville called the first-half performance excellent. Before a lengthy drive put SMU's first points on the board, Texas Tech held the Mustangs to just 68 yards of offense, resulting in four punts and two interceptions on their first six drives.
[+] Enlarge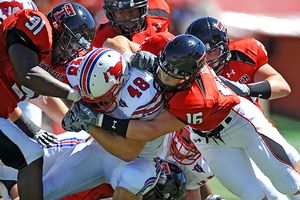 Patrick Green/Icon SMIThe Texas Tech defense smothered SMU in the first half. The Mustangs didn't cross midfield until a scoring drive late in the second quarter.
Before that score (which Texas Tech promptly answered with its own touchdown), SMU hadn't crossed midfield.
"I would never have guessed that," Tuberville said. "We didn't know what to expect, so we didn't know what to plan for."
SMU is not Texas. They are not Oklahoma. They are not Texas A&M. But they are a good offense, and if Texas Tech strings together many more stretches like they did early Sunday against SMU, a bad day for the offense doesn't mean a bad day for everyone involved with the Red Raiders program.
"It gives you huge confidence; you obviously have the momentum...you're not pressing," said quarterback
Taylor Potts
of the defense's early dominance. Potts finished with 359 yards and four touchdowns to further distance himself from backup
Steven Sheffield
. "You still want to score on every single drive, but it's nice knowing that your defense is playing really well like they always do."
Tuberville and his defensive coordinator James Willis arrived with SEC-stacked résumés, defensive minds that Red Raider optimists hope become SEC kryptonite to the Big 12 South superpowers.
Texas Tech doesn't have the defenders of a Florida or Alabama, two teams that sent Oklahoma and Texas home from the past two national championship games ringless. But they might soon. Tuberville's 2011 recruiting class ranks as the nation's 20th best, and though seven of the 19 commits are defenders, Tuberville already has a commitment from 2012 linebacker Derek David, a linebacker who ranks as one of the best defensive prospects in his class.
But that's the future. For now, Tuberville's focus remains on shoring up a leaky run defense and educating an inexperienced secondary that starts three sophomores.
"We gave up 27 points and that's way too many. That's 14 points too many. We want to try to have every shutout we can," Tuberville said. "But again, this defense will get much, much better."
Despite the 27 points on the scoreboard, Willis was pleased with the defense as a whole. It stunted the growth of rapidly developing SMU quarterback
Kyle Padron
, who finished his freshman season with a 460-yard performance in a 45-10 win over Nevada in the Hawaii Bowl. He threw three interceptions on Sunday after just four in seven games all last year, and finished with just 218 yards on 21-of-38 passing.
Texas Tech's impressive sack total -- it was one of just three teams in the Big 12 with more than 40 last season -- remained, notching five on Sunday and three by linebacker Brian Duncan, who didn't have any in 2009.
But the three interceptions are a good sign for a team that had just 10 all last season. That says improvement.
"Defensively, we're a work in progress, but I tell you, the way they practiced and the way they concentrate, they get better," Tuberville said.
Yes, it's just one game -- or almost a half, rather. Yes, it's against SMU. But the Mustangs offense was stifled in the first half, and when the Red Raiders needed a final stop with the game on the line, they got it.
Look up where the defensive powers in the Big 12 South started on Week 1. Texas gave up 17 points to Rice, the nation's 109th best offense in 2009, and Oklahoma had to defend its own end zone for most of the fourth quarter at home to survive an upset bid from Utah State.
Comparatively, Sunday's performance was a nice starting point for the Red Raiders.
"They finished, and that's our theme for the year," Willis said. "You start fast and you finish strong."
It was a pretty nice finish for the Red Raiders, with Duncan earning two of his three sacks on the final drive to preserve the win. But moving forward, Sunday's win over SMU was the start of something new for Texas Tech football.
July, 22, 2010
7/22/10
11:44
AM ET
The Big 12 announced its preseason award winners and All-Big 12 team Thursday. Here's who's on the list:
Offensive Player of the Year:
Jerrod Johnson
, QB, Texas A&M
Co-Defensive Players of the Year:
Jared Crick, DT, Nebraska; and Von Miller, LB, Texas A&M
Newcomer of the Year:
Toney Clemons
, WR, Colorado
Offense
QB: Jerrod Johnson, Texas A&M
RB:
DeMarco Murray
, Oklahoma
RB:
Daniel Thomas
, Kansas State
WR:
Ryan Broyles
, Oklahoma
WR:
Jeff Fuller
, Texas A&M
TE:
Mike McNeill
, Nebraska
OL: Ryan Miller, Colorado
OL: Nate Solder, Colorado
OL: Tim Barnes, Missouri
OL: Tanner Hawkinson, Kansas
OL: Stephen Good, Oklahoma
OL: Kyle Hix, Texas
PK: Alex Henery, Nebraska
KR:
Cyrus Gray
, Texas A&M
DEFENSE
DL: Aldon Smith, Missouri
DL: Jared Crick, Nebraska
DL: Jeremy Beal, Oklahoma
DL: Sam Acho, Texas
LB: Travis Lewis, Oklahoma
LB: Von Miller, Texas A&M
LB: Keenan Robinson, Texas
LB: Brian Duncan, Texas Tech
DB: Prince Amukamara, Nebraska
DB: Aaron Williams, Texas
DB: Quinton Carter, Oklahoma
DB: Blake Gideon, Texas
DB: Curtis Brown, Texas
P: Derek Epperson, Baylor
PR: Ryan Broyles, Oklahoma
A few notes/thoughts from the team:
Only three players were unanimous selections: Jared Crick, Travis Lewis and Jeremy Beal. Other guys I'm surprised didn't earn that distinction: Ryan Broyles at receiver, Aaron Williams and Nate Solder.
Ties at linebacker, defensive back and offensive line forced the conference to make room for an extra spot.
The media's opinion of DeMarco Murray is somewhat divided, so I was a little unsure who would nab the second spot on the ballot. I'd be interested to see how close it was between him, Roy Helu, Kendall Hunter and Alexander Robinson.
Home run selection of Toney Clemons as Newcomer of the Year. If I'm guessing, the fact that he was the No. 1 pick in Colorado's spring game helped him earn this honor. An action like that by players speaks pretty loudly.
I definitely prefer football over basketball in these situations, which doesn't have to deal with freshmen on the preseason all-conference team.
I'm interested in how close the vote was between Missouri's Grant Ressel and Nebraska's Alex Henery. Henery's punting skills make him the clearly more valuable player, but talking strictly place-kicking, it's pretty close, and Ressel's additional accuracy is quantifiable.
Here's the list breakdown by team:
1. Oklahoma - 7
2. Texas - 6
3. Nebraska - 4
3. Texas A&M - 4
5. Missouri - 2
5. Colorado - 2
7. Baylor - 1
7. Kansas - 1
7. Kansas State - 1
7. Texas Tech - 1
11. Oklahoma State - 0
11. Iowa State - 0
May, 2, 2009
5/02/09
7:01
PM ET
Posted by ESPN.com's Tim Griffin
No. 1
Now, we're finally at the top player.
After counting down the Big 12's best over the last 39 days, is there any real question who the conference's ultimate player is?
Oklahoma quarterback Sam Bradford's career has been memorable over his first two seasons. He's already become the only player in Big 12 history to lead his team to back-to-back championships.
After winning the Heisman Trophy last season, most draft observers thought he would declare for the draft, collect his millions in a pro contract and leave college behind.
The Sooners' disappointing losses in back-to-back BCS losses have stung Bradford and brought him back for more this season.
Whether his draft status will be affected is debatable. He'll be playing behind a green offensive line that will feature four new starters and he'll be throwing to a new group of wide receivers.
It likely will give him a different perspective after his first two seasons.
But if it pays off with a national championship, it will all be worth it for him.
Player: Sam Bradford
Team: Oklahoma
Position: Quarterback
Vitals: 6-foot-4, 218 pounds; Jr.; Oklahoma City, Okla. (Putnam City North)

Why he was picked: Bradford had a superlative season in winning his Heisman last season, leading the nation in touchdown passes (50) and passing efficiency (180.84). He also set the school record for single-game passing yards with 468 against Kansas and set the school career record for touchdown passes (86) Other honors he received last season included the Davey O'Brien Award, the Sammy Baugh Trophy, the Chic Harley Award and the Associated Press and Sporting News' first-team All-American. His numbers bordered on the amazing at times last season as he threw five TD passes in four different games and notched 11 300-yard passing games. But most importantly, he's led the Sooners to Big 12 championships in both of his seasons as a starter.
What 2009 will hold: Bradford unabashedly says his return was influenced by the Sooners' BCS national title game loss to Florida. He'll have a chance to become the first back-to-back Heisman Trophy winner since Archie Griffin in 1974-75. But he'll be doing it with a completely different supporting cast as the Sooners break in two new starting wide receivers and four new offensive linemen. It will give Bradford a chance to expand his leadership roles and perhaps show other facets of his game. He rarely has been pressured in Big 12 games and that will likely change this season behind the rebuilt line. He'll also have a chance to show off his arm in a different way with the new receivers. It wouldn't be a surprise if his statistics fall off a little this season - both because of the flux among his pass catchers and the return of two potent running weapons like DeMarco Murray and Chris Brown. But if the Sooners claim the national title, Bradford won't be complaining.
The countdown:
2. Texas QB Colt McCoy
3. Oklahoma State WR-KR Dez Bryant
4. Oklahoma TE Jermaine Gresham
5. Baylor QB Robert Griffin
6. Nebraska DT Ndamukong Suh
7. Oklahoma DT Gerald McCoy
8. Oklahoma State RB Kendall Hunter
9. Oklahoma LB Travis Lewis
10. Kansas QB Todd Reesing
11. Oklahoma RB-KR DeMarco Murray
12. Oklahoma State T Russell Okung
13. Texas DE-LB Sergio Kindle
14. Oklahoma T Trent Williams
15. Missouri LB Sean Weatherspoon
16. Baylor LB Joe Pawelek
17. Oklahoma State QB Zac Robinson
18. Texas WR-KR Jordan Shipley
19. Oklahoma RB Chris Brown
20. Nebraska I-back Roy Helu Jr.
21. Texas Tech DT Colby Whitlock
22. Kansas WR-KR Dezmon Briscoe
23. Oklahoma DE Jeremy Beal
24. Kansas S Darrell Stuckey
25. Texas Tech RB Baron Batch
26. Kansas QB-WR Kerry Meier
27. Texas T Adam Ulatoski
28. Oklahoma State LB Andre Sexton
29. Missouri G Kurtis Gregory
30. Missouri RB Derrick Washington
31. Texas Tech LB Brian Duncan
32. Texas S Earl Thomas
33. Kansas State WR-KR Brandon Banks
34. Oklahoma LB Keenan Clayton
35. Baylor S Jordan Lake
36. Oklahoma State CB-KR Perrish Cox
37. Texas C Chris Hall
38. Texas Tech DE-DT McKinner Dixon
39. Kansas State DE Brandon Harold
40. Oklahoma FB Matt Clapp
April, 12, 2009
4/12/09
8:43
PM ET
Posted by ESPN.com's Tim Griffin
No. 21
Texas Tech nose tackle Colby Whitlock has some unusual talents for a nose tackle.
You can tell something is a little out of of the ordinary will be found with Whitlock, considering his uniform number is 6. He's the only Big 12 nose tackle with his uniform in single digits.
Whitlock, a former standout high-school heavyweight wrestler, is a vital cog in the Red Raiders' defensive transformation last season that carried them to a three-way share of the Big 12 South Division title.
His quickness and brute strength are his best attributes. But an underrated talent that is noticeable is his footwork.
There will be more demands on Whitlock and the Tech defense after the Red Raiders' offensive losses from last season. It will be interesting if he can improve and help take them to another level.
Player: Colby Whitlock
Team: Texas Tech
Position: Nose tackle
Vitals: 6-foot-2, 281 pounds; Jr.; Noble, Okla.
Why he was picked: Like most nose tackles, Whitlock's true value can't be judged merely by looking at statistics. While typically battling two blockers, Whitlock helped control the middle of the line of scrimmage on Tech's improving defense. He notched 26 tackles and 39 total stops, including 5½ stops for a loss, a pass deflection, a blocked kick and a sack. Those efforts enabled him to earn second-team sophomore All-America honors from College Football News. His bullish pass rush helped the Tech defense set the tone in the upset victory over Texas and continued throughout the season.
What 2009 will hold: Whitlock must help key defensive improvement in the Red Raiders. The Red Raiders' defensive growth was one of the major story lines of the Big 12 in 2008 before a late collapse against Oklahoma and Mississippi in the Cotton Bowl that led to two late losses after a 10-0 start. Without offensive weapons like Graham Harrell, Michael Crabtree and Shannon Woods this season, Whitlock and his defensive mates need to take another step. If they don't, it might be a long season in West Texas for Red Raider fans.
The countdown:
22. Kansas WR-KR Dezmon Briscoe
23. Oklahoma DE Jeremy Beal
24. Kansas S Darrell Stuckey
25. Texas Tech RB Baron Batch
26. Kansas WR-QB Kerry Meier
27. Texas T Adam Ulatoski
28. Oklahoma State S Andre Sexton
29. Missouri G Kurtis Gregory
30. Missouri RB Derrick Washington
31. Texas Tech LB Brian Duncan
32. Texas S Earl Thomas
33. Kansas State WR Brandon Banks
34. Oklahoma LB Keenan Clayton
35. Baylor S Jordan Lake
36. Oklahoma State CB/KR Perrish Cox
37. Texas C Chris Hall
38. Texas Tech DE/DT McKinner Dixon
39. Kansas State DE Brandon Harold
40. Oklahoma FB Matt Clapp
April, 11, 2009
4/11/09
2:41
PM ET
Posted by ESPN.com's Tim Griffin
No. 22
In only two seasons, Dezmon Briscoe has developed into one of the most explosive players in Kansas football history.

Now, if the Jayhawks could be absolutely sure he'll be playing for them this fall.
Earlier this spring, Kansas coach Mark Mangino suspended Briscoe for all of their practices so far for an undisclosed violation of team rules. He still isn't back yet heading into the Jayhawks' spring game Saturday afternoon.
It's hard to imagine the Jayhawks being able to contend for the North Division championship if Briscoe isn't a big part. It would be hard to fathom if Briscoe doesn't fulfill whatever demands that Mangino has for him to rejoin the team.
Player: Dezmon Briscoe
Team: Kansas
Position: Wide receiver/kick returner
Vitals: 6-foot-3, 200 pounds; Jr.; Dallas (Cedar Hill)
Why he was picked: Briscoe blossomed into one of the Big 12's most explosive players last season, snagging 92 passes for team-high totals for 1,407 yards and 15 touchdown receptions. He also set the school's single-game record with 269 receiving yards against Oklahoma - a total that was the nation's single-game high last season for FBS teams. He also and tied the single-game record with 14 catches in the Jayhawks' Insight Bowl triumph over Minnesota.
Briscoe already has broken the school career mark for touchdown receptions after only two seasons. And he showed flashes of being able to counteract one of Kansas' biggest weaknesses when he produced 195 yards in kickoff returns in Kansas' final regular-season game to spark the upset over Missouri.

What 2009 will hold: First, he's got to get back in Mangino's good graces. But if he does that, it's not unimaginable that Briscoe could develop into one of the nation's most explosive players. Considering he has another season of experience in coordinator Ed Warinner's offense and Todd Reesing back throwing passes, it wouldn't be out of the question that Briscoe could grab more than 100 passes and produce 1,600 receiving yards. And if he continues his late-season success running back kicks, he might emerge as one of the biggest keys in the Jayhawks' Big 12 title hopes.
The countdown:
23. Oklahoma DE Jeremy Beal
24. Kansas S Darrell Stuckey
25. Texas Tech RB Baron Batch
26. Kansas WR-QB Kerry Meier
27. Texas T Adam Ulatoski
28. Oklahoma State S Andre Sexton
29. Missouri G Kurtis Gregory
30. Missouri RB Derrick Washington
31. Texas Tech LB Brian Duncan
32. Texas S Earl Thomas
33. Kansas State WR Brandon Banks
34. Oklahoma LB Keenan Clayton
35. Baylor S Jordan Lake
36. Oklahoma State CB/KR Perrish Cox
37. Texas C Chris Hall
38. Texas Tech DE/DT McKinner Dixon
39. Kansas State DE Brandon Harold
40. Oklahoma FB Matt Clapp