NCF Nation:

Brian Jackson
January, 31, 2012
1/31/12
3:20
PM ET
Every team needs to hit every position group each recruiting season, but there are always priorities. It's not just positions where starters are lost or going to be seniors, it's about addressing weaknesses where a true freshman might be a better answer than a returning player.
Up next is the North Division.

California
QB
:
Zach Maynard
will be a senior, and it says something about the depth behind him that he never lost his job during his midseason swoon.
WR:
Keenan Allen
is back, but that's it in terms of returning production and experience.
S:
Three of the top four safeties from 2011 are gone.

Oregon
Skill:
In Chip Kelly's offense, you can never have enough fast guys. Sure,
Kenjon Barner
,
De'Anthony Thomas
and
Josh Huff
are back, but there's a lot of youth and uncertainty after that at running back and wide receiver.
TE:
His name is
David Paulson
, but he's gone.
Colt Lyerla
was a productive backup -- at least in terms of finding the end zone -- but after him things are uncertain. Tight end is one of the most underrated positions in the Ducks offense, so having more than one Kelly trusts is significant.
S:
Eddie Pleasant
is gone and
John Boyett
is a senior.
Avery Patterson
,
Erick Dargan
and
Brian Jackson
are next in line, but the young talent isn't as certain as it is at corner.

Oregon State
OL:
Oregon State lost three starters from a line that led the worst rushing attack in the conference and surrendered 27 sacks. Quarterback
Sean Mannion
has potential, but he needs time. And a running game.
DT:
The Beavers had the worst rushing defense in the Pac-12 in 2011. 'Nuff said.
LB:
The Beavers had the worst rushing defense in the Pac-12 in 2011. Almost enough said.
Cameron Collins
is gone, and all the contributors on the two-deep will be seniors, other than junior
Michael Doctor
.

Stanford
WR
: Perhaps the weakest position for the Cardinal in 2011, this need is augmented by the loss of
Griff Whalen
and
Chris Owusu
and the lack of up-and-comers other than sophomore
Ty Montgomery
.
DB:
Three of four starters are gone, including both safeties. In the Cardinal's two losses -- to Oregon and Oklahoma State -- an absence of top-end athleticism in the back half was exploited.
OL:
Three starters are back, but the losses are huge: Tackle
Jonathan Martin
and guard
David DeCastro
. And backup tackle
Tyler Mabry
and backup guard
Matt Bentler
also are gone. If coach David Shaw intends to remain a physical, downhill running team -- and he does -- he'll need to continuously stock up on linemen who can get the job done.

Washington
DB:
Lots of guys are back in the secondary, but the Huskies gave up 284.6 yards passing per game, which ranked 11th in the Pac-12. They couldn't cover anybody and often seemed out of position. So new blood might help.
DL
: (See if you can notice a theme here that ignores questions at wide receiver and running back). Two starters are gone from a line that consistently underperformed based on preseason expectations.
LB:
Second-team All-Pac-12 middle linebacker
Cort Dennison
is the only one of the eight men on the depth chart who won't be back, but he was the team's only consistent linebacker.

Washington State
DL:
Three of four starters are back, but all three will be seniors.
OL:
Three starters are back, but to make the next step on offense, the Cougars need to run the ball better. They ranked 10th in the conference in rushing offense. And that might reduce a conference-high 3.3 sacks per game. Mike Leach's quick-hit offense also might help.
RB:
170-pound sophomore
Rickey Galvin
is back, as is senior
Carl Winston
, but the backs need to share responsibility for a 3.1-yards-per-carry average, worst in the conference (of course, losing 237 yards to sacks doesn't help).
March, 9, 2010
3/09/10
2:21
PM ET
NORMAN, Okla. --
Gerald McCoy
was measured at 6-foot-4 and 298 pounds, but participated only in brief position-specific drills. He said on Tuesday he'll wait to improve his underwhelming 23 reps on the 225-pound bench press until March 25, when former teammate
Sam Bradford
will show off his surgically reconstructed throwing shoulder for NFL scouts.
McCoy added that the low number surprised him because he began at 25 reps, before he started working out specifically for the combine.
"Everybody said it was just nerves," McCoy said. "Because you don't start training and then go down. You don't do that. Especially when you're seeing yourself increase every week."
McCoy said he'll take some time off from training before returning to Norman for pro day, part deux.
Also of note, cornerback
Dominique Franks
improved his 40-yard dash time to 4.47, significantly faster than his disappointing time at the combine. Fellow cornerback
Brian Jackson
showed off a 38-inch vertical jump, the best of the day.
Former teammates and likely first-round picks offensive lineman
Trent Williams
and tight end Jermaine Greshamn opted out of most of the drills on Tuesday. Williams improved his 20-yard shuttle time to 4.40, but neither tried to improve his 40 time. Gresham measured at 6-foot-5 3/8 and 259 pounds. Williams measured 6-foot-4 1/2 and 314 pounds.
A few other notes:
St. Louis Rams coach Steve Spagnuolo, whose team holds the No. 1 pick in next month's draft, was in attendance. He had a lengthy conversation with Oklahoma coach Bob Stoops. Plenty of the conversation likely revolved around McCoy and Bradford, two players St. Louis could draft with the first pick.
Lots of current and former Sooners came to Oklahoma's indoor facility for pro day. The Baltimore Ravens' Mark Clayton showed, as did fullback J.D. Runnels, who most last saw as a Bengal on the last season of the HBO show "Hard Knocks," which chronicles one NFL team's training camp each August. Current Sooners who were in attendance included quarterback Landry Jones, receiver Ryan Broyles and defensive end Jeremy Beal.
December, 10, 2009
12/10/09
5:36
PM ET
By
Tim Griffin
| ESPN.com
The Heisman Trophy balloting was tougher than I can ever remember it being.
I labored long and pondered my vote for several days before I finally made it late Monday afternoon.
[+] Enlarge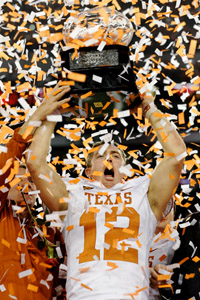 Ronald Martinez/Getty ImagesColt McCoy didn't play his best in the Big 12 championship, but he did enough to win.
Voting for
Colt McCoy
isn't an easy decision and after reading countless e-mails and letters this week assuredly wasn't a popular one. But I think it's the right one for a lot of good reasons.
Like an electorate that is swayed by the last thing they hear at a debate, I fear that some of my fellow voters and most fans across the country put too much importance on what happened in the most recent game. I don't think they considered the body of work for a season.
McCoy was intercepted three times in a tight 13-12 victory over Nebraska. One of the picks was tipped at the line of scrimmage. Another one was snatched by DeJon Gomes on an outstanding athletic play were he ripped it away from a Texas receiver.
I don't think it was McCoy's fault that he was sacked nine times against Nebraska. Instead, it was most indicative of playing behind the weakest offensive line he's had during his career.
But in the end, McCoy persevered to take his team to the conference championship and advance to the national championship game. Detractors talk about how he disappeared in that Nebraska game. I actually look at the toughness he showed to engineer his team to its biggest victory during the time he has been Texas' quarterback -- despite the fierce pounding he took.
And other Heisman finalists struggled through bad games this season as well.
Mark Ingram
produced 30 yards against Auburn -- a defense that was ranked 80th nationally in rush defense. Earlier in the season, he rushed for 50 yards against Arkansas's defense, which finished 68th in rush defense.
I also hear from some of my friends that cover the Southeastern Conference that other backs on Alabama's team could have done the same thing as Ingram if they had gotten the opportunity.
People talk about the Heisman not being a career award and how previous years shouldn't matter.
But I think Colt McCoy did enough this season to take his team to the brink of the national championship. On top of becoming the winningest quarterback in FBS history with a 45-7 career won-loss record.
That statistic resonates in a year where one candidate doesn't stand out to me.
Nebraska defensive tackle Ndamukong Suh had phenomenal individual numbers. But I still can't get away from the biggest statistic in my mind: 9-4. As in Nebraska's won-loss record.
Suh also had a few clunkers thrown in as well. There was the game against Texas Tech when he had four tackles and no sacks in a 21-point loss to the Red Raiders. He had four tackles and no sacks against Oklahoma. And three tackles and no sacks against Kansas.
It's also likely that Suh played as a part of one of the great defensive lines in Big 12 history. Jared Crick set a school record for sacks against Baylor. Barry Turner was an underrated defensive end who repeatedly beat Adam Ulatoski last week. Pierre Allen had his moments as well.
The argument could be made that those opponents schemed to take him away from the game. But shouldn't a Heisman Award candidate be able to overcome those offense plans, particularly playing with as strong a defensive front as the Cornhuskers had this season?
The top individual statistics belong to Stanford running back
Toby Gerhart
, who rushed for 1,736 yards and 26 touchdowns. But his numbers were swollen by playing six teams with rushing defenses ranked 60th or worst, including a 205-yard season-ending effort against a Notre Dame defense that ranked 90th in rush defense this season.
But Gerhart rushed for 82 yards in a loss against a Wake Forest team that was 5-7 and ranked 82nd in run defense. He also rushed for 96 yards in a loss against Oregon State. The Cardinal were 8-4.
I'm not here to belittle the other candidates, but merely to show that all of them had their failings over the course of the season. They all struggled through games that weren't as good as their best.
And in the end, there's something to be said about a quarterback who took his undefeated team to the national championship game while completing 70 percent of his passes. He had the biggest single rushing game and the longest rushing play of the season for a team that had no backs that rushed for more than 520 yards.
McCoy had one consistent receiver and an offensive line -- at least if Saturday night's performance is an indicator --that left a lot to be desired.
One Heisman moment for him came on that 65-yard touchdown sprint through the Texas A&M defense.
But another one came six games earlier after one of his biggest disappointments.
After McCoy had thrown a fourth-quarter interception in the red zone, he made a crunching form tackle that saved many yards on a return and likely saved the Longhorns' 16-13 victory over the Sooners.
A play like that showed me more than any mere statistic could have.
I voted McCoy for first place, Suh at second place and Gerhart at third.
I think it's the right vote.
But because of the late interest, I'm more interested in this Heisman balloting than any I can remember in a long time.
It ought to be fun Saturday night.
December, 8, 2009
12/08/09
3:12
PM ET
By
Tim Griffin
| ESPN.com
Here's a look at my All-Big 12 team. There were couple of late selections that were affected by the Big 12 championship game. If you look closely enough, you probably will see where I made my switches.
Oklahoma leads the team with five selections, Texas had four and Nebraska and Missouri three picks apiece.
Offense:
QB:
Colt McCoy
, Texas
RB:
Daniel Thomas
, Kansas State
RB:
Keith Toston
, Oklahoma State
WR:
Danario Alexander
, Missouri
WR:
Jordan Shipley
, Texas
TE:
Riar Geer
, Colorado
OL: Russell Okung, Oklahoma State
OL: Brandon Carter, Texas Tech
OL: Trent Williams, Oklahoma
OL: Adam Ulatoski, Texas
C: Reggie Stephens, Iowa State
K: Grant Ressel, Missouri
KR:
Brandon Banks
, Kansas State
Defense:
DL: Ndamukong Suh, Nebraska
DL: Gerald McCoy, Oklahoma
DL: Jeremy Beal, Oklahoma
DL: Brandon Sharpe, Texas Tech
LB: Von Miller, Texas A&M
LB: Sean Weatherspoon, Missouri
LB: Joe Pawelek, Baylor
DB: Perrish Cox, Oklahoma State
DB: Earl Thomas, Texas
DB: Brian Jackson, Oklahoma
DB: Prince Amukamara, Nebraska
P: Alex Henery, Nebraska
PR:
Ryan Broyles
, Oklahoma
December, 7, 2008
12/07/08
12:14
PM ET
Posted by ESPN.com's Tim Griffin
Oklahoma's record third-straight Big 12 title opened the way for another run of helmet stickers for the Sooners. Here are a few of the more notable performers in the Sooners' 62-21 beatdown of Missouri.

Oklahoma running backs Chris Brown and Mossis Madu -- The loss of leading rusher DeMarco Murray on the opening kickoff couldn't derail the Sooners' ground game. Brown and Madu combined for 236 rushing yards, six touchdowns and five receptions to key the Sooners' offensive onslaught.
Oklahoma quarterback Sam Bradford -- He might have put the finishing touches on winning the Heisman Trophy after passing for 384 yards and two touchdowns -- he has 48 TD passes for the season -- to help boost the Sooners past Missouri for the seventh straight time.
Oklahoma cornerback Brian Jackson -- Notched four tackles, a fumble recovery and an interception to key Oklahoma's strong performance in the secondary against Missouri.
December, 6, 2008
12/06/08
10:29
PM ET
Posted by ESPN.com's Tim Griffin
KANSAS CITY, Mo. -- Oklahoma came into the Big 12 title game needing to make a statement to prove their legitimacy as the South Division title-game participants.
After one half, the Sooners' resounding 38-7 lead shows that they not only belong in Kansas City, but likely in Miami for the BCS title game as well.
The Sooners have scored on all but one first-half possession as they have manhandled the Tigers from the start. They've already piled up 359 yards on 54 first-half plays, averaging 6.6 yards per snap.
It's that high-powered offense that has enabled them to score 678 points for the season, setting a modern-day NCAA record.

Oklahoma's defense has been fearsome, notching two sacks and forcing two turnovers. Cornerback Brian Jackson has notched a fumble recovery and an interception that set up scoring drives.
How dominant has it been? Leading Oklahoma rusher DeMarco Murray sprained his ankle on the opening kickoff and hasn't played. And he's hardly been missed as the Sooners have piled up 119 rushing yards.
The onslaught could best be seen late in the first half. After Chase Daniel was tackled with seven seconds left, the Tigers decided to meekly let the rest of the clock tick away despite having the ball on the Sooners side of the 50.
Oklahoma scored 28 points in the second quarter and blew the game open. The Tigers look beaten and like they want to go sit where it's warm instead of coming out for the second half.
Here are some items of interest I've noticed in watching the first half.
The South Division has dominated the Big 12 in the last several years and it's continuing tonight with Oklahoma's fast start. Including the last four years and tonight's first half, the South Division teams have outscored the North, 202-37.
The Sooners have taken advantage of their huge size edge on the left side, running behind clearing blocks by massive left tackle Phil Loadholt and Outland finalist Duke Robinson for success throughout the first half.
The Sooners became the first team in Big 12 history with a pair of 1,000-yard backs. Murray came into the game with 1,002 yards. And Brown has joined him with 83 yards and two touchdowns in the first half, giving him 1,071 for the season.
Missouri's secondary struggled throughout the season. And the loss of starting cornerback Castine Bridges appears to have worsened the condition. The Tigers have been susceptible to slants as they've been outclassed by Oklahoma's more physical and quicker collection of receivers. Ryan Broyles has six catches, Juaquin Iglesias has four and Quentin Chaney has two. And massive tight end Jermaine Gresham has run free through the secondary with six receptions for 59 yards.
The game has been chippy in the early going. Oklahoma defensive end Frank Alexander and Missouri tackle Elvis Fisher both were flagged for unsportsmanlike conduct after tangling in the first quarter.
Veteran Missouri wide receiver Tommy Saunders was flagged for taunting after the Tigers' touchdown, setting up good field position that the Sooners turned into a 53-yard touchdown drive. And Iglesias was flagged for taunting after his own touchdown later in the second quarter.

It prompted referee Randy Christal to call the teams together with about 12 minutes to go in the half, telling them to cool the extra energy.
Sam Bradford's Heisman candidacy has never looked stronger. Despite playing with an injured left thumb immobilized by a splint, Bradford has completed 22 of 31 yards for 240 yards and two touchdowns in the first half.
October, 18, 2008
10/18/08
2:59
PM ET
Posted by ESPN.com's Tim Griffin
NORMAN, Okla. -- Good afternoon from Owen Field, where the talk-show fodder coming into the stadium concerned the demise of the Sooner dynasty.
Oklahoma twice blew double-digit leads last week before falling to Texas. And the remnants of that collapse are still resonating -- and smoldering -- more than seven days later.
Truthfully, the 5-1 Sooners haven't fallen that far. They are still No. 4 nationally -- the highest ranking of any one-loss team -- and are in good position to make a BCS charge if the national run of upsets continues.
All of that makes today's game against No. 16 Kansas critical for coach Bob Stoops and the Sooners. He's never lost the contest following a Texas game in his previous nine seasons and, he is heavily favored to extend his streak to double digits today.
But he'll be facing a significant challenge in Kansas, which has quietly crept into first place of the North Division after two wins to the start the season. The Jayhawks have won 17 of their last 19 games and will control their own destiny in the North race even if they lose today.
Coach Mark Mangino was an assistant head coach earlier in his coaching career with Stoops. It's always a special day when he returns to his old stomping grounds.
But he likely shouldn't expect much mercy from the Sooners because of his past association here -- especially considering what happened last week.
Here are some things I'll be watching as the game progresses:
Who fills in for Ryan Reynolds at middle linebacker for Oklahoma? Reynolds was the most capable linebacker the Sooners had, a heady playmaker who made the rest of his team better because of his acumen. The defense fell apart last week when he was lost. The easiest solution would be the insert Brandon Crow into the position, but he struggled badly last week. Redshirt freshman Austin Box also might get some snaps, but don't be surprised to see the Sooners spin 230-pound nickelback Nic Harris into the position. It might be the Sooners' best move trying to combat Kansas' air-heavy attack keyed by quarterback Todd Reesing.
Can Jake Sharp continue to run effectively? After barely playing in the first four games, Sharp has blossomed with two big efforts to help spark Kansas' quick start in conference play. Mangino still had to be convinced that the 190-pound Sharp can be more than a complimentary player, but his last two weeks were a pretty good indicator.
What gives in the pillow fight between Oklahoma's kick coverage and Kansas' return game? The Sooners have struggled all year, allowing 25.3 yards per return and two touchdowns. Stoops has promised more starters playing on special teams in order to boost speed and tackling ability.
The Sooners, however, likely won't be challenged by Kansas' sputtering kick return game. The Jayhawks are averaging only 12.38 yards per return to rank last nationally. That average, even with preseason All-Big 12 kick returner Marcus Herford in the mix, is nearly three yards below the next-lowest team in the rankings -- Kent State.
Is Kansas really ready for the big boys? The Jayhawks get their first crack against a ranked South Division foe today. Later in the season, the Jayhawks will host Texas Tech and Texas. Kansas avoided all three teams in a school-record 12-1 season last year that was capped by an Orange Bowl victory. We'll see how the Jayhawks match up with a traditional power from the other division in Saturday's game.
Kansas wide receiver Kerry Meier vs. the young Oklahoma cornerbacks. First-year Oklahoma starters Dominique Franks and Brian Jackson have played well to this point of the season, but will face a big test against Meier, a versatile and experienced player who is still listed as Kansas' backup quarterback. Meier runs exquisite routes and will challenge both players even though he's been hobbled recently.

INJURIES: The biggest for Oklahoma is Reynolds, who was already rehabbing earlier in the week. DeMarco Murray hasn't been the same back as last season, although Sooner coaches say he's in good shape. Defensive tackle DeMarcus Granger was back for the game last week, although he hasn't cracked the two-deep yet.

Kansas doesn't release injuries, although it's been clear in the last several games and during warm-ups that Meier has been hobbled. He missed several plays last week, but still produced nine receptions. Nose tackle Caleb Billingsley left the Colorado game with a leg injury and is questionable. Jamal Green and Darius Parish would fill in if he can't go. And starting guard Adrian Mayes missed the second half with an undisclosed injury, but should be ready to go today, Mangino said.
WEATHER: It's an ideal day for football here with nary a cloud in the sky. Temperatures should be in the mid-70s at kickoff and remain in the 70s during the rest of the afternoon.
September, 27, 2008
9/27/08
9:22
PM ET
Posted by ESPN.com's Tim Griffin
NORMAN, Okla. -- Oklahoma is making a forceful early claim for its place as the nation's top team after the first half.
The Sooners scored on three of their first four possessions and took advantage of an opportunistic defense to jump to a 28-3 halftime lead over TCU.
It's been a complete team effort for the Sooners that started from the opening kickoff. Quarterback Sam Bradford has baffled TCU with an array of hard counts and three touchdown passes as the Sooners have averaged 7.8 yards per snap and piled up 320 yards en route to the lead.
This is a marked contrast from TCU's usual success at Owen Field. The Horned Frogs had won four of their last five games in Norman.

After Oklahoma's offense bogged down during a string of three-and-outs in the second quarter, the defense repeatedly kept making big plays. Defensive back Lendy Holmes came up with a pair of fumble recoveries and a touchdown-saving tackle after Aaron Brown's 75-yard kickoff return. Cornerback Brian Jackson made a scintillating one-handed interception deep in Oklahoma territory to kill another TCU drive.
Bradford couldn't have asked for a better start, repeatedly confusing TCU due to his no-huddle offense and his snap count. It helped provide for three TCU offside penalties and two other times when they had 12 players on the field in the first quarter. The Horned Frogs were penalized eight times for 41 yards in the first quarter.